For those visiting Japan's famous art island, it's important to understand how to get to Naoshima ahead of time. As it's an island, access is fairly limited—much like transport once you've arrived. In this guide, we outline a solid plan to help you visit the island smoothly. 
Tokyo to Naoshima?
Naoshima is located in Kagawa prefecture in the southern half of Japan. For those considering visiting from Tokyo, fair warning—it's over 600km southwest of the capital. To give you an idea, it takes 1.5 hours to fly from Tokyo, 9 hours to drive or over 5 hours on the Tokaido-Sanyo Shinkansen (bullet train) and bus. If coming directly from Tokyo, allow a half to a full day to get there, and be sure to check bus and ferry timetables ahead of time so you don't get stuck.
Naoshima is much closer to southern cities like Kyoto, Osaka, Kobe and Hiroshima (roughly 3 hours by public transport); it would make sense to plan your visit alongside one of these cities to minimise long travel days.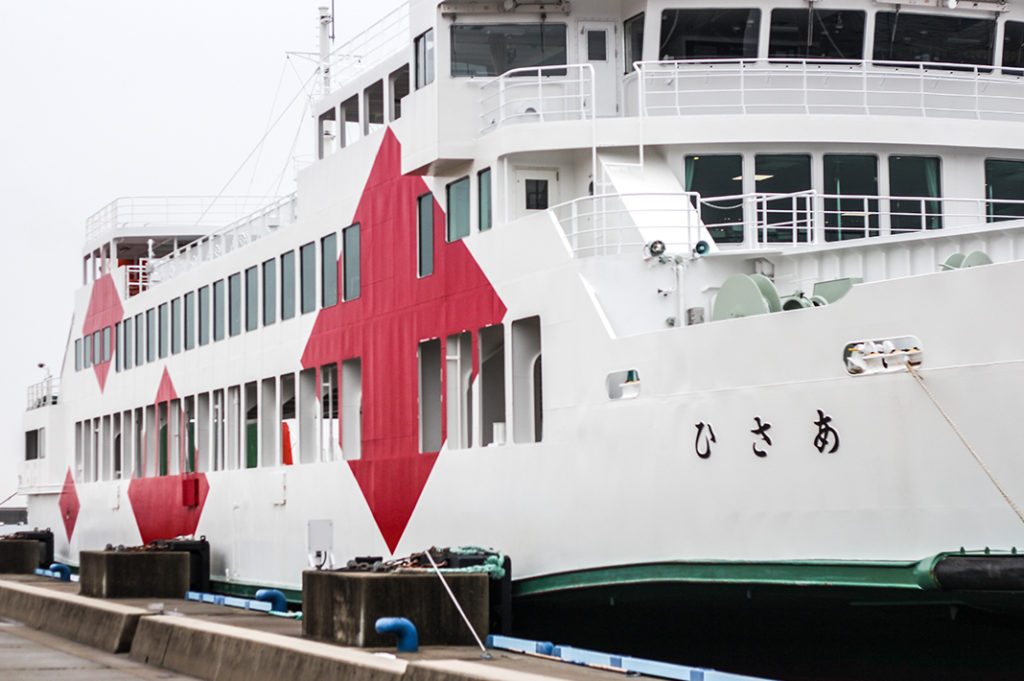 Okayama to Naoshima
As it's an island, a portion of the journey is going to be via boat. The two main ports offering access to Naoshima are Okayama (Uno Port) on the main land and Takamatsu (Takamatsu Port) on Shikoku Island. (It's also possible to get to Naoshima from Inujima—another small island—though this is not as common for most travellers). Let's start with the most common way to get to Naoshima, via Okayama.
Okayama Station to Uno Port
Our Shinkansen took us as far as JR Okayama Station, which is still quite far from the port—23km to be precise. You can drive or get a taxi in around 20 minutes, but if you are relying on public transport, there are two methods: bus and train.
By Train:
Take the JR Uno Line (45-60 min, 590 yen each way) which is covered by the JR Pass. You may be required to transfer at Chayamachi Station, in which case you take the JR Seto-Ohashi Line from Okayama and change to the JR Uno Line at Chayamachi Station. Get off at JR Uno Station and follow signs to the ferry terminal.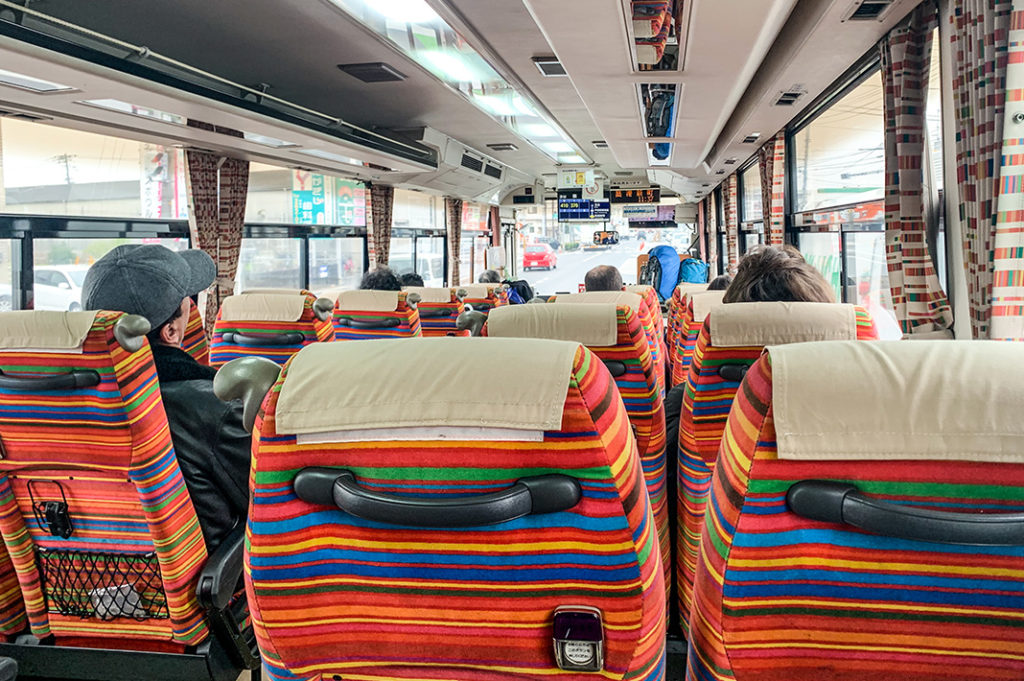 By Bus:
Head out of Okayama Station and make your way to the buses. The quickest option is the Ryobi Express Bus (Rainbow) headed towards Shibukawa/Diamond Setouchi Marine Hotel (53 mins, around 500 yen). We accidentally rushed onto a local bus which would have seen us miss the ferry. Luckily the driver realised we'd probably made a mistake and hooked us up with the express bus which we came across a few stops later.
Once you get off the bus, head to either the car ferry or passenger terminals—see map.
Okayama (Uno Port) to Naoshima
The ferry takes around 20 minutes to reach Naoshima's Miyanoura Port. During that time, you can enjoy comfortable seats, bathrooms, an open-air deck and artworks.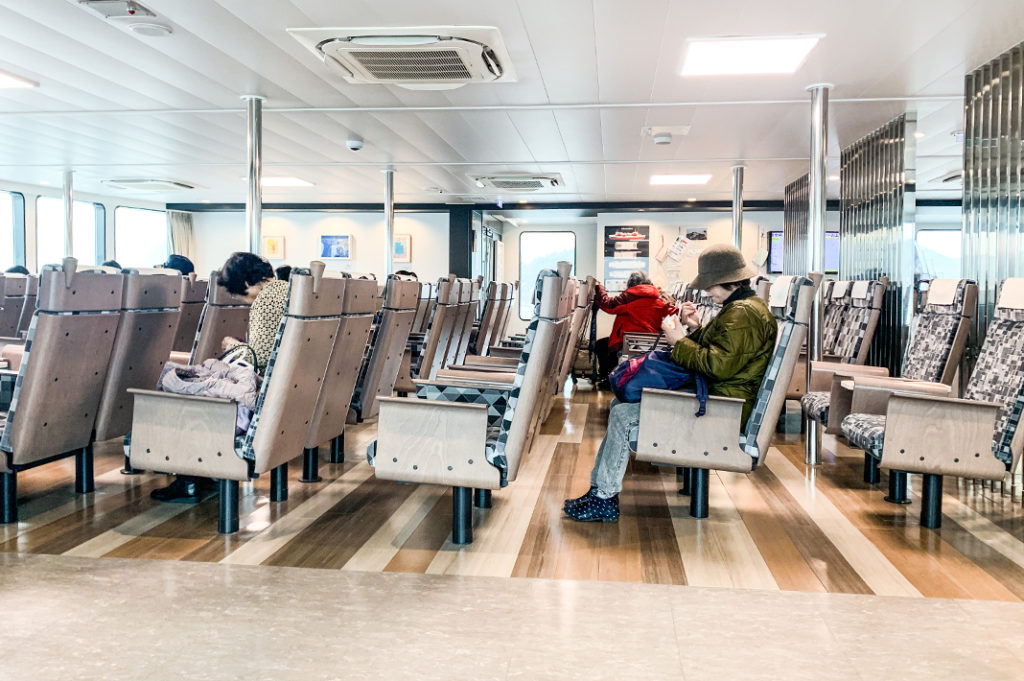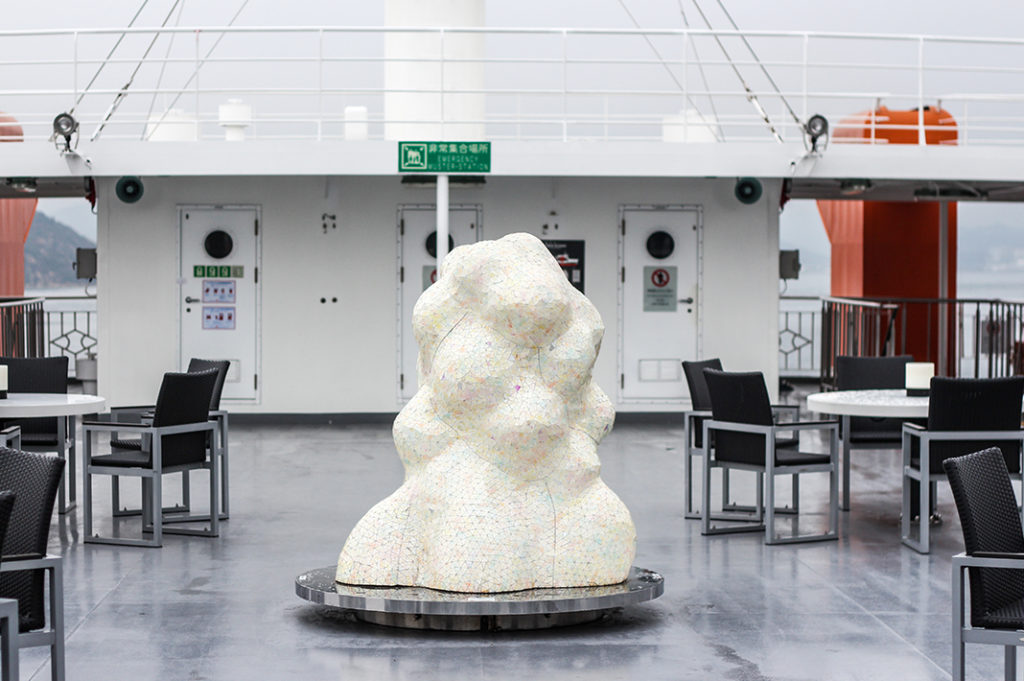 There is also a high-speed boat from Uno Port which costs the same (around 300 yen) and shaves off a few minutes, though cars and bikes are not permitted.  
Ferries depart Uno Port between roughly 6 am and midnight; the last return ferry is around 8:30 pm (though there are a few high-speed boats after this). For up to date timetables between Okayama and Naoshima, check here. 
Takamatsu to Naoshima
If you fly into Takamatsu, you will need to get the Limousine Bus from the airport to Takamatsu Port (around 50 minutes and roughly 800 yen). However, if you're already on the island, you'll find the port situated right near Takamatsu Train Station.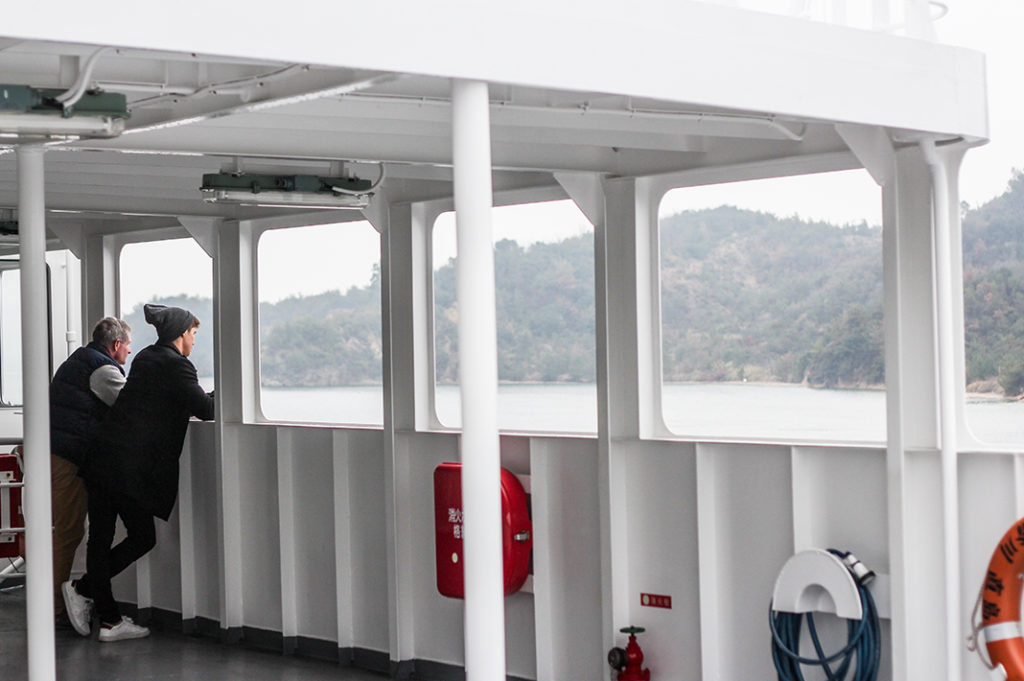 The ferry from Takamatsu Port to Naoshima (Miyanoura Port) takes around 50 minutes and costs just over 500 yen. The high-speed boat saves you 20 minutes but costs you over 1,200 yen and it does not permit cars or bikes on board.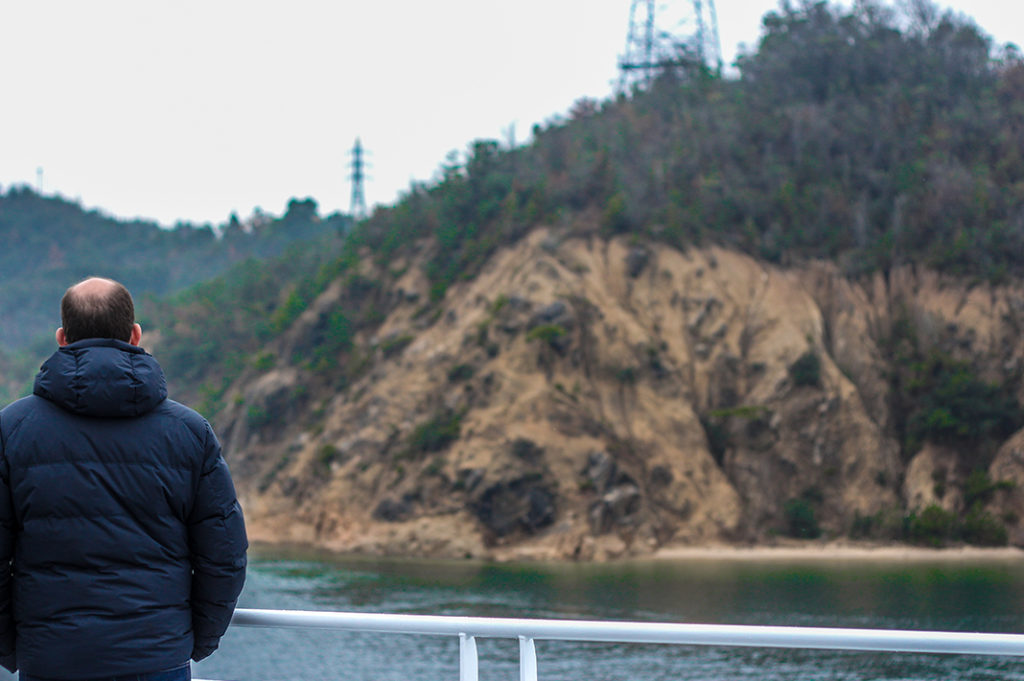 Boats depart Takamatsu between 7:20 a.m. and 8:30 p.m. and the last ferry back to here departs Miyanoura at 5:00 p.m. (though there is a high-speed boat after this). For an up to date timetable between Takamatsu and Naoshima, check here. 
To Car or not to Car?
If you are on a road trip, it is possible to take your car (or bike) on the ferries and use it on the island, though car parking may be limited at some attractions. For those coming via public transport or plane, you can also rent a car before getting the ferry.
For more information about what to do on the island, check out our other Naoshima posts here.
Post by Japan Journeys.