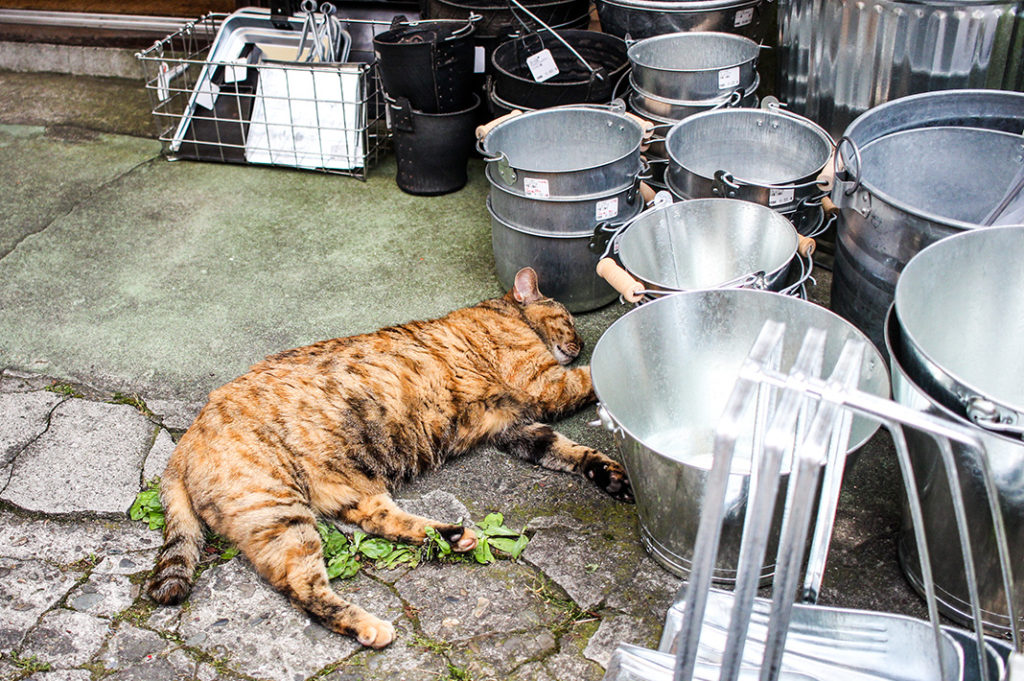 If you're coming to Tokyo and worry you'll miss your furry friend, make sure you plan a day trip to Yanaka! Affectionately known as "Cat Town", this shitamachi (or downtown) neighbourhood is full of all the cat souvenirs, statues, foods and, of course, stray cats your heart could desire. It's not known why the cats came to Yanaka, or why the locals have embraced the feline theme so heartily, but as a cat lover, I'm grateful. With so many cute and delicious surprises, Yanaka is one of the best destinations for cat lovers in Tokyo. See all the destinations on this map.
Exploring Yanaka Ginza
The first stop on your cat tour should be the Yanaka Ginza shopping street, or shotengai, which is the main vein of the neighbourhood. Take your time wandering through this slice of 1950s Tokyo, exploring the almost 60 stores. Most of the shops get into the spirit, stocking something cat-related, and there are even a few dedicated to our feline friends, like this one.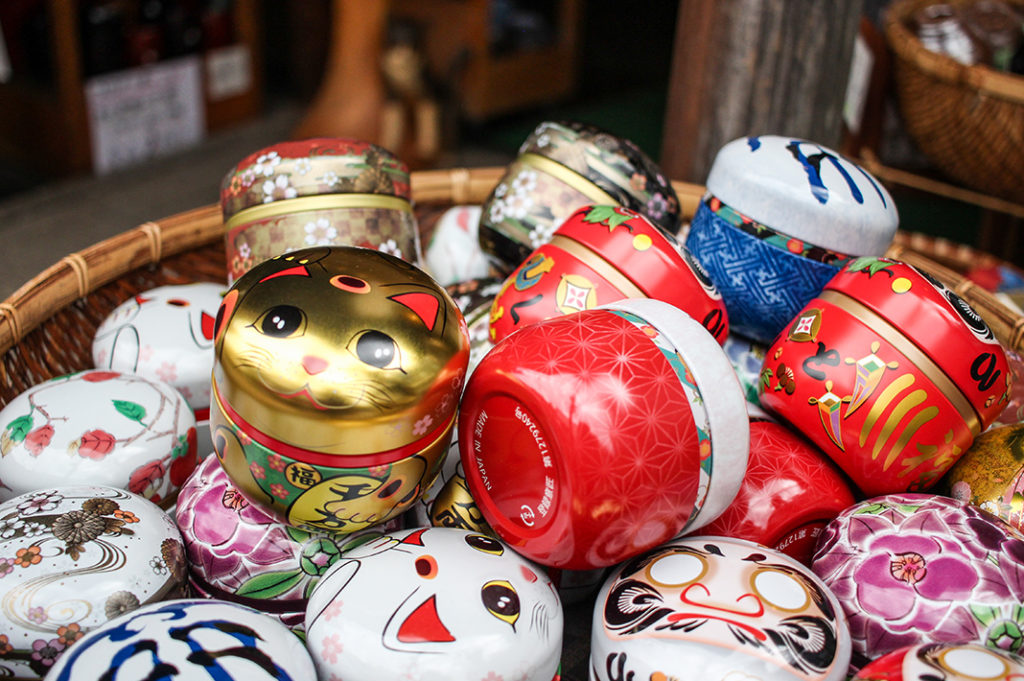 Cat-shaped food
If you're feeling peckish, Yanaka Ginza has plenty of food options ranging from soba noodles to Turkish food. However, in keeping with the theme, here are our recommendations for you cat lovers in Tokyo.
Cat-tail donuts from Shippoya
Yanaka Shippoya is a well-known little shop that sells donuts in the shape of cat's tails. They come in all kinds of flavours and a range of patterns to mimic those of a cat. I went for the chocolate custard donut to match my cat's colouring.
Yanaka Shippoya is open daily 10AM–6PM (until 7PM on weekends).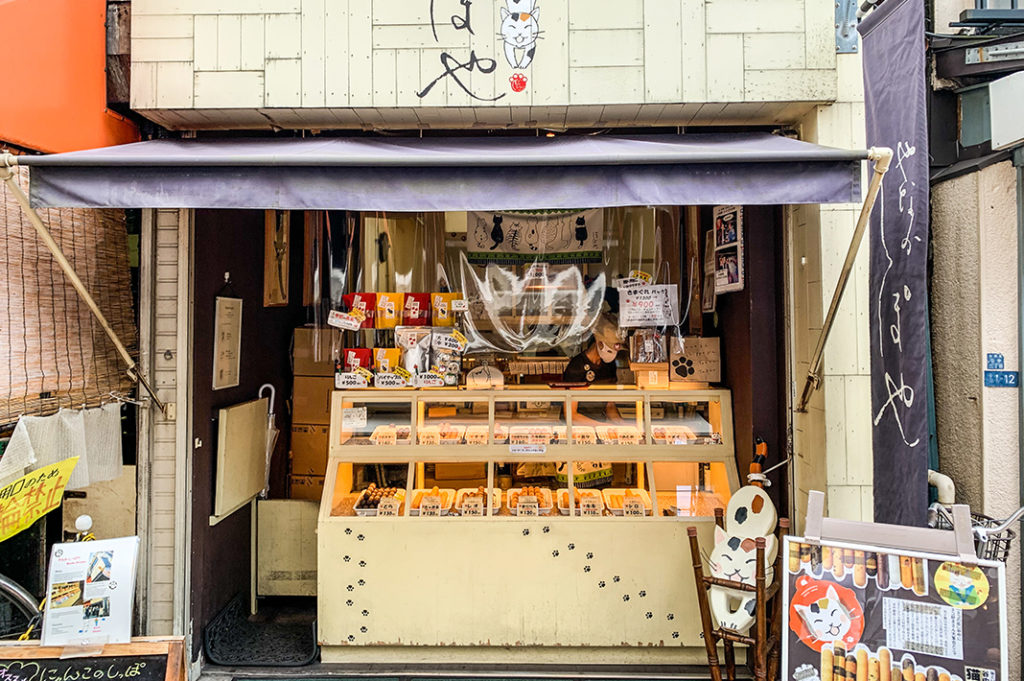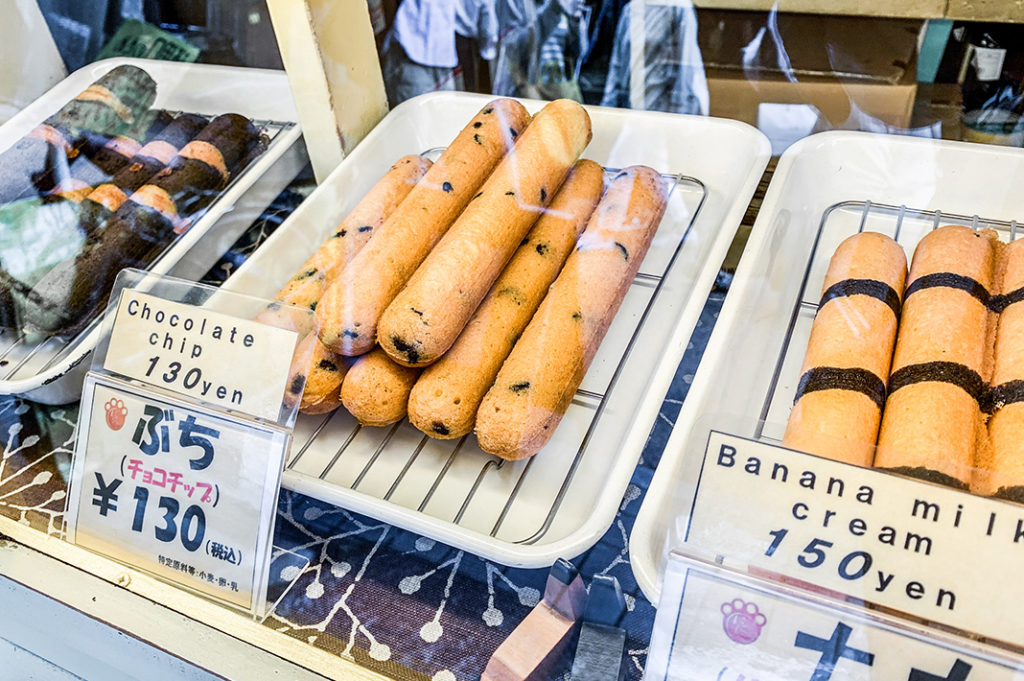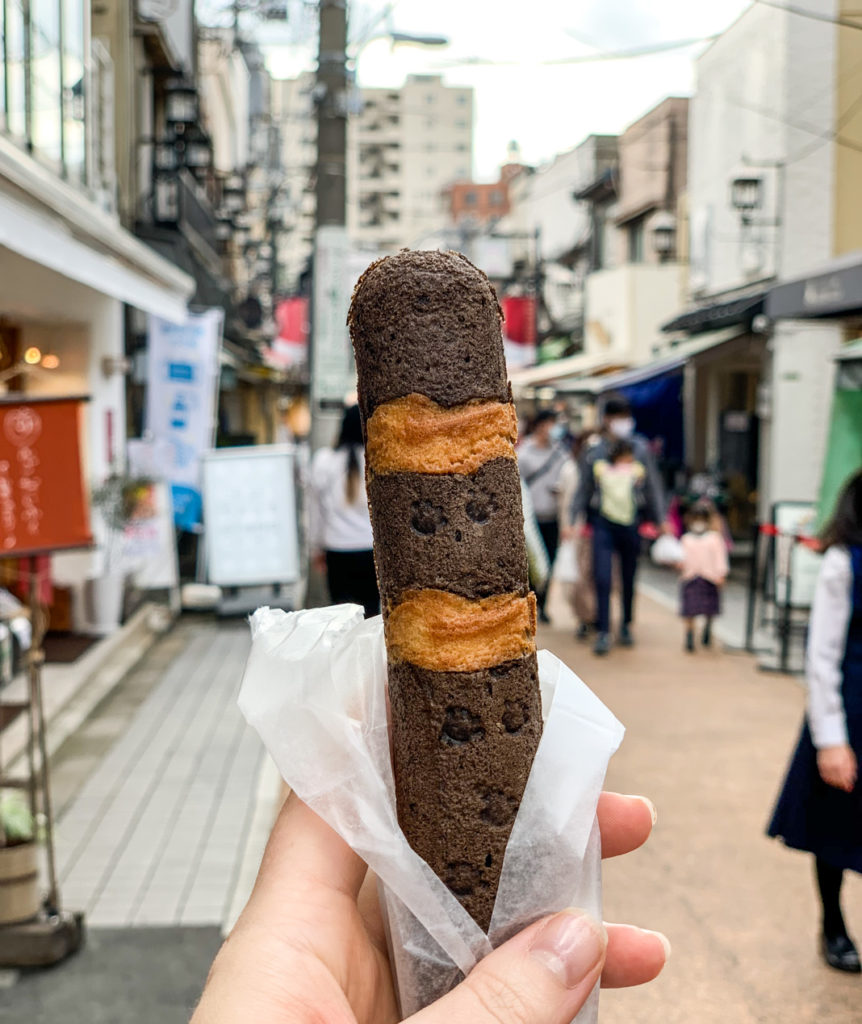 Cat-shaped Taiyaki from Maneki-ya
If you're looking to try something a little more traditional, head to Maneki-ya for a taiyaki. These traditional desserts are made from pancake batter and stuffed with various fillings like custard or red bean paste. Served warm, they are usually fish-shaped but here in Yanaka, they are unquestionably shaped like a cat. If the design looks familiar, that's because it's a Maneki-neko cat, otherwise known as the lucky cat or waving cat. A little extra luck with your snack never went astray.
Maneki-ya is open everyday except Wednesdays 11AM–6PM (6.30pm on weekends).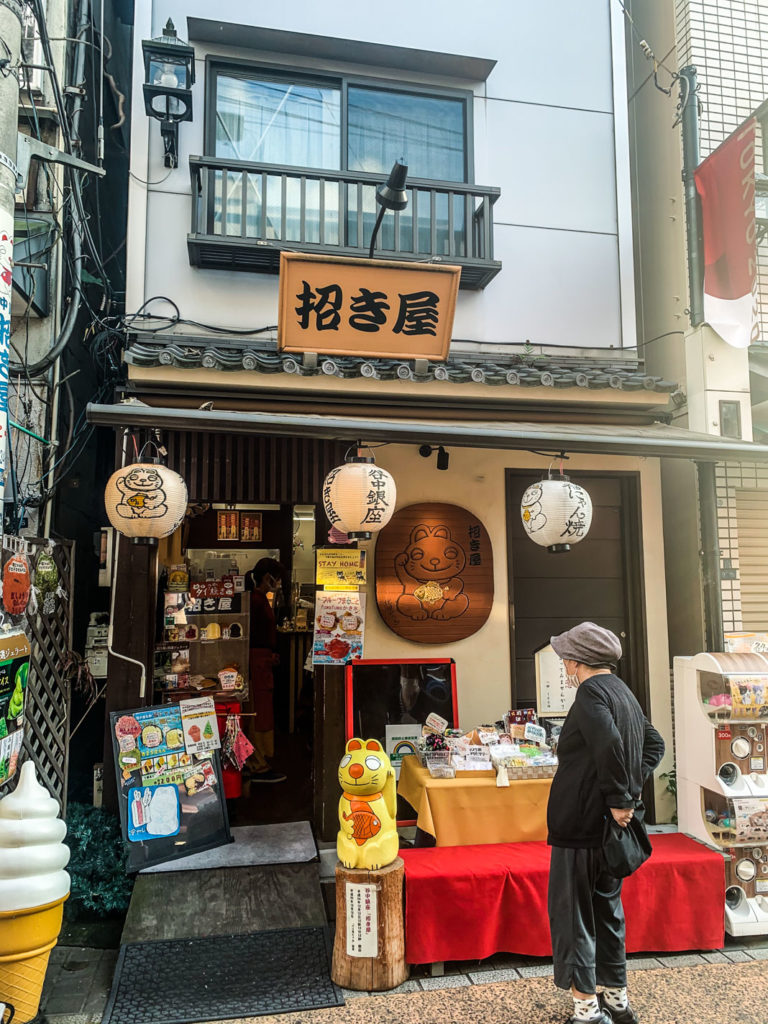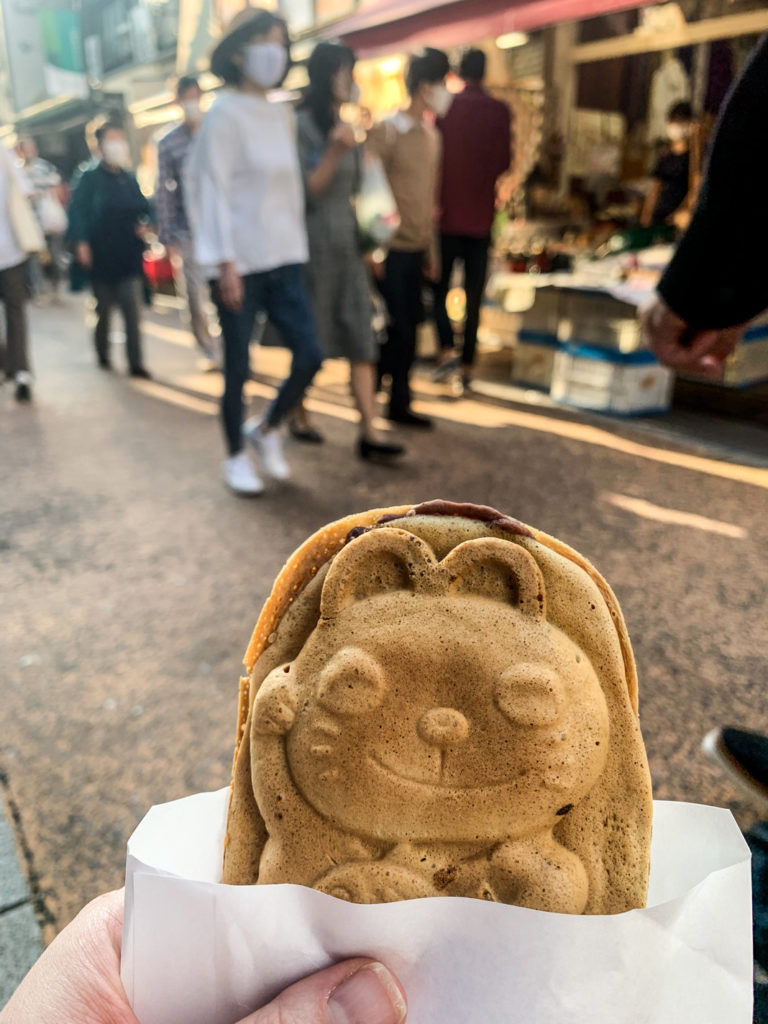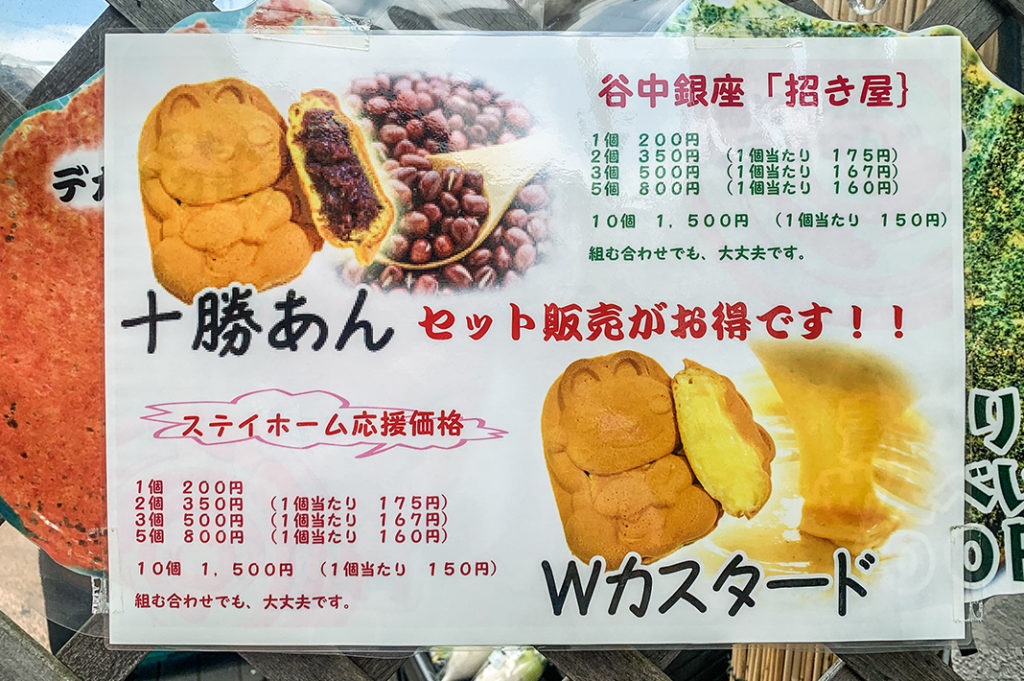 Seven Lucky Cats statues
Shopping aside, the Yanaka Ginza is home to a series of seven cat statues. Installed in 2008, they're designed to bring a little luck and joy to the beholder. Can you spot them all?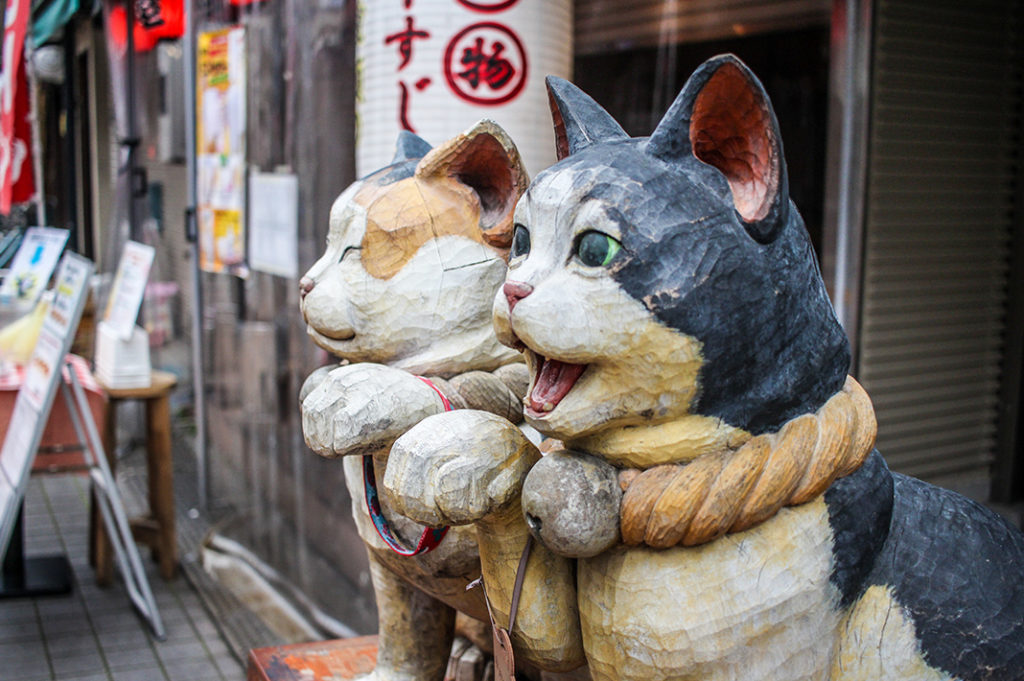 Yanaka Cemetery: where cats call home
If you want to witness a real-life feline resident, our recommendation is to take a stroll through the Yanaka Cemetery. This may sound creepy but, on the contrary, Yanaka cemetery is both beautiful and peaceful. So peaceful, in fact, that many local cats have chosen to live here. The cats are quite good at keeping themselves hidden, but there's a good chance you'll spot at least one scurrying around. It should go without saying, but please don't feed the cats if you do manage to get close. Lastly, while you wander around, look out for glimpses of the Tokyo Skytree through the trees.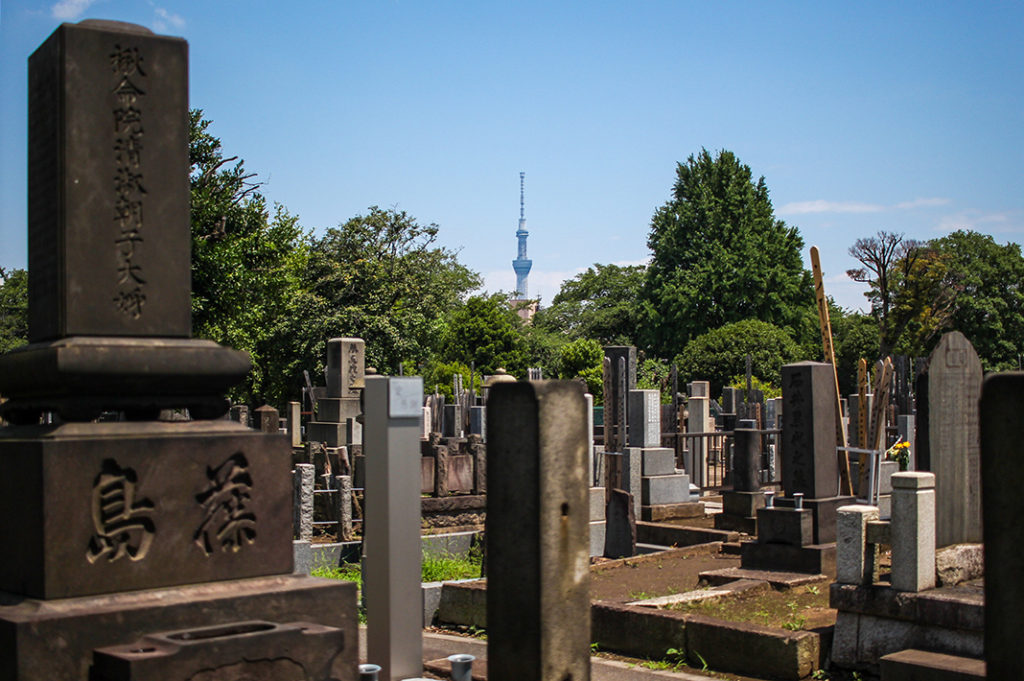 Go for the shrine, stay for the curry
Nennekoya is situated a few minutes walk from the cemetery, on the very picturesque Miura-zaka slope. The area is fairly residential so this place, covered in cat paraphernalia, really stands out. And it's definitely worth paying attention to as it's a guesthouse, cafe and cat shrine all in one. Check their website for images of the cute cat-shaped dishes, and please note you will need to reserve ahead if you plan to eat here. If you can't get in, you can still visit the shrine, located out the front of the building, on the right, behind a curtain.
Nennekoya is open every day except Wednesdays, 11:30am–6pm.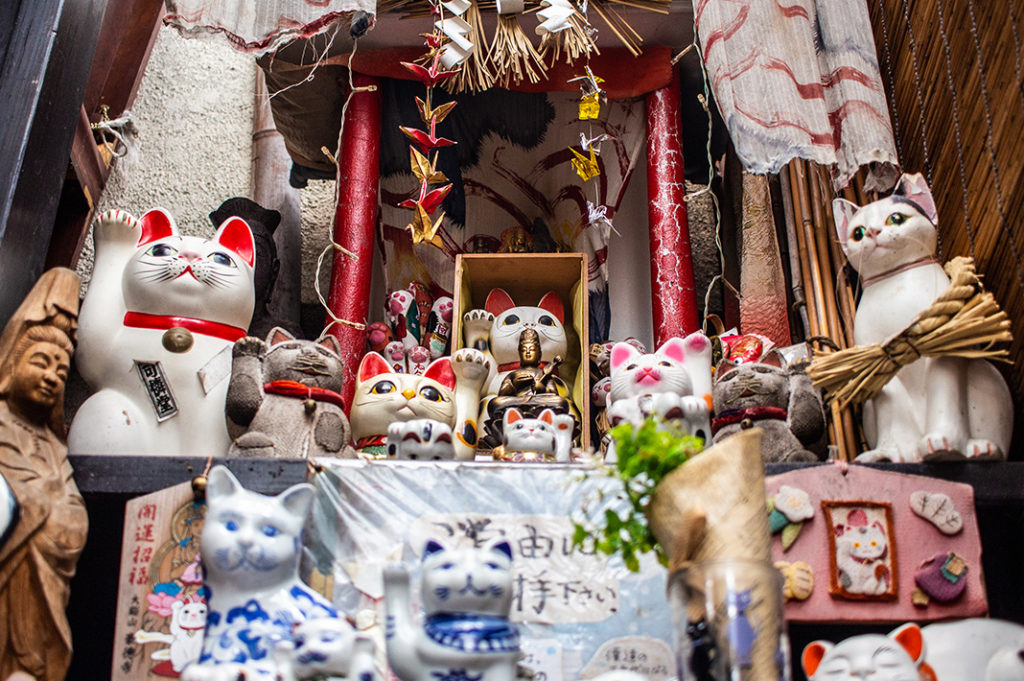 See feline art at the Nekomachi Gallery
Next on the cat tour is Nekomachi (meaning cat city), a gallery devoted to our feline friends. Wander down a quiet backstreet and up these stairs and you'll find Nekomachi within a beautiful old Japanese house. Incense burns in the garden, welcoming you in. When you enter, you'll need to remove your shoes but can replace them immediately with a pair of kawaii cat slippers. Inside is cosy with timber features and earthen-textured walls. The large rooms feature cat-related exhibitions by solo-artists. At the time of my visit, the ground floor housed a cat-themed jewellery exhibition while upstairs featured a collection of anthropomorphic cat statues made from old kimono fabric. Many of these feline works can be purchased online.
Nekomachi Gallery is open Thursday to Sunday, 11AM–6PM.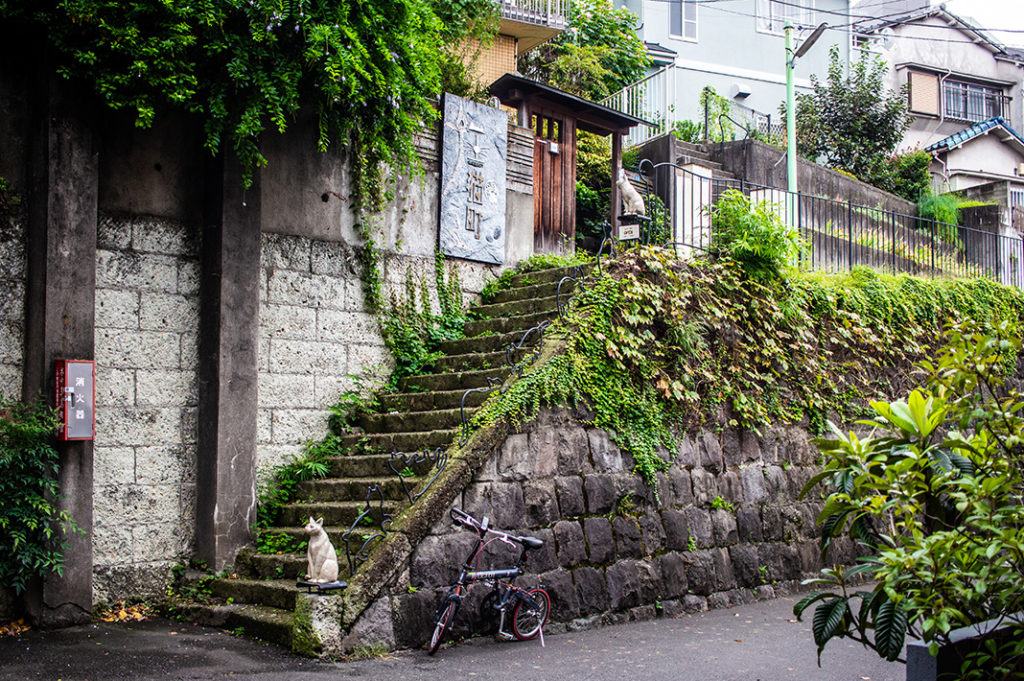 A sit down at Cafe Neko-e-mon
Cap off your day with coffee and cake at Cafe Neko-e-mon. They have a range of caffeinated beverages as well as sweets like cheesecake, mont blanc and eclairs styled to look cat-like.
Cafe Neko-e-mon is open every day except Mondays, 11AM–6PM.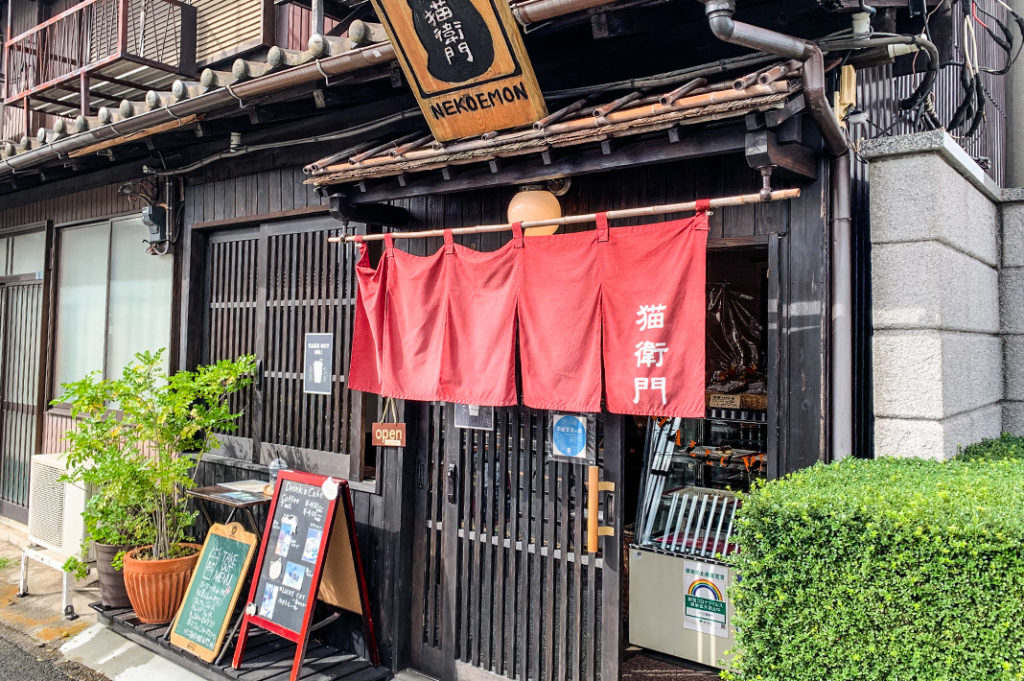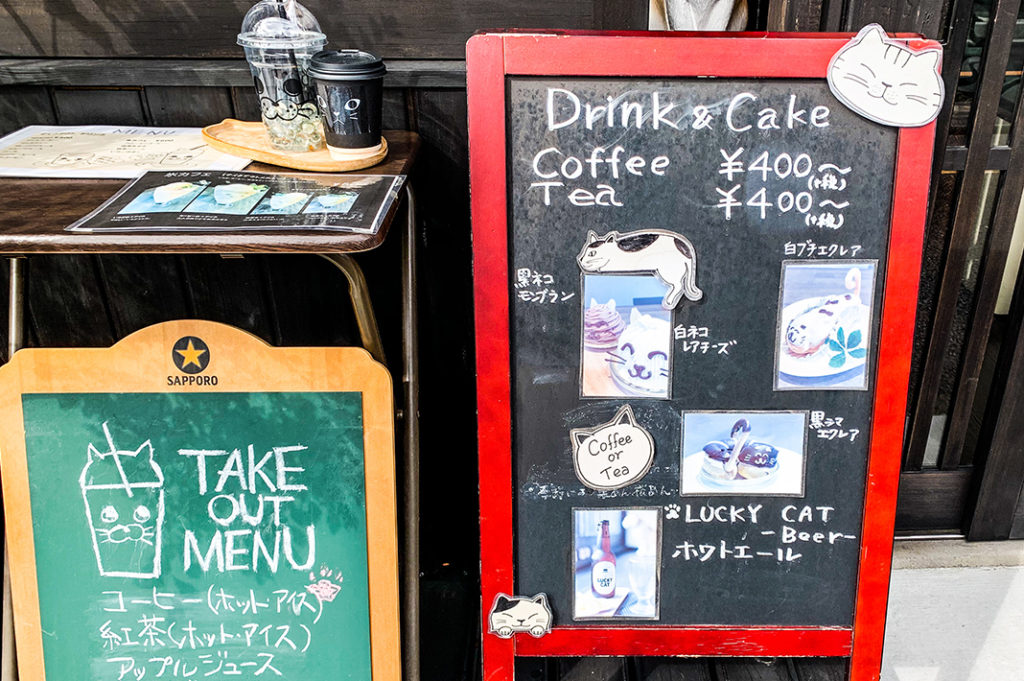 Next door is the Maneki Neko Yanakado gift shop where you can pick up a lucky cat statue, a printed dish towel or any number of cute souvenirs. This shop also custom-make maneki-neko statues to look like your very own cat!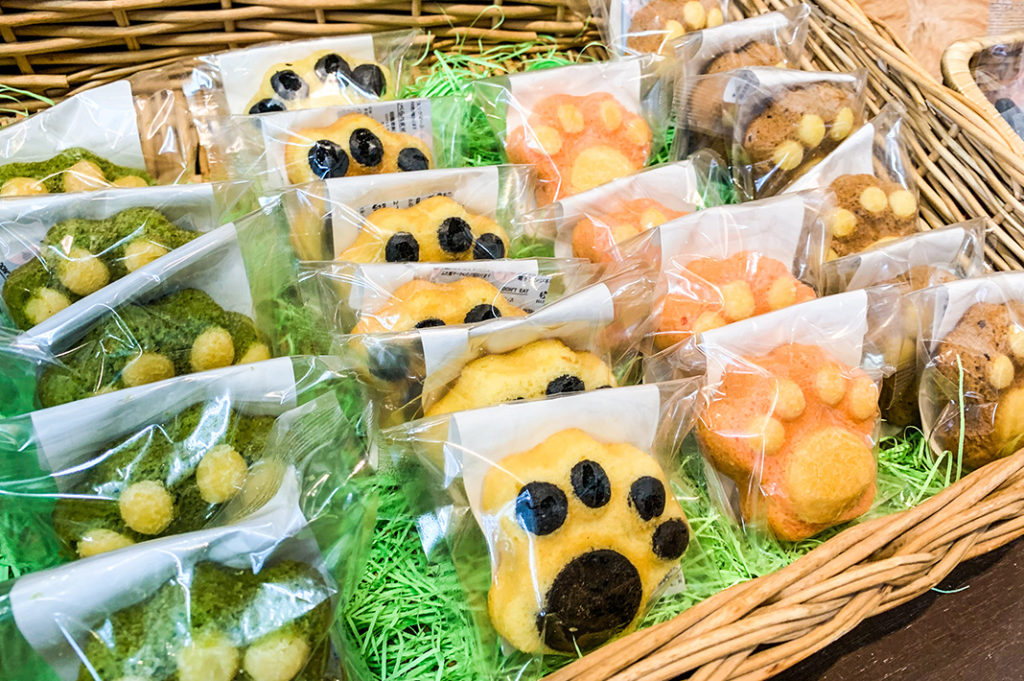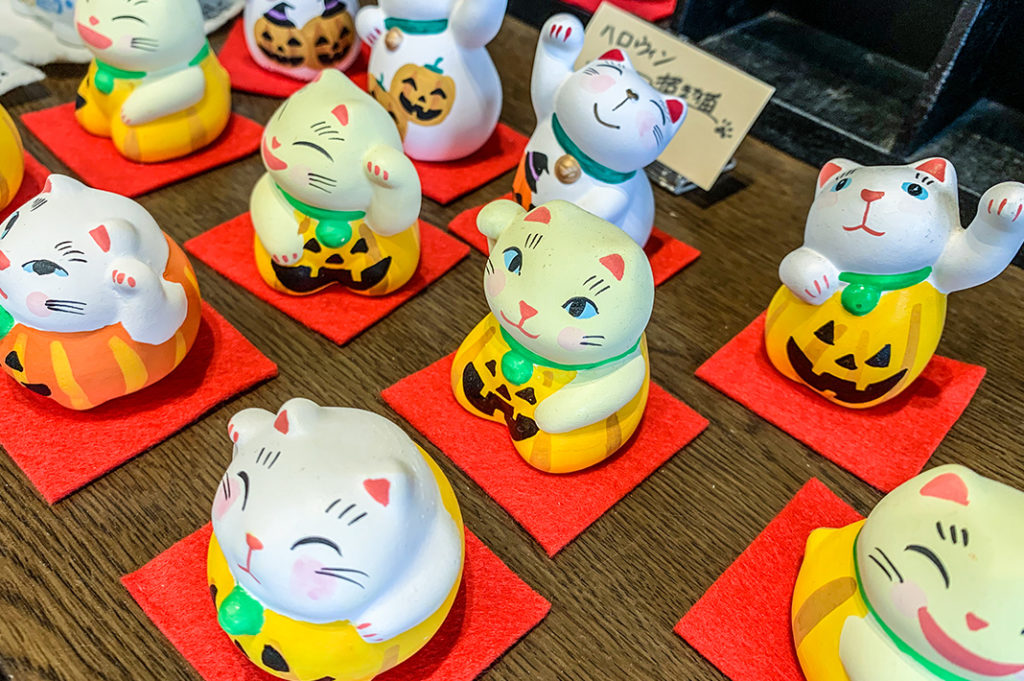 Even if you don't identify as a 'cat person', you're sure to find Yanaka's traditional aesthetic charming. And if this has just started scratching your itch, good news: it's not the only place to see cats in Tokyo. Head to any shotengai shopping street around town and keep an eye out. Besides, you can always get your fill at cat cafes or head over to Gotokuji Temple to explore the lucky cat temple. If you do visit the latter—be sure to keep an eye out for the cat tram!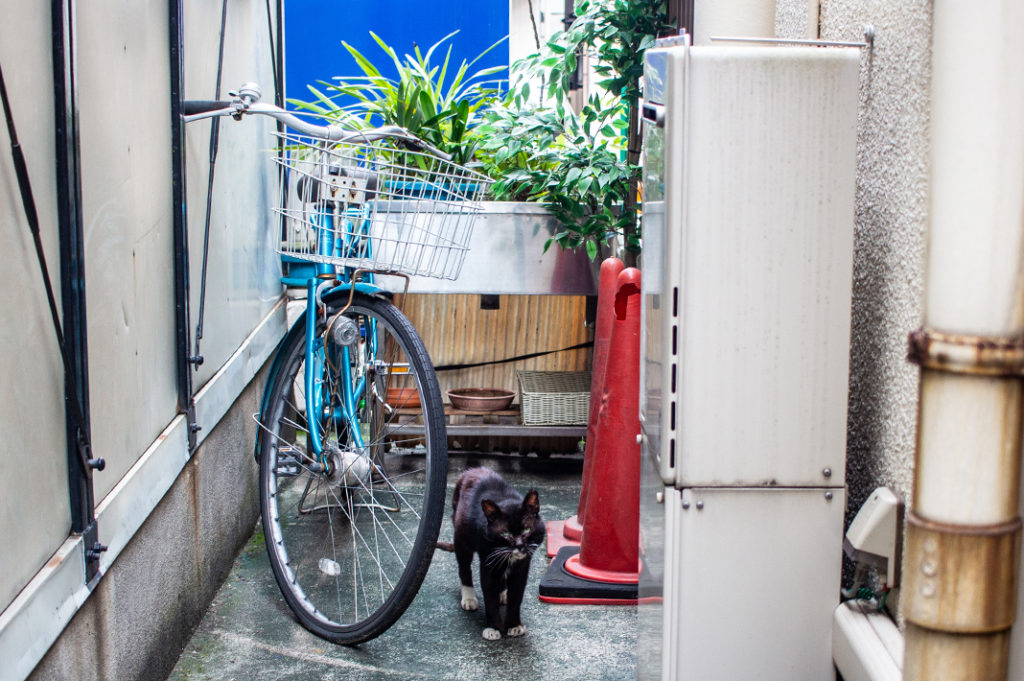 Getting there
Yanaka is 5 minutes' walk from JR Nippori Station, serviced by the Yamanote Line, Joban Line, Toei Line and private railway Keisei Line. It's also a 5-minute walk from Sendagi Station on the Chiyoda Subway Line.
Post by Japan Journeys.