Besides seafood, Hokkaido's best export must be soup curry. This is exactly as the name makes it out to be: a spice-rich soup, most often featuring a braised or grilled chicken thigh and a generous helping of vegetables, served with plenty of rice. We've written about soup curry in Shimokitazawa before, but another place we particularly like in the neighborhood is Ponipirika.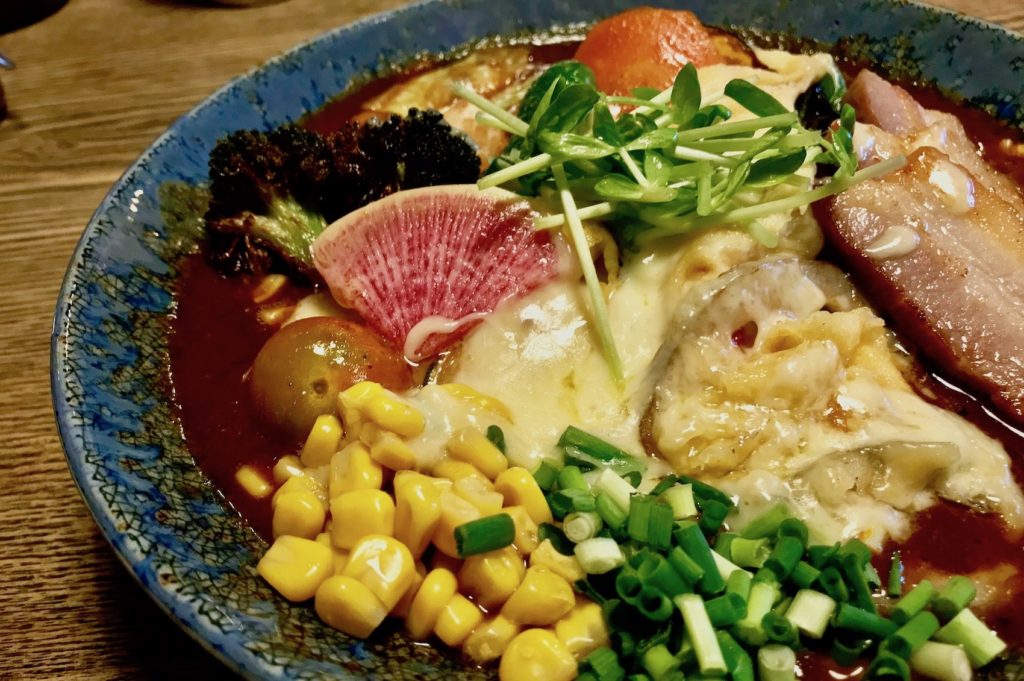 What's in a name
Ponipirika is a portmanteau of two Ainu words – 'poni,' meaning young branch or bone; and 'pirika,' meaning cute or beautiful. On discovering this I remembered, very suddenly, of a bowl of deer soup curry I had eaten many years ago in the Ainu village near Lake Akan. A delicious bowl, and a pleasant memory; it gave me a few minutes of mulling over how uncommon it was to encounter aspects of Ainu culture in Tokyo.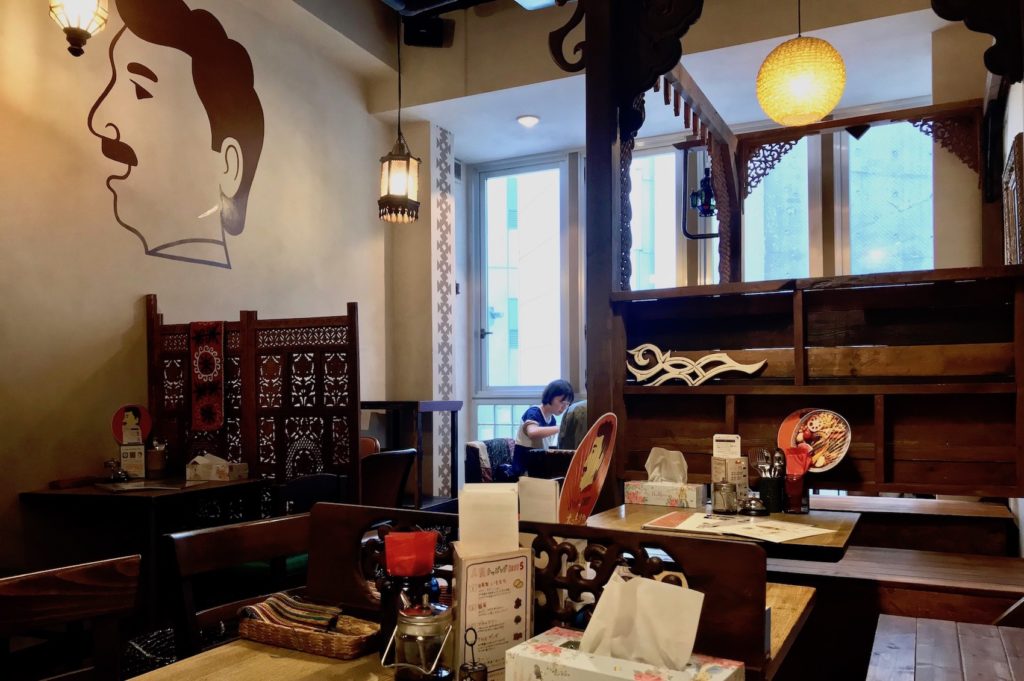 Regardless, 'Ponipirika' is a charming name for a soup curry shop. The approach they take with their soup curry is just the icing on the cake. No chemical additives, and a collagen-rich soup base that's slowly simmered for over 12 hours, containing a ton of vegetables, pork bones, chicken bones, and over 15 spices. (Sorry, vegetarians—soup curry may have lots of vegetables, but the base is almost invariably not veg-friendly.)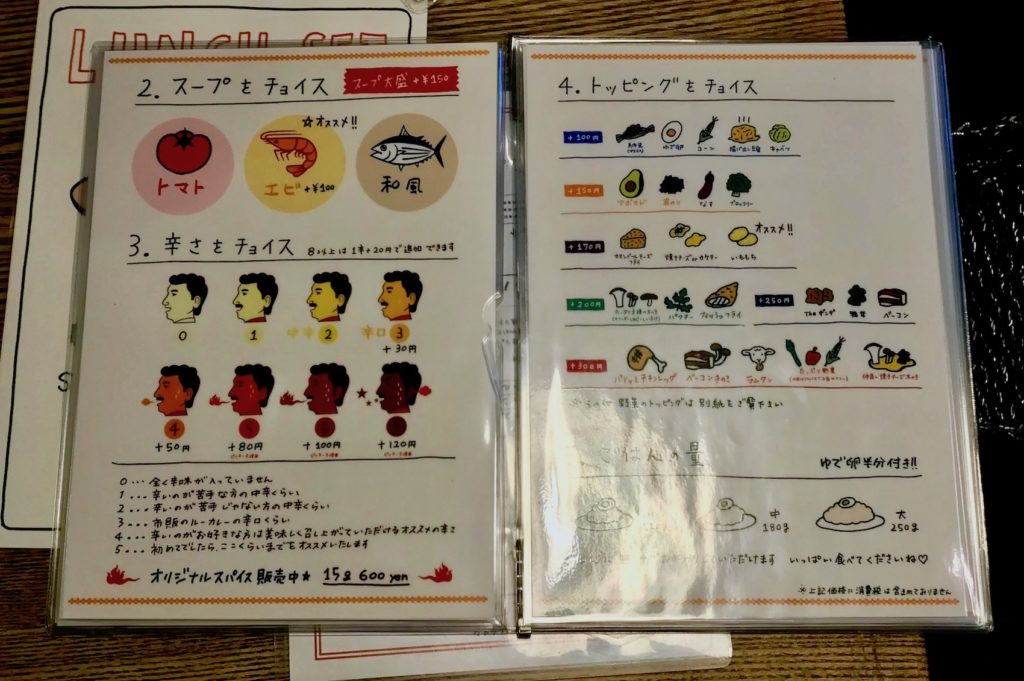 A late lunch at Ponipirika
Though it might not have quite the same levels of cultish fame as nearby favorite Rojiura Samurai Soup Curry, Ponipirika has its fair share of fans. Just look at the weekend queues, the patient lines of diners waiting for their daily dose of vegetables. I have fond memories of Ponipirika—it was where I'd catch up a friend who lived in the neighborhood years ago.
Peak lunch hours are an invariably poor time to visit. But it is often miraculously half-empty closer to half past two or even 3:00pm, especially on weekdays. I often work well past acceptable lunch hours, and it's almost mid-afternoon when I look up from my screen. At this point you put on your shoes and run, run, run to Ponipirika. Zip through the doors at 3:31pm, and the waitress might relent and let you in like she did me, and it might just feel like a minor miracle being seated one minute after the last order.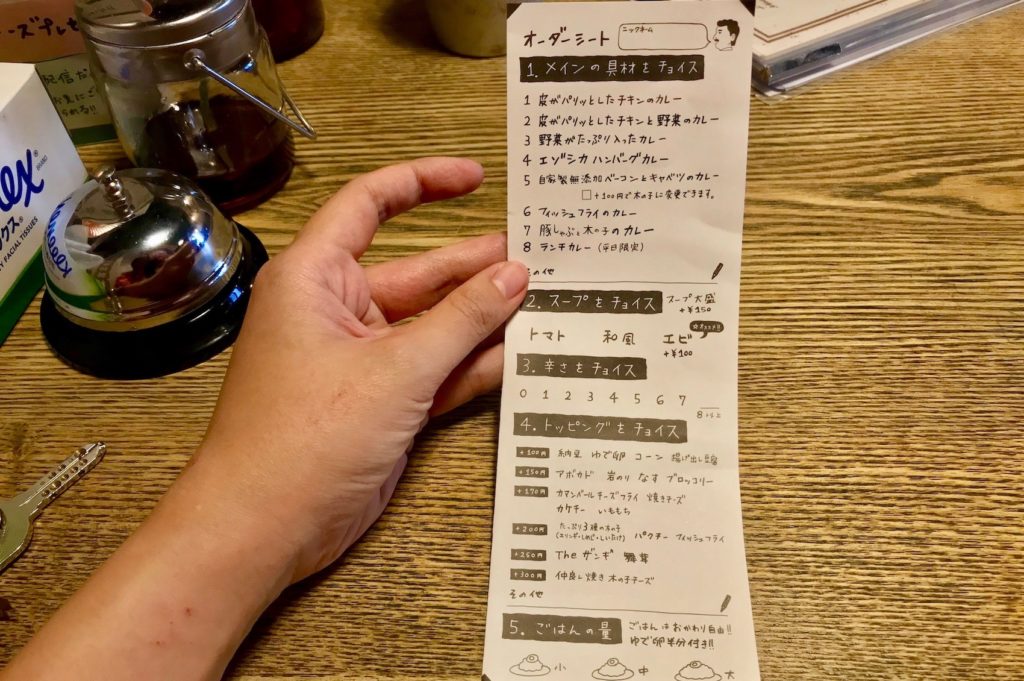 Ordering soup curry
Like most soup curry places, you can customize each bowl at Ponipirika to your liking. Choose from a tomato, prawn, or Japanese-style dashi base. Adjust heat levels to your liking. Level 4, which costs an additional ¥50, is pleasantly tingly rather than spicy. You may disagree if you share the average Japanese tolerance for spiciness, which is to say, none. Pick your toppings, decide how much rice you want (it comes with half a boiled egg), and so forth. Then wait.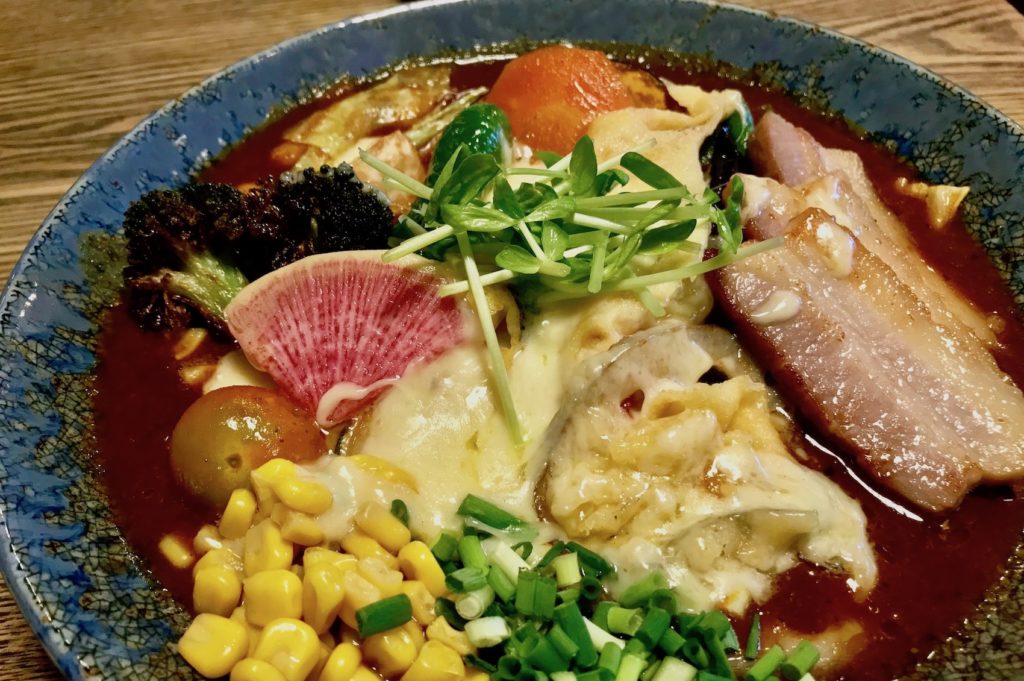 A wealth of vegetables in Ponipirika's soup curry
Ponipirika's soup is on the viscous side, closer to a sauce than a broth, with a rounded sweetness from all the bones and vegetables. This is especially true if you choose the tomato version. Pick from crispy-skinned chicken, the same with more vegetables, lots-of-vegetables, bacon and cabbage, fried fish. It will invariably be delicious no matter what you choose.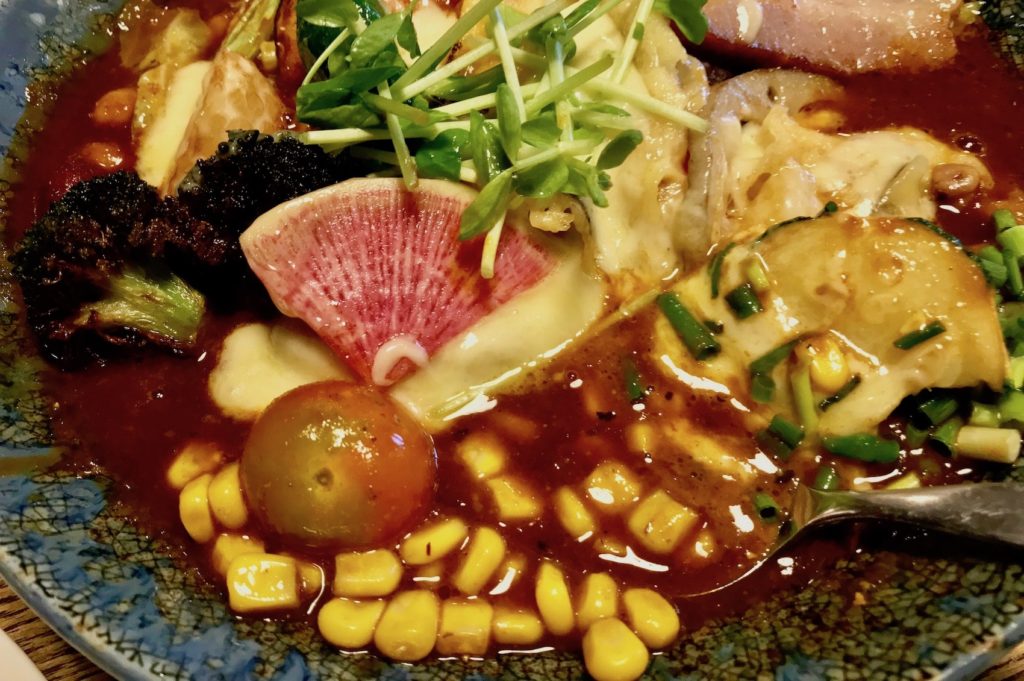 The second thing you can do is to add on たっぷり野菜 (tappuri-yasai, or lots of veg) to your order for ¥300. The third best thing you can do is add grilled cheese to your soup curry. And the very best thing you can do is add both these things to your order.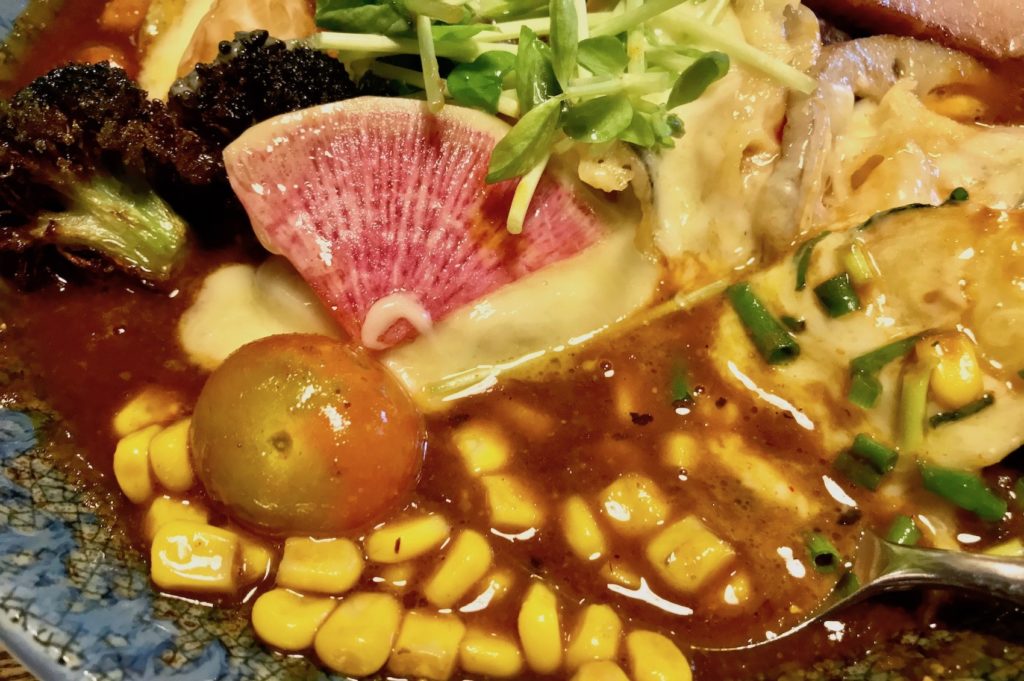 This way, you end up with a veritable wealth of vegetables in your dish. Eating through your soup curry is like digging for treasure; you keep uncovering more vegetables, hidden underneath others or blanketed in savory, melty cheese. Listing all of them is like chanting a plant poem: turnip, lotus root, zucchini, broccoli, tomato, corn, scallions, cabbage, peppers, pumpkin, kidney beans, green beans, okra. All of it is resoundingly fresh and sweet. Crisp, crunchy, tender, melting—it's all cooked to just the right texture for each vegetable.
This is soup curry that deserves your full attention. Keep it on your list for when you're next in the neighborhood. If nothing else, your body will thank you for the vegetables.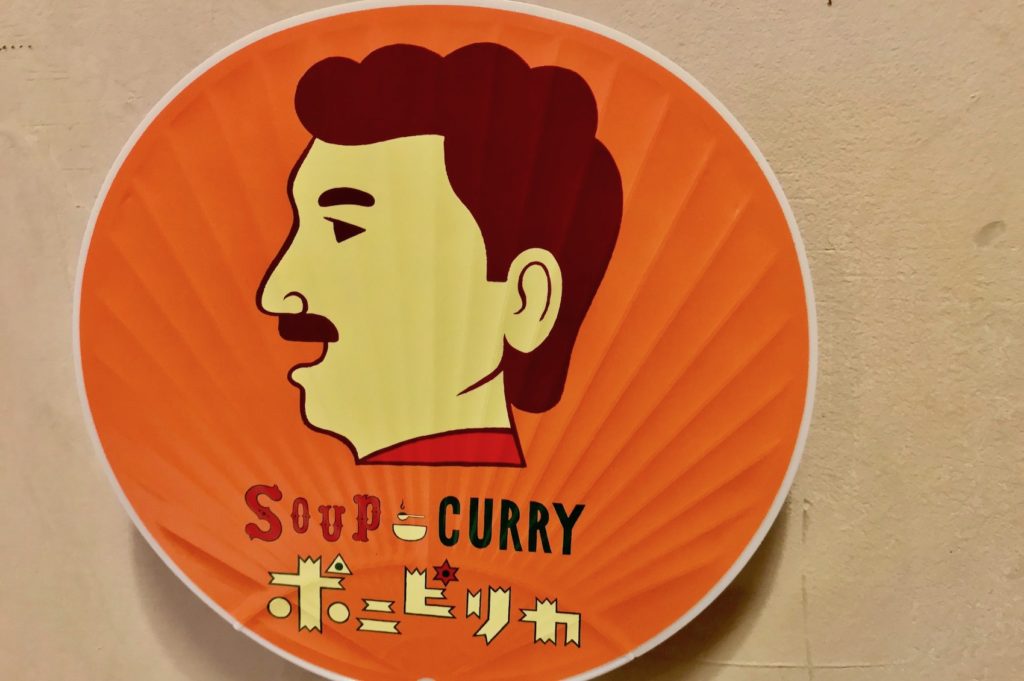 How to get here
Expect a queue at peak lunch hours; it's busiest on weekends. Try a late weekday lunch if you don't want to stand in line for a while.
Name: Ponipirika
Address: 2F, 2-8-8, Kitazawa, Setagaya, Tokyo 〒155-0031
Open: 11:30am–4:00pm (L.O. 3:30pm), 5:00pm–9:45pm
Website: https://ponipirica.in/
Post by Japan Journeys.