On day 11 of our trip, we left Fukuoka and after a brief and unexpected ramen lunch, found ourselves in the small town of Hitoyoshi. Owing to its rich history and culture, Hitoyoshi touts itself as the "Little Kyoto" of Kyushu. The town, however, has a distinct character of its own. With the remains of a castle, local rafting and fishing, and several hot springs, it's suitable for adventurous and sedentary travelers alike. We didn't have much time to take in everything the town had to offer, but we did take advantage of another chance to immerse ourselves in a local onsen.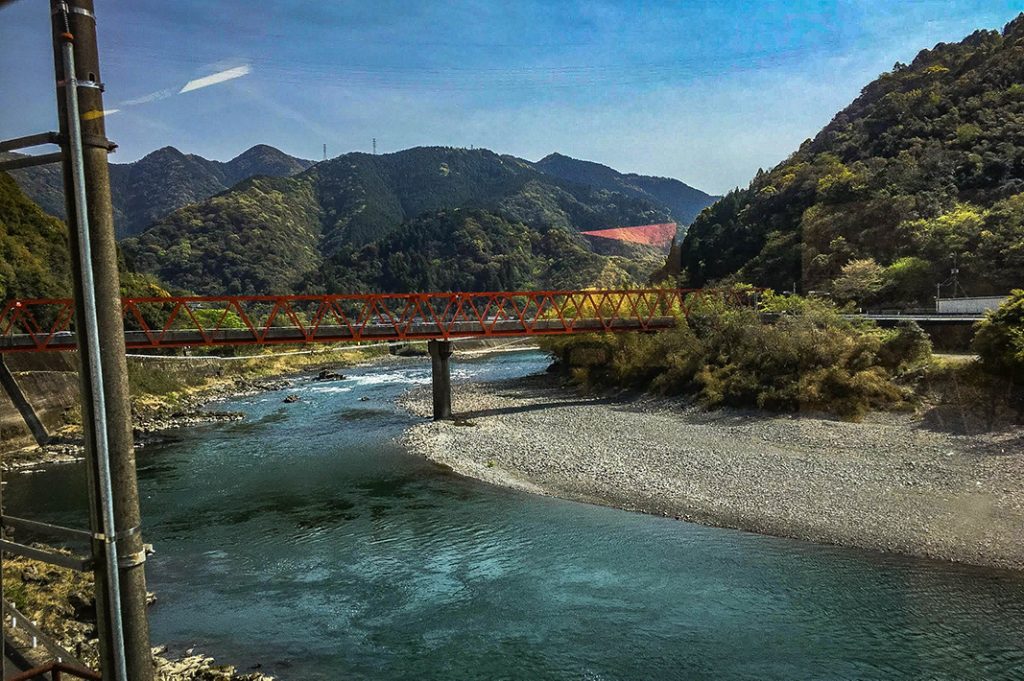 Into Kumamoto 
Our first transfer after leaving Fukuoka took us to a small village in the middle of Kyushu. We were in need of a lunch break, but the small rural station didn't provide many options. We trekked along a small road in search of food, but there was seemingly nothing. Right when we were about to give up, we caught sight of a red ramen banner waving in the wind. Several more banners stood out behind it. We followed them to a small house on the edge of a little community.
The restaurant took up the entirity of an elderly couple's living room. The elderly woman that owned the place expressed surprise over the appearance of foreigners. Our train left in half an hour, so we had to down the tasty noodles quickly, but as we were paying, the proprietress refused to let us leave on our own. She shouted at her husband in the kitchen and ordered him to give us a ride. We explained we were fine at least three times but found ourselves sitting in the family car five minutes later.
Our personal driver explained he was datsusara – a former office worker that escaped corporate life. Having moved back to the country, he and his wife decided to convert their home into a ramen restaurant. It was their retirement plan. He pulled into the station and wished us luck on our journey before zipping back off down the road.
Hitoyoshi
As you leave the cityscape of Fukouka for the towns and villages of inner Kyushu, the roads get narrower and wind deep into the mountains. The familiar restaurants chains and amenities become rarer, and it's not unusual to pass three towns in a row without so much as a 7-11. As we neared our destination for the night, the dense forests gave way to a wide-open valley and a fast-flowing river. We had arrived at our stop for the night, the town of Hitoyoshi.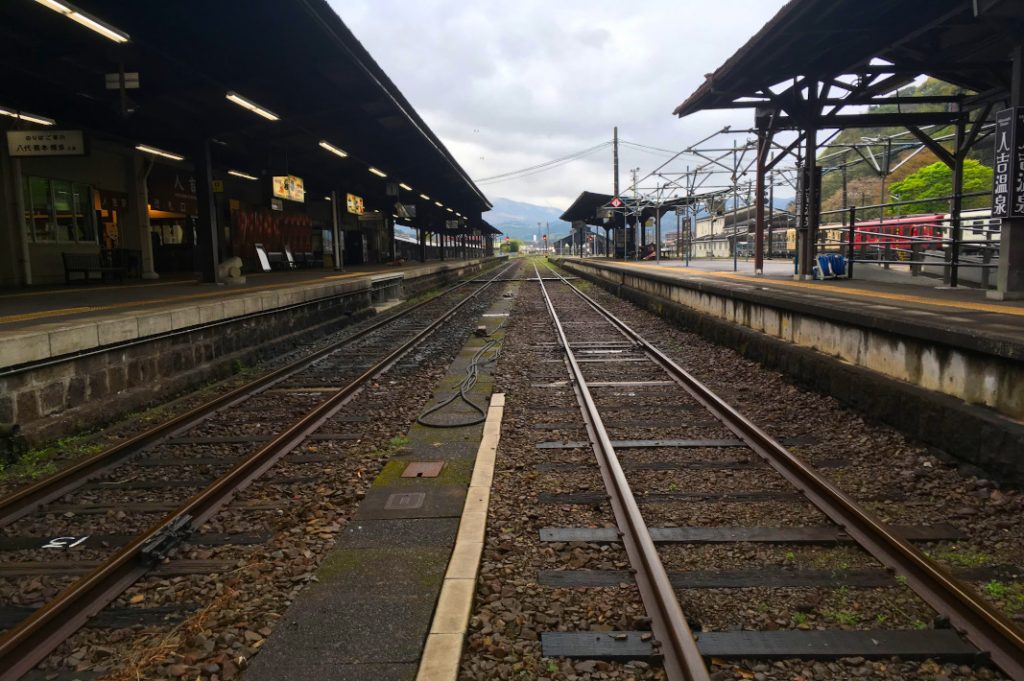 Japanese inns, known as ryokan, typically offer fairly standard old-world Japanese charm, but the place we were staying had opened earlier that year. With sleek modern décor alongside tatami mats and hot spring baths, it seemed to be going for a more hybridized look. We were the first foreign visitors at the hotel, and the host gleefully showed us around the hotel. We were happy to take advantage of his hospitality and made ourselves at home for the night.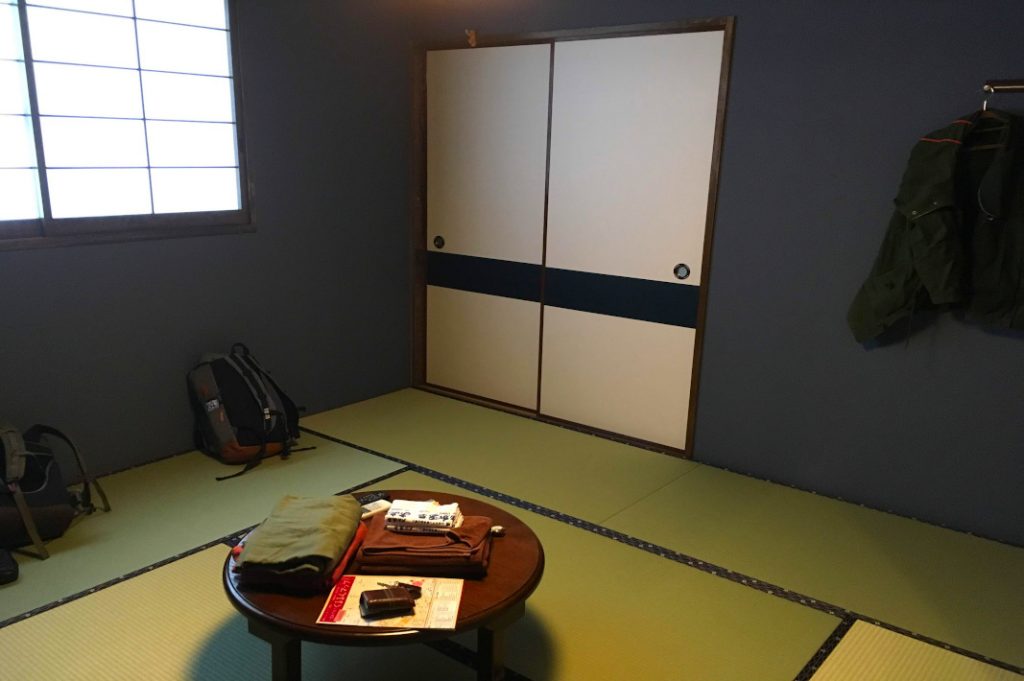 More Hot Spring Conversations
The ryokan may have been new, but the onsen was not. It clearly had been a community gathering spot for years. As I entered the humid, moss-scented baths, I saw several groups of men gruffly gossiping about local goings-on. I slipped into a bath, closed my eyes, and heard a familiar "hello". After a brief flashback to the previous week in Matsuyama, I wondered if I should steel myself for a long conversation.
The exchange, however, turned out to be fairly brief. The man was from Singapore and had moved to Japan several years ago. He was a dispatch worker, sent to Kumamoto by his company. His trips to the onsen in Hitoyoshi were a small consolation, as he could only visit his family one weekend every other month. As he left the bath, he explained that the water had healing properties. "They always make me feel a little better," he added.
Both of the men I had talked to that day had found some respite from their busy work lives in rural Kumamoto. As I slid deeper into the onsen waters, I reflected on my own stress from two years of Tokyo-living. Closing my eyes again, I tried to let it all go. Perhaps it was only a placebo effect, (after all, practically every hot spring makes some claim about healing powers), but I couldn't help feeling a little more energetic when we woke up the next morning and boarded our last train to Kagoshima.
Destination: Hitoyoshi
Address: 1578-1, Shimo-shiromoto-machi, Hitoyoshi-shi, Kumamoto-ken, 868-8601
URL: https://hitoyoshi-travel.com/en/
Post by Japan Journeys.