For an authentic, down-to-earth Japanese dining experience, head straight for the nearest yokocho, or 'alleyway'. These narrow streets, crammed with ramshackle izakaya, can be found all over the place and are as atmospheric as they are dingy. They offer a glimpse into post-World War II Japan, when they first began popping up among the devastated landscape, as a space for locals to gather and have a good time. Come with us now, as we explore some of our favourite Tokyo yokocho.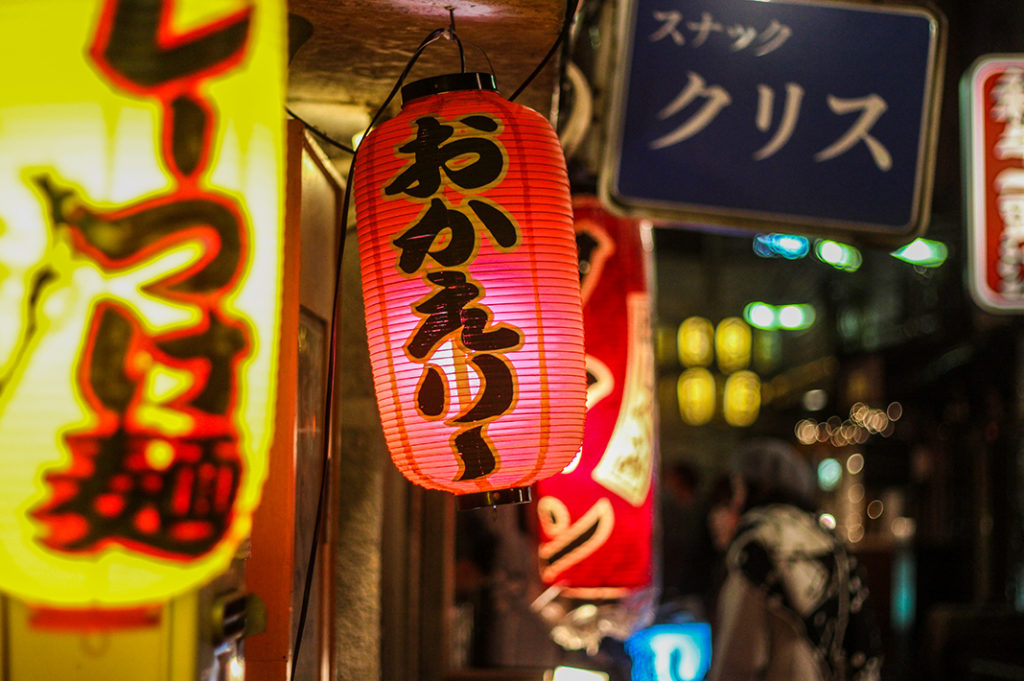 What's a yokocho?
Sometimes indoors, sometimes outdoors, something all yokocho have in common is no-frills food, drink and good times. The izakaya (food/drink taverns) are usually dominated by yakitori (grilled chicken) joints, but you'll also find plenty of other Japanese fare, too. 
There's plenty to like about a yokocho; the food is traditional and cheap, the drinks are cold and numerous, and the lantern-lit lanes are bustling and nostalgic. 
More often than not, the eateries are small, serving between 5 and 20 people. For this reason, it's best to go in a small group so you have a better chance at being seated together. It's also common for these small establishments to charge a seating fee for every patron, or to simply serve a mandatory appetizer.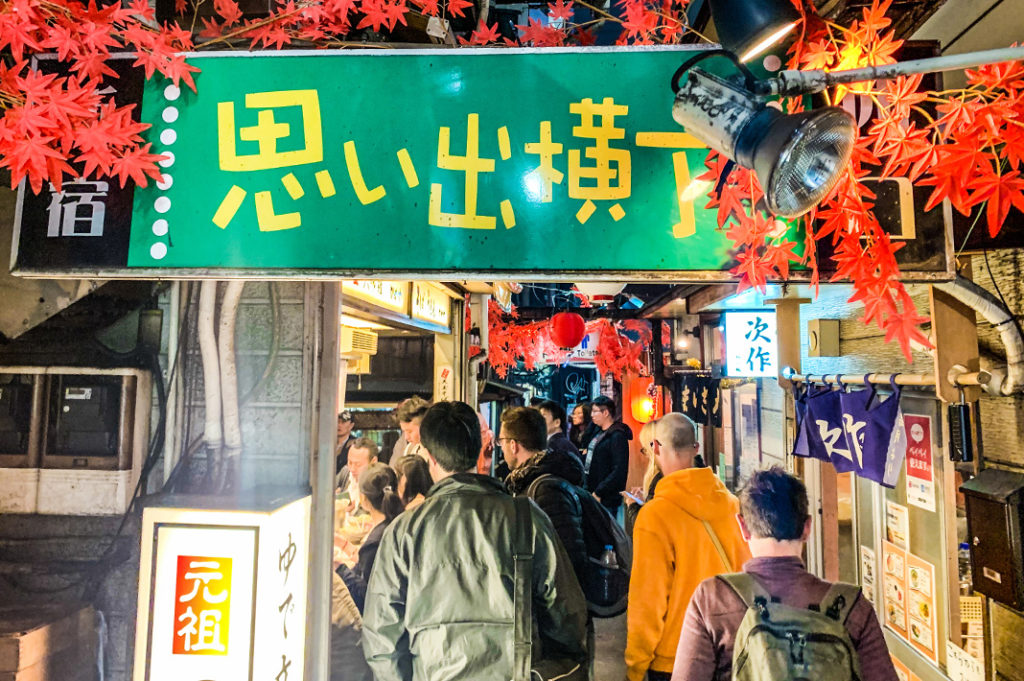 The memorable Omoide Yokocho
Located beside Shinjuku Station, Omoide Yokocho (Memory Lane) started as an illegal drinking area in post-war Tokyo. The story goes that the establishments were too rudimentary for bathrooms, so patrons used the nearby train tracks instead. Even though communal bathrooms have now been installed, the nickname 'Piss Alley' lives on.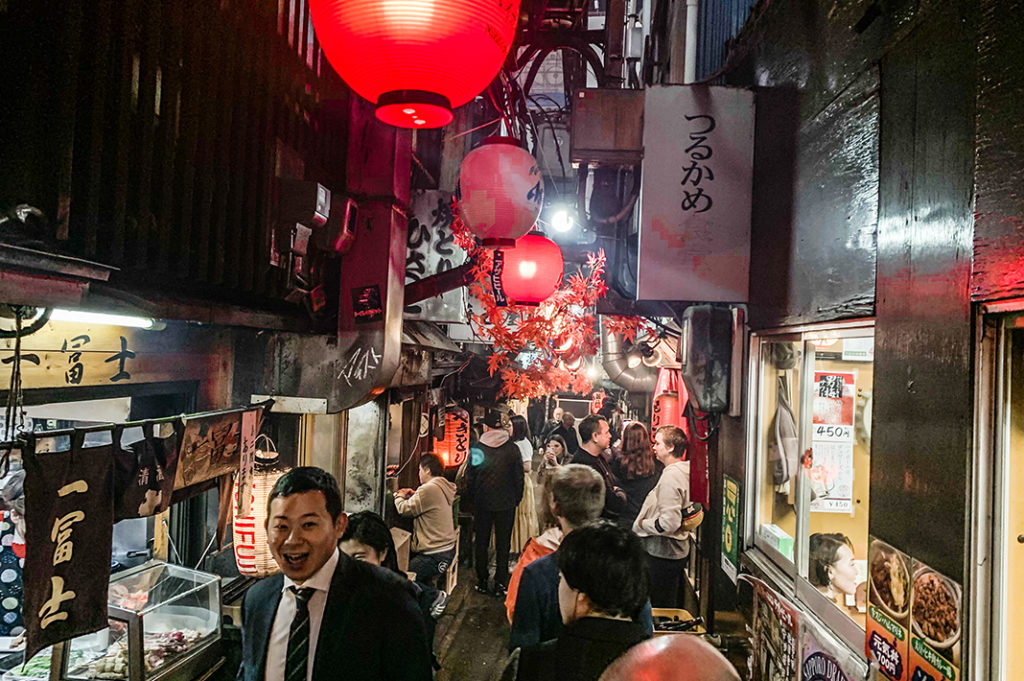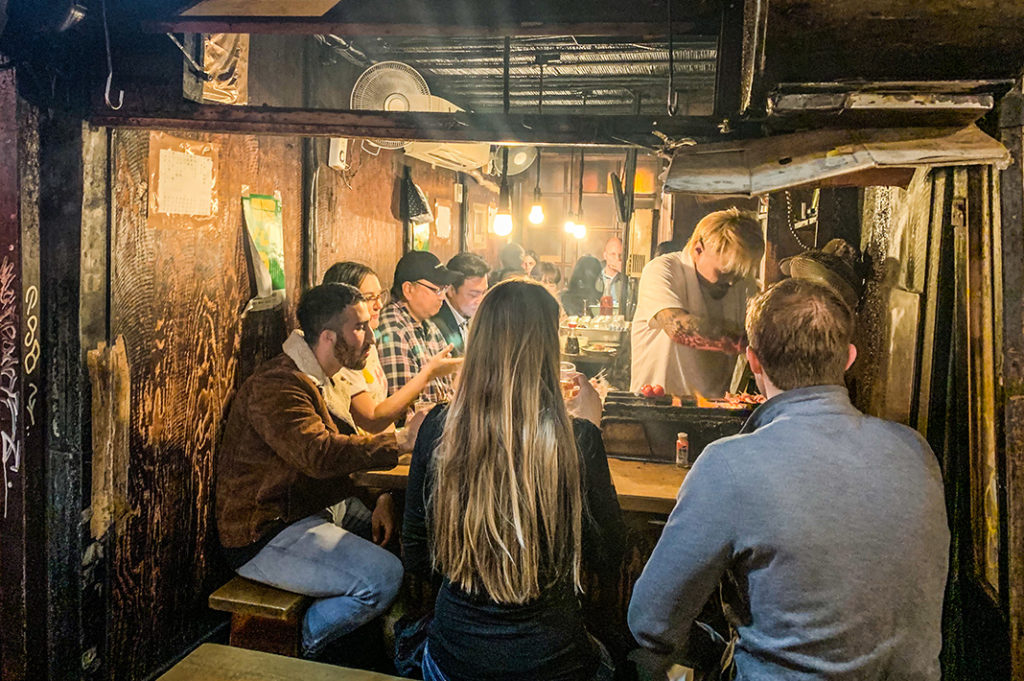 Wander this busy, narrow alley, and you'll find a number of great dining and drinking options. There are the classic staples: yakitori (chicken), unagi (eel), gyoza (dumplings), ramen noodles and motsuni (innard stew). But for something really out there, head to Asadachi (morning wood) where you can order a number of exotic dishes said to deliver what the restaurant name describes.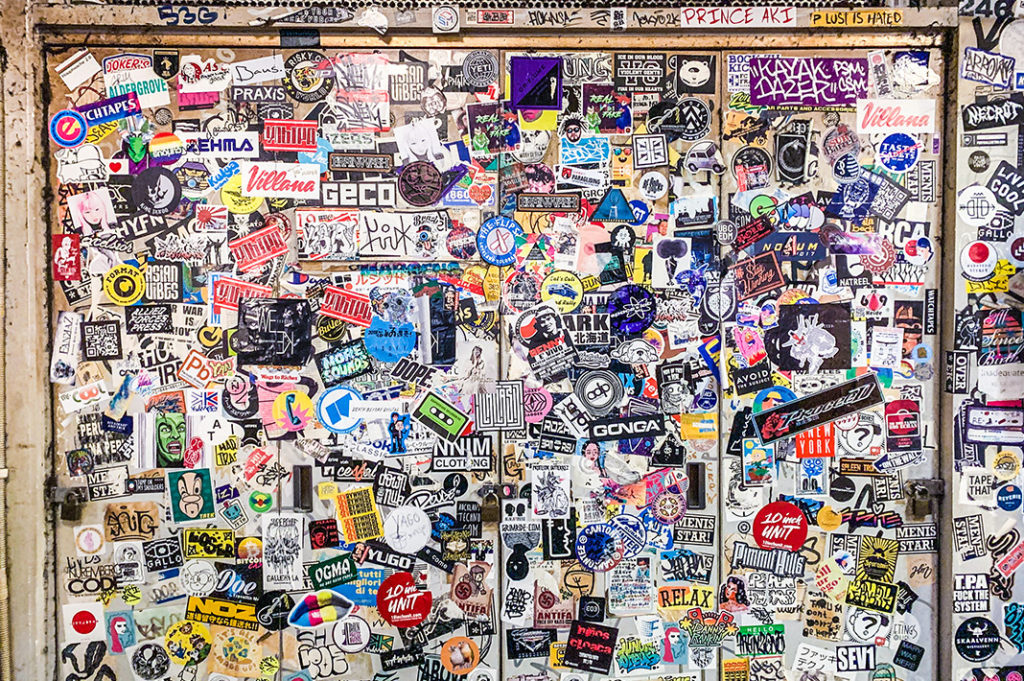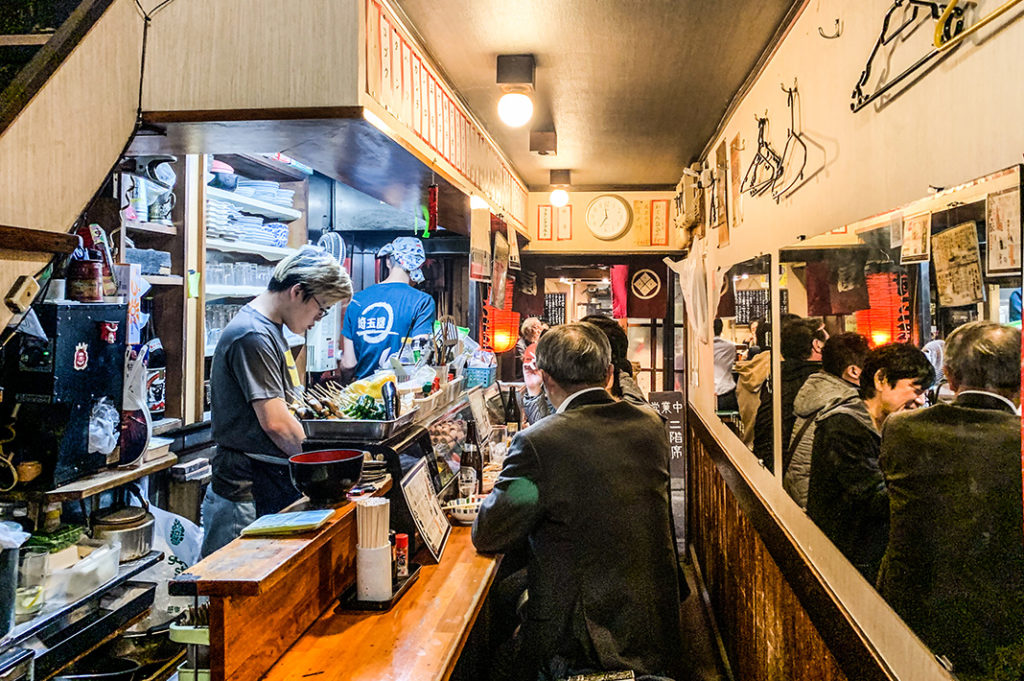 A devastating fire in 1999 almost claimed this historic area, but thankfully the government chose to rebuild and preserve it, so that more generations could enjoy its charm. These days, you'll see plenty of locals of all ages enjoying Omoide Yokocho, sitting shoulder-to-shoulder with tourists. You can find it here, just by the west exit of Shinjuku Station. 
Golden Gai
One of the best known yokocho in Tokyo, Golden Gai is home to more than 270 establishments, most of which are bars! The story goes that in the late 1940s, occupying forces drove bars and brothels into the area which together formed a rough and ready entertainment district. It seemed that Golden Gai missed the memo about urban gentrification, and remained largely unchanged for many years. However, yakuza threatened to burn it down in the 1980s to make way for large developments, but locals stepped up to guard and protect it. Thanks to their efforts, we can still enjoy it today.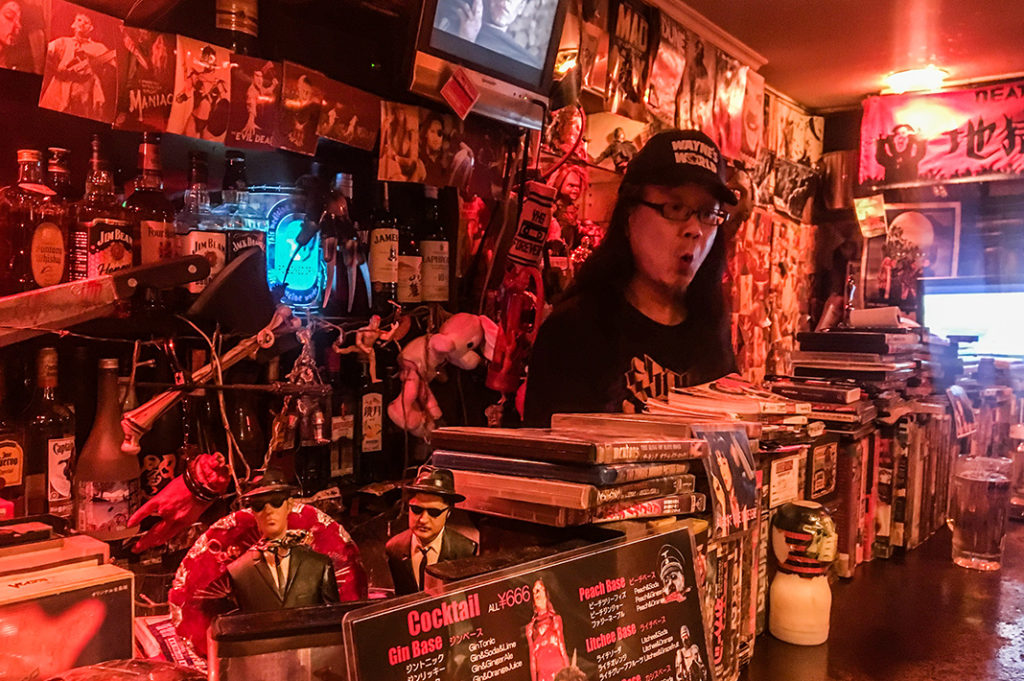 Golden Gai is a few blocks worth of double storied shops, with multiple alleys running between them. You could easily get lost wandering through it, and chances are you'll have trouble locating venues on a return visit.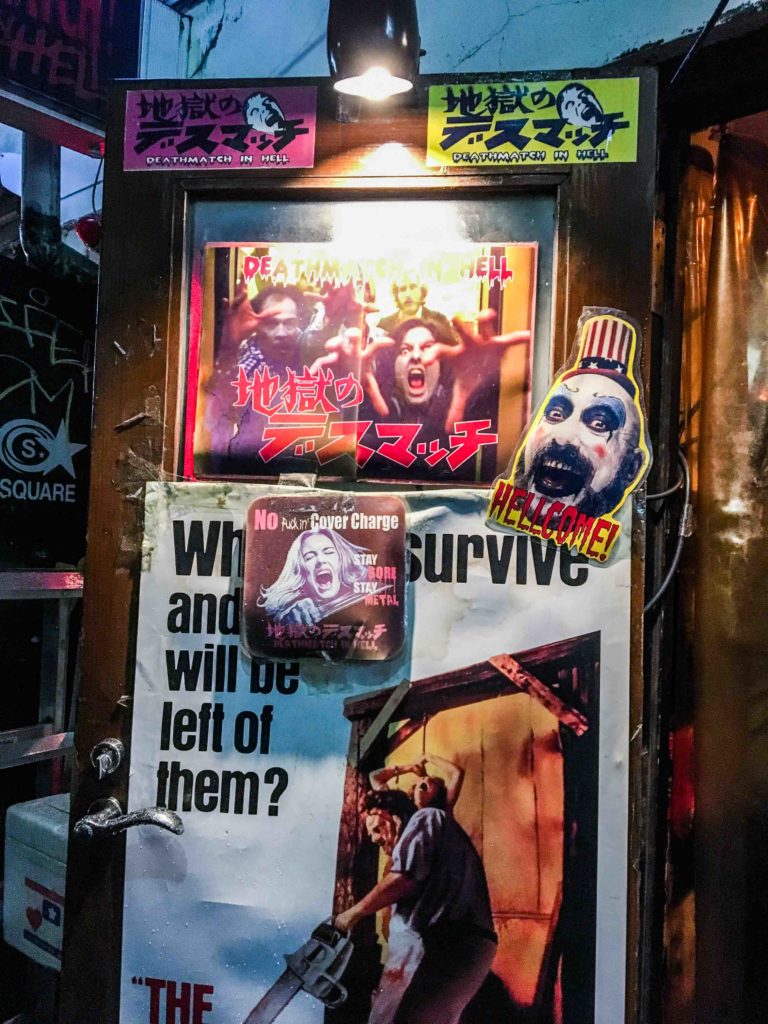 Many of the establishments have a cover charge (usually between ¥500-¥1,000), so you'll see a lot of signs advertising their fee or lack thereof. You'll also find a great variety of themed bars, including the horror movie themed 'Deathmatch in Hell', punk-rock 'Hair of the Dog' or the horse-racing/nostalgic 'Bar Lonely'.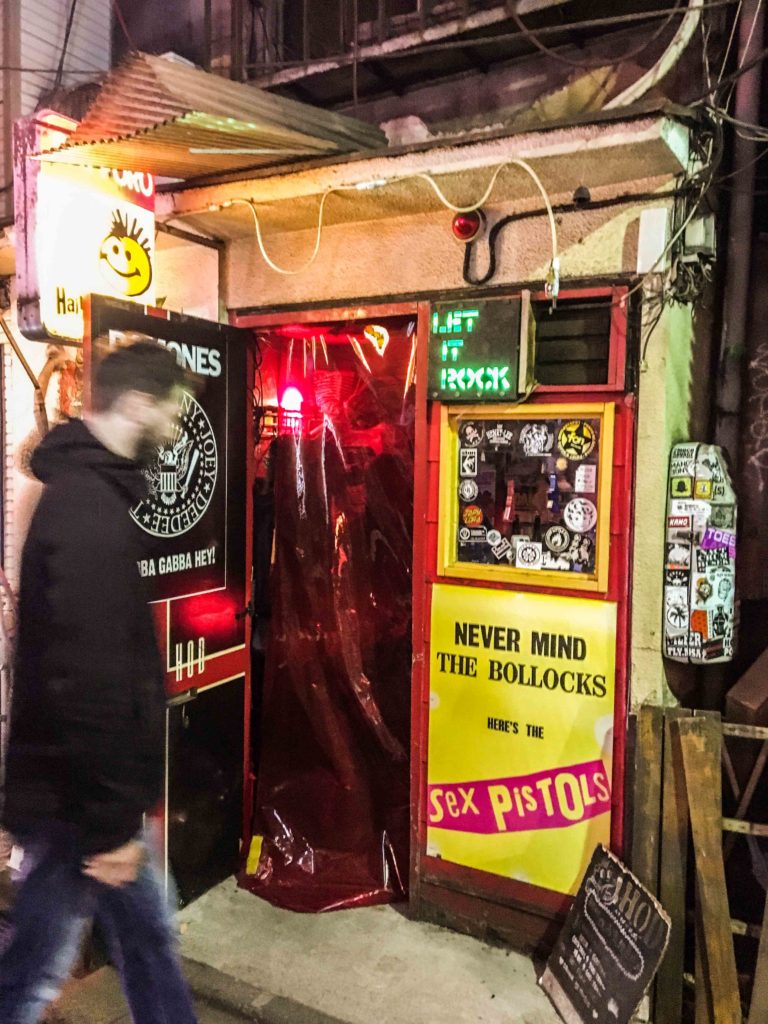 Drink prices are a little higher than other yokocho, and there are often more tourists than locals, but it's definitely worth visiting to experience the atmosphere.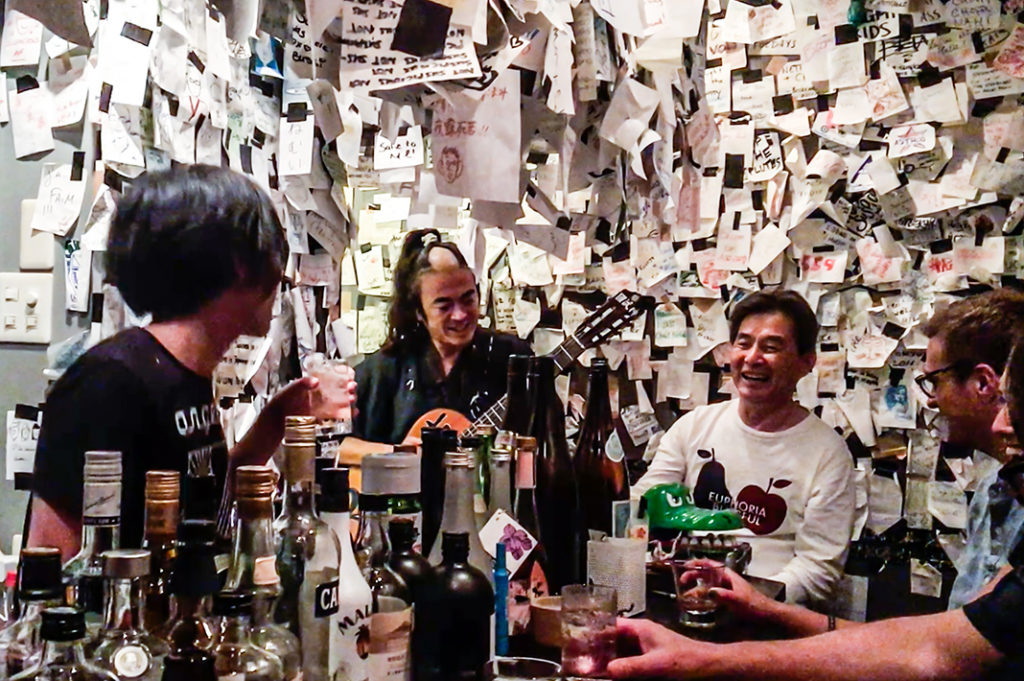 It's the kind of place where you can expect to sing karaoke, drink far too much sake and make new friends. Golden Gai can be found here in the Kabukicho nightlife district, not far from Shinjuku Station.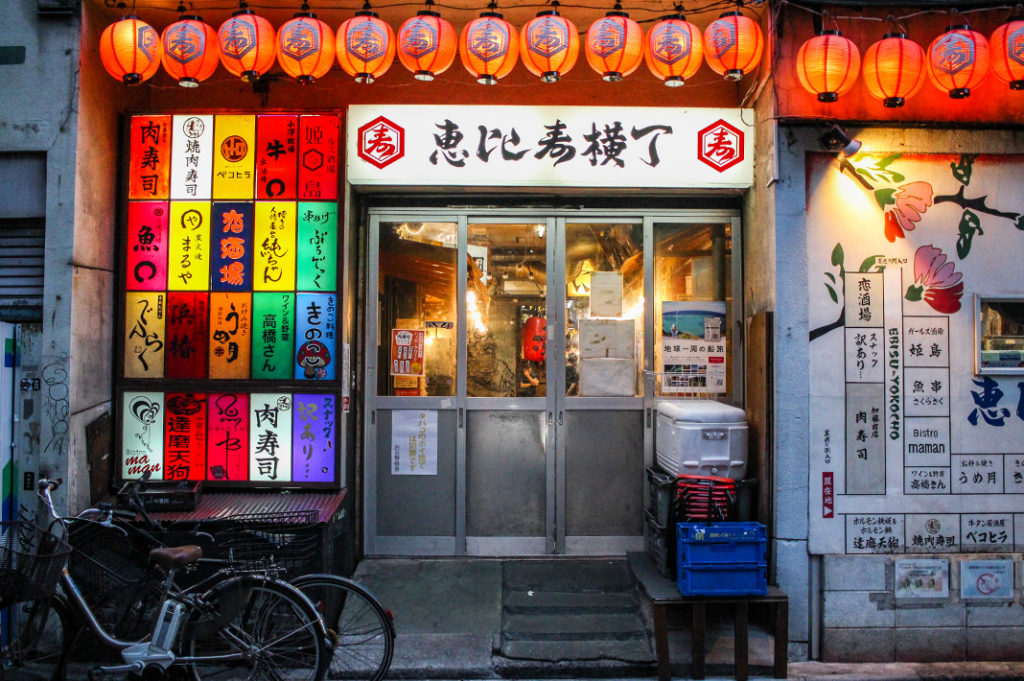 Ebisu Yokocho
Ebisu Yokocho opened in the late 90s and pays homage to the hastily erected entertainment districts of post-war Japan. Occupying the ground floor of an old apartment building, it is a collection of around twenty small, open-fronted eateries and bars where you can find, among other things, yakitori, kushiage, oden, hot pot and Korean hot plate cooking. 
Open until 5:00am, it's a great place to wait out the first train with your new acquaintances. Even though it doesn't share the same post-war history as Golden Gai or Omoide Yokocho, it certainly embodies the spirit.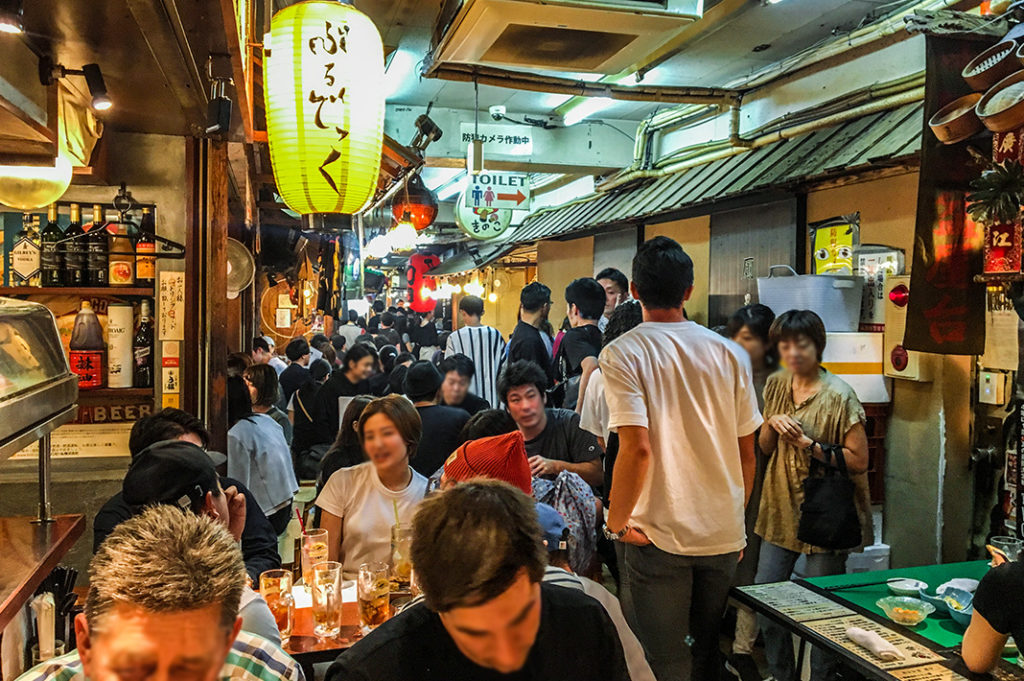 You can find it here, a 2-minute walk from the East Exit of the Ebisu Station. Read more about Ebisu Yokocho here.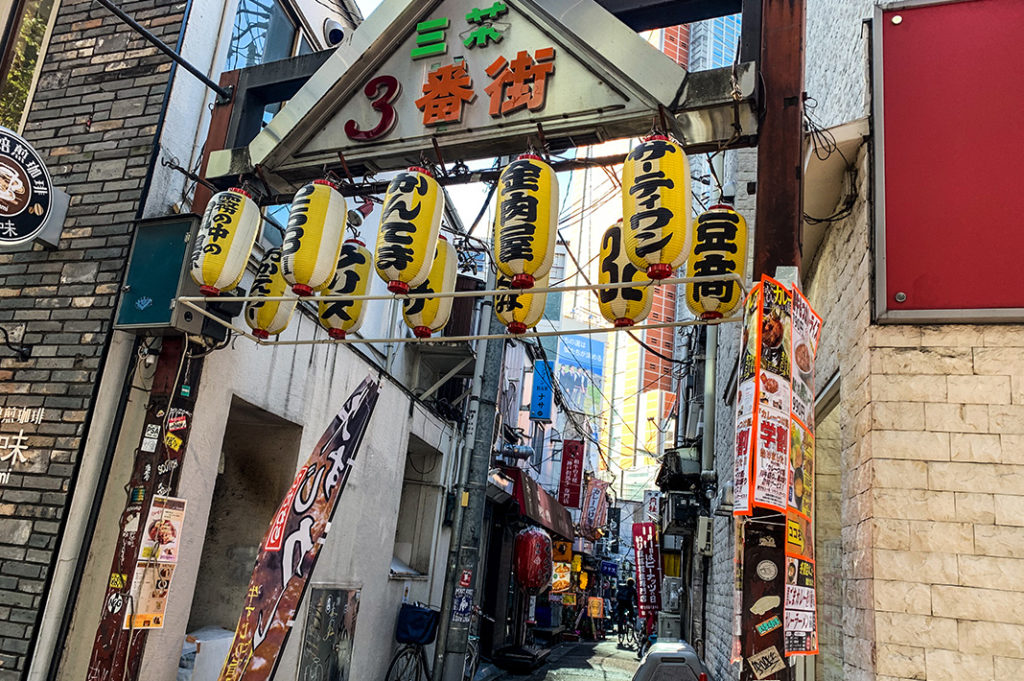 Sankaku Chitai in Sangenjaya
The neighbourhood of Sangenjaya (or Sancha) is a bustling spot just a few kilometers from Shibuya and two stops on the Denentoshi Line. In the evening, follow the locals to Sankaku Chitai (The Triangle Area) yokocho for a guaranteed good time.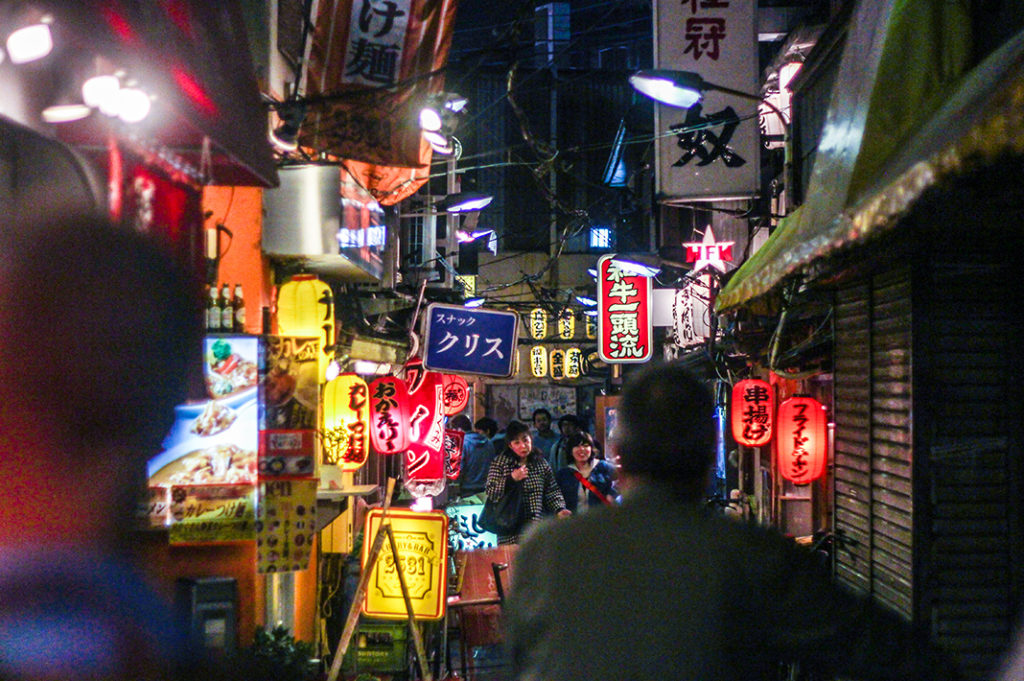 These narrow lanes are full of great dining and drinking options, with all the classics covered plus the addition of things like experimental gyoza and Brazilian churrasco. There are all kinds of snack bars, izakaya and shops mixed in, and it's particularly charming with its neon signs and lanterns all vying for attention.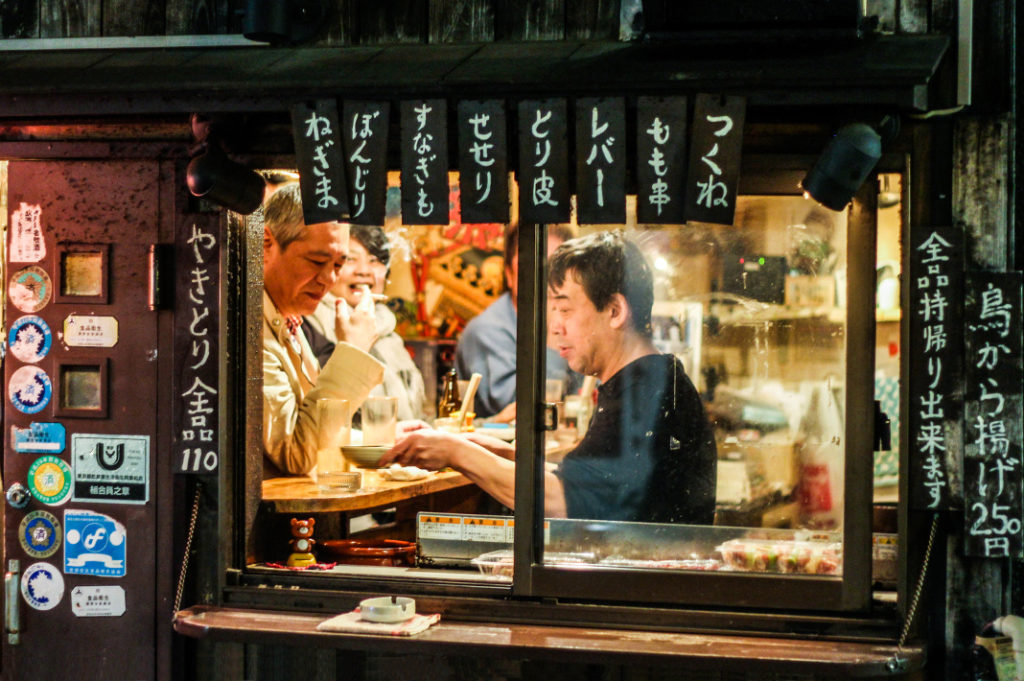 The Sankaku Chitai can be found beside Sangenjaya Station, between Setagaya dori and the multi-level Tamagawa dori. A good place to start is the alley beside Baskin Robbins. If you follow these lanes away from the main road and to the left, you'll snake your way past some hidden snack bars and into another pocket of eateries and bars.
More Tokyo Yokocho
The good news is that yokocho can be found all over Tokyo—and Japan for that matter. Other popular spots include Shibuya Nonbei Yokocho, Kichijoji's Harmonica Yokocho and the Yurakucho farm to table dining alley. However, there are many, many more. Do an internet search and you may be surprised at just how many you come across!  
If you're looking to rub shoulders with the locals and have an authentic experience in Japan, a yokocho is a fantastic option. Dive in with open eyes, an open mind and an empty stomach—you won't regret it! Kanpai! 
Post by Japan Journeys.