Summers in Kyoto can be surprisingly hot and humid. Luckily, the pragmatic ancient locals realised long ago that the river's surface, with its lower air temperature and higher velocity breeze, had serious cooling potential. With a little ingenuity, kawadoko river dining came to be. Also known as yuka dining, kawadoko involves setting up platforms and tables over or near water, so people can enjoy the cool breeze as they wine and dine. Visit Kyoto between May and September and you'll be able to experience this popular past time in a variety of locations from Kibune to the Kamogawa River.
Kamogawa River kawadoko 
Dating back to the Momoyama Period (1583-1600), the oldest example of kawadoko dining in Kyoto can be found right in the heart of the city. In fact, the famous Kamogawa River features a two kilometer stretch of kawadoko between Nijo-dori and Gojo Ohashi Bridge. The restaurants and bars backing onto the river feature alfresco dining platforms which are the perfect spot for a summer meal.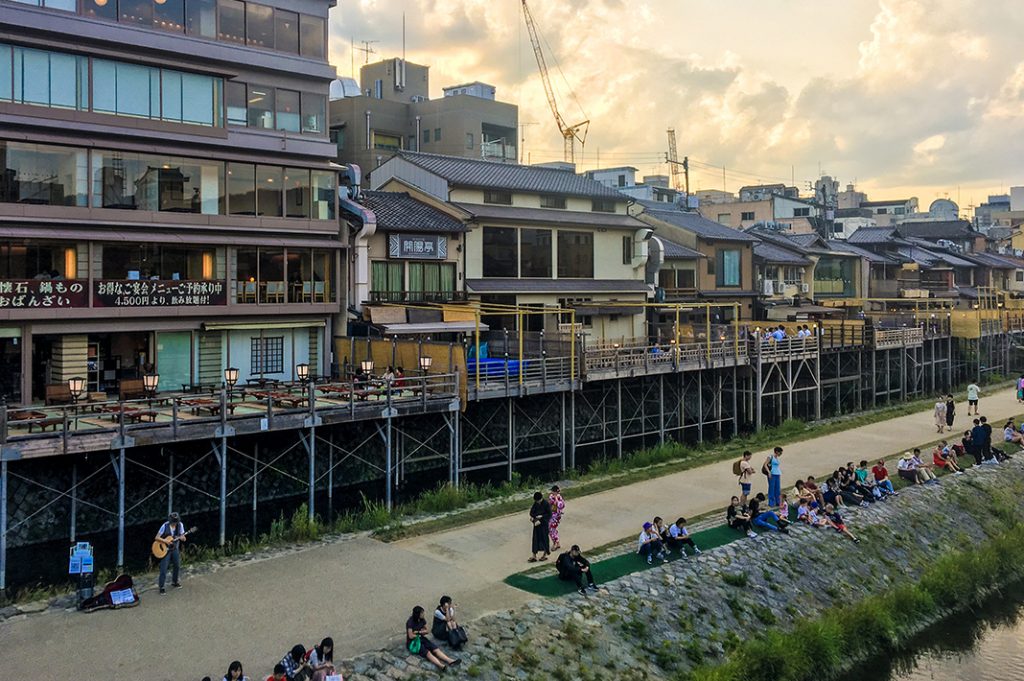 To get there, simply head to the Ponto-cho area, running north of Shijo-dori. Walking through this narrow alleyway, you would never guess that the small-fronted establishments offer river views and kawadoko dining.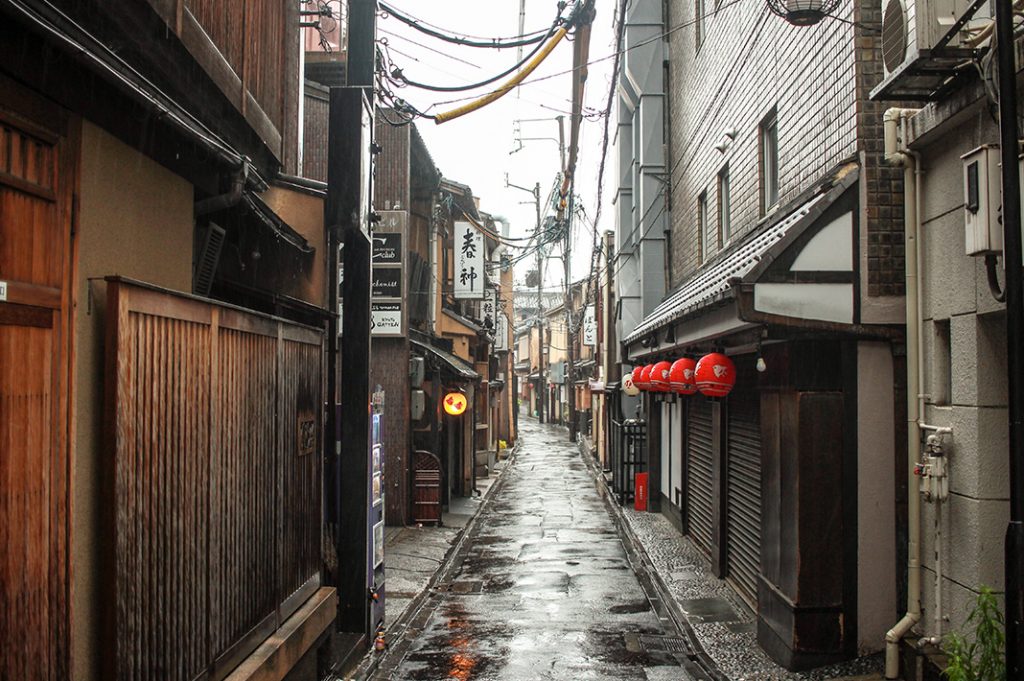 There is a delightful aesthetic to enjoy in Ponto-cho; you may even glimpse geiko (geisha) and maiko (apprentice geisha) rushing between appointments.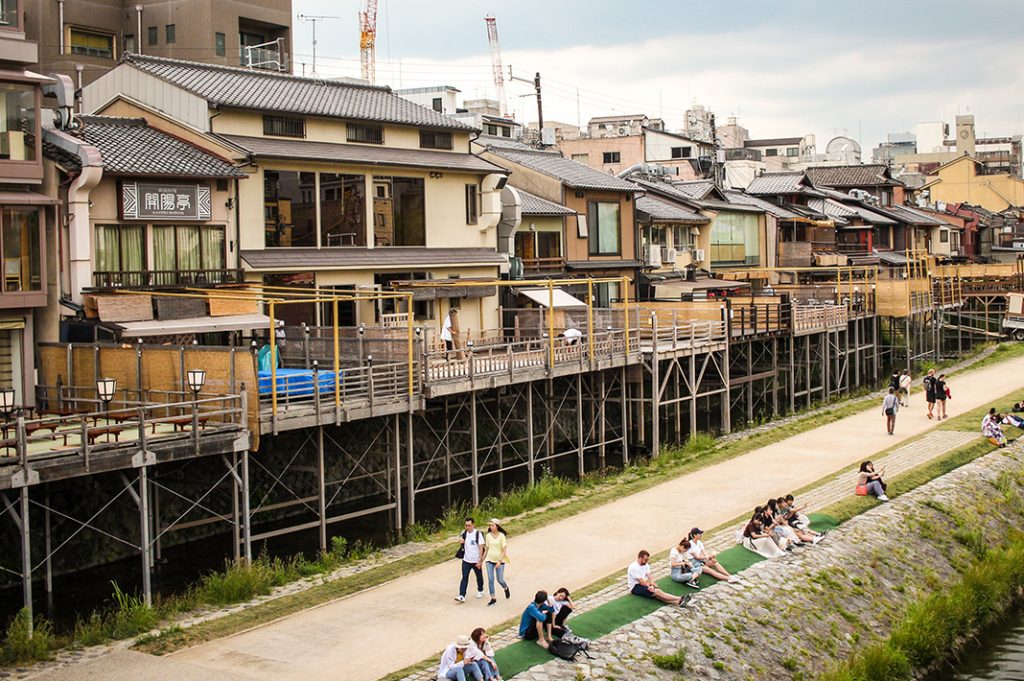 The Kamogawa kawadoko establishments are varied, ranging from sushi to Italian and even some bars. This variety, coupled with the scenic views, makes for a very popular summer activity. So be sure to make advance reservations. As a rule, lunch times are usually quieter and cheaper. 
Kibune Kawadoko
For those looking for something a little more lush and refined, head north and into the mountains. In just an hour, you'll find the small village of Kibune. The picturesque, winding main street has ryokan (guesthouses) and restaurants along one side with the shady Kibune River on the other.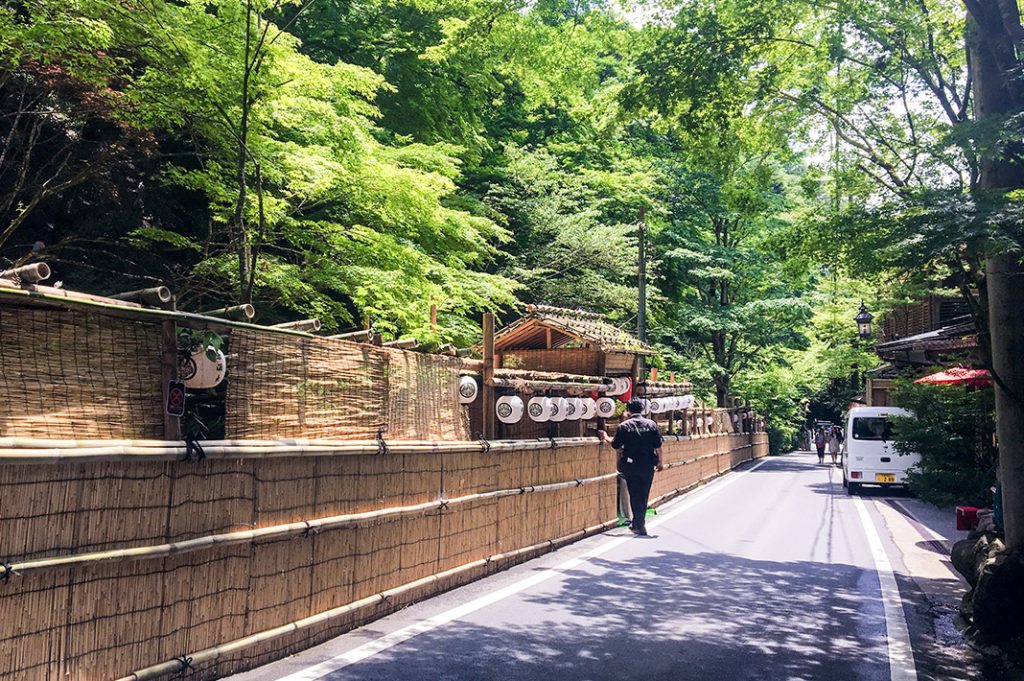 Every summer, the restaurants construct dining platforms inches above the water's surface for the ultimate in natural air-conditioning. This unique style of kawadoko began in Kibune in the early 1900s and features tatami mats, cushions, bamboo shading, paper lanterns and the surreal 'middle of a river' point of view.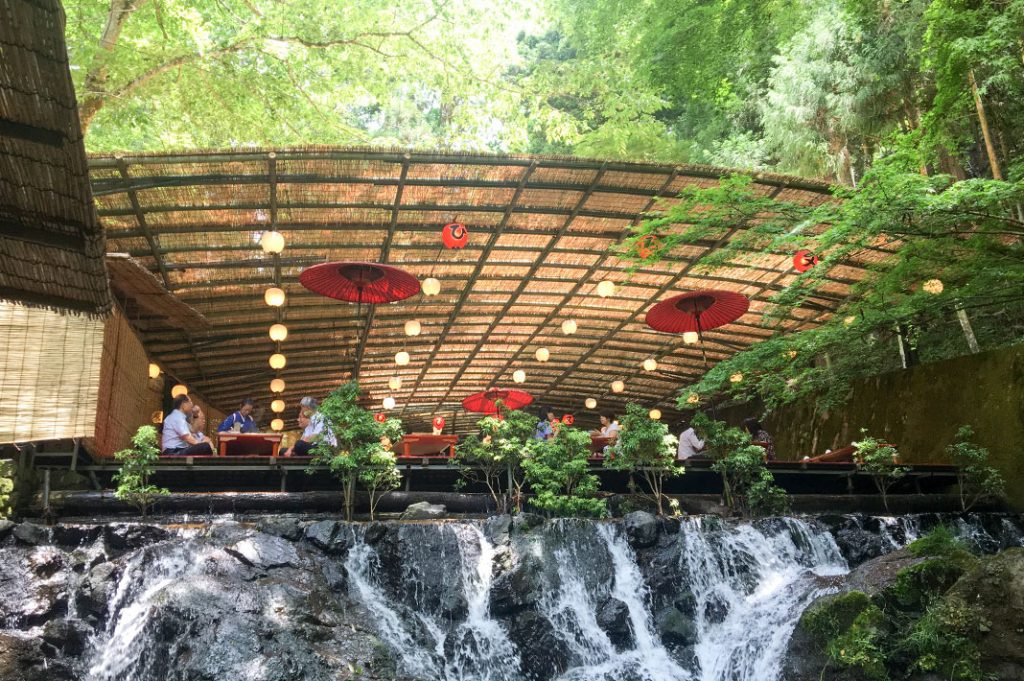 In Kibune, you can definitely splash out on your kawadoko experience. Many restaurants serve a multi-course meal of local, seasonal produce which can vary in price depending on the number of courses and the extravagance of ingredients.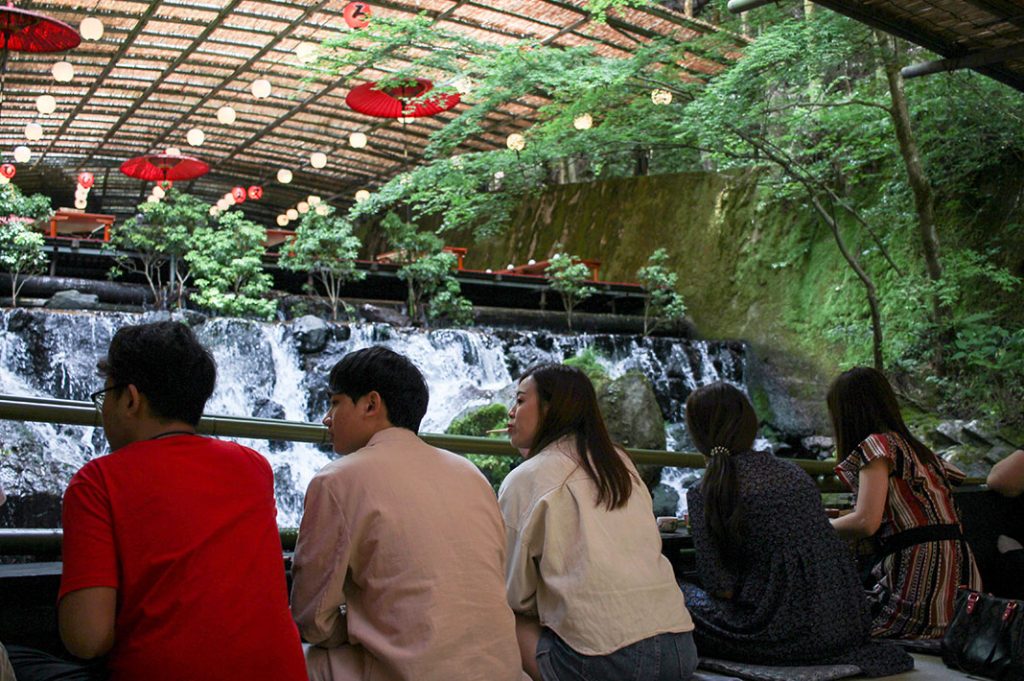 If you're looking for something a little more budget friendly, we highly recommend Hirobun. There, you can enjoy nagashi somen—a rather fun style of dining where small bundles of noodles are floated along a bamboo waterslide. Diners scoop up the cold noodles with chopsticks and dip them into a chilled broth before eating. It's a fun and delicious way to cool down.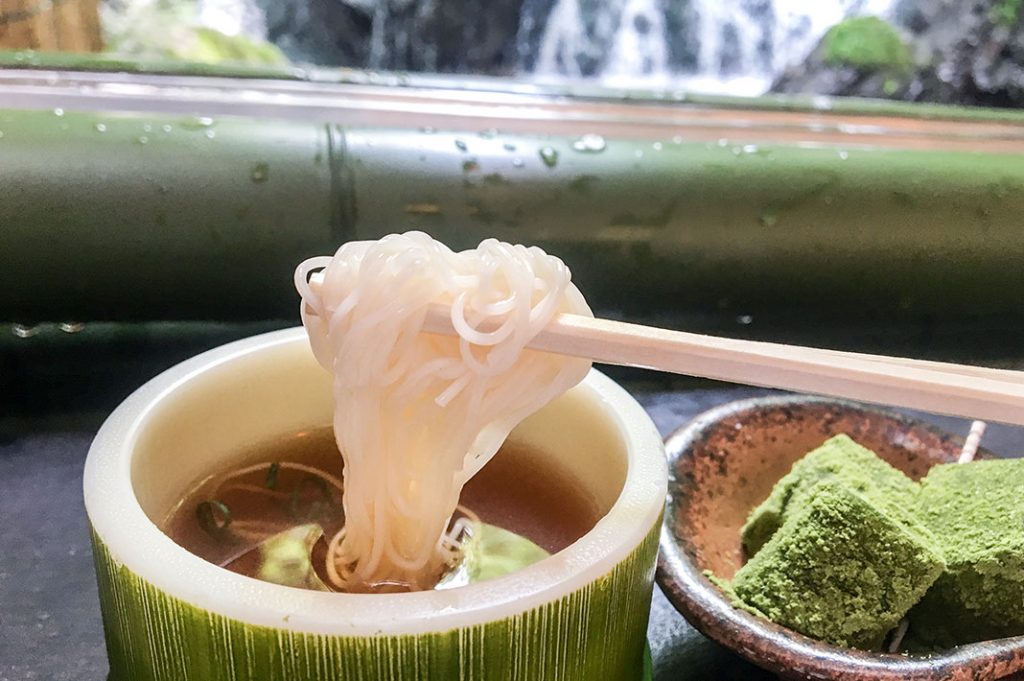 While you're in the area, I'd recommend a visit to the highly-photographed Kifune Shrine. And if you're looking to work off your lunch, there is also a wonderful short hike over to the next town of Karasuma. 
Riverside Dining in Uji
While not technically a kawadoko hotspot, the town of Uji is bisected by a river and has riverside dining options. Just 40 minutes from Kyoto Station, it makes for a great half- or full-day trip. Plus, tea lovers will enjoy Uji's long history of green tea production, various tea houses and matcha flavoured foods.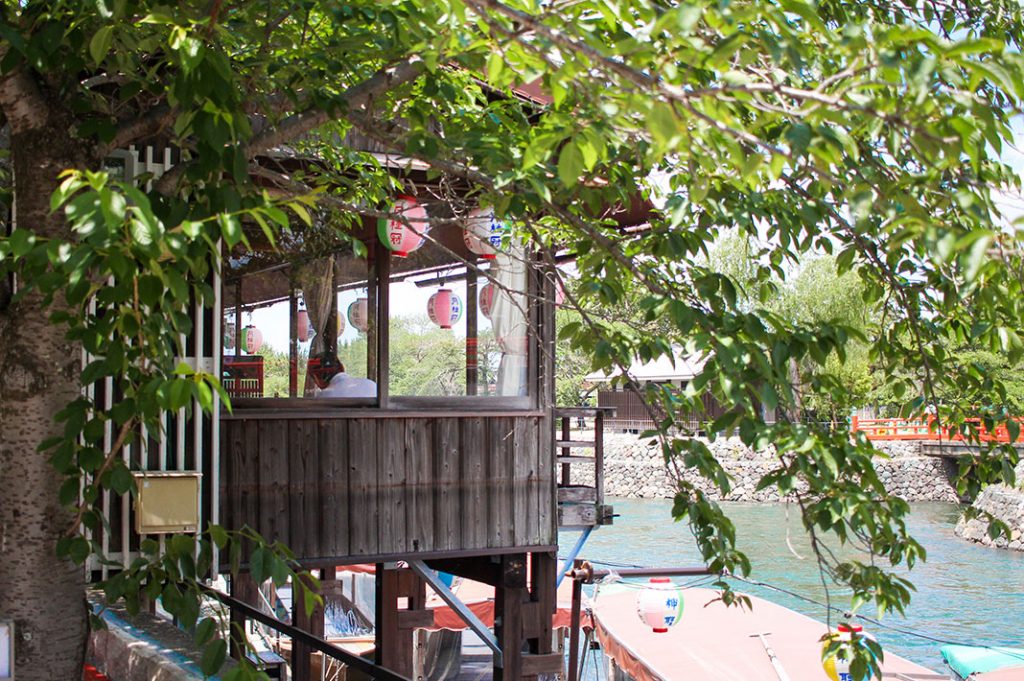 During my time there, I enjoyed a deliciously refreshing green tea soba lunch at Aiso, complete with river views and a cool breeze. It ticks all the boxes of the riverside dining experience and is definitely worth a visit.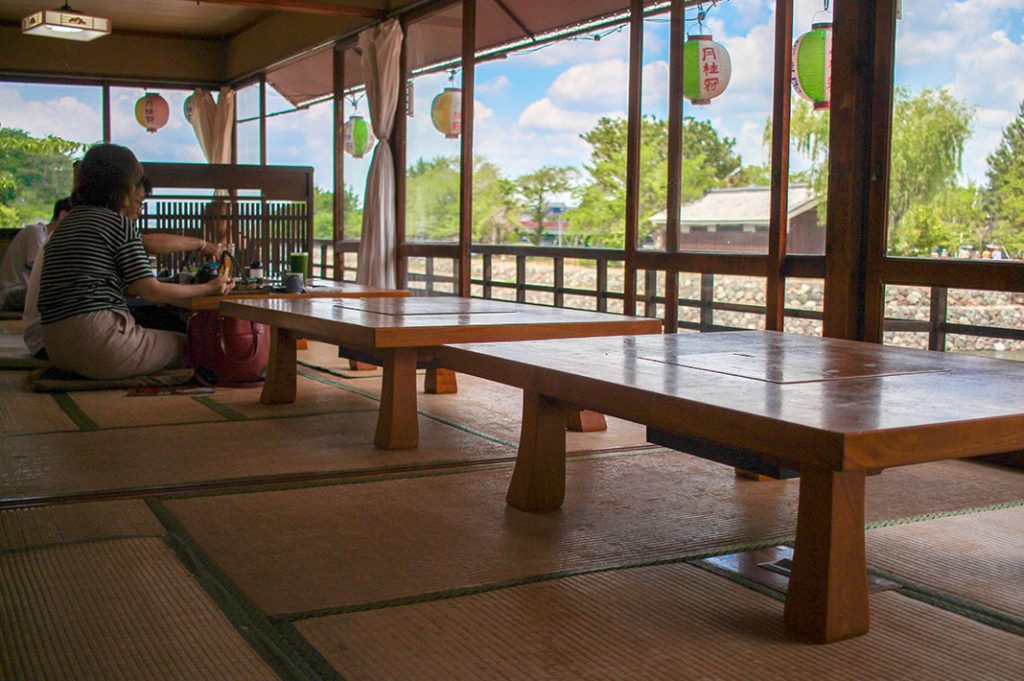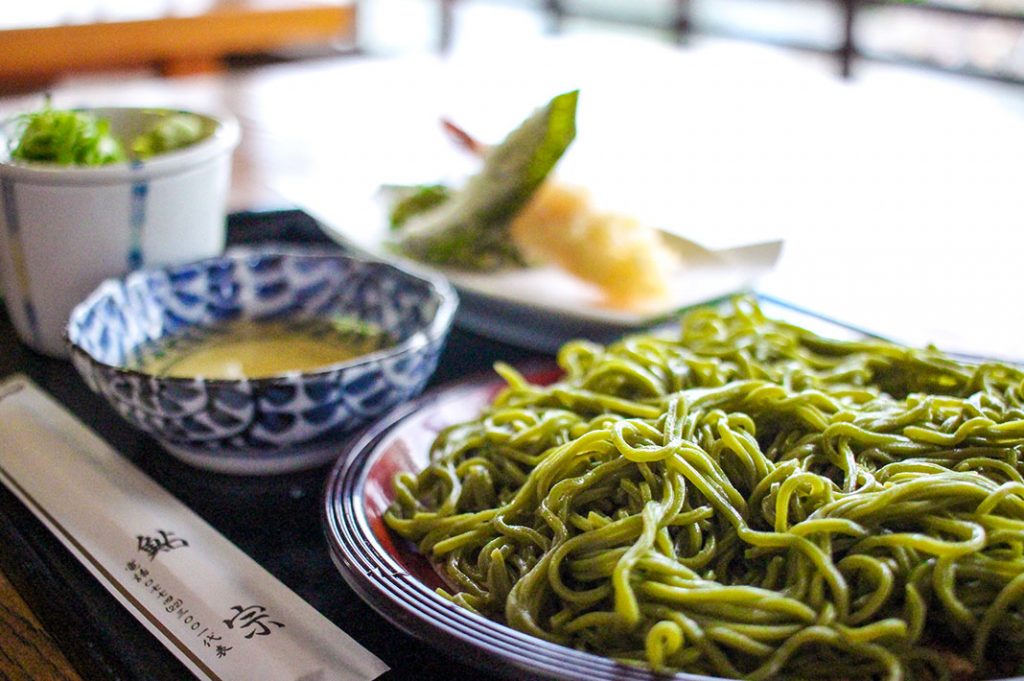 These are just a few options to inspire you to seek out your own summer kawadoko experience. Kyoto is a land of rivers, so expect to find more in places like Arashiyama, Takao and many more. Happy (and cool!) dining! 
Post by Japan Journeys.