Kyoto city sees its highest visitor numbers in spring, at the peak of cherry blossom season. Following this, the second-highest influx comes in autumn, just in time for fresher air and the magnificent red foliage. Most winter visitors to Japan come to ski and snowboard in mountain towns such as Shinanomachi and throughout Hokkaido. However, if your wintery wanderings lead you to Kyoto, be sure to add Kyoto Botanical Gardens to your list of places to visit. Specifically, the tropical greenhouse within the gardens, where a comforting, year-round summer never ends.
Every day is summer in Kyoto's botanical greenhouse.
Located in the northern portion of the city, Kyoto Botanical Gardens aren't commonly on tourists' list of places to visit. The grounds in their entirety are expansive and include carp lakes, bowling greens and cafés. However, the true wonders of the gardens are packed away into the vast and winding tropical greenhouse. Like so much of northern Kyoto, the greenhouse is a bizarre mix of the municipally managed and the endearingly overgrown. No doubt well-kept and orderly when it was first completed in 1992, nearly 30 years later the greenhouse feels far more wild. Truly, it's an inner-city jungle and a perfect spot to hide away and absorb both warm sunlight and the rich, earthy smells of a tropical wilderness. Spending time in natural settings, especially around plant life, is an ideal way to de-stress.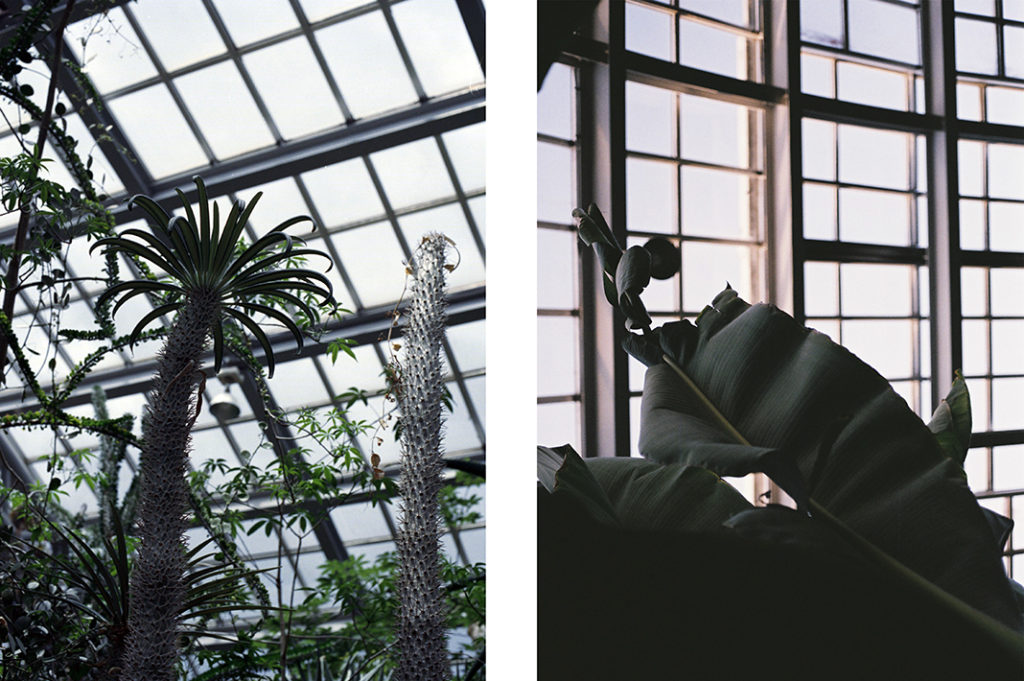 Welcome to the jungle.
Kyoto can reach freezing temperatures in winter, complete with blistering winds rolling forth over the snow-capped mountains in the north. However, hiding away indoors is no way to boost your Vitamin D levels or reap the benefits of nature! Sadly, most of Kyoto's beautiful temples and shrines are on mountain-tops, outdoors or very minimally heated. The botanical garden's lush greenhouse strikes the perfect balance of warmth, accessibility and atmospheric wonder. A pathway winds through the extensive landscape under low-hanging tropical plants and past dark ponds glittering with tiny freshwater fish. Best of all, there are plenty of plant-packed spaces to sit scattered throughout the whole greenhouse. You could even bring a book to read while you relax and enjoy the comfort of unseasonal warmth.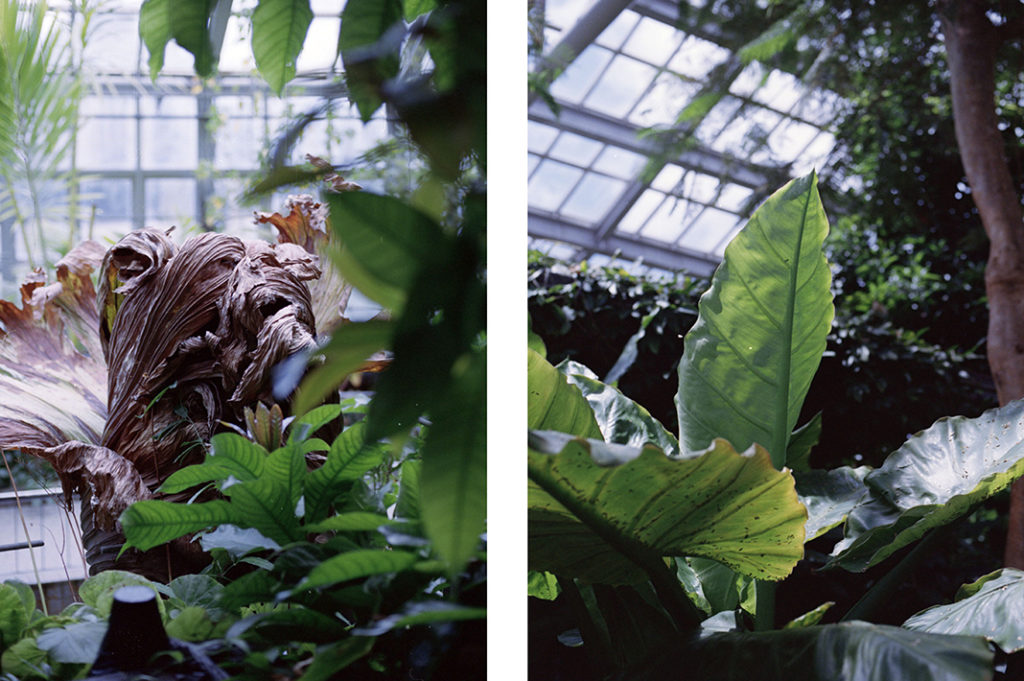 Wild yet calm? An unusual botanical retreat.
Japan is teeming with botanical gardens and specialist tropical greenhouses. Another well-known botanical garden and greenhouse is on Awaji Island. It's modern, spacious and well-designed, with excellent consideration given to open space and orderly placement. However, Kyoto's greenhouse is nothing like this; it's bushy, overgrown and partially reclaiming the building around it. What started as a prim and proper municipal venture has turned into plant-anarchy. It feels truly wild, and this is an essential aspect of its untamed charm and uniqueness.
Despite this delightful wildness, the greenhouse is a uniquely calm place to spend some restorative time. It isn't very busy in the winter months, making it the ideal escape from the higher levels of tourism that Kyoto now experiences all year round. The central jungle room is intersected by an artificial river that flows into a still, black pool. Here, water lilies and alien-like amazonian fish move lazily, suspended in the dark waters. The only sounds are the unhurried flow of the stream and soft, warm silence.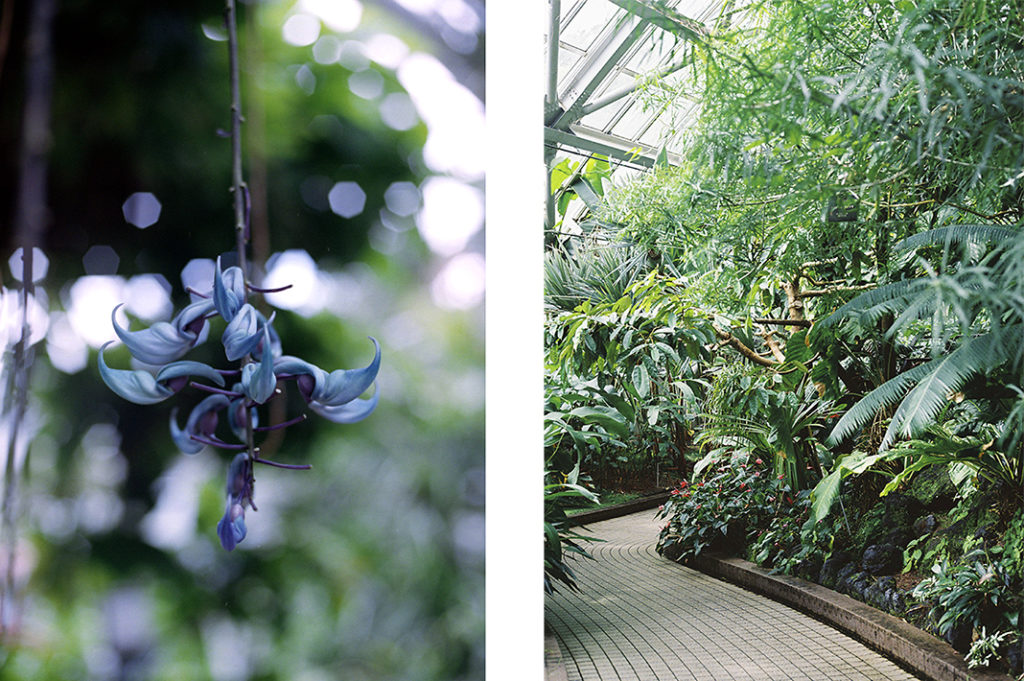 All the world, in glass.
Each twist and turn in the paved road that leads through the greenhouse takes you to a different recreated 'environment.' Starting in the vast 'rainforest' dome, you can duck and dodge vast creepers and bright, exotic danglers. Amusingly, laminated signs hang from some trees, warning of heavy seed pods that could fall from height at any given moment. As you continue, you'll pass through fragrant plantations of banana, plantain and cocoa trees. Beyond, the dramatic and arid 'cactus room' has been painted with a charming 'yee-haw' desert backdrop. There's even a wide wooden bench made from a wagon wheel – true authenticity.
Naturally, anyone prone to frizzy hair may prefer to sit and relax in the dry heat of this desert-like room. Exiting, you'll find a cooler 'alpine' room that houses a number of smaller, rock-bound plants. Finally, you'll pass through a 'night creatures' section, lit by ultraviolet lights and heavy with the damp scent of night. It's arguably the most calming room of the greenhouse, as long as you're not afraid of the dark. The exit path passes through another 'temperate zone', lined with some truly unique orchids – all of which are highly photogenic.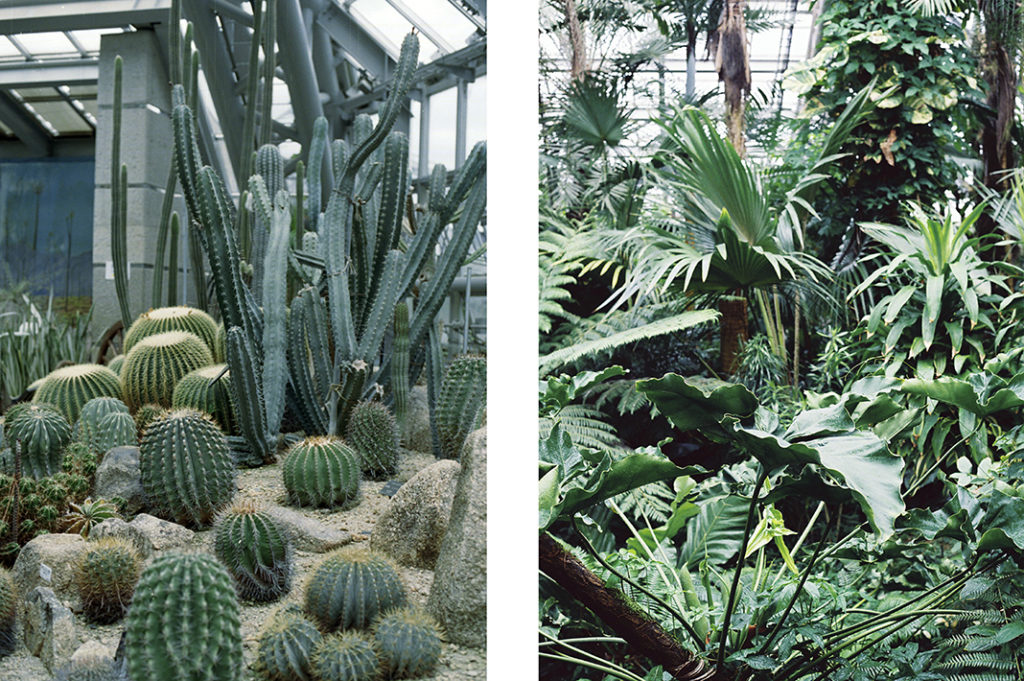 Access
Something the aforementioned Awaji Yutembai Botanical Garden does have in common with Kyoto's Botanical Greenhouse is an adjoining project built by the master architect, Tadao Ando. Kyoto's Botanical Gardens adjoin with the Garden of Fine Arts; another of Ando's modernist concrete wonders. This unusual site is unlike any of Ando's other projects and is most definitely worth visiting.
To access both the Botanical Gardens and the Garden of Fine arts, ride the Kyoto City Subway's Karasuma line and alight at Kitayama Station. The station has multiple exits, but only Exit 3 will put you directly at the entrance of the Garden of Fine Arts and the Botanical Gardens. Bus number 205 from Kyoto station also passes nearby the garden, but the subway is by far the most advisable option. At the ticket booth (both machined and manned) you can buy a combo ticket for the Botanical Gardens and Garden of Fine Art for ¥250. Entry into the greenhouse is a further ¥200.
Finally, Kyoto Botanical Gardens' website is available in English here.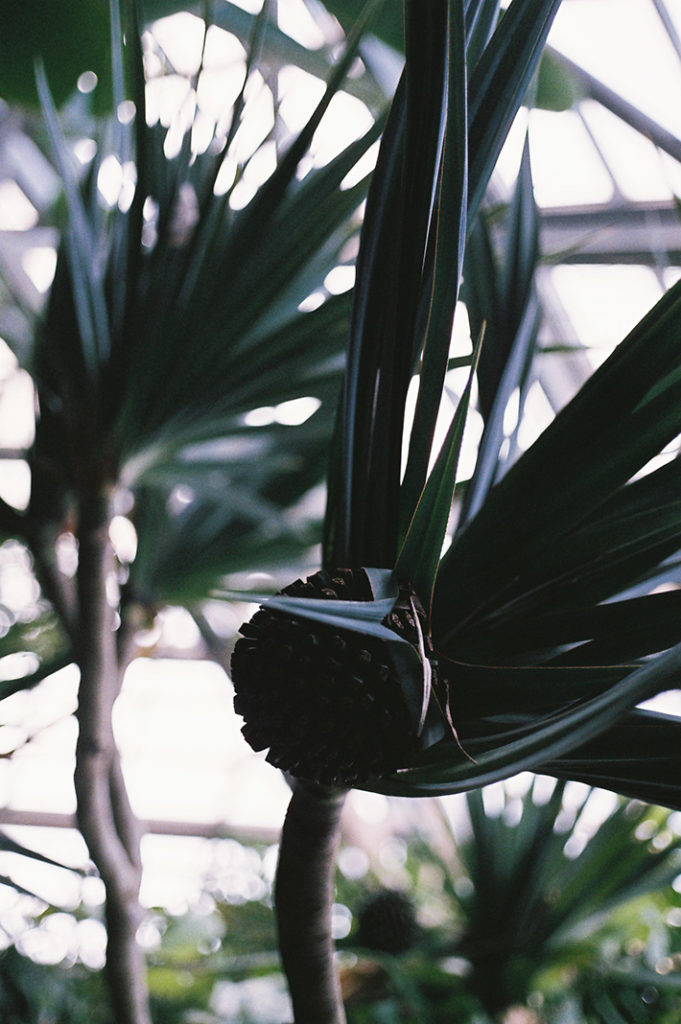 Post by Japan Journeys.