Tokyo has no shortage of great shaved ice (kakigori), but even with all the stiff competition, Kooriya Peace in Kichijoji is well worth the fuss. This tiny little shop has just 8 counter seats and a devoted legion of fans. Count us among them! It's where we go when we want shaved ice in Kichijoji.
Incidentally, TV junkies will no doubt have heard of Kantaro: The Sweet Tooth Salaryman, a Japanese drama released on Netflix in 2017. It's about an office worker who slacks off work to eat desserts. But what you need to know here is that this TV show helped propel Kooriya Peace to domestic and international fame. We suggest joining Kantaro fans for kakigori.
Know before you go to Kooriya Peace
Kooriya Peace is not the kind of place you simply turn up to. Every morning, the staff hang a reservation sheet on the wall outside. Arrive much earlier than you intend to secure a spot for you and your dining companions. This will be timed to the minute—you might pencil yourself in for a 4:18pm slot one day!
Once you're in, you'll order your kakigori. If you plan on eating multiple bowls, order them all at once. This is important, because the staff will suggest a particular order in which to eat them. The rule of thumb is eating lighter-flavored kakigori before more intensely flavored ones, e.g. fruit before caramel.
Enjoy your kakigori, but don't linger too long. The time slots are there for a reason—if you dawdle too long over your shaved ice, the staff will gently and apologetically remind you that there are other customers waiting outside.
In general, the kakigori at Kooriya Peace is on the sweeter side. It's perfect if you have a very sweet tooth and can handle the sugar rush, but those who prefer their desserts less sugary have been warned.
These are many caveats just for the pleasure of eating shaved ice. Trust us, though—it is worth the trouble.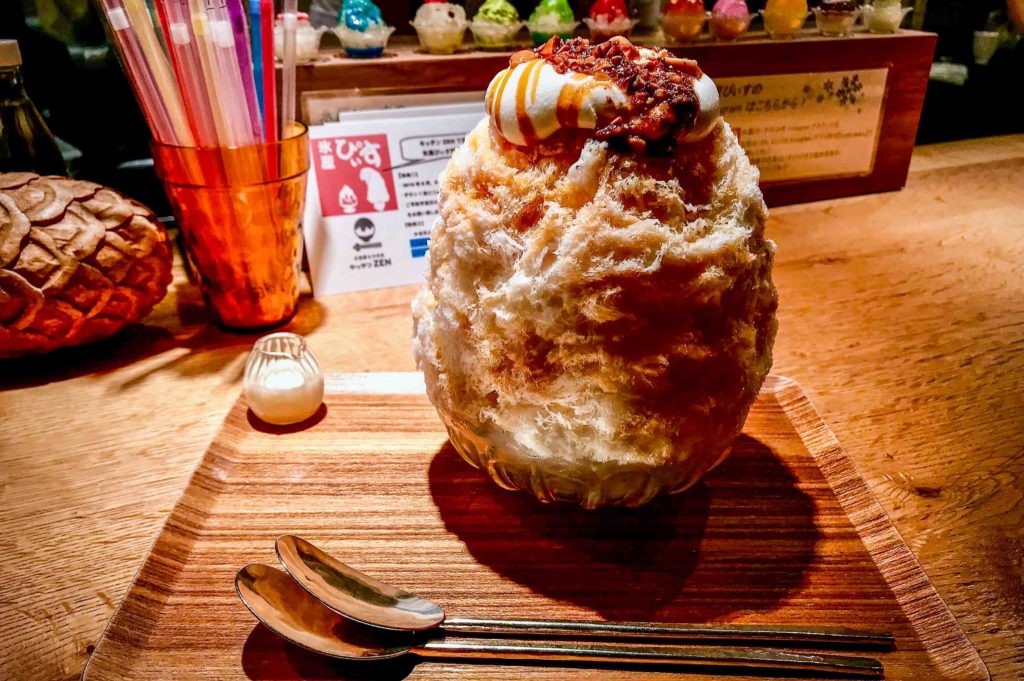 Ice as a canvas for flavour
As with the best shaved ice places, it's all about the quality of ice at Kooriya Peace. There's no grit or crunch. Think fine, fluffy shards of ice that dissolve instantly on your tongue—a perfect vehicle for all kinds of inventive flavors.
The salted caramel kakigori is a favorite standby. This is no insipid caramel—the syrup soaking the ice is a dark, toasty caramel verging on almost too-burnt, but it's tempered by generous pours of condensed milk and dashes of salt. Generous pockets of nuts make this shaved ice a substantial dessert rather than a straightforward sugar rush.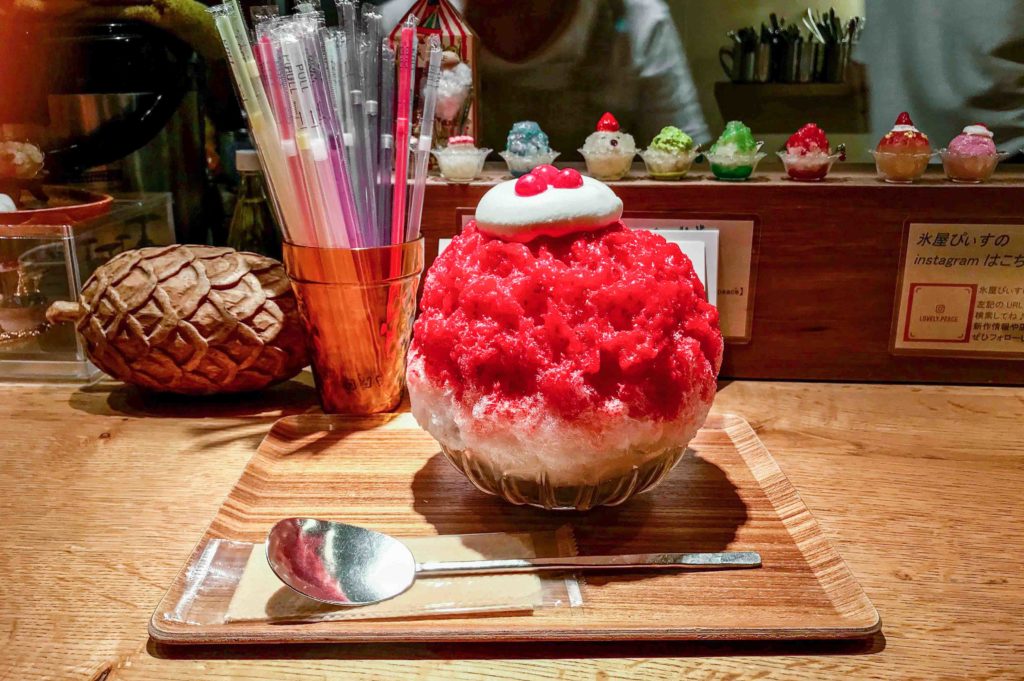 An equally delicious staple at Kooriya Peace is the raspberry and rare cheese kakigori. Imagine a mountain of fluffy ice shards soaked in a sweet, bright raspberry syrup. If you could distill the taste of summer, this is probably it.
Besides the regular flavors, there's an ever-changing rotation of seasonal flavors that keep fans coming back for more. In late June, for instance, they might bring out their premium melon kakigori. This is exactly like eating a sweet, juicy Hokkaido melon in ice form. They also hide fine cubes of melon-flavored jelly in the center of the kakigori!
Other seasonal, limited edition variations have included flavors like premium Kyoho grape sherbet, Yamada's sesame pudding, cherry blossom, chestnut cafe au lait, fluffy hydrangea jelly, and more. They even do special flavors around Valentines Day and Christmas!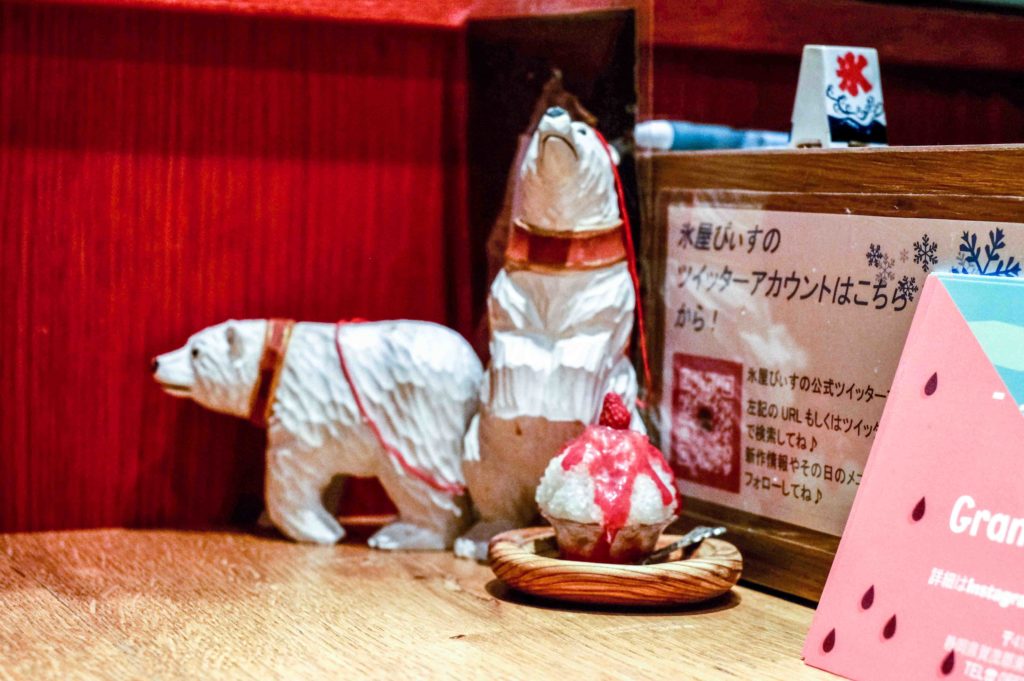 How to get here
Kooriya Peace is located a 3-minute walk from the South (Park) exit of Kichijoji Station. When you see a bubble tea stand and Chinese restaurant on the ground floor of the building on your left, you'll know you've reached the right place. Walk into the building to the corridor at the back. That's where Kooriya Peace is.
Name: Kooriya Peace
Address: 1-9-9 Kichijoji-Minamicho, Musashino-shi Tokyo
Open: Tue-Sun 10am-9.30pm (last orders 9pm)
Closed: Mon (Tue if Mon is a holiday), check Twitter for irregular holidays
URL: Website
Post by Japan Journeys.