Not sure if you've heard, but the whole Tokyo city lights and neon thing is so passé. These days, you go indoors to see the coolest electric wonders in town. That's all thanks to teamLab. This interdisciplinary group of artists, engineers, mathematicians, programmers, animators and architects have created numerous awe-inspiring digital art spaces and galleries around the globe. Step inside any teamLab venue and you'll get a wondrous blend of art, science, technology, design and the natural world. Tokyo's permanent exhibition 'teamLab Borderless' in Odaiba is no exception.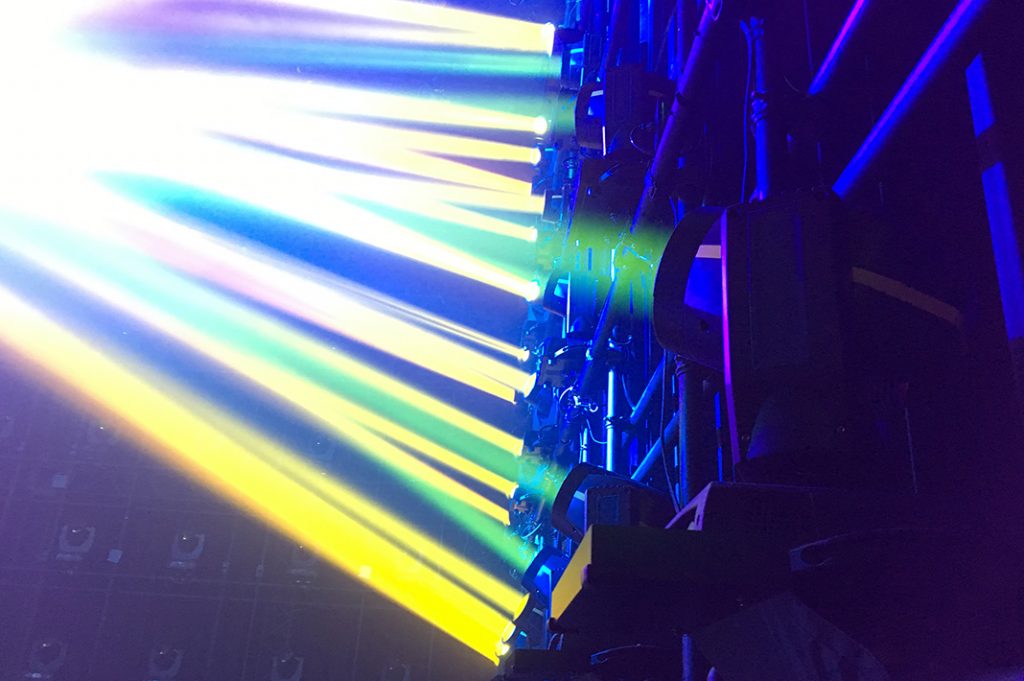 teamLab Borderless, Odaiba
The theme of this digital exhibition is the titular 'Borderless'. There are no set routes so you can explore in whatever order you choose. You may notice that the art, too, is without border; constantly in a state of motion, moving around the room and sometimes out of it.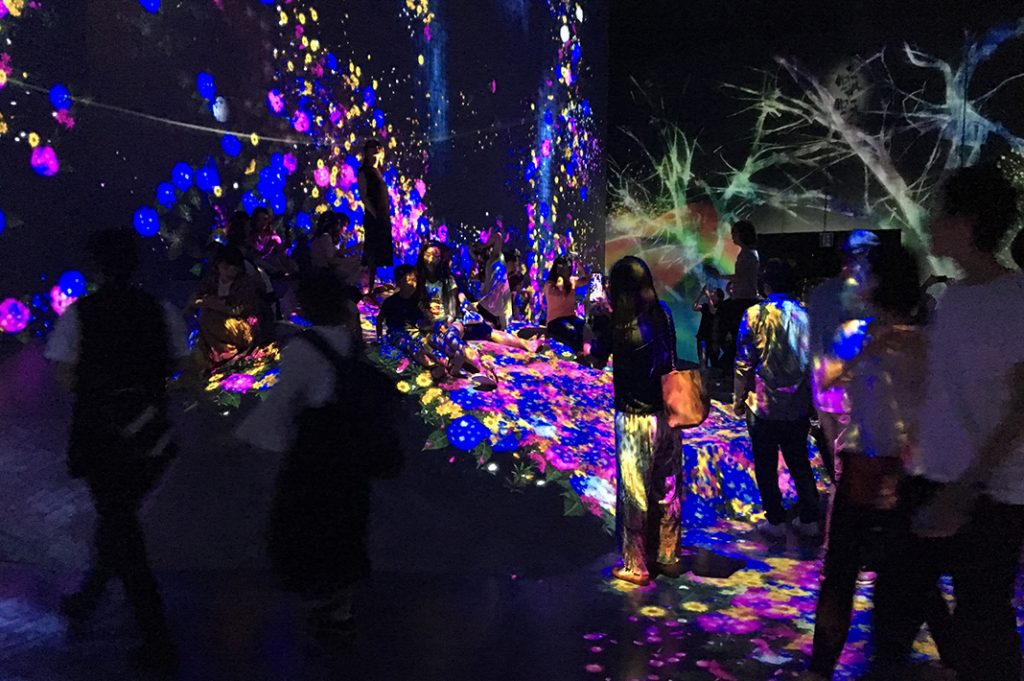 teamLab Borderless is also interactive, meaning the boundary between you and the art is often gone. Your touch, your presence and your use of the phone app will all affect change in the display making you part of the art. It's one gallery where you can lean in close or touch the works without fear of a hushed admonishment.
The space is quite large (10,000 square meters), very dark, and divided into five 'worlds': Borderless World, Future of Lamps, Future Park, Athletics Forest and the En Tea House. The entrance starts you in Borderless World, but then you can discover as you wish. Expect to spend an hour or two exploring—depending on your pace. All up, there are 520 computers and 470 projectors behind the magic, though I don't remember sighting a single one. I was successfully captivated by the art.  
The highlights
TeamLab Borderless is a wonderful collection of projections, dazzling lights, trampoline floors, interactive walls and pure wonder. An ethereal, atmospheric soundtrack adds to the sensory delight.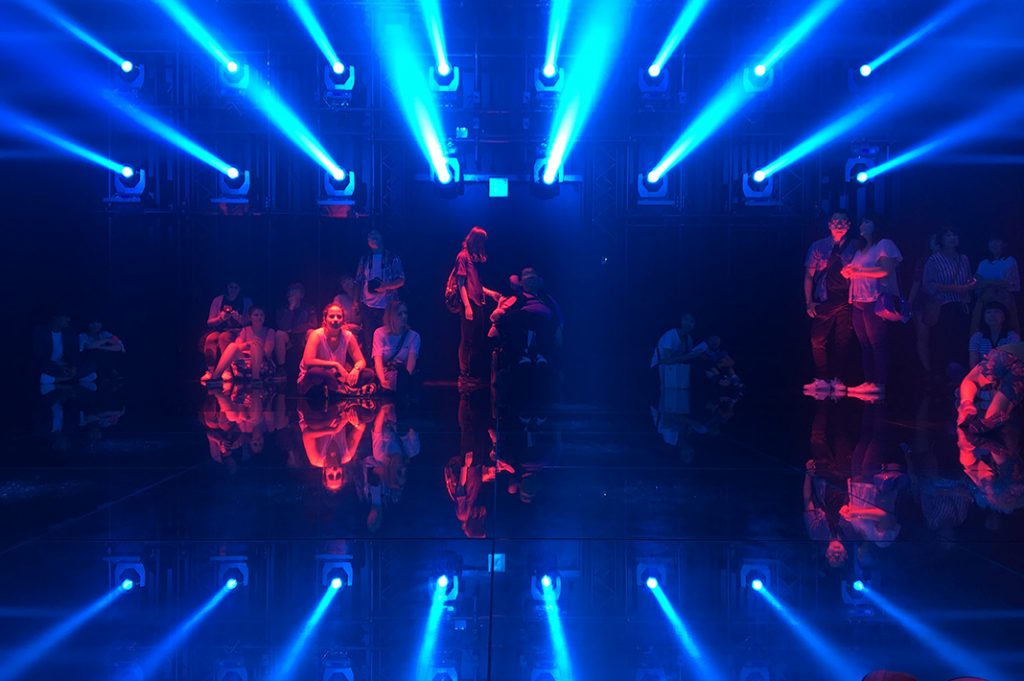 If you can measure my appreciation of specific rooms based on the length of time spent or how cross-legged I got on the floor, then I really loved the 'Light Sculpture – Fog' room. I was simply spellbound by the choreographed spotlights which roamed and pulsed along to a soaring soundtrack in the foggy, mirrored room.
The Crystal World

The 'Light Sculpture – Fog' Room
Some of the more popular (Instagrammable) exhibits such as the Crystal World and Forest of Lamps had a time limit. You can still fall in love with these surreal landscapes, just do it quickly.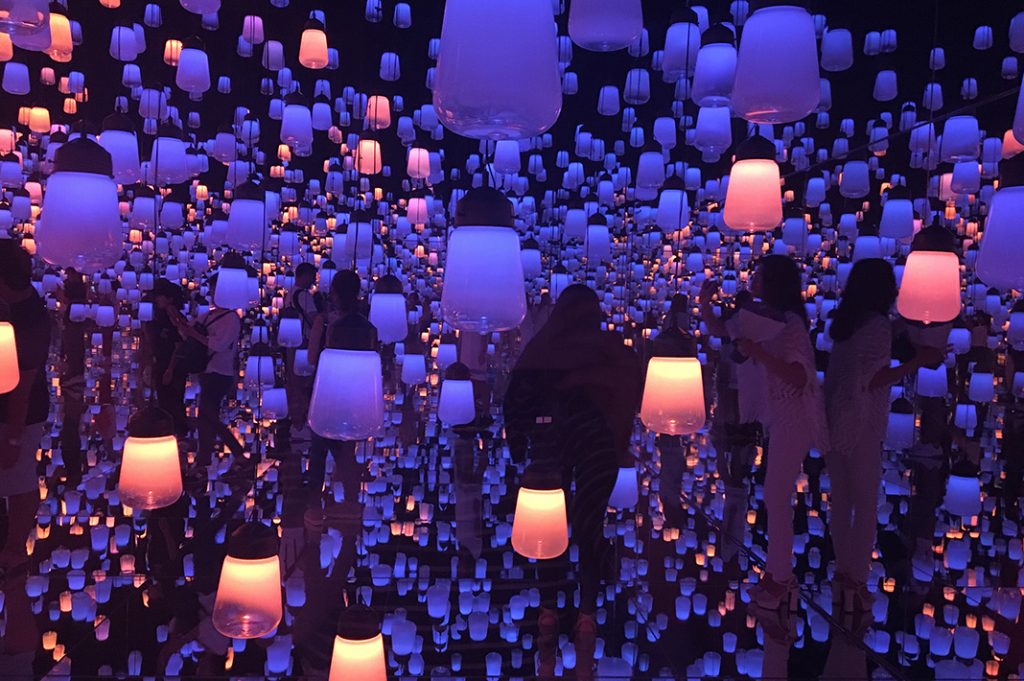 En Tea House
Towards the end, near the Athletic Forest area, you can even stop for a tea at En Tea House. It's an interesting combination of food and digital projection. By setting your teacup down, you invite digital flowers to perpetually bloom inside of it. Each bowl of green tea ice cream on the table will start a digital tea plant growing; removing it will cause the plant to wither. 
So many areas of teamLab Borderless show us things we can't usually see—or at least not in real-time—with the human eye. The changing of seasons, the blooming of a flower, the life and death of a plant. It's pure delight.
Great for Kids
This is an art gallery kids will simply love—particularly the Athletic Forest and Future Park areas. The Athletic Forest is a 'creative physical space' with areas to run, jump, slide and climb. Kids can bounce on the galaxy or navigate through a collection of giant inflatable balls until they're all tuckered out.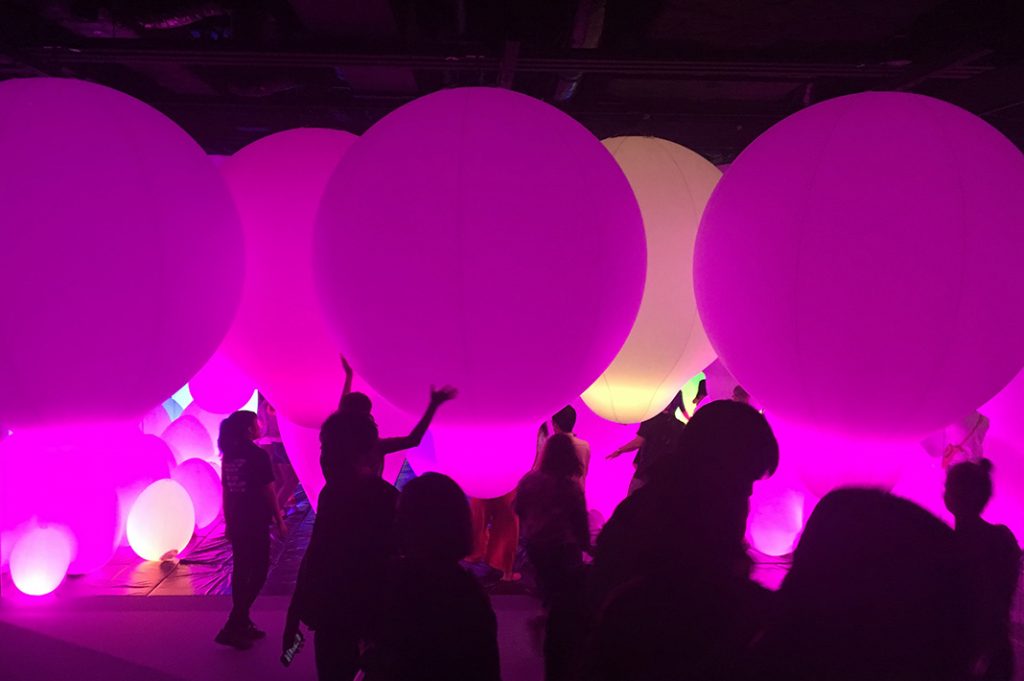 The Future Park has a more educational focus on creativity and collaboration. There are areas to build, experiment and discover as well as a room where your drawings will join the others floating around the walls. It's sure to keep them entertained.
Things to Know Before You Go
Note that there are currently two teamLab exhibits in Tokyo; teamLab Borderless is in Odaiba while TeamLab Planets is in Toyosu. Be sure you get the address correct!
If possible, book ahead online. Same-day tickets are not available if it is already sold out in advance.
If you do arrive without tickets, you may need to wait for over an hour outside. Best to aim for early morning or late afternoon if that's the case.
Avoid wearing short skirts and dresses as there are mirrored floors in some rooms. If necessary, you can borrow a wrap-around skirt for free before entering these rooms.
Wear comfortable sneaker-type shoes or hire some inside. It's quite dark with uneven ground, not to mention high heels, sandals, wooden clogs, or other unsteady footwear will not be allowed in the Athletic Area.
How to get there
TeamLab Borderless is a 3 minute walk from Aomi Station on the Yurikamome Line or a 5 minute walk from Tokyo Teleport Station on the Rinkai Line. It is located on the 2nd floor of Palette Town, next to the giant ferris wheel entrance.
Name: Teamlab Borderless, Odaiba
Open: Weekdays 10:00 – 19:00, Sun, Sat & Holidays 10:00 – 21:00
Closed: 2nd & 4th Tuesdays, check the website for additional closures.
Address: Mori Building Digital Art Museum, Odaiba Palette Town 2F, 1-3-8 Aomi, Koto-ku, Tokyo.
URL: https://borderless.teamlab.art/
Post by Japan Journeys.