I'd been feeling under the weather for a few days; sore chest, dry throat, trouble sleeping. So when friends invited me to spend a day on a beach near Tokyo, I jumped at the idea. A little fun, sun and laughter would surely be doctor-approved, had I seen one. This would also be my opportunity to cram three months of summer fun into one glorious day as I had yet to visit a Japanese beach all summer. Our destination? Morito Beach in Kanagawa Prefecture.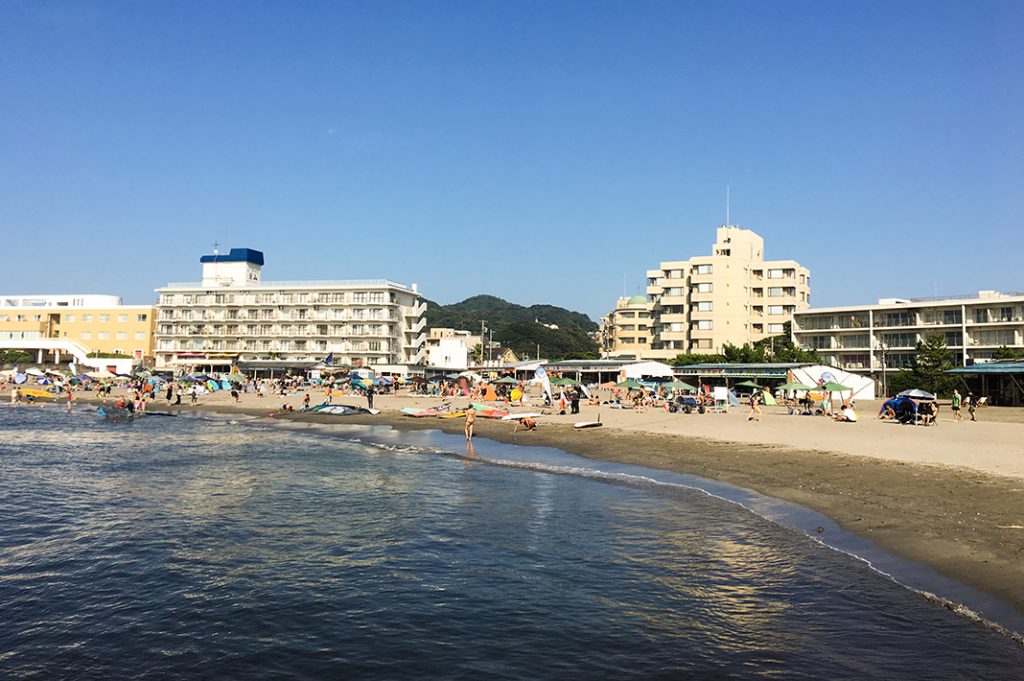 Zushi-bound and Winding Down
There was a leisurely pace to our morning—something I later cursed during the series of public transport connections as we made our way (very late) to join our friends at the beach. As the local bus wound through the charming seaside towns near Zushi, we caught flashes of glittering ocean between the buildings. Quaint cafes and gift stores drifted by and a group of Japanese Chicanos strutted their stuff. It was clear; the hustle bustle was over. It was time to unwind. 
Discovering Morito Beach
A minute off the bus, we were on the sand and toasting to beach days with the lovely Sagami Bay backdrop. Enoshima stood straight ahead with Kamakura over to the right. Boats bobbed, windsurfers surfed and the elusive Mt. Fuji lurked beyond, invisible in the haze. 
Behind us were a number of huts slinging floaties, cocktails and food. Among them was Oasis, the popular summer bar/food hall/live house. As I would later discover, these were summer-only affairs and would be closing literally on the last day of summer. Regardless of whether the sun continued to shine. For this reason, we decided to make the most of it and get some plum sours and yakisoba. Very Japanese.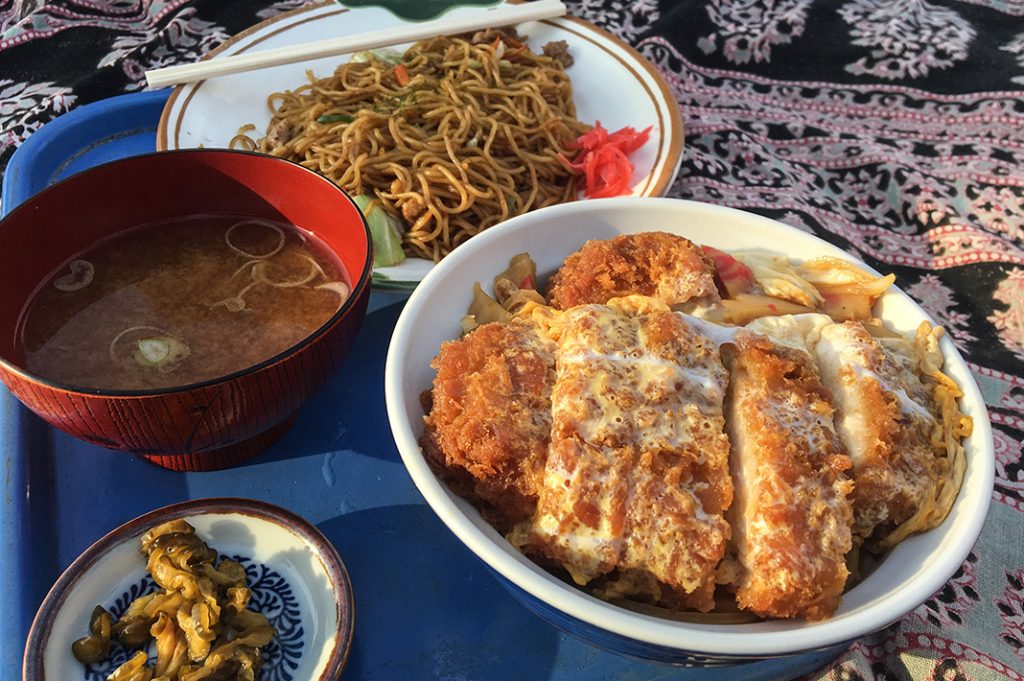 Though we were seated beside the 'Family Area' (meaning no alcohol), the whole beach felt family-friendly. The waves were as gentle as the temperaments of our fellow beachgoers; even the fully tattooed guys weren't too tough to chase down a fly-away pink floatie. As we lazed, we clocked all the usual beachy characters; gym junkies flexing, girls posing for 'spontaneous' shots and a middle-aged man walking his friend magnet (i.e. Springer Spaniel) back and forth. It wasn't too crowded, nor was anyone being too obnoxious. It was perfect.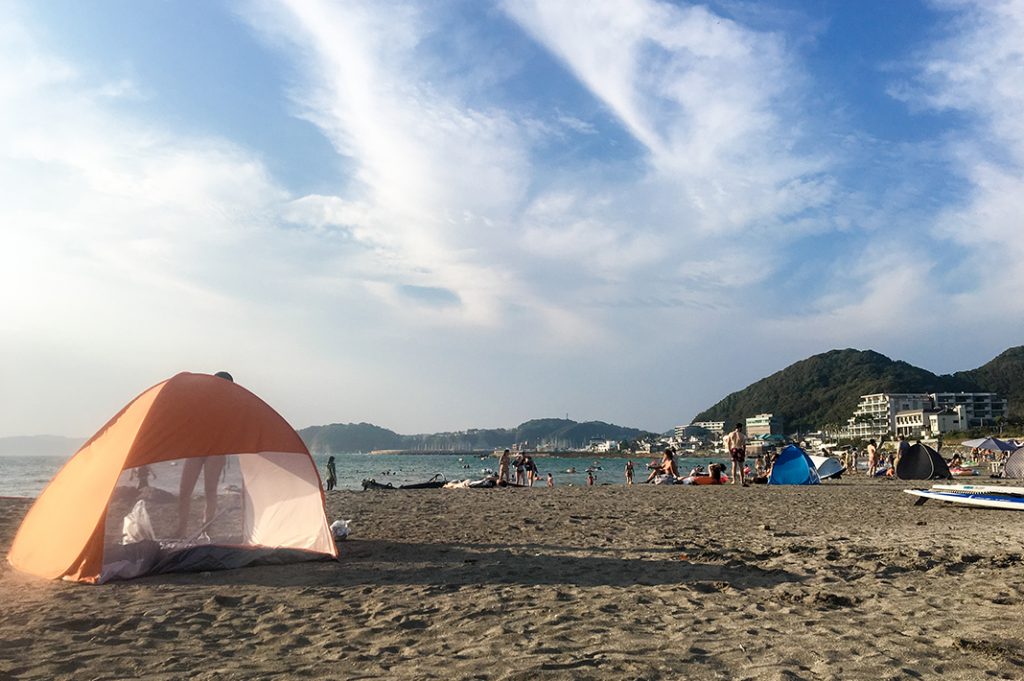 River Shrines at the Japanese beach
Eventually we forced ourselves to stand and go for a wander. Before we knew it, we'd reached the end of the beach, marked by the concrete embankment of the Morito River. By descending a couple of steps, we headed down into the shallows and came face to face with the Moritodaimyojin Shrine up on the far embankment. To the left was the red Misogi Bridge, and to the right, the open sea—well, bay.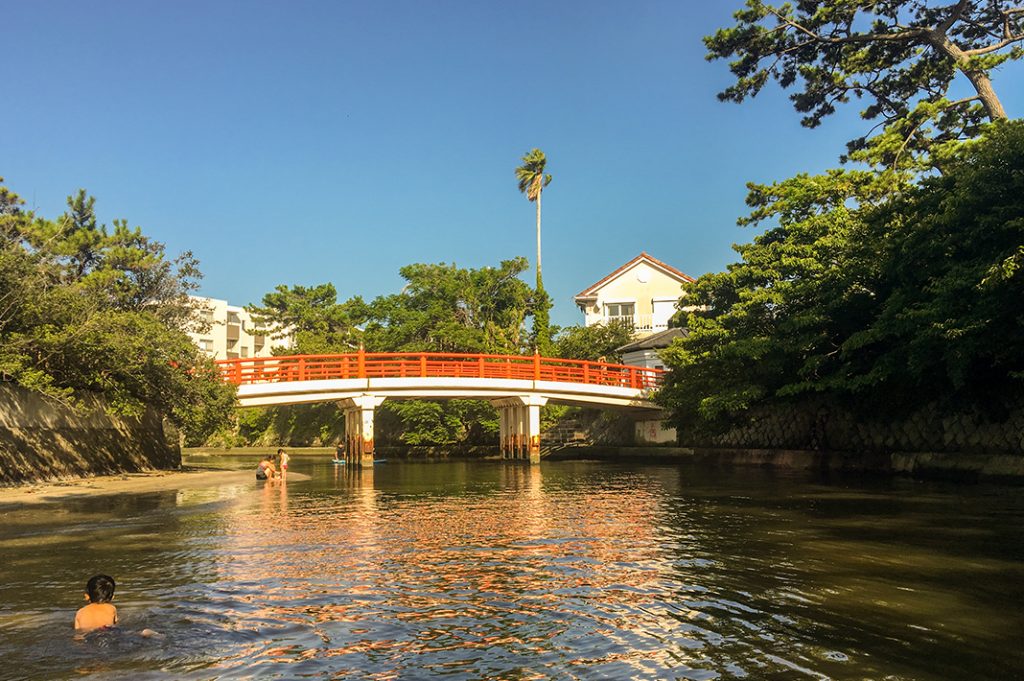 We headed towards the horizon, the waves gently lapping at our ankles and eventually waists. When we were as deep as we dared to wade, we caught sight of the Torii gate on Na Island in the distance. Framing it in the foreground were some craggy rocks and the shrine's ancient-looking pine tree 'Senganmatsu' jutting out dramatically. Having not visited many Japanese beaches, scenes like these are truly awe-inspiring.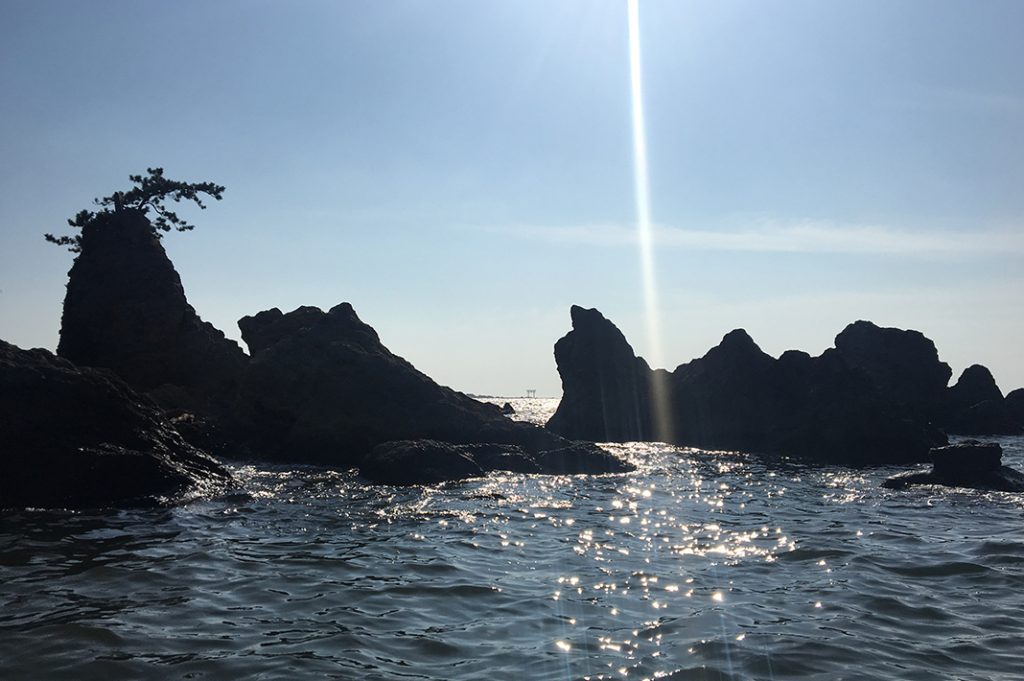 As the sun was setting, the bells of the shrine were tolling and we decided to head back in.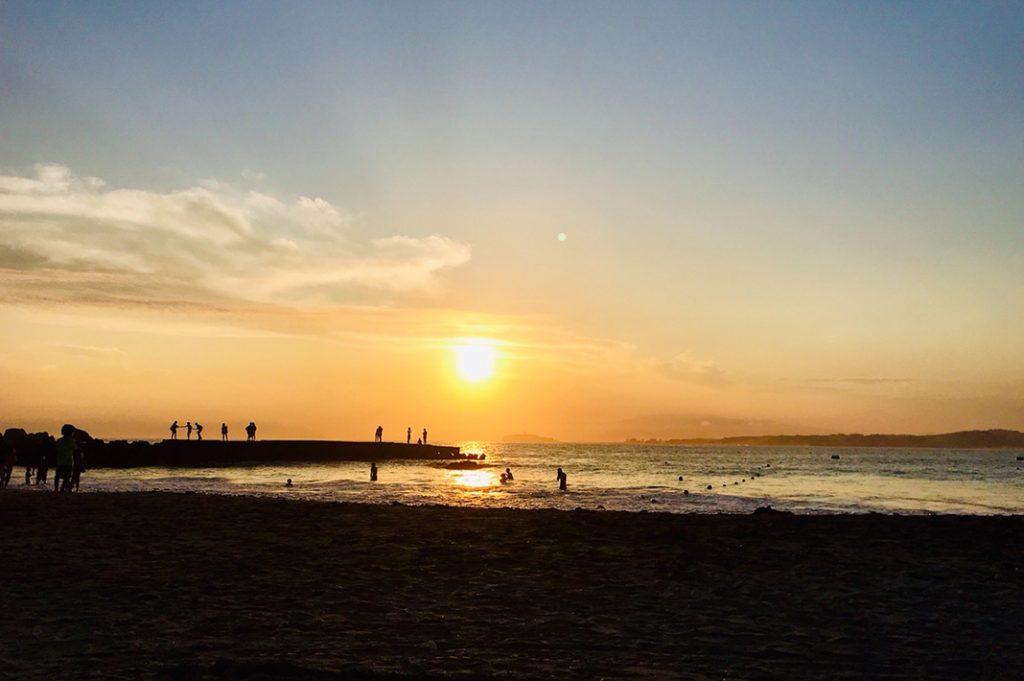 It was right about now that Oasis was starting to pick up steam. We stood around and watched the didgeridoo player and accompanying dancers for a while before packing up and heading home.
Unfortunately, no amount of vitamin D and saltwater could stave off the illness that had been threatening me all week. In the end, it would appear that I left both my heart and voice at Morito Beach. My voice would return in a few days, but I'd have to come back next summer for my heart.  
Getting to Morito Beach
Located just over an hour from Tokyo, Kanagawa's Morito Beach (sometimes referred to as Hayama Beach) makes for a wonderful day trip. To get there, you'll need to take the JR Yokosuka Line to Zushi Station then switch to a local bus. Head to bus stop 3 and ride bus #12 to the Morito Kaidan (Morito Beach) stop. They run every 12 minutes so it's not too long to wait if you miss one. The whole journey should take around 1.5 hours from central Tokyo.     
Hot tip: go early. We waited too long to leave Tokyo and arrived at Zushi at 12:30 pm. By then, the queues were long, the bus was cramped and the 10-minute drive became 30 minutes with beach-goer traffic.
Location: Morito Beach, Horiuchi, Kanagawa
Google Link: https://goo.gl/maps/NmmW7ftScBkjFmzb6
Post by Japan Journeys.