This Kyoto walking tour brings you from the Kodaiji complex to Kiyomizudera. An extension of the Gion walking tour, the two can be combined and even completed in reverse. If you are following on from the previous tour, we continue our journey from the carpark of Ryozen Kannon/Kodaiji Temple.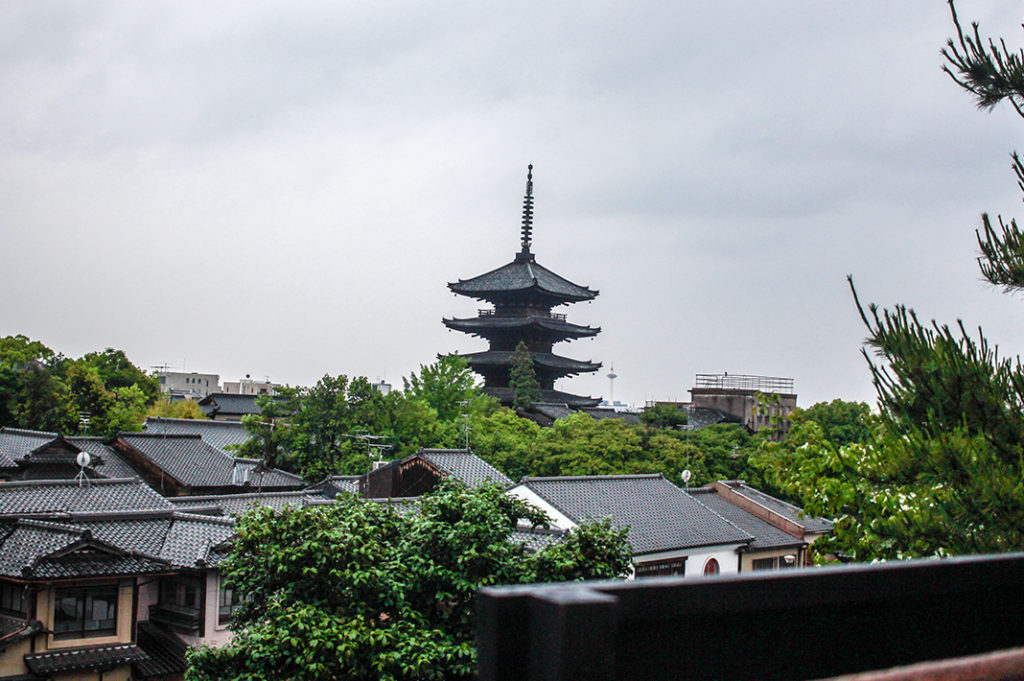 Look out over the neighbourhood toward the towering pagoda and set it as your mark. We will make our way there through the charming little streets below. Get your camera ready and follow along with the route here.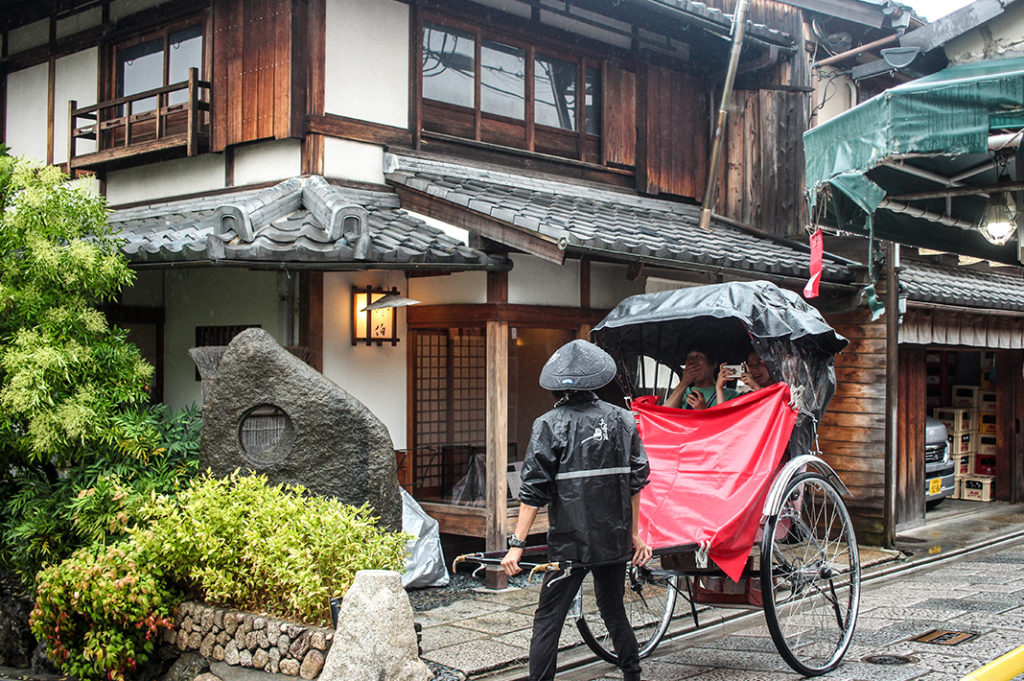 Yasaka Koshindo: Kyoto's most colourful temple?
Before we admire the pagoda, let's treat our eyes to a little colour. Yasaka Koshindo is quite possibly the most colourful spot in Kyoto. Just look at its central shrine draped in long strands of colourful balls.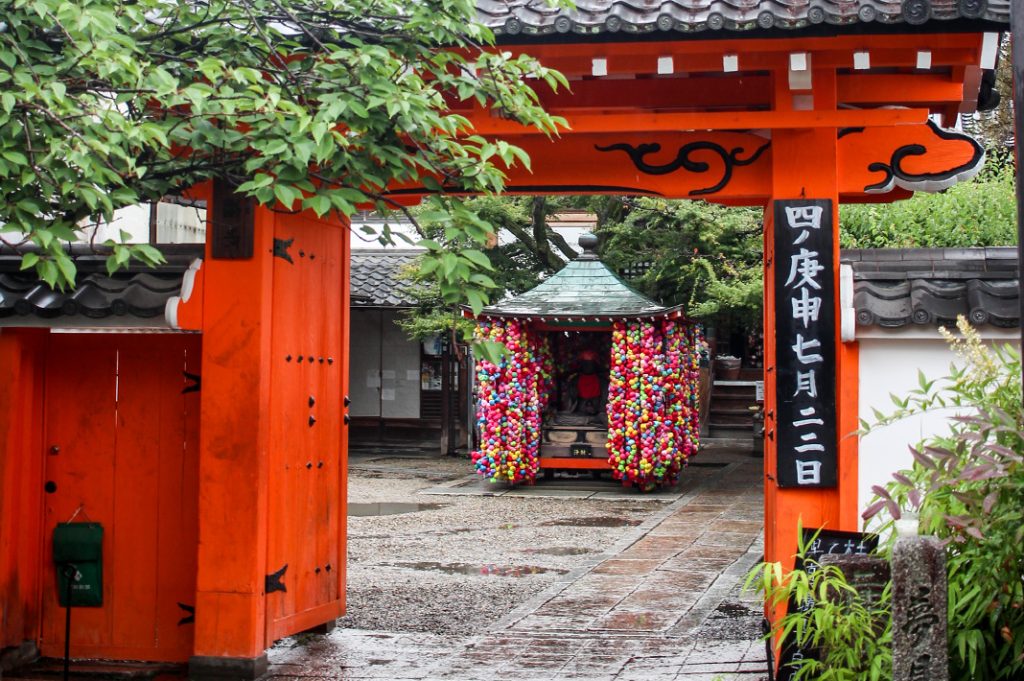 This may seem totally out of place, but there's a good reason for all of it. This Koshin (a folk faith) temple is the place to have your desires abolished and your wishes granted.
And the colourful balls? Much like ema (wooden plaques) and o-mikuji (paper strips) of other shrines and temples, these help your wishes come true. They are actually little monkeys called kukurizaru; simply write your wish on one and wait for the tides to change. Why are they so bright? Rainbow sells! More about the shrine here. 
Yasaka Pagoda (Hokan-ji Temple)
Step out of Yasaka Koshindo and you'll soon be staring uphill at the very impressive Yasaka Pagoda of Hokan-ji Temple. Originally built in 589, inspired by a dream, the pagoda stands 46m tall and is one of the area's highlights. Not only can you gaze at its impressive contours, but you can also venture inside to explore within. 
If you're in the mood for a lunch stop, a good option in the area is Kyoto Tsuburano. They serve up high-quality Kyoto-style bento lunches and steaming cups of matcha tea. Perfect for getting you back on your feet for more walking. 
Nineizaka 
Continue walking up Yasaka-dori, taking a left down the stairs at Nineizaka. This is another very picturesque spot with plenty of cafes, shops and restaurants to suit any taste. Look hard enough and you may even spot a Starbucks logo etched unobtrusively into a wooden sign. This unique branch lives within a traditional chaya tea house; a wonderful juxtaposition of old and new Japan. If you find yourself here in spring, you'll enjoy some great cherry blossoms, too!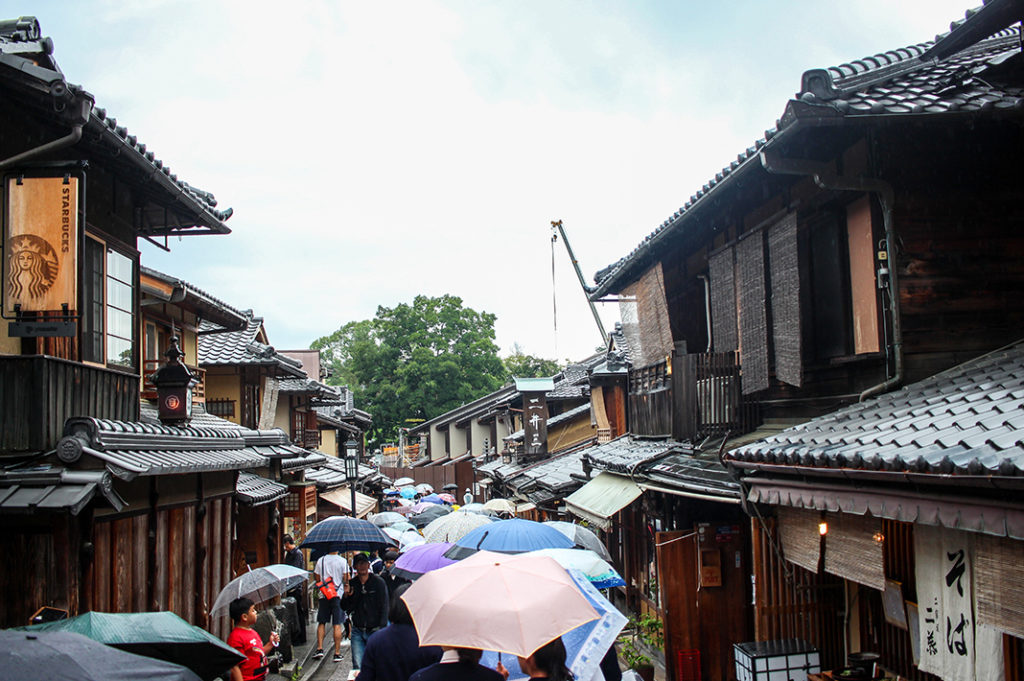 Head back up the stairs to continue your journey; don't worry about missing any photo ops as you'll enjoy this same aesthetic for a while yet.   
Sanneizaka
The next point of interest is Sanneizaka, another gorgeous set of stone steps signalling our impending arrival at Kiyomizudera Temple. All around this area, you'll see kimono-clad temple-goers posing for photos and giggling at shop windows. There's a reason why this area is worth a look: it's stunning. And it's not just me who thinks so; Sanneizaka is officially designated a National Important Preservation District of Historic Buildings.
At the top of the steps, you can take a left and follow Matsubara-dori all the way to the temple. Alternatively, head straight, turning left after a few blocks to run into Chawan Zaka shopping street. This will also take you to the temple, just keep heading uphill. This is the place for souvenirs like paper fans and tea cups. If you're feeling a little underdressed, it's not too late to hire a kimono or yukata for the last part of our journey! Though perhaps easier said than done, navigate your way around the school excursions and tour groups and head toward the temple.  
Kiyomizudera
The Kiyomizudera Temple is one of the most impressive and popular attractions in Kyoto. This UNESCO World Heritage site has a history stretching back over 1,200 years and draws unprecedented crowds.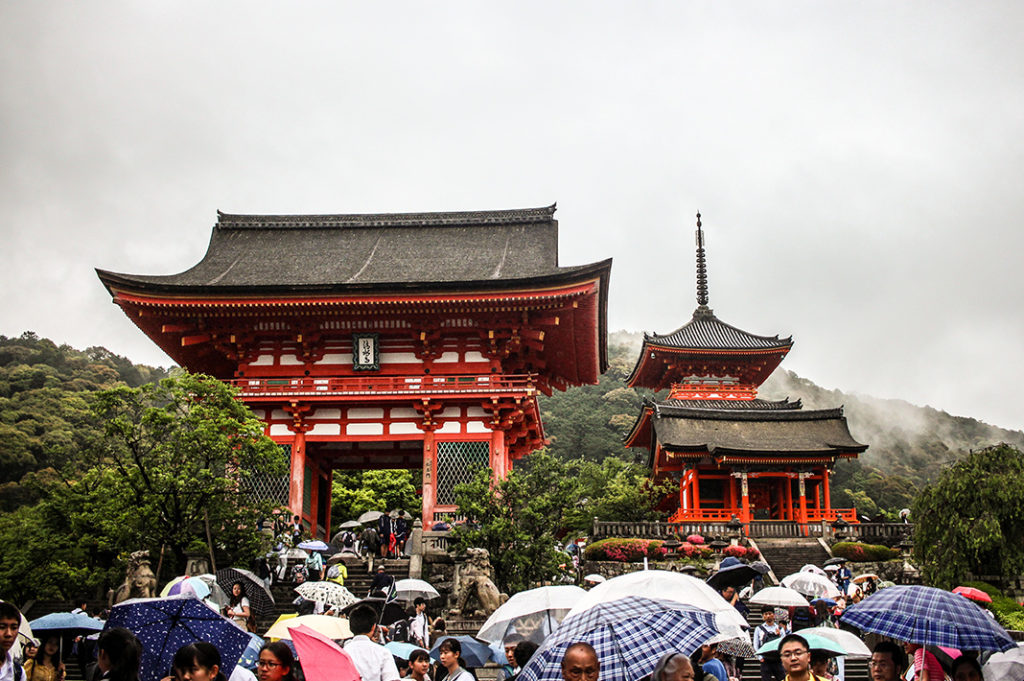 Most notable is probably the Main Hall, constructed in 1633 with not a single nail. The elevated balcony stretches high above the ground, offering spectacular views of the surrounds. Unfortunately during my visit, it was under construction and the whole thing was draped in scaffolding and gauze. Construction should be complete in March 2020, but there is plenty else to see. Think impressive gates, gardens, pagodas and waterfalls—just explore it for yourself. 
When you've finished at the temple, you can head back through the shopping street. Or, if you're partial to the macabre, there is a fantastic cemetery on the hillside, just waiting to be explored. For those looking for a spot with less (live) people, it's perfect. Toribeyama Cemetery is home to thousands of graves sloping down the hill and full of interesting gravestones. It's visible from Kyoto Tower, and makes for a relaxing end to the busy shopping streets around Kiyomizudera. 
From here, the closest station is Kiyomizu Gojo Station, about a 15 minute walk away. If you still have steam, consider other attractions in the area such as the Kyoto National Museum or Rengeoin Sanjusangendo. 
Post by Japan Journeys.