Located on the southern Kyushu Island, Nagasaki is a different kind of Japanese city. When the nation's borders were closed to much of the world, it served as the main access point for foreign trade and the Chinese, Portuguese and Dutch influences from that time still echo throughout the culture and landscape today. Nagasaki is also widely known as the unfortunate target of the second atomic bombing in World War 2. To help you explore all this history for yourself, we've put together a comprehensive Nagasaki itinerary. It intertwines ancient and modern history to help showcase the soul of the city.  
Arrive at night and get a good rest so you can tackle the city bright and early the next morning. We'll be suggesting tram travel for much of this itinerary, so be sure to read our guide to Nagasaki trams.
A 3 Day Nagasaki Itinerary
Day 1
We start our day exploring the Atomic Bomb history of the city. From Nagasaki Station, take tram #1 or #3 bound for Akasako and get off at the 'Peace Park (Heiwa Koen)' stop after 11 minutes.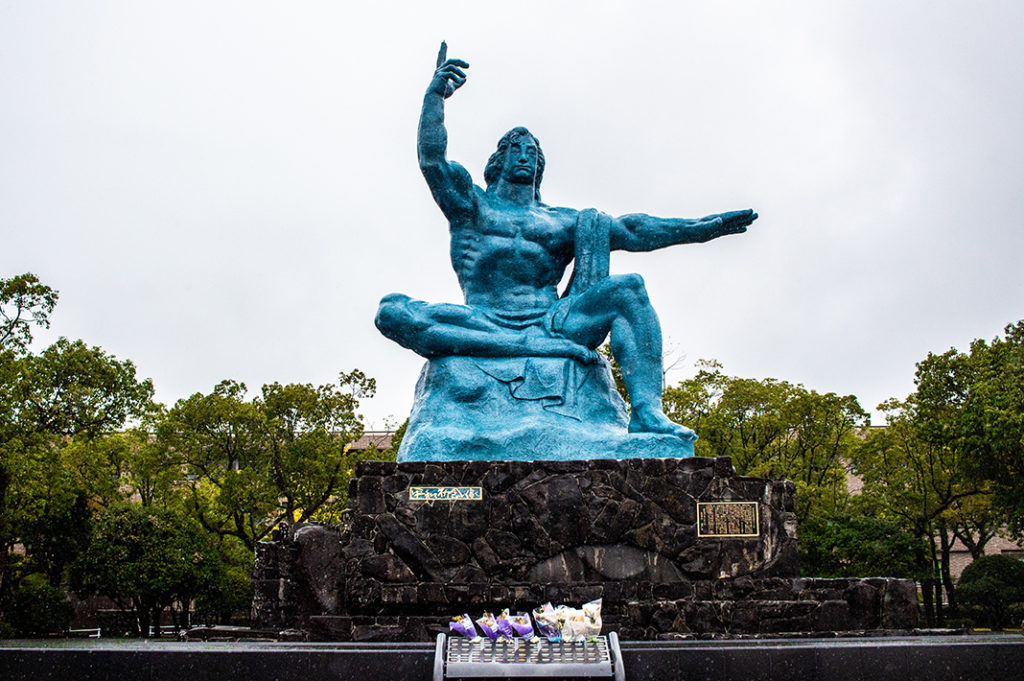 9am – Peace Park and Hypocenter Park
At 11:02 am on August 9th, 1945, the 'Fat Man' atomic bomb detonated 500 meters above ground in this area. At the time, everything within a 2.5km radius was destroyed and it was thought that plants wouldn't grow until 2020. Amazingly, this wasn't the case and the area quickly became lush once more. Over the years, a museum was built along with two parks in remembrance of the victims; the Hypocenter Park and the Nagasaki Peace Park. The latter contains fountains and statues in tribute to the victims, including the iconic 'Peace Statue'. The neighbouring Hypocenter Park is the actual location of the blast and is the place to pray for the souls of the victims. Read more about the parks here.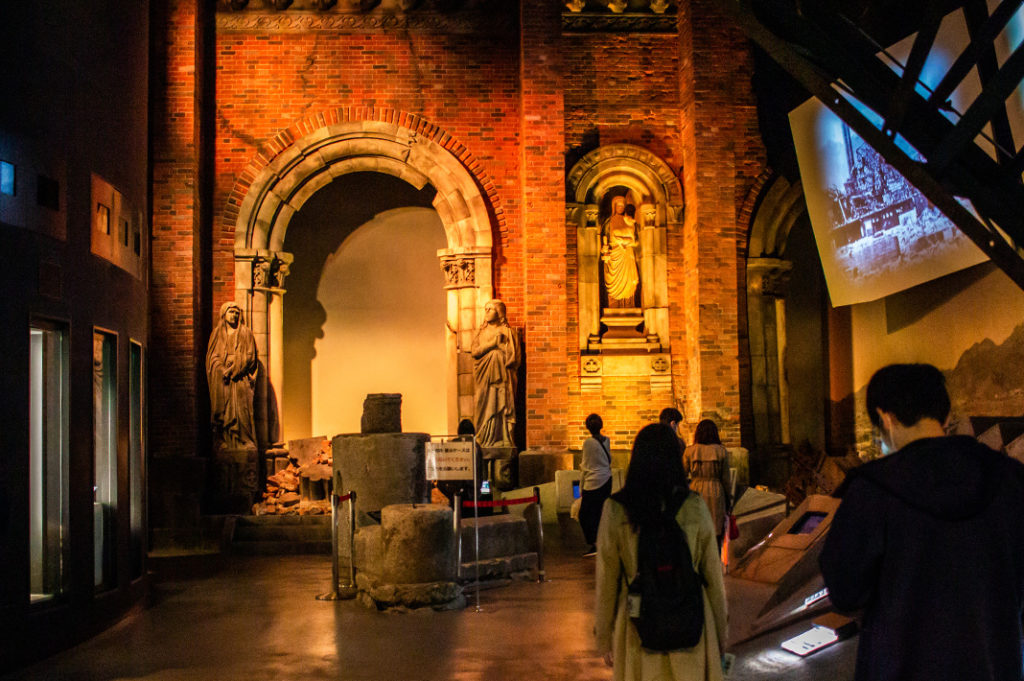 9:30am – Atomic Bomb Museum
Located just uphill from the Hypocenter Park, the Nagasaki Atomic Bomb Museum was built to honour the victims and advocate for the end of nuclear warfare. Over three levels, the museum presents the chronology of events, starting with a picture of life in Nagasaki before the bombing. Read more about it here, opens at 8:30 am.
Head to the 'Atomic Bomb Museum Station' and take tram #3 bound for Hotarujaya. Ride 9 stops (15 minutes) and get off at 'Civic Hall Station'. From there walk 3 minutes to the next place on our Nagasaki Itinerary.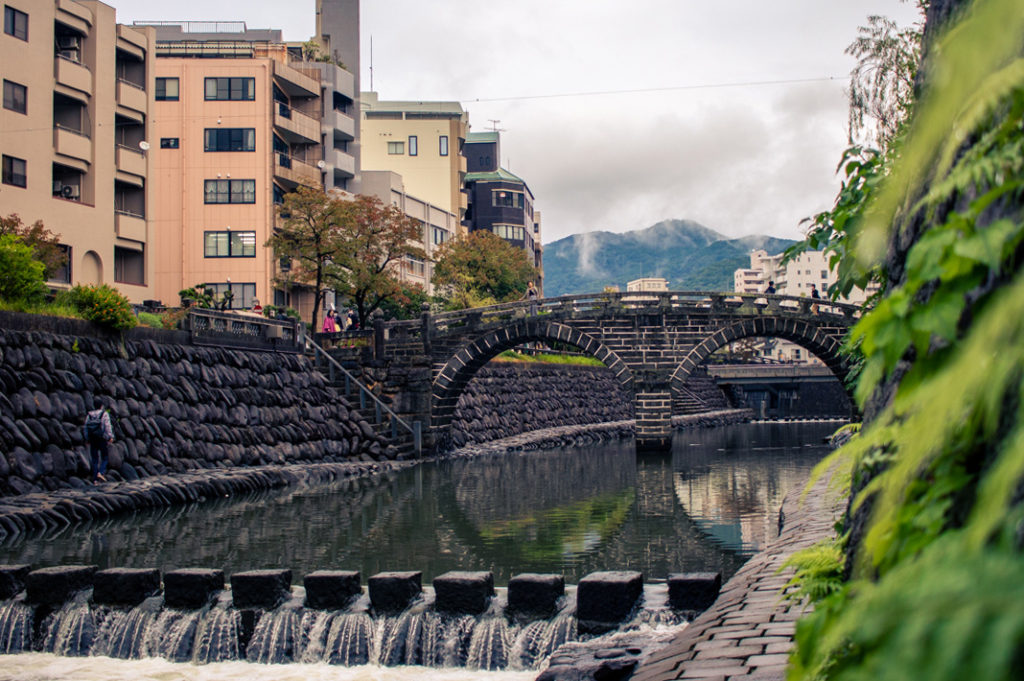 12pm – Meganebashi Bridge
Dating back to 1634, this stone bridge is said to be one of the oldest of its kind in Japan. As such, it has been designated an important cultural property. Megane bashi's double arch design, when reflected on the river below, gives the appearance of a pair of circular eye-glasses, hence the nickname 'Spectacles Bridge'. It's a popular photography spot and close to delicious food outlets—no doubt by now you'll be getting hungry.
12:30pm – Lunch
After checking out Meganebashi Bridge and decompressing from the Atomic Bomb Museum, you will find plenty of food options by heading in the direction of the Hamanomachi Shopping Arcade.
If you follow the arcade towards Sofukuji, you'll pass Tsuruchan, Kyushu's first-ever cafe. This place is busy with a capital B, so if you want to eat here, be prepared to wait or plan your meal at a non-traditional time. On the menu is their famous Turkish rice, a hodge-podge dish of fried rice, spaghetti Neapolitan, salad and a fried pork cutlet doused in curry sauce. Read more about it here.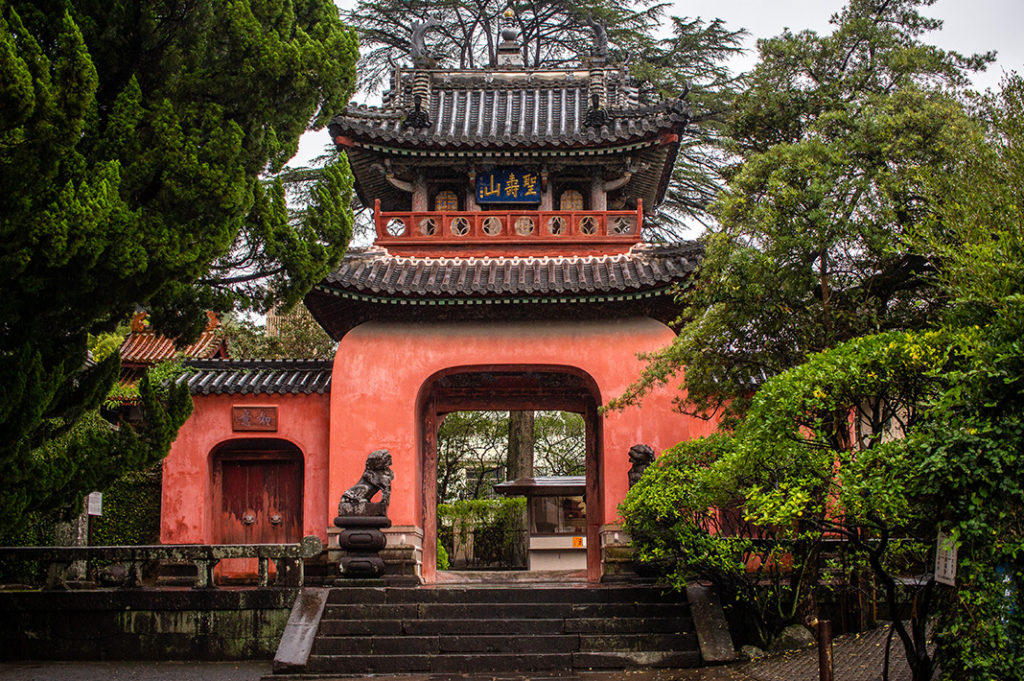 1:30pm – Sofukuji Temple
Built in 1629 for the Chinese residents, Sofukuji Temple is of the Obaku school of Zen Buddhism. It has long been a place of sanctuary, not only for the Chinese community but for the whole city during hard times. To this day, Chinese residents come from all over Japan to celebrate the annual Bon Festival here in July. The complex features 21 cultural assets as well as two buildings designated National Treasures. For architecture aficionados, Sofukuji offers a rare look at the South China architecture from the Ming Dynasty. Read more about it here.
From Sofukuji Temple station, you can catch tram #1 bound for Akasako and ride 4 stops (6min) to Shinchi Chinatown. If you'd prefer to walk, we'd suggest winding through the Doza and Shianbashi areas. These are Nagasaki's nightlife areas and worth a look, in case you have energy later in the night.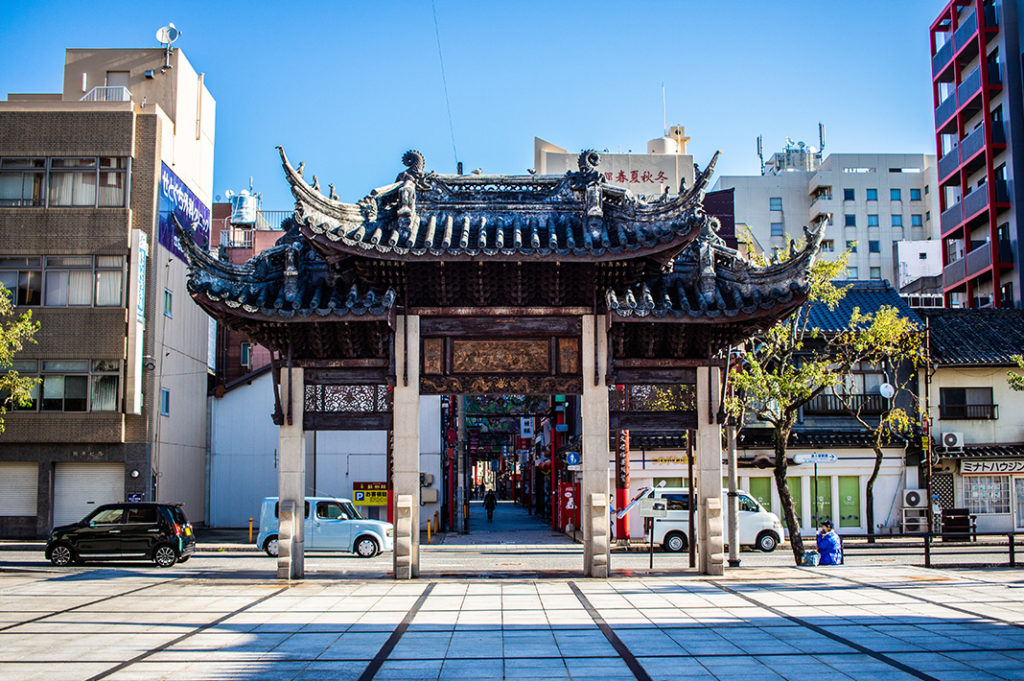 2:30pm – Chinatown
Located in downtown Nagasaki, this area, also known as Shinchi, or 'new land', has been the commercial district for Chinese traders for hundreds of years. It is the oldest Chinatown in Japan, predating both those in Yokohama and Kobe. The restaurants serve up local favourites like Champon and Sara Udon, but there is also delicious street food up for grabs.
The shops sell local souvenirs and Chinese motifs and folksy music plays over speakers in the street. If you happen to be in town over Chinese New Year, you will see Chinatown at its best as it is transformed for the lantern festival between late January and early March. Read more about it here.
Now it's time to rest at your hotel before the night's activity. Once you've got your energy back, head out to see Nagasaki in a whole new light.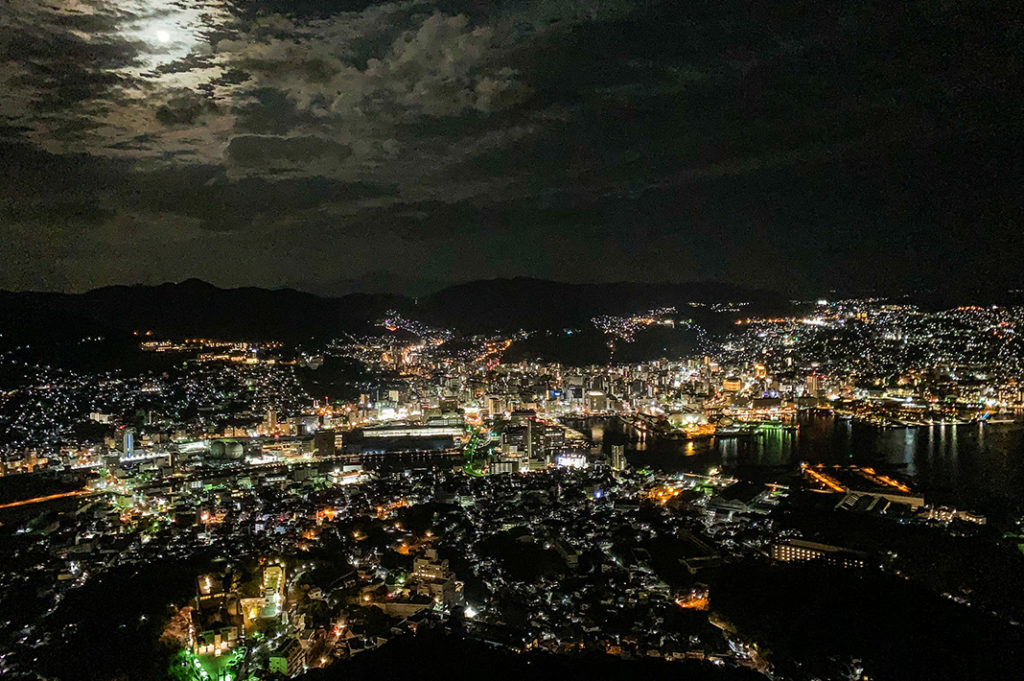 Mt Inasa's '10 million dollar' night view
Known as the place to see one of Japan's three best night views, the Mount Inasa Observatory should feature on any Nagasaki itinerary. Accessible by taxi, bus or tram and Ropeway, it's a relatively short journey to see a breathtaking display of twinkling lights blanketed over the city. While the daytime vistas are extraordinary, the real show-stopper here is the night view. Open until 10 pm, read more about it here.
It's your choice whether you eat dinner before or after taking in the views. Chinatown and the Doza/Shianbashi areas are great options.
Day 2
Day two of our Nagasaki itinerary shows more of the western influences and history. From Nagasaki Station, take tram #1 bound for Sofukuji, changing at Shinchi Chinatown to the #5 tram bound for Ishibashi. Get off at 'Oura Cathedral' (Oura tenshudo) and walk 5 minutes to Glover Garden.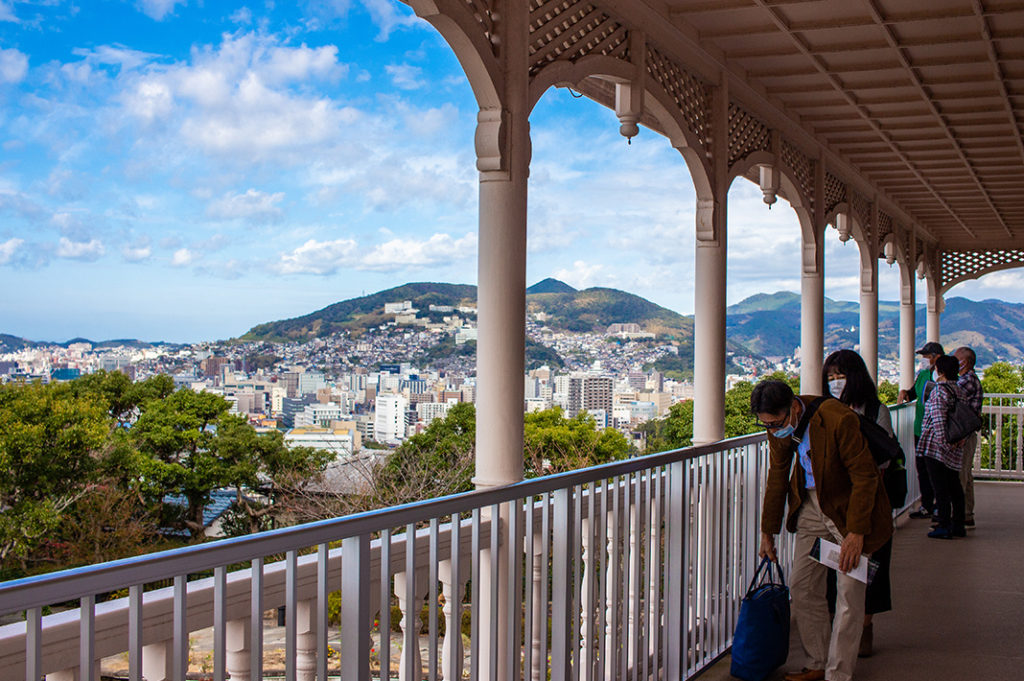 9:00am – Glover Garden
Perched atop a hill in the Minami-Yamate district, Glover Garden is one of Nagasaki's most popular attractions. Part garden, part open-air museum, this charming spot offers great insight into the early western settlers who made Japan their home in the late 1800s. You can explore mansions and notable buildings from the early days of Western settlement, some of which were transported to this location from elsewhere in the city in the 1970s. The result is a charming, multi-level hilltop garden with historic houses and fantastic views. Open from 8:00 am, read more about it here.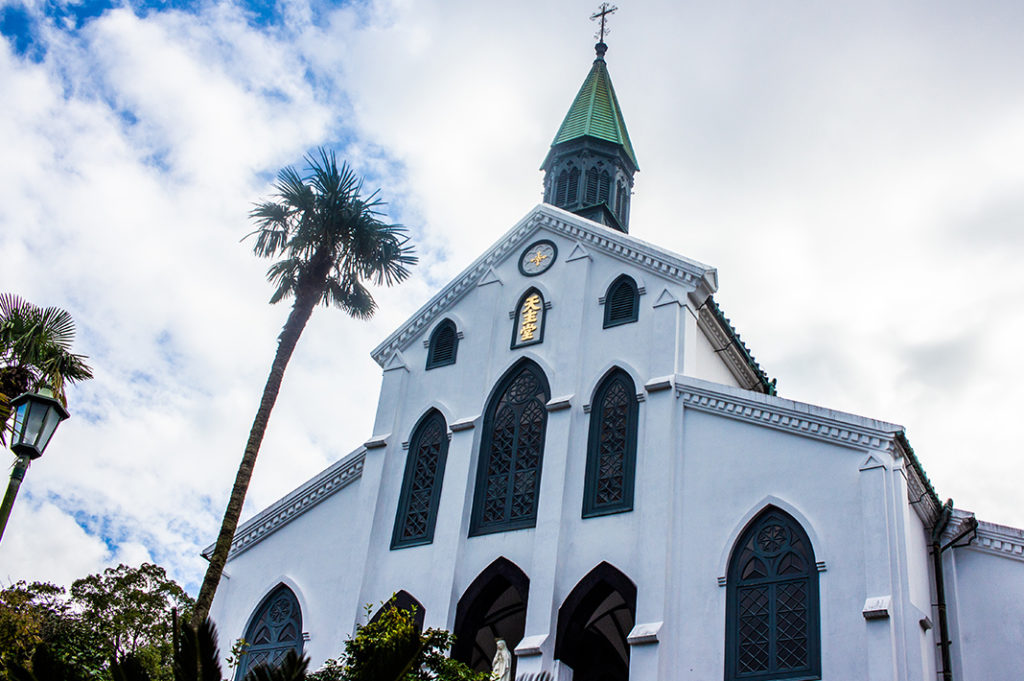 11:30am – Oura Church
Located beside Glover Garden, Oura Catholic Church is one of the most significant landmarks in Nagasaki's story of Christianity. Built by French missionaries in 1864, Oura Church is the oldest extant Christian building in Japan. The church was built in honour of the Twenty-six Martyrs of Japan, who were brutally crucified for their beliefs in 1597. There is also a Christian Museum that tells the long and complicated story of Christianity in Japan. The cobbled streets leading up to it are filled with souvenir stores and make for a pleasant daytime stroll. Read more about it here, open from 8:30 am.
Lunch
If you're getting hungry, there are small snacks and a few restaurants in this area—notably the famous Shikairou Chinese restaurant. This place is always busy, but a great place to try Sara Udon and Champon. Read more about it here.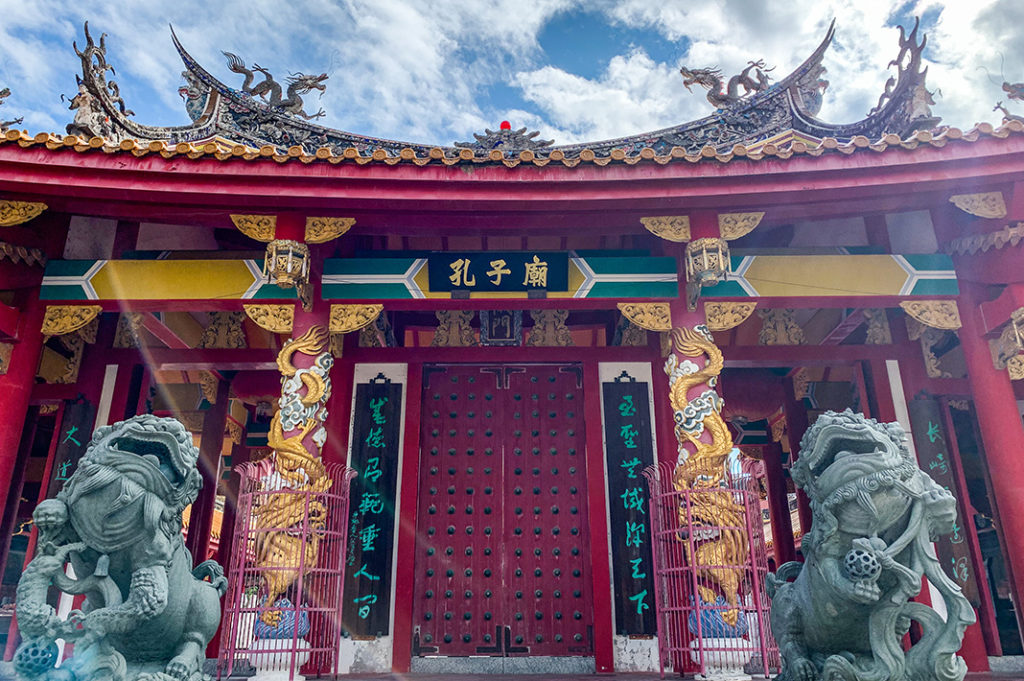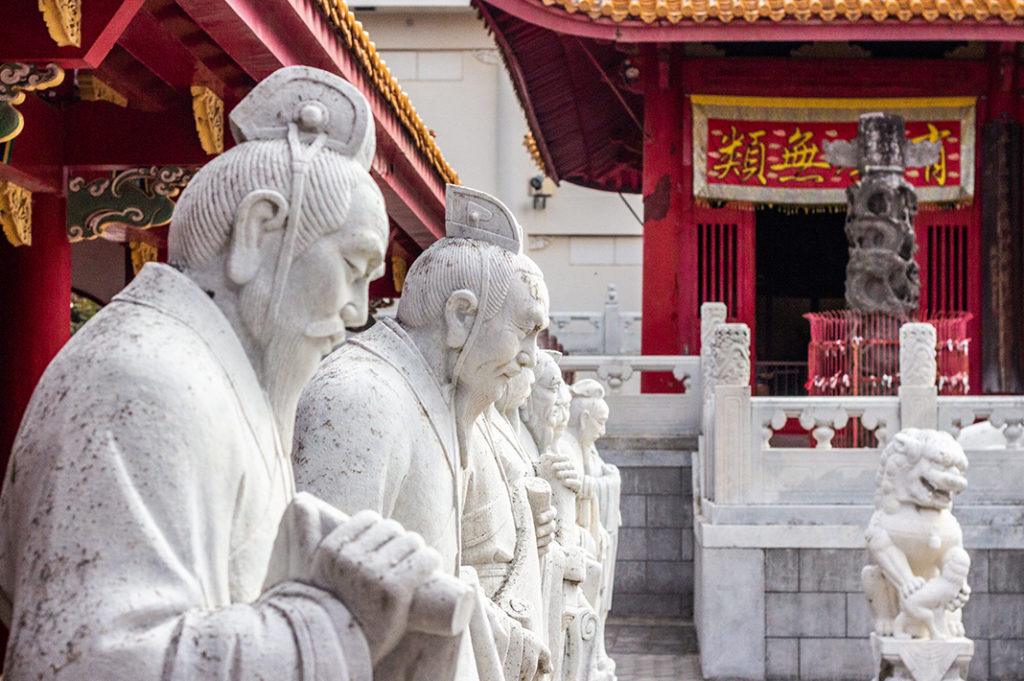 Koshibyo Confucius Temple
Built in 1893 by the Qing Government and local Chinese residents, it is the only authentic Chinese-style mausoleum in Japan. Packed with rare objects and national treasures, it's a great place to see Chinese architecture and learn history. Notable are the 72 statues depicting Confucius' disciples, the largest seated statue of Confucius in Japan and a museum. Open from 10 am, read more about it here.
Behind Koshibyo Confucius Temple, the landscape is quite hilly and a great place to explore the old buildings if you have the time and inclination.
From here, head back to the 'Oura Cathedral' (Oura tenshudo) tram stop and take tram #5 bound for Hotarujaya 3 stops (6 minutes) to Shinchi Chinatown. If you feel like walking instead, it would be 15 minutes. Before exploring the next attraction, stop for lunch in Chinatown if you haven't eaten yet.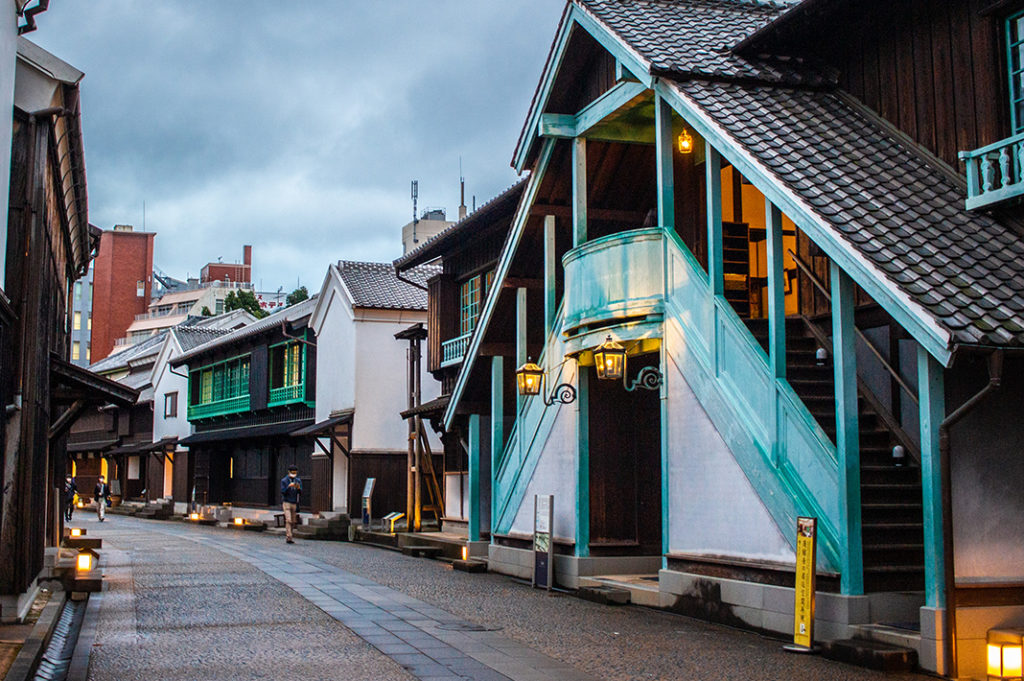 Dejima – see the life of Dutch traders
Dejima was originally constructed in 1636 as an internment camp for Portugese missionaries and was later the site of the Dutch East India Trading Company operations. It is an impressively restored open-air museum with a paved thoroughfare and buildings depicting the life of Dutch traders in the early 1800s. This was during Japan's period of seclusion, at a time when foreign trade was severely restricted, and Dejima served as the gateway for trading things like sugar, cloves and copper. Read more about it here.
More Nagasaki activities
While two days may seem like enough time to explore Nagasaki, we know of even more interesting attractions that will see you extending your trip. If you want to visit the abandoned Gunkanjima Battleship Island, allocate at least half a day and be sure to book in advance as this is a popular attraction. You could substitute it in the above Nagasaki itinerary, however, we'd recommend adding an extra day. Read about the tour here.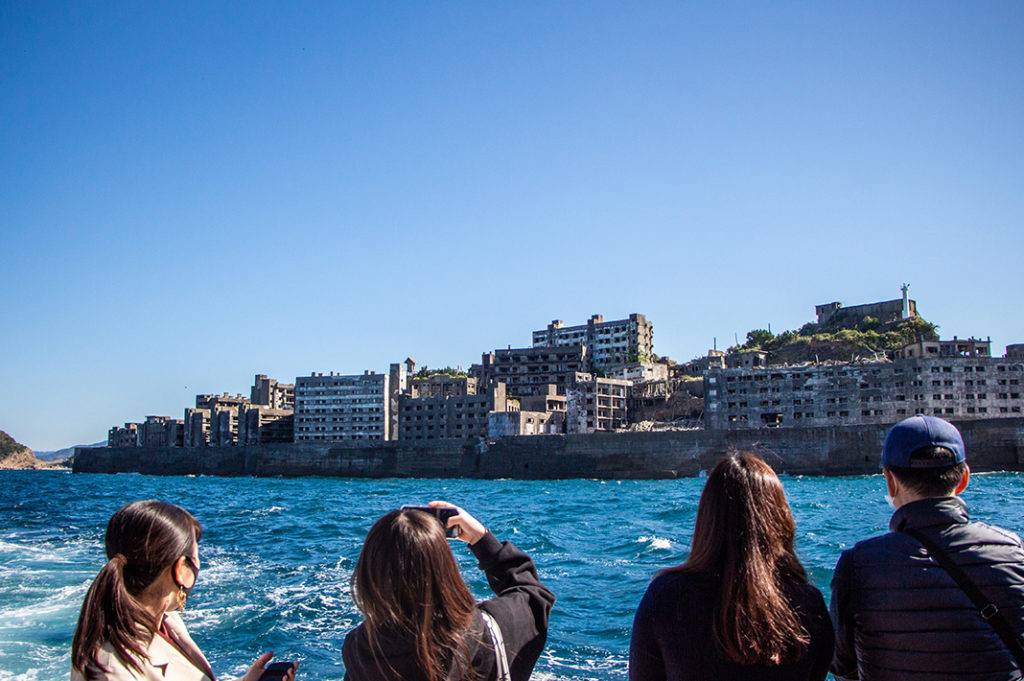 The Goto Islands are another fascinating addition to your Nagasaki itinerary, with ties to the hidden Christians. You could visit one island for an overnight stay or spend up to a week exploring the many wonders of this beautiful archipelago. Read more about them here.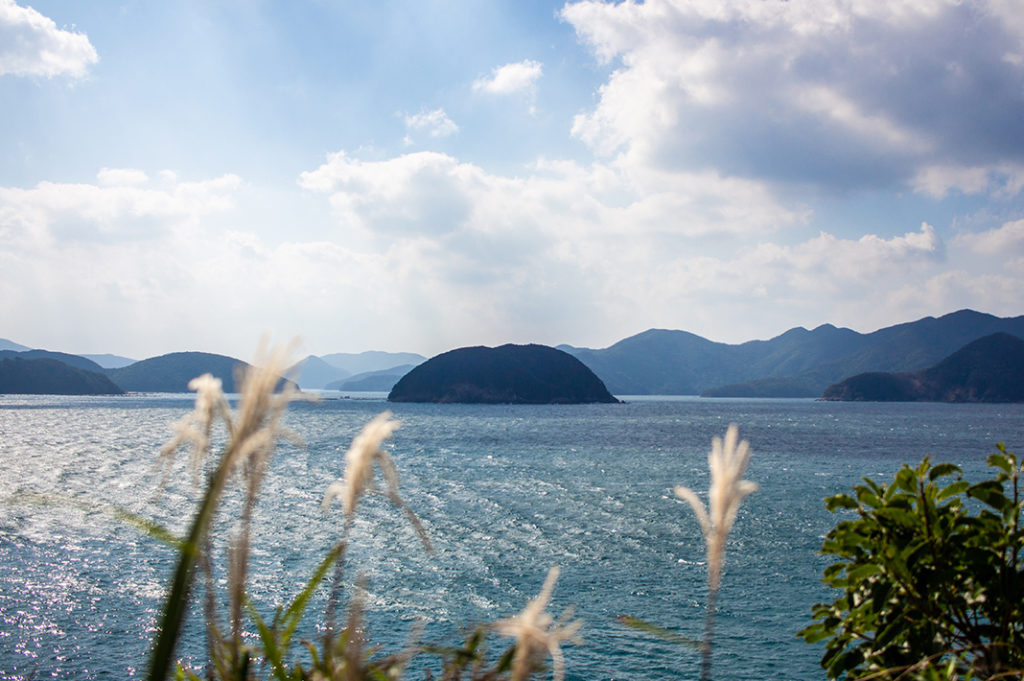 Places to stay in Nagasaki
There are lots of great accommodation options in Nagasaki, however, we're fans of the Candeo Hotel located near Shinshi Chinatown. Read about it here. The hotel is perfectly situated for day and evening activities, and close to the Shinchi Chinatown tram stop which connects multiple lines. Read more about how to catch the tram here.
Post by Japan Journeys.