If you're looking for a relaxed-pace walking tour in the lesser-known northward districts of Kyoto city, look no further. Today's half-day walking tour can utilise the best of the fine, fresh weather of Kyoto's spring and autumn seasons. Starting at the lush jungles of the Botanical Gardens, you'll next visit legendary architect Tadao Ando's Garden of Fine Arts. Next, after admiring the clean concrete lines at this architectural labyrinth, you'll finish your tour at Kyoto's (joint) oldest shrine: Shimogamo Jinja. Best of all, today's tour can start with cakes for breakfast and enormous (vegan-friendly) falafel platters for lunch!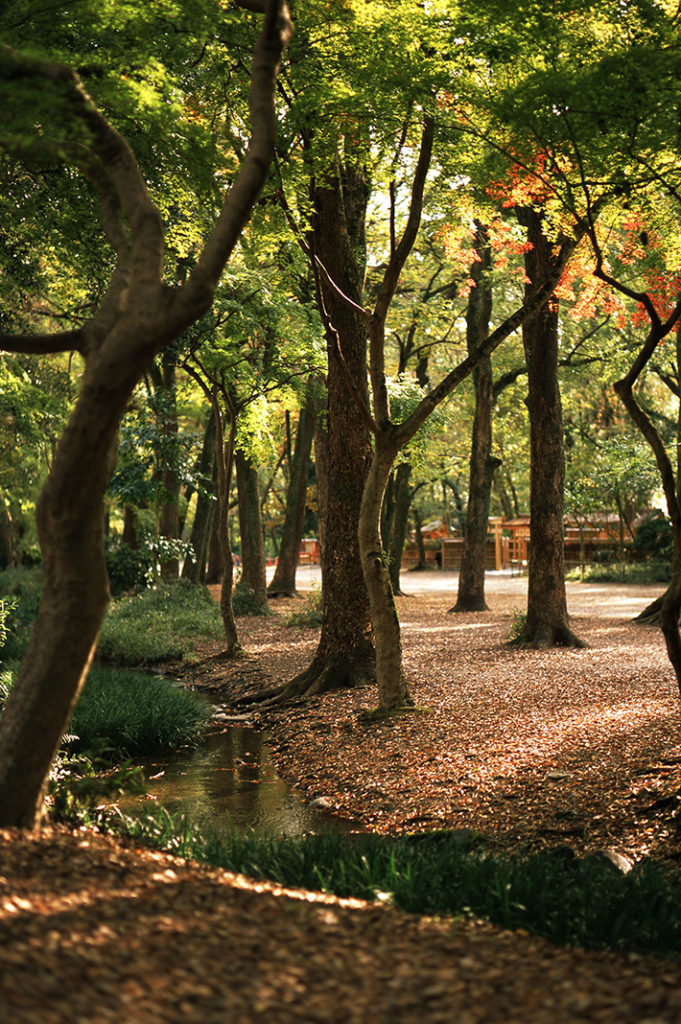 Kyoto City walking tours: nature, culture, cake.
For those of us who require food as both sustenance and motivation: this is your tour. Fatefully, opposite the entrance to Kyoto's Botanical Gardens is the most amazing 'pan-ya–san' (Japanese style bakery). Perhaps you're already aware that Japanese bakeries are an altogether different beast from the simple bread-bakers of yore. This bakery, Briant, sells everything from healthy salad sandwiches to chewy French Canelé – even breaded fish-dogs! You'll be walking around a lot today, so load up on carbs and coffee here first.
First Stop: Kyoto City's Botanical Gardens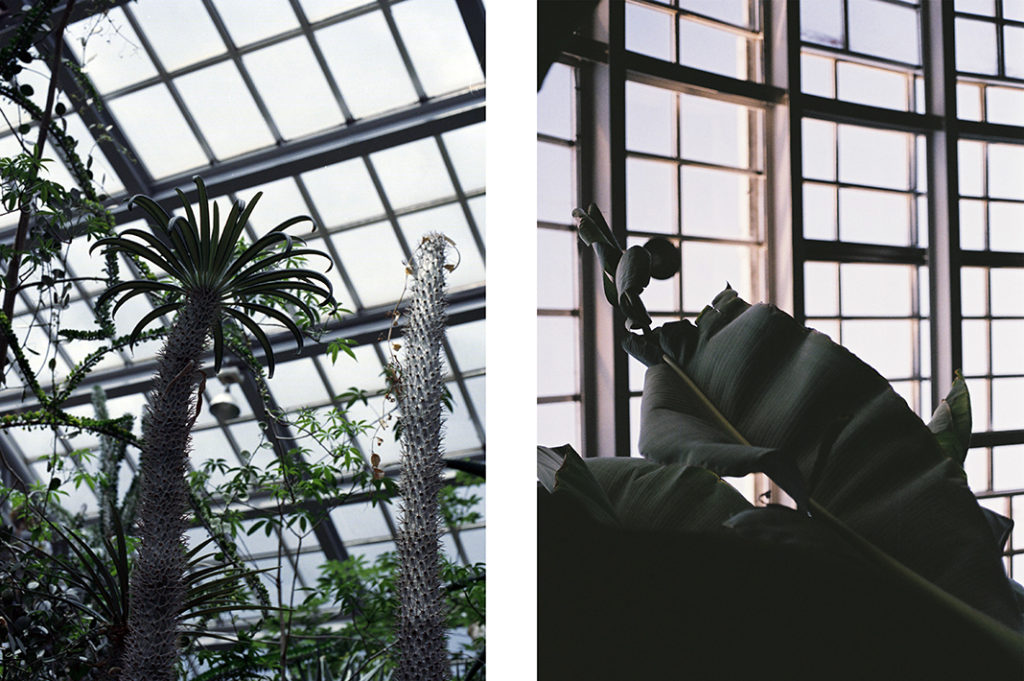 Starting at Exit 3 Kitayama subway station on the Karasuma line, cross to the far side of the road to stock up on breakfast goods at Briant, following this short map. Afterwards, return to the front entrance of Kyoto's Botanical Gardens. To the left of the entrance gate are several wall-mounted ticket machines, which operate in Japanese. The gate is also manned by garden staff, who also operate in Japanese. Luckily, they're very willing to try their English on visitors and will offer you a great chance to practice some basic Japanese!
Entry to the main garden is ¥200 and showing your ticket to the entry staff at the Garden of Fine Arts will allow you a ¥100 entry to the latter. Entry to the greenhouse is ¥200, paid at the separate greenhouse entry. Finally, be sure to keep all of your ticket stubs in order to show them to the right people!
Welcome to the jungle!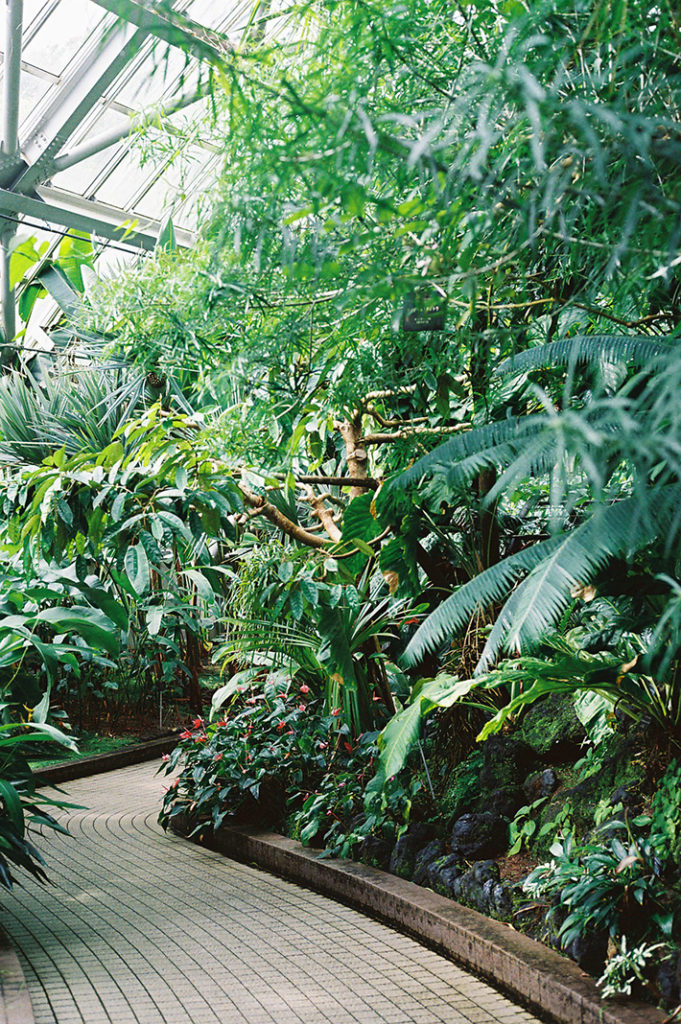 If you want to stretch out your time at Kyoto's Botanical Gardens, you can walk through all of the site's winding paths and dense woodlands. However, the greenhouse is a must-visit all year round, especially on colder days when some tropical warmth would feel welcome. Conveniently, it even has baggage lockers at its doorway. Go ahead and store any winter coats you won't be needing as you bask in Amazonian warmth.
The greenhouse itself is a winding labyrinth of verdant plant life, enchantingly overgrown and genuinely 'wild' feeling. Although built in 1992, the greenhouse takes its design inspiration from classic British Victorian styles. As such, expect dizzyingly high glass ceilings and vertiginous trees that stretch to the building's upper limits. Endearingly, the entire plantation is left to grow somewhat freely, with creeping plants and enormous leaves climbing gregariously into pathways. Here, you'll truly feel as though you've become lost in a jungle. Beyond the central dome, there's also an arid cactus room, a temperate orchid forest and a small nocturnal room.
The Garden of Fine Art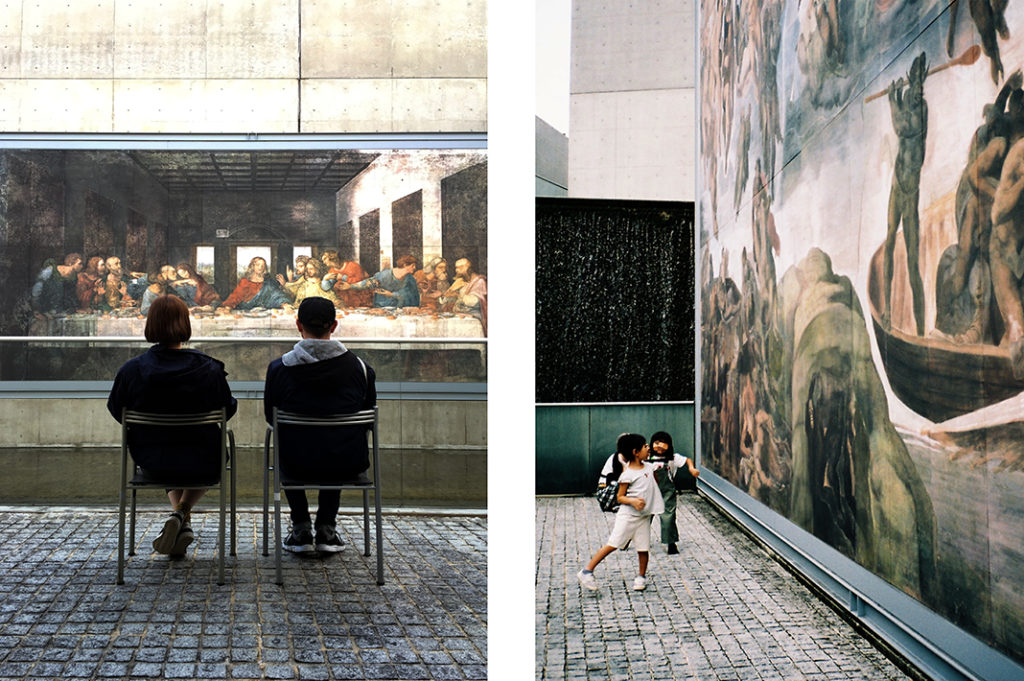 When you've had your fill of greenery in the Botanical Garden, head towards the Garden of Fine Art. Here, you'll swap vibrant plant life for the clean architectural lines of concrete, mixed liberally with… giant Renaissance paintings. Admittedly, the Garden of Fine Art isn't something you'd expect to come across in Kyoto City's residential northern district. However, the juxtaposition of flowing painted figures and minimalistic concrete marry together in a uniquely Japanese way. Created by Osaka-born master architect Tadao Ando in 1994, it serves as a means of blending Renaissance art with restrained, industrial architecture and living waterscapes.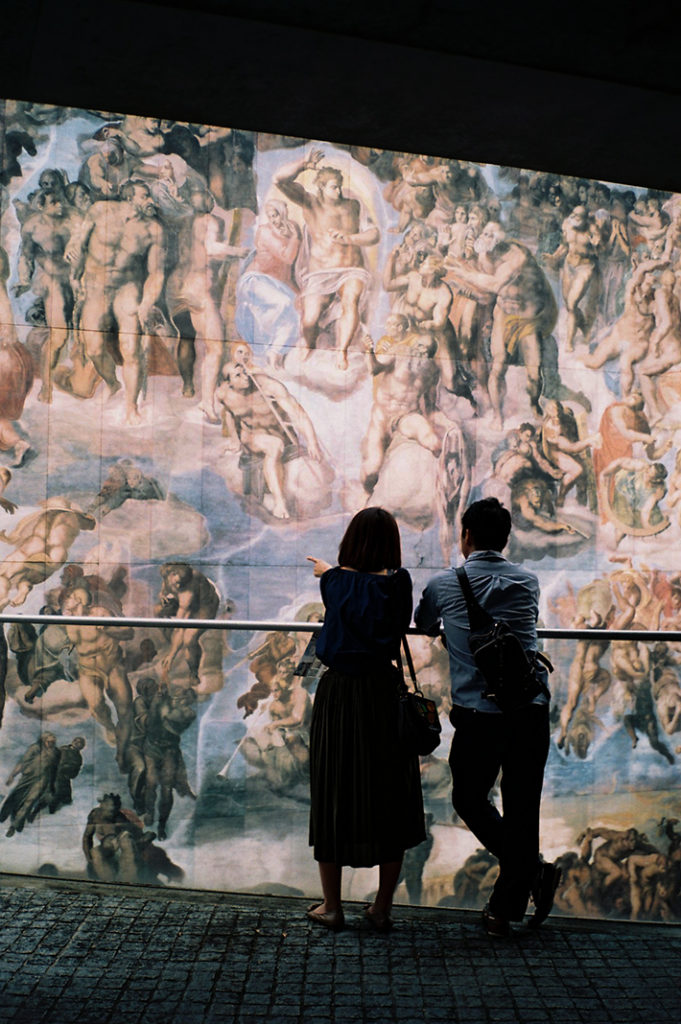 For fans of Tadao Ando's architectural work, the Garden of Fine Art is a must-visit site. Fascinatingly, the three separate floors of the interconnected structure facilitate the viewing of the immense painting reproductions. The centrepiece of the entire site is an almost-to-scale reproduction of Michelangelo's The Last Judgement. Naturally, at 14.3 metres tall, it requires 3 vertical floors to fully appreciate its vast scale. Of course, the Garden includes masterpieces such as Da Vinci's The Last Supper along with Renoir's Along The Terrace and many more.
From here, your walking tour takes you on a leisurely stroll to the incredibly beautiful Shimogamo Jinja. The most scenic and enjoyable route follows the straight line of the Kamo River, mapped here.
The oldest shrine, an ancient forest.
The best way to approach Shimogamo Shrine is along its paved 'san-do' (formal approach path). This way, you can appreciate the historical and cultural importance of one of Kyoto's oldest Shinto shrines. Crucually, it sits at the point where Kyoto's principal Kamo river divides; this is also the site of 'Tadasu No Mori' [糺ノ森]. Unsurprisingly, there's no direct English translation of 'Tadasu.' Conceptually, it relates to 'correctness' or 'rightness', so think of it as 'The Forest of The True Way.' Here, you'll be walking through the remains of Kyoto city's only primeval forest. The forest has existed for hundreds of thousands of years and has never been managed or shaped by humans. Through its middle, a spring-fed stream of the purest water intersects the ancient trees. Every inch of Tadasu No Mori is sacred and is a highly revered 'place of the spirits.'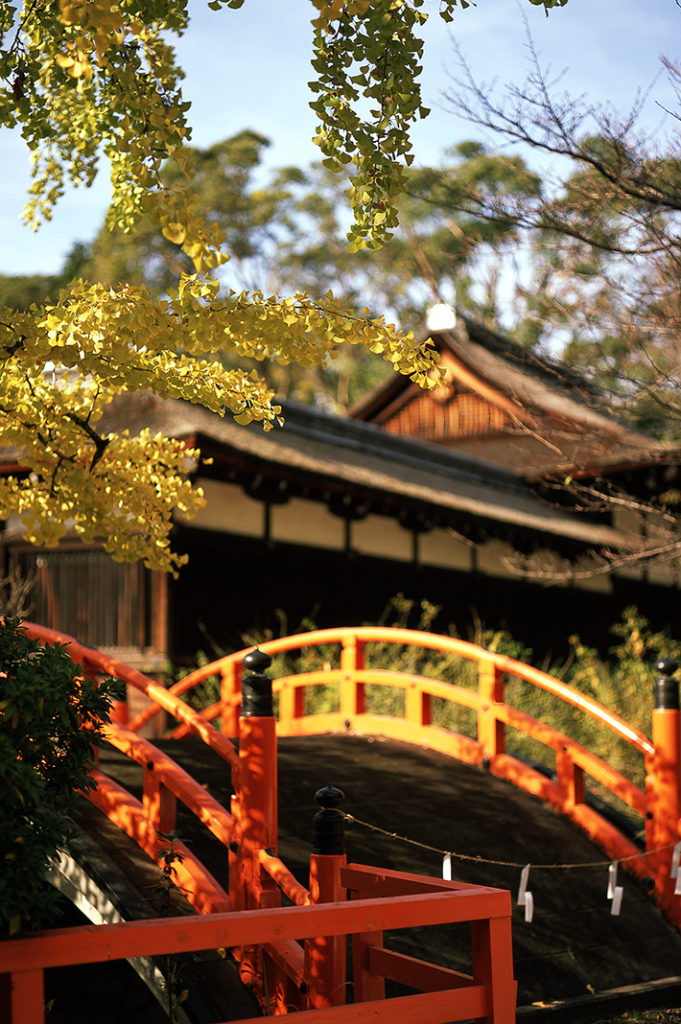 Shimogamo Jinja: Forever 21!
Surprisingly, Shimogamo Jinja is actually one half of an entire shrine. Its second half is named 'Kamigamo' and is roughly a 40 minute walk along the Kamo river along its north-western tributary. Conveniently, the shrines have been sensibly named: 'Kamigamo' [上賀茂] means 'above the Kamo' and 'Shimogamo' [下鴨] means 'below the Kamo.' Importantly, Shimogamo Jinja belongs to the 'Shikinen Sengu' system of Shinto shrines: it is rebuilt every 21 years. As such, the central shrine you see is not the same shrine originally built in AD 678. Crucially, reconstructing shrines in the Shinto faith is an act of purification. After 21 years, a Kami (Shinto spirit) has been on one site for too long, making it impure. Thus, rebuilding a shrine is also an act of re-consecration. Additionally, a new generation of traditional craftsmen can gain hands-on experience in creating the highly unique architecture of a sacred building.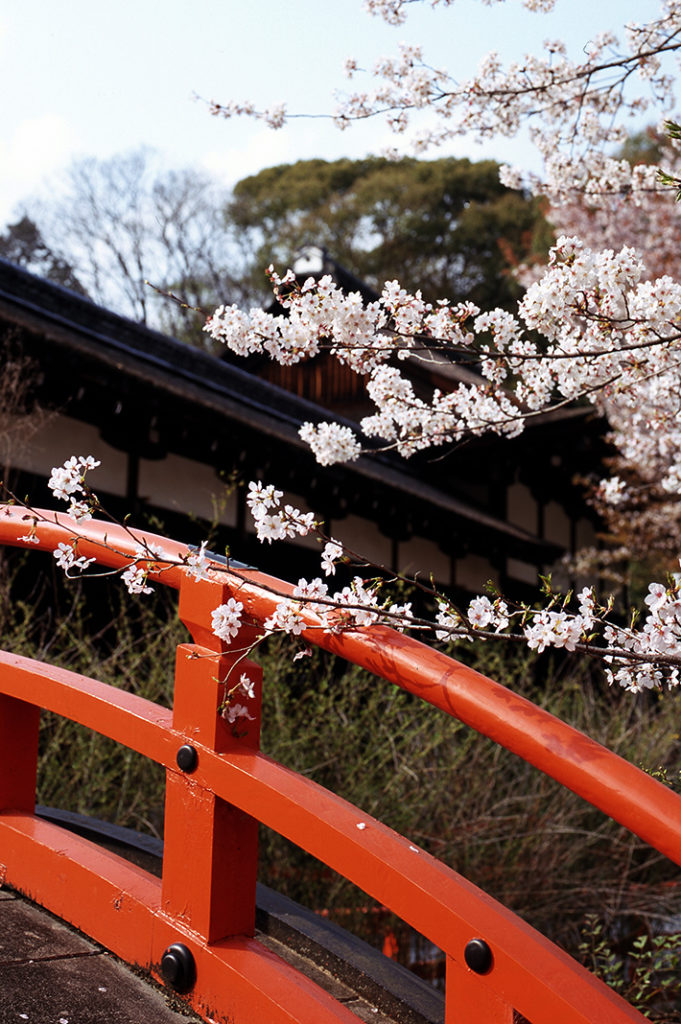 Shimogamo Jinja is a packed site! It has its own sacred stream, which is entirely spring-fed. Beyond, in the central courtyard, multiple shrines dedicated to the twelve animals of the eastern zodiac stand before the private prayer hall. Luckily, there are plenty of opportunities to buy zodiac-themed o-mamori before taking a peaceful walk alongside the small stream leading away from the shrine. The inner grounds are abundant in beautiful trees and a condensed selection of architectural styles unique to Shikinen Sengu shrines.
Last stop on your Kyoto City Walking Tour: food!
What a day! You've undoubtedly discovered so much on your Kyoto City Walking Tour and must be hungry. Naturally, we're including some lunch recommendations. Best of all, the Demachiyanagi neighbourhood of northern Kyoto is a melting pot of amazing international food and culture. Falafel garden is just outside Shimogamo Jinja and has options for vegetarians, vegans and those on Kosher diets. The owners of the restaurant are a friendly Israeli-Japanese family who easily make the best falafels and pitta in all of Japan.
Salut-ya (pronounced 'Saru-ya') sells a curious mix of curries and burgers, alongside some excellent shakes, smoothies and cakes. Take a look at this area map for an idea of what Demachiyanagi has to offer.
Post by Japan Journeys.