In Japanese mythology, there are Seven Gods of Luck (Shichi-fuku-jin) who are believed to offer good fortune in return for your prayers. Traditionally, these beloved figures are enshrined at temples and shrines across the country, but they're often seen throughout pop culture, too! Perhaps you've seen Ebisu, the god of good fortune and fishermen, in a more pedestrian capacity as the face of Yebisu beer? In the first two weeks of the year, it's customary to visit all seven gods at their shrines and scoop up as much luck as possible for the coming year. However, there's really nothing stopping you from doing a Shichifukujin Meguri (seven lucky gods tour) at any time of year—most major cities in Japan will have at least one version. On a recent trip to Nagano, I decided to up my luck and participate in the Zenkoji Shichifukujin Meguri, or Zenkoji Seven Lucky Gods walk. Here's how it goes!
Zenkoji Shichifukujin Meguri
The lucky gods are enshrined at seven locations around Nagano City's main thoroughfare of Zenkoji Omotesando, and it's roughly a 2.5km trek to see them all. You can simply visit them and pay your respects, but we think it's more fun to make it official and participate in a stamp rally! The Tourist Information Office at Nagano Station sells a kit for 800 yen which is essentially a thick piece of cardboard (shikishi) printed with the names of the sites (and their gods) in calligraphy.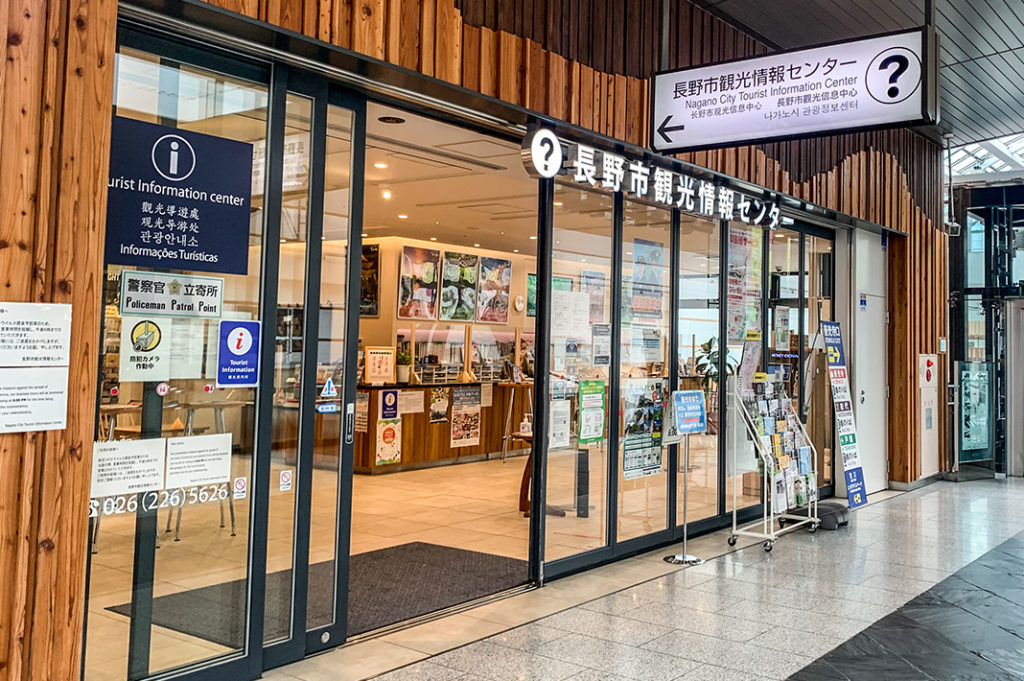 When I collected the goshuin stamp kit, the staff member apologised that there weren't any English maps/literature available. She circled the locations on a Japanese map which I then saved as a digital version. Follow along with my route here, which takes you around to all sites in sequential order, as well as past some great Nagano attractions.
Things to know before you start
Some of the locations on the map can be tricky to find, so keep an eye out for the red flags or wooden signs above.
Most sites are open from 8:00 am until 4:00 pm.
Each stamp site requires a 100 yen payment or donation and Zenkoji requires 200 yen. The total cost of the activity with the board is ¥1,700.
The stamps follow a left to right, top to bottom direction, with Zenkoji in the middle.
If for whatever reason you cannot get a stamp at one of the locations, you can always enquire at one of the sites with a staff member (1, 6 and 7).
You may need to enter a building or ring a bell to call the staff's attention.
Once you're ready with your board and your map, it's time to get lucky in Nagano.
1) Saikoji Temple
Jurojin, the god of longevity
The main entrance to Saikoji Temple is located beside Lawson on Chuo-dori, however there is also a side entrance if you take a wrong turn like we did. Enshrined here is Jurojin, the god of longevity, who is said to originate from an old Chinese Taoist god. A small wooden sign points you to the office where you can get the first stamp from the temple staff. Before leaving, make sure to say a prayer to Jurojin regarding longevity, wealth and prosperity, and it may just come true!
Cost: 100 yen
Stamp: Staff Member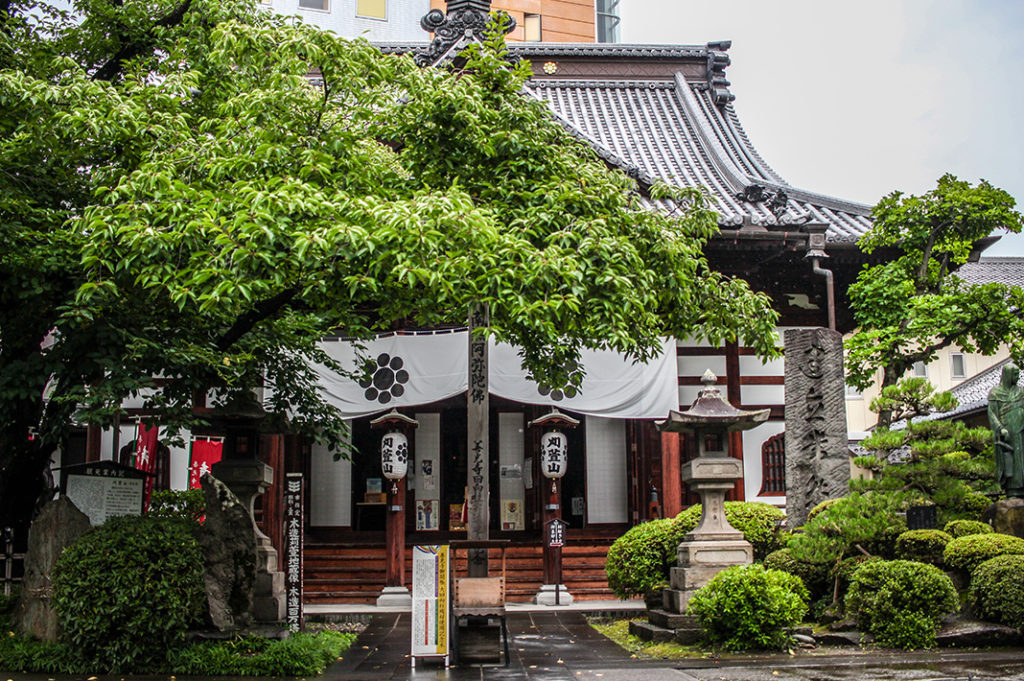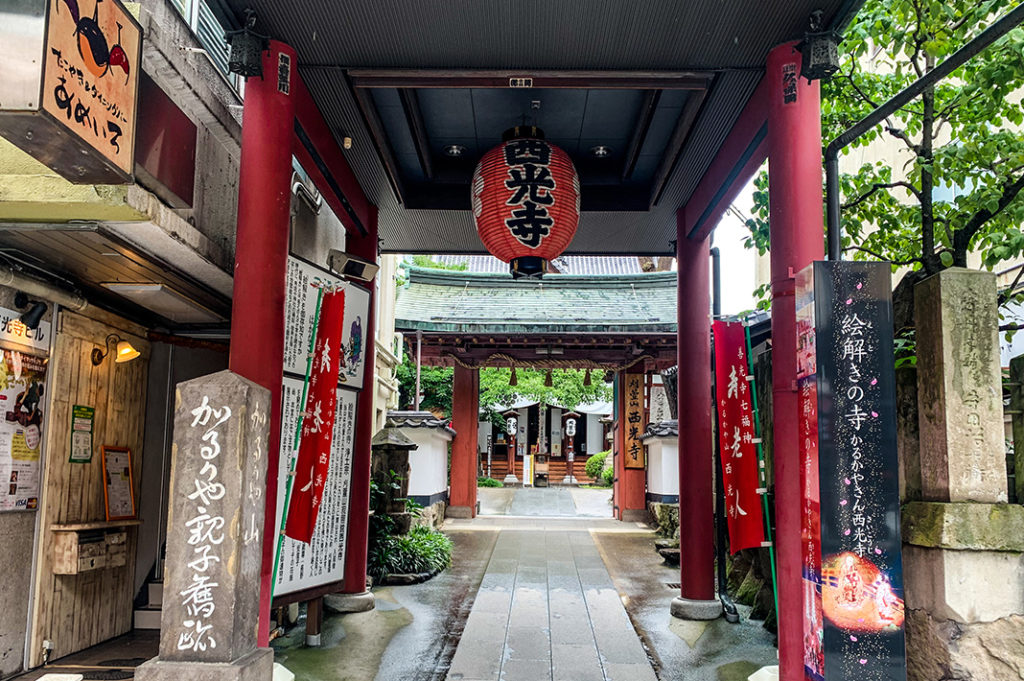 2) Okuninushi Shrine
Daikokuten, the god of harvest and home
This tiny shrine, surrounded by car parks and buildings, makes for a quick prayer stop for the locals. Daikokuten, the god of wealth, harvest and home is enshrined here so if you have any prayers for a good crop or a happy home, now's a good time. To the left of the stairs, you'll find a small counter where you can donate your coin and find your first self-service stamp.
Cost: 100 yen (donation box)
Stamp: Self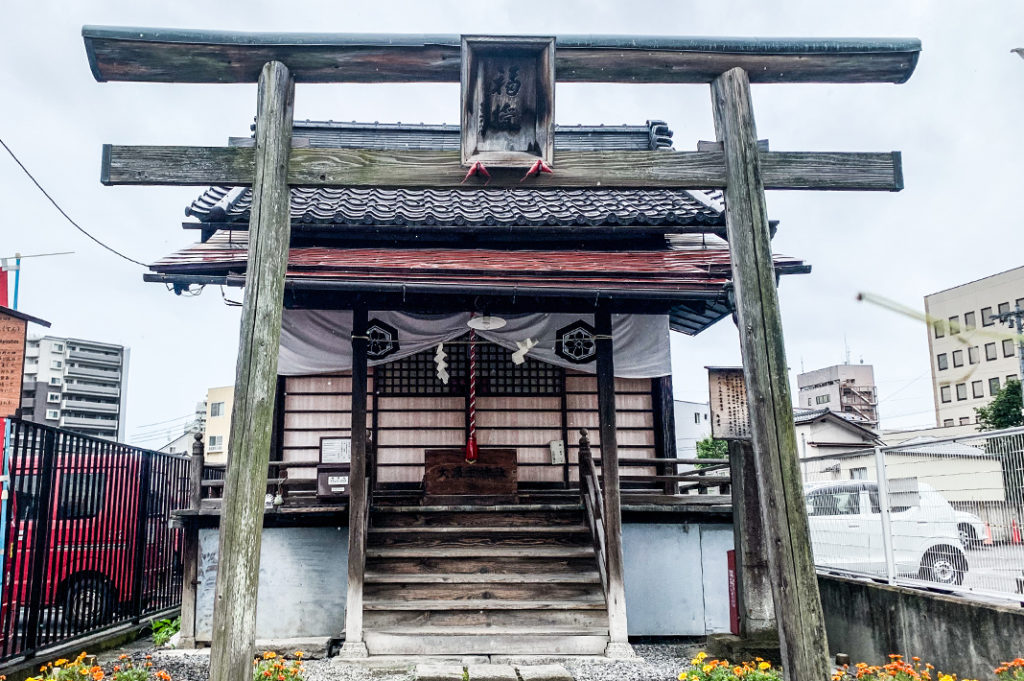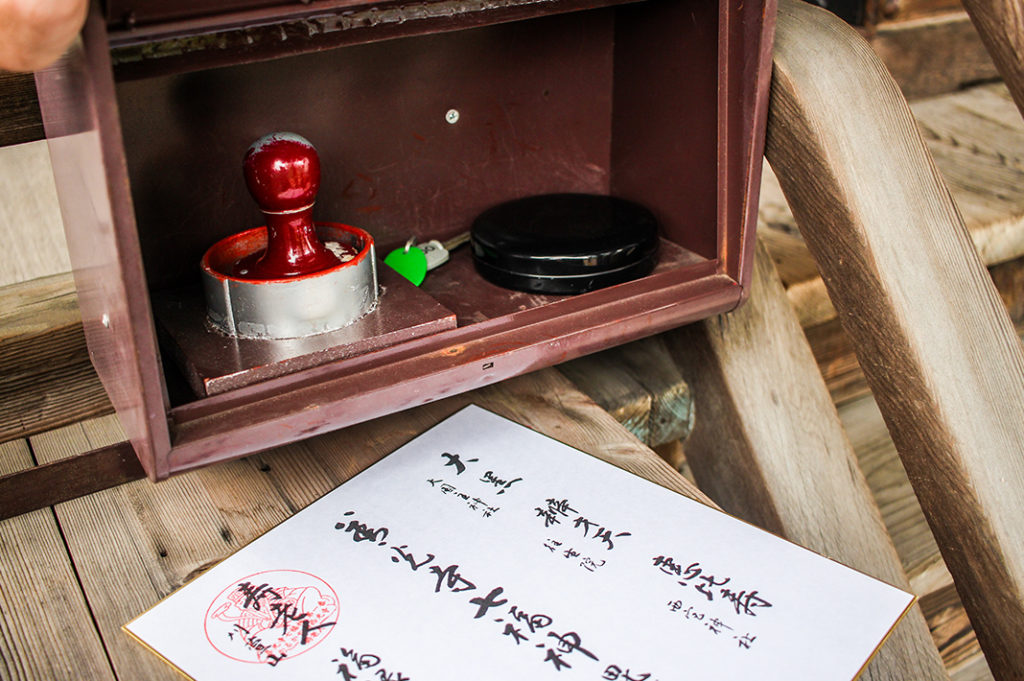 Make a quick pit-stop for Miso ice cream 
On our way to the third stamp, we couldn't help but stop for some delicious Miso ice cream at Suyakame miso restaurant, founded in 1902. Miso is serious business in Nagano, hence the genius combination of miso and ice cream. This rich, nutty, caramel-esque dessert is one of my favourite discoveries of the year! Do yourself a favour and try it. If you're not quite ready for sweets, there's a second location at the end of the walk within the Zenkoji grounds.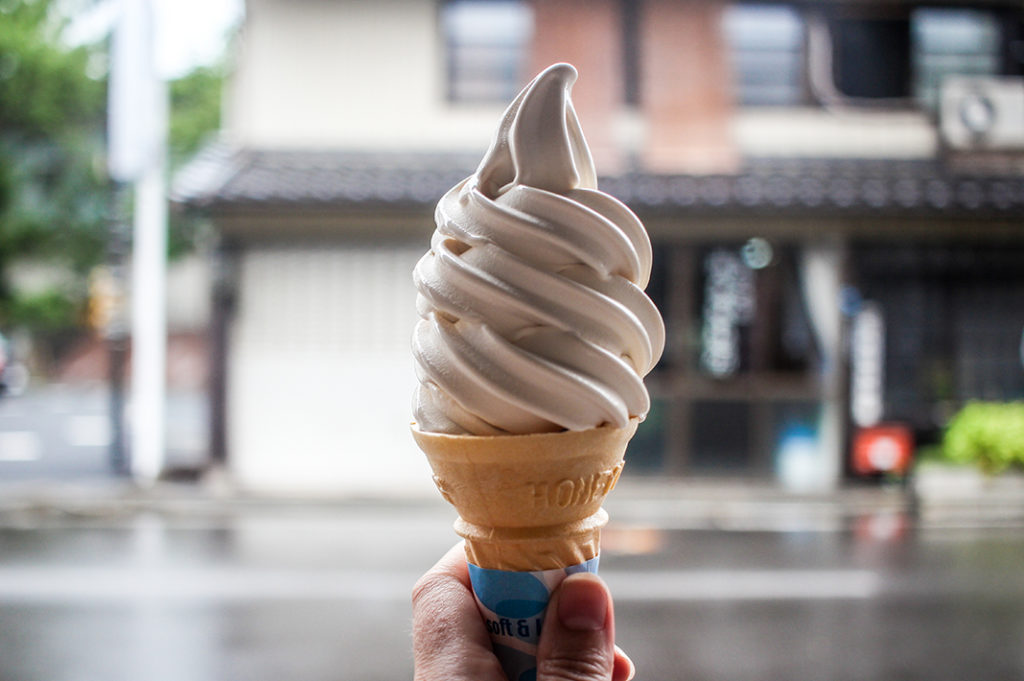 3) Akiba Shrine
Fukuroku-ju, the god of luck, wealth and longevity
Akiba Shrine is just a few doors down from the miso shop, on the other side of the street, and is home to Fukurokuju, the god of luck, wealth and longevity. Though you've prayed for these things already on this journey, it can't hurt to double down, right? It's also said that Fukurokuju has the ability to revive the dead, however, I've seen enough horror movies to know this never turns out well, so keep your prayers to the holy trinity (luck, wealth, longevity) and you'll be grand.
Cost: 100 yen (donation box)
Stamp: Self – located on a tiny table on the steps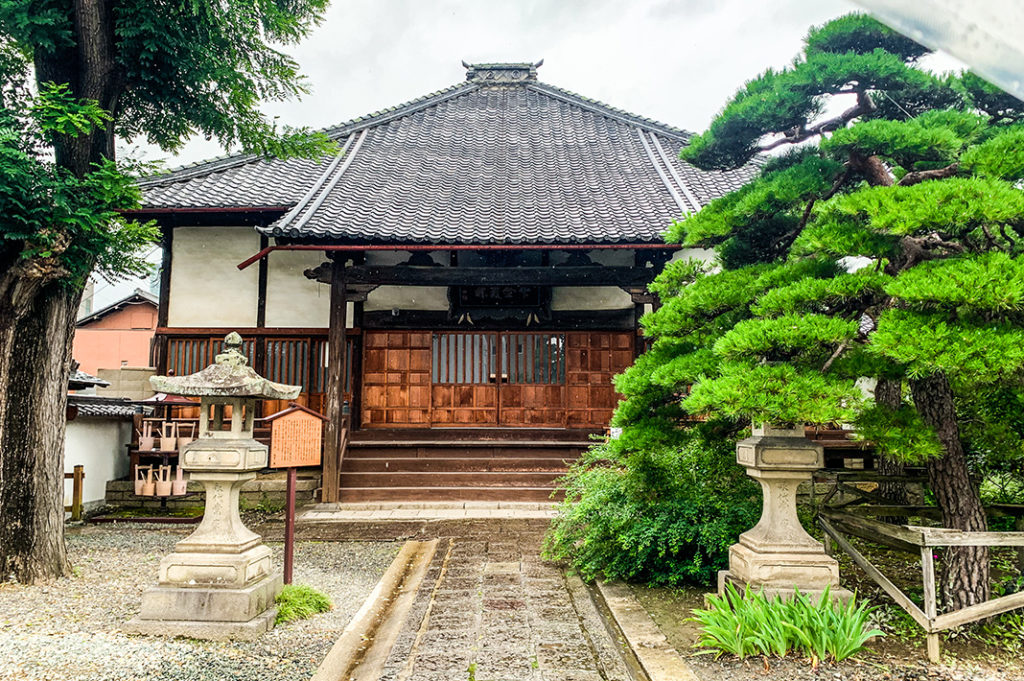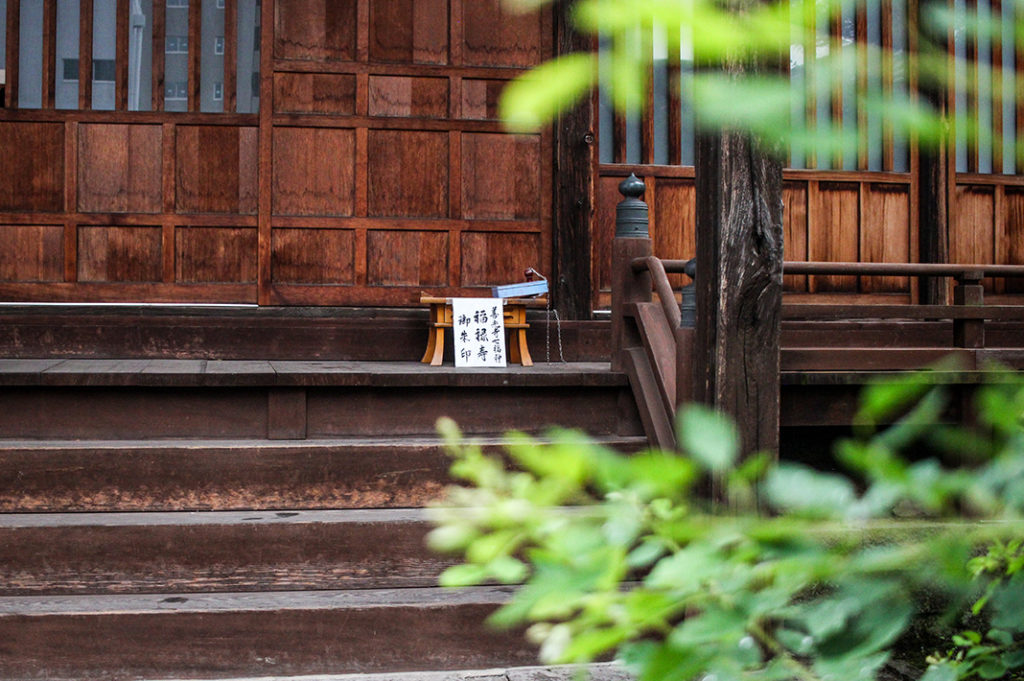 4) Ojoin
Benzaiten, the goddess of music and knowledge
Benzaiten is the only goddess in this crew and is the one to pray to regarding anything music or arts-related. Do you need a scholarship to an arts school? How about the courage to perform or more wisdom? Try your luck with her. Ojoin Temple is a little tricky to find; from the main road, head into the Nagano Gondo shopping arcade and after a short time, you'll spot the red flags on your left.
Cost: 100 yen (donation box)
Stamp: Self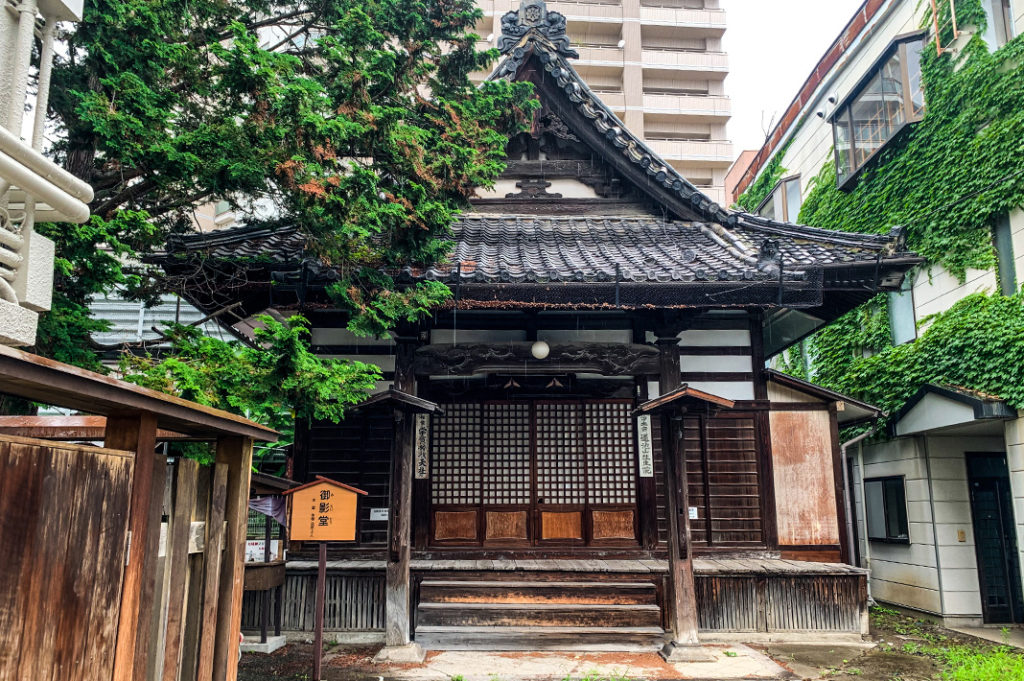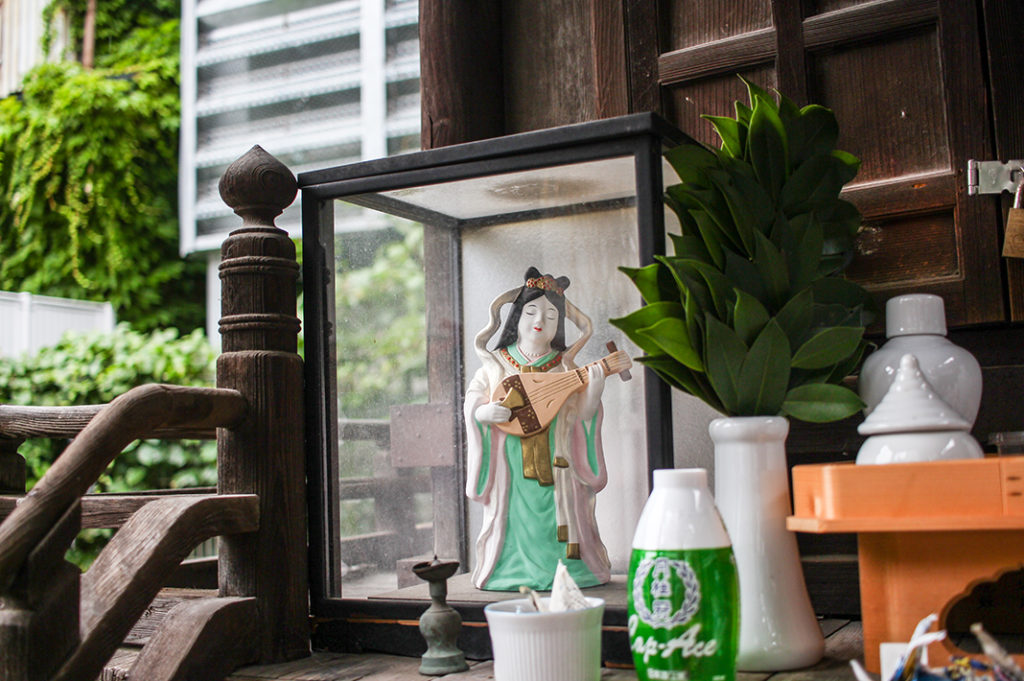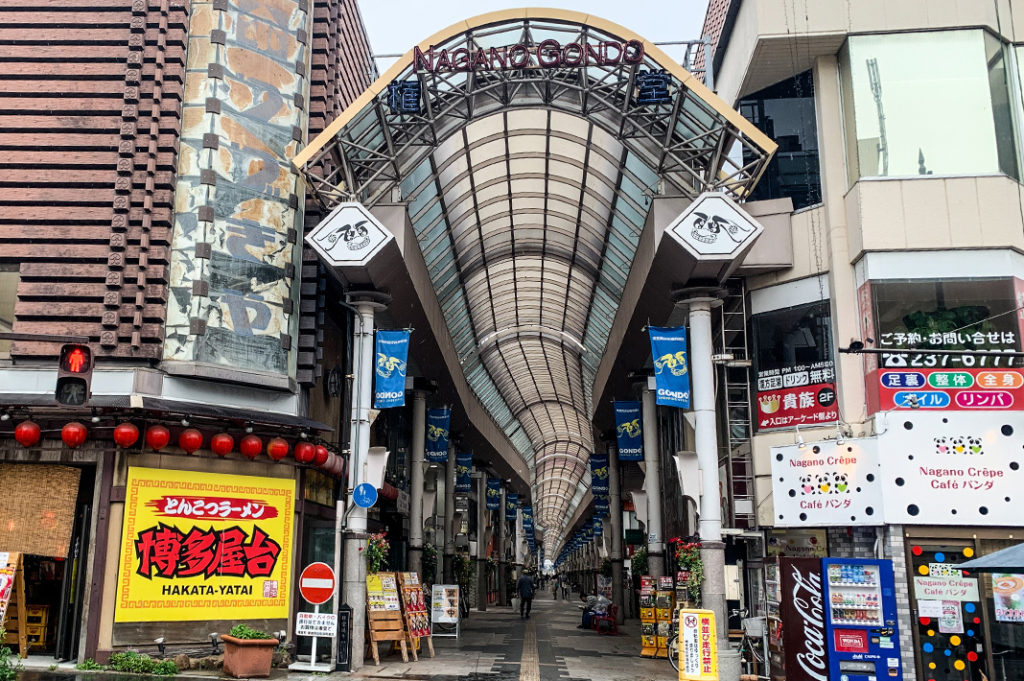 If you are following our route, consider boosting your energy at the local roaster 'Foret coffee' or enjoying a more traditional snack, oyaki, from Ogawanosho. Read more about their char-grilled oyaki, the best I've ever had, here.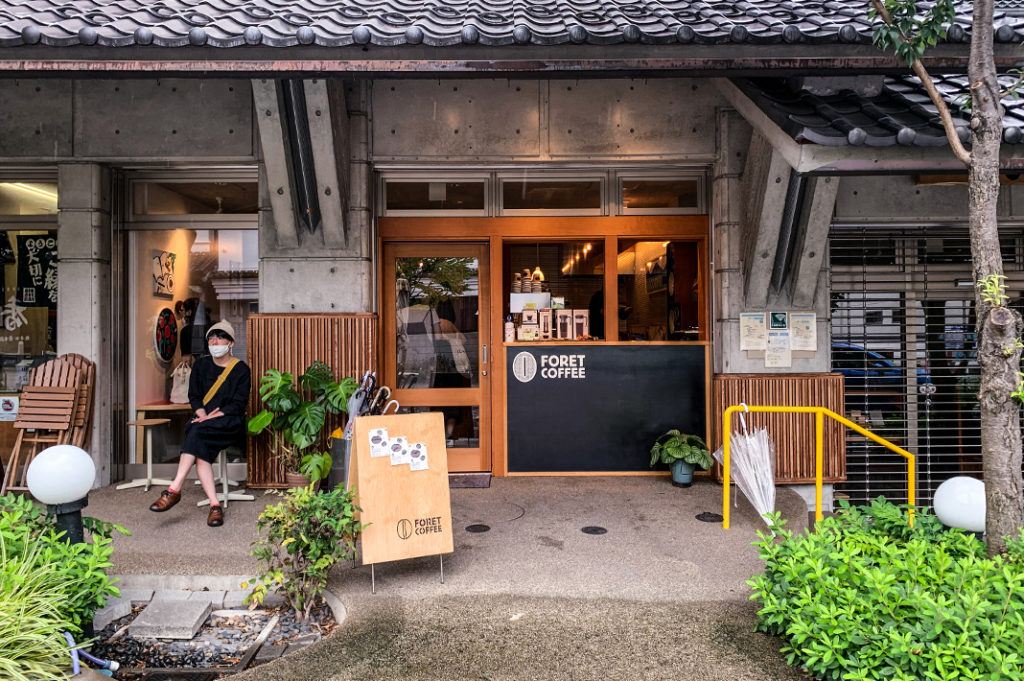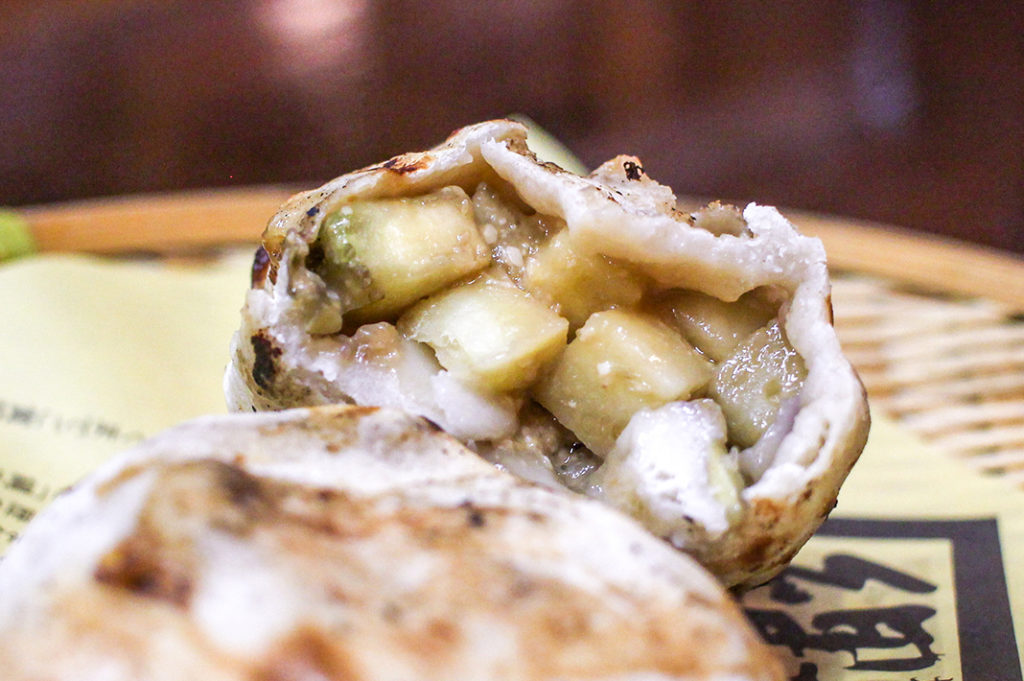 5) Fujiya Gohonjin
Hotei, the god of wealth
This is the site of the former Fujiya Hotel, established in 1648, which was frequented by the richest and most powerful in Japan, including daimyo (feudal lords), celebrities and royalty. The current building dates back to 1925 and has a rather charming western aesthetic. It also happens to be home to a statue of Hotei, the jolly god of wealth. This statue holds local importance as it was passed down for many generations and ended with local soldier Kousaku Aruga, who went down with his ship in World War 2. Say a prayer here for wealth, and while you're at it, how about wishing for world peace and no more wars?
Cost: 100 yen (donation box)
Stamp: Self – located outside, to the right of the entrance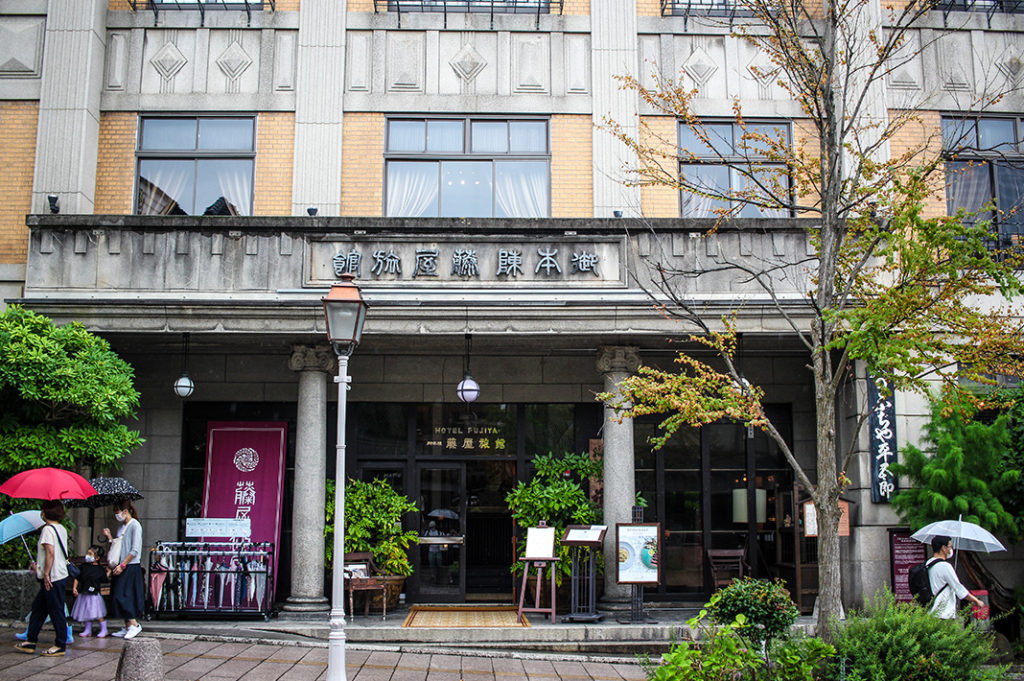 6) Nishinomiya shrine
Ebisu, the god of fishermen and luck
This was my favourite of all the stops along the Zenkoji Seven Lucky Gods walk. It has such a welcoming atmosphere and pays major homage to their enshrined god. For those unfamiliar, Ebisu is the god of fishermen and luck and is the only one in the crew of seven to originate from Japan (all the others have ties to China and India). His back-story is a little odd; as a baby with no bones, he was cast into the sea, much later rescued and somehow grew bones, but remained slightly disabled and deaf. He certainly has some wild luck on his side, so why not ask for a smidge for yourself?
Cost: 100 yen
Stamp: Staff member – window located at the back of the block.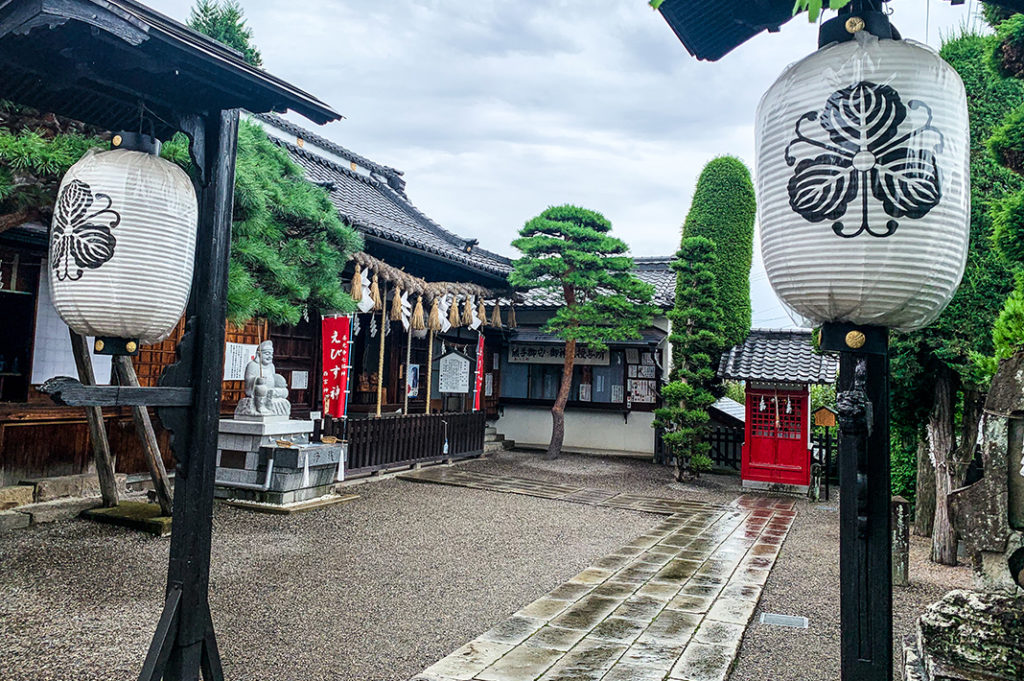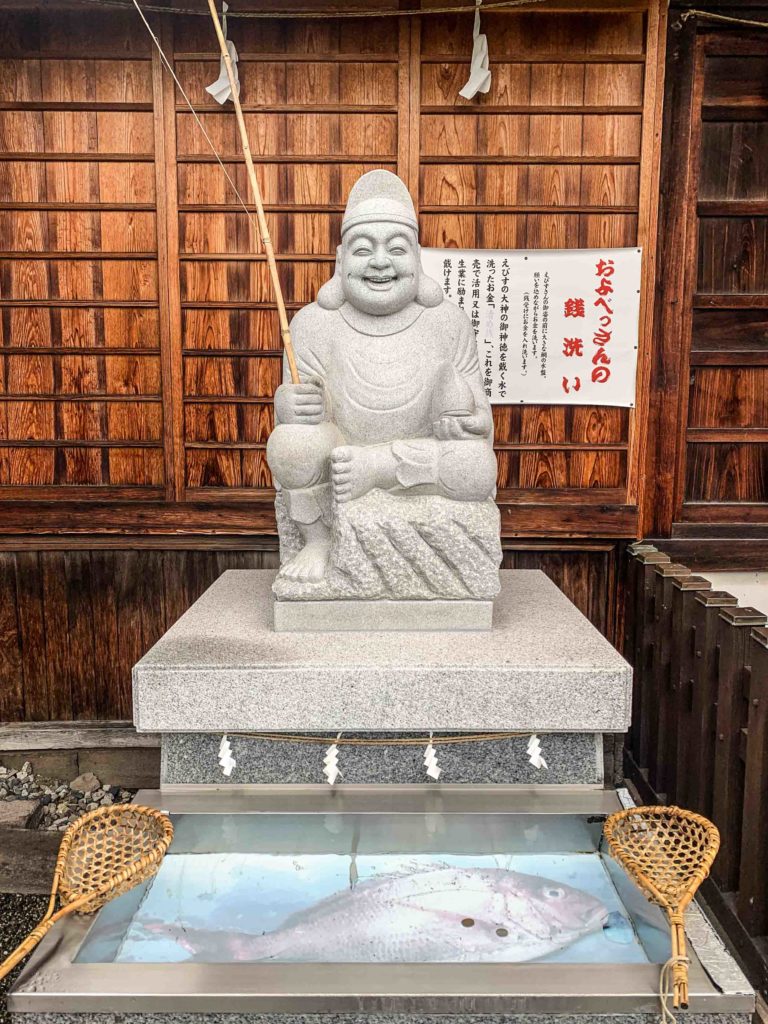 7) Sesonin Shakadou Temple
Bishamon-ten, the god of victory
Nestled behind the shops of nakamise dori, Sesonin is the home of Bishamonten, the god of victory, or good luck in battles and war. You'll need to remove your shoes and head inside to collect this stamp from the temple staff. Inside you'll also find a life-sized bronze reclining Buddha statue, an important cultural property of Japan.
Cost: 100 yen
Stamp: Staff Member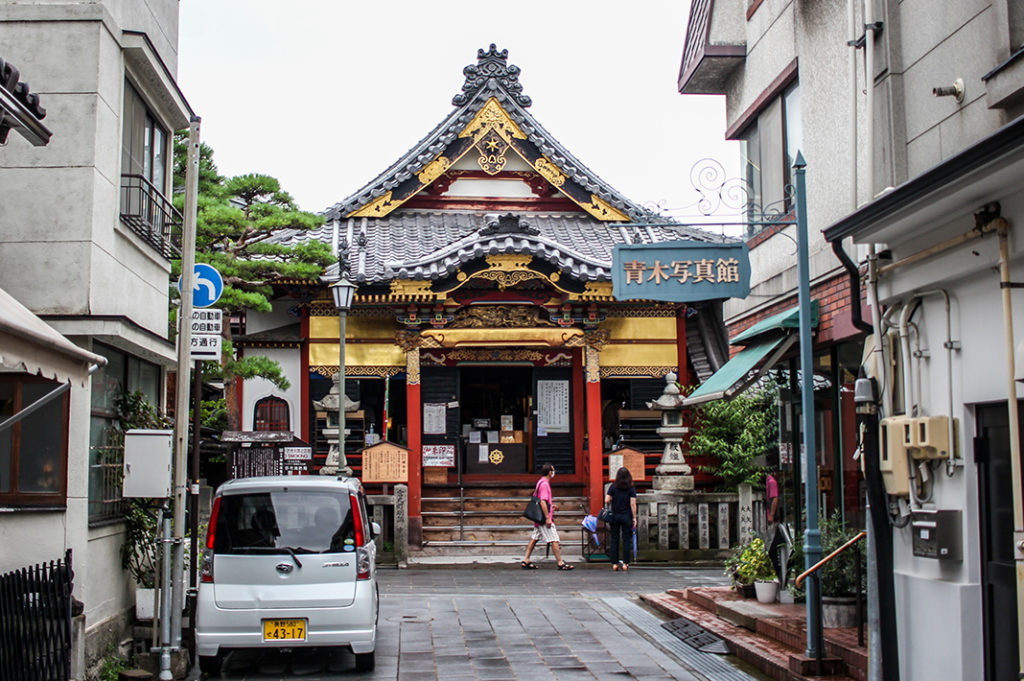 8) Zenkoji Temple
The final stop on the Zenkoji Seven Lucky Gods walk is at Zenkoji itself, one of the most important temples in Japan. Even though you've visited all seven lucky gods, Zenkoji is like the cherry on top. As you approach the main hall, you'll spot the temple goods office on your right, almost level with the large incense burner. Queue up for the window outside and pay the staff 200 yen for them to finish your shikishi for you. Read more about Zenkoji Temple here.
Cost: 200 yen
Stamp: Staff Member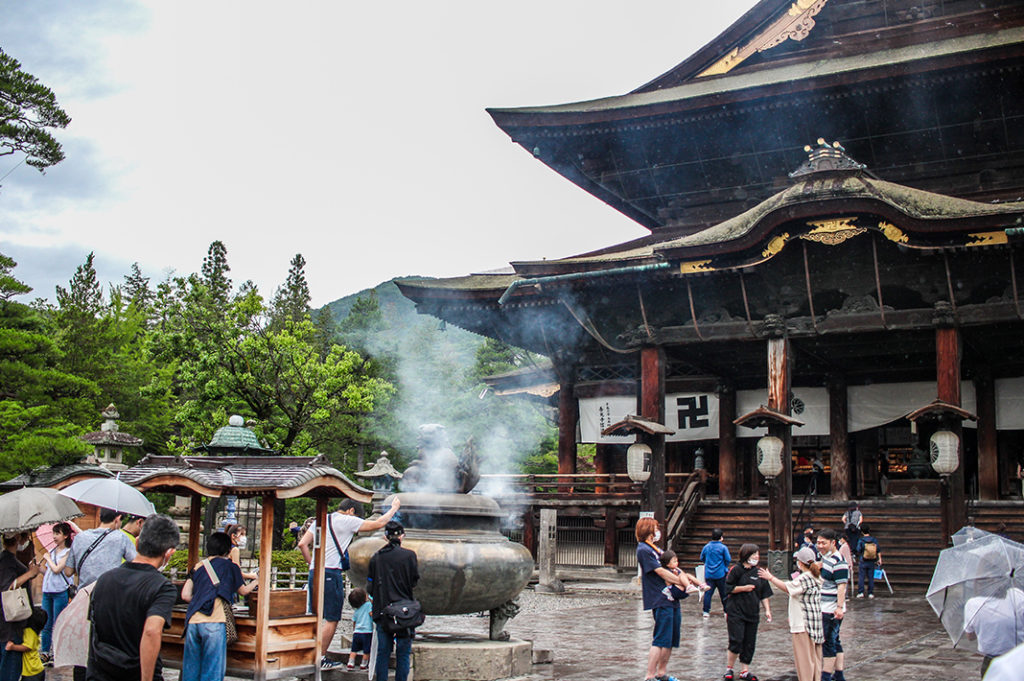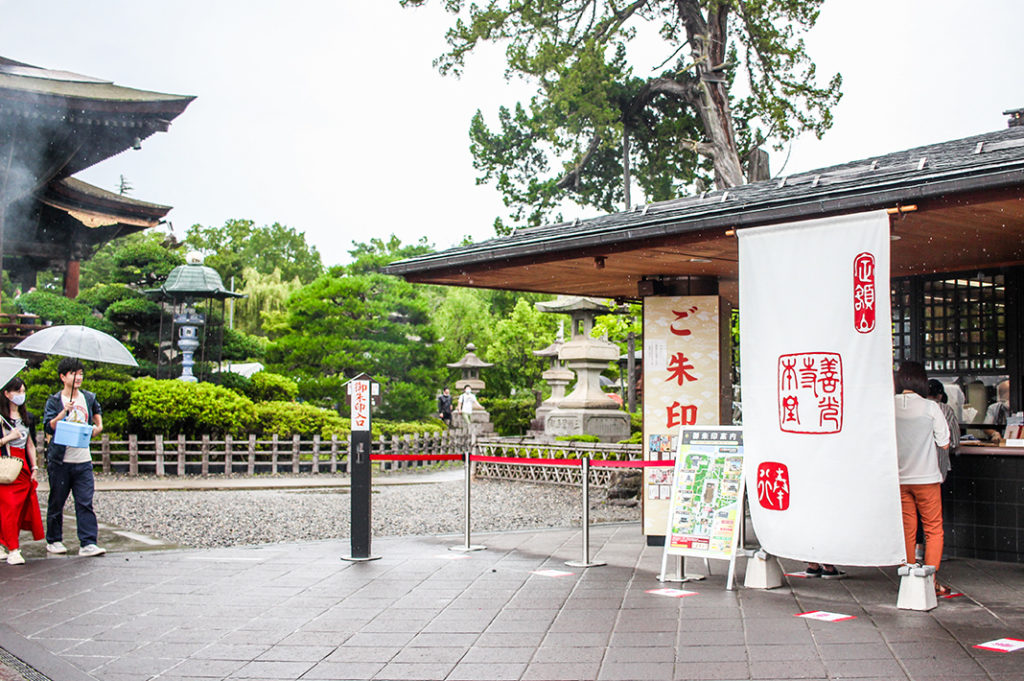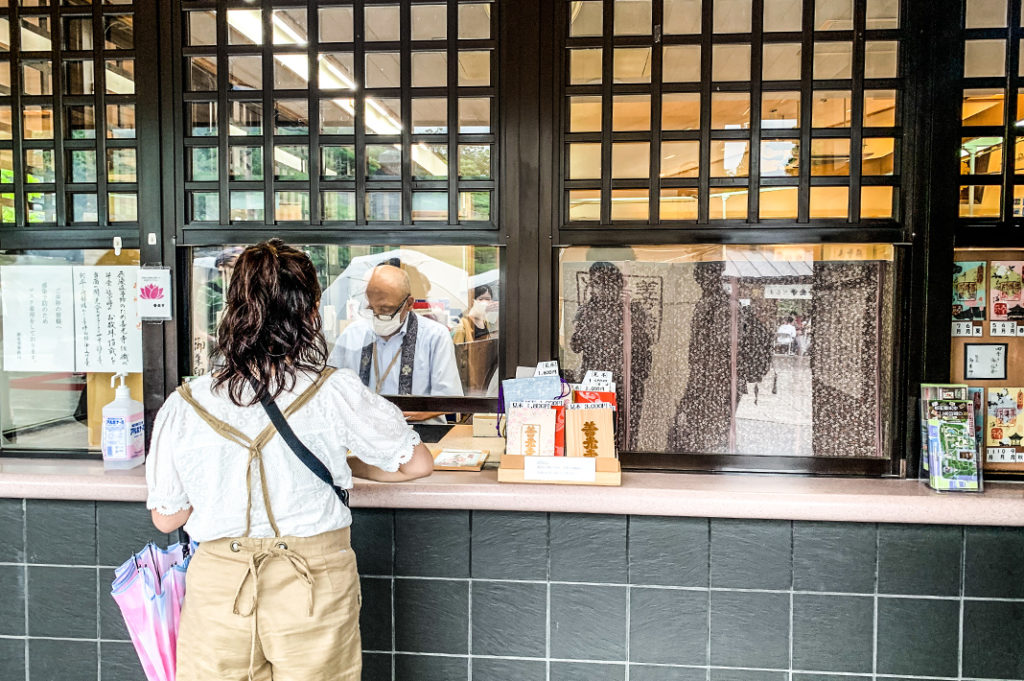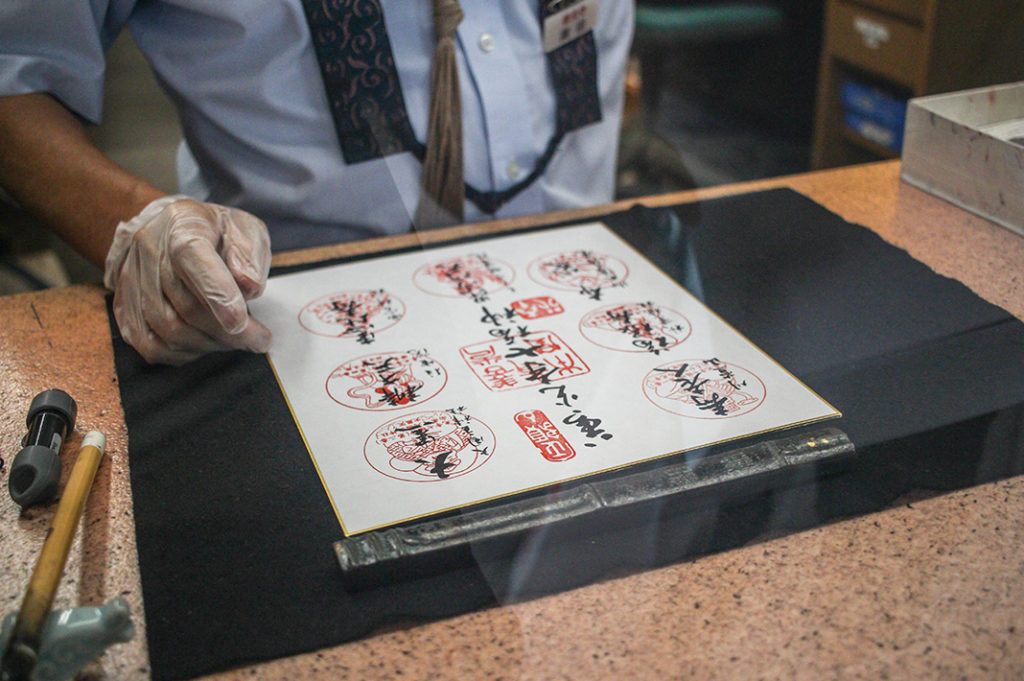 With your shikishi complete, you now have a beautiful souvenir of a memorable day in Nagano. I can't think of a better way to see the city, inherit some luck and get a new piece of art for your home. Have fun and good luck!
Post by Japan Journeys.