Sometimes, the best days of a vacation are the ones where things fail to go as planned. When an amusement park turned out to be defunct, and an art gallery closed, we ended up on a self-guided tour of Fukuoka. Instead of riding roller coasters or taking in the latest in contemporary Asian art, we encountered a friendly shopkeeper, enjoyed a long nap in Ohori Park, and paddled around the park's pond in a swan boat. A day of aimless wandering turned out to be exactly what we both needed.
Fukuoka City
Located at the northern tip of Kyushu, Fukuoka is the sixth largest urban center in Japan. Famous for its pungent but delicious Hakata Ramen and street-stall markets, it's also one of the most visited cities in the country. We hadn't initially been planning to see much of the city. The plan was to go to the Space World amusement park, but when that turned out to be closed, we decided to visit a nearby art gallery instead. We decided to walk from our hotel, and though we didn't get to visit many of the popular historical or tourist sites, we did get a view of some of the stylish boutiques and wide leafy avenues as we wound our way through the city.
A Market Encounter
Fukuoka has several street markets and we stopped at one for lunch. After grabbing food we stopped in a park, where we noticed an elderly man tending to the garbage. The man came over to ask us what we were eating, and in a mixture of Japanese and English, complained about the crows breaking into his garbage. Mid-way through he stopped to yell at a nearby man sleeping on a park bench.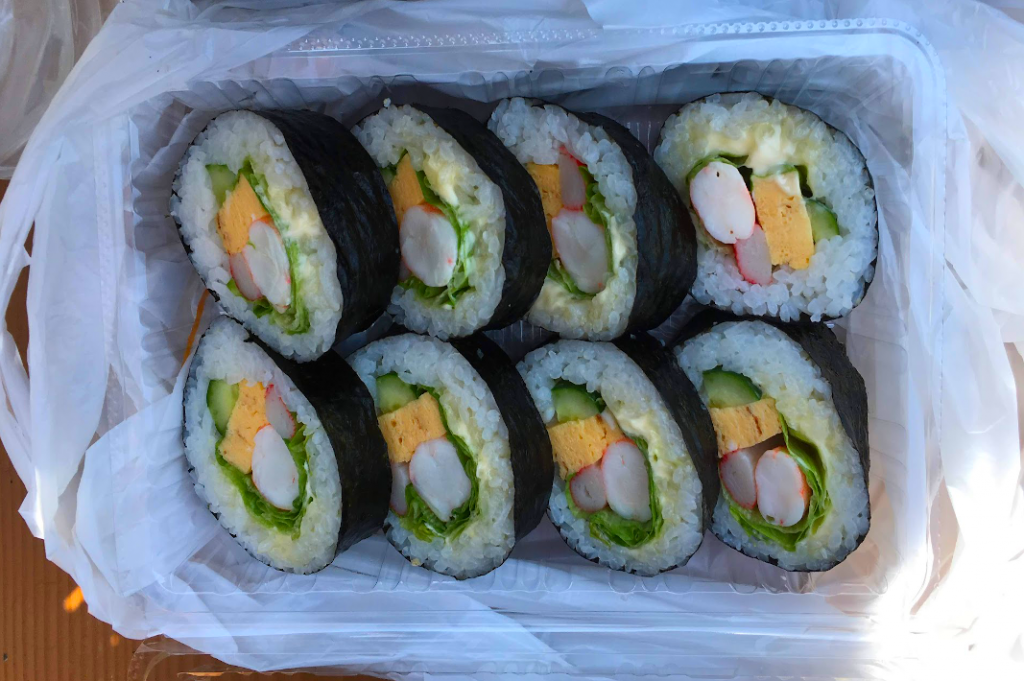 The man's craggy demeanor turned friendly as he turned back to us and asked us where we were from. As any Canadian in Japan will tell you, the general follow-up to this question will typically be one word, "Vancouver?" We shook our heads. He didn't seem to notice and launched into the details of a West Coast journey from 30 years ago. Having never traveled there ourselves, we admitted ignorance. The man smiled and disappeared. Momentarily, we were worried about offending him, but that turned out not to be the case. He emerged from his store with two complimentary green teas and sent us on our way.
Ohori Park
Ohori Park is a massive green space in the center of the city. We arrived there around mid-day with every intention of going to the Fukuoka Art Museum, which houses one of the largest collections of modern and contemporary Asian art in the world. It turned out we had arrived on a holiday and the gallery wasn't open. Not sure what else to do, we sidled over to a nearby bench and laid down. Looking down at the large pond in the middle of the park, I watched a few turtles. Their hurried paddling was hypnotizing, and I watched them for close to five minutes until I fell asleep.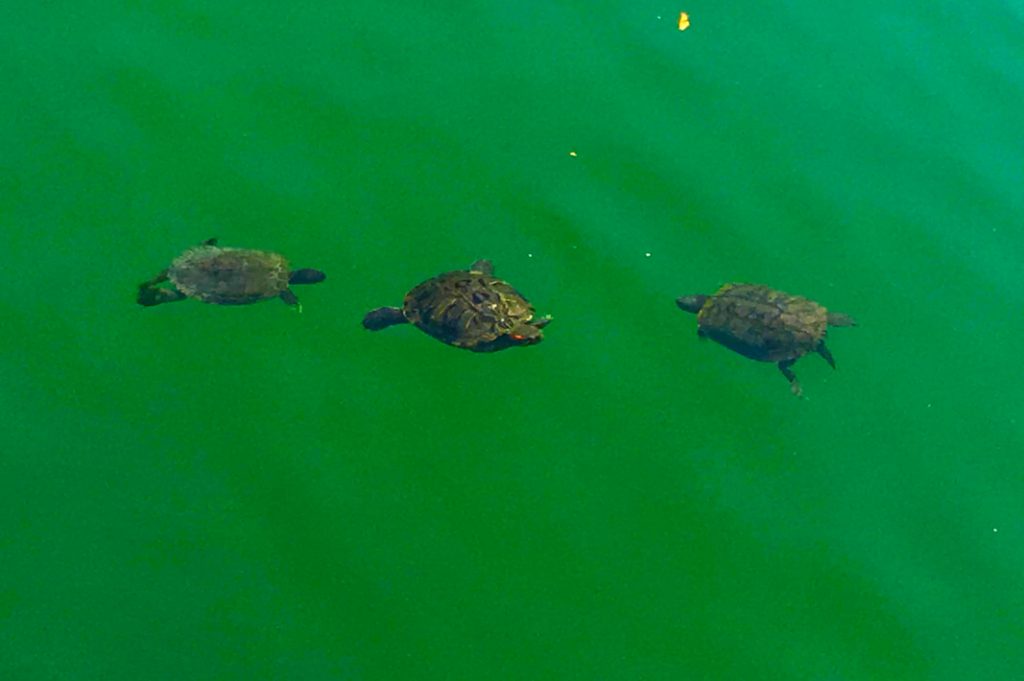 Riding the Swans
After waking up, we made our way to the northern end of the park. Here you could rent swan boats for a quick 30-minute trip around the large central pond. At first, this seemed like a dangerous proposition. In Tokyo's Inokashira Park, you can rent similar boats, but couples who do so on their first date risk their relationship. Supposedly, a curse assures that they will soon break up. My fiancée and I have been together for over 6 years, but our recent engagement was cause for worry. In the end, we decided that the Inokashira curse couldn't possibly apply to Ohori Park and rented one for ourselves.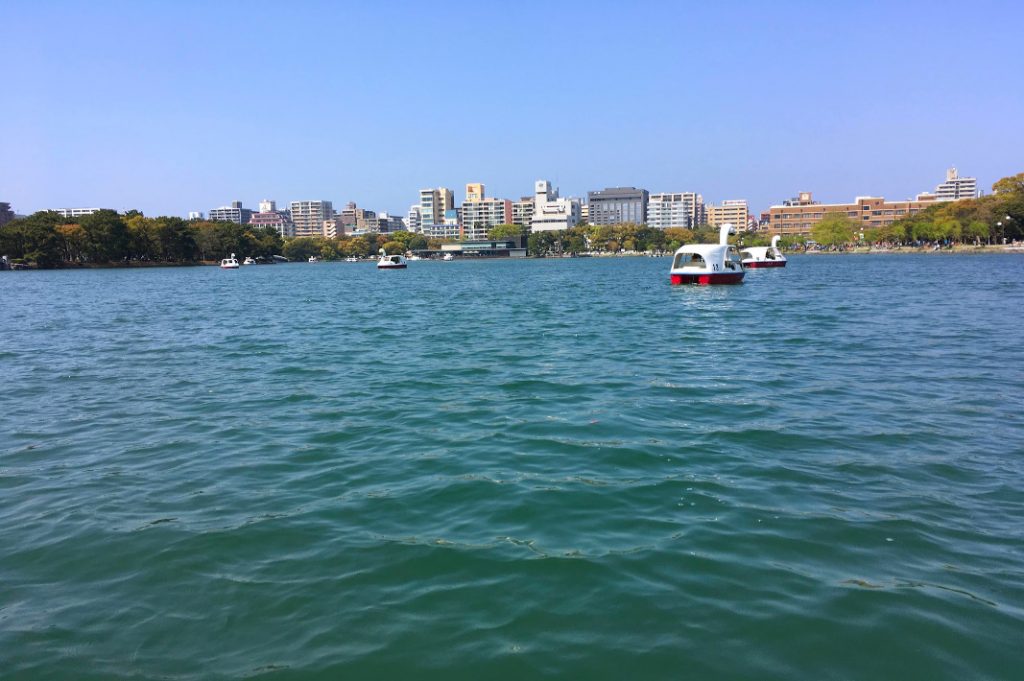 The swan boats ended up being the perfect way to spend a lazy afternoon. We made a pleasant and leisurely circuit of the pond. It was a sunny day in Fukuoka and our fellow boaters seemed to be in a good mood. After half an hour, we returned the boat and headed for the hotel. Happily, we seemed unaffected by the curse. We managed to avoid any arguments on the way back.
Name: Fukuoka City
Address: 1 Chome-8-1 Tenjin, Chuo Ward, Fukuoka, 810-000
URL: https://yokanavi.com/en/
Post by Japan Journeys.