Amezaiku is an ancient art requiring intense concentration and skill. Specifically, amezaiku is what happens when molten sugar is crafted into intricate miniature sculptures and designs. For thousands of years, these Japanese edible candy art pieces have been admired for their taste and design. Now, thanks to master craftsman Shinri Tezuka, anyone can get a taste of the craft. His combined stores and workshops offer visitors the chance to watch the masters at work, try their own hand at making amezaiku, and browse the shop's shelves.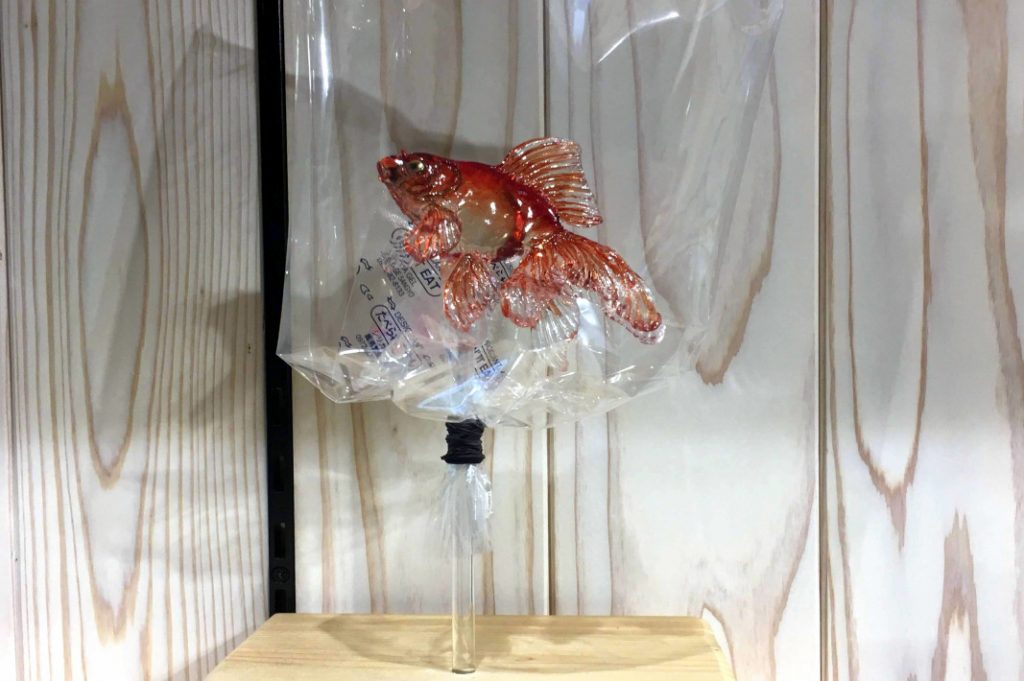 The Amezaiku Master's Story
So what does one need to become a master candy craftsman? Well, according to Tezuka, who's pursued a lifelong fascination in traditional arts, it demands a steady, quick hand. Foregoing his first passion, crafting traditional fireworks, Tezuka fell in love with the pure, simplicity of amezaiku. In an effort to bolster interest in the art, he opened his first store (the Ameshin Hanakawada Studio) in 2013 and his second (the Ameshin Tokyo Skytree Solamachi Store) in 2015. Despite his relatively recent start, business is roaring. His edible candy art has become a highly sought-after gift, and his workshop brims with eager students.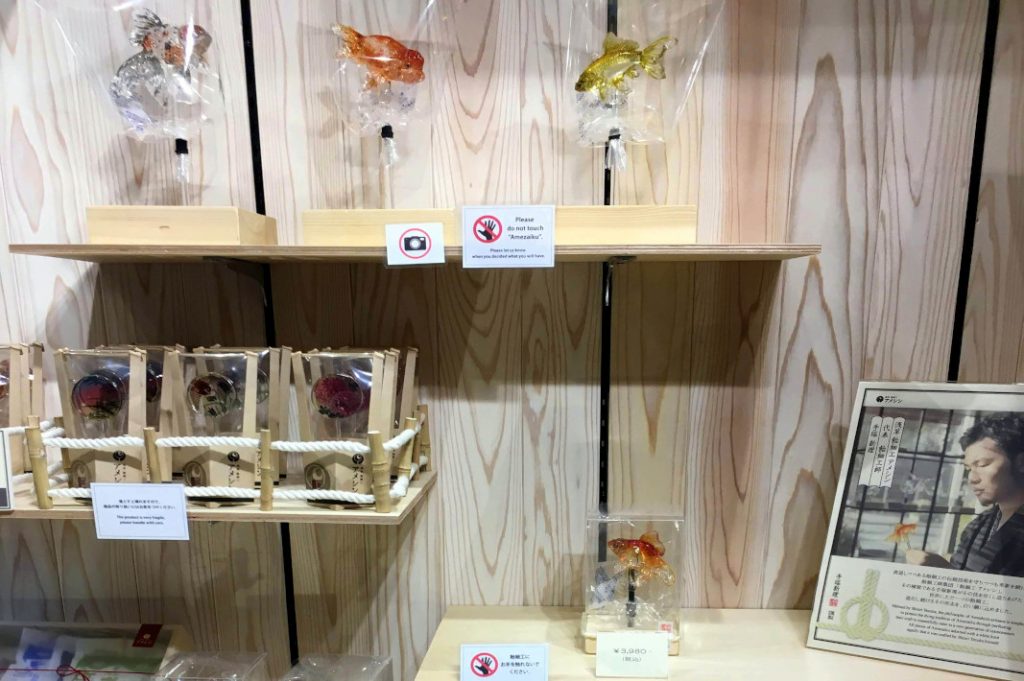 What's Japanese Edible Art Candy like?
Intricate goldfish are the hallmark of Tezuka's stores. Meanwhile, dragons, cats, birds, bunnies, and pandas make up the remaining bulk of edible animal sculptures. Lollipops with delicate designs and other small trinkets also adorn the stores' shelves. Some of the smaller pieces can be purchased quite cheaply and few, aside from some select commissioned pieces, will do any true damage to your bank account. Each piece is painstakingly detailed, so much so that they look like they might start moving at any moment. The commissioned pieces on display are often on a larger scale and especially impressive. It's hard to decide if you'd rather eat or display them.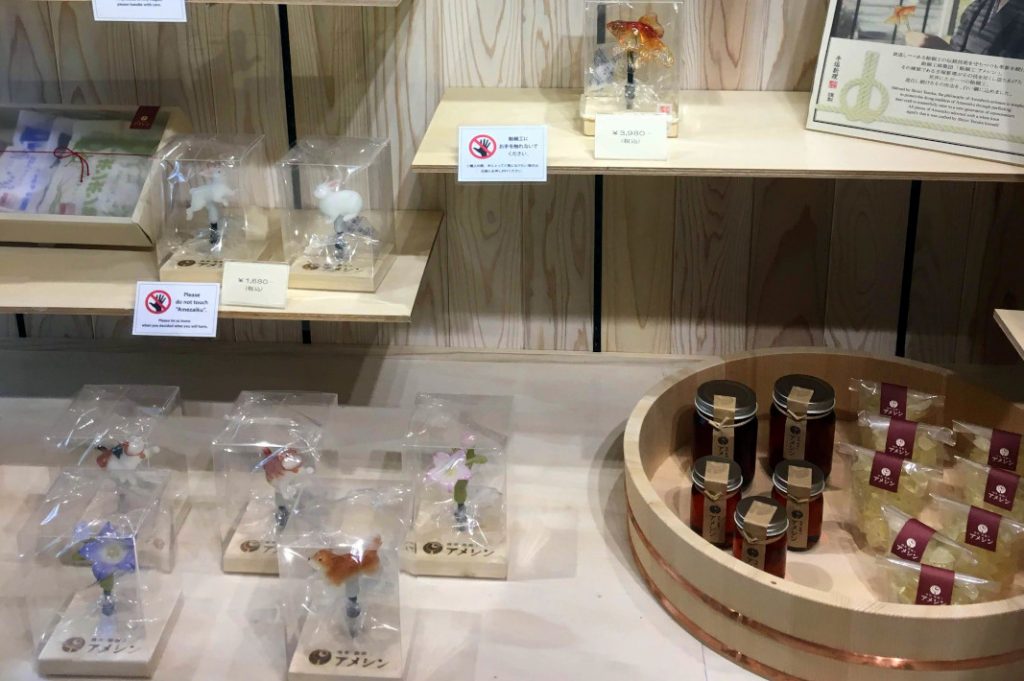 Which Store Should I Go To?
Located just minutes from the popular Senso-ji Temple in Asakusa, Ameshin Hanakawada Studio houses the public workshops, where visitors can enrol in edible candy art classes. Sometimes lead by employees, and sometimes by Tezuka himself, the workshops guide novice artists through crafting a bunny. Currently, classes are only taught in Japanese. Although, they can provide some English guidebooks. Because of the large workshop space, this location only offers a limited amount of candy pieces for sale.
Meanwhile, the Ameshin Tokyo Skytree Solamachi Store is just minutes from the Tokyo Skytree. It offers the full range of Tezuka's edible candy art and allows visitors to watch the Ameshin masters at work in its private, integrated workshop space. Each piece must be shaped quickly, in just two to three minutes, before the sugar cools. After that, the masters bring each piece to life with detailed decorations. For a simple piece, the whole process can take approximately 30 minutes. Regardless of which location you visit, its well worth it to experience this ancient Japanese art, and maybe even bring a piece of it home with you. The decision to eat it (or not) is up to you.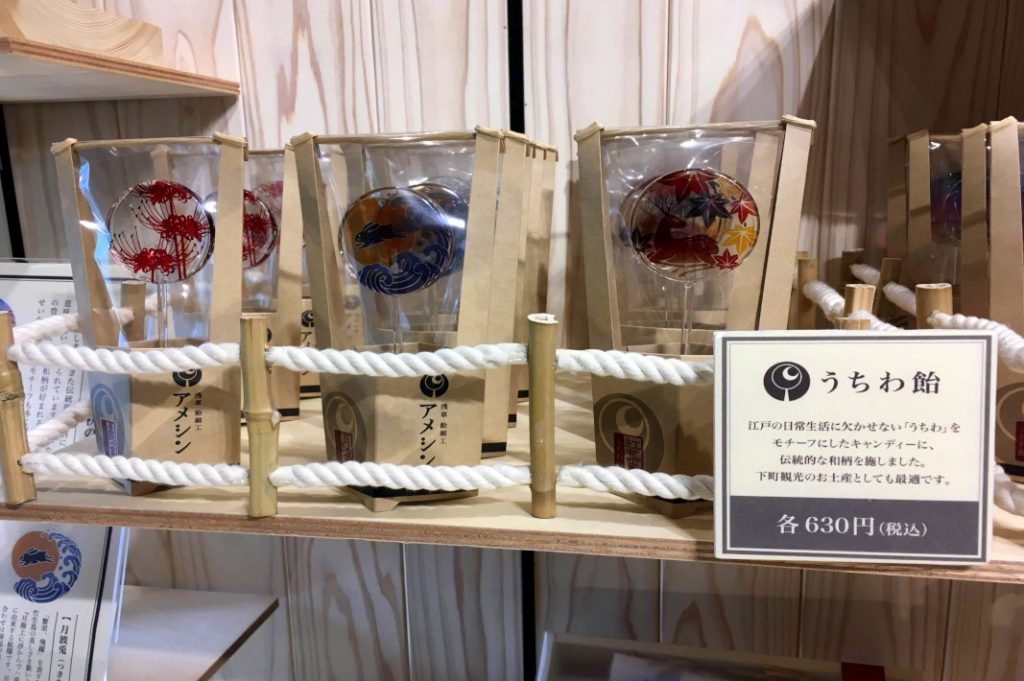 Name: Ameshin Hanakawada Studio (Asakusa)
Address: 2-9-1 Hanakawado, Taito-ku, Tokyo
Website: http://www.ame-shin.com/en/
Post by: JapanTrek