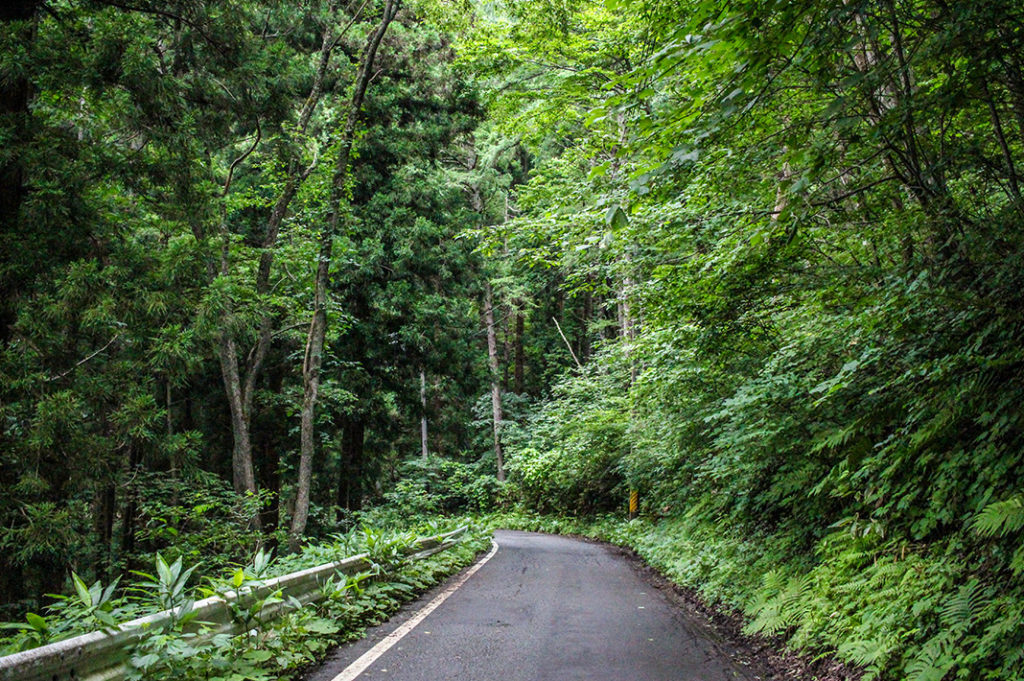 The summer haven of Lake Nojiri resides in the deepest corners of hearts and souls around the globe. Though if you've never heard of it, we're not surprised. This ancient glacial lake in Nagano's Myoko Togakushi Renzan National Park is fairly remote and, as such, enjoys unspoiled nature. The waters shroud paleolithic artefacts and, once the snow melts, the mountains sprout dewy mushrooms and wild vegetables. Come summertime, it's a fantastic place to hike as well as boat and fish on the peaceful waters. Nojiri is a place with a long history and many layers, and a great way to see them for yourself is on the Lake Nojiri Loop Course. 
Outlining the Lake Nojiri Loop Course
This 15km walk circles the lake, every twist and turn of the shoreline bringing a new perspective on the area. Starting from the tourist-centric main town, it leads past the 'International Village', a forest therapy trail and through a rural farming neighbourhood. There's plenty to enjoy along the way, from quiet vistas to ancient trees and glimpses of wildlife. The path itself is actually a two-lane road shared by cars and other vehicles, so caution is required on your journey. We've outlined the route and some points of interest on this map. When I completed this course in the steamy July heat, we made lots of photo stops and ended up walking 17.5km in around 4 hours.
To walk or bike?
If you want to save time, the Lake Nojiri Loop Course can be done by bike in an hour or two, depending on how many stops you make. Bikes are available from the Tourist Information Office at Kurohime Station; from there, it's a 2km ride to meet the loop trail. However, if you're already in Nojiri, simply look for rentals near the western lakefront. There are a few locations, including Guesthouse LAMP and Captain Romany, and it's roughly 1,000 yen per person for the day. 
When and where to start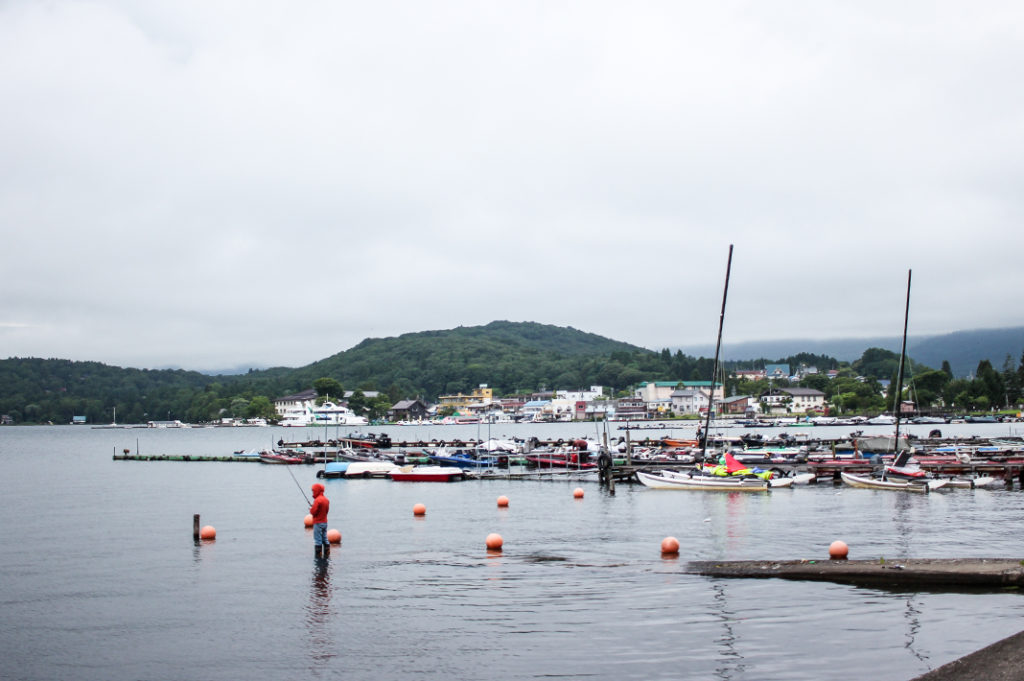 Though it's possible to do the loop in any direction and start from any point, the course officially starts in the town of Nojiri, on the western side of the lake. This area is the main hub of operations and is where you'll find the highest concentration of restaurants and facilities. The single two-lane road (the walking trail) runs through the town, with a smattering of boat rentals, eateries, houses and accommodation on either side.  
As the loop course can take quite a few hours, we'd recommend completing it before or after lunch and eating somewhere in this vicinity. As Nojiri is a small community with seasonal tourism, it pays to stick to traditional meal times to avoid disappointment. If you are visiting outside of summer, or on a weekday, check opening days and times ahead of your visit. We've pinned a 7-11 on the map, it's not a bad idea to stock up on snacks and water before your walk as there aren't many options once you get going.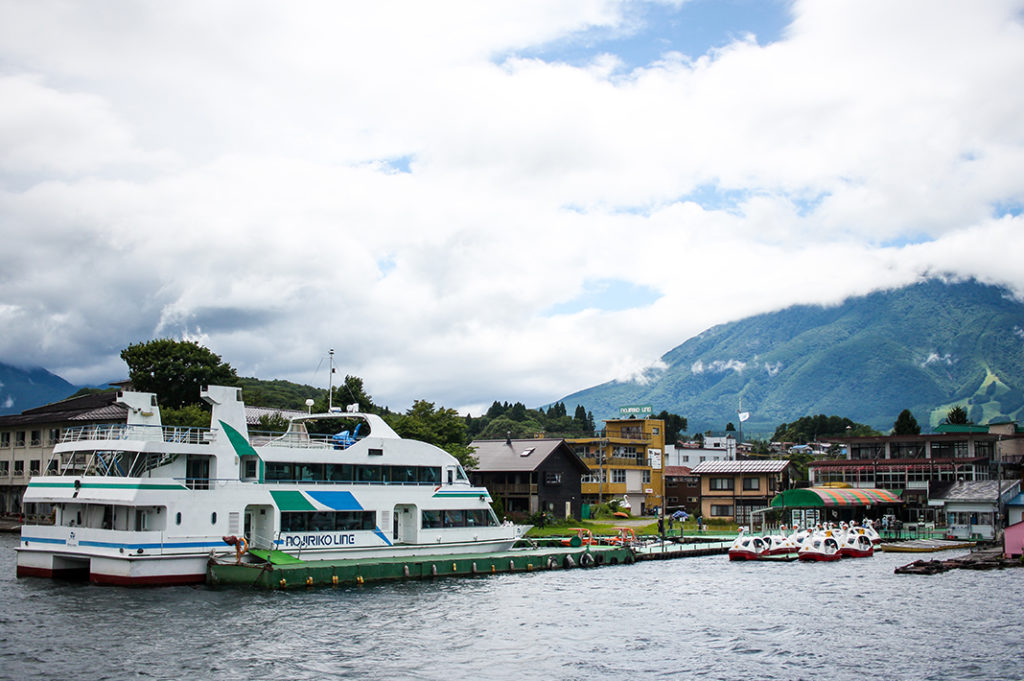 As the Lake Nojiri Loop Course takes half a day, you can choose whether to do it in the front or back half of the day. By starting around 8 or 9 am in the morning, you can be back in time for lunch and some afternoon fun in Nojiri. Alternatively, you can do it in reverse; spend your morning visiting the Naumann Elephant Museum or taking a ferry to visit the 1,300-year-old Uga Shrine on Bentenjima island before grabbing a bite and setting off.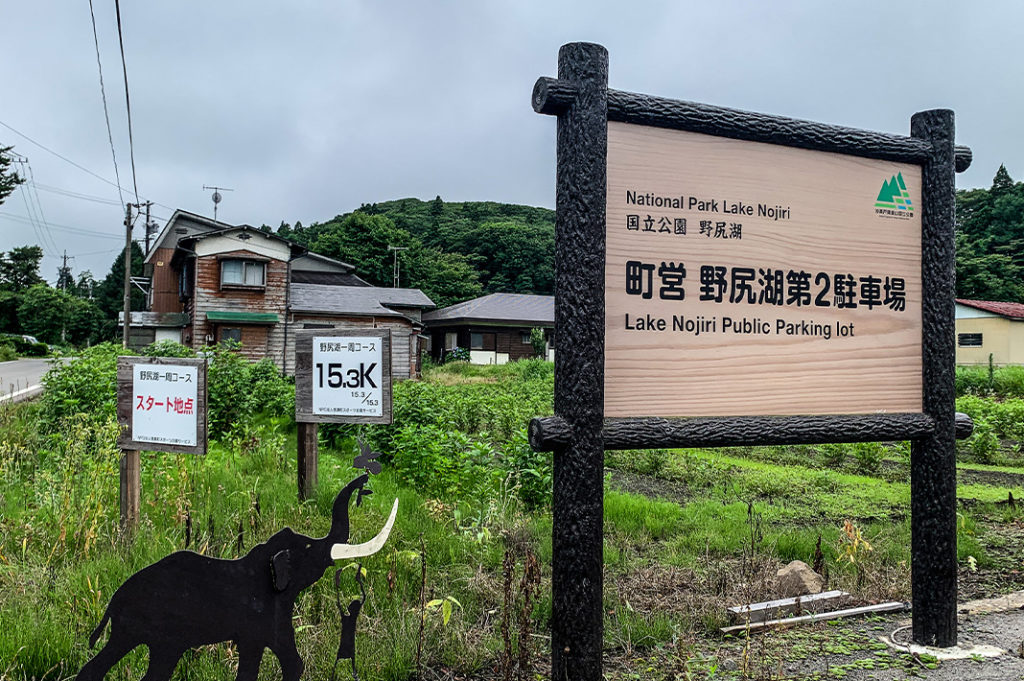 Starting out in ancient Nojiri
This sign, at the Choei Nojirikodai 2 Parking Lot beside the Naumann Elephant Museum, marks the official start point of the trail. Get acquainted with the small elephant cutout beside it, as you'll be seeing a lot more elephant motifs on your walk. Seventy years ago, Lake Nojiri was discovered to be the site of an ancient Elephant hunting ground dating back 40,000 years. The town celebrates this fact, and there is a lot of ancient history to unpack, from the excavation site to the Elephant Museum (9:00 am – 5:00 pm) where you can explore the thousands of fossils and artefacts on display.
We begin the walk in a counter-clockwise direction, keeping the lake on our left-hand-side. The Naumann elephant drain covers will keep you company along the walk, and the distance signs will let you know how far you have to go.
Past the International Village
In 1921, a large section of the southern shoreline was purchased by American and Canadian missionaries and dubbed 'kokusai-mura', or International Village. Hundreds of cabins dot the hilly landscape, and the area comes to life in the summertime when families come from around Japan (and abroad) to enjoy their beloved sanctuary for another season.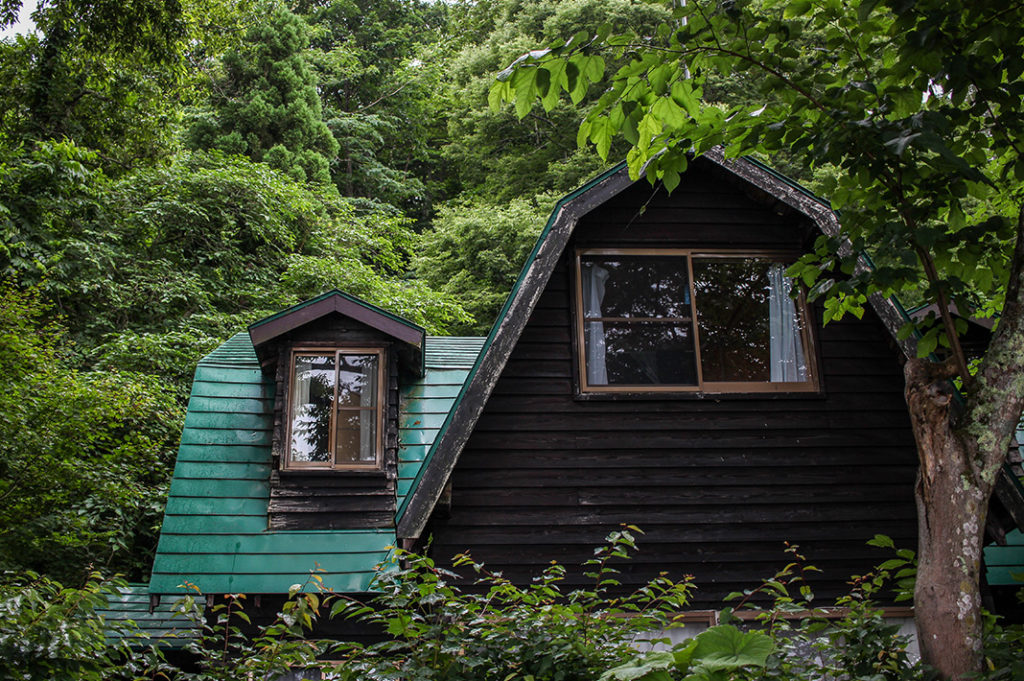 Just a few minutes into your walk, you'll come to an intersection on the edge of the village, near Guesthouse LAMP, where the road forks left and right. The official loop course curves to the right, away from the lake, and circles behind the International Village. If you follow this, you can catch a glimpse of cabins on your left and a small plateau settlement of locals on your right. We take a left at Guesthouse LAMP and stroll along the shorefront of the International Village. This is also a time saver for those intending to do some forest bathing.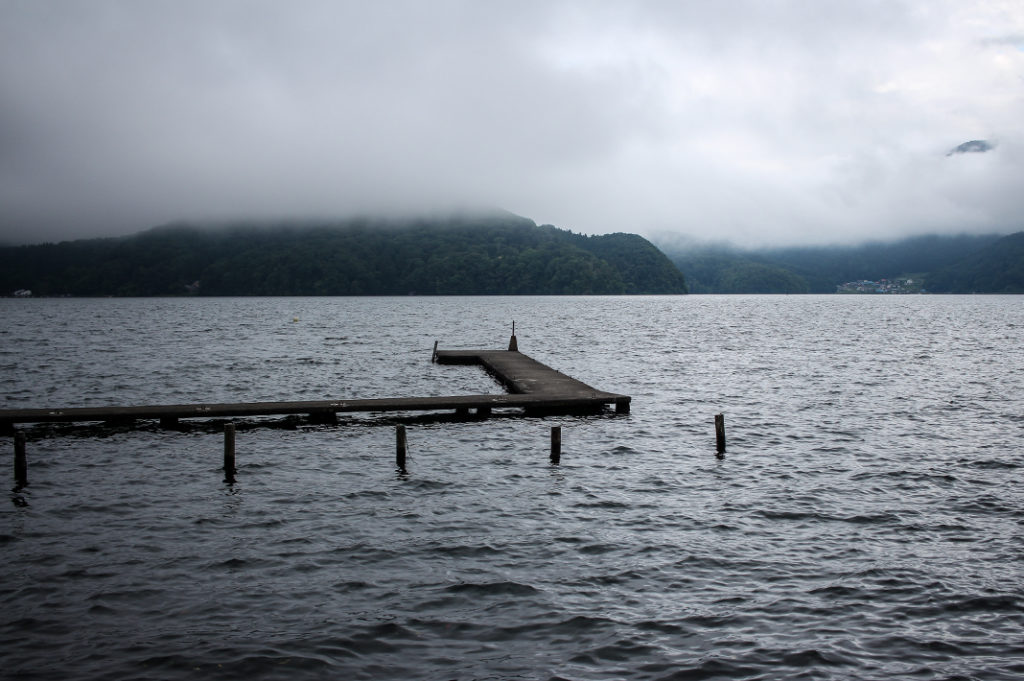 The forest bathing track
A few kilometers into the course, there is an additional course available for those keen to see more. The Zo no komichi 'elephant's course' is an easy 2.5km trail that winds through the forest along Lake Nojiri's southern shoreline and pops back out to rejoin the Lake Nojiri Loop Course. With lake views, secluded canopies and a whole lot of 'forest bathing', you'll be able to leave the real world behind and give in to the therapeutic benefits of the healing forest. Read more about it here.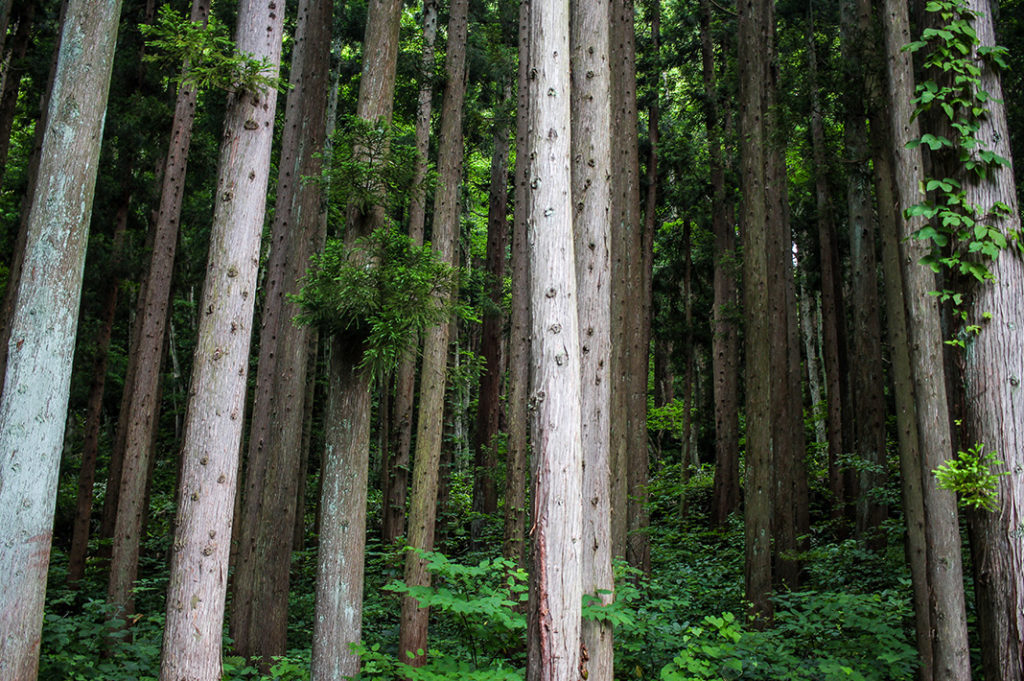 It's quicker to get to the Elephant's Course from the lakefront, so take the left at Guesthouse LAMP and follow the shore, veering right before the Green Sports Club. 
Back on the road
The road is fairly quiet during our walk, and we can hear cars coming from a distance. We're also careful to navigate around the fluffy toxic green caterpillars that are migrating from one side of the road to the other—many weren't so lucky with the traffic. As we walk, we catch glimpses of the lake through the trees and are excited to see it from a higher vantage point. Not long after we pass the Catholic church, we arrive at 'sunset point' lookout where we rest while enjoying the vista.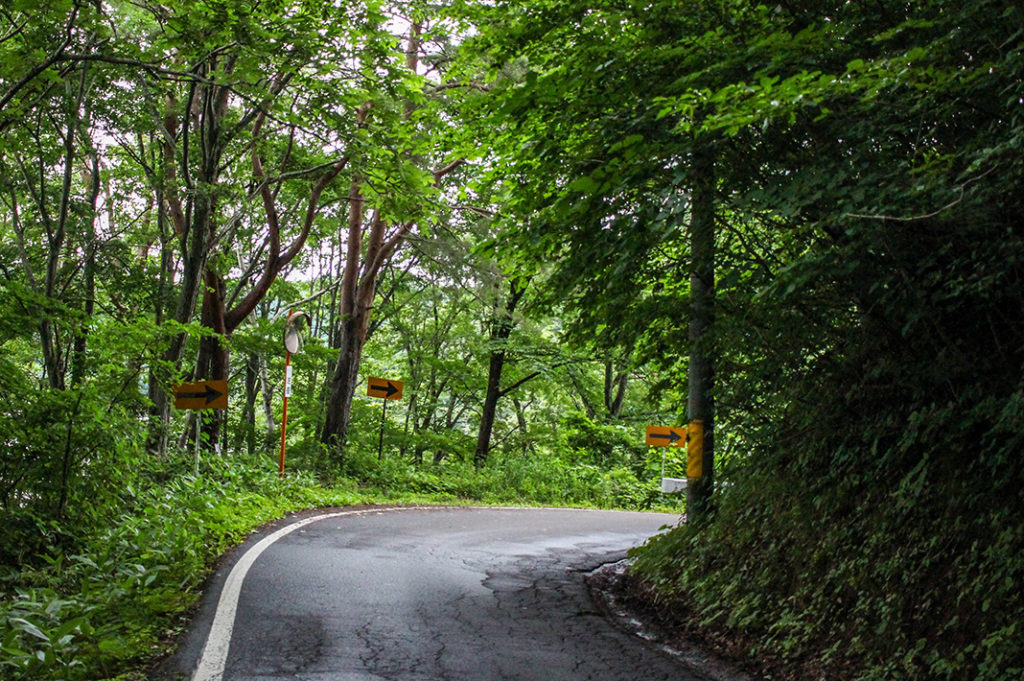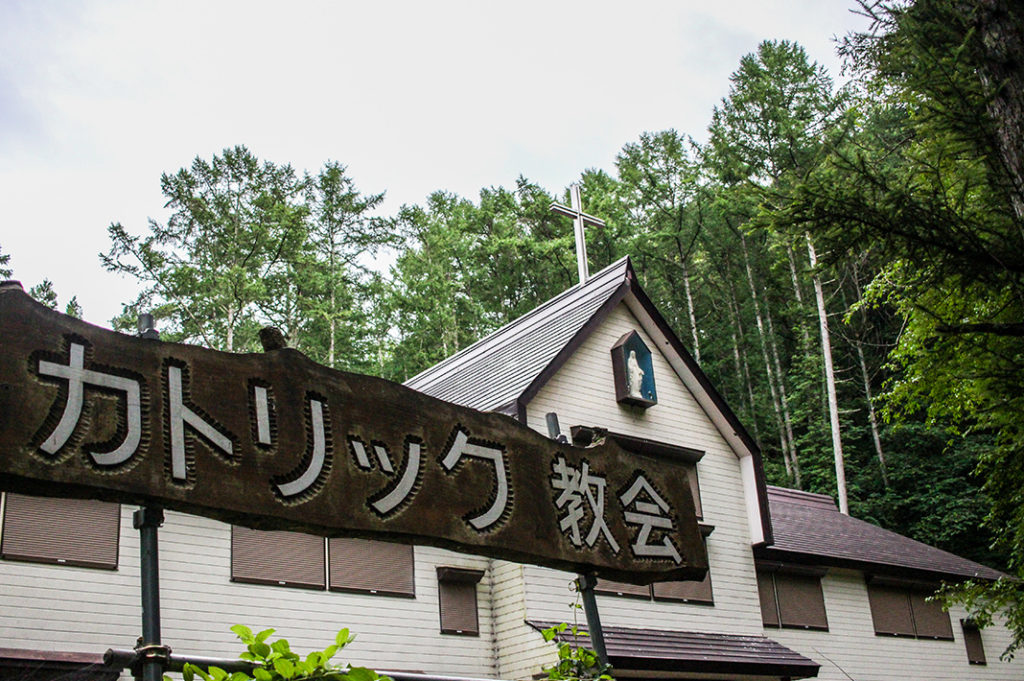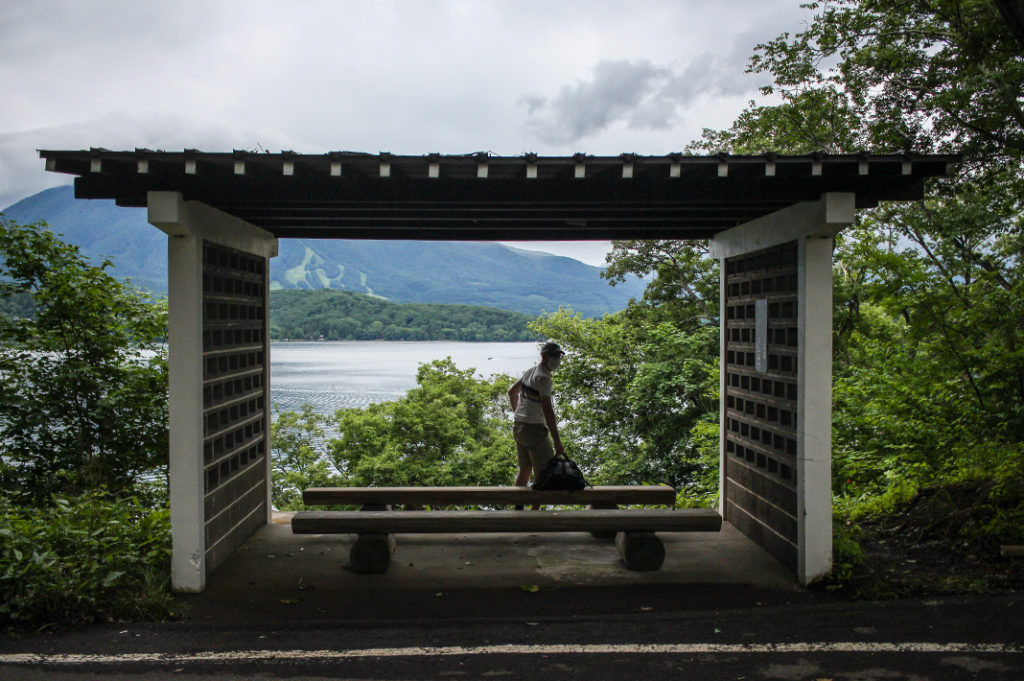 Half-way point: Furumi and Sugakawa Shrine
The eastern side of Lake Nojiri is particularly charming. This area, known as Furumi, is a small village made up of a few dozen houses, one cafe and the Sugakawa Shrine featuring a 1,000-year-old tree. As you enter Furumi, you'll spot 'Restaurant Friendly' on your left which is a nice little spot for a half-way point break.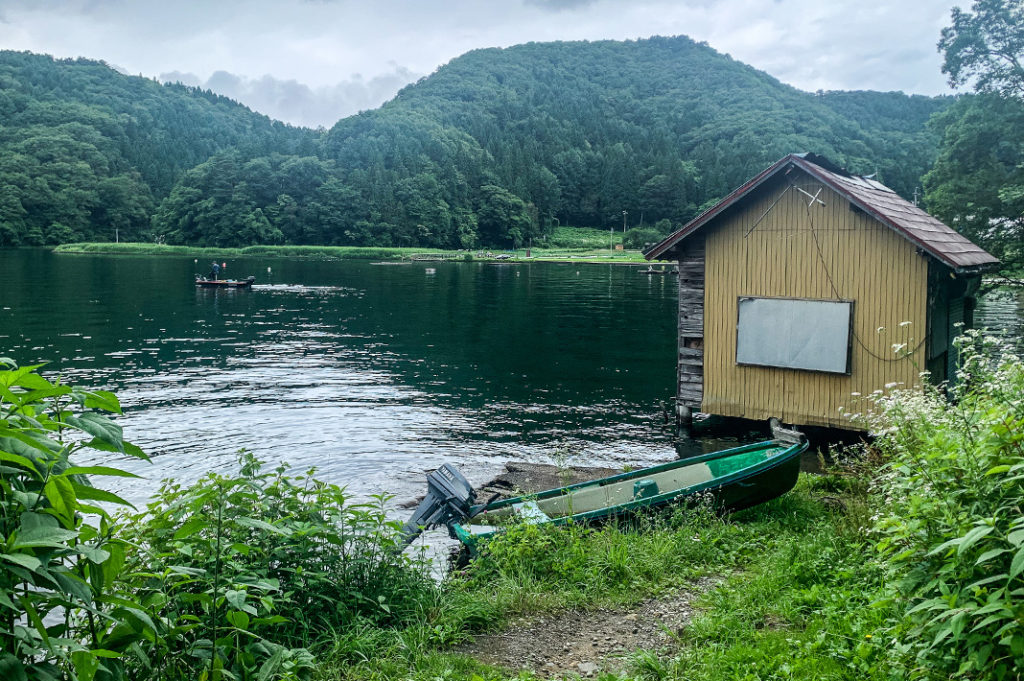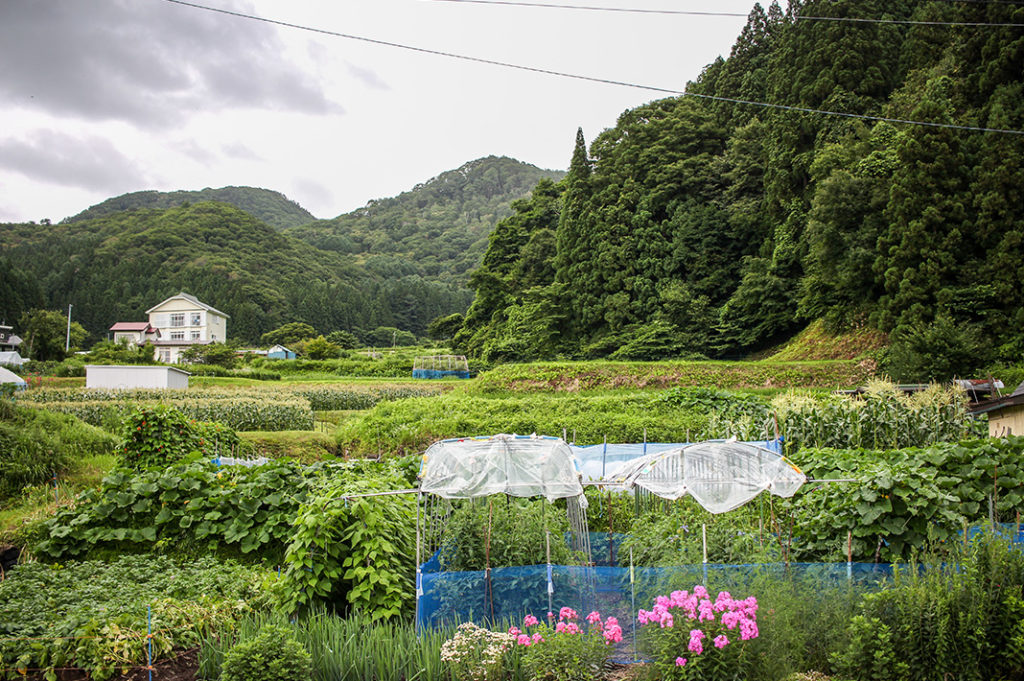 We decide we can't leave without seeing the 1,000-year-old tree and go in search of  Sugakawa Shrine. Where the road curves left after the restaurant, head right toward the houses. Feeling like trespassers, or as though we're on the wrong track, we walk past rows of juicy tomatoes covered by tarps and fluffy headed corn swaying in the sunshine. There's nobody around and all is silent except for a dog barking at our presence and a rooster crowing at the mid-afternoon sky. It's idyllic, if not a little eerie.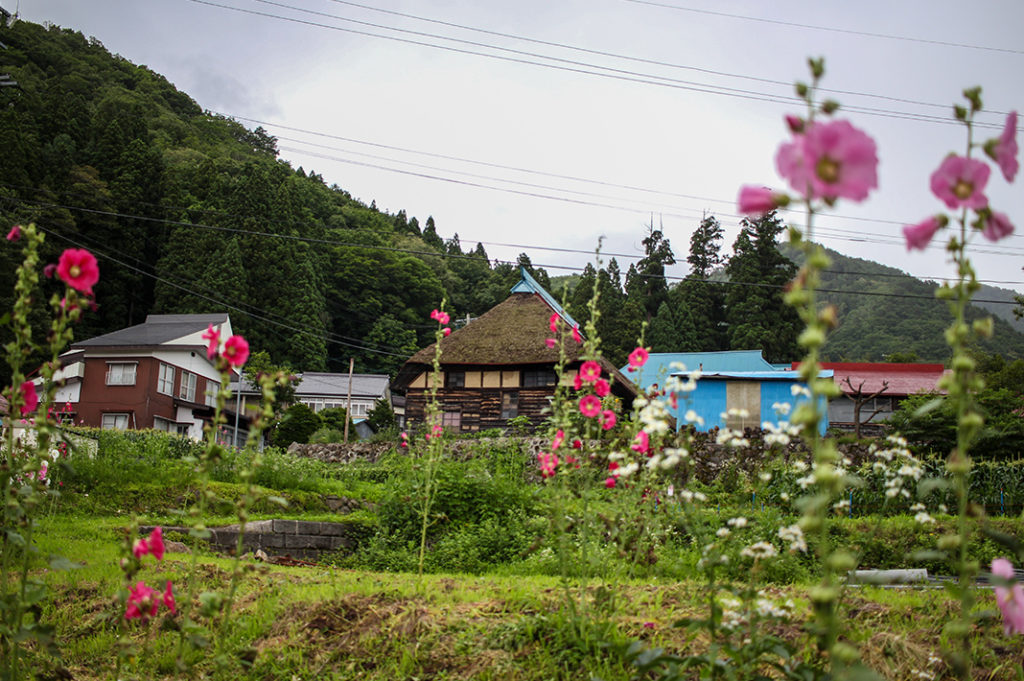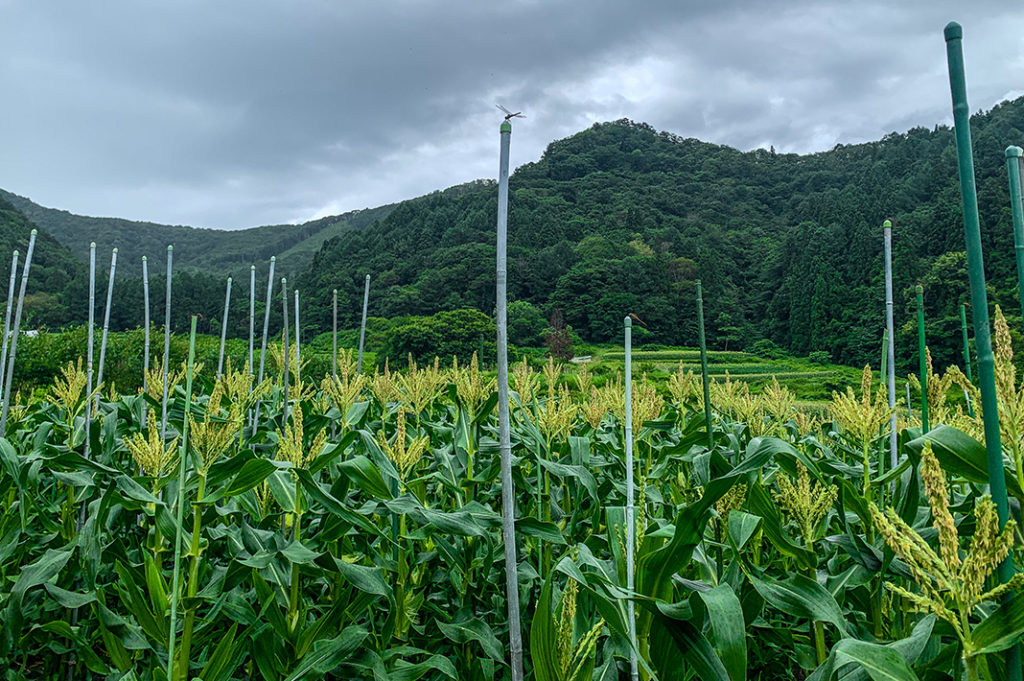 Eventually, we come upon the stone torii gate of Sugakawa Shrine and stand before the gargantuan cedar tree. After admiring it from all possible angles, we make a quick toilet stop and continue on our way.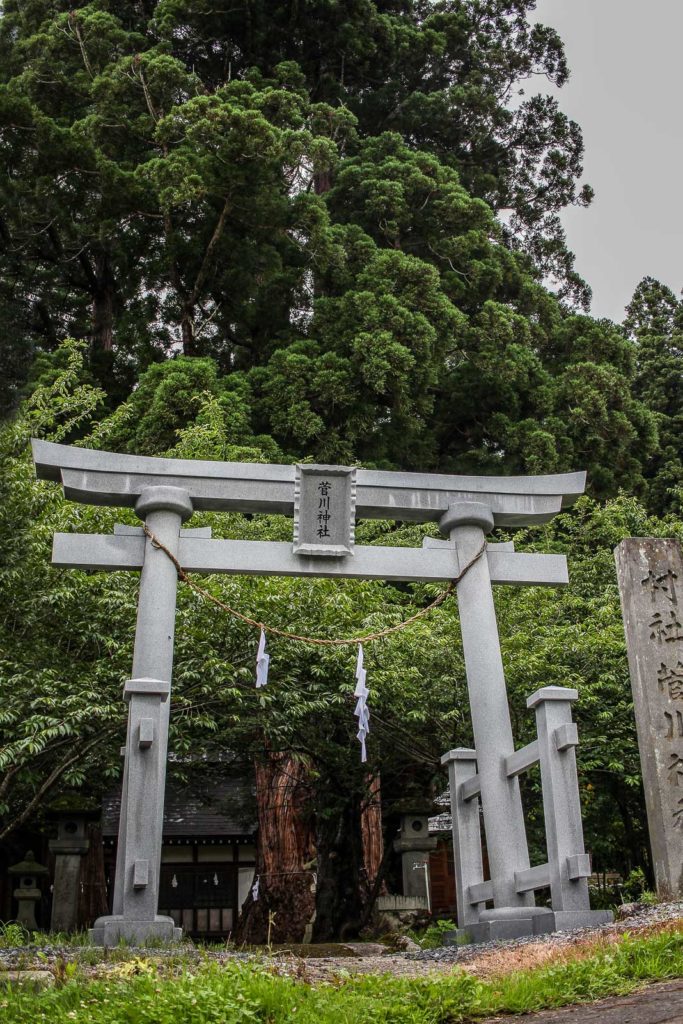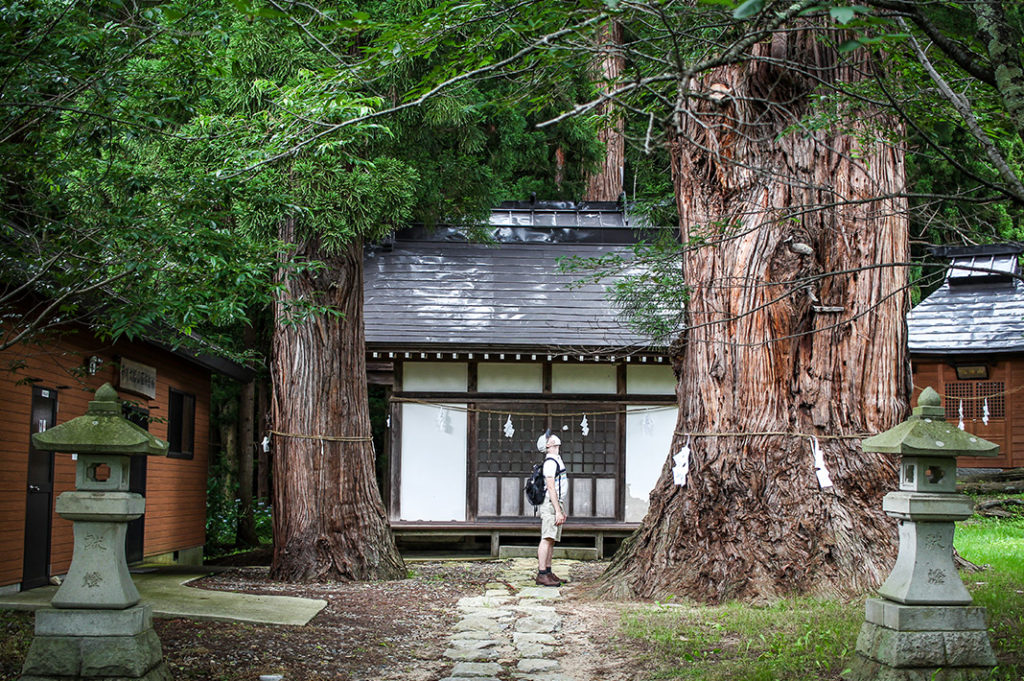 The back-half of the Nojiri Loop Course
After visiting Furumi, the Lake Nojiri Loop Course gains some elevation and there are great views looking back at the small community. In this section, we enjoy long stretches uninterrupted by cars and work on getting our footsteps and breath into a good rhythm. At one point, we turn a corner and a large bird of prey, perhaps a hawk, takes flight up into the trees to watch us from a safer location. Later, we come across a crew of workmen doing some maintenance, but aside from them, we're utterly alone on the twisting, turning road.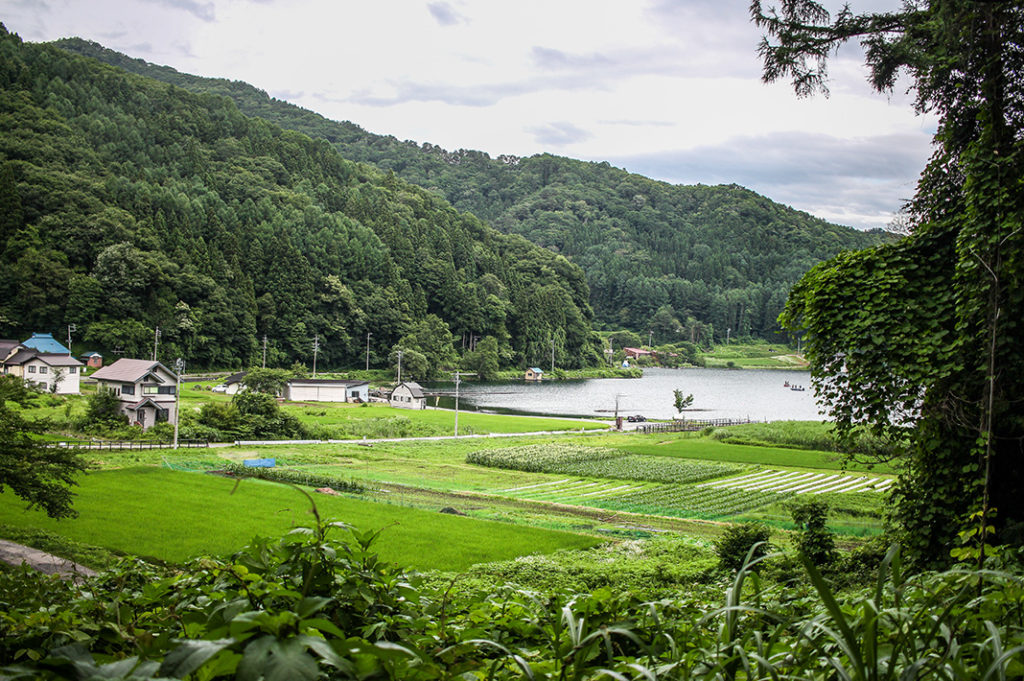 As we near the end of the Lake Nojiri Loop Course, we catch glimpses of Biwa Island, home of the 1,300-year-old Uga Shrine. From this point on, you'll come across a number of hotels, boat rental spots and restaurants until you find yourself back where you started.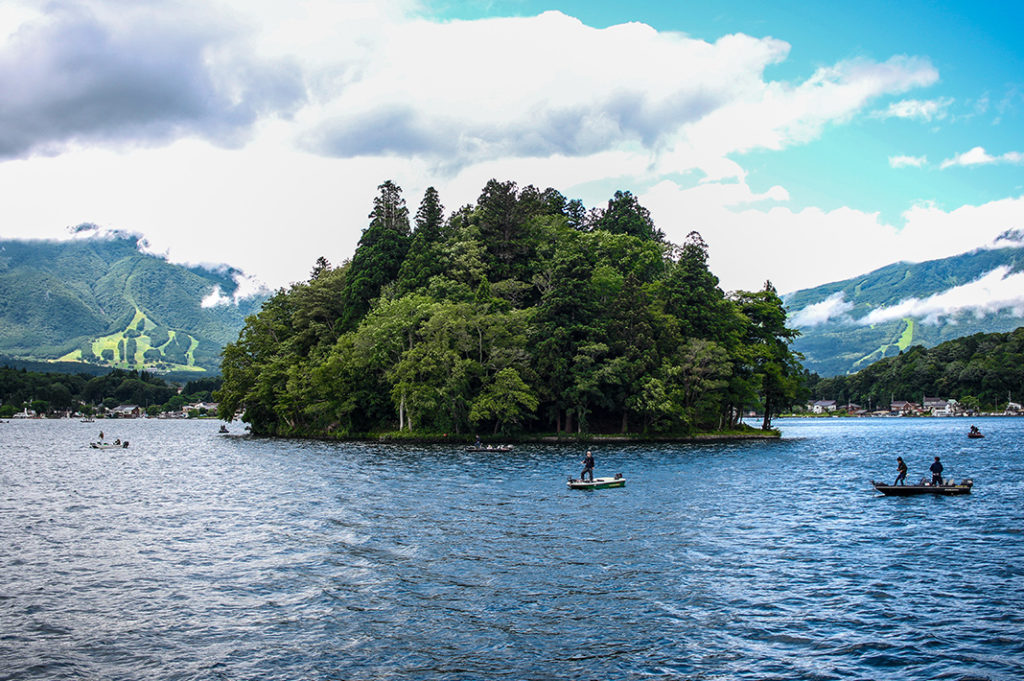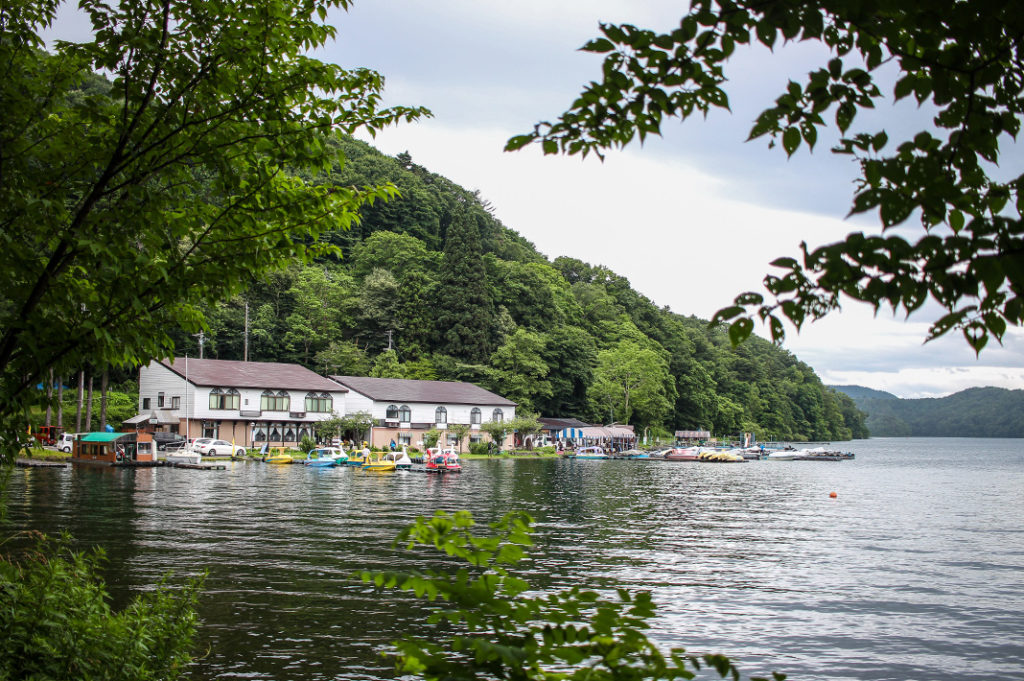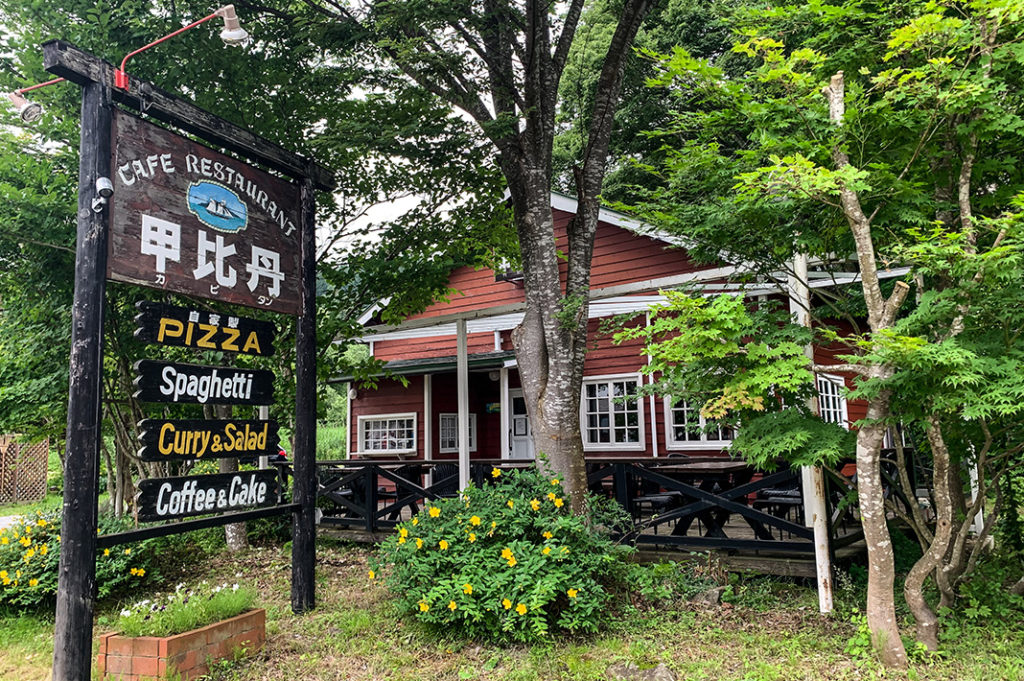 Eating and other activities
Many of the food options around the lake are cafe style or Italian food, though there are a few soba joints, too. Funagoya, near the Nojiriko Line ferry, serves Italian food on their lakeside deck and has the fanciest plating in town. Captain Romany is a one-stop-shop for food, souvenirs, bike hire and boat hire, but I go for the delicious frozen yoghurt.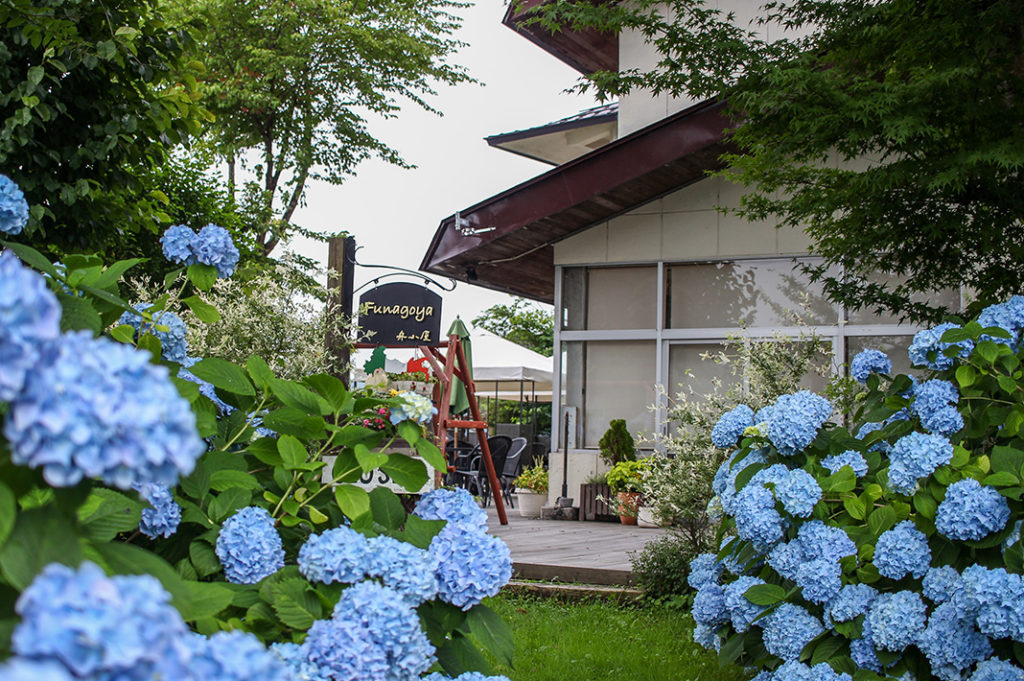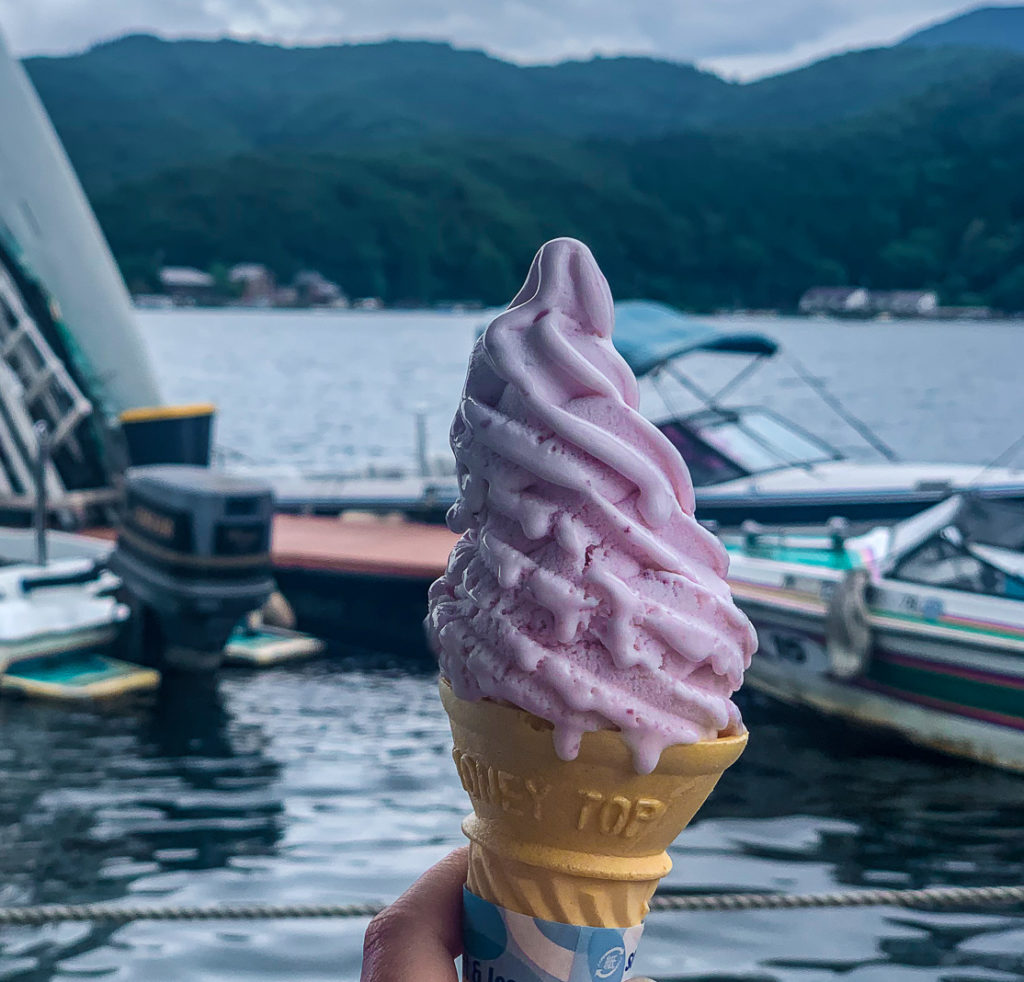 My personal favourite food option is Guesthouse LAMP, who serve burgers at lunch, coffee and cake throughout the day, and things like pizza and lamb at dinner. Guesthouse LAMP is also a great accommodation option. They rent boats, bikes and kayaks and offer fun activities in all seasons, like snowshoeing, rafting and even mushroom picking.  
We've already mentioned the ferry to visit the island shrine and the Elephant Museum, but if you've got some energy left, why not hire a kayak or swan boat and enjoy Nojiri from the water, or check out some more of Shinanomachi's rural attractions.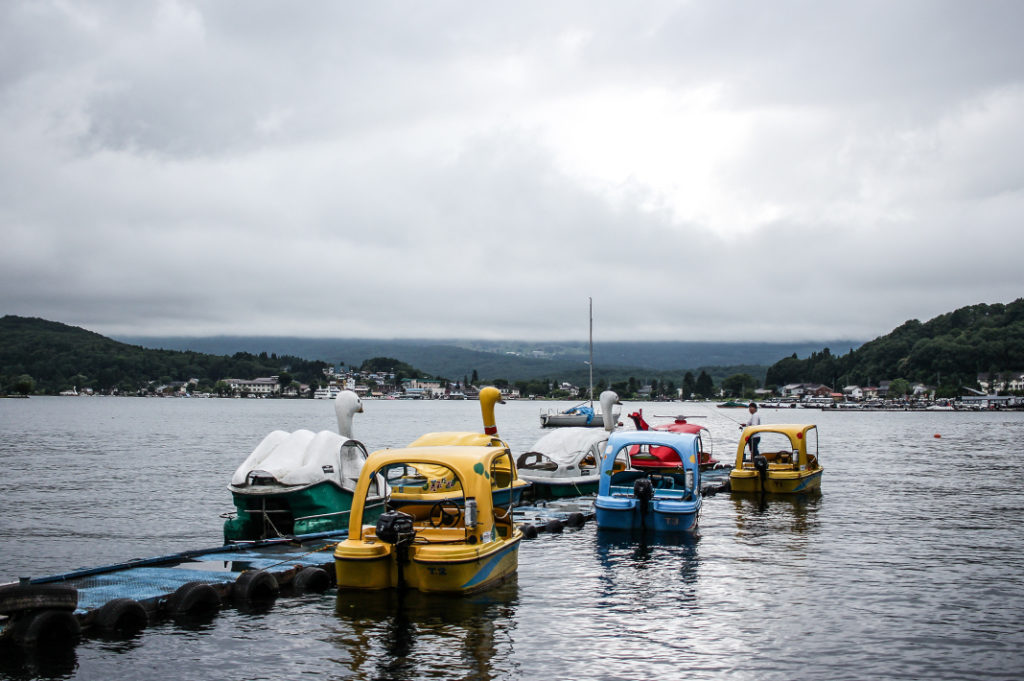 Getting to Lake Nojiri
Lake Nojiri's access point is Kurohime Station. From Tokyo, take the Hokuriku Shinkansen 90 minutes to Nagano, then switch to the 'Shinano Tetsudo Kita-Shinano Line' bound for Myoko Kogen (35 min). Once at Kurohime Station, it's a 6-minute taxi, 45-minute walk or 10-15 minutes by bike, to the lake.
Read more of our walking guides here.
Post by Japan Journeys.