If Shibuya is the current center of development, commerce, and shopping, Shinjuku is the stalwart urban hotspot. A bit larger, a bit messier, and much more frantic, Shinjuku doesn't always offer up its secrets on your first or second trip. This tour will take you to the Tokyo Metropolitan Government Building, Kinokuniya, and Kabuki-cho. For visitors up for a bit of adventure, however, exploring Shinjuku can be one of the most exciting parts of visiting Tokyo. If you're coming directly into Shinjuku on the train, you can begin this walking tour from Shinjuku Station. If you're continuing the walking tour from Shibuya, however, you'll be starting your trek from Harajuku Station. You can find the final walking map for the trek here.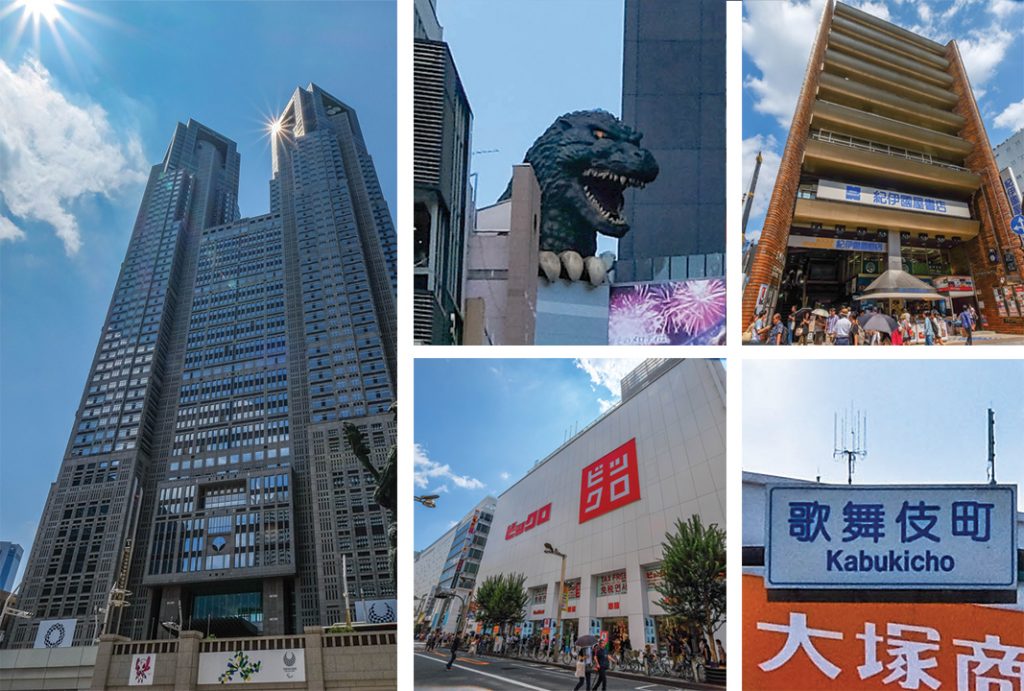 Getting into Shinjuku
The easiest way to get back on track from Harajuku Station is to backtrack one last time to Mejijingumae Harajuku Station. This means heading downhill towards Omotesando but turning left onto Meijidori Avenue. This time, you'll continue past Takeshita Street, and follow the curving road. There are still plenty of stores and cafés to explore as you leave Harajuku, but they will begin to peter out as you continue towards Shinjuku. This is actually the longest part of the walk and takes approximately 30 minutes, depending on your walking speed.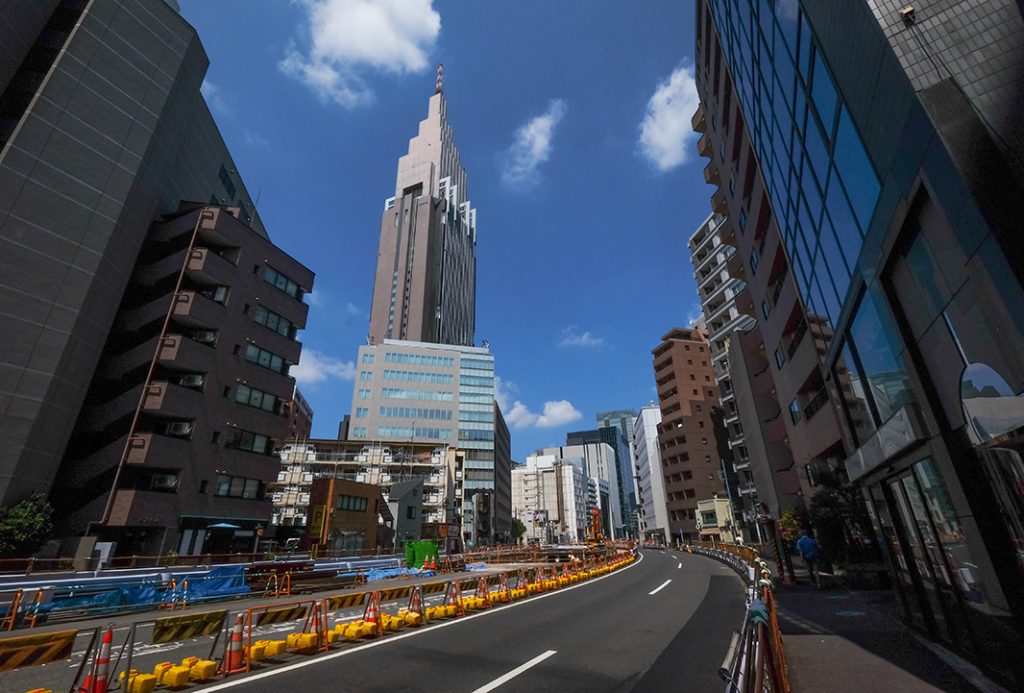 Crossing over a few pedestrian overpasses and intersecting highways, you will have no doubt that you're reaching Shinjuku when the crowds begin to thicken. If you stick to Mejidori Avenue, you will arrive in front of Shinjujku Station at the Southeast Exit. Here you'll find an open plaza leading up to the trains, and a large wooden Tourist Information center, ideal for travelers looking for a few extra maps or travel tips. This is also the perfect place to begin your Shinjuku walking tour.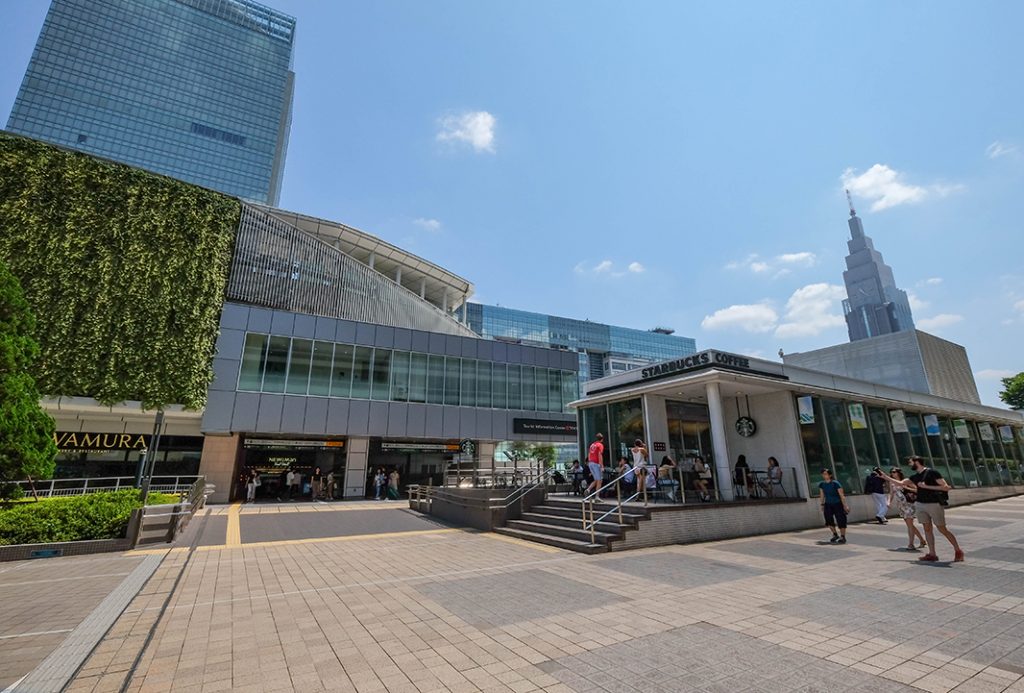 A Better View of Shinjuku
Although there's plenty to do during the day, Shinjuku is a nighttime city, and exploring Shinjuku is most fun at night. If you started your trek around mid-day and took your time in Shibuya and Harajuku, you should be arriving in Shinjuku around sunset. If that's the case, and you want to get your bearings before a nighttime Shinjuku walk, dusk is the perfect time to get a spectacular (and free) view of the city from the Tokyo Metropolitan Government Building.
From the Southeast exit head into the station and make your way through the crowds until you're on the west side of the station. Continue west along the primary thoroughfare, Koshi Kodu Avenue. Turn right at the first intersection after the Yoyogi Nichome Aoi Park. Head north until you hit an intersection and then turn left and then another right at the following intersection. From here it's a short walk to the towers. This may sound complicated, but as you get closer, you should be able to see a pair of twin towers stretching up towards the sky. This is your destination, and there should be signs as you draw near.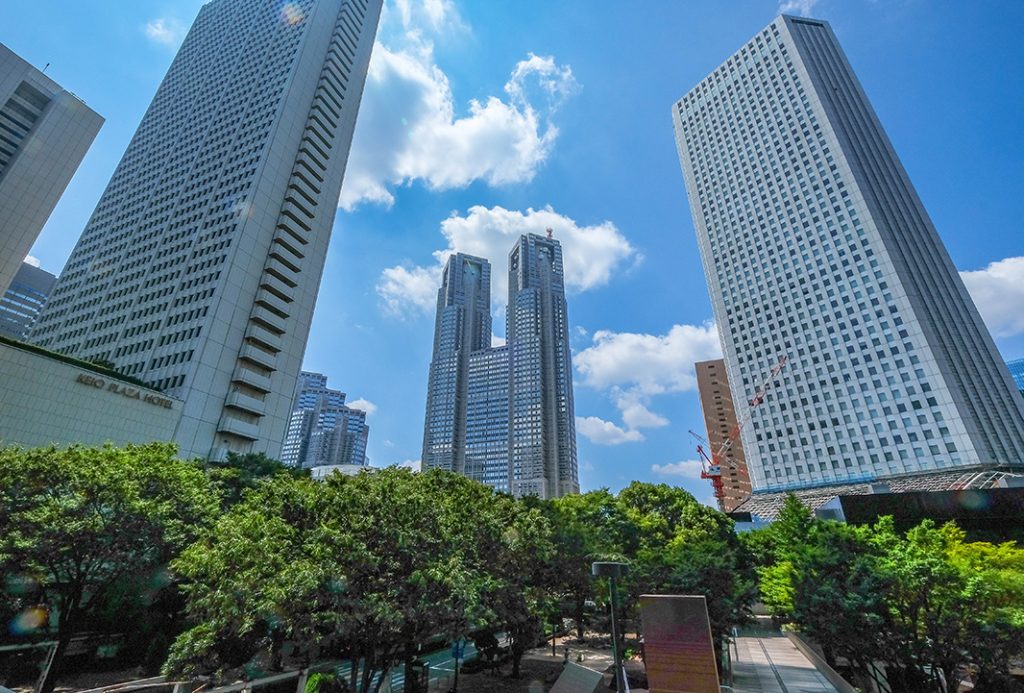 After about ten minutes you should reach the Tokyo Metropolitan Government Building. Entrance is free, and you have your choice of the view from the North or South Towers. The difference is minimal, so don't worry about missing out. Both offer a view of the massive urban sprawl of Tokyo extending out in every direction, and on a clear day, you might even see Mt. Fuji.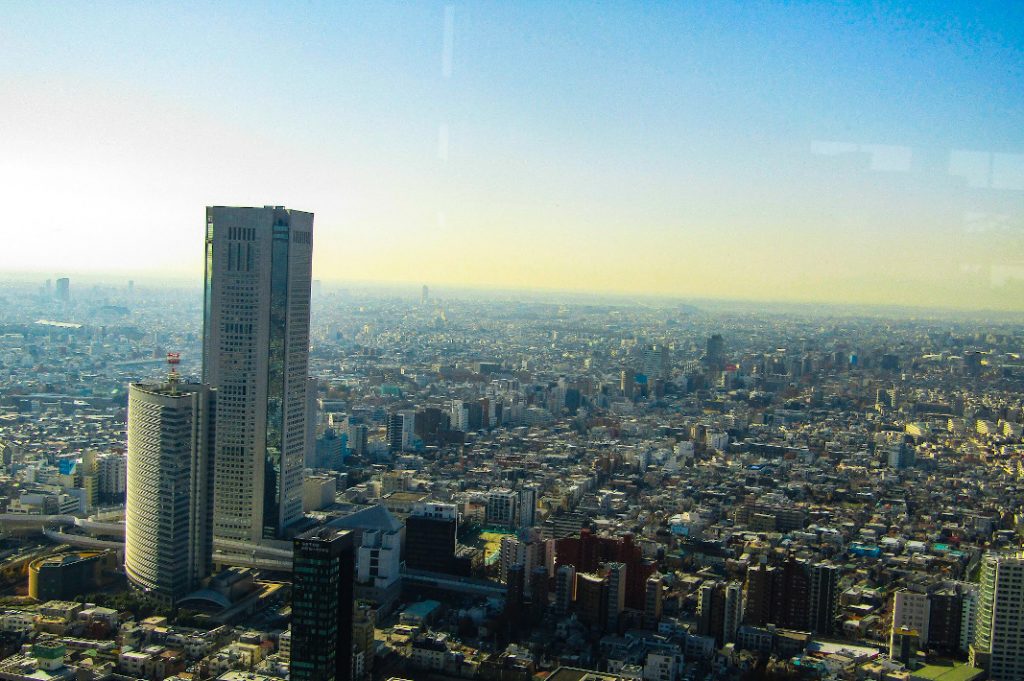 Exploring Shinjuku
From the base of the tower, you can return to Shinjuku station via an underground pathway. The tunnel extends beneath a huge stretch of the city. In fact, if you follow it past Shinkjuku Station, you can exit at Kinokuniya, one of the largest bookstores in the city. The shop even features a large English section if you're looking for reading materials.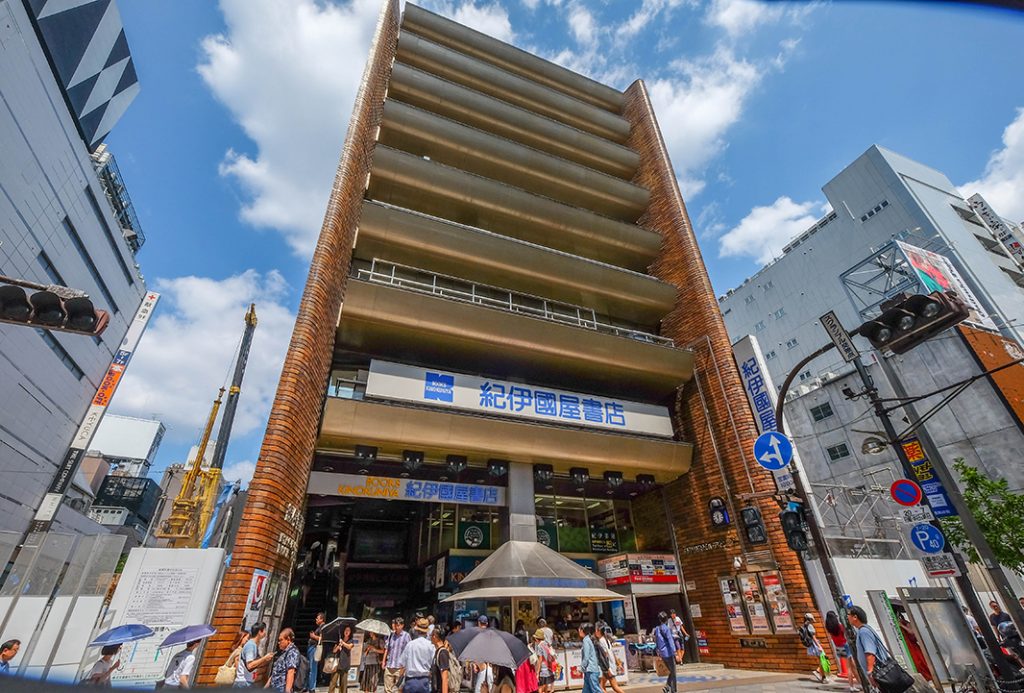 In front of the store, you'll find a massive mash up Biqlo store, that is home to Uniqlo Fashions and Bic Camera electronics. If you're looking for something a bit grittier, however, head out the back of the Kinokuniya building and move north. Almost immediately, you'll come to a large avenue, and beyond it is the red-light district, known as Kabuki-cho.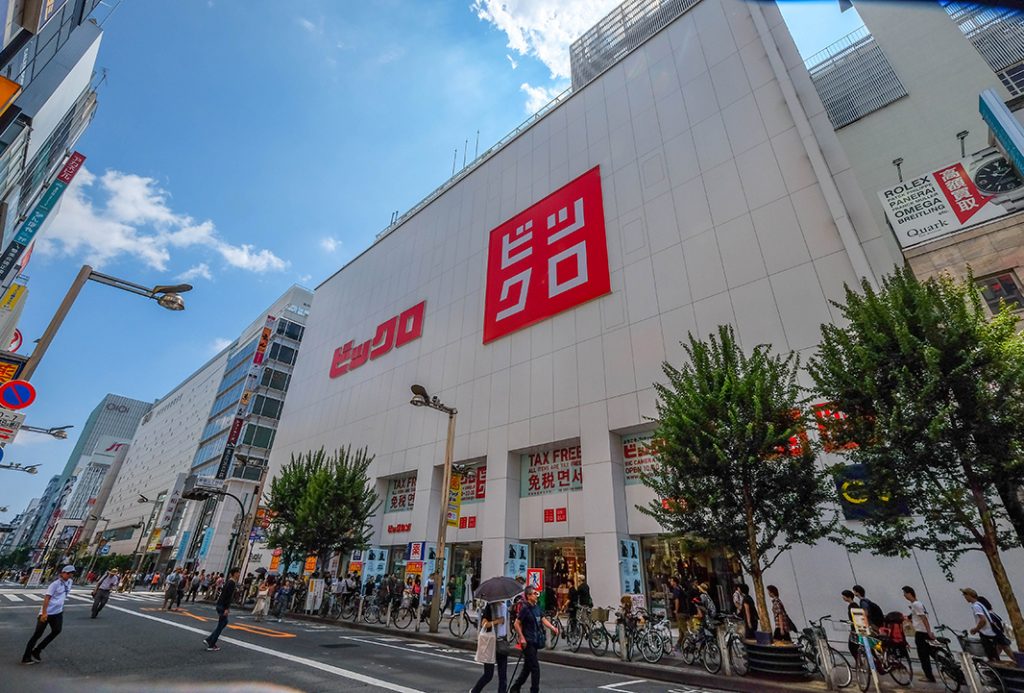 The bright lights of Kabuki-cho, filled with girl bars, host clubs, and some seedier locales is quite the spectacle at night. If you want to watch a movie, the local Toho Cinemas has a number of options. You're not likely to miss the theatre, as it is guarded by a seemingly life-size Godzilla. If you want to grab dinner, the area in and around Kabuki-cho are filled with Japanese pubs known as izakaya. You can grab cheap drinks and a number of smaller dishes. Many of these izakaya even feature English menus.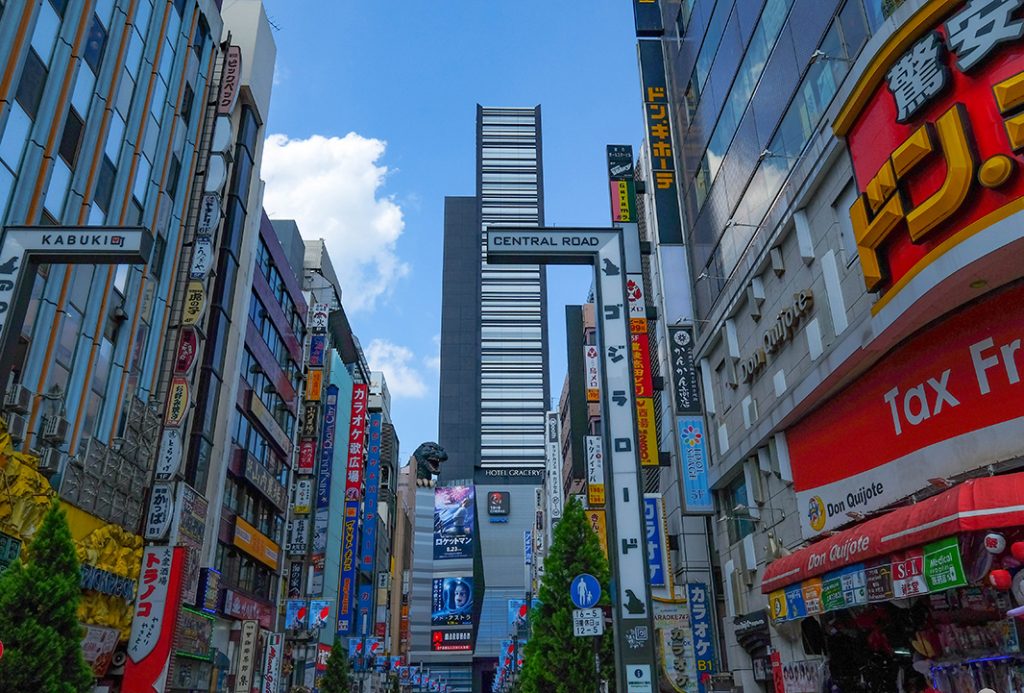 If you're looking for one last drink after your meal, the nearby enclave known as the Golden Gai, features dozens of bars crammed together and stacked on top of each other. These bars are popular among locals and usually only have room for a handful of people. Make sure to check any signs outside as several bars discourage visitors who do not speak Japanese. However, others are more welcoming and will indicate as much.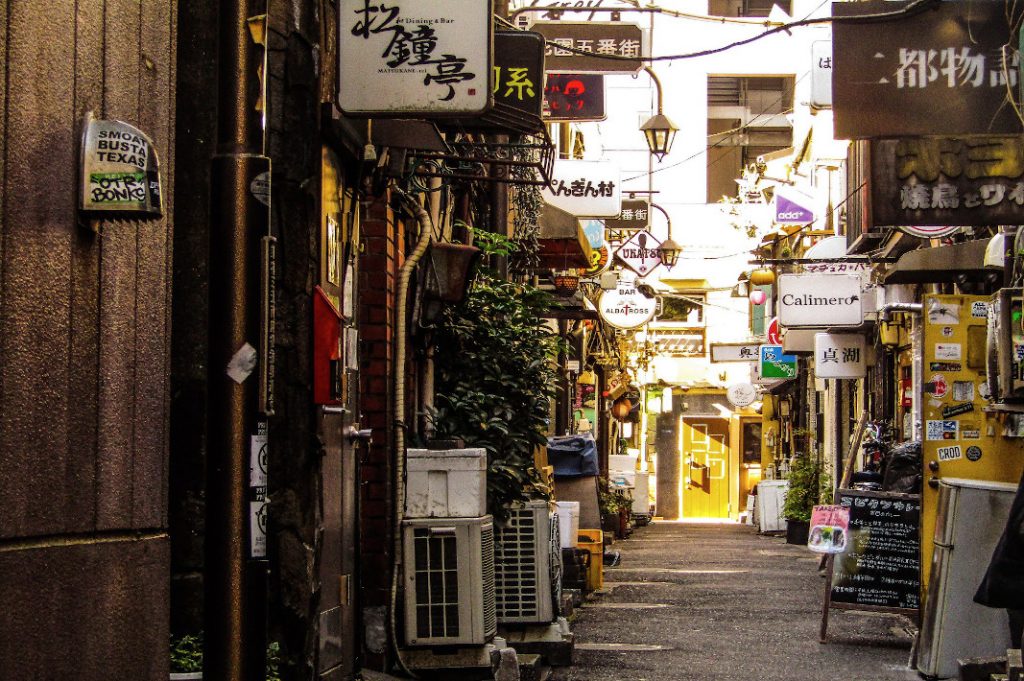 Ending the Shinjuku Tour
When you're ready to leave Shinjuku, and finishing your Shibuya to Shinjuku trek, make your way back towards the station. Like Shibuya, pretty much every train and subway line in Tokyo crosses through Shinjuku. If you have time before your train, leave Kabuki-cho and grab a coffee at any of the nearby cafes or simply wander around on your own. Exploring Shinjuku is certain to afford an experience unlike any other. You'll undoubtedly find your own favourite spots and maybe end up with a secret of your own to share.
Post by Japan Journeys.