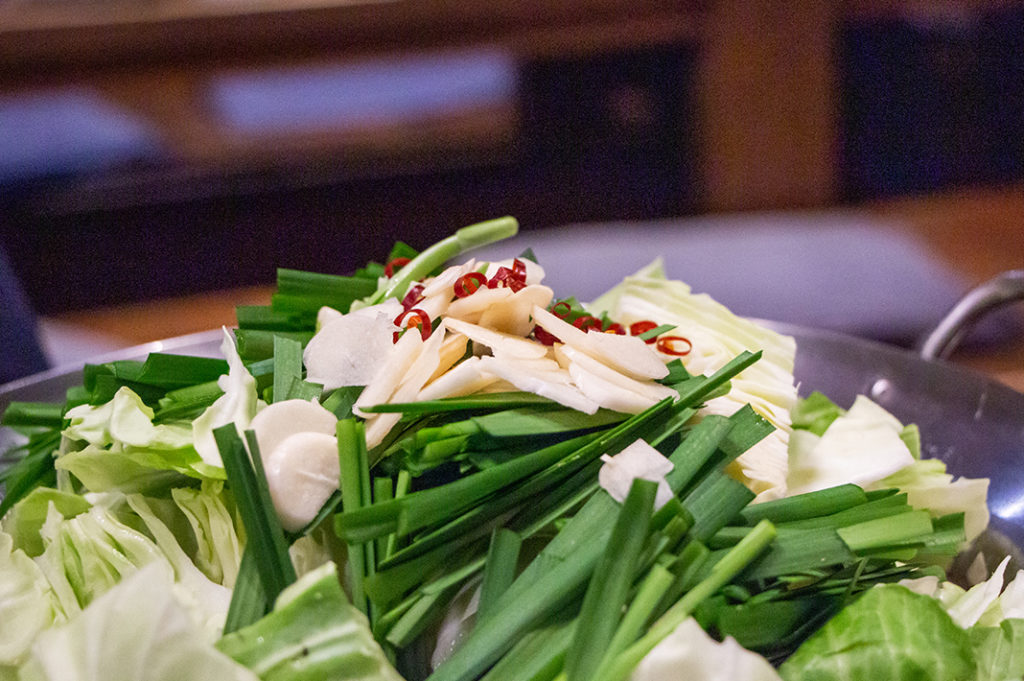 When it comes to regional dishes in Fukuoka, Motsunabe features on the culinary checklist right alongside Hakata ramen, mentaiko, mizutaki and eating at a yatai food stall. It's a firm part of the lifestyle. Though, if you've never heard of it, we're not entirely surprised. To explain the dish, all you have to do is look at the name. 'Nabe' means 'hot pot', while 'motsu' means, well…innards. Thus, Motsunabe is an offal hotpot. Sound appealing? I didn't think so either. I was, however, willing to give it a go and really think you should, too! 
On a recent trip to Fukuoka, I made a plan to try Motsunabe with my long lost host sister from my high school days. She knew just the place, too. We arrived at Maru in the Nishinakasu area of Fukuoka and were promptly led upstairs by the kimono-clad staff. As we slipped our shoes off and crossed the tatami, we passed table after table of steaming hot pots and merry salarymen. Our table was horigotatsu style—what looks like a low table (chabudai) sitting on tatami, but actually features a recessed space underneath for your legs. This means you can sit on the floor with your legs at a normal 90-degree angle, rather than crossing them.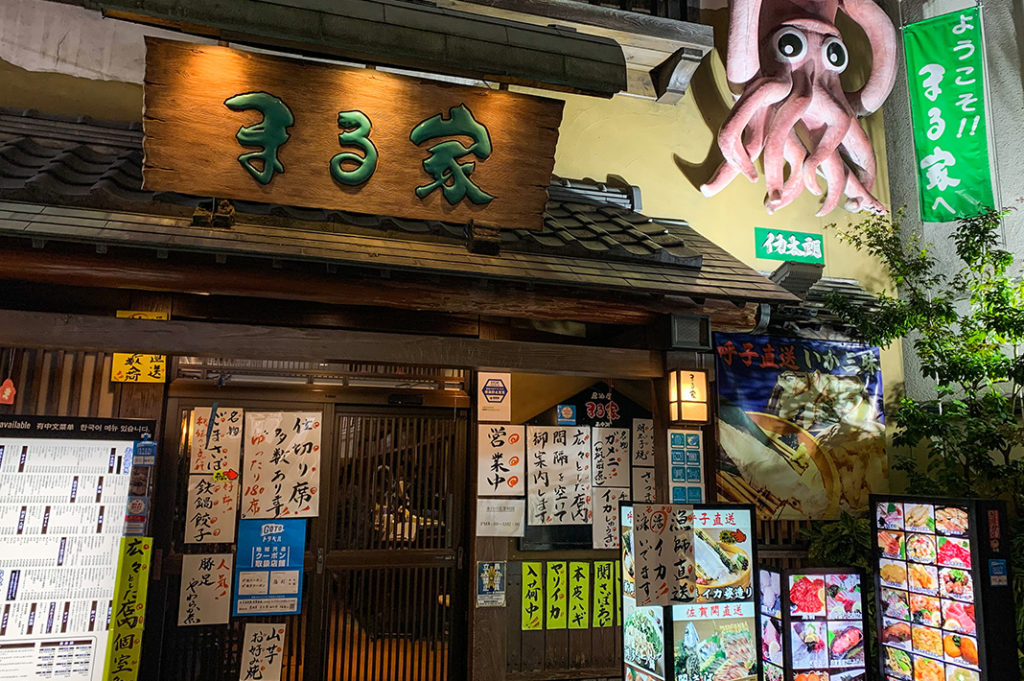 Motsunabe: what's in a name?
Our order was simple: one motsunabe, please! As the hot pots are quite large, we knew it would be a struggle to finish it, let alone any other side dishes. When our server brought over the gas burner and sat the hot pot on top, piled high with veggies, we knew we'd made the right choice.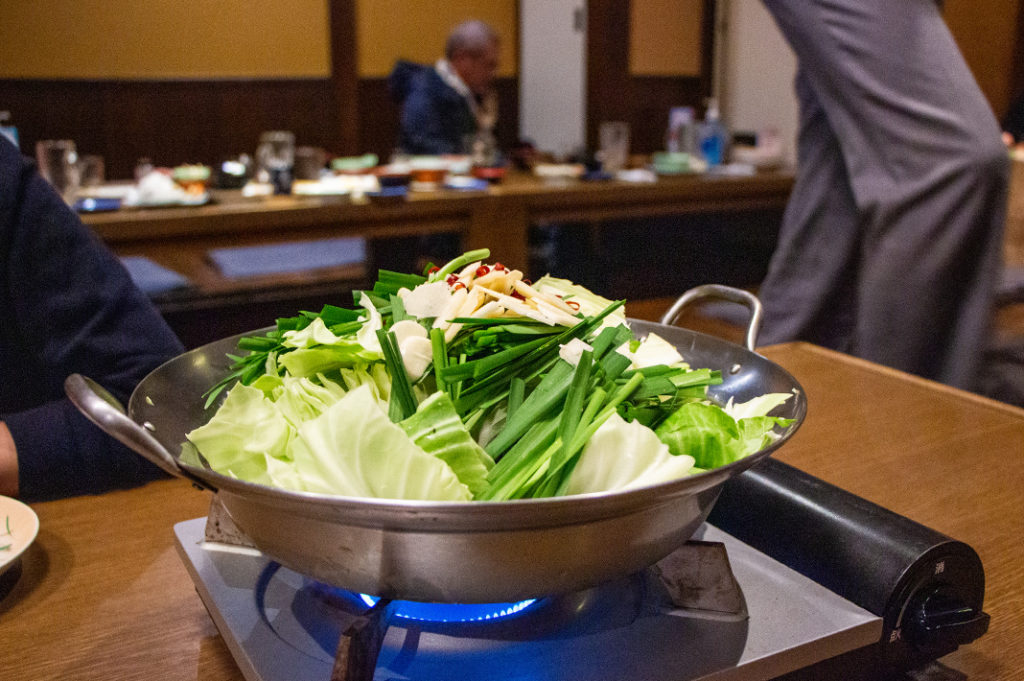 Visible immediately were the vibrant cabbage, garlic chives (nira), garlic and fresh chilli commonly used in the dish. All good things, delicious things. But the mysterious motsu, of which I was dubious, was nowhere to be seen. Let me explain my thinking here. 'Motsu' is actually a colloquial term for an animal's internal organs and offal which could be anything from liver, heart and lung to skin, cartilage and feet. I wasn't sure what I was about to find lurking beneath the surface. Perhaps sensing my confusion, my host sister explained that motsunabe only uses small intestines—usually beef. This proved reassuring. 'At least it won't have a strong taste', I thought.
As the gas burner did its thing, the aromas of the soy and dashi broth began to rise, tantalising our noses. It was at this point that I knew I was going to love the dish. I hadn't seen the motsu and didn't care what it looked like; anything that could smell this enticing had to be good.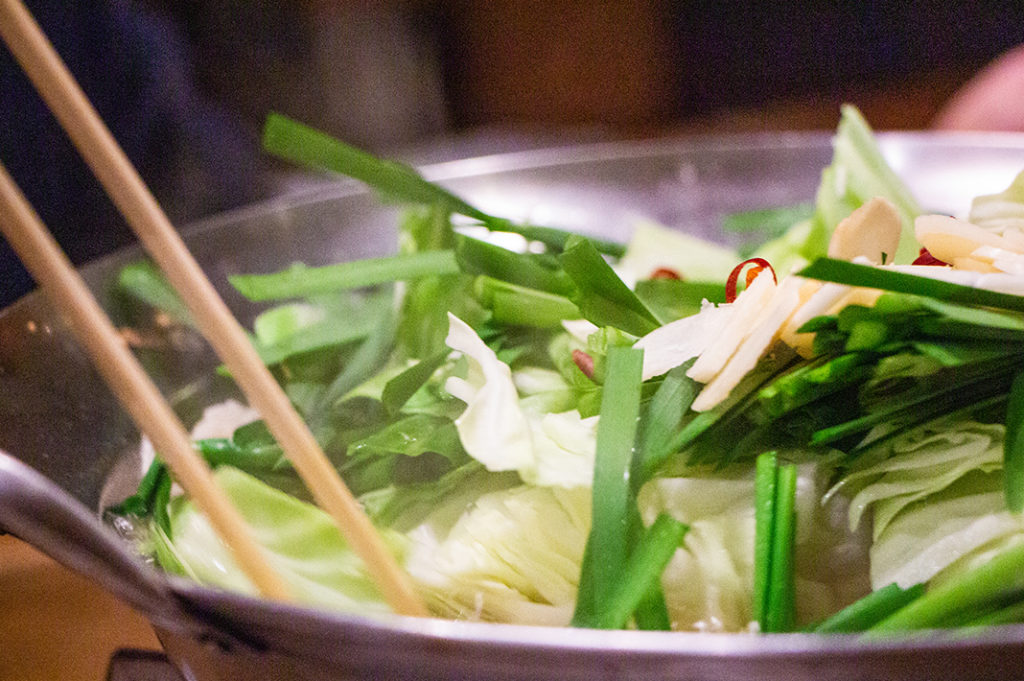 Interactive dining
We used chopsticks to push the vegetables into the hot broth so they could soak in that lovely flavour. Once everything was nice and soft, we killed the flame and filled our small bowls with all the components. There were a few pastes on the side for additional flavour—from memory yuzu kosho and chilli paste. This kind of interactive dining is such a great thing to try on your next trip.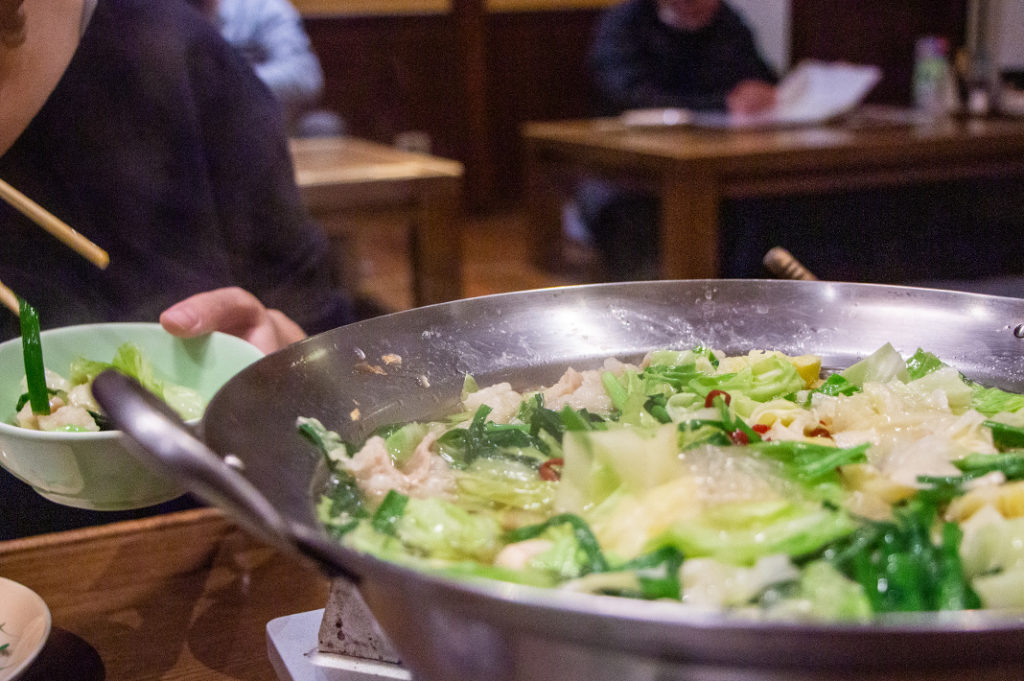 I sipped the broth and tasted the greens. Sweet, spicy, garlicky. Perfection. Such a rich and complex flavour for such a simple dish. Now came the big moment: facing my ridiculous hangups about offal. I lifted a piece of motsu from my bowl and balked. I was sure I'd read somewhere that motsunabe was a low-fat dish, 'popular with dieters', so I was really shocked to see that the cuts of motsu contained two parts: the intestinal wall and a little chunk of fat. This was unexpected. I ate it nonetheless and immediately fell in love. It was as soft and spongy as Hakata style motsu is reputed to be. Besides, we all know fat equals flavour.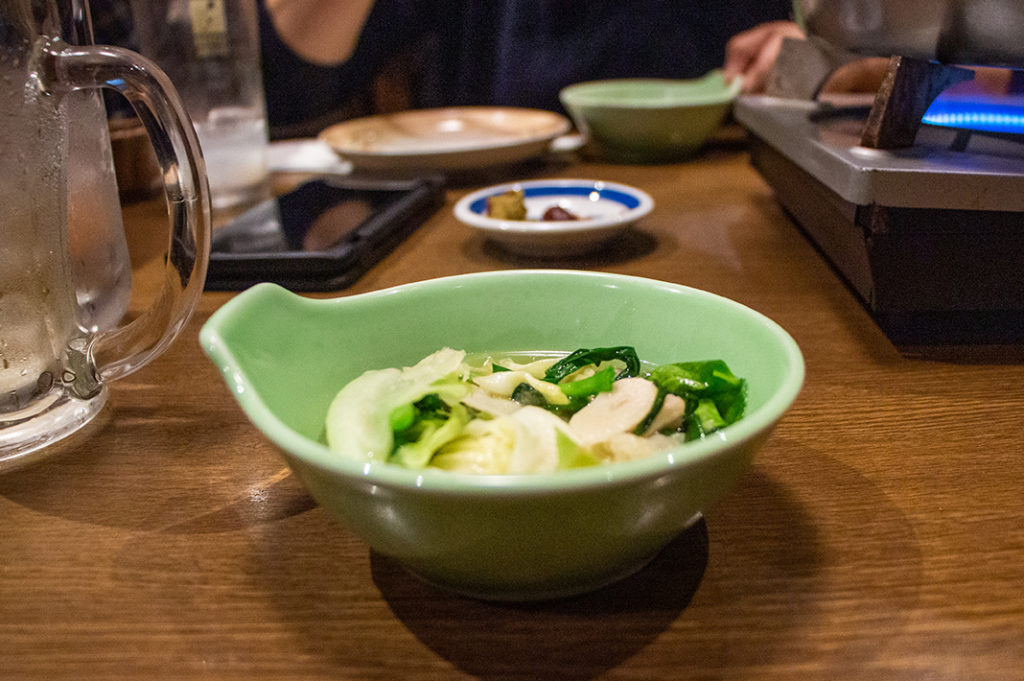 Every mouthful of this delicious, comforting dish made me happier and more content. I was so glad I'd stepped outside of my comfort zone, as I now have another beloved dish to seek out on a cold winter's night. It's amazing what's out there for you if you're just willing to try something new.
Where to eat Motsunabe
Motsunabe is famously Fukuokan, so if you're down Kyushu way, be sure to try it. It's not the only place you'll find it, though. This regional dish of Fukuoka has fans all over the nation and thus can be found in most cities. On Google maps, it seems they are listed as the enticingly named "Offal pot cooking restaurant"—you could try searching that or paste in the Japanese: もつ鍋. Enjoy!  
Post by Japan Journeys.