As one of Japan's oldest port cities, Fukuoka has long been an ideal spot for a hostel. Think about it; you've got sailors from China, Korea and beyond hanging around at night, jolly on sake, looking to swap language and culture. All they need is an appropriately cosy venue with gentle jazz and bean bags. Jump forward a few hundred years and enter WeBase Hakata, one of the exciting new hostel chains popping up around Japan. During a recent Kyushu trip, I decided to experience the Fukuoka hostel for myself. It would be my first time staying in one in twelve years; perhaps the memories of working in a dodgy hostel—or the movie franchise—put me off. But, more likely is the lack of hostels in Japan until recently. This is a gap that many travellers have felt over the years and that folks like WeBase are looking to fill.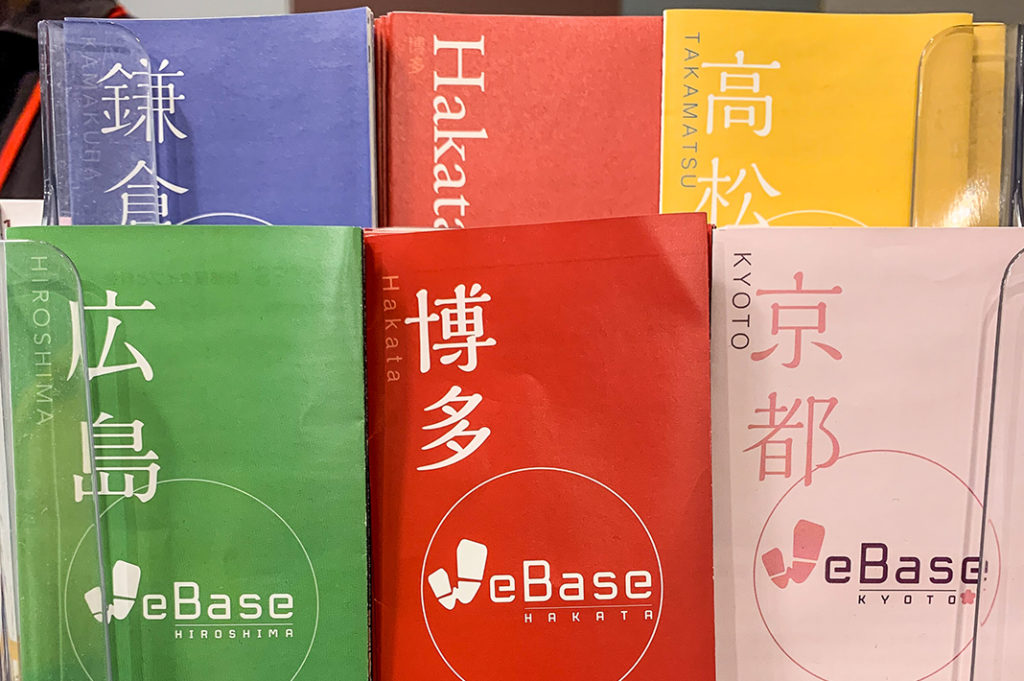 WeBase Hostels
A quick look at their website shows that WeBase offers budget-friendly travel to the global community. Though, from what the front desk staff explained, it's so much more than that. Their philosophy is centred around community, connection and cultural exchange. They want to see people come together, learn about Japan and share their culture in return. All their properties are in fun and fascinating places (WeBase Kamakura, WeBase Kyoto, WeBase Hiroshima and WeBase Takamatsu) which make it easy to experience said Japanese culture. The community spaces within the hostel are also designed with connection and community in mind, and staff love to see people having a chat.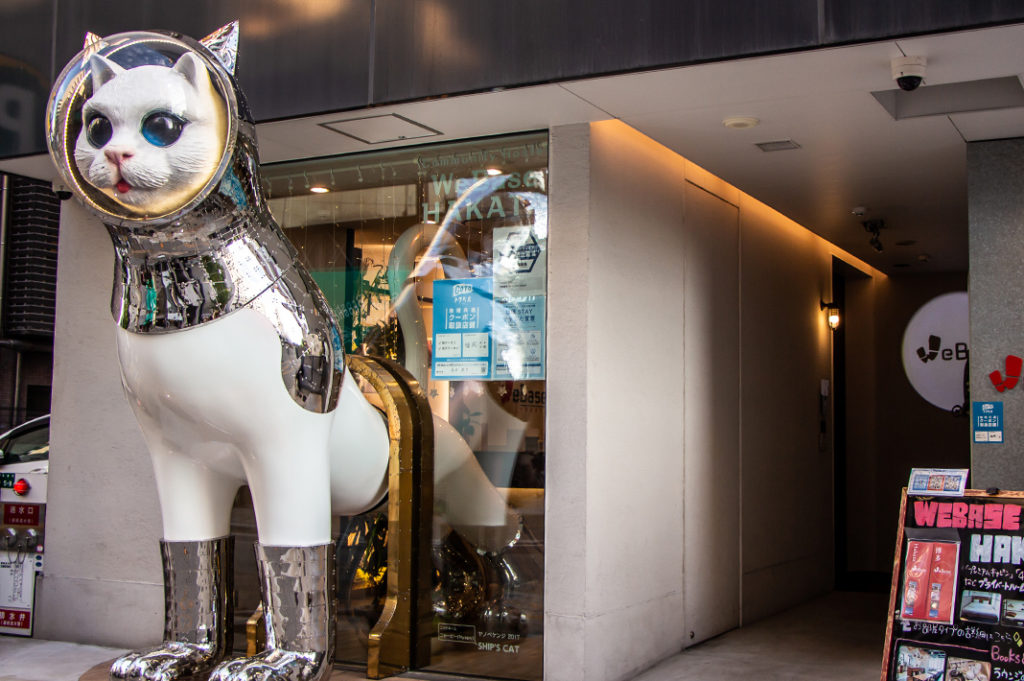 WeBase Hakata
The first thing I should mention about WeBase Hakata is the great location—just around the corner from Nakasukawabata Subway. It's only 8 minutes by train from JR Hakata Station and 15 minutes from Fukuoka Airport. (This is one accessible city.) It's well located in the Tenyamachi area which is a 5-minute walk to the Nakasu nightlife area and 10 minutes to the yatai food stalls at the tip of Nakasu. It's also worth noting that there is a 24-hour convenience store a few doors down that sells pretty much anything you could ever need.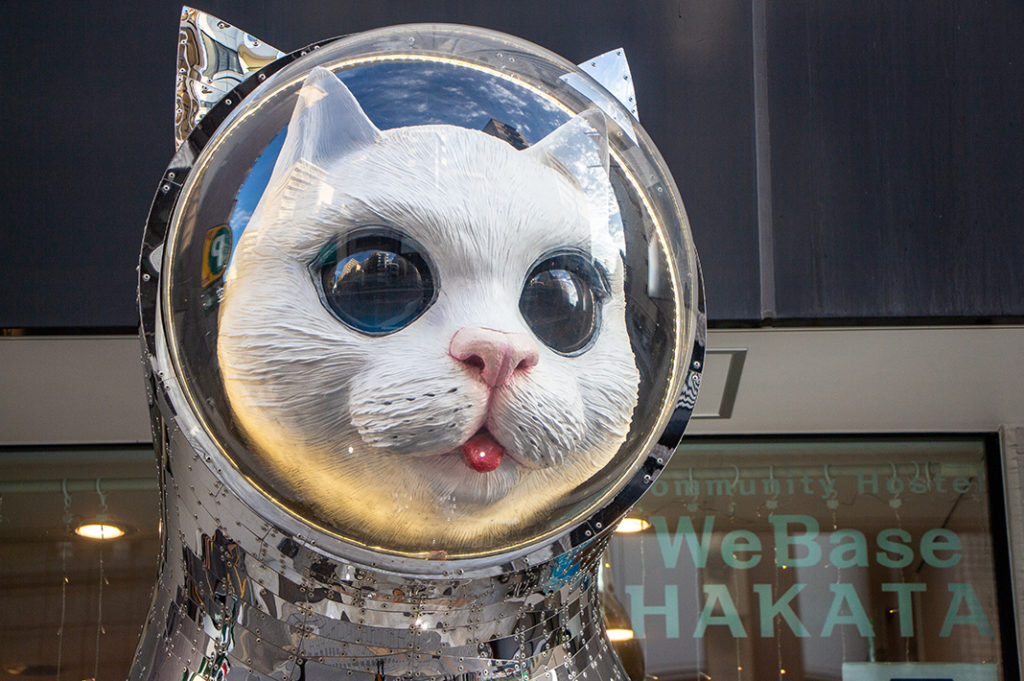 The Ship's Cat
If I'm working in chronological order of experience here, I have to talk about the cat. Approaching WeBase on foot, your eye is drawn to a gigantic statue of a cat emerging from the front window. Its big blue eyes shine out from behind what looks like a space helmet, and its little tongue pokes out playfully. As a cat person, I was sold. And, as it turns out, "Ship's Cat" is the symbol of WeBase, appearing throughout the design and in statue form at the Kamakura and Kyoto properties as well. A collaboration between artist Kenji Yanob and the Kyoto University of Art and Design, the cat pays homage to the idea that cats are guardian angels of voyages, which makes it a great presence to have around as a traveler.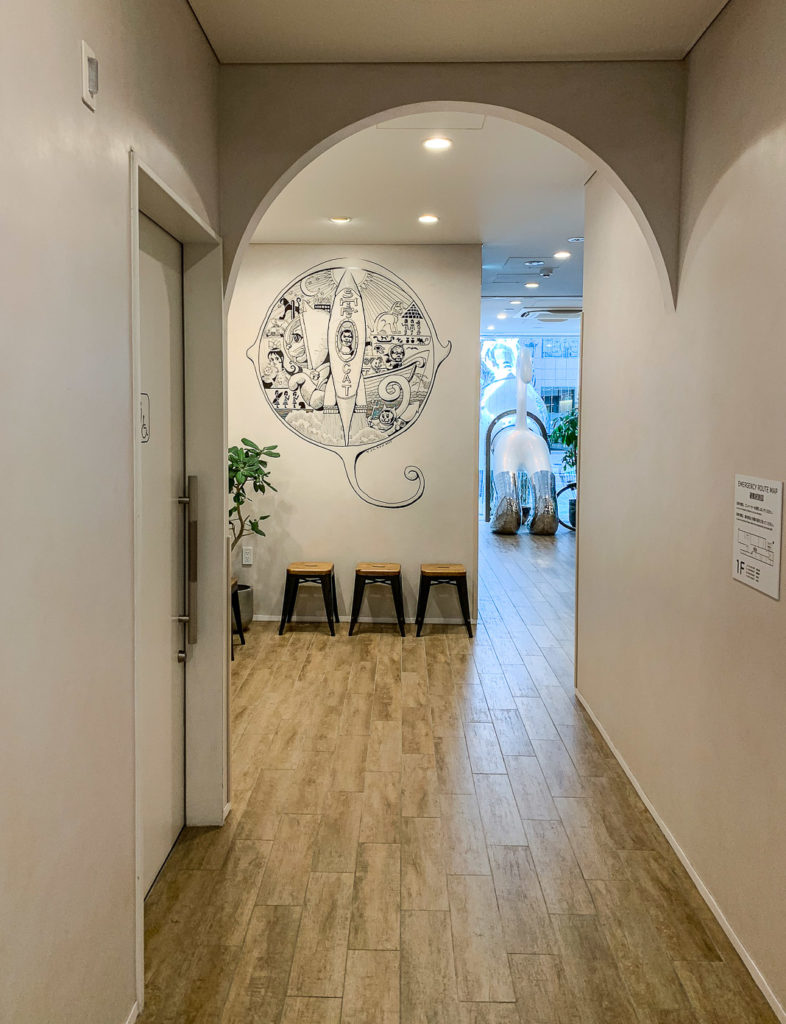 Service with a smile
The staff were super lovely and enquired about my travels. I explained about wanting to visit Ainoshima Cat Island and they quickly presented me with my very own "Ship's Cat" pin to keep me company and bring good luck. Everyone I spoke to had a high level of English, which is great for travelers coming with no Japanese. After the check-in schpiel, it was time to explore my quarters and the facilities.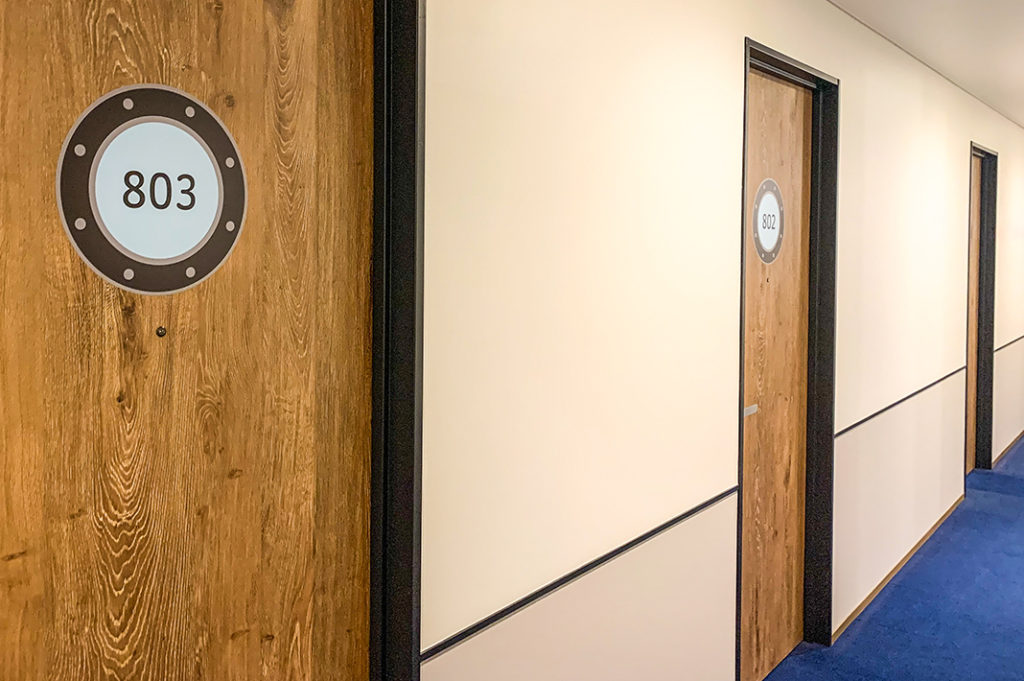 My quarters & other rooms
WeBase Hakata has 74 rooms over 9 floors ranging in price and configuration. Cheapest are the mixed dormitory 'capsule-style' beds in large dorms, followed by the 4-bed male or female rooms. Lastly are the private rooms with bunks or a King bed (the latter comes with a wall-mounted TV). All rates are reasonable, with discounts for longer stays.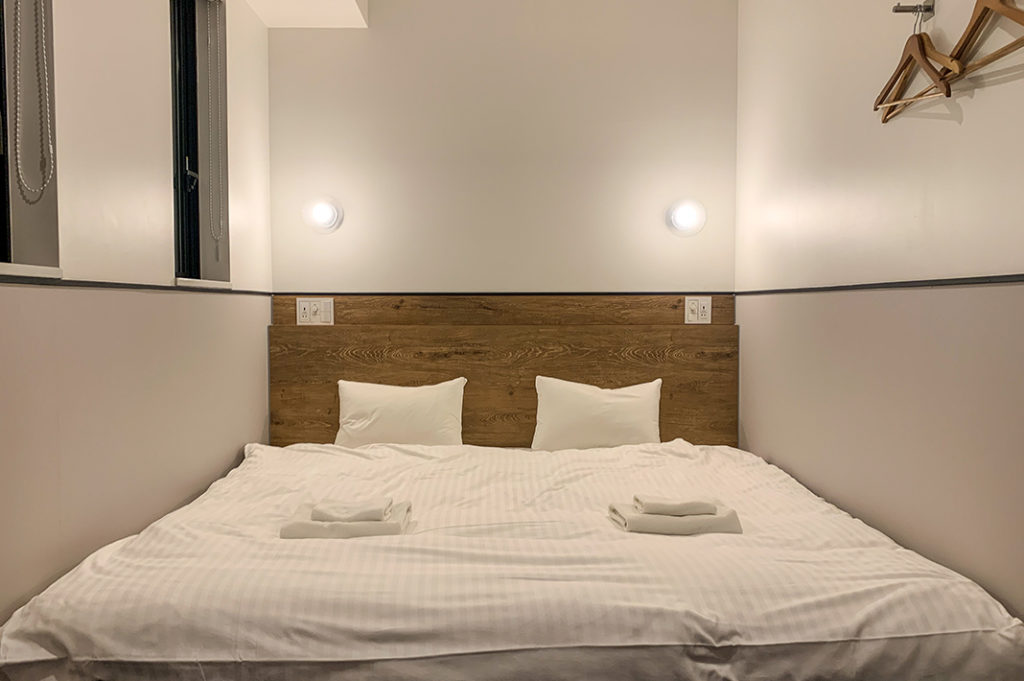 As my days were quite full, and the nights involved tinkering on my computer, I opted for the private room with a King bed. One side for me, one for my flyers, snacks and assorted technology. I've got nothing against shared dorms but as I was closer to work-mode than travel mode on this trip, I wanted space to focus. And by that I mean watch the 2020 US Election coverage in Japanese. During the day, I would lock my computer away in the in-room safe which are provided for every guest, even in the dorms.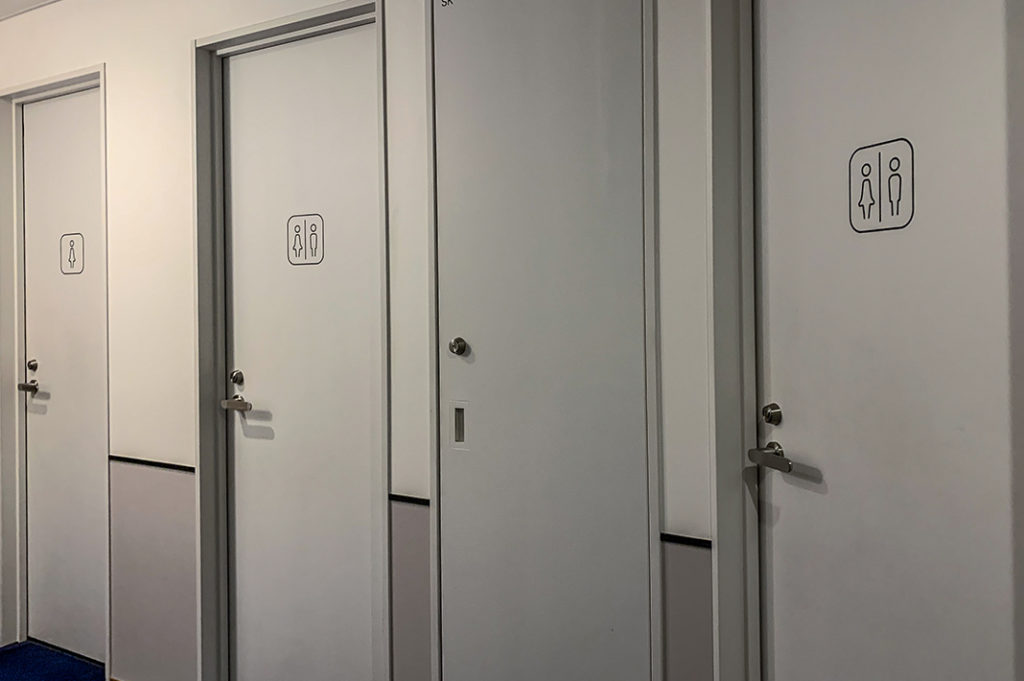 The WeBase rooms are all designed to resemble cabins on a ship, with porthole motifs on the doors. I found this added to the nautical feel of traveling through the Kyushu port cities. True to hostel style, no rooms contain private bathrooms, though each floor has nice shared toilets and washbasin areas.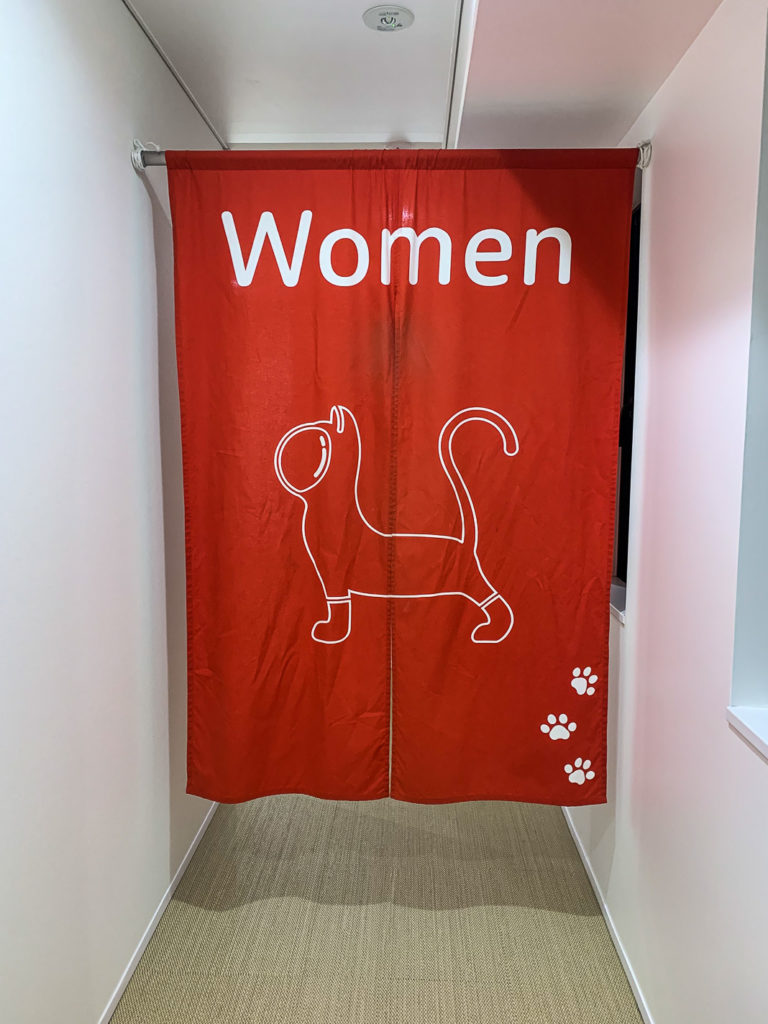 Exploring the facilities
After a long day of travelling, I grabbed the towels from my room and went to investigate the showers on the 2nd floor. Stepping through the curtain into the female-only area, I was delighted to see the space was as neat and clean as everything else. Each shower cubicle has a lockable accordion door, a dressing area and a shower stall complete with shampoo, conditioner and body wash.
Feeling fresh, I went back to my room only to be confronted with my less-than-fresh luggage. Thus, my next stop would be the 24H coin laundry on the ground floor. The coin-operated washers and dryers were very much appreciated and even had free laundry powder to refresh my whole operation.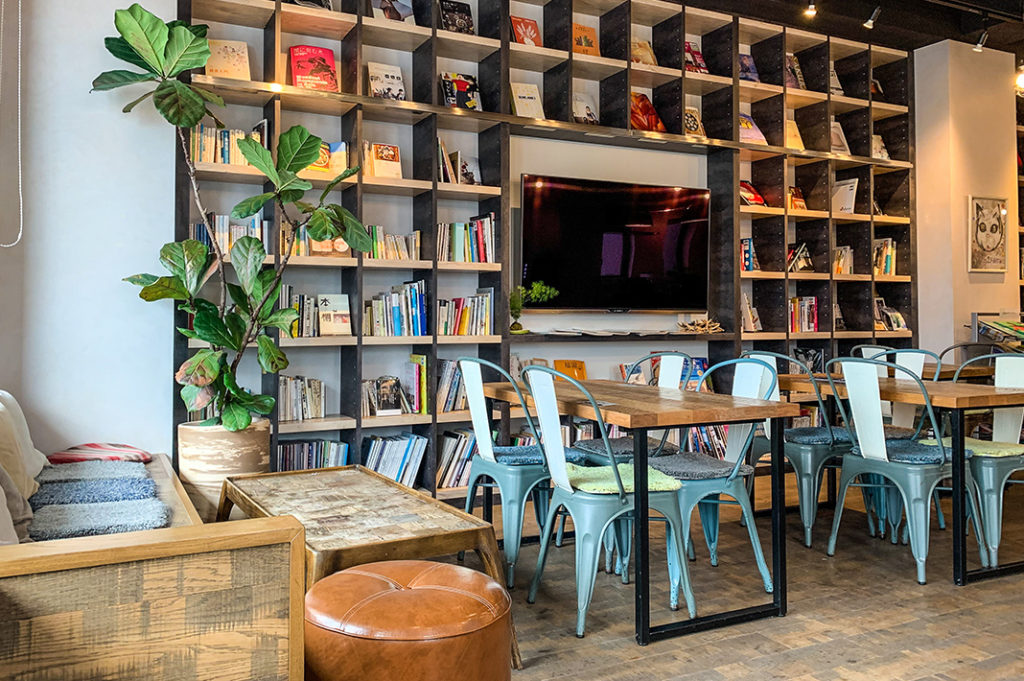 The common ground
The 9th-floor common space is part library, part living room, part kitchen. One wall is lined with bookshelves filled with thousands of titles for guests to peruse. There are tables and chairs and even bean bags to relax on.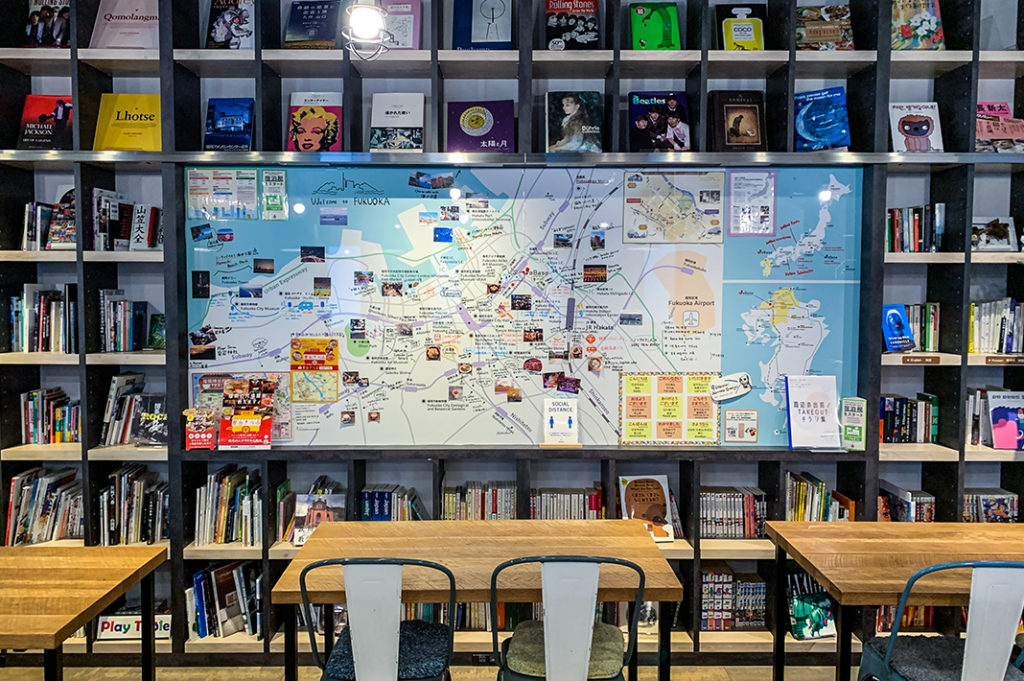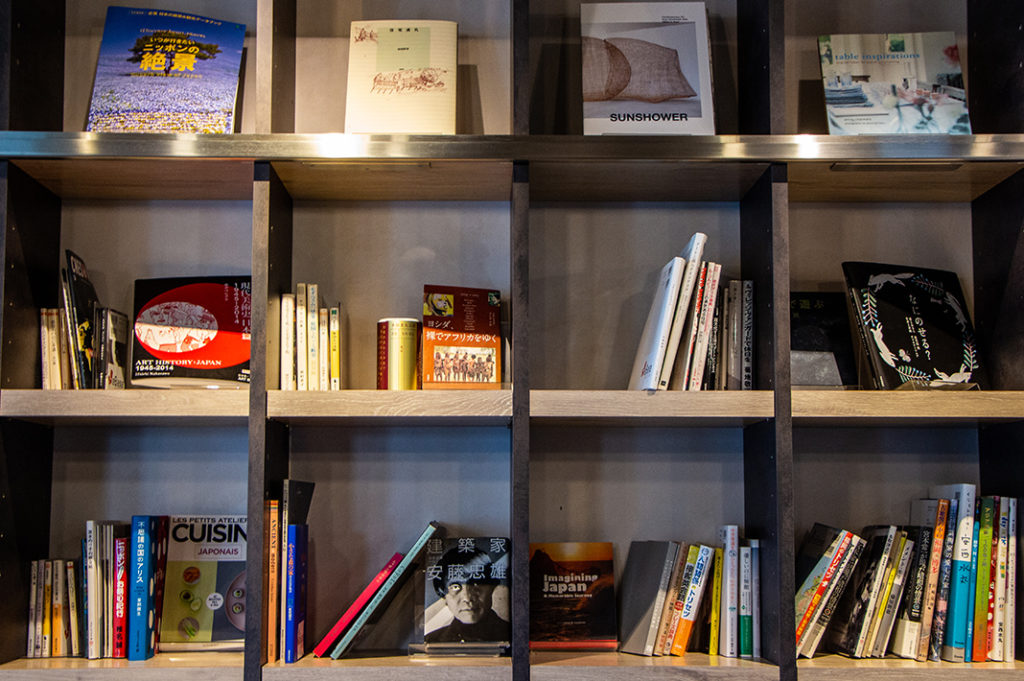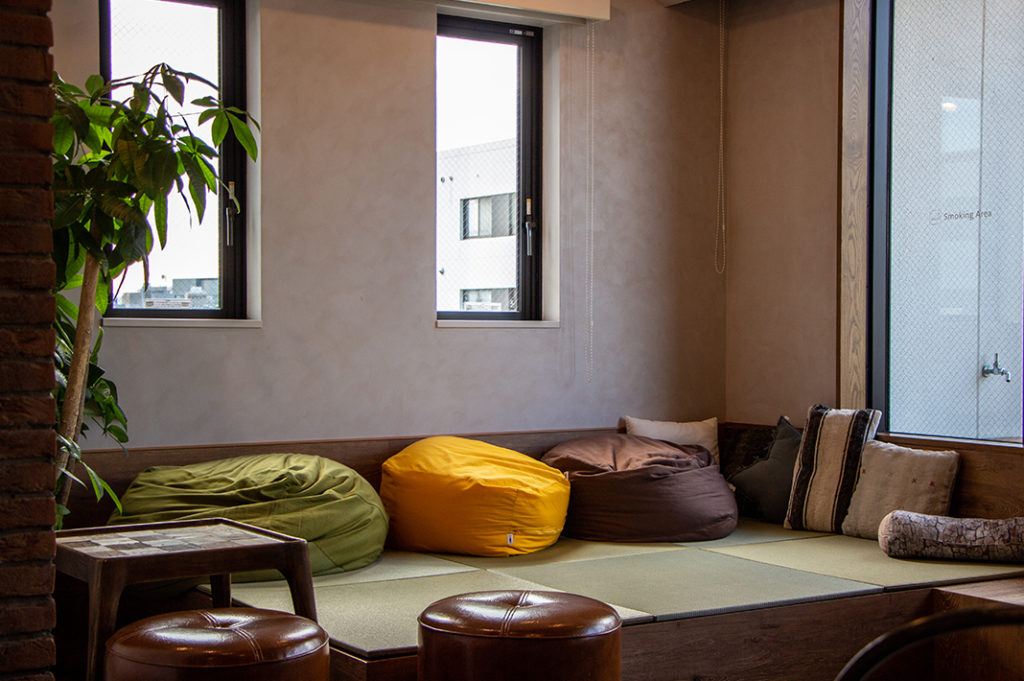 The other half of the room is taken up by the kitchen space—a fridge, coffee machine, microwave, toaster oven, sinks and all the crockery and cutlery you'd need. Like everywhere else, the space was fresh, modern and sparkling clean. Well, it was before I burnt my croissant in the toaster oven and sent black pastry flakes everywhere.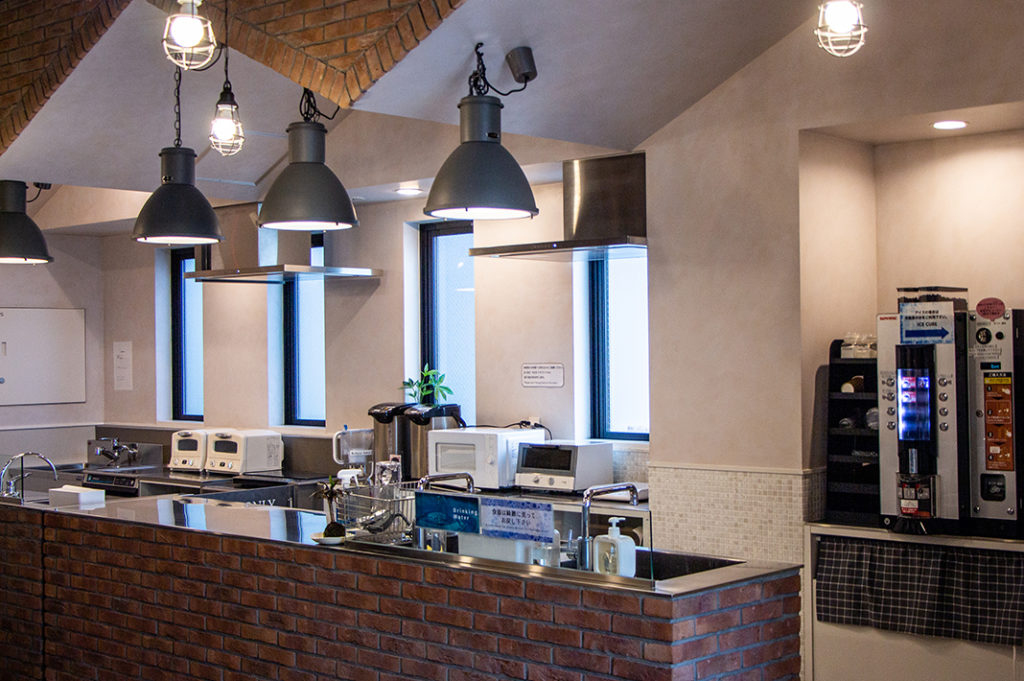 I did a little work in this space in the morning (thanks, free Wi-Fi), relaxed by the gentle jazz on the sound system and warmed by the morning light shining through the windows. It was so cosy in there that two guys quickly fell asleep on the beanbags. When it was time to clean up my dishes, I enjoyed a brief chat with a Japanese guy in the kitchen who had been writing in his journal. The staff said they usually have a good mix of foreign and domestic guests which makes for great mingling in these common spaces.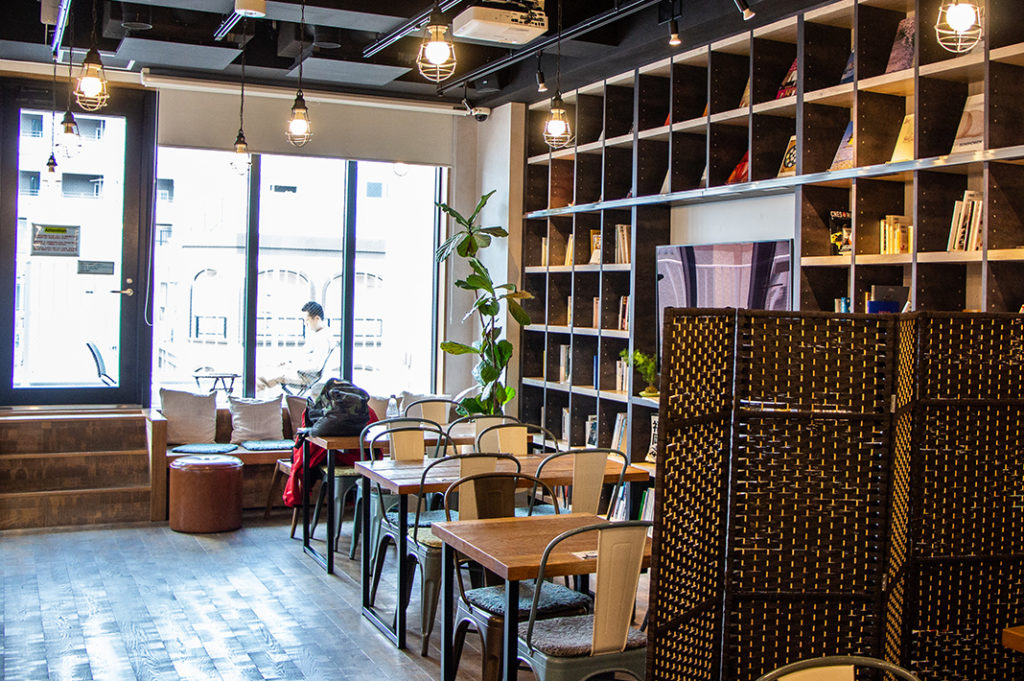 The final word on WeBase Hakata and Japanese Hostels
While some aspects of the hostel experience, like the shared spaces and the socialising, were familiar to me, I was impressed with the cleanliness, decor and the convenient facilities and amenities at WeBase Hakata. It felt bright and open and it was a cosy port to return home to at the end of a busy day—especially when greeted by a 9-foot tall cat! It certainly did a lot to replace the dodgy hostel memories I was carrying from my youth.
I'm excited to see more hostel chains and budget accommodation options arise in Japan as it really opens things up for solo travelers and the budget-conscious. I will always recommend splurging on a traditional Japanese accommodation experience in a ryokan, minshuku or shukubo, but a great budget option like this can really balance the books. Head to the website below to check out WeBase Hakata and find out more about their other great locations.
Name: WeBase Hakata
Address: 5-9 Tenyamachi, Hakata Ward, Fukuoka, 812-0025 (link)
Phone: 092-292-2322
Web: website | Instagram  
Post by Japan Journeys.