We follow our hostess through the twisting and turning hallways of the converted samurai-era estate, enjoying the occasional flashes of Japanese garden. We stopped momentarily to admire the giant wooden sake brewing equipment from a previous iteration of the building. She smiles as she introduces a barrel of soybeans, tofu being the house speciality at Tofuya Ukai in Tokyo. Earth, timber and stone surfaces blend together to form the aesthetic of a bygone era; the smoke-cured sunken hearth completes the picture.
For a bustling restaurant, it's quiet save for the shuffling of her slippered feet. Countless doors drift by with their neat rows of shoes lying in wait. Suddenly we find ourselves outside admiring koi carp from a small stone bridge. Our impromptu photography session is politely hurried along, as we have almost reached our private dining room.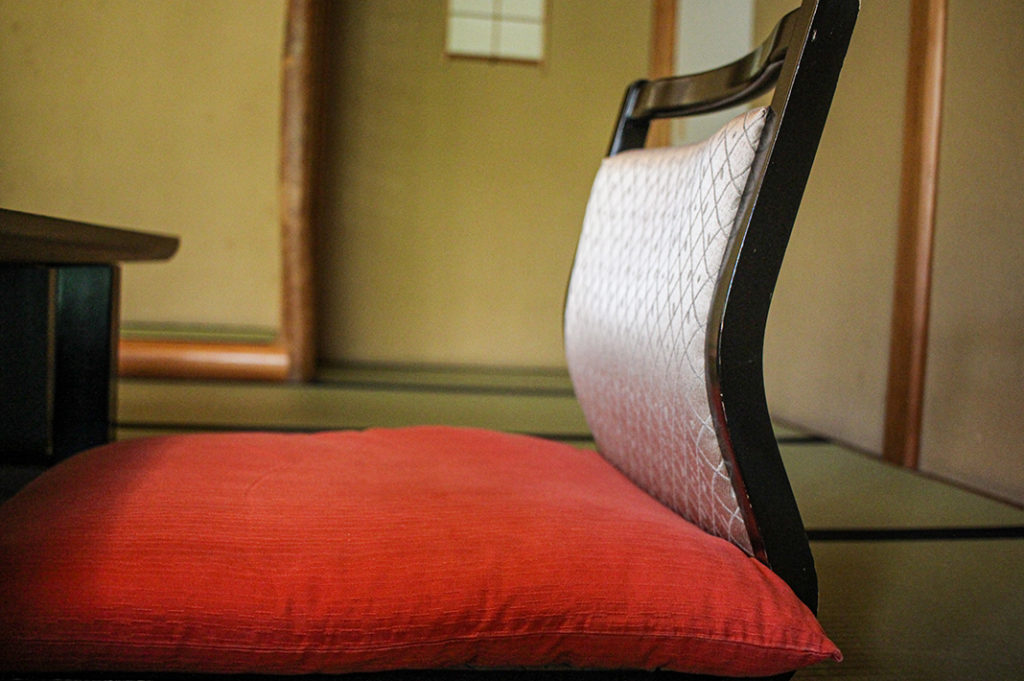 The room is traditionally decorated with tatami mat flooring and a glossy low table. Ours is horigotatsu style which features a recessed space under the table for your legs—no numb crossed legs here. Outside the large window lies 6,600m² of Japanese gardens, dotted with over 50 other private dining rooms like ours. Each one has a unique view of the lush vegetation, bridges, lanterns, waterwheels and koi carp ponds. In the daylight, sun dances through the leaves and at night, the whole scene is romantically lit.
A Sumptuous Kaiseki Menu
I sigh contentedly, making the steam from my tea dance, and read about the eight courses of seasonal produce ahead. This kaiseki style of dining is always such a pleasure. As Tofuya Ukai's specialty is tofu, you'll notice it featuring in a few of the courses. Be it simmered, fresh, mashed or fried, it is going to be some of the best you'll ever have. Why? Well, their workshop in the mountainous Okutama use only the finest Hokkaido soybeans to deliver fresh tofu daily to the restaurant.
Tofuya Ukai's fried tofu with miso is a dish I'll simply never forget. My mouth waters just thinking about that perfect crunchy coating and silky interior; that combination of sweet, smoky and umami that is an all-consuming joy.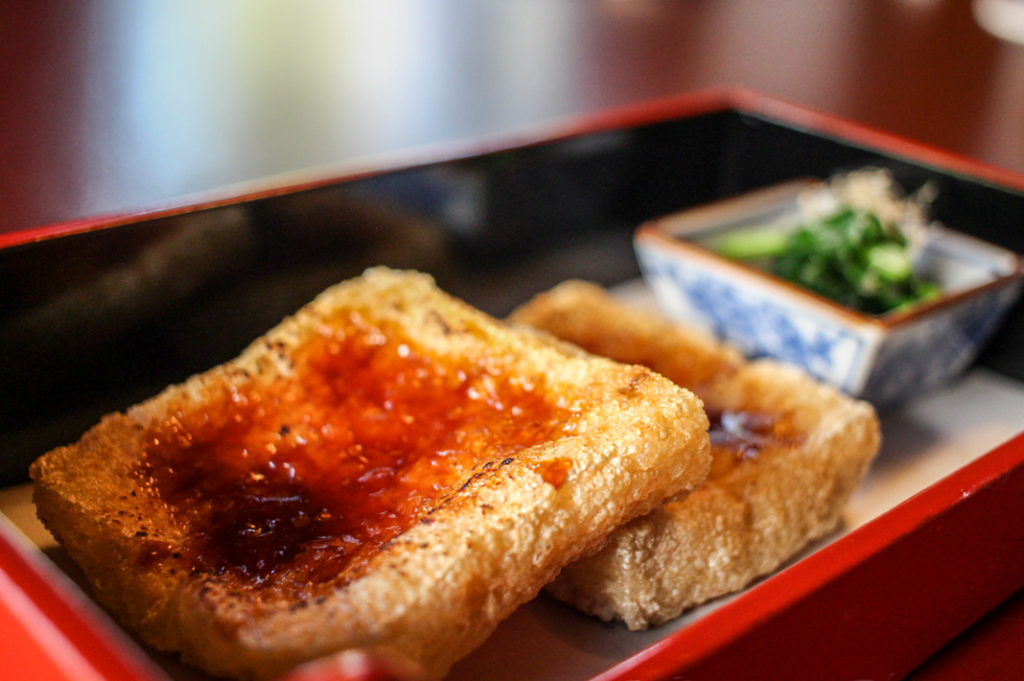 But that's not all they do well. Accompanying the tofu are things like sashimi, seafood, quail, simmered vegetables and even wagyu, depending on which menu you opt for. All seasonal, all high quality, all delicious.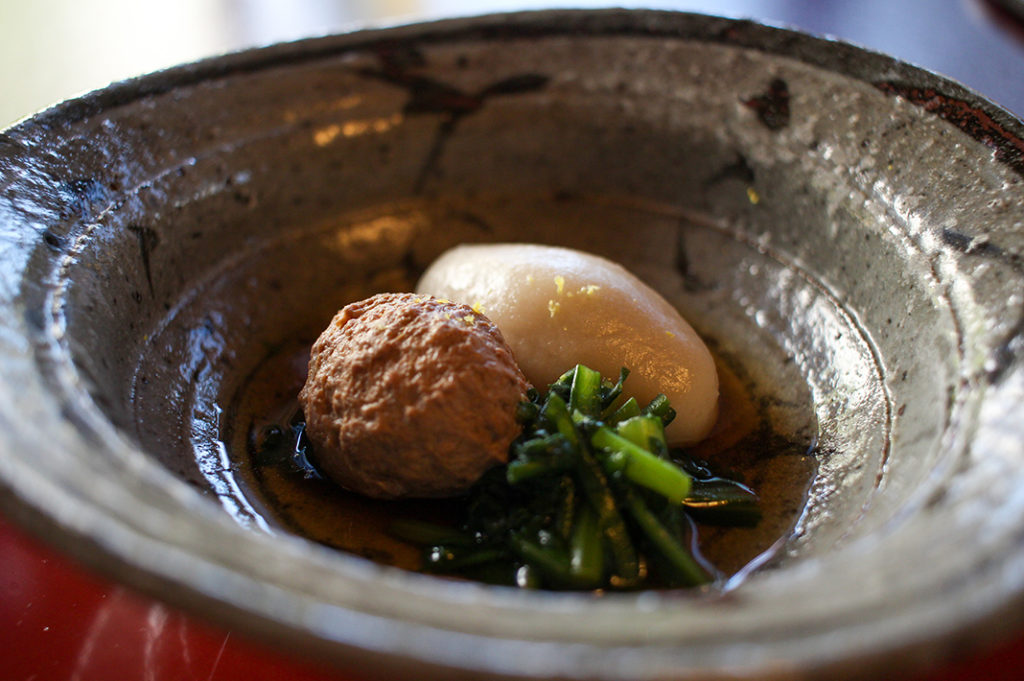 Our hostess knocks before entering, each time bringing a new tray of food. Once or twice she catches us in the middle of some serious photography sessions, though her good natured smile indicates she sees this all the time.
She holds back the sleeve of her robe while serving the simmered tofu, carefully ladling broth into our bowls before bowing and taking her leave.
Post-meal Bliss
After the last spoonful of soy milk caramel pudding, we sit for a while, utterly content, discussing our favourite dishes. Eventually we drag ourselves up, return to our shoes and make our way towards the front. However, there is no rush to leave; you can enjoy drinks in your room, wander the grounds or head to the Kisshou-an lounge, a chic blend of art-nouveau and traditional Japanese design. There, the bow-tied barman is ready and willing to whip you up something special.
Stepping outside, I quickly remember what century I'm in as I crane my neck to take in the whole of Tokyo Tower stretching up above the garden. Yet another charming juxtaposition of old and new that makes Tokyo so wonderful. 
Ukai Group
This level of quality, service and pristine setting is not unique. In fact, the Ukai group have many high-end properties specialising in a range of different cuisines. If tofu's not your thing, then perhaps one of their char-grilled chicken or beef-focused properties is more your speed. Whichever you choose, it's bound to be a memorable experience.
I know what you're thinking, 'The cost?' Well, not so exorbitant, really. Lunch courses range from ¥6,450–8,100 per person and dinner from ¥11,400–16,900 depending on how decadent you want to take it. If you're only going to have one special meal in Tokyo, I'd recommend considering Tofuya Ukai as that venue. Make sure you reserve ahead via their website!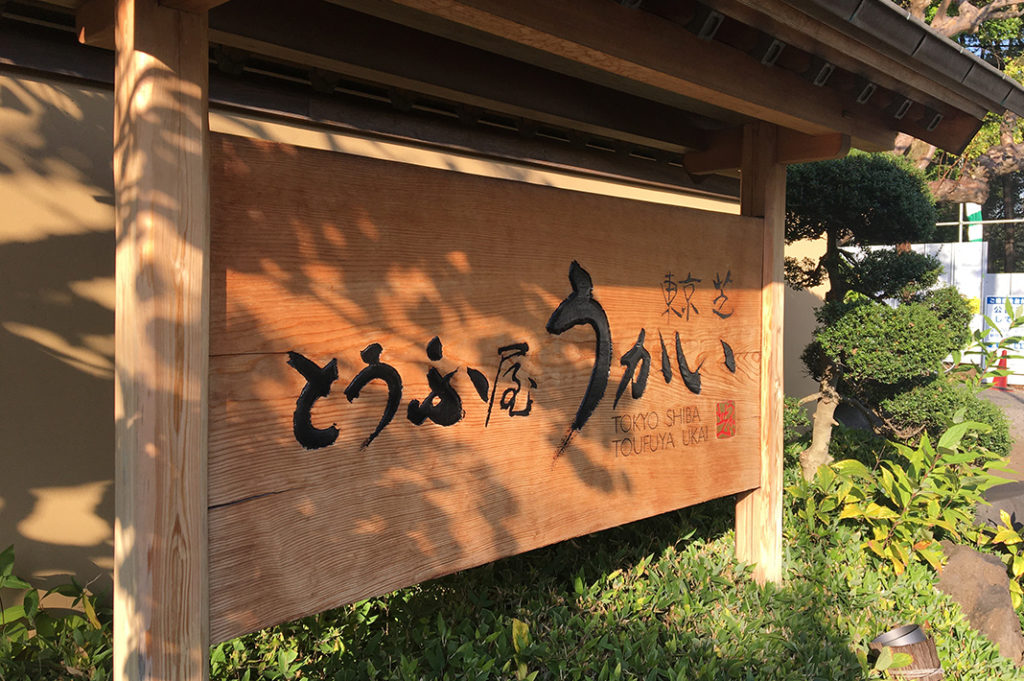 Getting to Tofuya Ukai
Tofuya Ukai is a 5-10 minute walk from either Shiba-koen Station, Kamiyacho Station or Akabane-Bashi Station.
Tofuya Ukai
Address: 4 Chome-4-13 Shibakoen, Minato City, Tokyo 105-0011
Open: Weekdays 11:45AM until 3PM and 5–10PM. Weekends 11AM until 10PM.
URL: https://www.ukai.co.jp/shiba/
Post by Japan Journeys.