Living in Tokyo you take some things for granted. Two of these things are cheap food and the high quality of ingredients used. Believe it or not, Torimero yakitori, a chain yakitori restaurant with 53 locations in Tokyo alone, and outlets throughout the country possess both these qualities. With 53 locations in Tokyo alone, you've definitely seen it around, even if it's your first time in Japan. There's usually a blue and white sign with a red illustrated bird as the logo and the numbers "199" in close proximity. They're pretty much trying to tell you that most things at this restaurant cost ¥199 (about $1.90 USD, $2.80 AUD or $1.70 EU). The restaurant is frequently in the B1 level or 2F or 5F. Look up or down when you get out of the station (really doesn't matter which station) you'll probably see one.
I know what you're thinking, "This is a chain restaurant, how can it be that good? The skewers are ¥199. How can it be that good?" Compared to many smaller more independent places in Tokyo, or Japan, you can probably find better quality. But, for what it is, Torimero yakitori is a great yakitori restaurant.
Japan chain restaurant vs American chain restaurant
And that there is the difference between Japan and countries in the west. In comparison, If you were to visit New York City, I'd never suggest you go to the Olive Garden for Italian food, or TGIFriday's for "American" food. The food is overly processed and not made fresh in the store. It is just reheated. In Japanese chain restaurants the quality of ingredients is higher, the additives less and the food is cooked fresh. Don't just take my word for it, you can see the chefs cooking the chicken on a grill in front of you.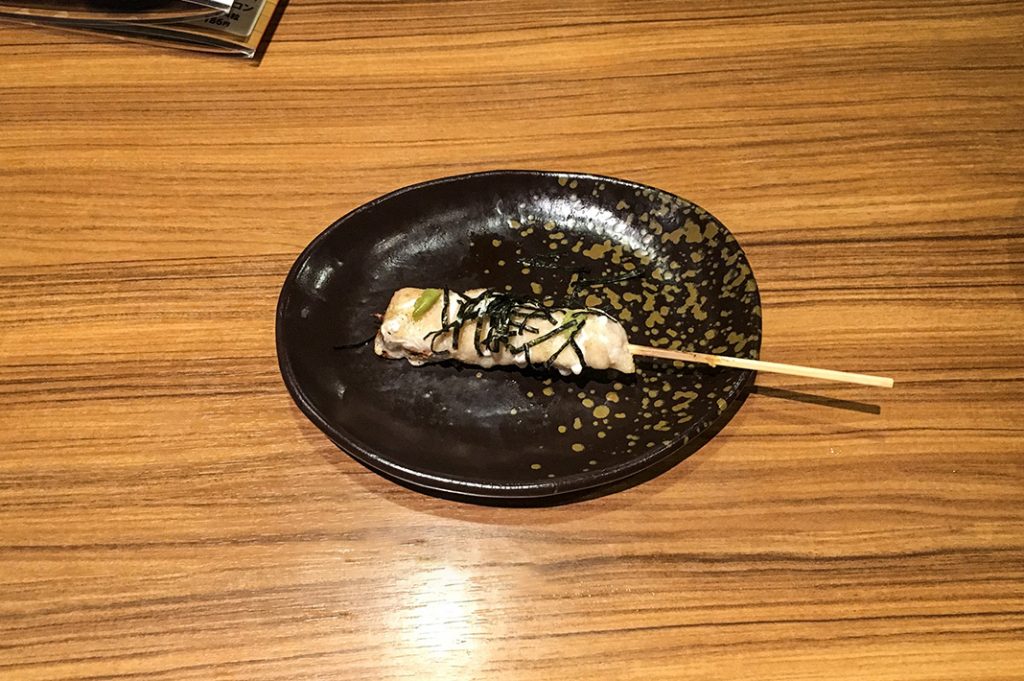 So what is Yakitori?
Let's define our terms. In Japanese "yaki" means grilled and "tori" means bird (or chicken). Yakitori is literally "grilled chicken". But, Yakitori is kind of a catch-all term. It's not all grilled chicken. There are grilled vegetables too. From shishito peppers to Negi (green onion) to shiitake mushrooms. Traditionally yakitori is grilled over bincho-tan charcoal which produces little smoke or flames, allowing for a more clean, pure taste of the chicken (or whatever is being grilled)
What is Torimero Yakitori?
Torimero yakitori is a Japanese chain restaurant. It is rarely on the ground level and usually is B1 or floor 3 or 5. That kinda gives it that hidden gem type feeling. Most locations don't have a counter. On the table will be a couple of different menus, there will be a button to press and there will be an Ipad type device. You can order 1 of 3 ways. You can type it into the ipad and hit send or you can press the button on the table and a server will come to you. There is also the traditional "sumimasen" yell across the room, it's up to you.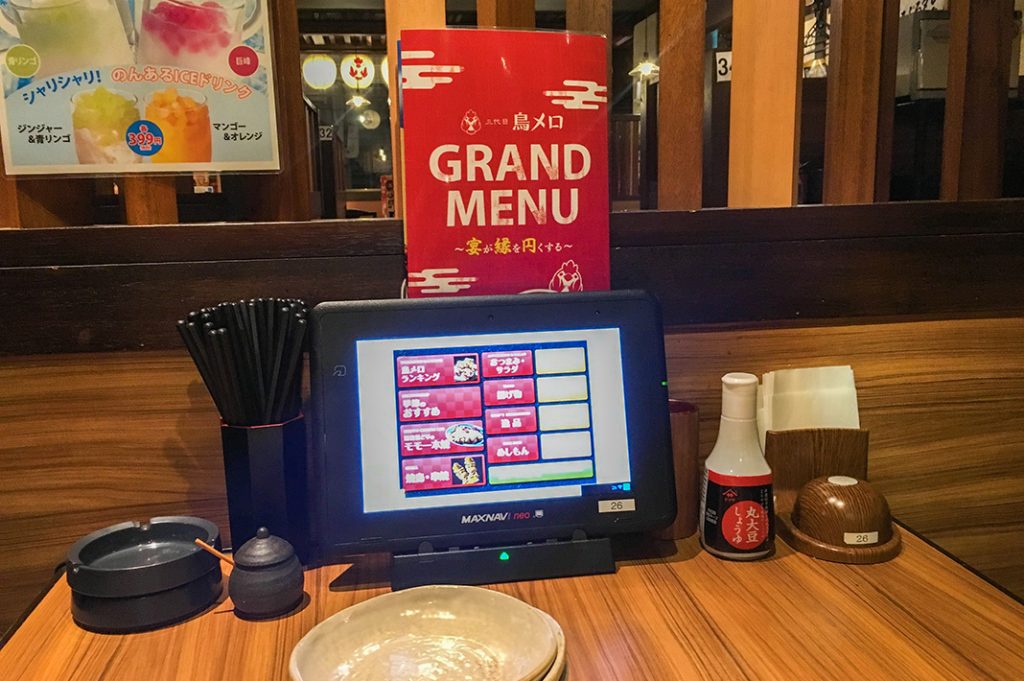 Cheap food and beer
The food and drink at Torimero Yakitori come as advertised. Most of the skewers are ¥199 or less as are the drinks. Most importantly, fresh draft beer mugs are ¥199. The popular lemon sour is ¥299. I searched the drink menu for the most expensive drink and it was ¥799 for a bottle of nihoshu (Japanese sake)
Ordering off the Ipad is probably the easiest route to go. Be warned, there is not much English on the Ipad, but there are pictures and that helps a great deal. I opted for a skewer of wasabi sasami and one of the "seasonal recommended" grilled garlic chicken dishes to eat. and an umeboshi sour to drink. The drink came out within minutes followed very soon after by the wasabi chicken skewer. The grilled chicken took a little bit longer and I soon found out why. The dish was delivered to me on a sizzling platter and there was at least 200g (about a 1/2 pound) of chicken thigh. My waiter cut it up into chopstick manageable pieces with a pair of cooking sheers.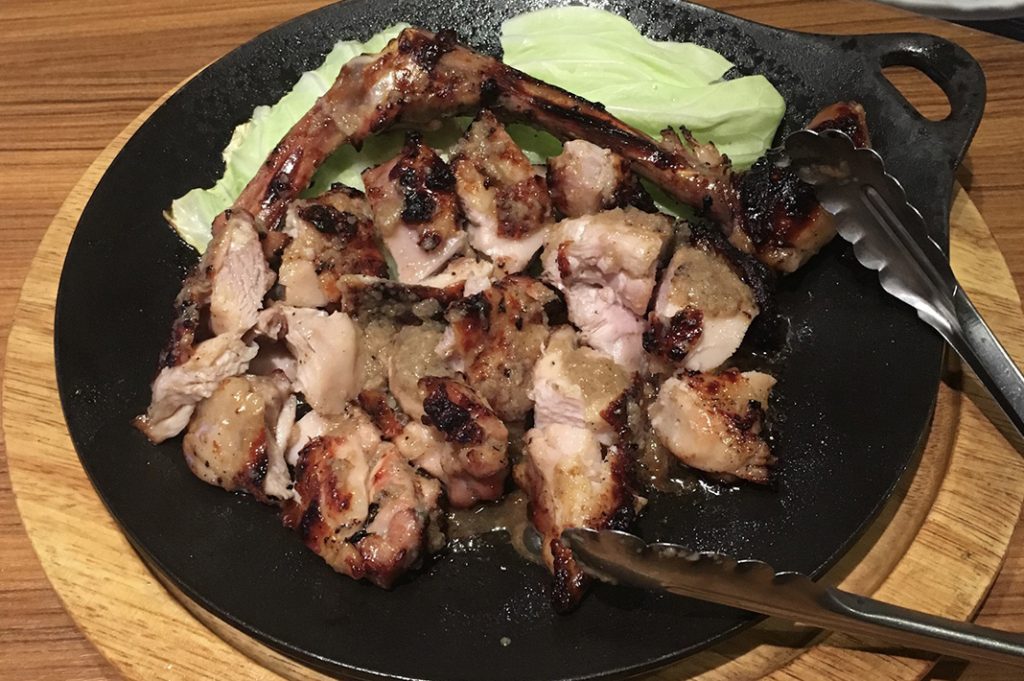 In the end, my bill came to ¥1200 (about $11 USD or $10Euro or $16AUD) for a heaping plate of juicy grilled chicken, a skewer and an alcoholic beverage and it was 1 AM. Whether it's early-afternoon or very late night (most locations are open till 3 AM), if your looking for cheap food, that's surprisingly high quality and easy to order, even if you don't speak Japanese, Torimero, with 52 locations in Tokyo is a great choice.
Torimero yakitori
Address: locations throughout Japan
Hours: Most locations 16:00 – 27:00 7 days a week
Website:https://torimero.com
Post by Japan Journeys