In the footsteps of Kobo Daishi.
Deep in the mountains of Wakayama prefecture, shrouded by a rolling sea of dark-hued cedar, lies a self-contained Buddhist mountain kingdom. The elevated town of Kōya-cho sits atop a mountain named Mount Kōya [高野山/Kōya-san]. In the year 816, after many long years of pilgrimage and refinement, the legendary monk Kūkai (posthumously named Kobo Daishi) created a home for Shingon Buddhism atop the mountain. Although born with simple beginnings, the town of Kōya-cho grew from a humble dwelling to an entire ecosystem of spiritual refinement.
Kūkai laid the foundations for much of Japan's Buddhist identity and development. Buddhist legend states that he engaged in a long search for an isolated place to immerse himself in meditation on the Shingon Buddhist way. Fortunately, his search was aided and approved of by the mountain's guardian Kami (spirits of the Shintō way). Although magnificent, the road to Kōya-san was trying and long. The mountain is surrounded in every direction by wave upon wave of pine-covered mountains, seemingly reaching into eternity. It stands at around 800 metres elevation, with steep and thickly forested slopes; navigating the terrain on foot was Kūkai's first challenge.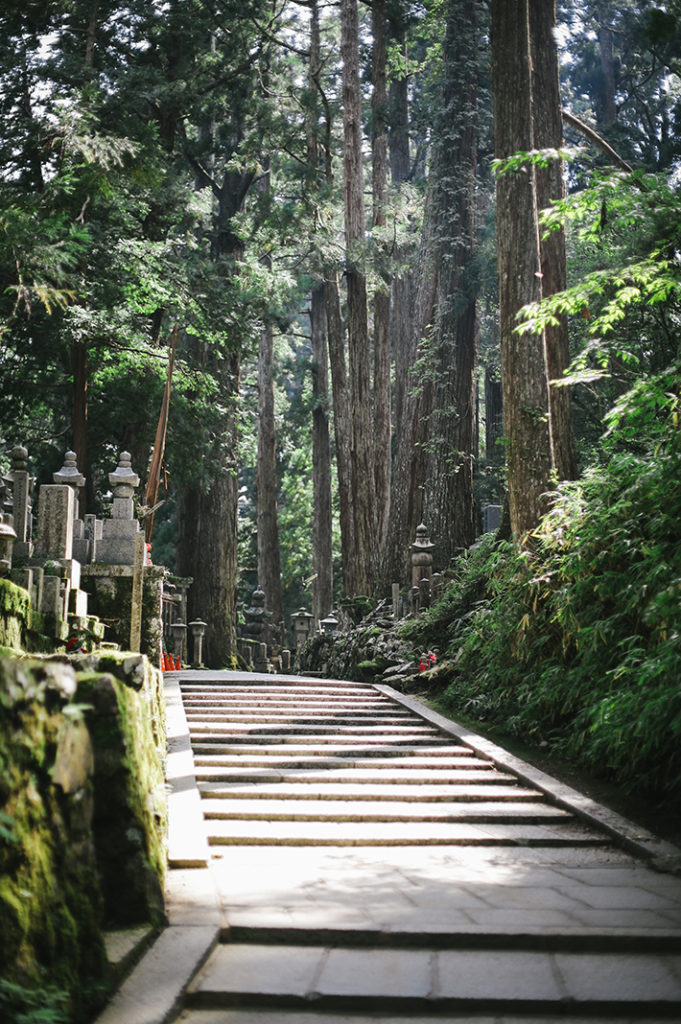 Kōya-san: a sanctuary at altitude.
Visitors to Kōya-cho are today mercifully blessed with a network of trains, buses and cable cars. Charmingly, they're often decorated in cheerful and thematic colours, as well as being the sole connectors of two separate worlds.
Although the town of Kōya-cho has grown to include full-time residents and a small industry that supports the many temples, the deeper reaches of the mountain remain hauntingly suspended in time. An evening visit to the great cemetery of Okuno-in leaves visitors feeling removed from reality; traversing a world of neither the living nor the dead. It is, without a doubt, one of Japan's most moving and profound experiences.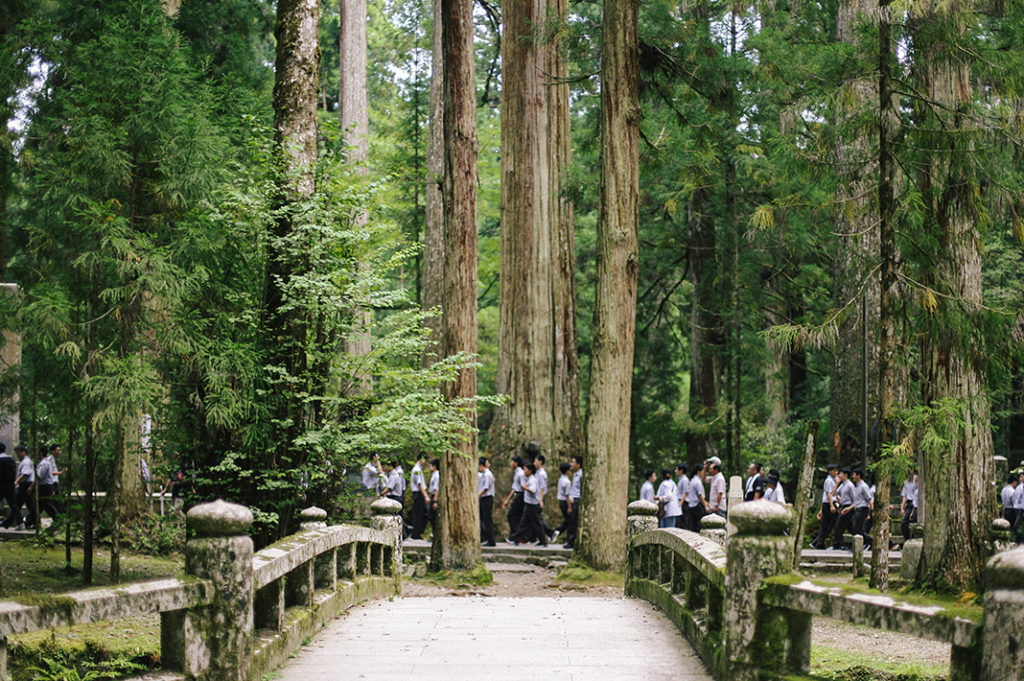 Monastic? Fantastic.
In a fusion of modern tourism and historical authenticity, the Kōya experience allows visitors to stay in one of many Buddhist temples located throughout the town. All of these temples are fully functioning places of worship and are the residence of Kōya-cho's many ordained monks. However, the premises of all have been extended to include traditional ryokan facilities, including guests rooms and self-contained sentō.
A stay at one of the temple ryōkan also includes a traditional Japanese dinner and breakfast, with a twist. Named Shōjin-ryōri, the temple's food is the authentic fare of Buddhist monks. It is entirely vegetarian and made within the region of Wakayama. However, Shōjin-ryōri can be difficult to sample in day-to-day life in Japan. Luckily, a visit to a temple in Kōya-cho will provide a unique culinary experience in addition to a breathtaking immersion in nature and spirituality.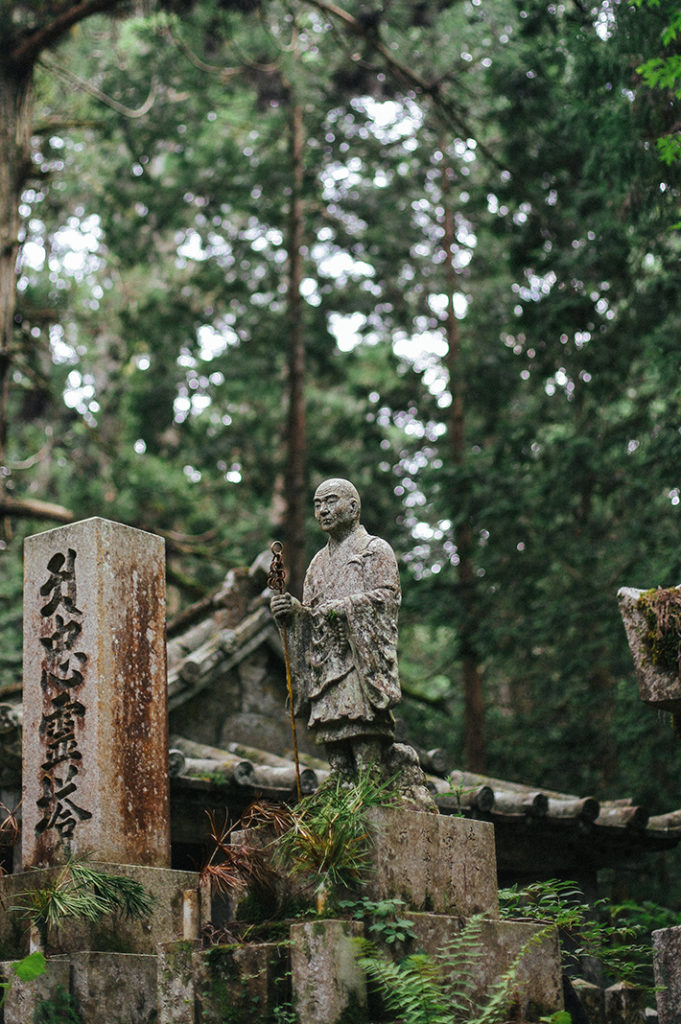 Moss and stone; heart and soul.
The enduring spirit of Kōya-san resides in the 1200 year old cemetery of Okuno-in. Therefore, to refer to Okuno-in as a 'cemetery' is something of an over-simplification. Above all, it would be better described as the living soul of 1200 years of growing, changing culture in Japan. Its great age carries the many layers of Japanese history that shaped the path of religion in the country. Shinto torii crammed and jostled in-between Buddhist Ihai (grave name-plates) and stone monuments. To the onlooker, the two separate faiths existing as one are a perfect representation of the dualistic nature of faith and worship in Japan.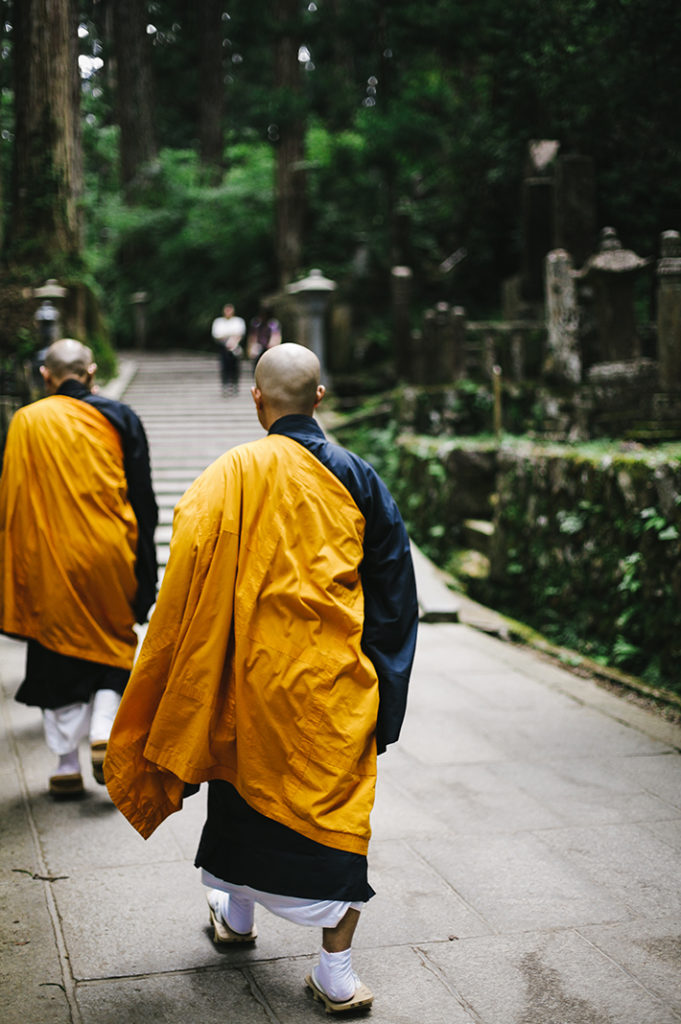 Spirited away.
Stone lanterns both great and small gently illuminate the two kilometre path that meanders through the dense pine forest. The profound silence that saturates the air of Okuno-in is an element in its own right; a hundred lifetimes of silent footsteps, whispered prayers and flickering candles. As such, walking the length of Okuno-in as night advances feels like a retreat through time time; the sights and sounds of modernity fade into the darkness.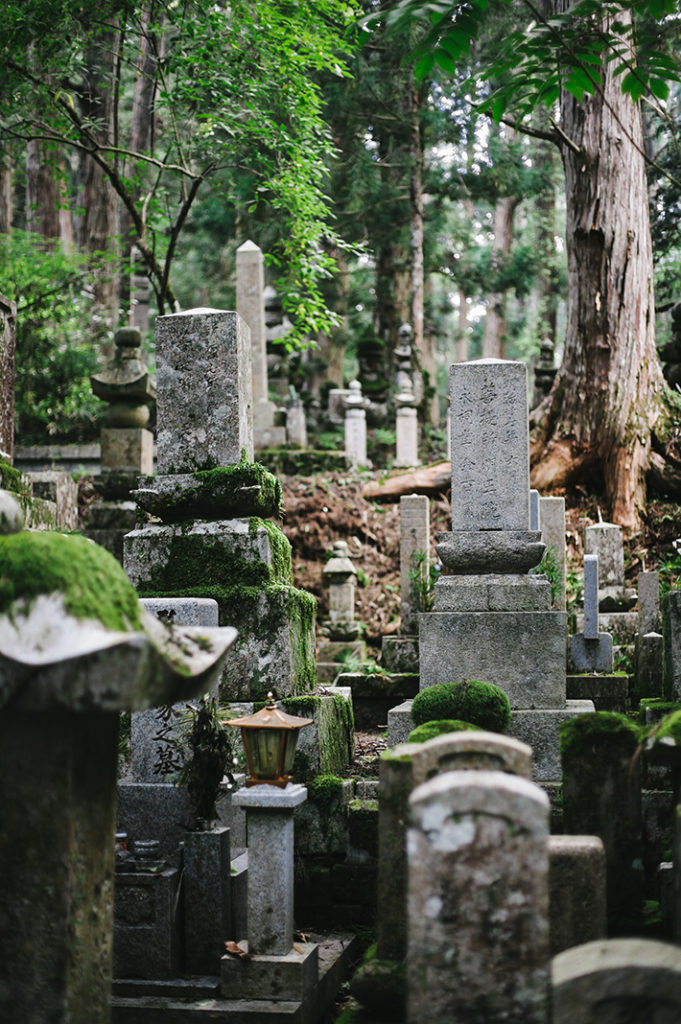 The long stone path has endless diversions and offshoots. In daylight, wanderers will be unable to resist exploring these winding pathways; they each contain a microcosm of stonework, tiny shinto shrines and Buddhist statues. Always, the sanguine faces of Jizō and Kan'non watch over the tombs; kindly and with a knowing smile. These branching walkways are unlit and hidden at night, adding to the sense of being in a separate world.
Walking through nearly 200,000 pillars of stone adorned with ancient scripts can often feel mystifying for those who don't read Japanese. There are stacks of characters painted onto wooden Ihai and etched into stone pillars; most are names and dates pertaining to those whom they commemorate. Because Okuno-in terminates in a mausoleum enshrining the eternal soul of Kobo Daishi, it's natural that many of Japan's feudal lords and most prestigious Buddhist families are laid to rest close at hand.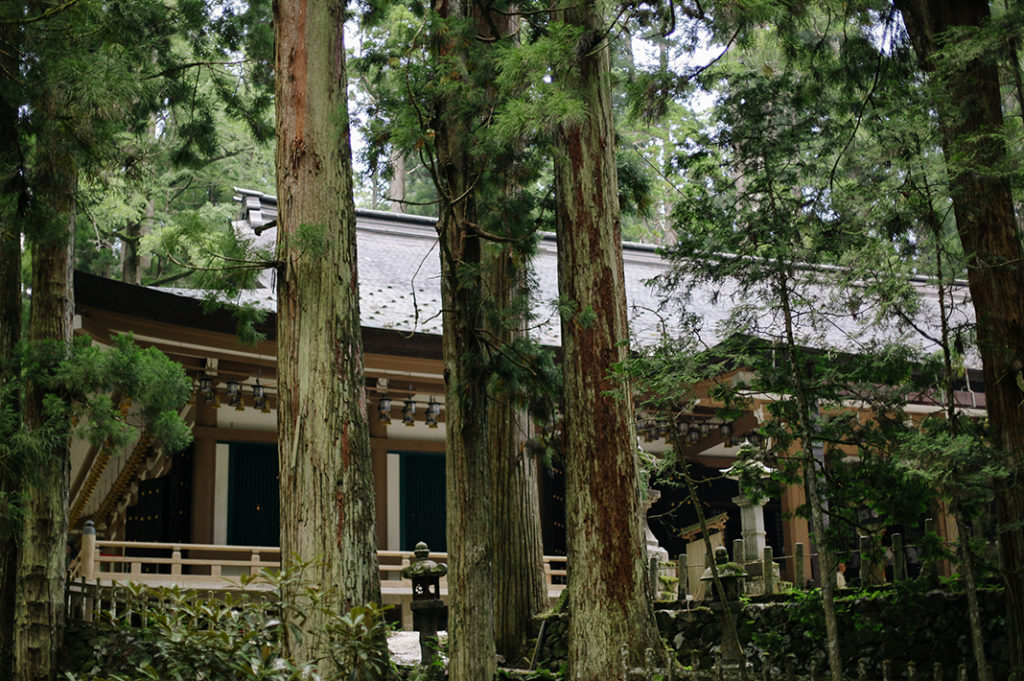 A place to rest.
Indeed, it is the mausoleum (Nokotsu-dō) around which Okuno-in's spirit revolves. From its eaves, hundreds of lanterns flicker in the night; a glowing heart wrapped in the humid silence of the forest's core. Taking photos inside the Nokotsu-dō and Toro-dō (hall of lanterns) is strictly forbidden. However, official photos provided by Wakayama's tourism board are available online. Fortunately, they offer exclusive looks at the mausoleum's interiors and should be more than enough to tempt visitors to make their own pilgrimage to the heart of the forest.
The long and peaceful walk can be undertaken at any time, as Okuno-in never fully closes. Yet, to fully appreciate the depth and magnitude of the route, it is best to start and finish at a newer entrance which is located at the 'Okuno-in-mae' bus stop. This area houses some enormous monoliths and towering cedar trees and should not be missed. Additionally, you may notice that Japanese people entering from this pathway stop and bow before crossing the stone bridge that serves as the entryway to the forest. Be sure to follow their lead and pay your respects to the eternal spirit of Kobo Daishi. Don't forget to turn around, face the forest and bow again as you exit – Japanese style!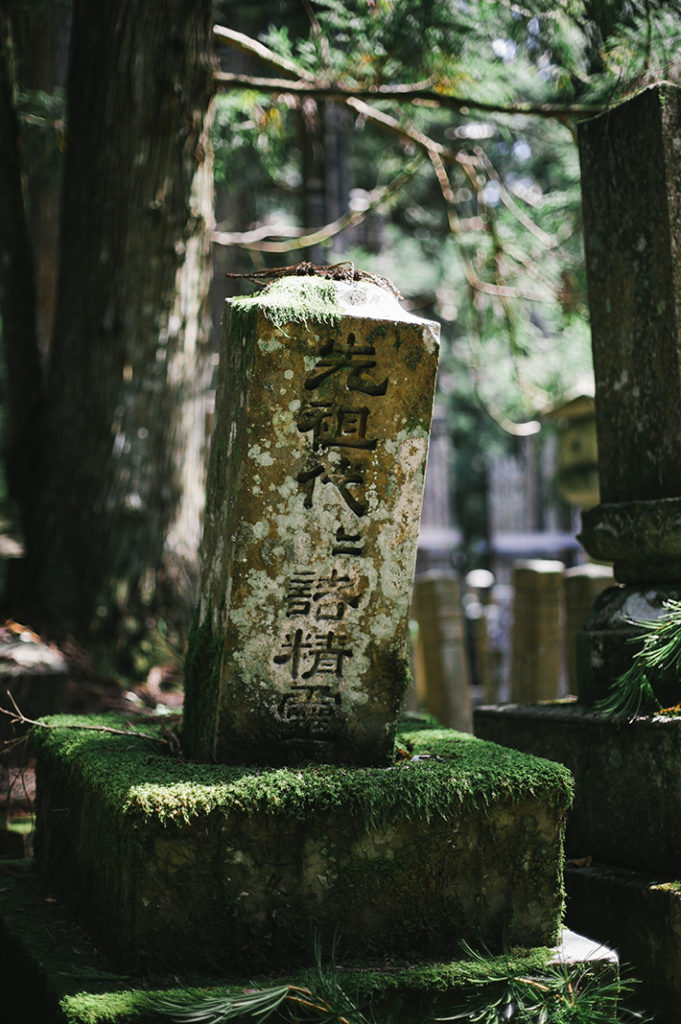 A seasonal experience.
Japan's four distinct seasons greatly affect life on Mount Kōya. Winter is long and coats the world in thick snow, halting public access to the mountain and lasting well into spring. However, the same heightened elevation also offers some respite from the punishing crush of Japan's summer humidity.
Unfortunately, the heavy rains of rainy season and occasional typhoons can disrupt travel to Kōya-san. As such, be prepared for possible travel disruption in June and September. Summer nights are ideal for walking the length of Okuno-in, as the humidity creates a balmy glow around the pathway's hundreds of lanterns. Early morning mists also create an air of magic in the forest, if you're awake early enough to catch them. Unfortunately, you'll need to bring abundant high-strength insect repellant if visiting in summer.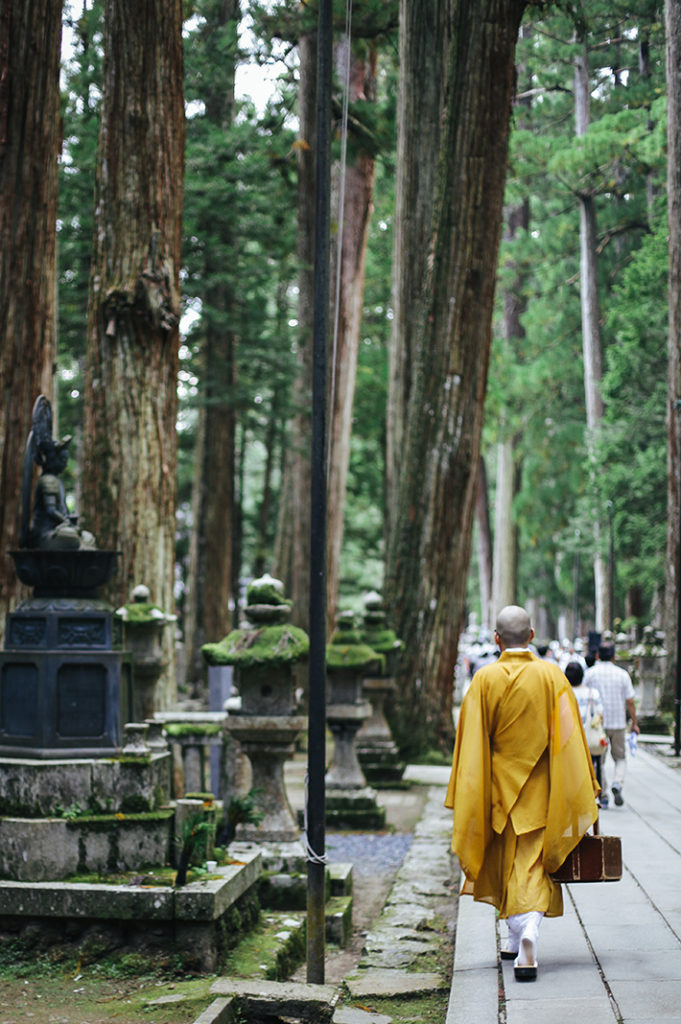 A modern pilgrimage.
Access to Kōya-san begins at the Namba Nankai train station in Ōsaka. Purchasing the 'Kōya World Heritage Pass' is advisable for an overnight stay, as it grants discounts in the town of Koya and covers bus and train travel. Conveniently, it can be bought one month in advance or on the day of travel from multiple Nankai train stations (Namba and Shin-Imamiya are most commonly used). It's usually best to buy on the day you travel.
The train journey to Kōya-san is as vertiginous as it is breathtaking. You'll ride the train from Namba Nankai to Gokurakubashi station, which is the end of 'rapid' line. There are express trains that go directly, or regular trains that require a change at Hashimoto. Then, at Gokurakubashi, take a brisk walk to the Kōya-san cable car end enjoy the view as you ride to the top. From the cable car terminal, take a look at the bus timetable and board the appropriate bus. After the long journey, you'll want to find your lodgings and drop off any heavy bags first. The Kōya-san experience was designed with overseas tourists in mind and is entirely accessible to English speakers. Despite this, it's best practice to try and speak Japanese to the staff, monks and residents of Kōya-san – even if you know very little.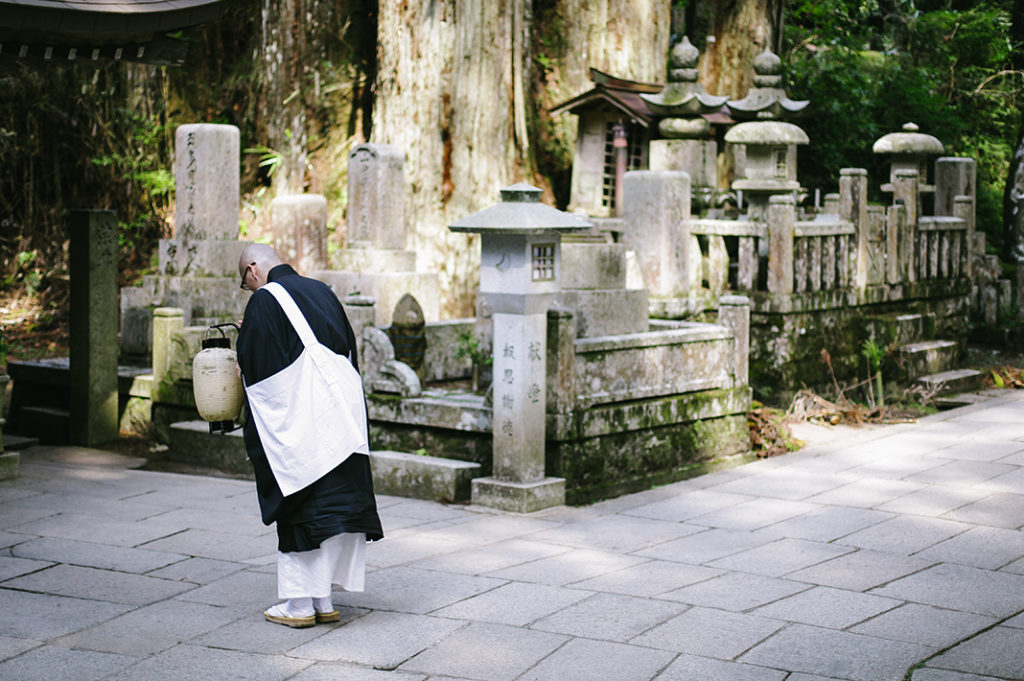 Take me there!
Being no exception to Japan's well-crafted selection of adventures, Kōya-san has a variety of useful official and experience-focused websites to help you plan.
Crucially, when looking up accurate train times, Hyperdia is an excellent website and many Japanese and non-Japanese residents of Japan use it daily. A separate article covering the temple stays of Kōya-san is upcoming, but three of the best can be found here: Kumagaiji [熊谷時] – Ekoin [恵光院] – Saizenin [西禅院].
Finally, the most important piece of preparation for a visit to Kōya-san lies in your state of mind. It isn't a place of rushing, box-ticking and selfie sticks. Forget the outside world for a day or two; put your phone away. Eat well, walk slow, and listen to the forest at night. You'll return feeling profoundly renewed.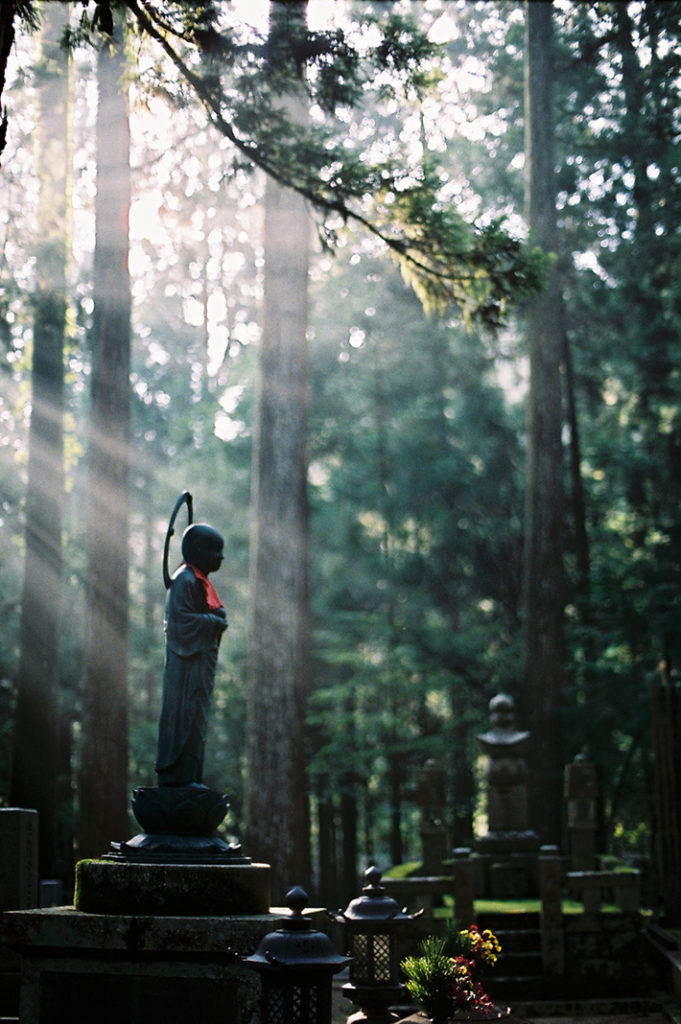 Post by Japan Journeys.