If you only have a limited time in Tokyo, you'll no doubt be getting creative with your scheduling. For those looking for a view, a drink, some food and a rest…The Peak Bar is the place for you. Located on the 41st floor of the Park Hyatt Hotel (yes, the Lost in Translation hotel!) in Shinjuku, the Peak Bar offers cocktails, canapés, views and much, much more.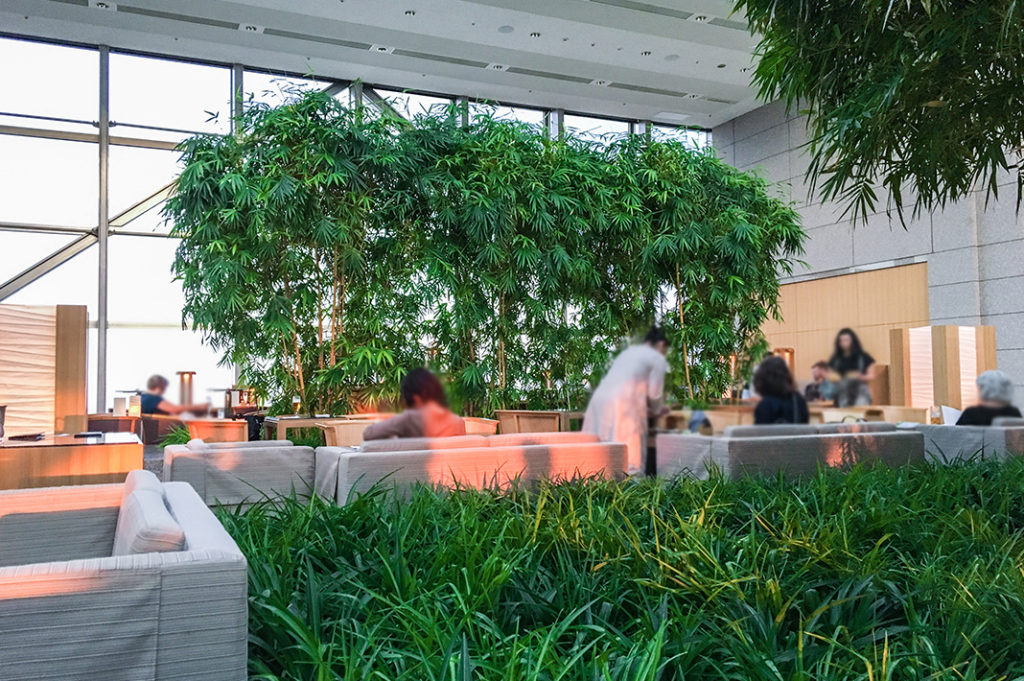 Classy Vibes at the Peak Lounge
As the elevator doors open onto the atrium, it's hard not to be impressed. Around you, tall bamboo creates natural looking screening while paper lanterns let off a warm glow. Gentle lounge music plays in the background as bow-tied staff weave around the lounges with drinks. To maintain decorum, the Peak Lounge and Bar has a dress code. As such, there won't be a sports jersey or singlet in sight. If you love a bare male shoulder, you're out of luck.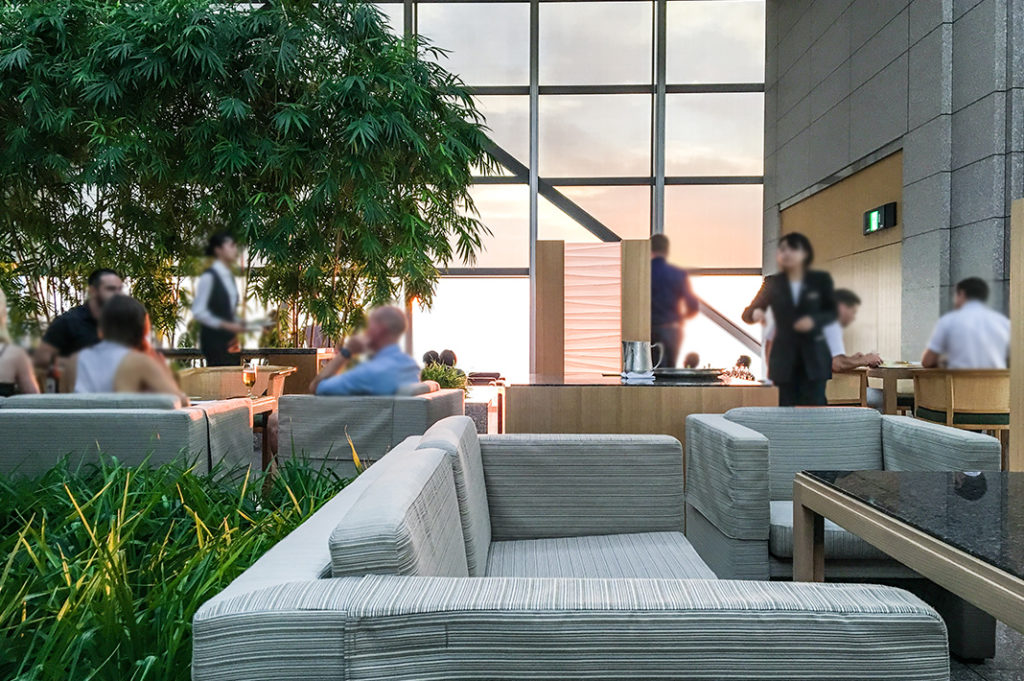 Technically, the atrium is split into two establishments. Standing with your back to the elevators, the area to the left and ahead of you is the Peak Lounge—open from 11:00am. They offer a la carte drinks, food and special treats like afternoon tea.
The area to your right is the Peak Bar. If you happen to be there around 5:00pm on a weekend, you may notice a queue of people forming. And for good reason.
Twilight Time at The Peak Bar
The Peak Bar hold a daily event called 'Twilight Time' which is essentially bottomless drinks and canapés from 5:00pm–8:00pm. Costing around ¥6,000 per person, it is a rather civilised way to spend a few hours. All you have to do is arrive by 5:00pm and wait for a staff member to assign you a table. If you are late, there may not be space near the canapés, but they will seat you in the Peak Lounge nearby.
You can order drinks at the circular bar or with the English speaking waiters who will address you as sir or ma'am. The menu features a fine range of beer, wine, spirits and cocktails, but if you ask nicely, they might mix you something not on the menu.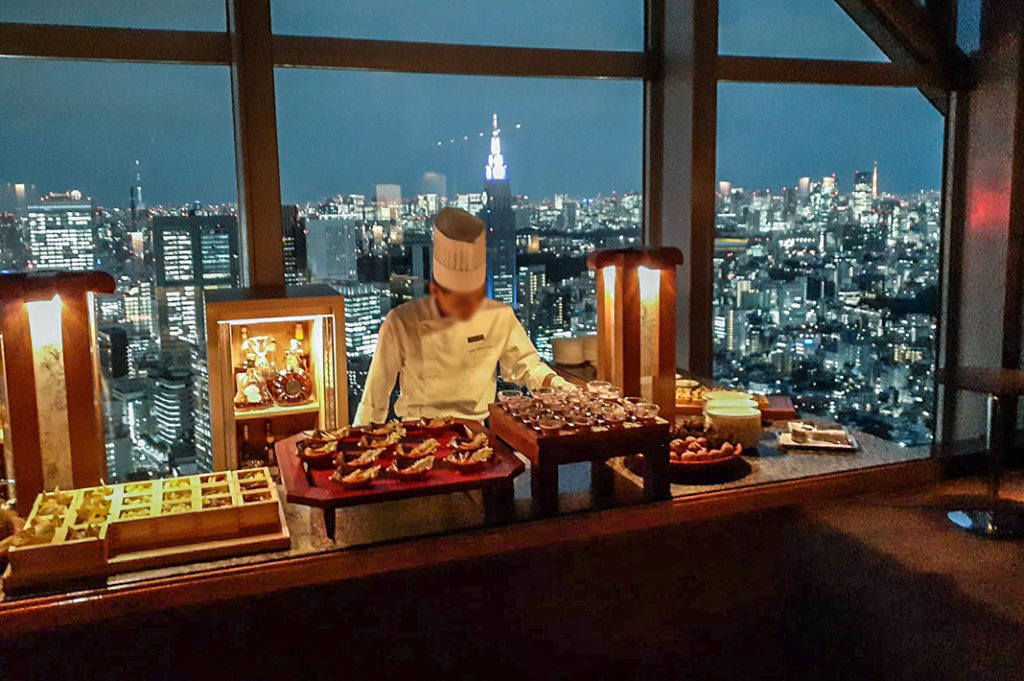 Food wise, the canapé station is constantly refilled with things like shot glasses of soup, small tarts and boxes of beer snacks. Staff members also occasionally come around with trays of hot canapés of beef, pork, fish etc. It's the kind of upmarket experience you can get used to.
The Tokyo Views
From the 41st floor, you can enjoy panoramic views of Tokyo and, if the weather is clear, even spot Mount Fuji. By timing your visit right, you can enjoy the daylight views as well as sparkling night cityscapes. It's not called 'Twilight Time' for nothing!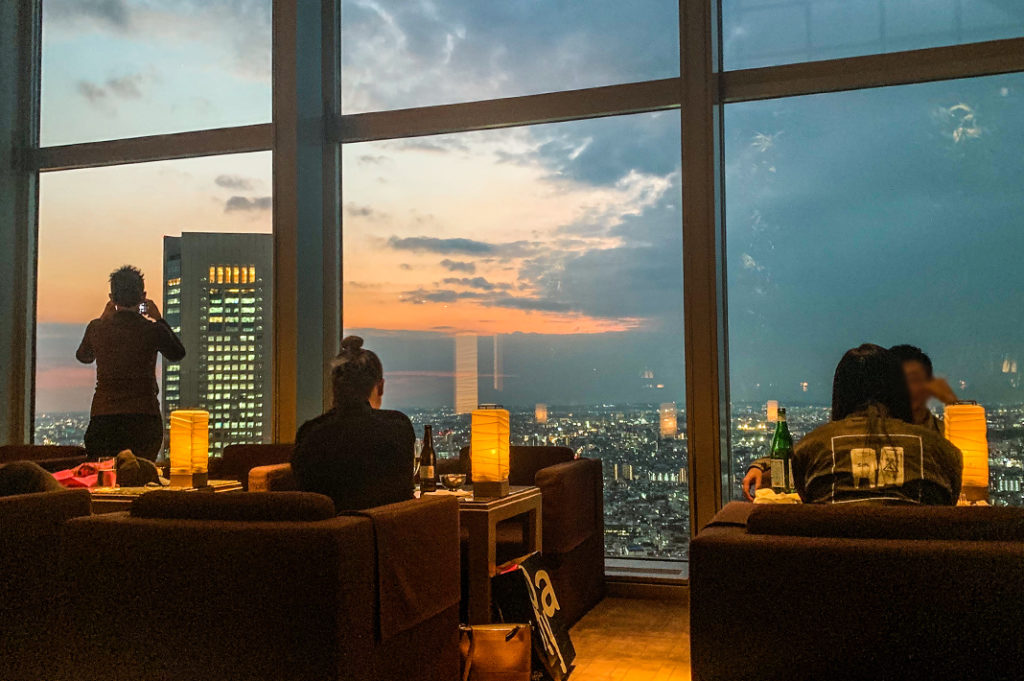 Of course, sunset varies by month, occurring as early as 4:30pm in November/December and as late as 7:00pm in June/July. Check ahead of your visit to be sure. Due to the popular views, the Peak Bar also play host to other events like the New Year's Eve Countdown.
Once 'Twilight Time' is over, make one last visit to the fancy bathrooms with their actual hand towels and perfumed hand cream, before stepping back out into reality. If you're still in need of a nightcap, head down Shinjuku's Kabukicho or Golden Gai for a grittier, but nonetheless enjoyable, end to the night. As you raise the cheap draft beer to your lips, among a veritable sea of bare male shoulders and sports jerseys, you'll catch a waft of your citrus hand cream and remember the time you were on top of the world—well, Tokyo.
The Peak Bar
Address: Level 41, Park Hyatt Hotel, 3-7-12 Shinjuku, Tokyo,
Open: 5:00p.m–11:00p.m. daily
URL: https://restaurants.tokyo.park.hyatt.co.jp/en/pbr.html
Post by Japan Journeys.