We returned from island life to the Okinawan mainland with a day to kill. Soon we would be up at a resort lazing at yet another beach, but for the time being, we had to find something to do in or around Naha. Looking at the guidebook, we couldn't find much nearby that piqued our interest, but something called Okinawa World was only a 45-minute bus ride away. Promising one of the largest cave systems in Okinawa, we decided to make the trip.
Getting There
The bus to Okinawa World left from the main Naha bus terminal. It turned out not to be the most direct way of reaching the caves, but it did take us through some of rural Okinawa. We traveled from the city center to ever smaller communities. When we reached the park, we spotted dozens of tour buses. It turned out that Okinawa World was the one-stop tourist destination for short-term tourists from other parts of Asia. One group appeared to be a marriage match-making service that connected prospective grooms with their would-be brides. The pseudo-amusement park seemed like a strange prelude to marriage, but the couples happily exited the bus and made their way to the entrance.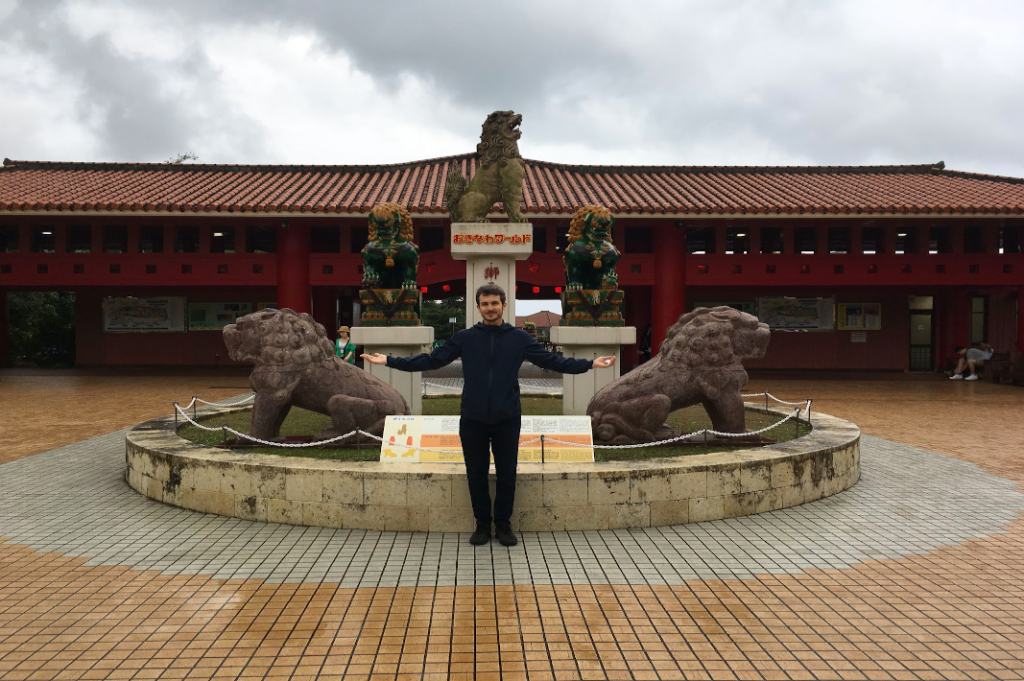 Before entering we decided to check the bus schedule just to be safe. As it turned out, the next bus would be the last one, and it left in an hour. My fiancée tried to reassure me that we were fine for time, but I was concerned about ending up stranded in the furthest reaches of southern Okinawa and suggested we hurry.
Gyokusendo Caves
Ever since I was a child, I've loved caves. The dark expanse of stone, water, and ice has always felt like a secret world. That was why I had wanted to visit Okinawa World, which had been built on top of the Gyokusendo cave system after its discovery in the early sixties. The caves themselves were formed 300,000 years ago, as the tropical waters of Nanjo began to wear away at the limestone.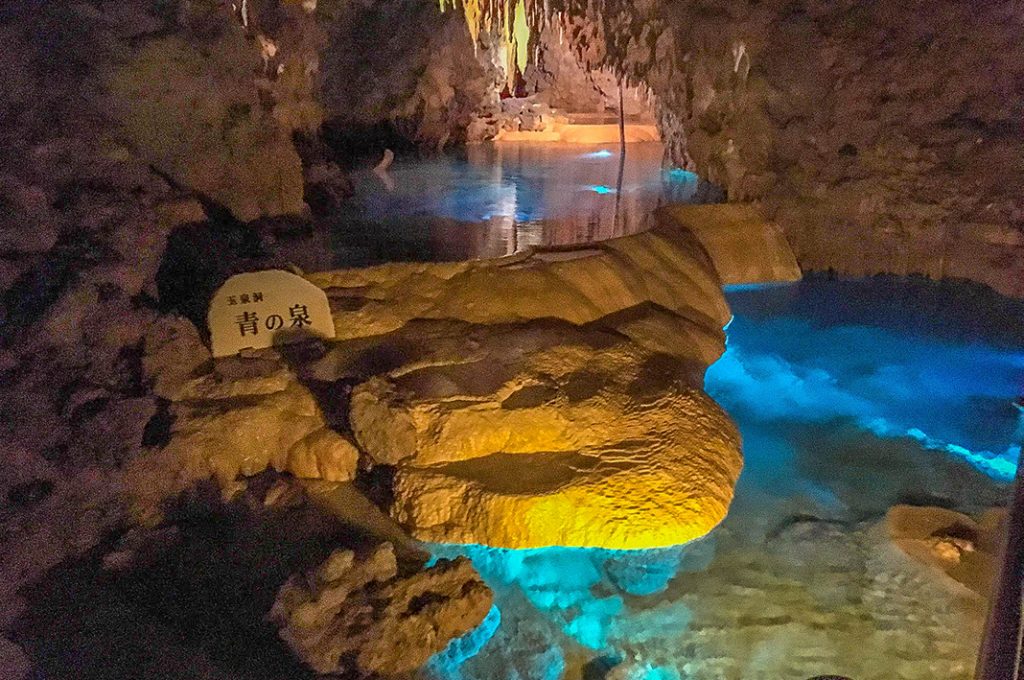 With limited time we hurried to the cave entrance. Shrugging off the requisite souvenir photo, we descended into the Okinawan depths. Stalactites and stalagmites jutted out from top and bottom like jagged teeth. We stopped to take a few pictures, but I made the case again that we didn't have much time to linger. Fortunately, even our condensed trip was spectacular. Low sheets of overhanging rock hung above deep blue pools of water. In other parts, hundreds of stone shafts hung down menacingly. Only a small part of the massive cave system is open to the public, but the available section still easily takes an hour to traverse. We finished it in 20 minutes.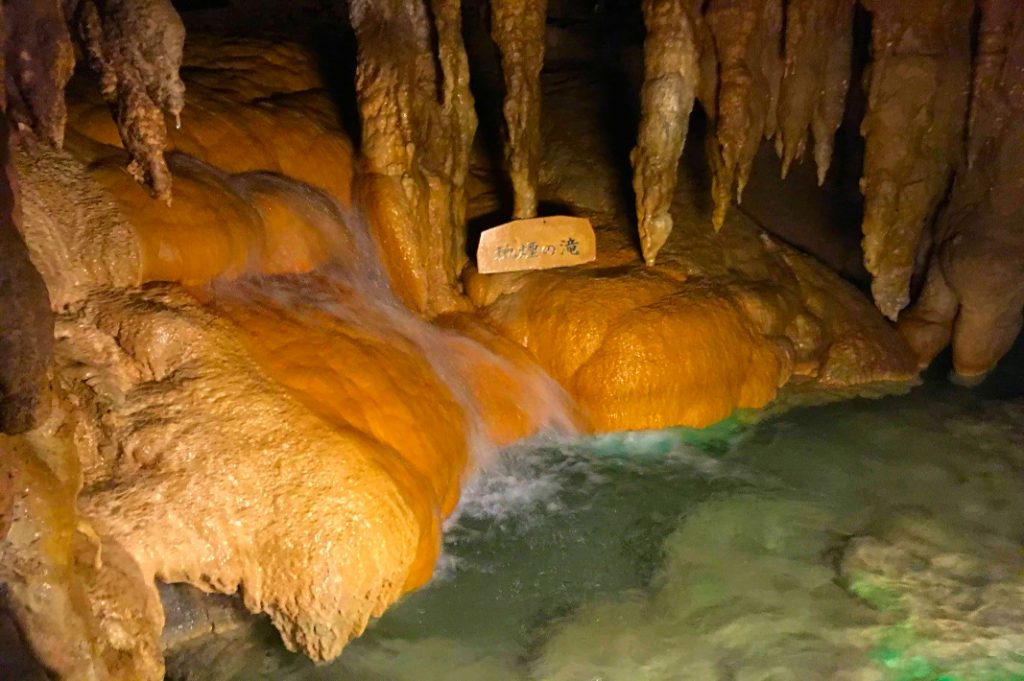 Okinawa World
As it turned out, my fiancée was right. There was no need to panic about time. We found ourselves with half an hour to explore the rest of the Okinawa World park. It was far more than enough. If you travel primarily to collect souvenirs, then Okinawa World is the perfect place to visit. Featuring everything from Okinawan glass, to pineapple slices, to small replicas of shisa lions, Okinawa World sells just about every product for which Okinawa is famous. The hordes of bus tourists happily made their way through the massive sprawling complex, hands laden with toys, cards, and food.
We lacked both the money and luggage space for souvenirs, so we listlessly looked at what was on offer. I wondered if we could return to the caves for a more leisurely tour, but it was strictly single entrance. There are frequent drum performances in the onsite, reconstructed Okinawan village, but we had missed the last show. Rushing had left us with nothing to do but wander around the sprawling enclosure for half an hour.
Eventually, we made our way over to the bus stop, where we were first in line. We boarded the bus back to Naha and said goodbye to Okinawa World and the caves below. After all the rushing around, I had exhausted myself. Curling up on the bus seat, I quickly fell asleep on my fiancée's lap.
For those looking to make the bus journey to Okinawa World, or anywhere else on the mainland, make sure you leave plenty of time. Our planned journey ended up working out, but it was also one of the
Name: Okinawa World
Address: 1336 Maekawa Tamagusuku, Nanjo, Okinawa 901-0616
Open: 9am–6pm daily
URL: https://www.gyokusendo.co.jp/okinawaworld/en/
Post by Japan Journeys.