There can be no doubt that Arashiyama is one of Kyoto's most popular day trip destinations for both locals and visitors alike. Featuring a scenic landscape, quaint shopping street, bamboo grove and various shrines and temples, it's not hard to see why. However, out of all the activities, one of the favourites for many is the Arashiyama Monkey Park. Here you can get up-close and personal with a veritable barrel of wild Japanese macaques.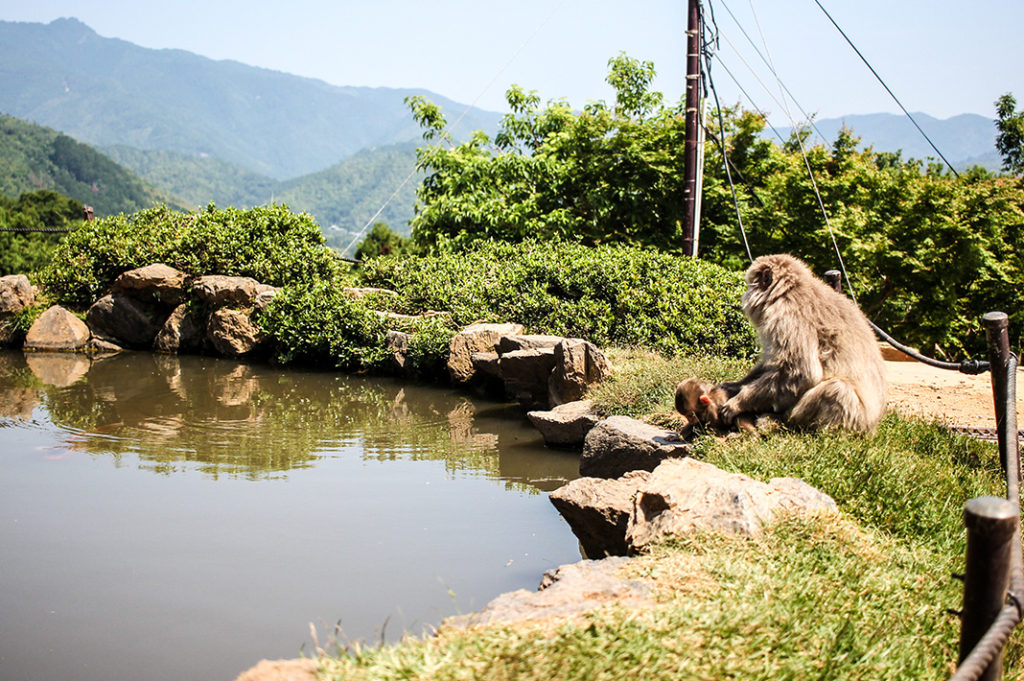 Getting to Arashiyama Monkey Park
On my visit to this scenic town, I arrived right around opening time and decided to make it my first stop of the day. It was a mere 5 minute walk from Arashiyama Station (on the Hankyu Arashiyama line) to the park's entrance. If you're coming from the other Arashiyama Station, cross the river on the Togetsu-kyo Bridge and turn right. It's worth noting here that the monkey park is located on Mount Arashiyama, so visitors are required to hike uphill for around 15 minutes to reach it. Unfortunate news for those with limited mobility, as there is no cable car option.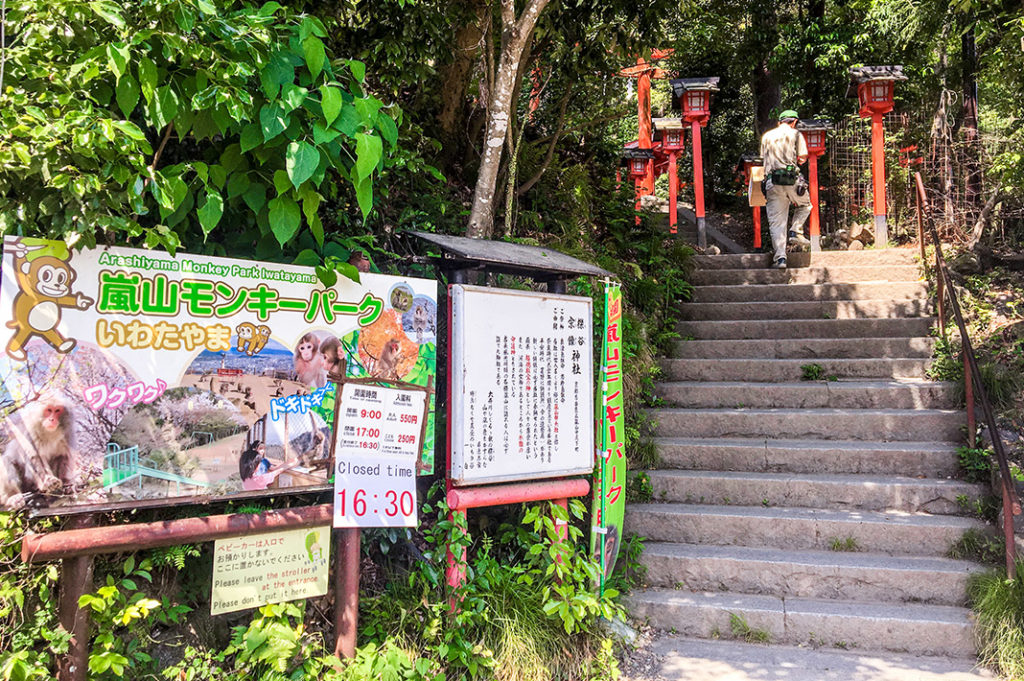 From the street, take the stairs up to a small clearing where you'll find a small shrine—a great chance to pray that you don't get attacked by monkeys. Pay the few hundred yen entrance fee at the ticket booth to your left and you'll receive a map which doubles as a fan (great in summer!). This is also the last chance to grab a water (or monkey souvenirs) before your climb, too, so stock up if required!
Sights along the hike
The hike uphill is steep and winding with a combination of steps and natural pathways. The surrounding forest is delightfully picturesque, fragrant and rumoured to be particularly beautiful with autumn foliage.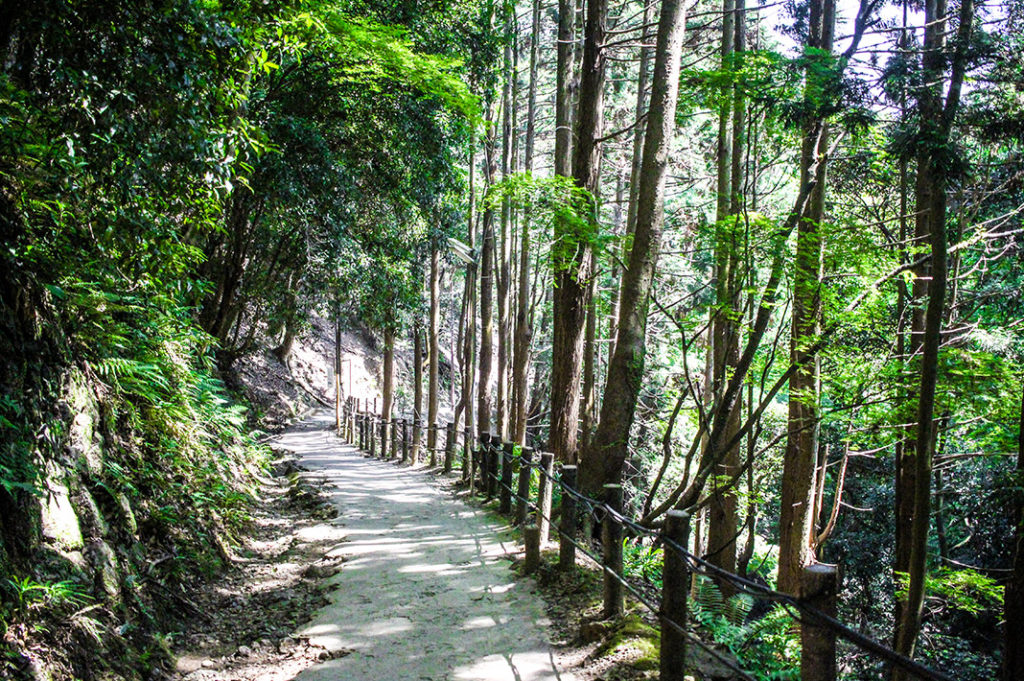 There are benches along the path for resting, as well as monkey quizzes, facts and warnings. The general rule of thumb is to not touch, stare at or throw anything at the macaques…and to watch your belongings. I was also very surprised to see giant misting fans set up beside the path, blowing refreshing air onto us hikers.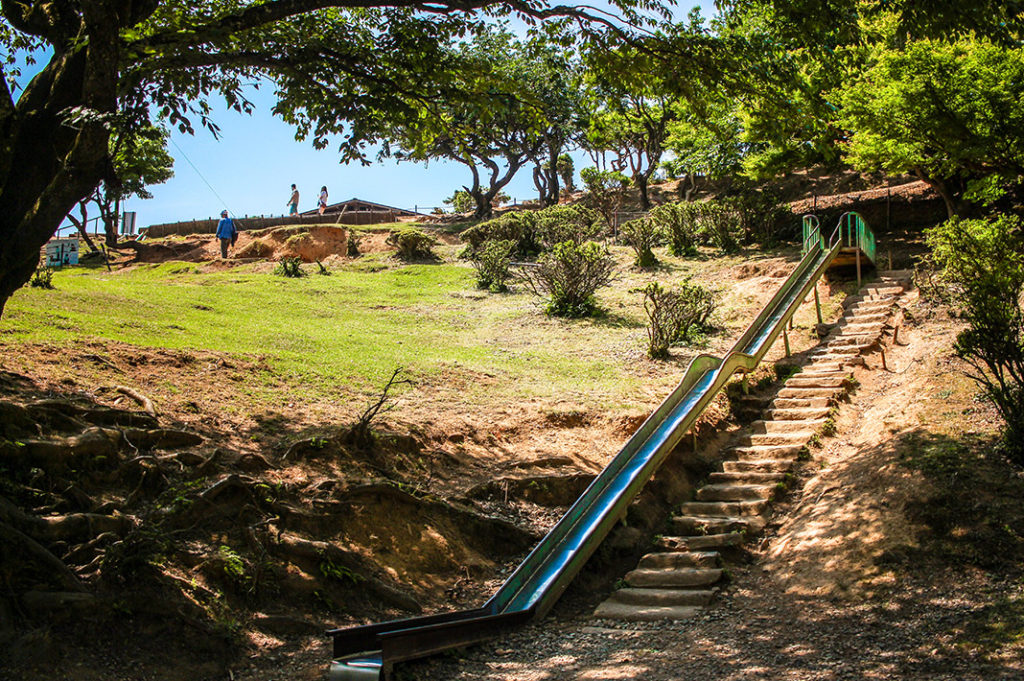 Towards the end of the hike, you'll reach a 'rest area' with a playground; keep going up—you're almost there. Simply take the stairs or pathway up (the slide is for the way down!) and you'll arrive at the summit observatory.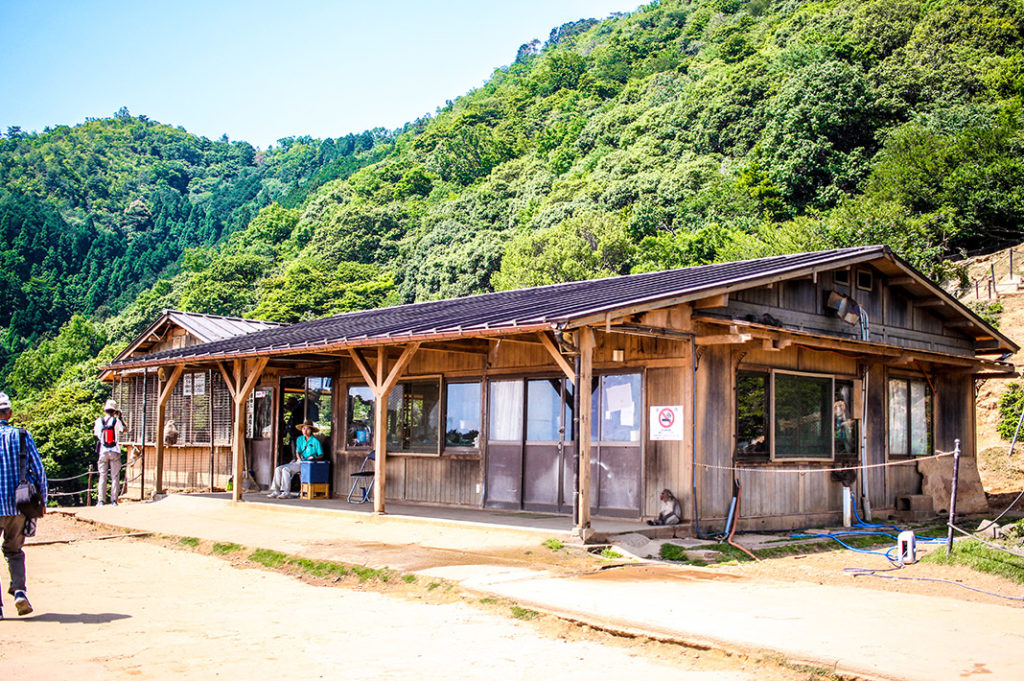 As I caught my breath in the clearing, a surly looking macaque ambled by, throwing me a sideways glance. I looked around and saw a number of other macaques lazing about, shadowing the staff or hanging off the sides of the large wooden building. They seemed relaxed, content and…free.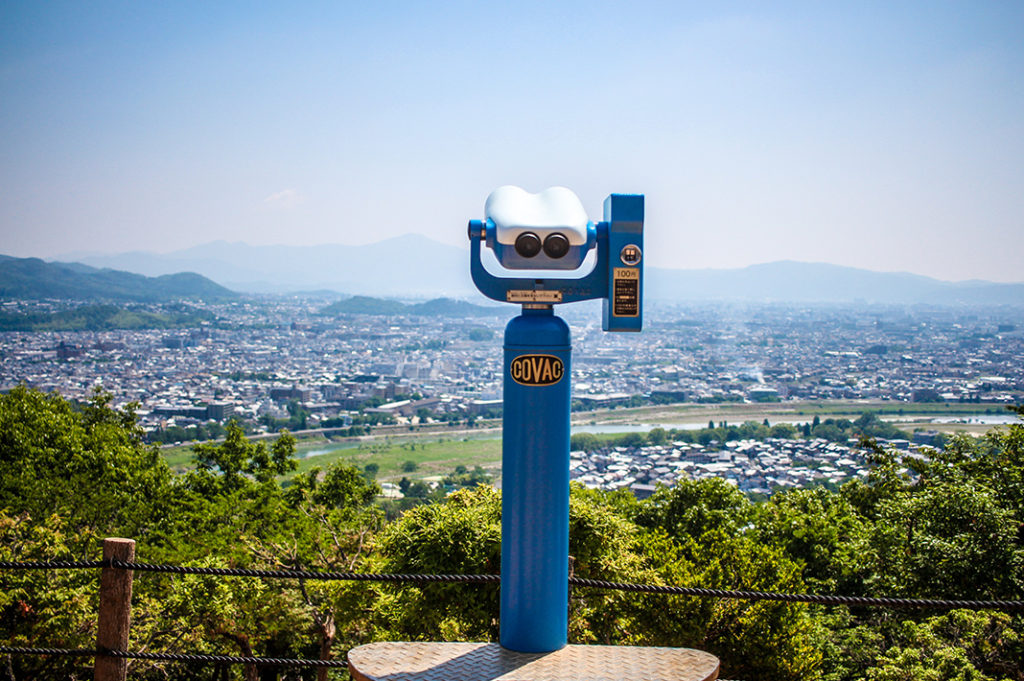 I took in the panoramic views, my reward for the climb, before exploring the area. To the right of the wooden building was a large pond, where a baby macaque leaned right over for a drink, causing a flurry of photography. Another pathway near the pond takes you a little further uphill where monkeys snooze in the shade, watch from tree branches or groom one another.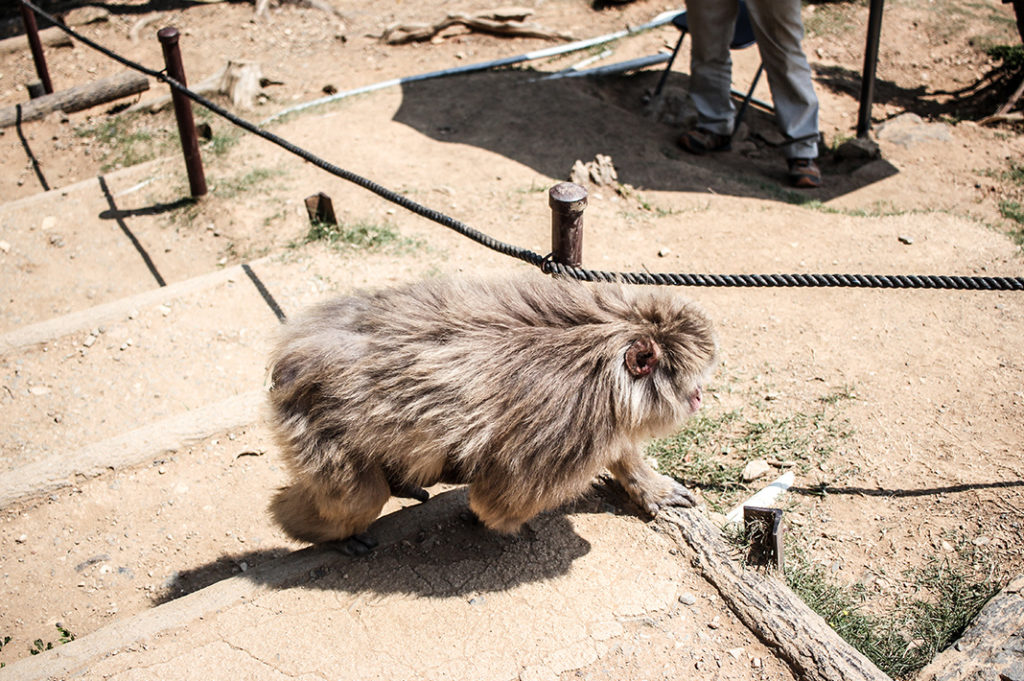 Feeding the hordes
I made my way back down to the Rest Hut where a staff member handed me a refreshing frozen wet-wipe as I entered. A wonderful treat on such a humid day. Inside were toilets, seats, ceiling fans and a snack bar. People lined up to buy bags of peanuts and diced apple before running over to the open caged walls, hoping to attract a hungry monkey or two.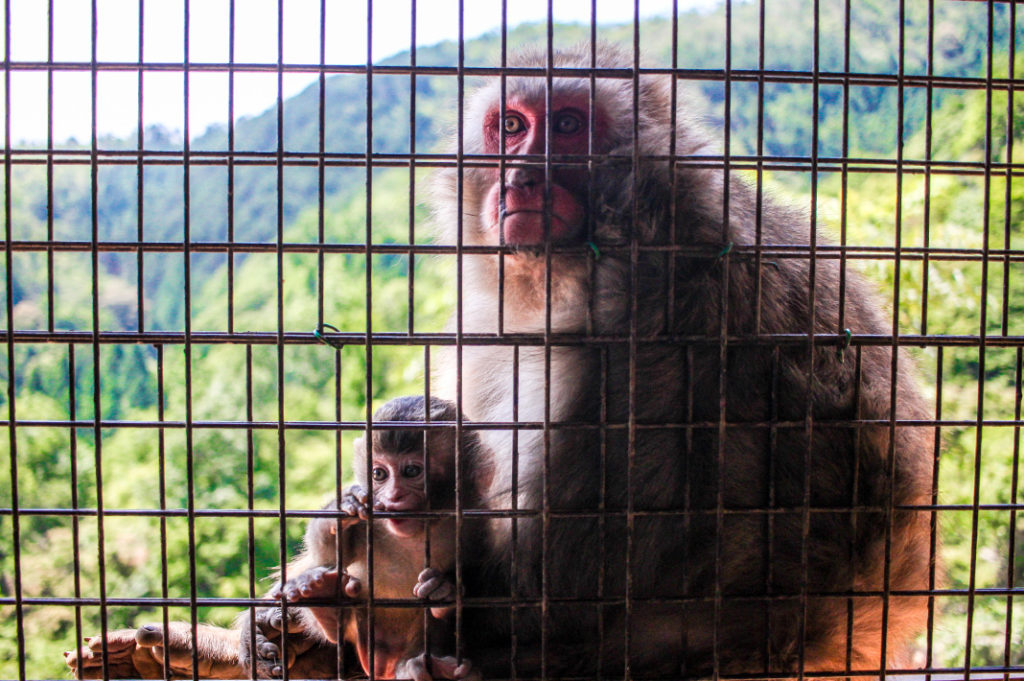 Adults and babies alike would spring up out of nowhere, reach their hand through the bars and shoot you stern looks until you deposited a treat in their hand. The food would be gone in lightning speed before the hand would shoot out again. It's tempting to try to hold their attention while you study their fascinating features… but they get quite impatient. And you don't want to get mobbed on the way back down. Once you ran out of food, they'd scramble across to the next person or head off to play somewhere. Aside from the snack bags, there are also regular feeding times each day, around 10:30 AM, 12:30 PM and 2:30 PM.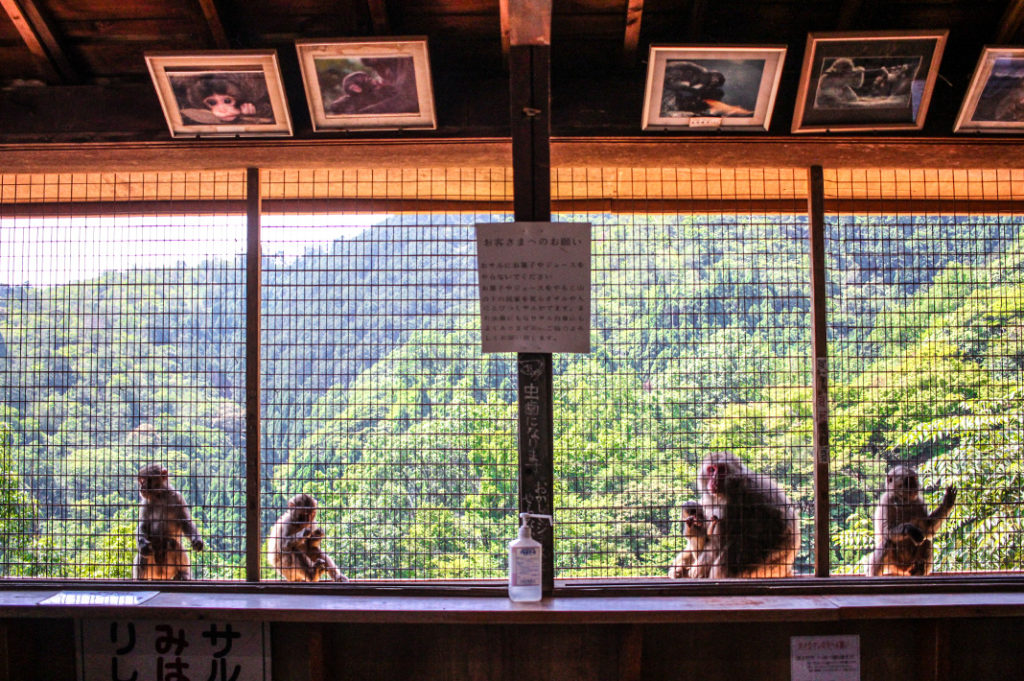 Inside the Rest Hut, it truly felt like we were the caged ones—a refreshing change from many other animal attractions. These wild macaques seemed well cared for, happy and best of all—free. If you're into views, hiking and animals, give it a go! 
How to get to the Arashiyama Monkey Park
Arashiyama is roughly 30 minutes' train ride from Kyoto, accessible via multiple train lines and bus routes. The monkey park is located on the mountain beside the river. You can reach it in 5 minutes from Arashiyama Station (on the Hankyu Arashiyama line). Across the river, near the shopping strip, are two more stations; (Keifuku) Arashiyama Station on the Randen line, a 5 minute walk; and JR Saga-Arashiyama Station, a 15 minute walk. 
Arashiyama Monkey Park
Address: 61 Arashiyama Nakaoshitacho, Nishikyo Ward, Kyoto (link)
Open: 9:00am–4:30pm, 7 days per week (closes 4pm in Autumn and Winter)
URL: http://www.monkeypark.jp/Englishpage.html 
Post by Japan Journeys.