There's every chance you haven't heard of The Garden of Fine Arts. Almost secretively, it lies hidden next to Kyoto's sprawling Botanical Gardens in the northeast corner of the city. However, if you fancy wandering through a project created by the same architect as the legendary Church of Light, The Garden of Fine Arts is a must-see. Architecture and design in one convenient location!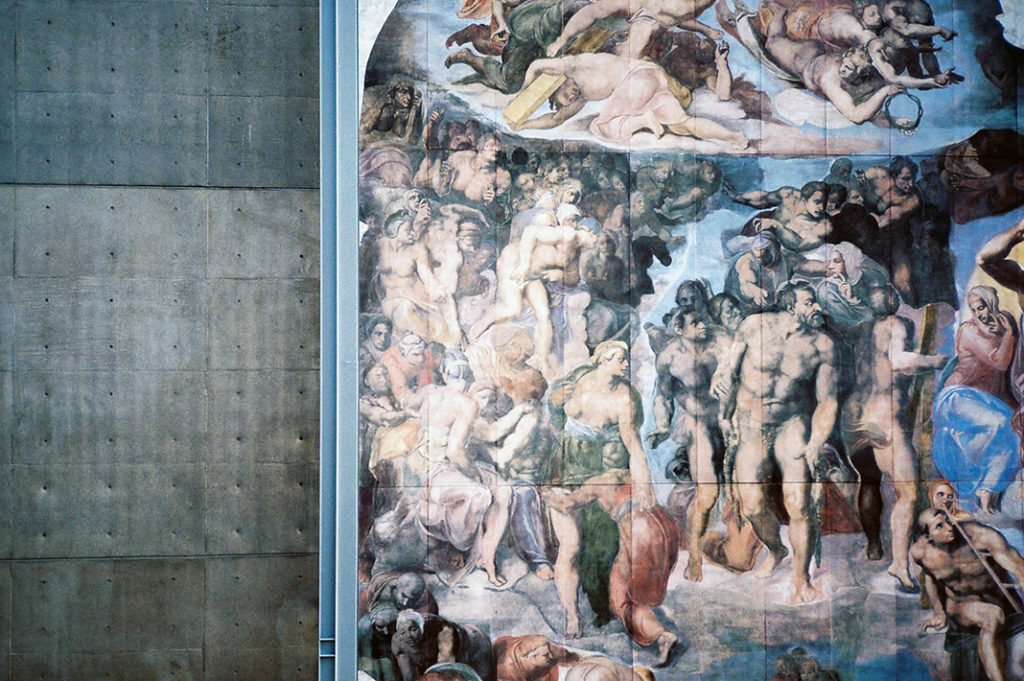 A Brutalist Renaissance?
Kyoto deservingly holds the title of Japan's 'City of Culture.' If you trip and fall, you'll probably land on a UNESCO world heritage site. Kyoto's temples (such as Ryoan-ji, Nanzenji, Tofukuji and Kenninji) are not only piled high with historical works of art – they are classified as art in their own right. As such, the residents of Kyoto have been blessed with eternal access to a 1200 year process of ongoing Japanese cultural refinement. However, the fabled works of the European masters had until recently been much further afield.
Enter Tadao Ando [安藤忠雄, Andо̄ Tadao] – Japan's undisputed master of modern architecture. Ando's rise from humble Osaka-born professional boxer to visionary architect is considered uncommon and meteoric in equal measure. Ando is the architect behind world-famous creations such as the Church of Light and has a dedicated museum on the island of Naoshima. Yet, the Garden of Fine Arts remains almost unknown by foreign tourists, bar the most determined students of architecture.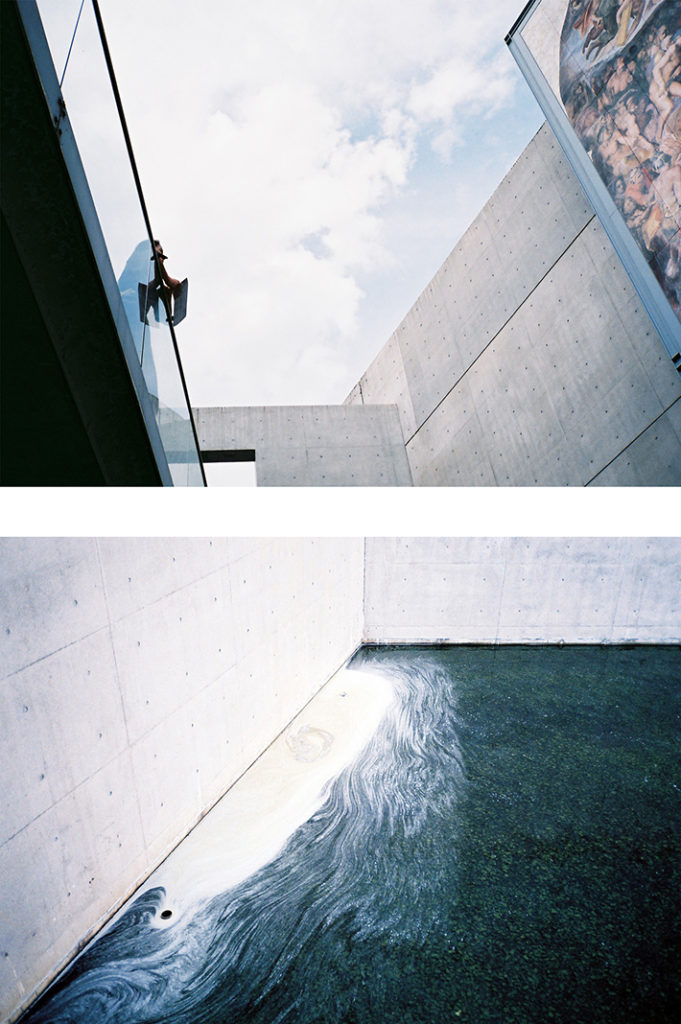 Oil and Concrete.
Within the considered concrete walls of the Garden, visitors can find near full-scale reproductions of a wide range of European works of art. Classics such as Michelangelo's "The Last Judgement" tower over the location in its entirety, standing almost as tall and wide as the original. Naturally, Leonardo Da Vinci's "The Last Supper" is prominently displayed, along with select reproductions of Renoir and Van Gough. In creating the Garden of Fine Arts, Ando is able to facilitate the appreciation of the European masters in perfect juxtaposition to his own modernist and minimalist style. In essence, the site is a paradox of romantic maximalism and measured minimalism – a perfect meeting of East and West.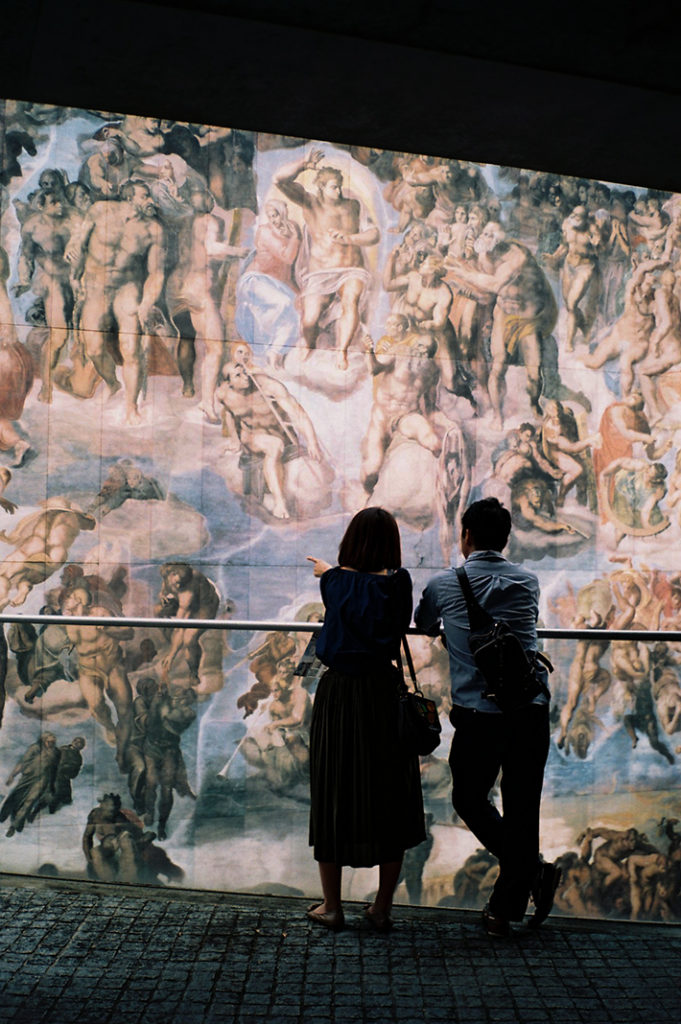 The fullness of empty spaces.
The Garden brings about a fusion of classicism and modernism that is at once harmonious and oddly dissonant. As a rule, Tadao Ando truly designs spaces with the Japanese concept of "ma" [間, negative space] as a core tenet. "間" in Japanese design is not so much an intentional empty space, as an assignation of a pause or interval. Ando's creation of clean lines, flat surfaces and linear perspective all serve to guide the eye, without commanding it.
Ando's architectural work often features a subterranean aspect. True to form, the Garden is created over three levels. These different levels are united by a vertiginous waterfall at its far end. Beyond this, staggered tiers of concrete made of ramps and steps intersect the middle of the site. Naturally, this mix of directions and lines of perspective work together to create a space that feels larger than it actually is. Again, another form of "間" in action.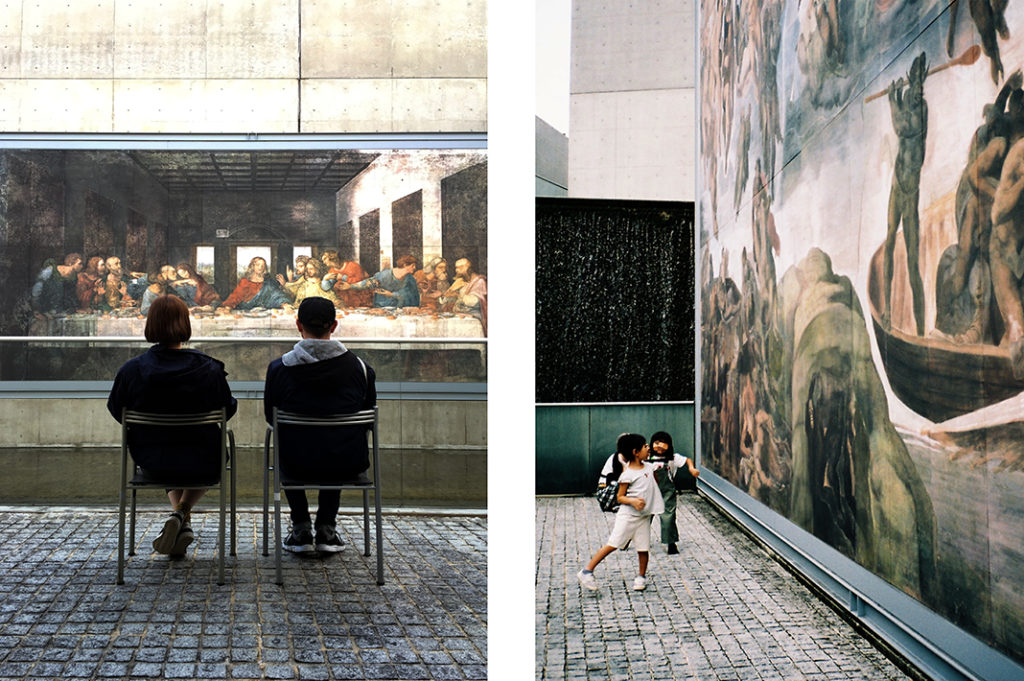 In the ageless, signs of time.
Built in 1994, the Garden of Fine Art is centuries younger than most of Kyoto's sites of note. However, after 26 years, subtle signs of age are seeping into the site. Touches of moss, mould and pond scum are somehow endearing reminders of imperfection and decay in this immortal concrete structure. Parts of the large-scale paintings fade slightly, betraying the lines of the slabs that carry them. The Garden's multiple water features are gradually gathering a flotilla of green pond weed. Amazingly, a cluster of water foam around a drainage pipe has taken on a form reminiscent of Van Gough's "Starry Night." Seemingly, art is even flowing in the water itself.
These touches of nature and decay exist in much of Kyoto's municipal architecture. Contrastingly, what looks a little sad in other parts of the city lends a sense of humanity to the Garden. Despite the magnificence of the Renaissance art and the cool immortality of concrete, time leaves its mark.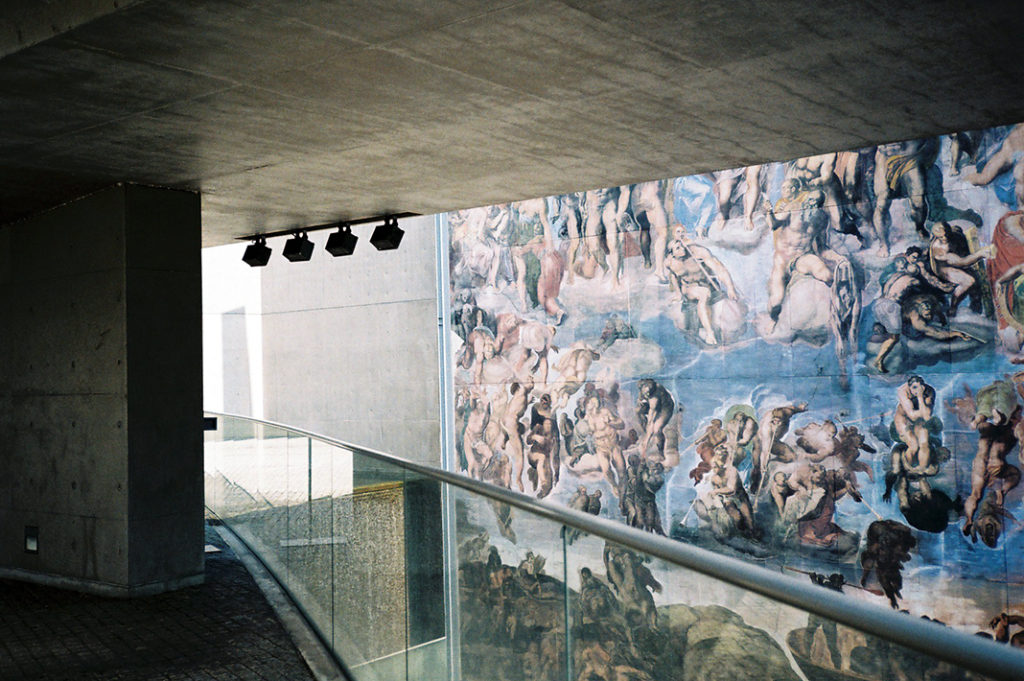 Accessing the Garden of Fine Arts:
The Garden of Fine Art itself adjoins to Kyoto's spectacular Botanical Gardens. Naturally, you'll want to visit the two sites on the same day. Entry to the Garden is only ¥100. Both the Botanical Gardens and the Garden close mid to late afternoon, so morning visits are advisable. The simplest access route is via Kyoto's city subway, on the Karasuma Line. Alight at station number 'K03' – Kitayama. The station has multiple exits, but only Exit 3 will put you directly at the entrance of the Garden of Fine Arts and the Botanical Gardens. Bus number 205 from Kyoto station also passes nearby the garden, but the subway is by far the most advisable option. The garden is open daily from 9 am to 5 pm.
The official website of The Garden of Fine Arts can be found here.
Are you a fan of Japanese minimalism and the elusive "wabi-sabi?" If so, when you're finished with your visit you'll almost definitely want to check out a nearby café named Wife & Husband. A mix of coffee, homewares and antiques is an ideal way to finish your day of artistic adventures. Access information can be found here.
Post by Japan Journeys.