Ohara village is one of a number of satellite settlements nestled in the rolling mountains surrounding the basin of Kyoto city. Idyllic rural villages are abundant in Japan, each being a patron of its own localised culture and traditions. However, Ohara's most notable attraction is the sumptuous and sprawling Buddhist temple of Sanzen-in.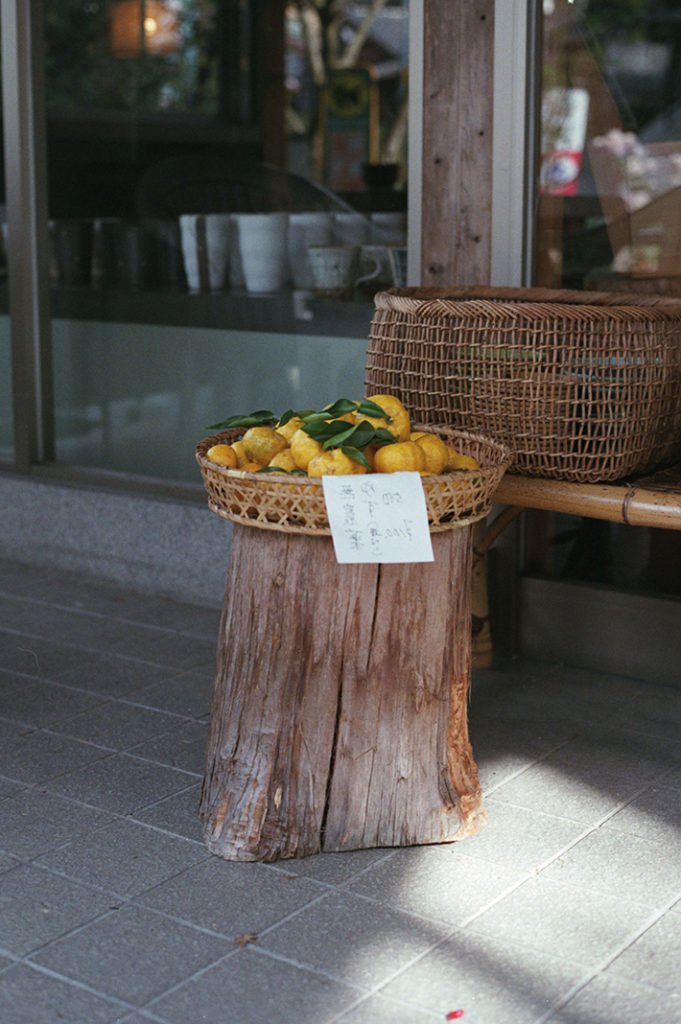 Sanzen-in: a wonder of complex origins.
Visiting rural mountain communities is arguably one of the most charming and beautiful ways to experience Japan. Their inhabitants carry a unique air of unguarded gentility. They are welcoming and forgivingly patient in the company of foreign visitors, cultivating a truer and more homely version of "omotenashi" [the Japanese art of hospitality]. As you'd expect, Ohara village's main attraction is Sanzen-in, profoundly peaceful Tendai Buddhist temple whose origins lie atop an entirely separate mountain.
Sanzen-in was first established as a small building within the large temple complex of Enryaku-ji. Enryaku-ji lay many miles to the south of Ohara, atop the famous Hiei-zan mountain, overlooking Shiga prefecture. Perhaps surprisingly, Sanzen-in is not the first temple to be moved after being established in a different area. However, the choice of Ohara for the temple's final 'resting place' was intentional and appropriate. The mountain village of Ohara has been considered a place of sacred energy for over 1000 years, by Jodo (Pure Land) as well as Tendai Buddhists.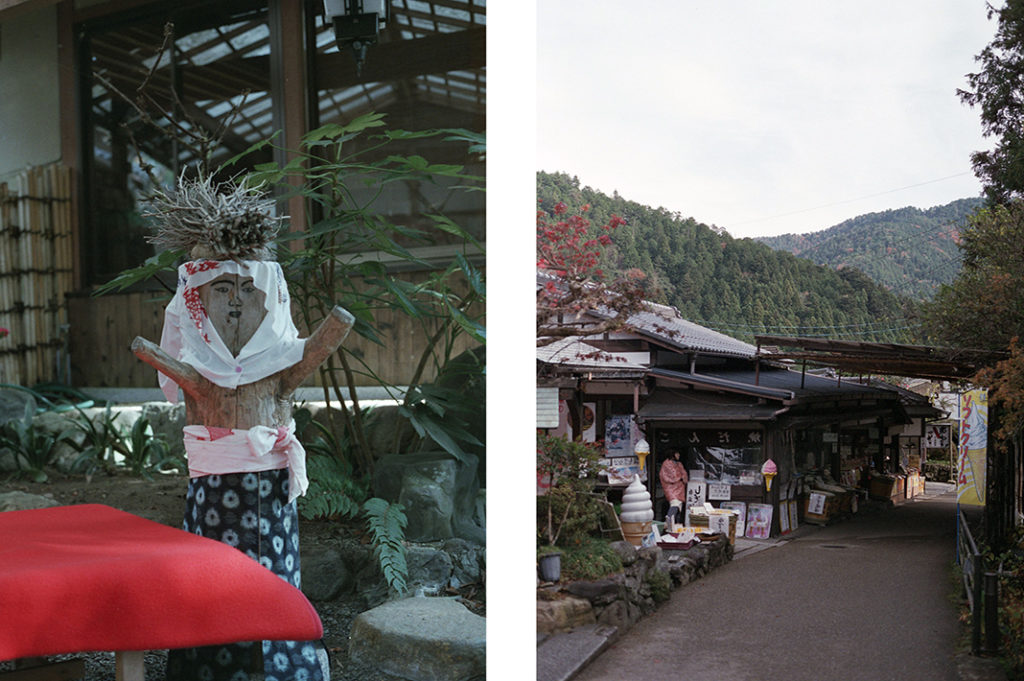 More than a place: a feeling.
For the Japanese, nationalised nostalgia is fairly uniform in its presentation: youthful summers spent riding bicycles along the pathways between buzzing rice fields. Above, towering cumulus clouds are serrated at the horizon by rolling mountains dressed in shadowy pines. Japanese nostalgia is somewhat unique in its ability to entrap almost anybody – Japanese or not. As such, a day spent wandering through Ohara would be enough to leave any visitor feeling like they'd returned 'home.' The area's calm fortitude creates a sense of place; the mountains roll north, seemingly into infinity. In Ohara, you feel both connected and remote.
The pathways that ascend Sanzen-in's main access road are framed with coffee shops. The owners, friendly Mama-san types, are always welcoming. The wider Ohara area is actually a food source for much of Kyoto city. Often, 'locally grown' produce in the city has its origins in Ohara. The small stalls along these pathways proudly present Ohara's famous produce; fresh, dried and pickled. Additionally, they offer small, locally crafted paper and fabric goods. Sometimes, tourism-based shopping is best left alone. However, Ohara is one location worth visiting for souvenirs with some genuine cultural significance.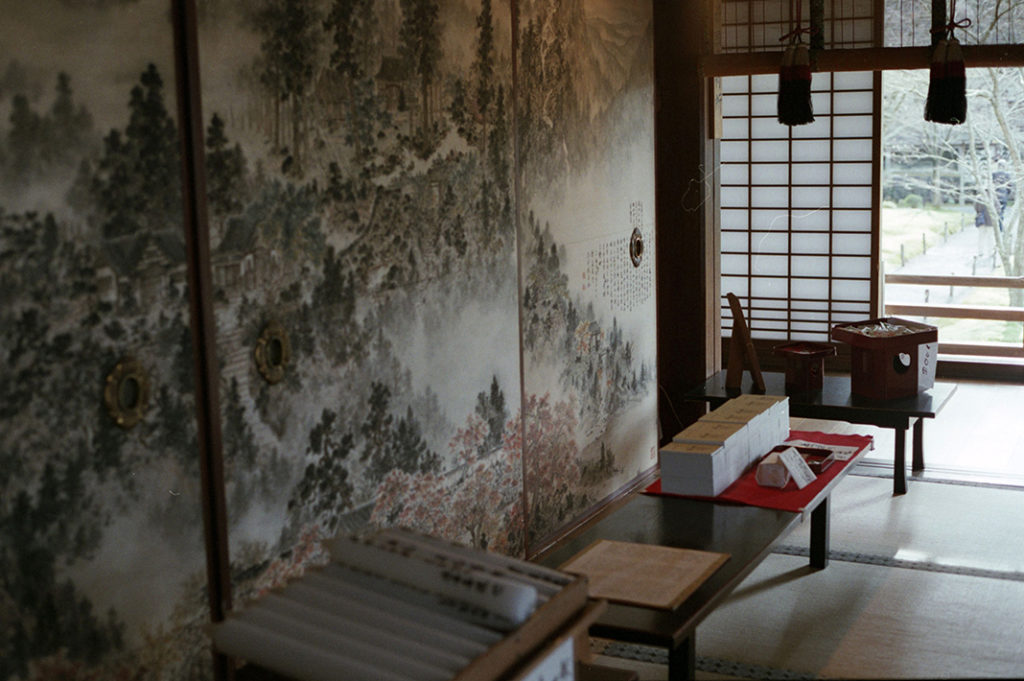 Sanzen-in – the temple complex.
Sanzen-in, like many of Kyoto's larger Buddhist temples, is spread across main halls, hermitage buildings, prayer sites and statue rooms. As you enter the Kyaku-den (main building) and purchase a ticket (¥700), you follow a natural route laid out through the darkened hallways. Like so many temple interiors, the central structure of Sanzen-in is a flowing maze of wood and shadow. Centuries of sweeping footsteps have worn its floors smooth. Tatami mats line the floors of small enclaves, framed in painted paper panels. Sanzen-in is an active site of worship for lay Buddhists, so many Japanese visitors will kneel in silent prayer or light votive candles.
Small wooden boxes lined with o-mamori, incense and candles have been placed in some of these enclaves. Prices are written underneath, and visitors are trusted to deposit the correct coinage before taking their design of choice. If you're looking for a price label underneath things that seem to be for sale, look for kanji instead of Roman numbers. '¥500' will look like this: '五百円.' For obvious reasons, you may want to avoid lighting candles and incense in buildings made entirely of paper and wood. Like all of Kyoto's temples except the Silver Pavilion, Sanzen-in burned to the ground on a previous occasion.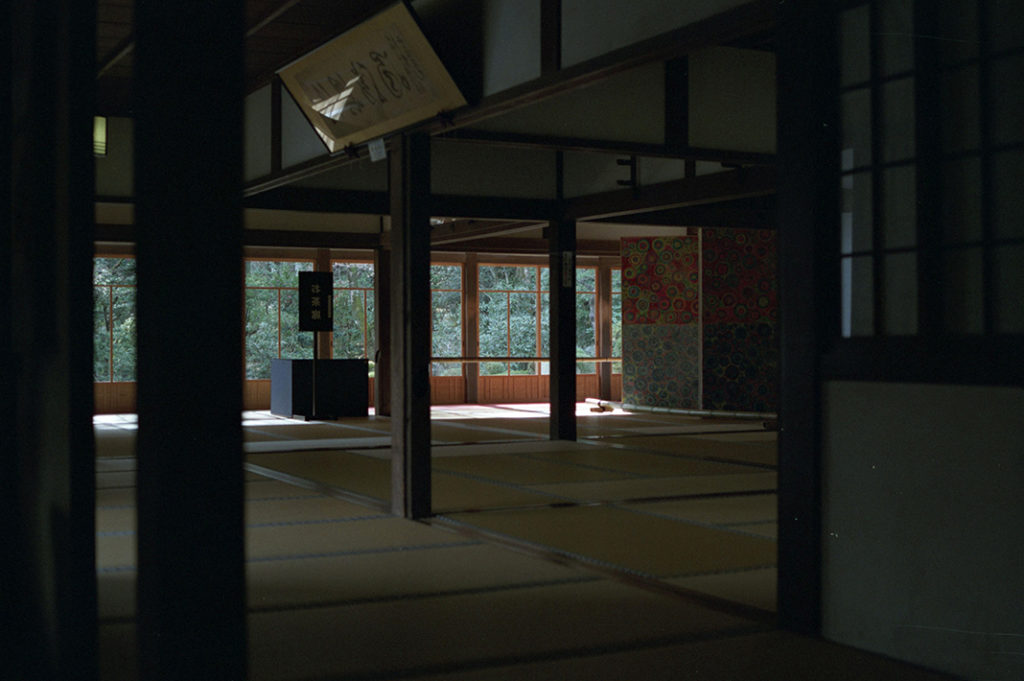 Sanzen-in, beyond the halls.
As you exit the Kyaku-den, walk directly along the path framed by Sanzen-in's sea of moss. On either side, trees rise up and slice at the incoming sunlight. The moss takes on its own glow as if lit from within. Follow the path through small ponds and over crafted streams and you'll see stone Jizo statues punctuating the rolling tide of moss. They sit alone or in pairs, smiling faces cradled in their stone hands. In Buddhist canon, Jizo-sama is a Bosatsu (enlightened and earthbound guardian) who smuggles the souls of deceased children safely through judgement and into the Pure Land.
Continue left and up a low flight of steps and you'll arrive at a building named 'Konjiki-fudo-do.' It's not exactly a gift shop – but if you're looking for abundant souvenirs to furnish your visit, they'll be here. Additionally, if you're collecting goshuin [temple seals] from the temples you visit, this will be the place to present your goshuin-cho [seal collecting book]. Pathways are clearly marked throughout the grounds of Sanzen-in. As such, you can take your time to explore the smaller statue rooms and sub-temples scattered around the complex. Finally, don't miss the unassuming 'Ojogokuraku-in' temple. Built during the 10th century (rebuilt in the 12th, after a fire), it is the oldest standing building of Sanzen-in.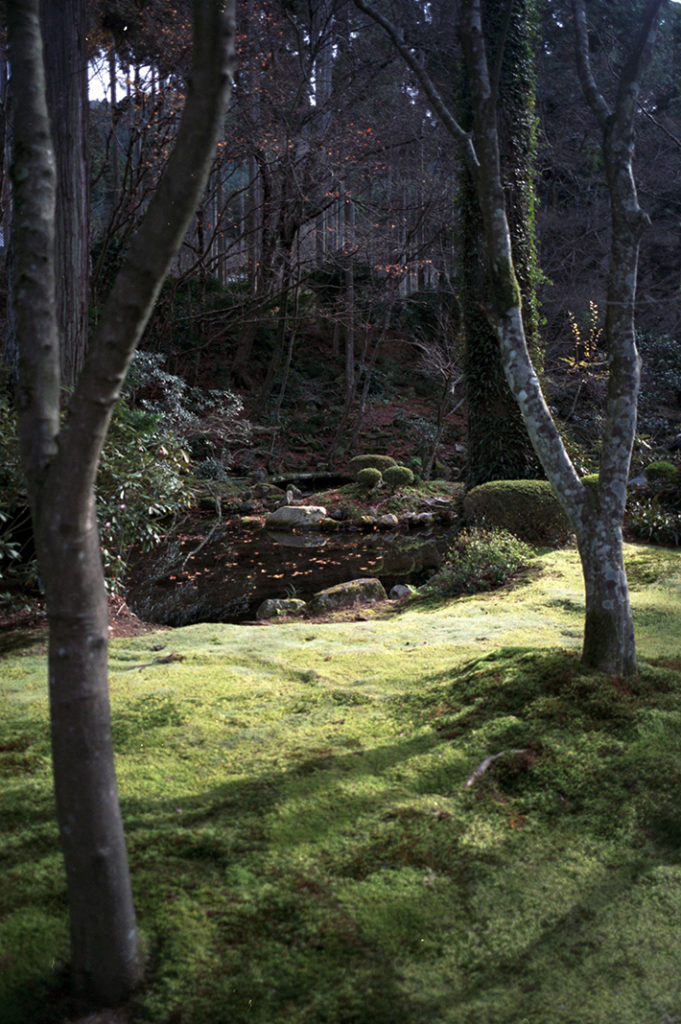 Ohara, beyond the walls.
Naturally, after the one hour bus ride from Kyoto to Ohara, you'll want to make the most of your time in the village. This will likely mean visiting more than just the Sanzen-in complex. There is an equally lovely temple on the other side of the village's dividing river, named Jakko-in. After visiting Sanzen-in in the morning, it makes sense to stop for lunch at one of the restaurants or cafés listed at the bottom of the article before heading over to the temple.
The best way to exit Sanzen-in is northwards, taking you to a small cluster of temples that include Shorin-in, Hosen-in and Jikko-in. You'll first need to exit via the 'Nishi-mon' [三千院西門], turning right and following the road north. Be sure to also stop at the 'Buddhist supplies store,' which sells locally made incense and Buddhist prayer goods. A small 'display museum' may also be open (seasonally) featuring a small collection of paintings and sculptures. Signposted only in Japanese, it is easy to miss.
Finally, exit along a small road that heads west from little Jikko-in. Following the road, you'll be able to walk through the idyllic rural pathways of Ohara. It's a peaceful walk; just be sure not to accidentally wander into somebody's back garden or pick any tempting persimmons!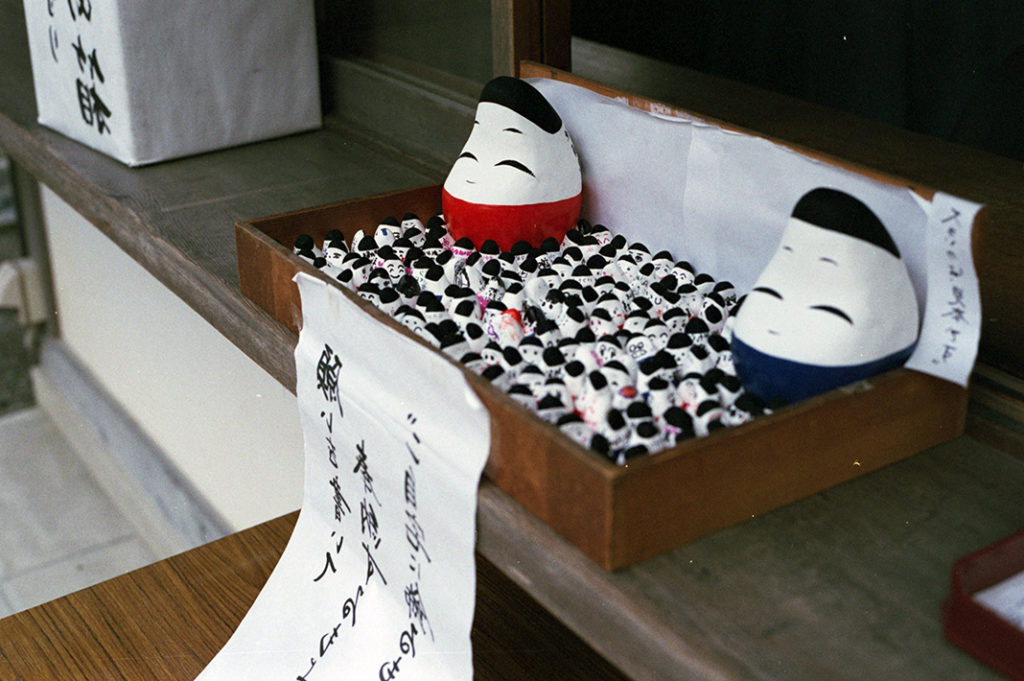 Access
Although getting to Ohara Sanzen-in is very straightforward, attention to detail is essential. It is only accessible by bus (or taxi/private car), so being acutely aware of bus times is important. By far the most direct and foolproof way to reach Ohara is by taking the Number 17 Bus from the large bus terminal at Kyoto Station. Be sure the bus you take is a brown and white colour and look for the "大原" [Ohara] Kanji on the front digital display. Don't be afraid to ask for help from station staff or bus drivers if you're unsure; they are always friendly and helpful.
The bus journey can take anything from 50 to 80 minutes, depending on crowds and seasons. However, this is no bad thing! Once the bus leaves the Demachiyanagi area, it drives alongside the Kamo river and winds slowly through deep green pine forests. The views on the trip as you rise into the mountains are breathtaking. Sadly, it's a view that few foreign visitors get to appreciate. Boarding the bus at Kyoto station and not Demachiyanagi is advisable if you want to be guaranteed a seat, especially during the busier season in November and December. A one-way journey costs ¥560 and buses will leave roughly every 20 minutes.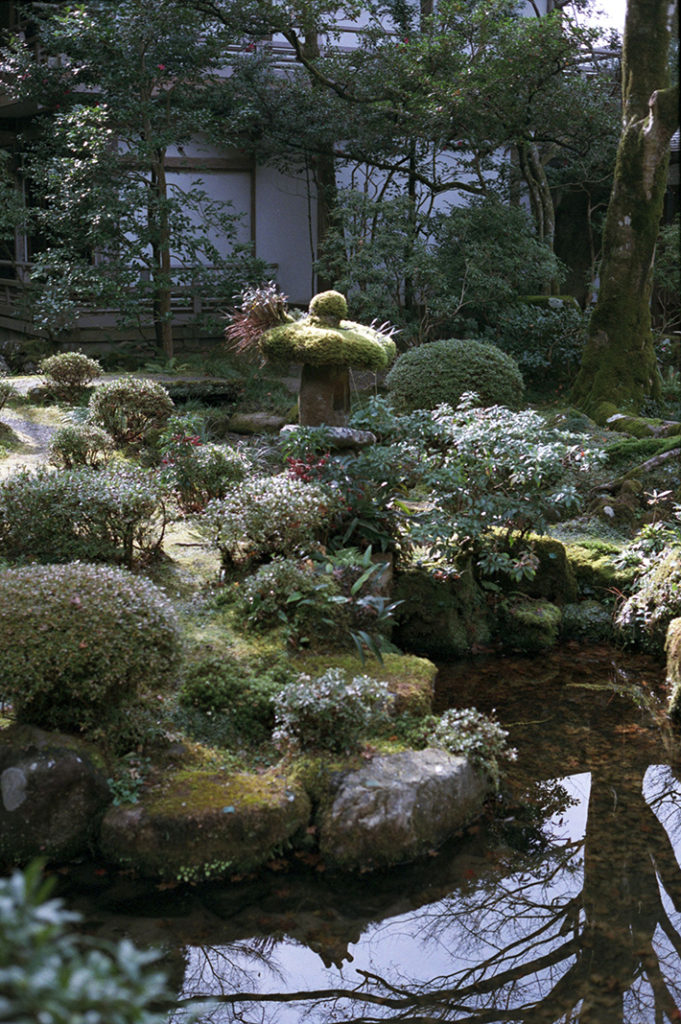 Additional information.
The bus station at Ohara has coin lockers (large enough for backpacks and coats, but not suitcases) and modern toilet facilities, as well as a couple of small restaurants selling Japanese cuisine. There are no convenience stores, so be sure to stock up on supplies before your trip. Ohara village in its entirety is very busy during the autumn foliage season, from early November to early December. At any given time of year, it's best to visit Ohara on a weekday, in the morning.
For lunch, look out for two eateries named KULM and Kirin. They're just down a west-bearing road as you arrive at the bus stop and are a good example of a 'modern-traditional' style of restaurant that is now immensely popular in Kyoto. Kirin's produce is locally sourced and often sells out early. You're welcome!
Finally, Sanzen-in's official English language website, complete with maps, is here.
Post by Japan Journeys.