'Temple Fatigue' is one of the most common afflictions affecting foreign visitors to Kyoto. Of course, each and every guidebook claims that any given Buddhist Temple is 'unmissable.' Lacking clear guidance, tourists traipse from one near-identical zen paradise to the next. Eventually, they swirl into one indistinguishable blur of wood, incense and 'Japanese-ness.' What do the names even mean? Zen? Rinzai, Tendai, Shingon, Jodo-shu? Meltdown.
But Nanzen-ji? Nanzen-ji is different. It truly offers everything the eager visitor could hope for in a Buddhist temple. Unsurprisingly, it's also a UNESCO world heritage site. If you can only visit one temple in Kyoto, read on to find out why Nanzen-ji is the only logical choice.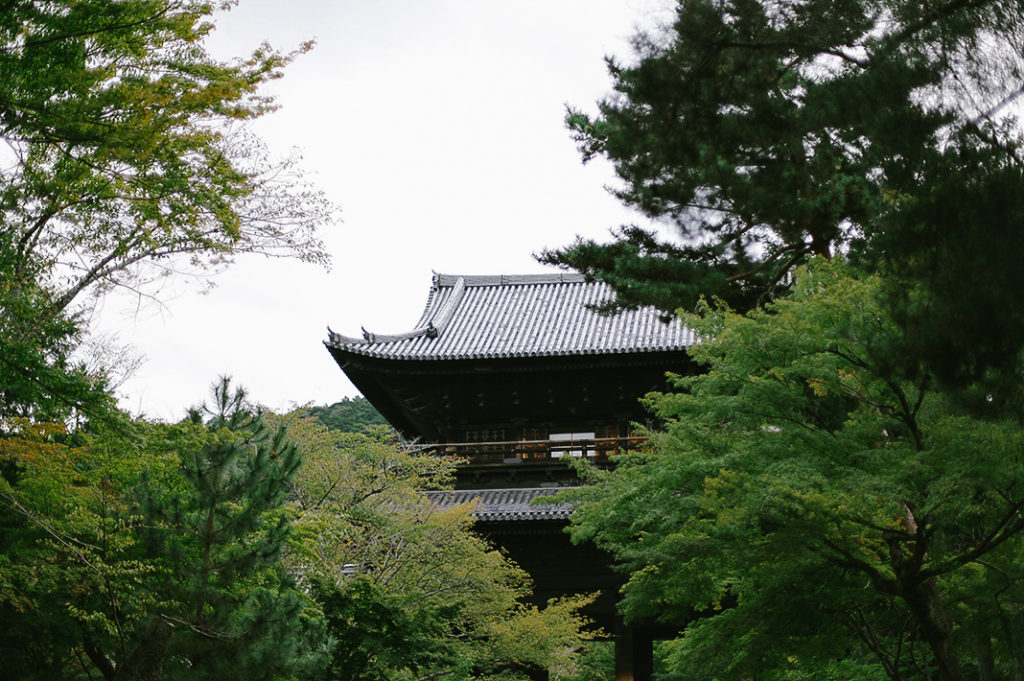 Nanzen-ji: Kyoto's sacred jewel.
First and foremost, Nanzen-ji is beautiful. It is magnificent beyond all measure. Ancient, subtle and profound in its countenance, yet not overrun with tourists. Nanzen-ji boasts Japan's most famous Sanmon Gate, interiors designated as 'national treasures' and precious works of art by the Kano dynasty of master painters. Beyond this, it houses several exquisite traditional gardens in both 'natural' and 'kare-sansui' (dry stone) styles. The sprawling complex sits at the foot of Mt. Dainichi, shrouded in forest. Because of the steep mountainside and rich, green surroundings, the temple complex in its entirety feels tranquil and secluded.
Perhaps surprisingly, Nanzen-ji is more than just a singular temple. Adjacent to the central complex is Nanzen-in. This beautiful building holds Nanzen-ji's origins, as it was originally the summer villa of Emperor Kameyama. Enthralled by Buddhist teachings, the Emperor converted to Buddhism later in his life and gave the expansive grounds of his villa over to the Rinzai school of Zen Buddhism. After this, he installed his personal teacher (a monk named Mukan Fumon) as the first head abbot of the newly created compound. At the height of its power, Nanzen-ji was a sprawling settlement of over sixty temples, halls and sub-temples. Although today it only has fourteen buildings in its central complex, it still offers a full half day's worth of leisurely exploration.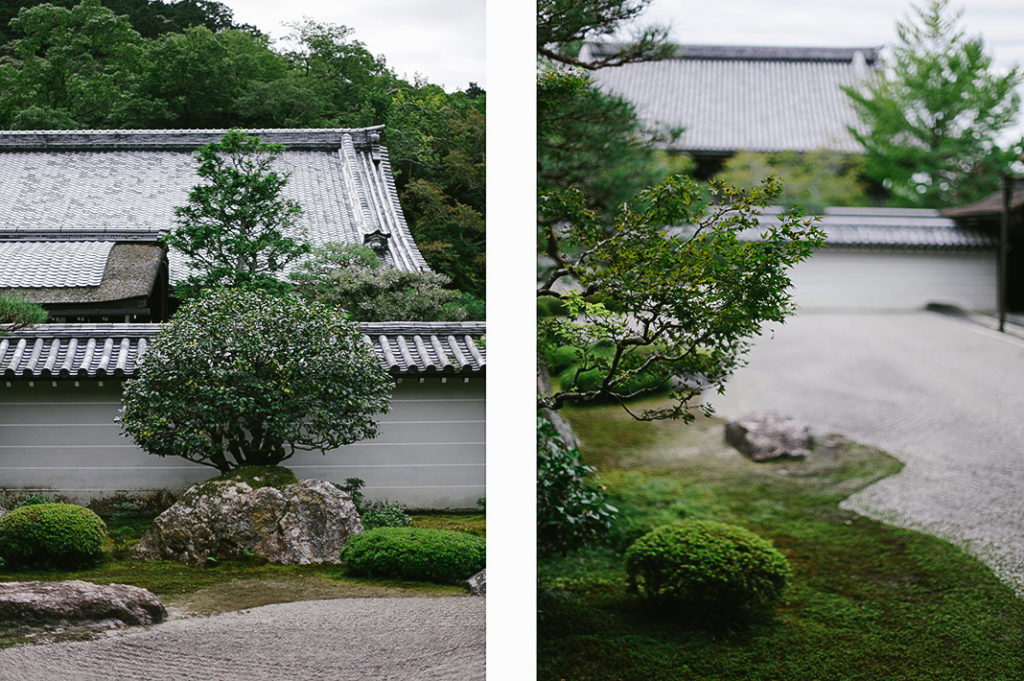 The soul of Rinzai Zen in Kyoto.
Japanese Buddhism is vast and complex, to say the least. In order to keep things simple, we'll focus on the 'Zen' tradition, specifically the Rinzai school of Zen Buddhism. The Rinzai school is based in Kyoto, comprising of five principle temples. These temples are referred to as the 'Gozan' [五山], meaning 'five mountains.' In Zen tradition, temples themselves are referred to esoterically as 'mountains.' The five temples in question are Tenryu-ji, Shokoku-ji, Kennin-ji, Tofuku-ji and Manju-ji. Confusingly, Nanzen-ji is not on this list. It has, in fact, been elevated to a status above and beyond these five temples.
Rinzai Zen was imported from China to Japan by several monastic figures over the course of a few centuries. Established first in Kamakura, it quickly expanded into Kyoto. Nanzen-ji rises as the principle heart of the Rinzai tradition in the latter city. Of course, this is another valid reason to prioritise a visit to Nanzen-ji before any other temple in Kyoto! Furthermore, the 'Gozan System' offers a fascinating insight into disguised modes of monastic and military power in Japan.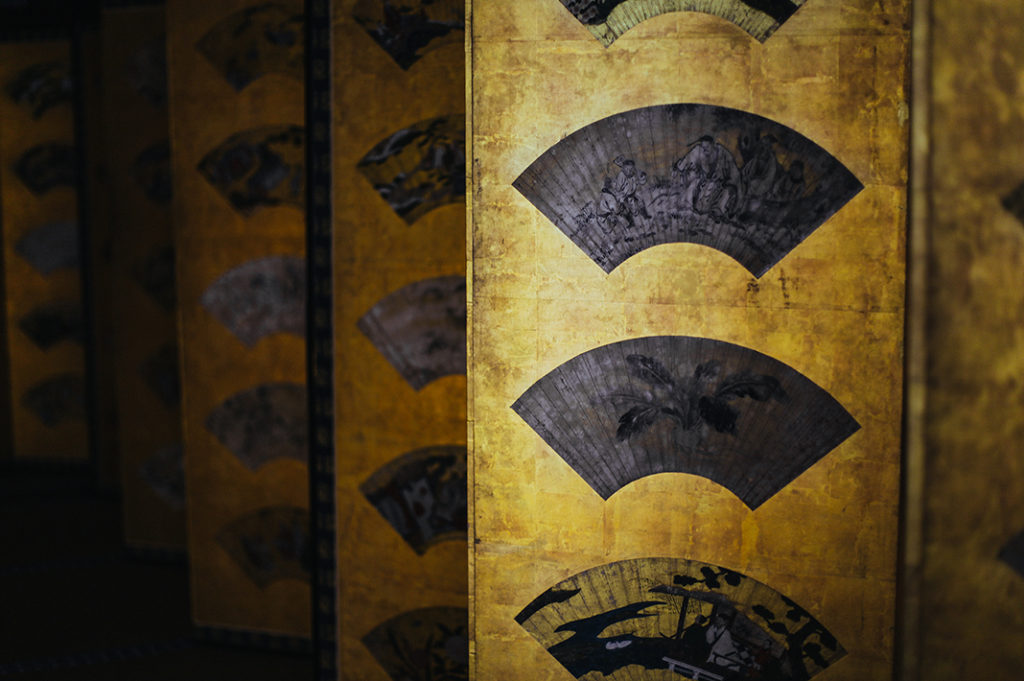 Expansive collections of sacred art.
Inside the abbots quarters are numerous glass-paned rooms housing intricate historical paintings. They were created centuries ago by Kano Motonobu and his grandson Kano Eitoku of the Kano School of Painting. Unsurprisingly, these treasured paintings are kept in low-lit rooms. Replicas also replace a number of the originals in order to protect them from damaging natural light. Naturally, the preservation of the original creations is paramount. Anyone with a desire to see more prized art from the Kano School should be sure to also visit Nijo Castle. Here, the most prized and extensive collections of Kano paintings decorate almost every surface.
Most importantly, Nanzen-ji houses a work by Kano Tan'yu: "Mizunomi no Tora" [Tiger Drinking Water]. This painting is in a screened hallway, adjacent to yet another masterpiece: "Tora no ko watashi." A collection of rocks within the dry stone and moss garden, it resembles a mother tiger crossing a river with her cubs. Paradoxically, Japan's love of tigers within art is somewhat misleading. There are no tigers in Japan, nor have there ever been. They are one of many motif items borrowed from Chinese art styles. These painting styles, along with Zen [Chan] Buddhism and the Kanji writing system were all transfused into Japanese culture over several centuries.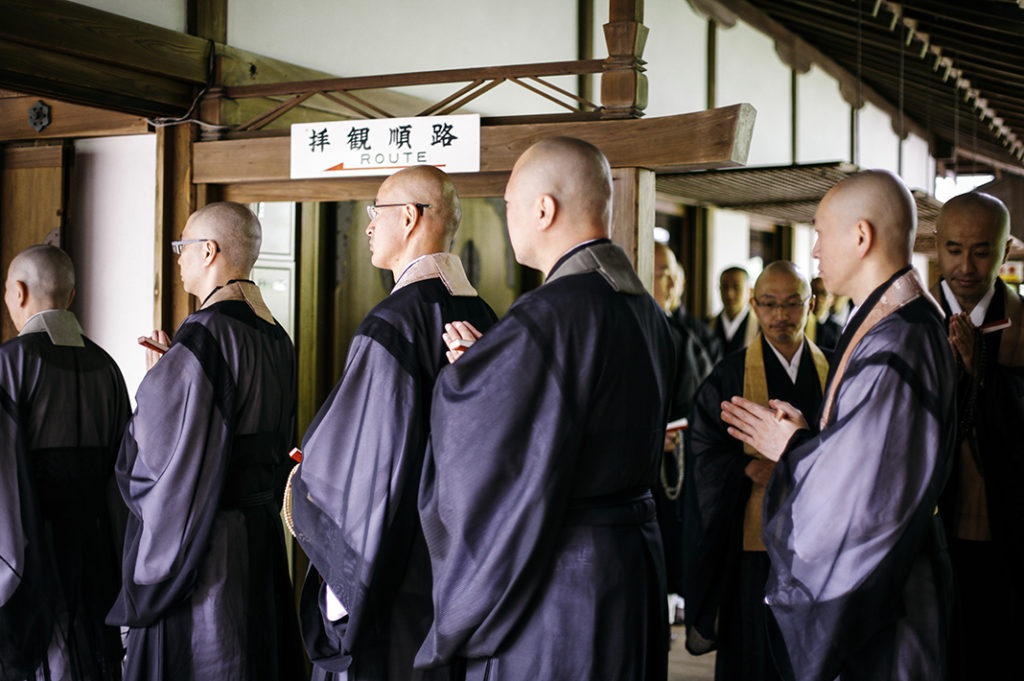 Nanzen-ji: A living, breathing place of worship.
All of Japan's Buddhist temples (and Shinto shrines) are active places of worship. Despite this, the vast majority of temples operate with visitation with foreign tourists in mind. As such, when visiting any given Buddhist temple, there's always a chance that you'll find yourself falling into step with members of the local Buddhist community, including Buddhist monks.
A monastic day begins early, often at four or five in the morning. As well as the well-known sitting meditations (zazen), Buddhist monks engage in a range of pragmatic activities, too. Some will periodically re-align the sand in the dry gardens. Others will manage votives (handling offerings, candles and incense) and some will lead the reading of sutras and services for members of the local Buddhist community. Sometimes, these daily activities are carried out behind closed doors. However, on occasion a tide of flowing robes will appear as if from nowhere. As the large Nanzen-ji complex is home to a large number of practicing monks, there's a fair chance you'll see them going about their business at the temple. If a chance to quietly and unobtrusively watch them arises, it's usually acceptable to do so.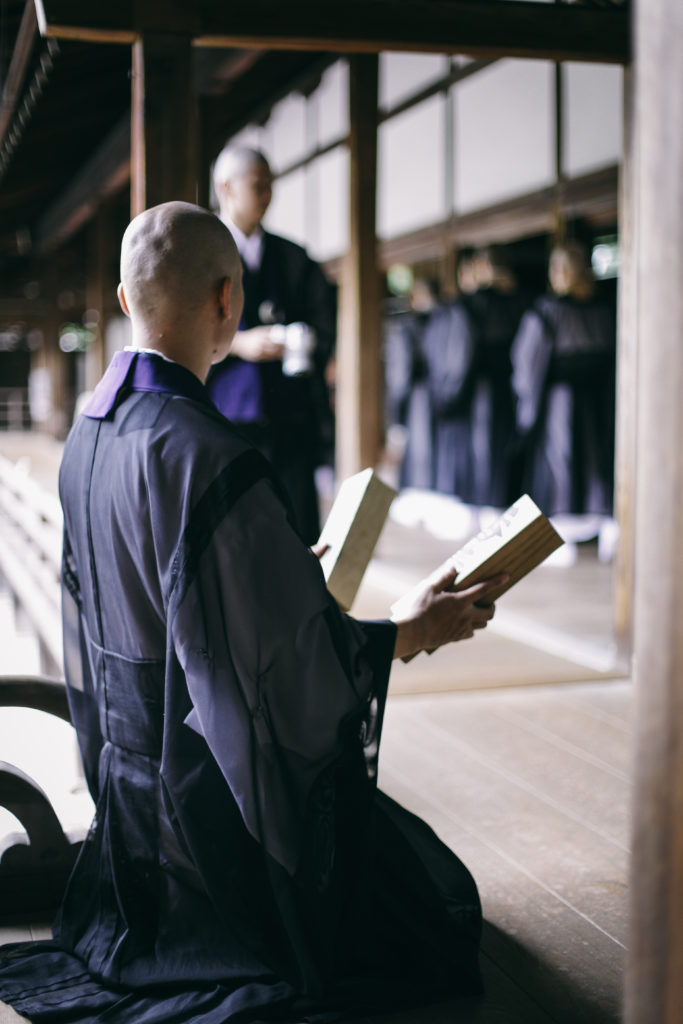 Vibrant in every season.
Many tourists like to visit Japan in spring, however this is by far Kyoto's most overcrowded season. Although Nanzen-ji is lovely in spring, it lacks the cherry trees that so many people flock to the city to admire. Instead, Nanzen-ji's main attraction is its vast forest of Japanese maple trees. In early summer, these maples radiate a pure green hue, made vibrant by June's rainy season. In November, the same trees burn with shades of umber and lacquer; unfathomably red against the darkened wood of the temple.
As the temple's deciduous gardens lose their leaves, the temple awaits the snows of winter. Most commonly, Kyoto sees snow in January and February. During the winter season, the temple's trees are bare. Snow replaces the vibrant colours of spring and autumn, truly resembling an otherwordly scene from a woodblock print.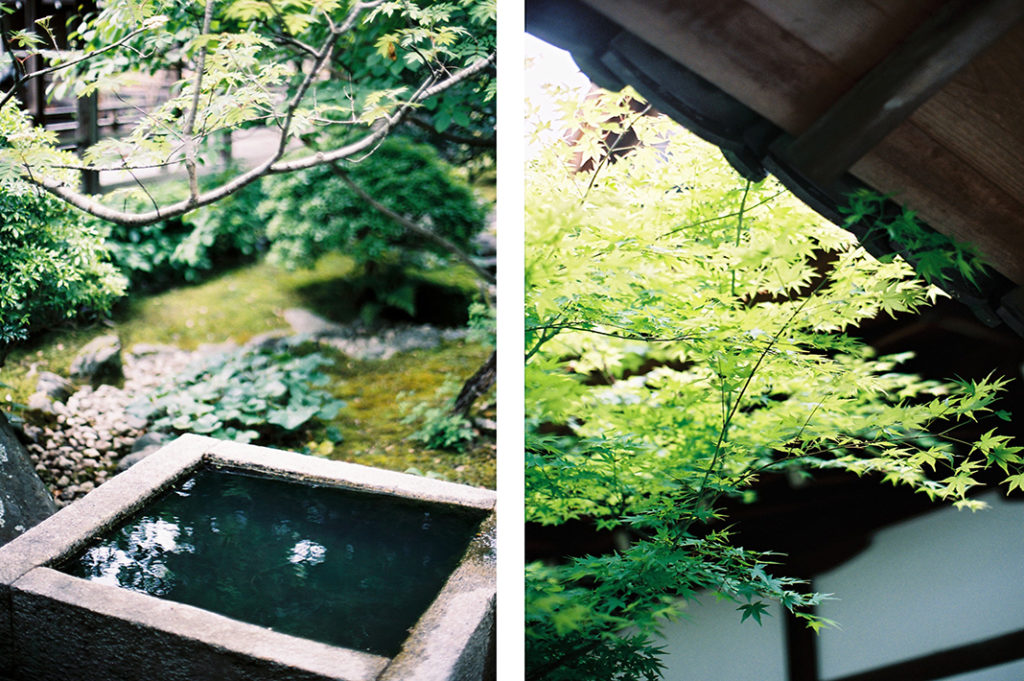 Access.
There are a number of ways to access Nanzen-ji. From Kyoto station, the easiest route is to take the city Subway. Board the subway at Kyoto and change at Karasuma Oike to the Tozai Line. Ride a further four stops and exit at Keage station. From here, head to the station's "Exit/Entrance 1." As you exit, turn right and walk downhill, with the main road on your left. After three minutes, you'll see a tunnel on your right. Head into this tunnel, follow the pathway through the smaller temples and you'll arrive at Nanzen-ji (and its charming gift shop on your left).
Kyoto CityBus Number 5 will also take you to the ROHM theatre near Nanzen-ji, but the subway is by far the more efficient and advisable option. The Path of Philosophy begins from the north exit of Nanzen-ji's enclosure and leads to the Silver Pavilion, making Nanzen-ji an ideal starting point for a walking tour of northeast Kyoto. Finally, if you're an appreciator of fine coffee and locally made snacks, head to Blue Bottle Coffee, two minutes away from the entrance of Nanzen-ji – it opens at 9 a.m. every day.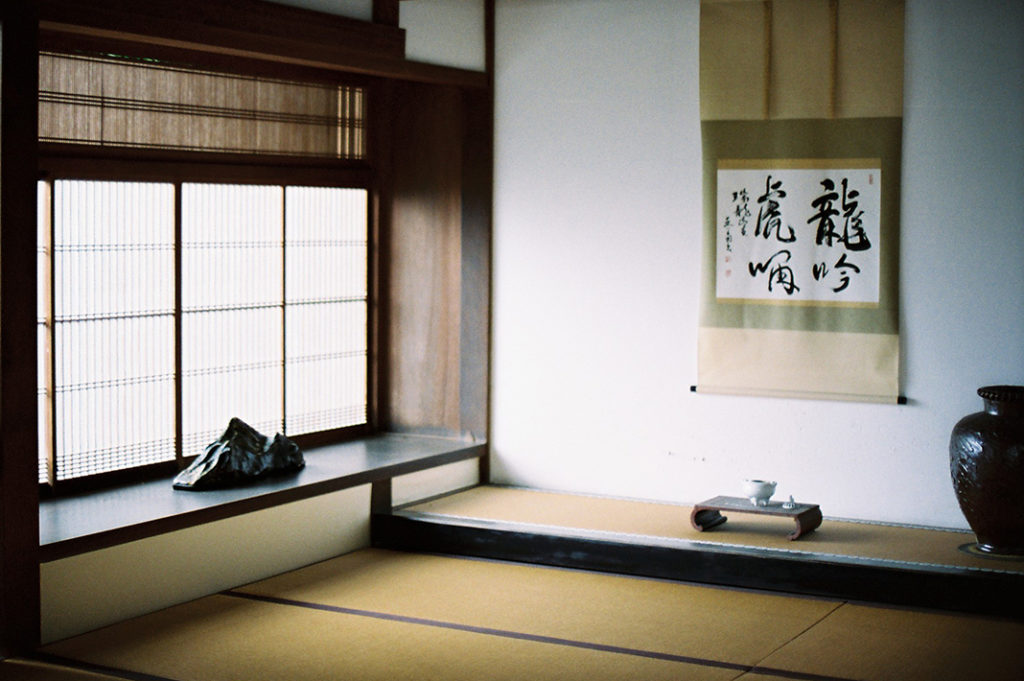 Post by Japan Journeys.