It's easy to forget what century you're in as you explore the cobbled, hilly streets of Higashiyama. This part of Kyoto is famous for its high concentration of beautiful and historic shrines, temples, tea houses and restaurants. As I wandered along, lost in thought, I realised I was unconsciously heading toward the towering pagoda of Hokanji Temple. Too busy looking up, I was startled by a rickshaw whizzing by and quickly stepped out of the way. This is how I found myself standing in front of Kyoto's most colourful, insta-worthy temple: Yasaka Koshindo.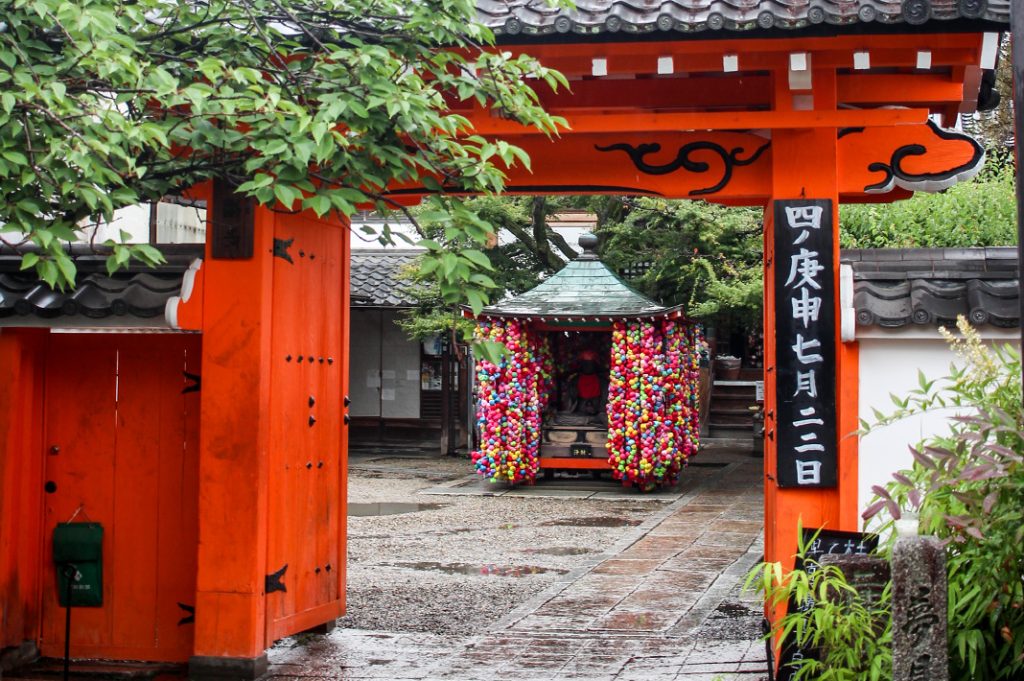 About Yasaka Koshindo
Kawaii though it may be, there's a lot more going on here than meets the eye. Officially named 'Daikoku-san Kongo-ji Koshin-do', Yasaka Koshindo is a Koshin temple, a folk faith with links to Taoism, Buddhism, Shinto and others. This faith dates back around a thousand years, but has since fallen out of popularity. Though I can't imagine why; it sounds wild. One of the main customs which occurs every 60 days entails staying awake all night to prevent the three corpses who inhabit your body from floating out of your sleeping form to tell your sins to the gods. It is also customary to eat konnyaku on this night because the three corpses hate that stuff. You know, all pretty normal kind of faith stuff. 

Yasaka Koshindo temple is dedicated to Koshin-san. This blue, bald deity may be a demon, but he's got your best interests at heart. It is said that he is able to make the three corpses (sanshi) ill and even stop them from going to the gods with your sins. Also symbolic to this faith are the see/hear/speak no evil monkeys which can be seen in the temple grounds, too.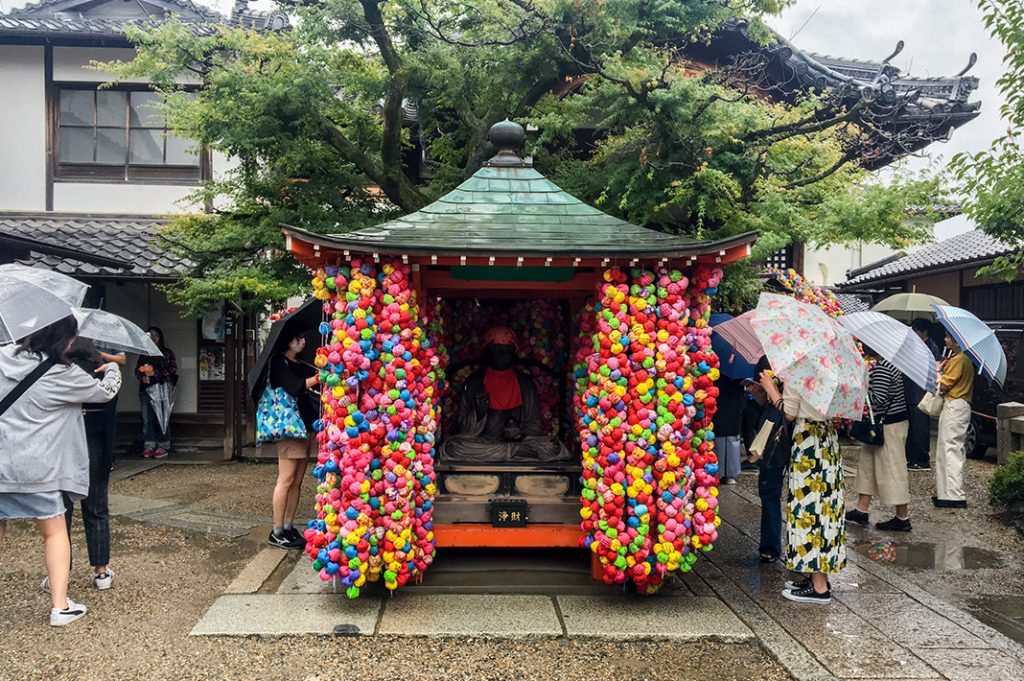 The kukurizaru rainbow monkeys
So how does all this tie in with the balls? Well, much like the ema (wooden plaques) and o-mikuji (paper strips) found at other shrines and temples, these help your wishes come true.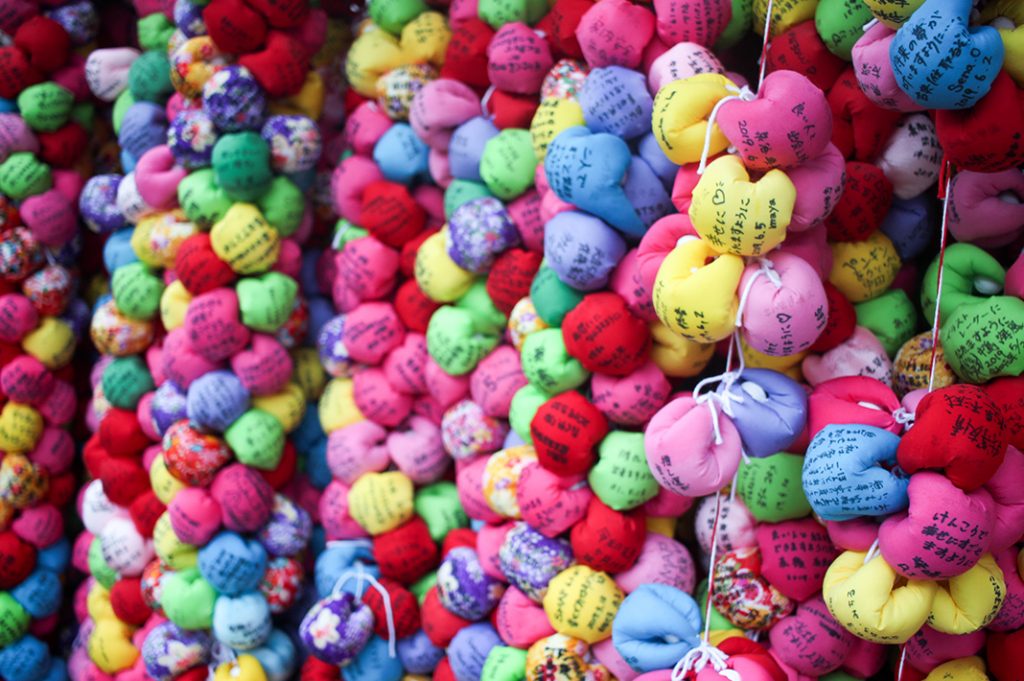 The bright, kawaii balls are actually little monkey talismans. Their hands and feet are bound to symbolise self-control over playfulness and desire. The idea behind these kukurizaru talismans is to write down a desire and leave it with the statue of Koshin-san. From there, he will very kindly abolish your desires and grant your wishes. Kind of like a confession booth type scenario—but with a lot more colour. Of course, if your desires are too salacious, maybe stick to writing down your wish instead.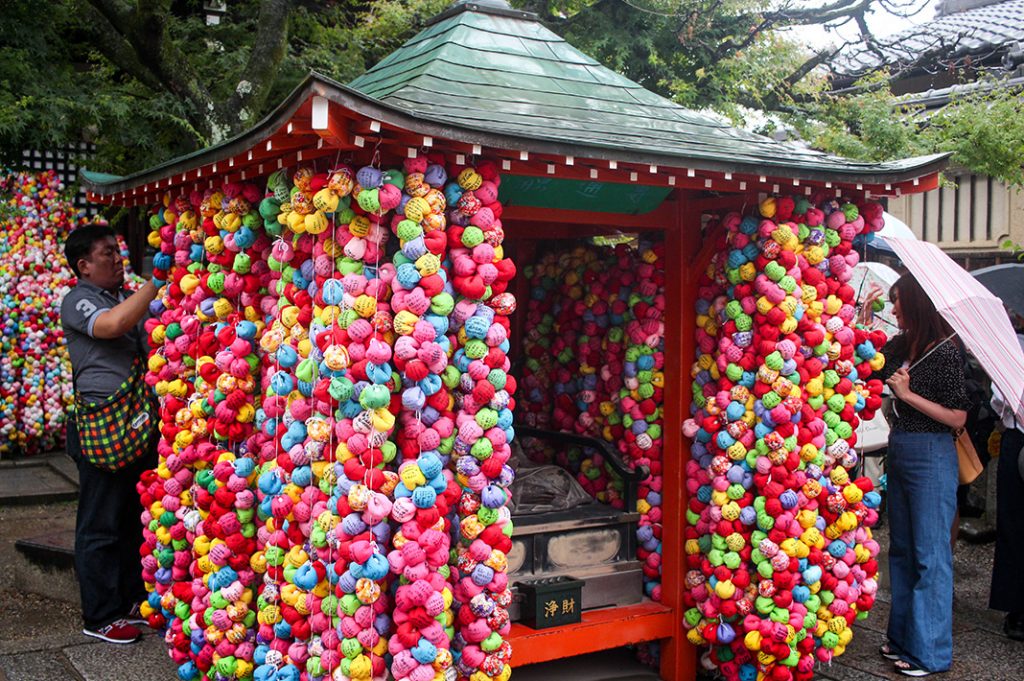 So, whether you're looking to get something off your chest or just for something cool for the 'gram, head over to Yasaka Koshindo. Oh, and look out for the rickshaws when crossing the street!
Name: Yasaka Koshindo
Location: 390-1 Kinencho, Higashiyama Ward, Kyoto
Open: 9am–5pm
Google link: https://goo.gl/maps/mCGFBzzUf5Ef9QZG6
Post by Japan Journeys.