Summer is a great time for travel, but summers in Japan, with soaring temperatures and high humidity, are no joke. Luckily, there are a number of cooling items available to keep you chilled and fresh all summer long. I made a trip to Daiso, the ubiquitous ¥100 store, to test out some of these unique summer accessories. Read on to discover my favorites. 
Hand Fan
Coolness Score: ❄ ❄ ❄
The traditional Japanese hand fan is an oldie but a goodie! I like this classic summer accessory because they come in so many colors and patterns and are cheap—starting at a mere ¥100. They are easy to carry around, provide a refreshing breeze and also make great gifts! In terms of cons, they are quite labor-intensive since you have to do the fanning yourself. Also, the delicate wooden construction means that they will inevitably break. But at least they are convenient to replace!
USB Fan
Coolness Score: ❄ ❄ ❄ ❄
Daiso has really outdone themselves with this item! I'd resisted purchasing an electric fan for the longest time since I was worried about cheap construction and having to replace batteries, but there are no such concerns with this. It's easy to use and, with three different speeds, keeps you quite cool. There are two ways to use this fan. It comes with both a stand so you can place it on a desk or table and a neck strap for portability. It also comes with a USB cable for charging, and a single charge can last months. It's perhaps a bit bigger than some other electric fans I've seen, but its extreme cuteness and good quality definitely make up for that. With so many functions and bells and whistles, it's a steal at ¥500. This one is a must-have for your arsenal of summer accessories.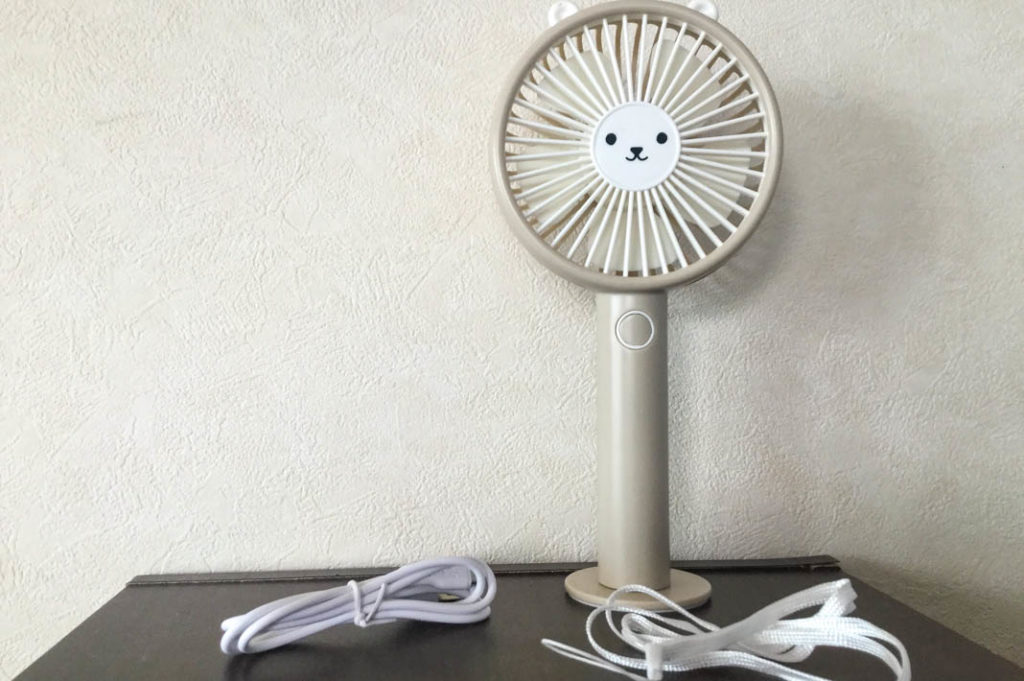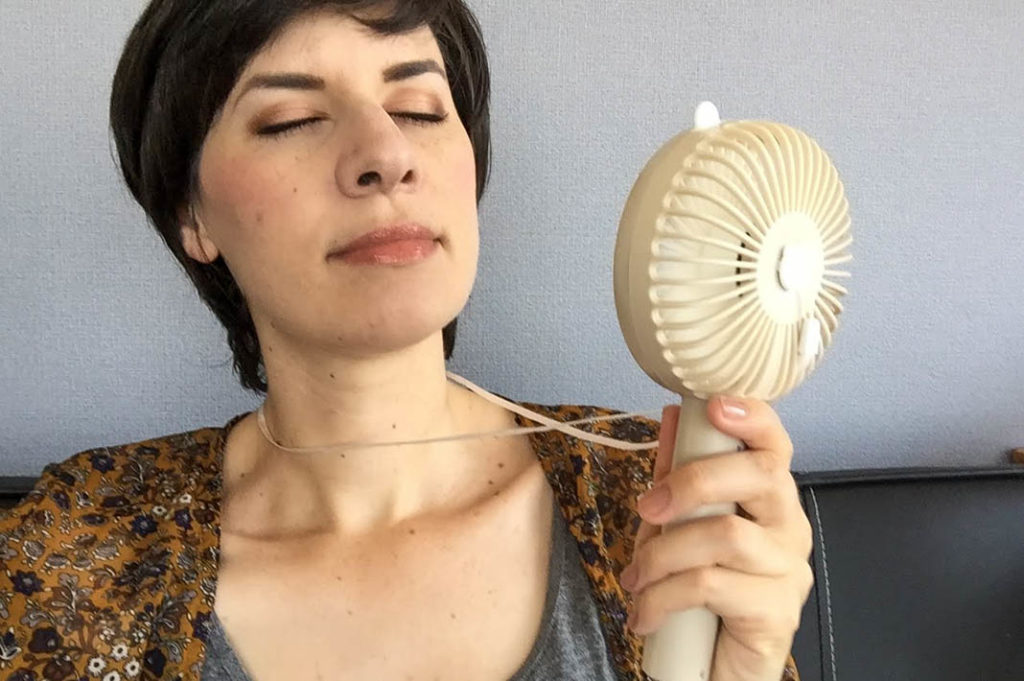 Cool Spray
Coolness Score: ❄ ❄ ❄
True, you can fill a spray bottle with water to cool down, but why not try a specialized cooling spray? The small bottle is quite portable, and the sprayer has been cleverly designed with an on/off button so you don't have to worry about a potential mess in your bag. Spray it anywhere on your body for a refreshing, cooling sensation. The one I tried was a pleasing minty citrus scent, but there are a few different ones to choose from. This cooling spray also comes in an aerosol version as well.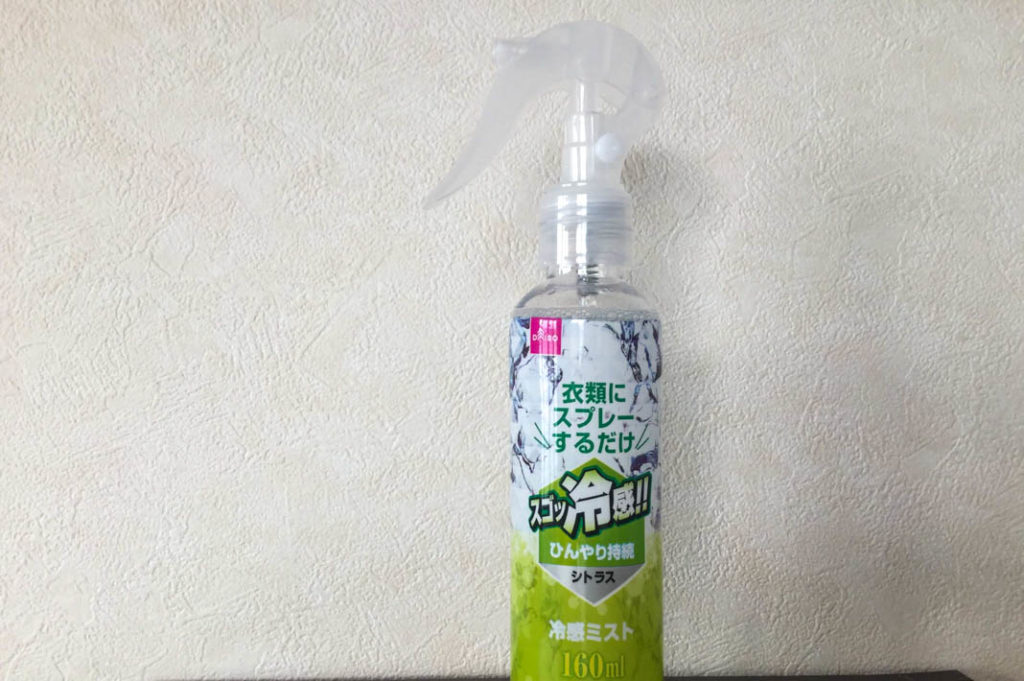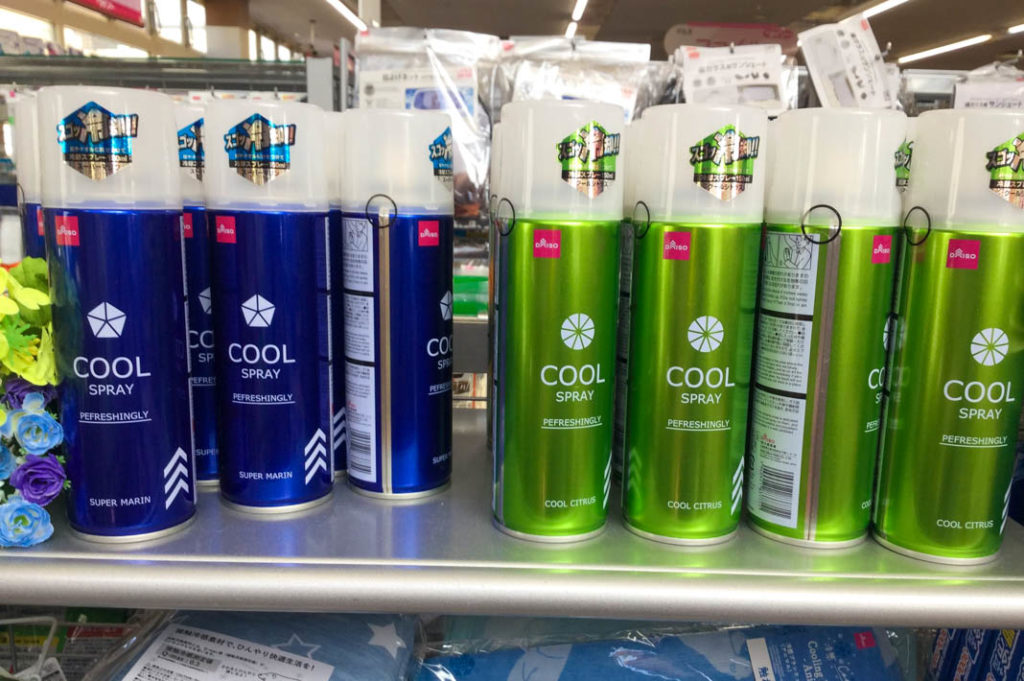 Ice Wipes
Coolness Score: ❄ ❄ ❄ ❄
You can find a lot of different manufacturers of these cooling wipes in Japan, but my favorite are these ones by Gatsby. Packages of these are sold in every convenience store, and they come in a variety of scents. For me, these get a higher score than the cooling spray because they are deodorized, making them an ideal item for freshening up on the fly during a busy summer day. They are also portable, perfect for traveling, and mess-free! Just don't wipe anywhere too sensitive as they leave a strong cooling sensation.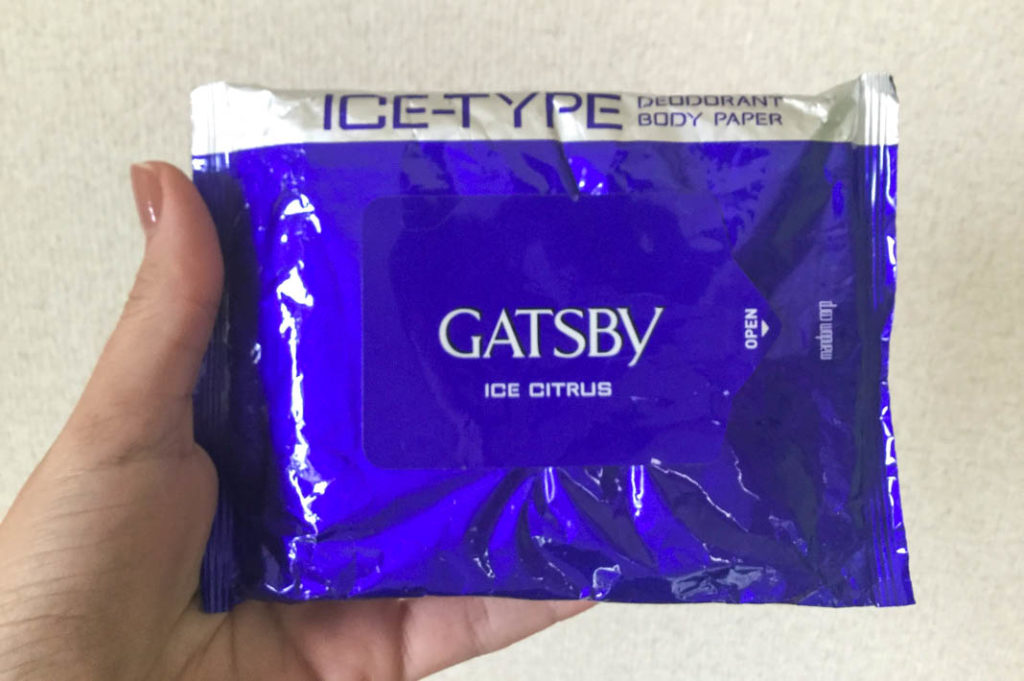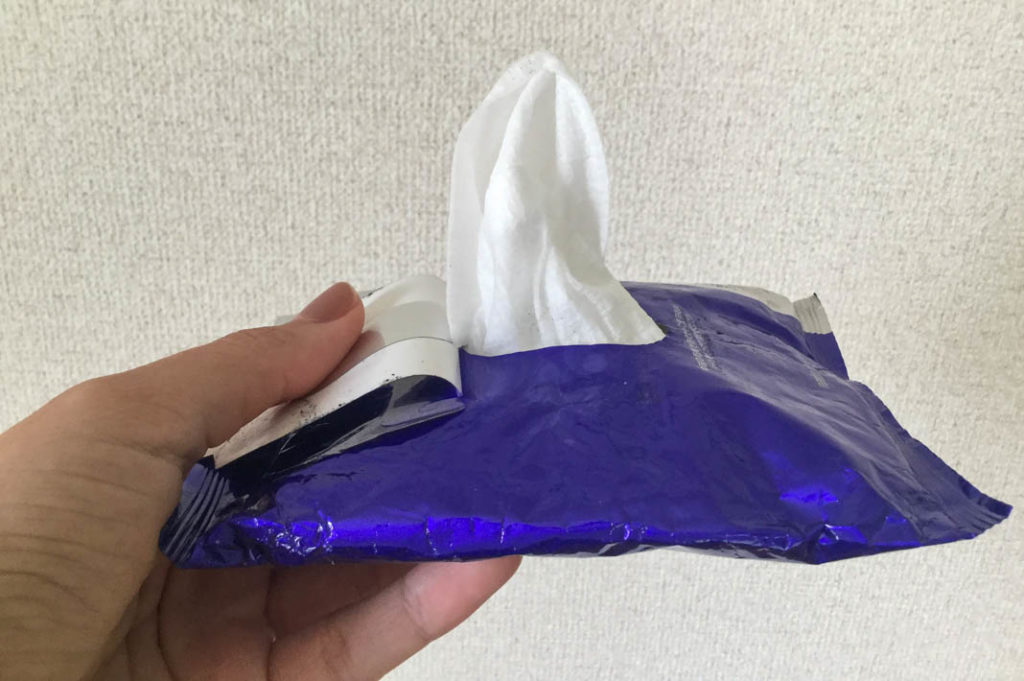 Cooling Pillow
Coolness Score: ❄ ❄ ❄ ❄ ❄
This item is definitely the coolest I've found! Pop it in the fridge for at least four hours, and you will finally be able to relax after a gruelling hot summer day in Japan. The only drawback is that this item is certainly not portable, as it requires a refrigerator to work its magic. But the design is very cute, and for only ¥200, the materials feel to be of good quality.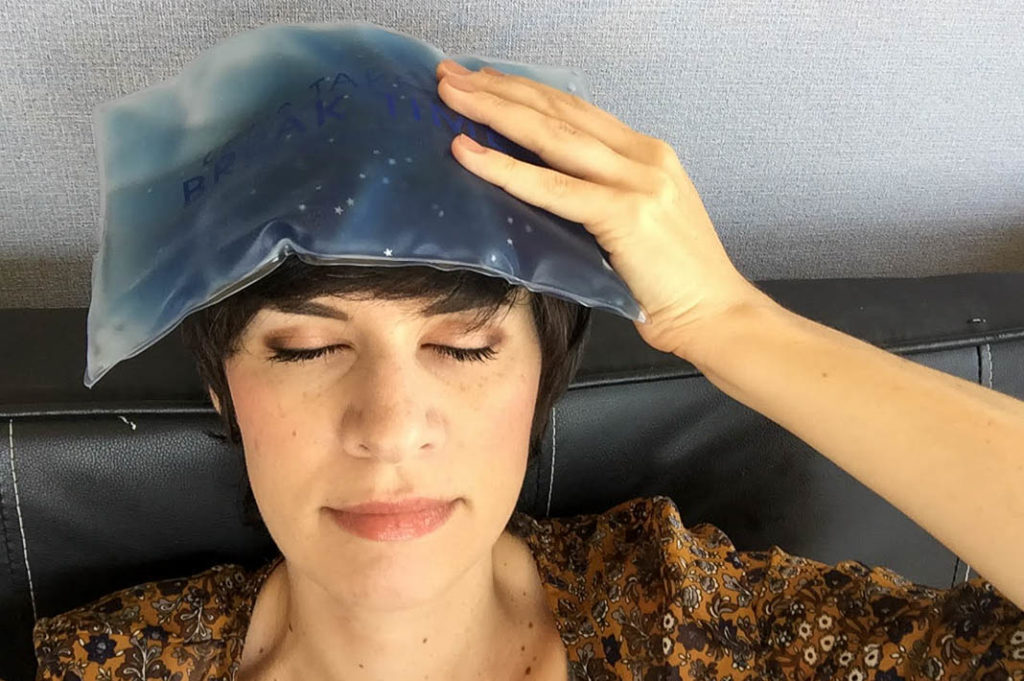 Neck Cooler
Coolness Score: ❄ ❄ ❄ ❄ ❄
I was surprised at how easy, effective, and cool this summer accessory is! It looks a bit goofy, but don't knock it until you've tried it. This is a great item for travellers, as it's small and easy to throw one in your bag. Simply run the quilted part of the band under water until it inflates, and tie it around your neck or forehead. Note that if you overfill it, it can be a bit drippy, and if you don't have a water source, you'll be out of luck. Also, this was the only item in my Daiso summer haul that does not have English instructions, but Google Translate did a fine job at helping me figure out how to use it.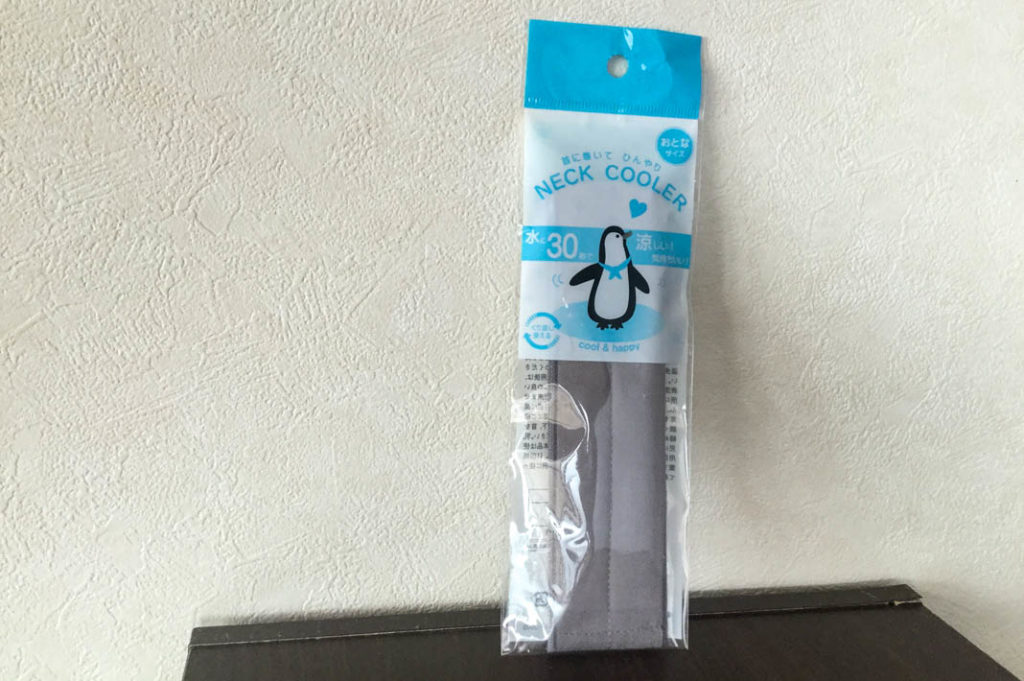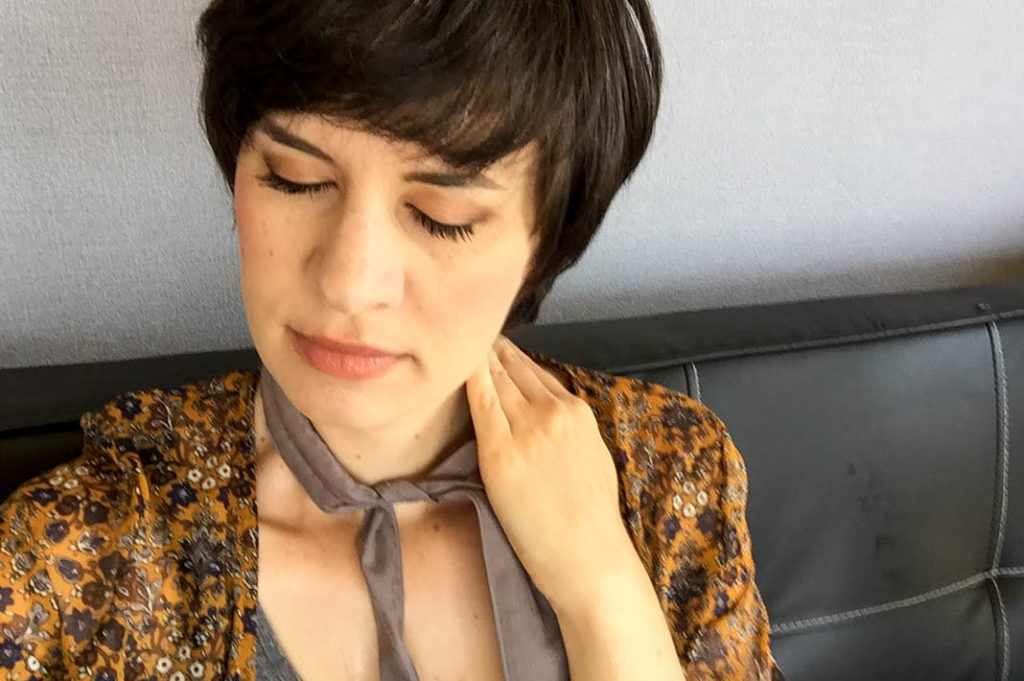 Honorable Mention: Mini Towel
This item does not get a cool rating, as it doesn't really keep you cool. But, since moving to Japan, I find myself keeping a stash of these on hand at all times—especially in the summer. If you look around, you will notice many Japanese people using these tiny towels. They are great for wiping away sweat, running under water to cool down, or simply for drying your hands at a railway station restroom that doesn't have a hand dryer. You can find them in virtually any color, pattern or style you can think of, and they make great souvenirs!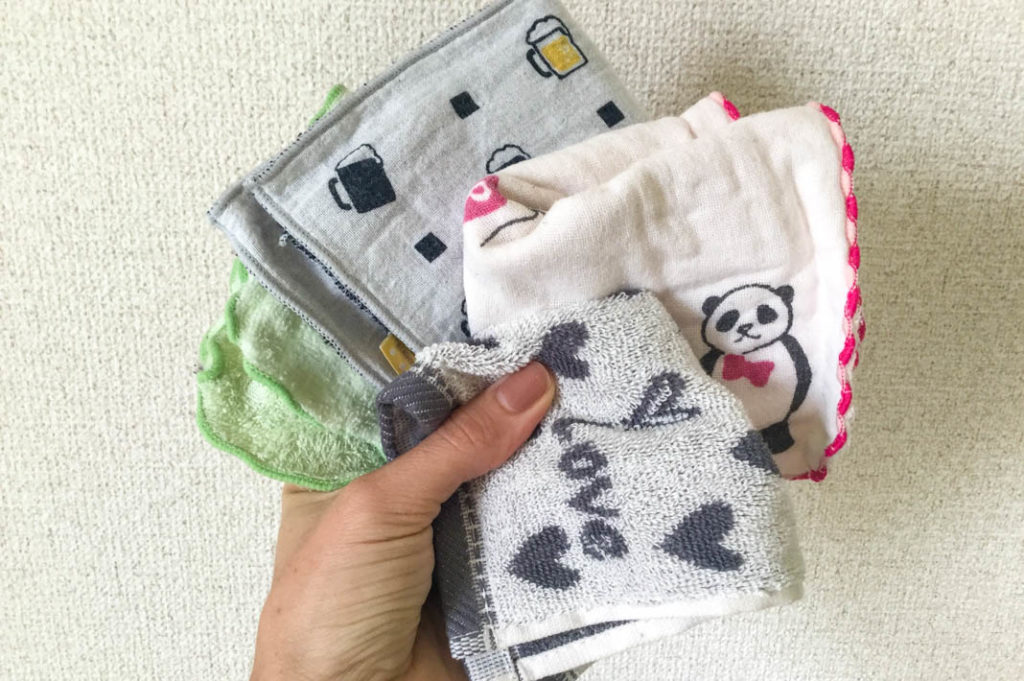 So, if you touch down during Japanese summer and need a reprieve from the heat, simply head for the nearest Daiso! There, you'll be able to shop for these, and many more, unique cooling products that will help you stay cool all day long!
Post by Japan Journeys.