Omotesando on the weekend is a bustling place. The wide streets and footpaths are part fashion runway and part restaurant queue. However, the runway wasn't our destination; a body-nourishing lunch was needed at Tokyo vegan restaurant 8ablish.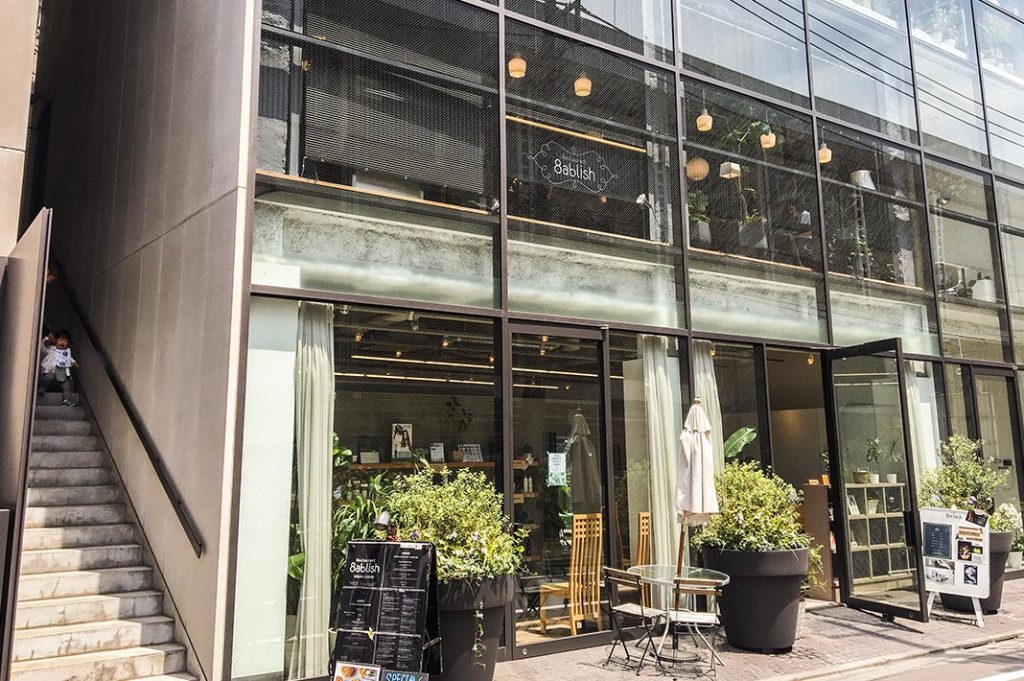 The walk from Omotesando Station only takes a few minutes and, thankfully, the crowd thins out significantly. While looking up at the restaurant in the quiet side street, lovers stroll by me hand in hand and a father helps his toddler to toddle down the stairs.
Vegan Restaurants in Tokyo
The number of vegetarian and vegan options in Tokyo seems to be on the increase. Sure, you can get by ordering veggie skewers and rice at a yakitori joint—'making do' is something most vegans are probably used to. But sometimes it's nice to go to a place where the whole menu is accessible without having to ask questions or make compromises. This is not an issue at Restaurant 8ablish, nor at their Gakugeidaigaku sister-store, Muffins and Coffee 8ablish.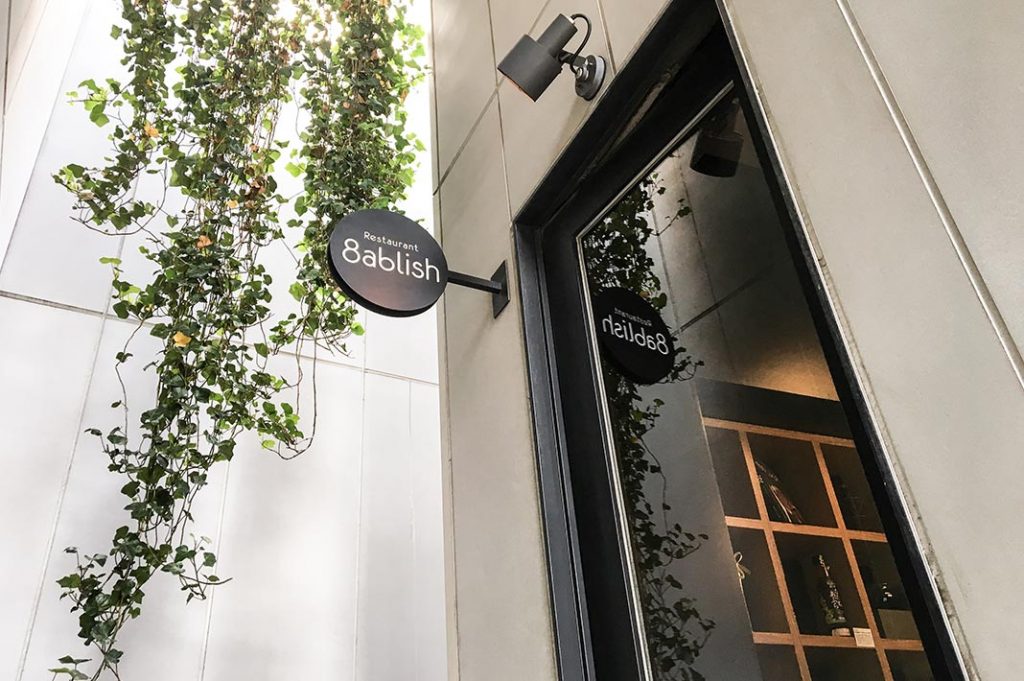 Restaurant 8ablish
The entrance is a precursor to the dining experience; chicly designed with oodles of wholesome treats.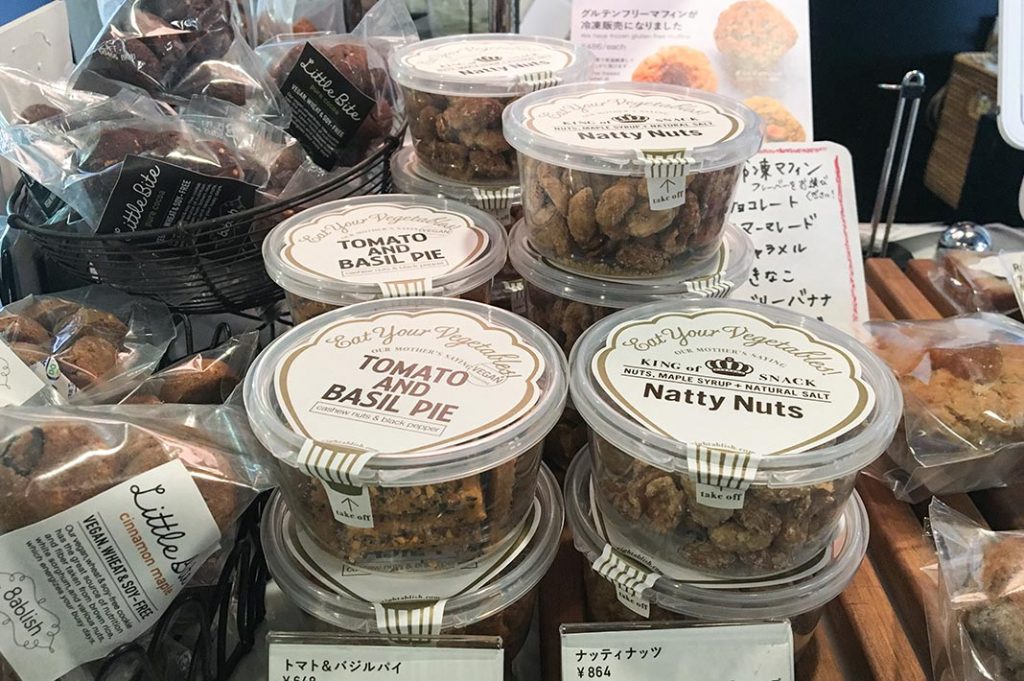 As we're seated, we take in our surroundings. Warm, gentle pendants hang over the communal table, wine bottles chill on ice. The charcoal walls and ceiling are easy on the eyes and have the effect of making the greenery pop. Swinging jazz has everyone relaxed and it almost feels like you're at someone's dinner party.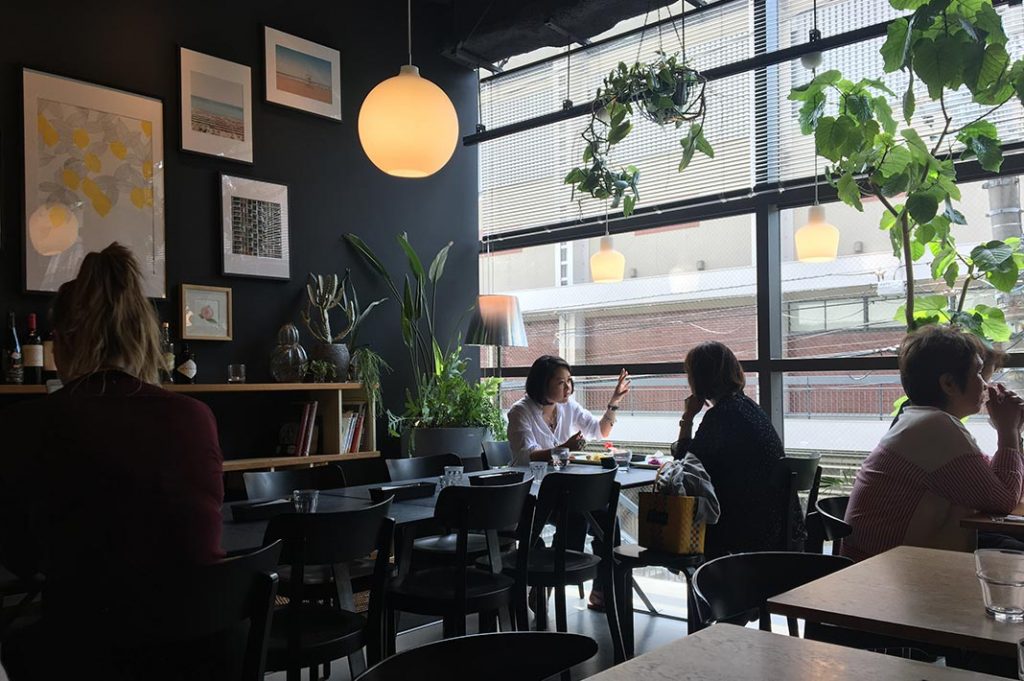 The staff make a point of speaking English, though that slips away a little as the lunch rush picks up. They move swiftly and swing by to top up water glasses.
The menu
The lunch menu was a course menu with options regarding number of courses. As we were having our first meal of the day at lunch time, we went for the full lunch set: appetiser, soup, main and dessert. Admittedly, not the cheapest lunch, but the quality of the ingredients and the specialised skill in preparing them just-so, is worth paying extra for.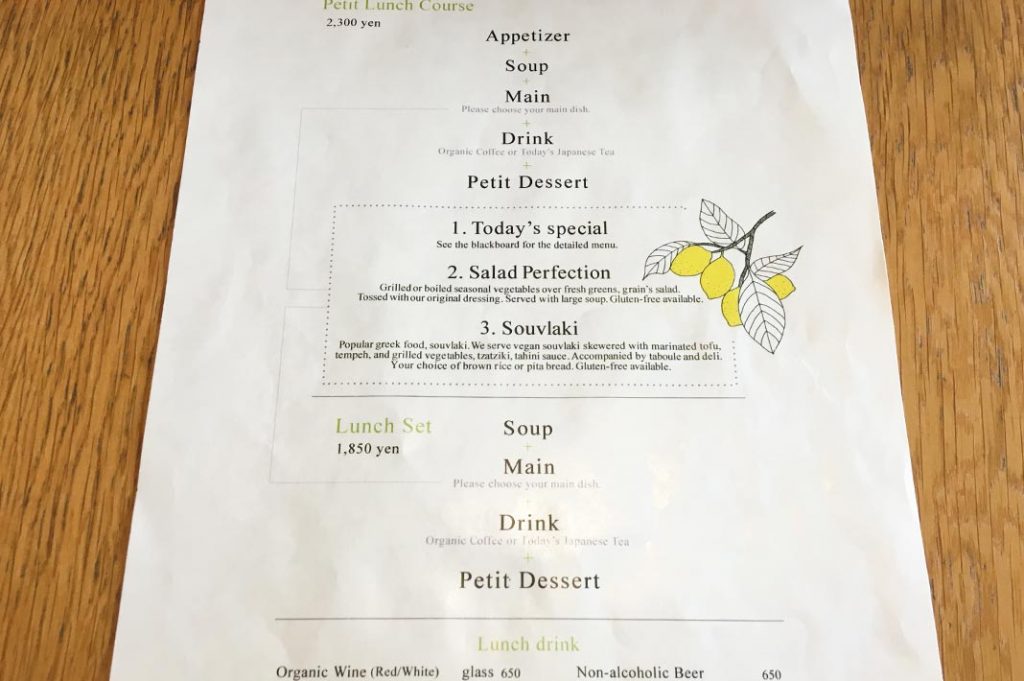 The wine list was mostly French with a few Greek wines. There was also a selection of French champagnes by the bottle. It was nice to see they didn't offer the individually wrapped wet wipes (in single use plastic) and had a sign explaining that you could request no straws with your drinks.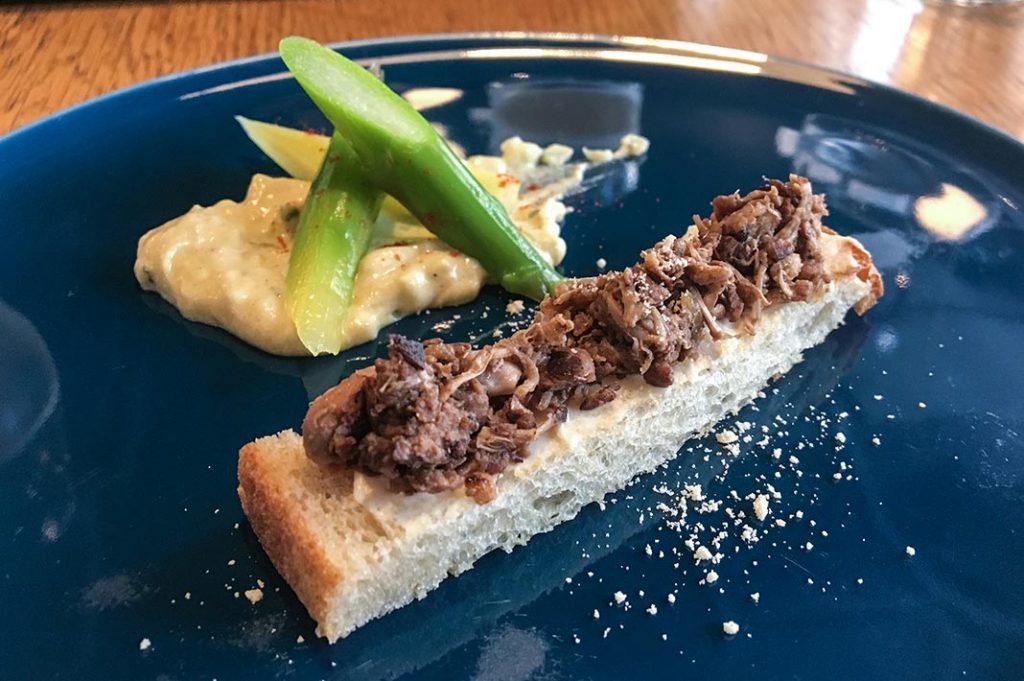 The food
The appetiser came quickly and was every bit as delicious as it looked. Crispy yet fluffy toast was lathered with a rich nut cheese (actually tasted like dairy!) and topped with meaty jackfruit. It was umami and comfort and very moreish. Beside that, crisp asparagus spears were arranged over a dollop of mustardy tartar sauce for a tasty punctuation to the first course.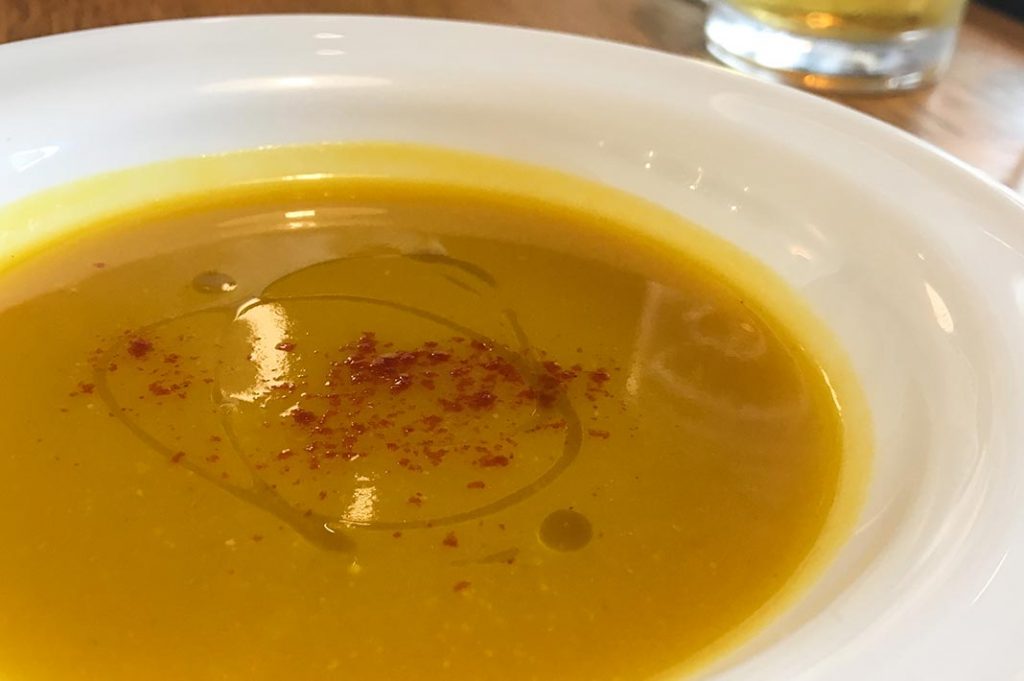 Next was pumpkin and ginger pottage. Smooth, wholesome.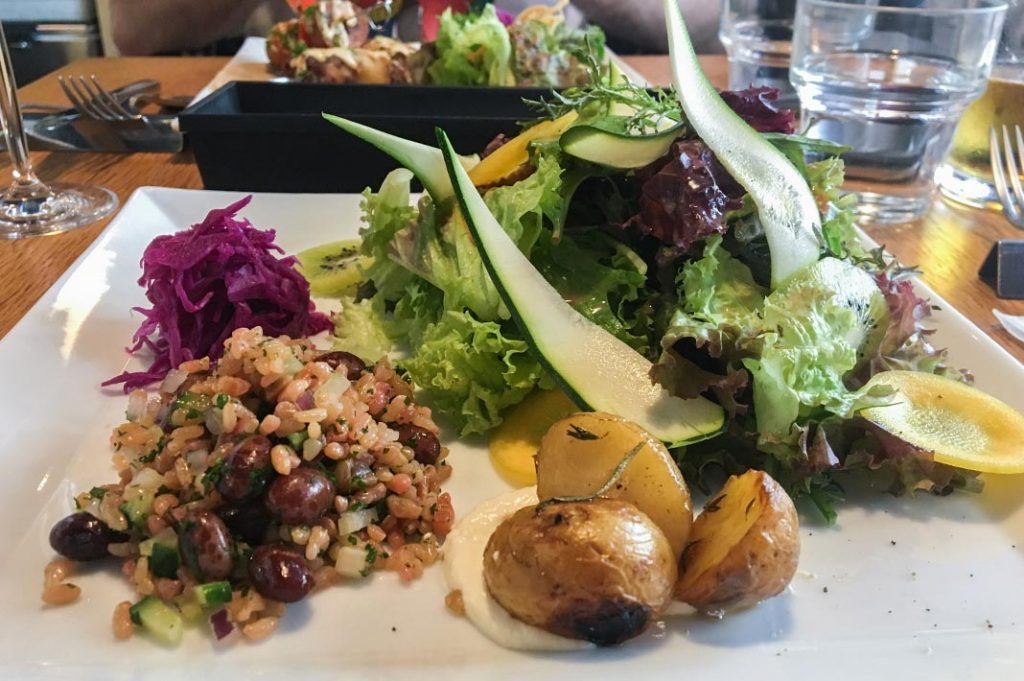 For mains, we ordered the vegan souvlaki and the salad plate. While delicious, the latter was not as substantial as I had hoped. The kiwi and zucchini were an interesting combination and presentation was great. The grain salad and 'today's deli' section were tasty but both small compared to the green salad. Perhaps a lesson to eat a proper breakfast and to not pressure myself into ordering salad like the dainty ladies at the next table. When will I learn?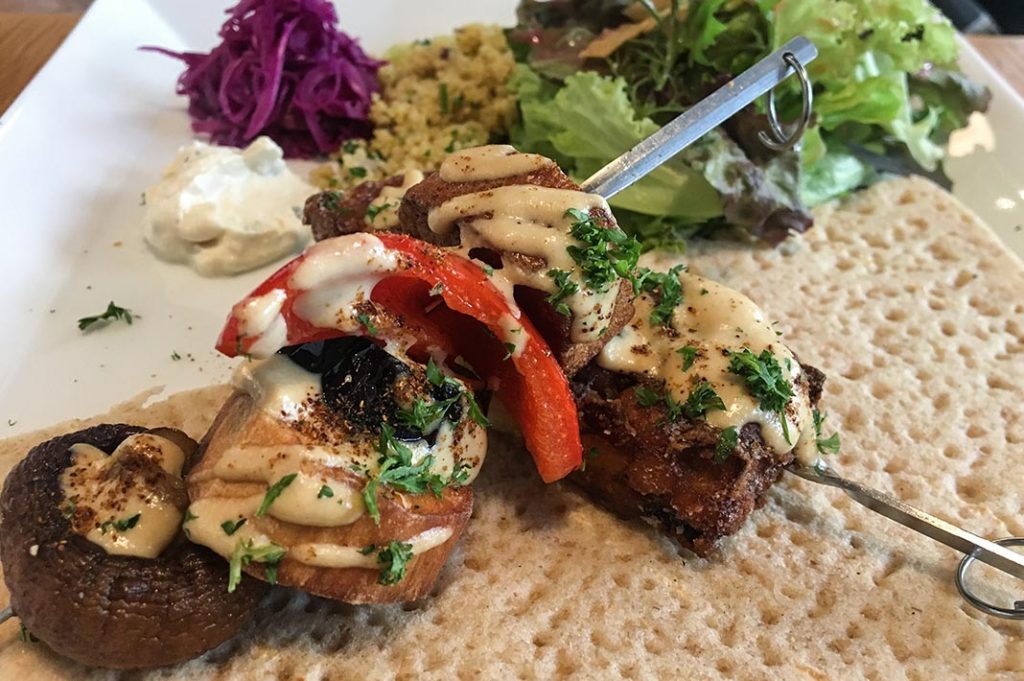 The souvlaki. Two skewers of marinated tofu, tempeh and grilled veggies with a choice of rice or pita and sides. The tempeh was hot and crunchy and mixed nicely with the grilled mushroom and the vegan tzatziki. It seems this is a signature dish; I highly regret not ordering it. The 'todays special' main was a tempeh cutlet with pomodoro sauce, which my eyes told me would have been delicious. Guess I'll have to head back to find out what other delights await.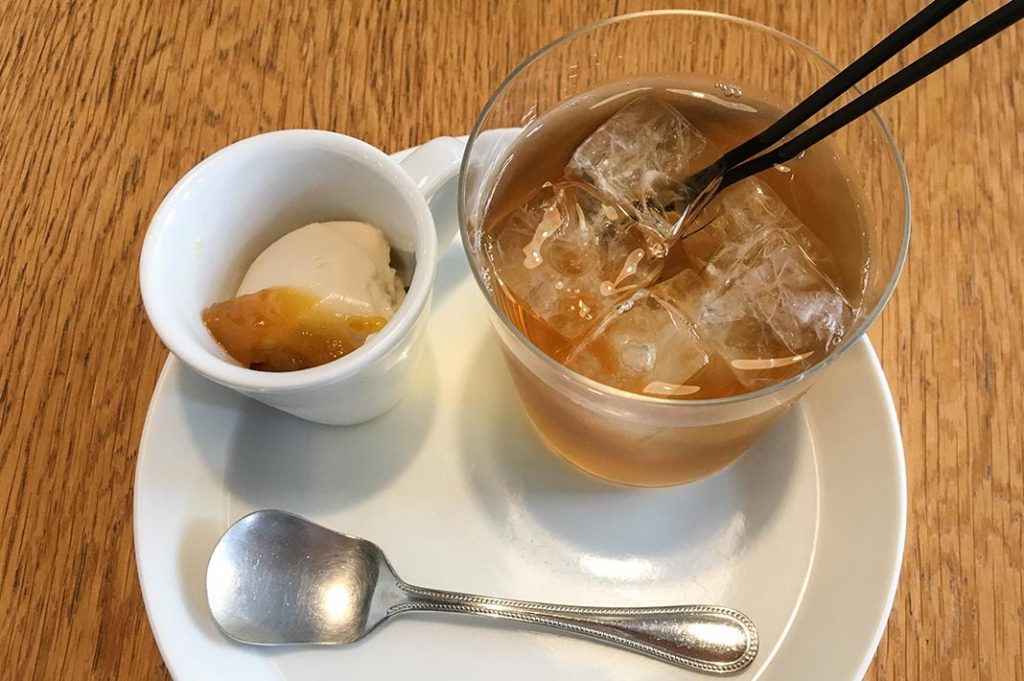 Access
Restaurant 8ablish is located a two minute walk from Exit B1 or B2 of Omotesando Station. It seats about thirty so you shouldn't have too much trouble getting a seat. To be on the safe side, get there before the lunch rush or reserve a table.
Open: Wednesday—Monday 11:30am—2:30pm and 6:00pm—9:30pm
Closed: Tuesdays
Address: Level 2, 5-10-17 Minami-aoyama, Tokyo.
Website: http://eightablish.com
Post by Japan Journeys.