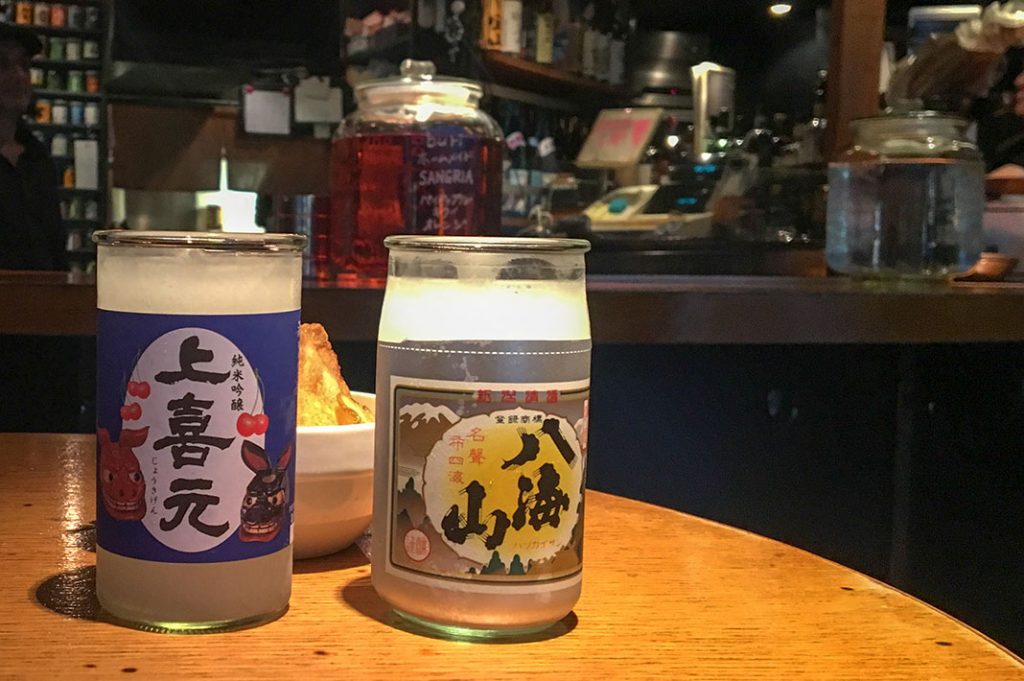 Head west of Ebisu Station into the backstreets behind Komazawa-dori and you'll come across a low-lit Tokyo sake bar. Though the menu at Buri offers beer, wine and spirits, most come because it's a great place to drink sake in Tokyo.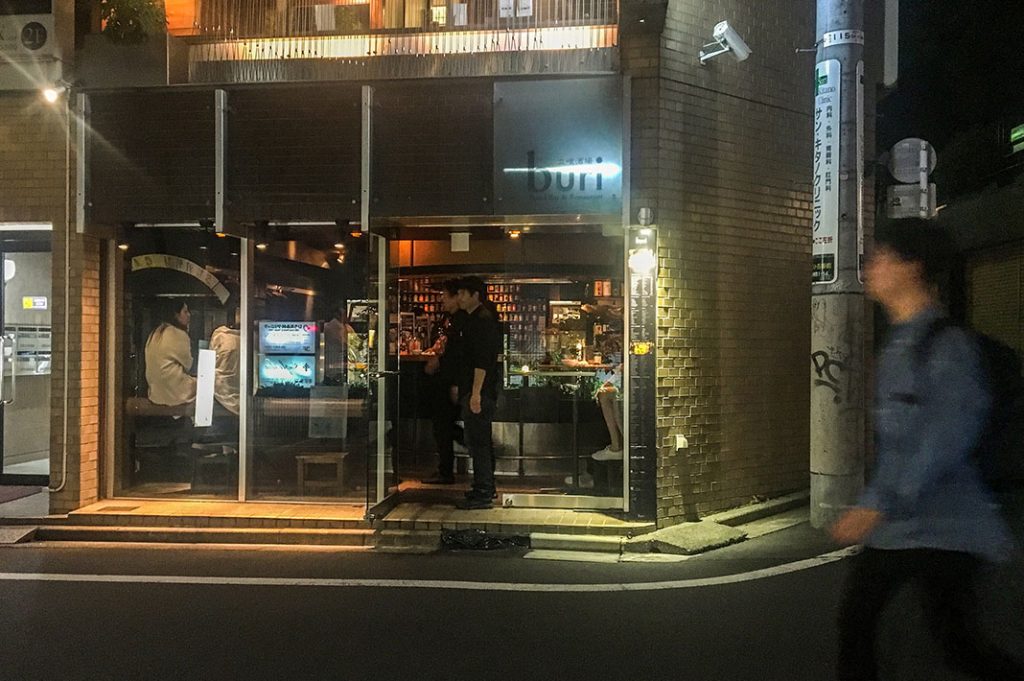 Ebisu sake bar, Buri
The clientele at Buri are a mixture of both foreigners and Japanese. Depending on the time of night, it'll be packed and rowdy or quiet and inviting. Regardless of the time, you'll be ushered in and quickly sat down with a menu and a potato chip otoshi (table charge appetiser).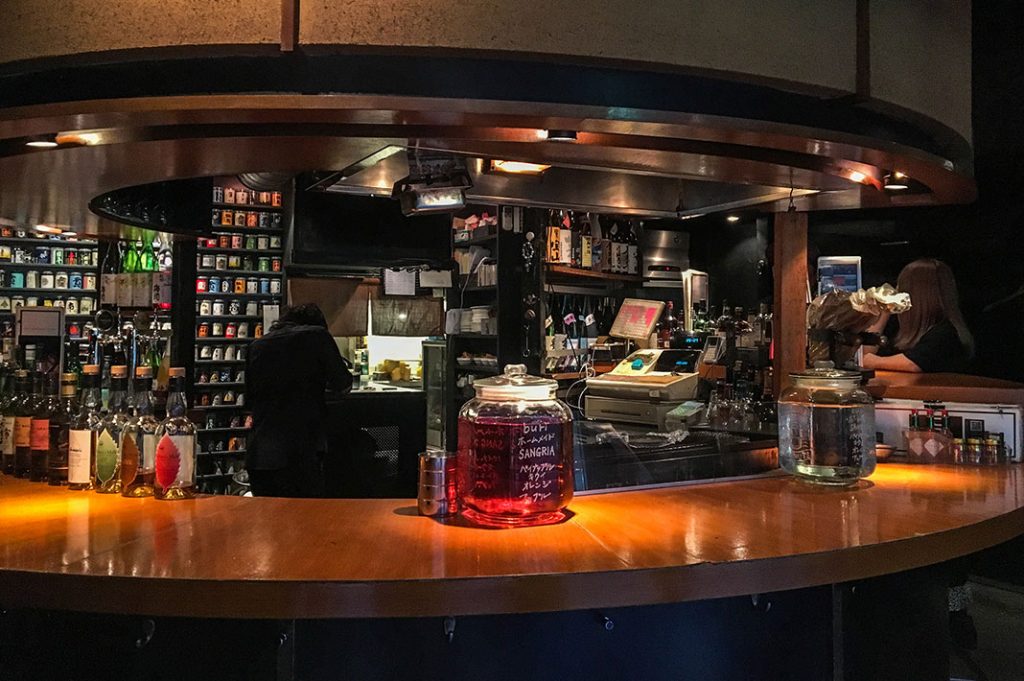 The staff are busy preparing food and drinks behind a large circular bar which dominates the space. Customers line the bar, perch at the high tables in the window, huddle along the walls and generally cram into every available space.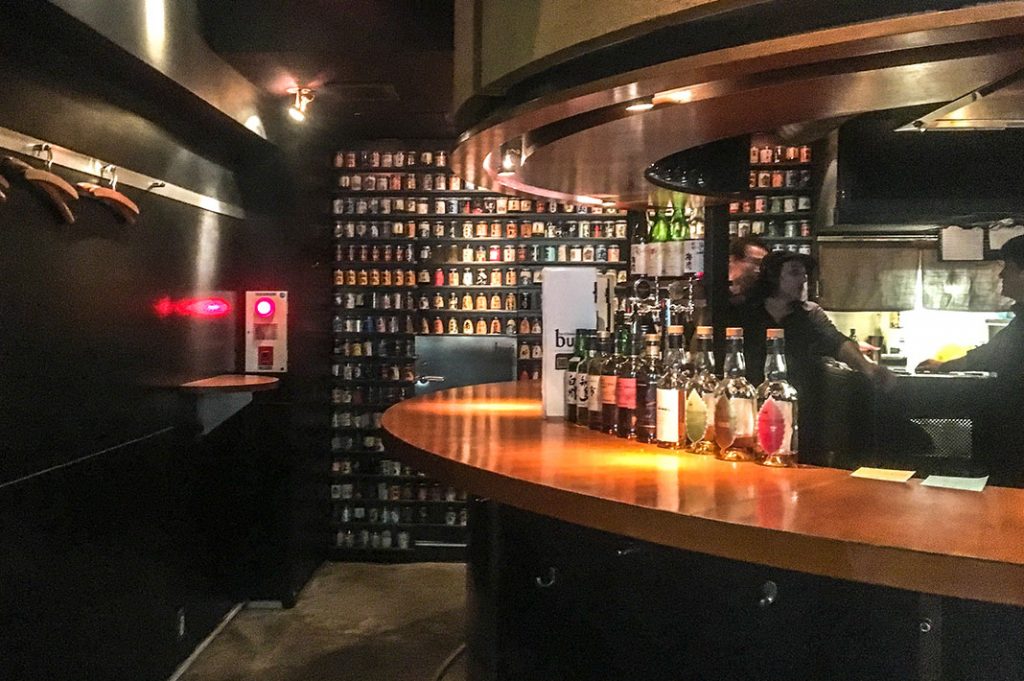 The back wall is lined with shelves filled with colourful one cup sake glasses. Like all the best bookcases, this one has a secret door. It's only the toilet behind there, but it's still awesome.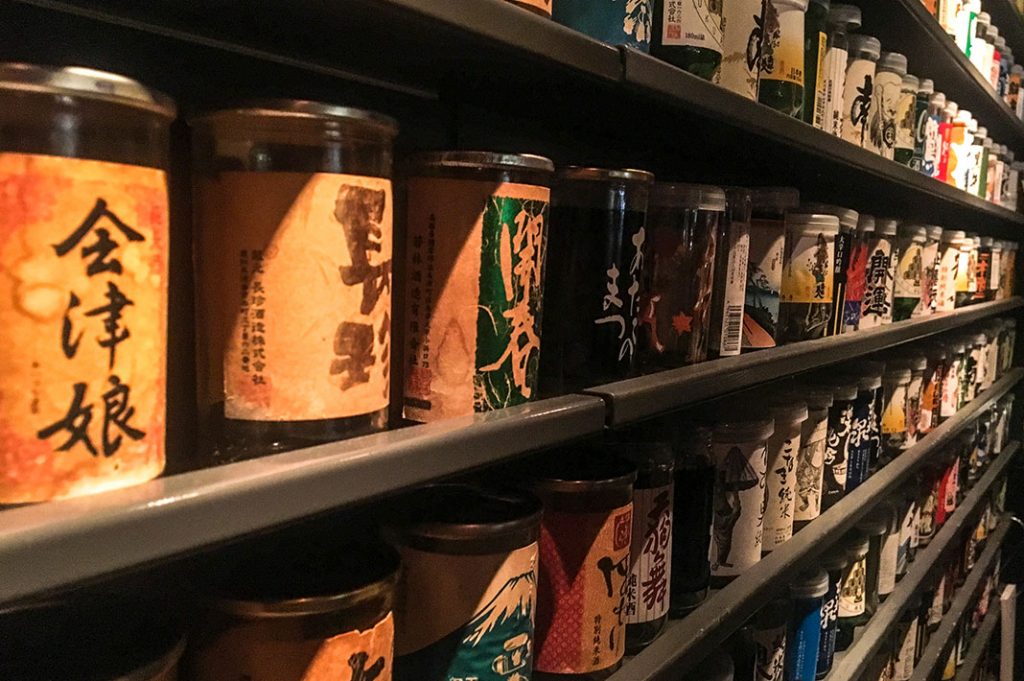 One Cup Sake
This Ebisu sake bar has over seventy kinds of 'one cup' sake available from makers all across Japan. These are not the 'one cup' you've seen before, no. For those unaware, the 'one cup' gets a bad rap. It's a small glass of potent sake with a peel-off lid, cheap as chips and popular with those down on their luck/funds. You can pick it up from just about anywhere; liquor stores, supermarkets, convenience stores—even some vending machines. Every country has their own version of these stereotypical boozes.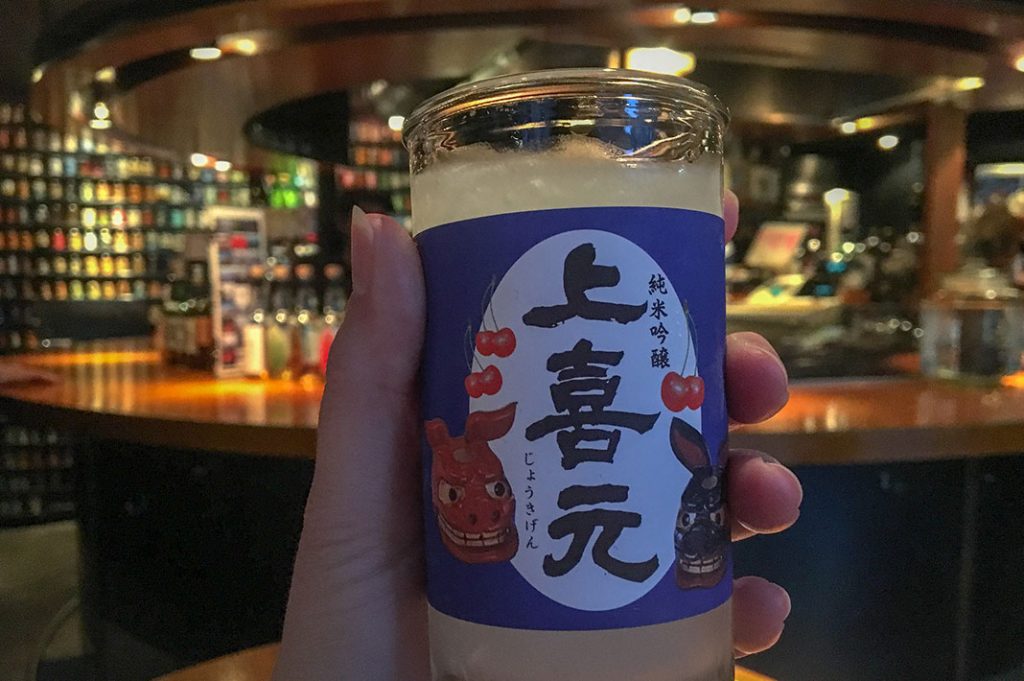 The 'one cups' at Buri range in flavour, alcohol content and design. You can decide by taste (dry, medium or sweet), label design or ask the largely English speaking staff who would be happy to recommend.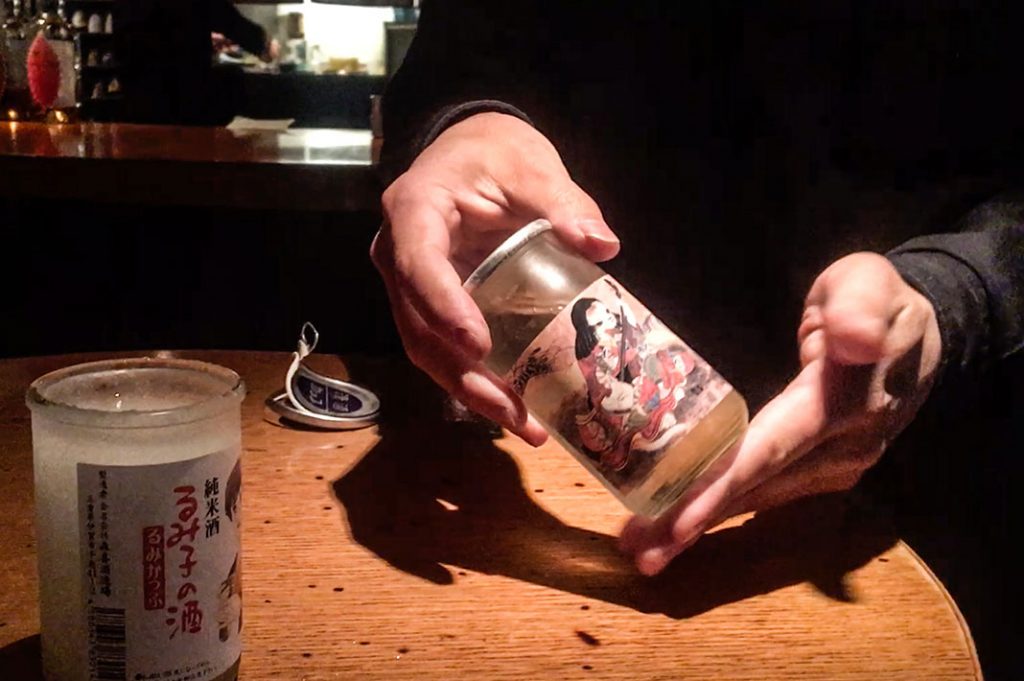 This is possibly not like any sake you've had before. The staff present the cup to you before violently shaking and banging it to freeze the contents into a slushy consistency. Perfect for the humid Tokyo summers. They are very easy to drink, but sip responsibly—they are around 15% alcohol content.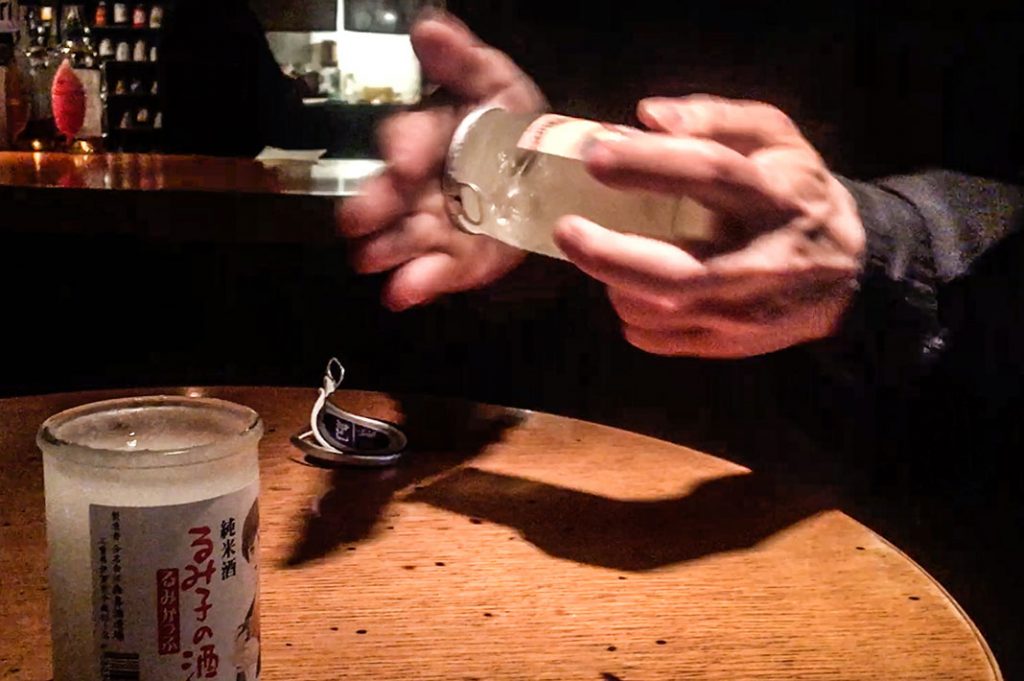 If you love your sake cup designs, there's no need to consider getting light fingered. The staff will actually offer to wash, dry and prepare the cup(s) for you to take home.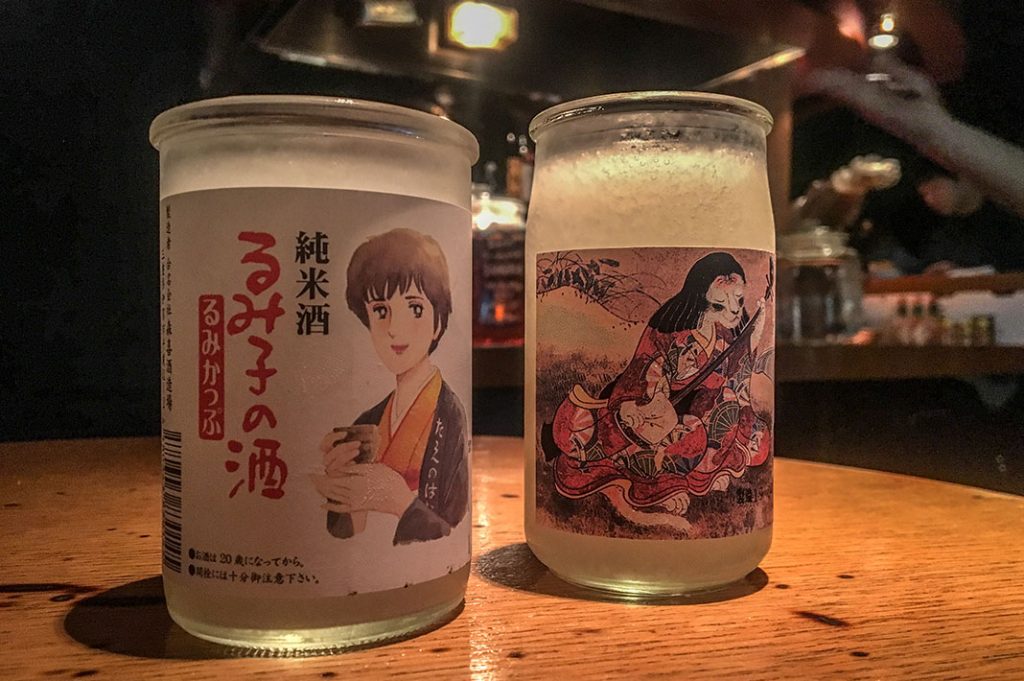 Food at Buri
Food wise, there is much to entice patrons. There is a yakitori grill behind the bar smoking away. You can order sticks as well as other small dishes from the tapas menu. If the yakitori aromas aren't enticing enough, surely the whole cured prosciutto displayed on the counter does the trick.
If you're looking for a quiet drink and chat, head to Buri between 5pm and 8pm. Anything after that is the party zone and you'll find yourself crammed into a corner until some counter space opens up. Both are great ways to enjoy this Ebisu bar though, choose your poison.

Address: 1 Chome-14-1 Ebisunishi, Shibuya
Open: 5pm – 4am every day
Website: https://buri-bar.business.site/
Post by Japan Journeys.