At night, from atop the vertiginous heights of the Abeno Harukas mega-tower, the lights of Osaka shine to the horizon, almost into infinity. Highways glow with pulsing electricity, like arteries carrying the city's lifeblood from district to district. The Abeno tower is so effective in captivating visitors with far-off illuminations that most forget to look directly downwards, southbound towards a district that's darker than the others.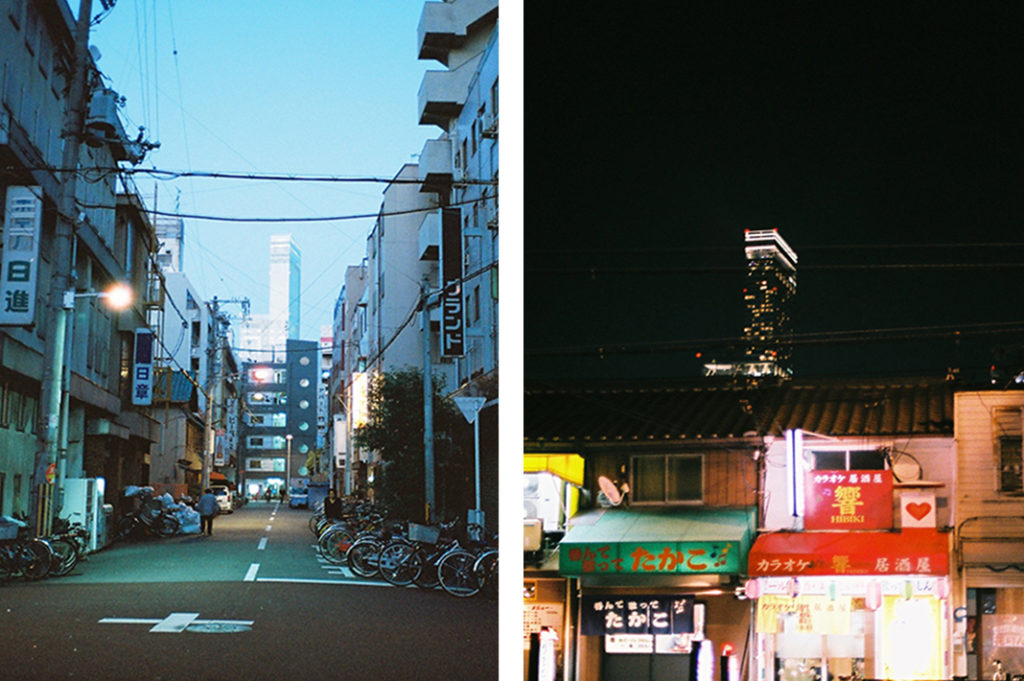 Nishinari: in the Shadow of the Two Towers
Nishinari is a district in southern Osaka that has earned a colourful reputation over the last century. Initially, its tale began with the construction of the 'Luna Park' and accompanying Tsutenkaku Tower. Luna Park was completed in 1912 – the first year of Emperor Taisho's 24-year reign. However, the amusement park did not outlast the Emperor and was closed permanently in 1923. Thus, a cycle began: old neighbourhoods pushed aside for gleaming futuristic towers and Japan's love affair with 'urban renewal.' Just over 100 years later, the cycle began again, with the construction of the vertiginous Abeno Harukas building in Tennoji.
Shinsekai [新世界・'New Life'] was an entertainment district build directly around Tsutenkaku Tower and the Luna Park. In its heyday, it was a dazzling warren of argon lights and vibrant culture. However, by the early 2000s, Shinsekai had become a 'doya-gai' – a flophouse district or ghetto. Businesses were rife with organised crime and the district had the highest concentration of homelessness, drug use and illness anywhere in Japan.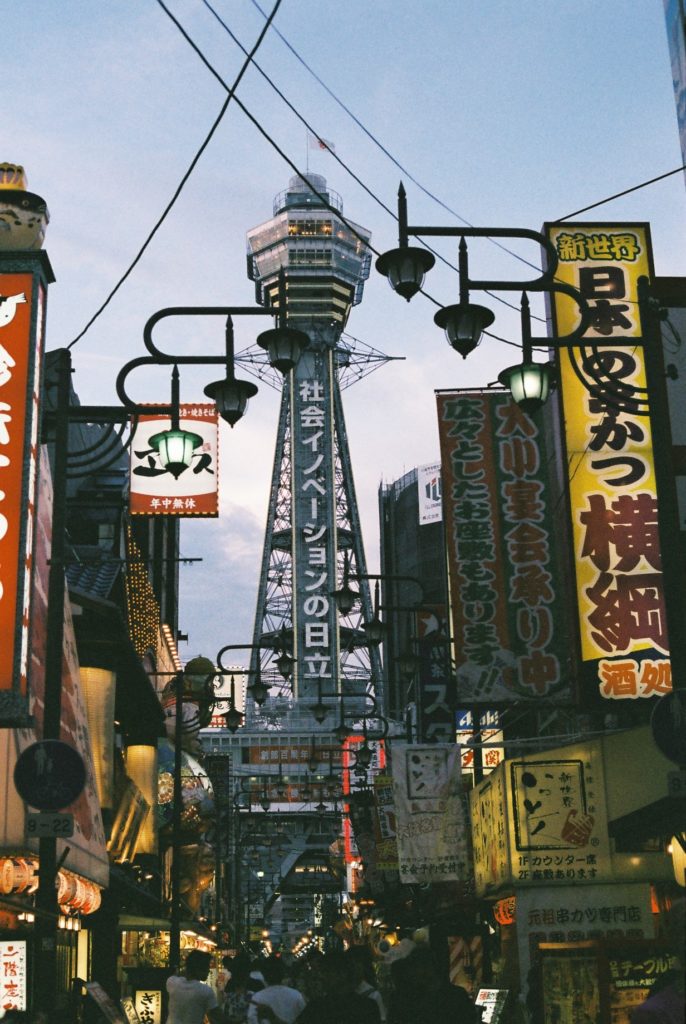 Shinsekai: New made old, made new
In 2014, Shinsekai's slow fall from grace and into dilapidation was remedied expediently after the completion of the shining Abeno Harukas building. The building included a high-class department store, multiple restaurants and a partial rebuild of adjoining Abeno and Tennoji train stations. The project transformed Tennoji from a grimy downtown district to an attractive shopping hub. Unfortunately, developers saw many of Shinsekai's troubles as a 'tarnish' on the new development. Soon after, Shinsekai also received a make-over and a newer, more 'sanitised' business district. Organised criminals vanished and the homeless population 'moved on' – further south, to Nishinari district.
Many residents of Osaka city had, until recently, considered Nishinari district to be a 'no-go' area. The district was (and still is) plagued by poverty, unemployment and crime. However, with regeneration programs gentrifying the surrounding districts, Nishinari is now facing the same upheaval as Shinsekai. But is this for better or worse?
Nishinari: Smells Like Showa
While shining towers were the harbingers of modernisation for Tennoji and Shinsekai, Nishinari district has yet to receive a glimmering, futuristic tower of its own. All that Nishinari is, exists at street level. Poignantly, it is one of Osaka's last true 'shitamachi' [下町・'downtown'] districts. The ghosts of Japan's unprecedented Taisho (1912-26) and Showa (1926-89) eras still live and breathe in Nishinari. These days, the two periods' hopes and dreams lie silent and dusty. Its dwindling elderly population are the last keepers of the Old Japan, known as "Showa No Kaori" [昭和の香り] – the 'Fragrance of The Showa Era.'
While no towers have yet appeared, the upmarket resort firm Hoshino is reportedly planning to open a hyper-modern 600 room city hotel next to Nishinari district. The plans name Nishinari as a district that has 'resisted redevelopment.' However, it seems that nobody has thought to ask why this might be.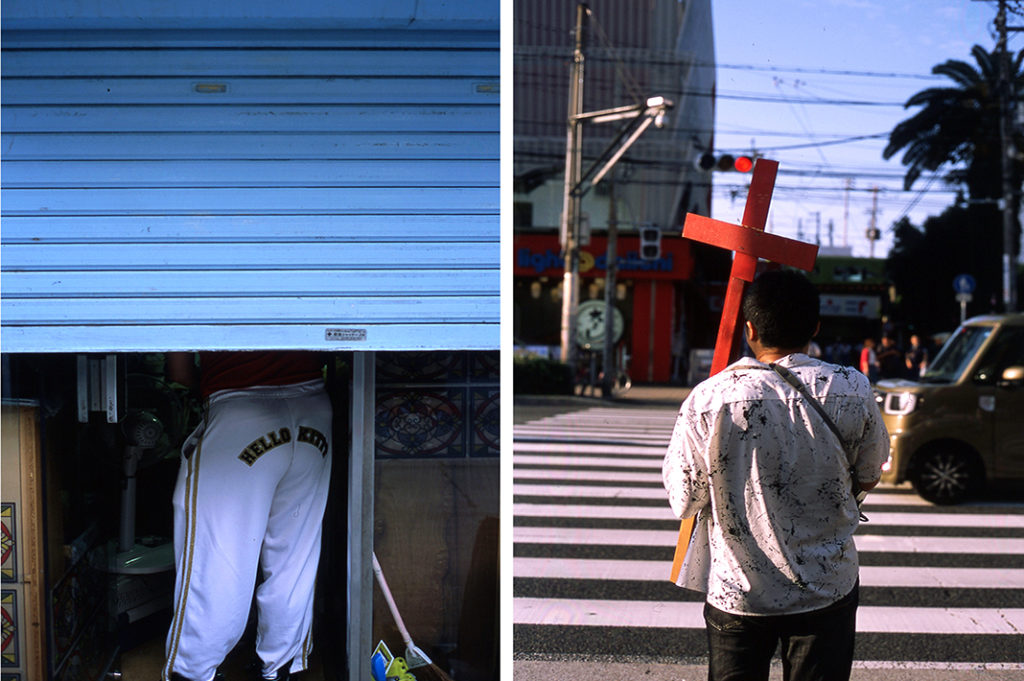 The Neighbourhood Formerly Known as 'Kamagasaki'
Kamagasaki was a small neighbourhood close to Shinsekai, largely populated by day labourers. Often, day labourers work with no contract security and tend to be members of Japan's lower socio-economic groups. This includes a large number of men who did not graduate from high school and others who adhere to the 'Yankii' subculture. During the 1960s, economic conditions improved in Japan for all but those with insecure employment. This culminated in several brutal riots. Eventually, in an odd attempt to fix the problem, the Osaka city government renamed the Kamagasaki district. Its new name, 'Airin' [あいりん] translates to 'love your neighbour.' However, the district's inhabitants took no issue with their neighbours. In fact, the police were the source of their ire; perhaps justifiably so.
In 1992, another violent riot erupted at the Airin district welfare office. A furious labourer with a megaphone launched into a speech; a tirade against the collusion of the Osaka police with the local organised crime syndicates. Unfortunately, the police themselves acted in a way that only exacerbated the issue, and more violent clashes ensued.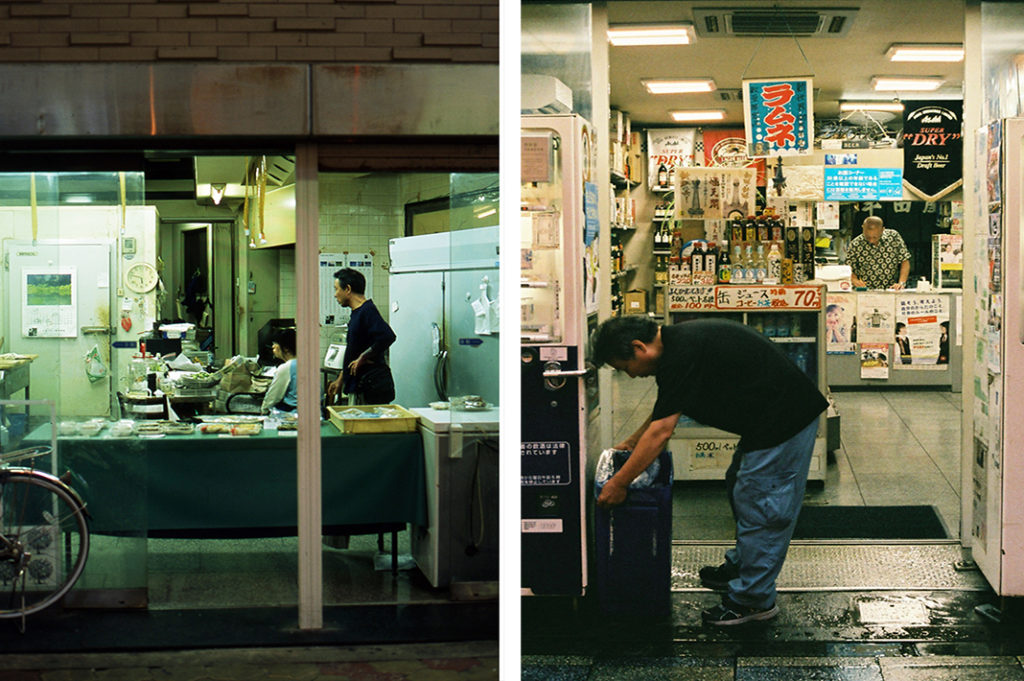 A Place For The Forgotten?
Kamagasaki's problems serve as a snapshot of Nishinari district's tumultuous past and complex present. In 1911, the fast construction of nearby Tsutenkaku Tower and Luna Park required day labourers in their thousands. However, after the park's completion, all sources of work dried up. Thus, they remained, living on the ever-dwindling sums of cash saved from the initial building boom. Day labourers continued to flock to the wider Nishinari district during this time, but eventually local work opportunities halted completely. The area became, and remains, a home-base for day labourers looking to work anywhere in Osaka city. However, as almost all construction projects now require formal employment contracts, finding work anywhere at all has become impossible.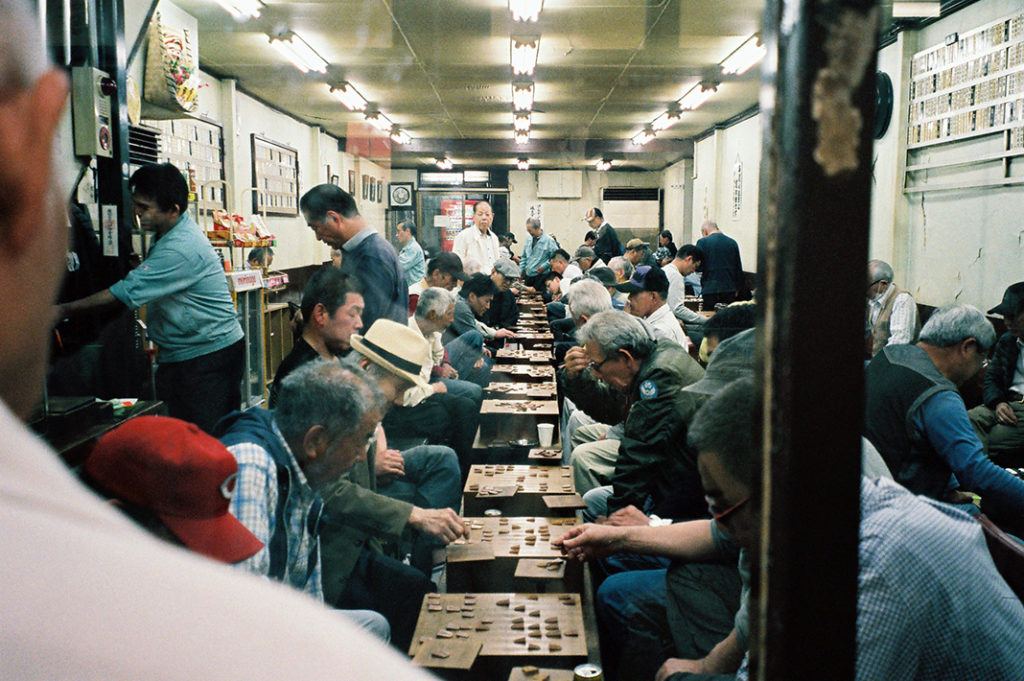 History, Paused
So much of what was built in this initial renewal boom still exists in Nishinari today. Oddly, there are no high-rise buildings. Old-fashioned shops with dusty, hand-painted signs line the covered shotengai walkways. Hostess bars are abundant, many open from midday and offering permanent access to karaoke machines programmed only with old fashioned Enka songs. Fortunately, some Taisho-period shop fronts still remain, complete with hand-painted displays and ornate, hand-carved wooden signboards. Refreshingly, there's not a single letter of the English alphabet in sight on these old facades – enough to make any visitor feel like they had stepped back in time.
Throughout Nishinari there's an abundance of dusty vending machines; relics in their own right. They dispense the infamously cheap 'One Cup Ozeki' saké, alongside two-litre bottles of the petroleum-like substance. These, combined with the sorrowful Enka ballads drifting outward from the many hostess bars, make the district feel frozen in time. Paused, just before complete economic collapse tore through Japan in the 1990s; gently gathering endless layers of dust.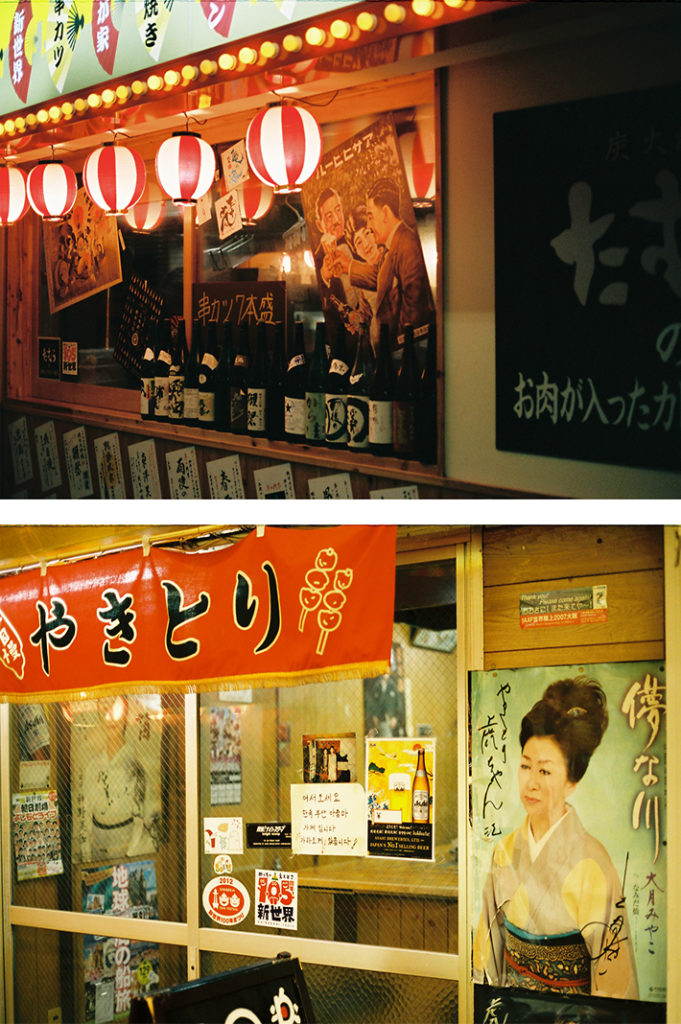 Nishinari's Difficult Relationship with Tourism
Although parts of Nishinari can evoke feelings of nostalgia, much of the wider district exists with complex social and economic difficulties. The somewhat infamous 'triangle park' sits at the centre of the district. Overlooked on all sides by faceless, run-down 'last-ditch' hotels, the park has become a 'tent city', populated by long-term rough sleepers. Further down the endless side-streets and lanes, building dilapidation betrays the appalling conditions endured by residents.
Regrettably, the existence of such an uncharacteristic dystopia in otherwise clean and modern Japan serves to attract unwanted attention. Most commonly, it comes in the form of 'photographers,' looking to create images they consider to be 'hard-hitting' or 'gritty.' The ethics of rich tourists photographing foreign slums and homeless people is, to most, a clear-cut matter. However, the rising popularity of image sharing platforms such as Instagram creates endless competition among people looking to 'out-do' each other. Sadly, Nishinari district has recently become an attractive area for these types of tourists.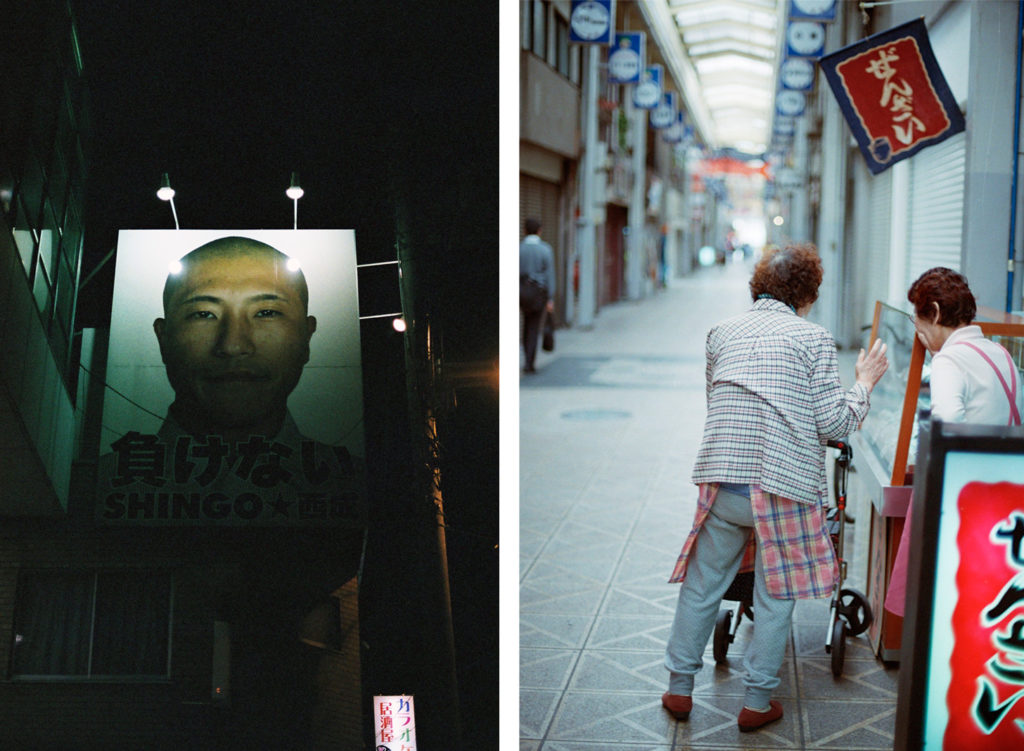 An Uncertain Future
Tourism in the Nishinari district isn't all bad news, though. Recently, more small hotels and hostels have been opening, offering budget travellers more for their money. In turn, local businesses benefit from the new and localised spending. In fact, many of Nishinari's shop owners have seen a steady increase in sales to foreign tourists. Items such as second-hand kimono and yukata are popular, as are local 'Osaka-style' food items. At present, Nishinari's identity hangs in the balance. While small, independent services are bolstered by small numbers of foreign tourists, the development of mega-hotels is almost always a harbinger of end times for small, traditional districts.
In recent years, Kyoto's own 'shitamachi' district has been rapidly stripped away and replaced by tax-free drug stores and fast-fashion mega-chains. In Hokkaido, Sapporo city's 'Tanuki-koji shopping street' has suffered much the same fat, turning from a local market area to a faceless tourist strip.
Nishinari's 'Fragrance of Showa' may admittedly be tinged with stale beer, cigarettes and despondency. However, any community that bears the scars of a nation's real and unfiltered culture and history will never truly smell of roses.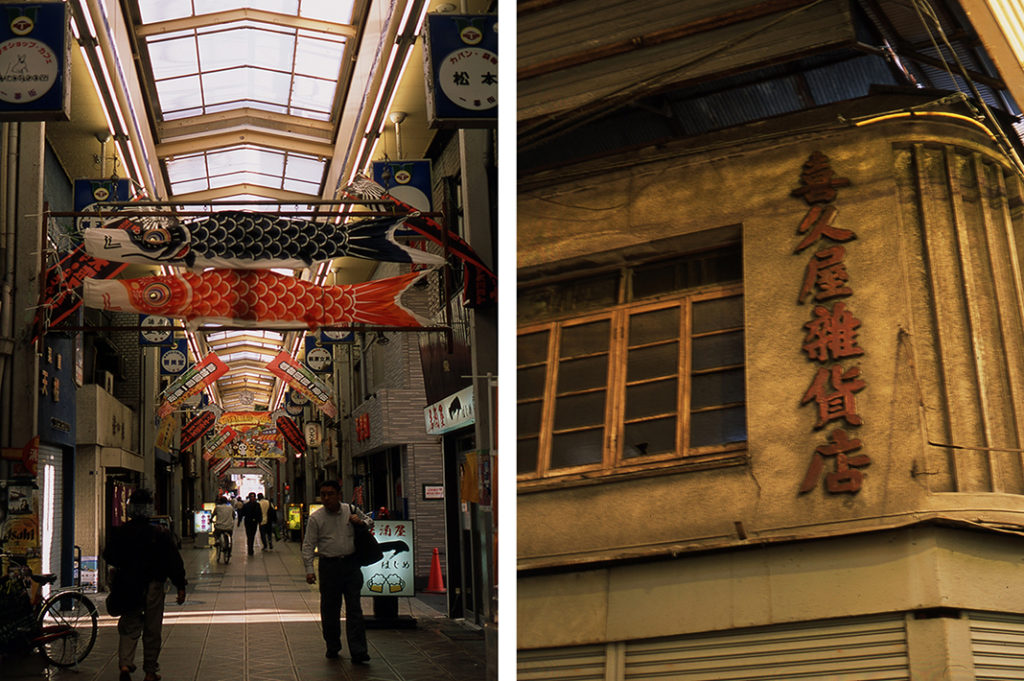 Access
Although as recently as 2010, Nishinari was a genuine 'no-go' area, its central district and the Shinsekai area are generally safer for those who act respectfully and with common sense. However, Nishinari does still have unwelcoming districts and is best avoided after dark. Luckily, neighbouring Shinsekai welcomes visitors all day and night, with 'kushikatsu' restaurants open all day long. This Japan Journeys article about southern Osaka's unmissable food scene is essential reading before you visit. The exact halfway point between Nishinari and Shinsekai is Dobutsuen-mae [動物園前] subway station, on the Midosuji (red) subway line. Following this route takes you to Tsutenkaku Tower and the Shinsekai district.
Article by Japan Journeys.