*Note: This restaurant is no longer operating*
"Tonight there's gonna be a jailbreak…" Phil Lynott of Thin Lizzy croons as the waitress hands me a Rolling Stones vinyl LP album jacket. It's not a hip hidden record bar, but quite the opposite. It's the new "California Cuisine" all-day restaurant from San Francisco bay area chef, restauranteur and punk rocker Jeffery Bischoff in Tokyo's Shibuya ward. The music history runs deep here at Crowley's California Kitchen. That Rolling Stones vinyl LP album jacket I was given? That's the menu. Jeffery took a bunch of classic vinyl LP albums from the likes of Dolly Parton, the Rolling Stones, Bad Company, The Doobie Brothers, Deep Purple and many more, and pasted his menu into them. It's a unique way of presenting a menu and it helps customers understand that this isn't just another Shibuya cafe.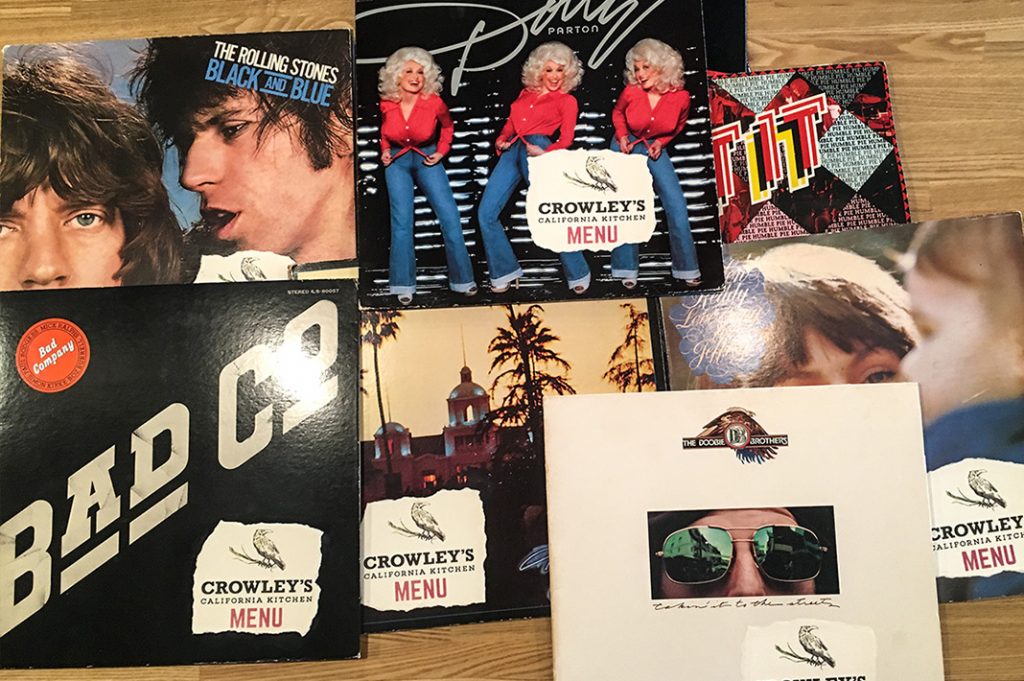 A punk rock chef from San Francisco
Jeffery Bischoff has a long history in food and music. Specifically punk rock. Specifically Californian restaurants. In the late 80's he was an award-winning pastry chef in San Francisco. He gave that life up to become a touring punk rock musician. In all honesty, the jobs aren't much different. The hours and pay are mostly the same. Jeffery made a name for himself in music in the mid-1990's as the guitarist for the Bay Area punk rock band Tilt. At the same time, he formed the music merchandise company Cinder Block and grew it into one of the largest music merchandising companies in America. After that, he opened Rudy's Can't Fail Diner in Oakland and Emeryville California with his old friend Mike Dirnt. If that name sounds familiar, it's because he's the bassist for the band Green Day. He continued that venture until he moved to Tokyo in 2018.
With all the experience he has, Jeffery wanted to share a little bit of his adopted hometown(s) of the San Francisco Bay Area with Tokyo when he arrived. What started as a pop-up has grown into a full-fledged all-day restaurant serving farm-fresh California Cuisine.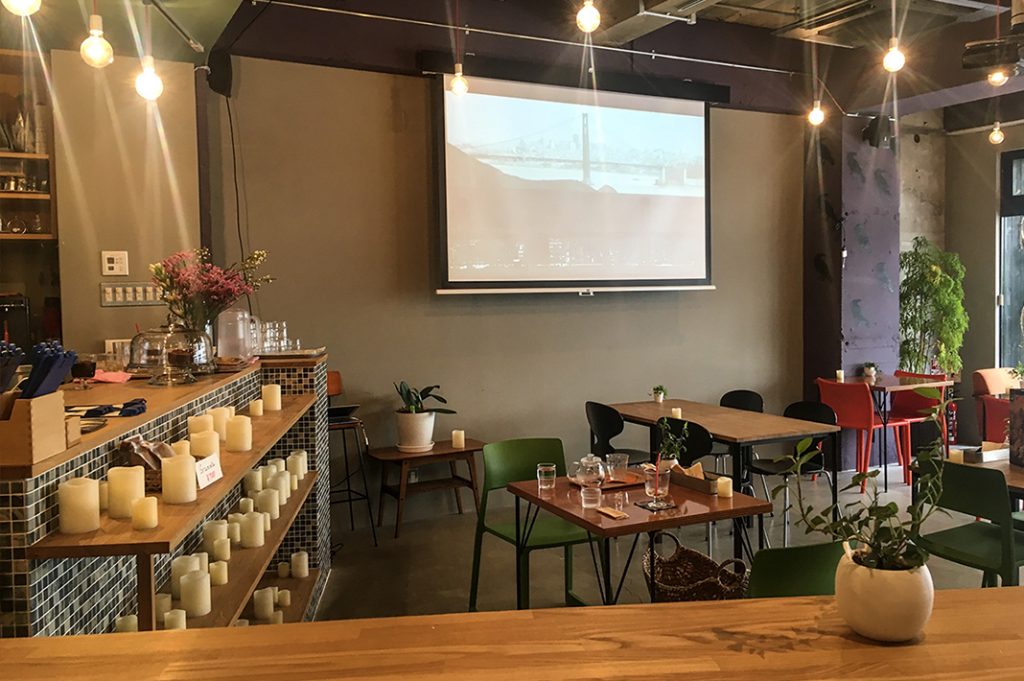 What is "California Cuisine"?
Good question! "California Cuisine" is a style of food popularized by well-known American chefs like Alice Waters founder of Chez Panisse, and Thomas Keller who founded the French Laundry. The hallmarks are fresh, simple preparations using local, farm-fresh ingredients. California Cuisine is having a bit of a moment in Tokyo over the past couple of years. Restaurants like Locale in Meguro and the Blind Donkey in Kanda both do similar styles; both are highly recommended.
Farm fresh food
Crowley's California Kitchen's take on "California Cuisine" is very vegetable-centric with meat playing a complementary role. The majority of the vegetables come from a farm in Odawara. There's a spinach salad, an apple salad and a quinoa salad. Quinoa was all the rage in California and NYC 3-4 years ago, but you rarely see it in Tokyo. This is what California Cuisine is. As for mains, there's a fried chicken sandwich, chicken and waffles, and a pulled pork sandwich. Classic American fare.
In addition, The California/Japan fusion item on the menu is the Salmon burger which has quickly become a menu staple. Jeffery takes sashimi-grade salmon, finely minces it, mixes it with fresh herbs, forms it into a patty and lightly grills each side. There's a reason it's the most popular item on the menu. There are also daily specials. Think half a roasted chicken, glazed with shio-koji or homemade meatballs atop house-made focaccia bread. I highly recommend it.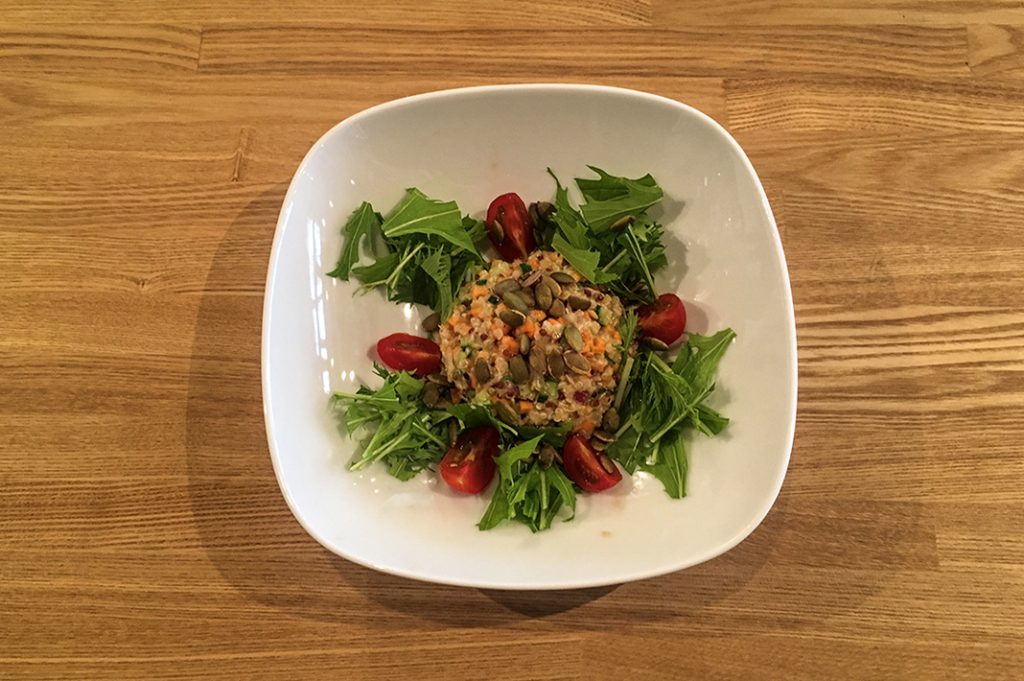 The Desserts
But let's not forget, Jeffery got into this game as a renowned pastry chef. Therefore, this is where Jeffery shines. The Apple Strudel with balsamic glaze and the seasonal NY style strawberry cheesecake were both especially good.
In conclusion, If you're looking for farm-fresh vegetables and American-style California Cuisine, Crowley's California Kitchen is one of the best in Tokyo. In addition to their regular lunch and dinner menu items, they do a California style brunch on the weekends. It features french toast, pancakes, house-made granola and eggs.
(Full disclosure: I know Jeffery personally. I used to go see his band in NYC in the late 90's and I've been to his diner in Oakland. However, I didn't actually become friends with him until I tasted his food. I don't know if those things are related or not, but the food is damn good and Jeffery is a quality human being.)
Crowley's California Kitchen
Address: 40-5 Kamiyamacho, Shibuya City, Tokyo 150-0047
Note: This establishment closed after this post was published**
Post by Japan Journeys.