OK, so you're on vacation and you've been sightseeing or shopping all day. Then, early afternoon rolls around and all you want is a refreshing beverage. Maybe your jet lagged body woke you up super early? Or perhaps you decided to beat the crowds at Harajuku's Meiji-Jingu shrine before hitting the shops on Cat Street or Meiji Dori. Now it's 3pm and you want a drink in the Harajuku/Omotesando/Shibuya area. Where do you go?
For a city that actually never sleeps with bars and izakayas staying open 'til 7am, getting an afternoon drink in Tokyo is surprisingly hard. A lot of bars don't open 'til 7 or 8pm and most bar/restaurants that are open for lunch will close for a few hours between 3pm and 6pm. You're in luck though; I've done the hard work for you. If you're the Harajuku & Omotesando neighborhoods near Shibuya (in Tokyo) you can definitely get an afternoon drink at these spots.
Harry's Sandwich Company: perfect for an afternoon drink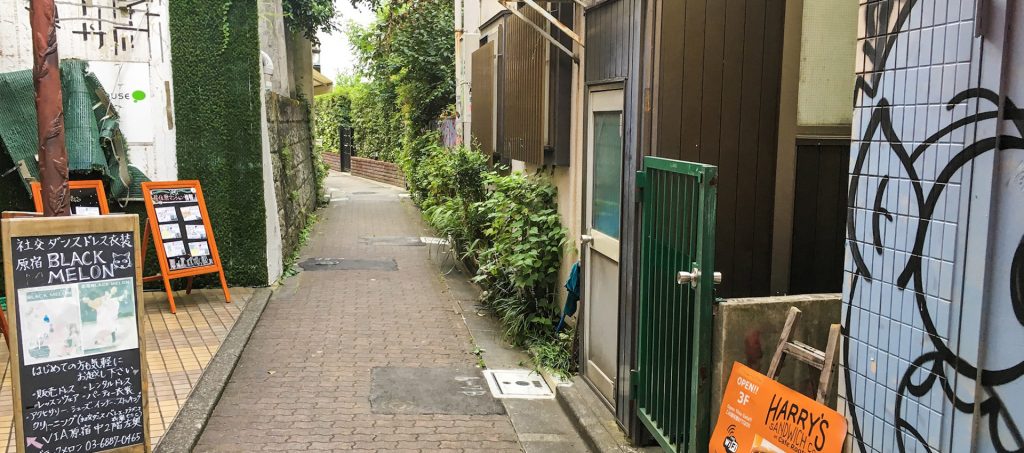 Full disclosure: I bartend and cook here occasionally and Harry is a friend of mine. But I promise this does not cloud my judgement; I am a professional through and through.
Harry's Sandwich Co. in Harajuku is a great find…if you can find it. Hidden on the 3rd floor of a nondescript building on the surprisingly quiet street that runs parallel to Takeshita Street, look for the orange signs that say "Harry's".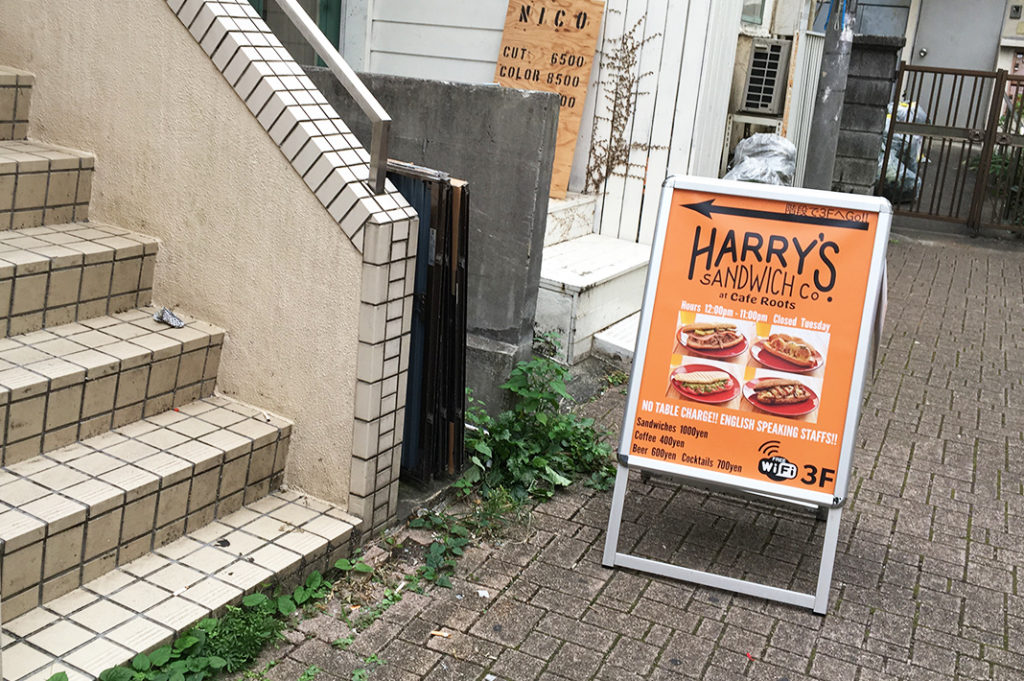 Harry's has a pretty extensive menu of hot sandwiches and bar food, including one of the only places to get a proper meatball hero, but this article is about the drink. Harry's is open from noon until 11pm, without a break, and serves a full selection of beer and liquor the whole time. Its the perfect place for an afternoon drink.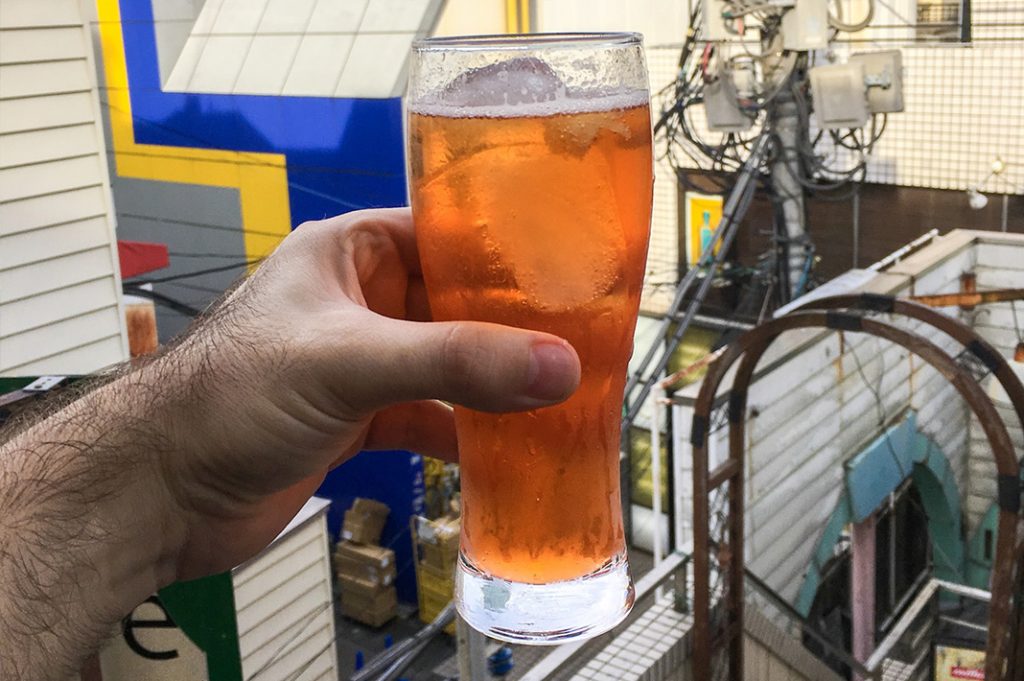 There's ¥500 Kirin on tap and usually a few craft beers from the likes of Rogue and Anchor brewing. They make their own spicy, fresh ginger ale in-house, which is perfect in a Moscow Mule or mixed with shochu. Being a San Francisco themed bar, there's usually a bottle of Fernet around, too. On weekdays all drinks are ¥100 off for happy hour until 6pm and there's a small balcony you can sit out on and enjoy your drinks.
Harry's Sandwich Company
Address: 〒150-0001 Tokyo, Shibuya City, 16, 神宮前1-16-7MSビル3F
Hours: 12:00 – 23:00 Sun, Mon, Wed, Thurs, 12:00 – 24:00 Fri & Sat
Website: https://www.facebook.com/harryssandwichco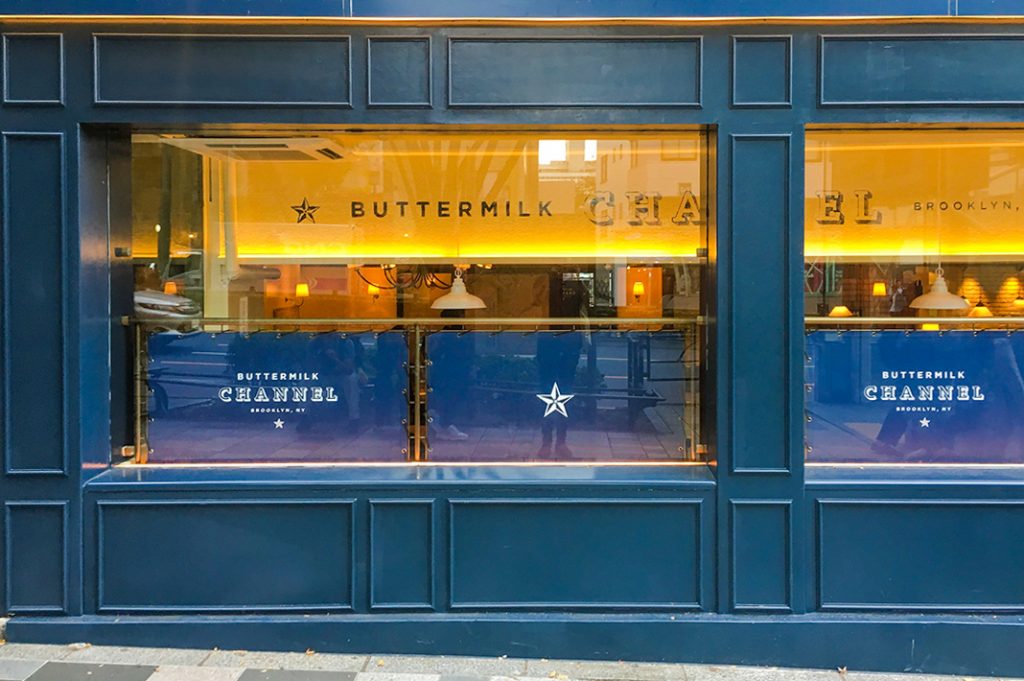 Buttermilk Channel
Located right on the bustling intersection of Meiji Dori and Omotesando Dori, Buttermilk Channel is mere steps away from Exit 5 of the Meiji Jingumae, "Harajuku" station on the Chiyoda and Fukutoshin Tokyo Metro lines. I know Buttermilk Channel well. Not the actual waterway between Brooklyn and Governor's Island that the restaurant was named after, but the original restaurant in the Carroll Gardens neighborhood of Brooklyn NYC. I briefly lived around the corner from it and it was always busy, especially during brunch hours. The Harajuku location is their first outside of America, and there's also a branch in Yokohama. Buttermilk Channel serves "Southern Food" like fried chicken (with waffles for brunch) and meatloaf. But again, you're here for the drinks.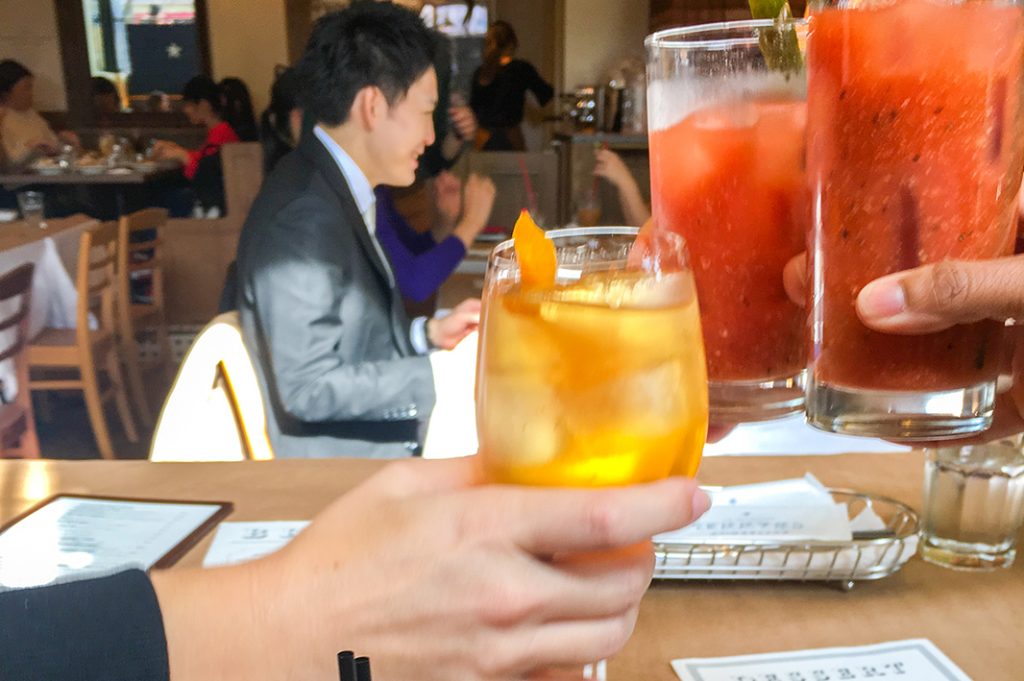 Like Harry's, Buttermilk channel doesn't close between lunch and dinner.  The restaurant is spacious, but there is a small bar area with a few stools where you can sit down and have a drink anytime. They have Kirin and a few other "import" beers on tap like Budweiser "ice cold", Guinness and Brooklyn Lager. All priced under ¥700. They have a good selection of wines by the glass, but the real start of the show are the cocktails. Buttermilk Channel is known for their Bloody Marys, and they are faithfully recreated here. There are three different versions; one, The Star of the Sea, features celery and peppercorn infused vodka and comes topped with a whole shucked oyster on the half shell. All the cocktails are ¥900 or less, which is a steal considering how high-quality they are. 
Buttermilk Channel, Tokyo
Address: 1 Chome-11-11 Jingumae, "Harajuku", Shibuya City, Tokyo 150-0001
Hours: 10:00 – 23:00 7 days a week
Website: buttermilkchannel-jp.com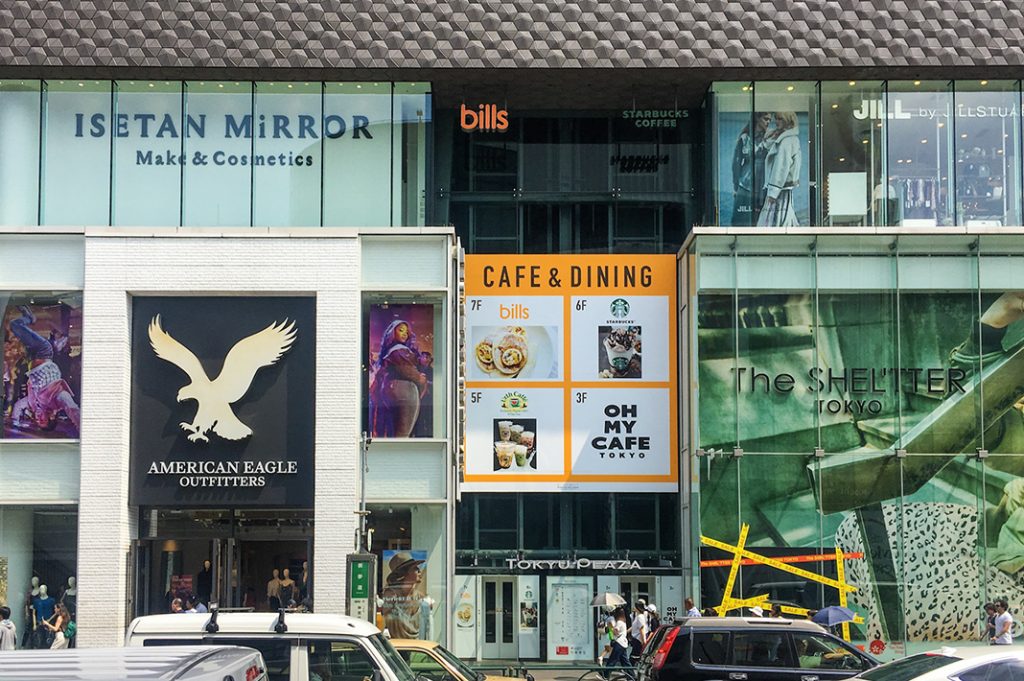 Bill's
Across Meiji Dori from Buttermilk Channel is Bill's. It comes up as "Bills Omotesando", however, it's really Harajuku. It's on the 7th floor of the Tokyu Plaza building. You know the one. It sits right on the corner and has the escalators with all the jagged fun-house mirrors going up from the street. You can take those escalators up to level 7, but it's easier if you just take the elevator from the street on the Meiji Dori side next to the American Eagle Outfitters store. Bill's is a cafe. A breakfast cafe, originally from Australia. Bill Granger, the founder, claims to have invented avocado toast. Since you can't drink avocado toast, we won't be discussing that here. We're here for the drinks. 

There is frequently a line for a table, but if you tell them you want to sit at the bar, that is usually fine. Bill's has a decent selection of wine with 8-10 types by the glass, including a rosé. I especially enjoyed the cocktails. My friend had a very good Bloody Mary and I had a daily special watermelon margarita that was so delicious I finished it waaaaaay too quickly. Be prepared though, cocktails are ¥1000-1100 and a beer is ¥800.
Bill's Omotesando
Address: 〒150-0001 Tokyo, Shibuya City, Jingumae, 4 Chome−30−3 東急プラザ 表参道原宿 7F
Hours: 8:30am – 11:00pm, 7 days a week
Website: billsjapan.com/jp/
There you have it: three great spots for an afternoon drink in Harajuku. Cheers and happy travels.
Post by Japan Journeys