Travelling while vegan can be difficult; worrying about whether you're going to be able to find somewhere to eat is something most vegans are unfortunately familiar with. While Japan doesn't spring to mind as somewhere particularly vegetarian and vegan friendly, there is a strong vegan community growing (particularly in Tokyo). This has led to some fantastic vegan restaurants, cafes, bakeries, and even a vegan convenience store springing up, much to the joy of vegan travellers and locals. With a little planning, it's now absolutely possible to enjoy a trip to Tokyo and not feel left out of the incredible dining experiences available in Japan's capital.
In this guide, you'll find everything you need including useful phrases and kanji, Japanese food that is traditionally vegan, things to look out for, and a wide selection of vegan-friendly places waiting to be discovered.
Traditionally Vegan Food in Tokyo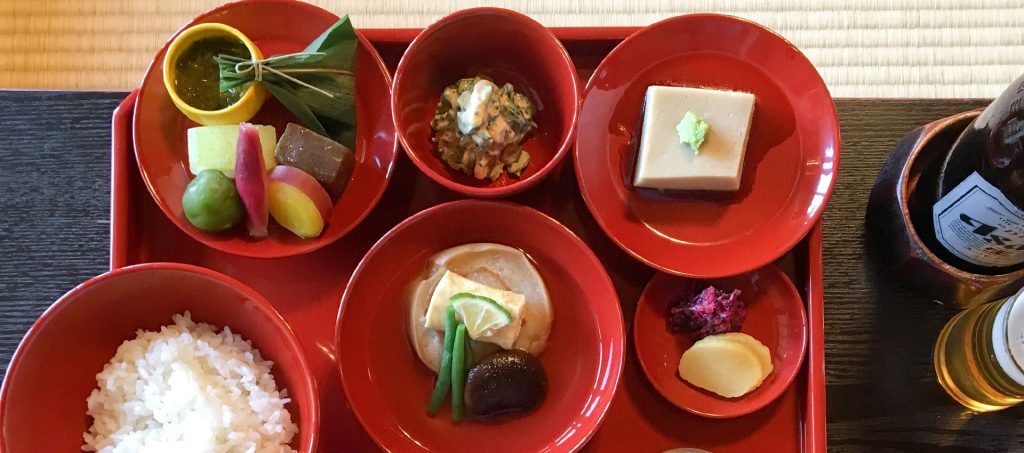 Soba Noodles – Served cold without broth, soba noodles are a fantastic vegan option. The broth (called tsuyu) contains dashi but is thankfully easily avoided. Make sure you choose 'mori soba' or 'zaru soba' which will ensure they're served separate from broth on a bamboo plate. You can ask for soy (or take your own) to dip.
Sushi – Cucumber sushi rolls (kappa maki) and Eggplant (sometimes it comes pickled) nigiri are traditionally vegan. You'll also find the more contemporary avocado (avocado maki).
Mochi (unless they are the cream-filled kind) – perfect if you're craving a sweet treat as this is one of the most vegan-friendly desserts. Primarily made from glutinous rice flour, fillings will typically include sweet bean paste, matcha, or sweet soy.
Shojin ryori – If you'd like a fancy meal, the staple diet of Buddhist monks is vegan by nature. Restaurants across the country will serve 'temple food' and though often pricy, it's incredibly healthy. Meals will often include tofu dishes, foraged greens, and delicious root vegetables.
Foods Vegans Should Watch Out For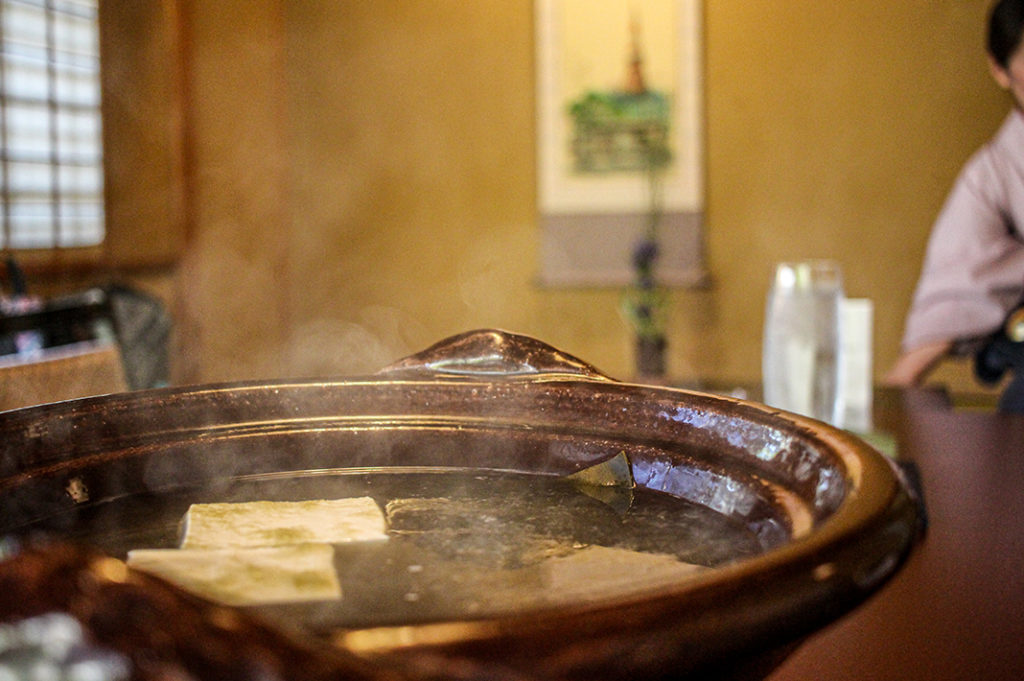 Sauces and Broth – Unfortunately, what makes a lot of otherwise vegan-friendly meals not vegan are the sauces. Particularly dashi, which is the basis for most liquid-based dishes and traditionally includes bonito flakes. Fish is used in many sauces and stocks, so stick to soy unless you're sure.
Tempura – While most vegetable tempura is also vegan, some restaurants will use eggs in their batter so this is something you'll need to ask. Avoid the dipping sauce which contains dashi.
Tofu – What a marvel tofu is and Japan cooks it so well; you'll find everything from indulgent deep-fried tofu to the delicious simplicity of silken tofu with grated ginger and soy. While there's no end to the tofu dishes available, vegans have to be careful what it comes soaked in, because dashi is often used.
Tip: Carry your own bottle of soy sauce or travel size versions for dipping.
Vegan Convenience Store Snacks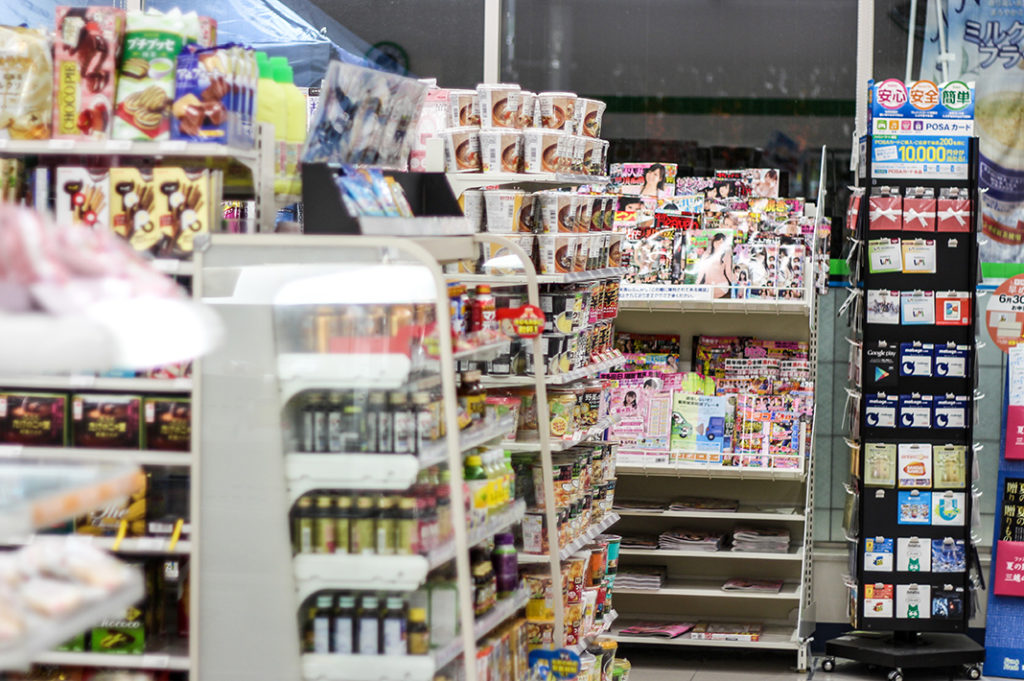 Japanese convenience stores are incredible; while there isn't a huge selection of vegan snacks there will always be something available in pinch. Microwaves are available on-site and you can make coffee and other drinks yourself, meaning you have some control over what goes in your cup.
Onigiri – The humble rice ball. Safe flavours include the salt onigiri, the pickled plum, and the seaweed options.
Mochi – Convenience stores will usually carry a selection of different mochi flavours.
Edamame – A healthy protein-filled snack that will fill you up, these are commonly available in convenience stores.
Sushi– Inarizushi, avocado, and cucumber sushi – Sushi options vary from store to store but there will almost always be tofu pockets and veggie maki options available.
Roasted Sweet Potato – This healthy snack can be heated up in the microwave and are easiest to find at the small chain store Maretsu (Open 24 hours) and cost 170 yen. They also sell fresh fruit and vegan snacks.
Rice – Microwavable rice dishes are readily available and can be heated up on site. You can always combine with some of the packaged vegetables or pickles available like edamame.
Soy milk drinks – There are lots of delicious flavours of soy milk available or just plain and you can request these to be heated up.
Japan's first vegan convenience store:
VEGAN STORE Asakusa – This completely vegan convenience store made international news when it opened. It's a fantastic vegan space where you'll find hot snacks, ice-cream, drinks, and more. You can also eat on site. Finally, cheap and convenient vegan food!
You'll also probably spot the "Natural Lawson" chain around. While not completely vegan, there are certainly more vegan, organic and earth-friendly products here than in the other big hitters (7-11, Lawson, Family Mart etc).
Vegan Ramen in Tokyo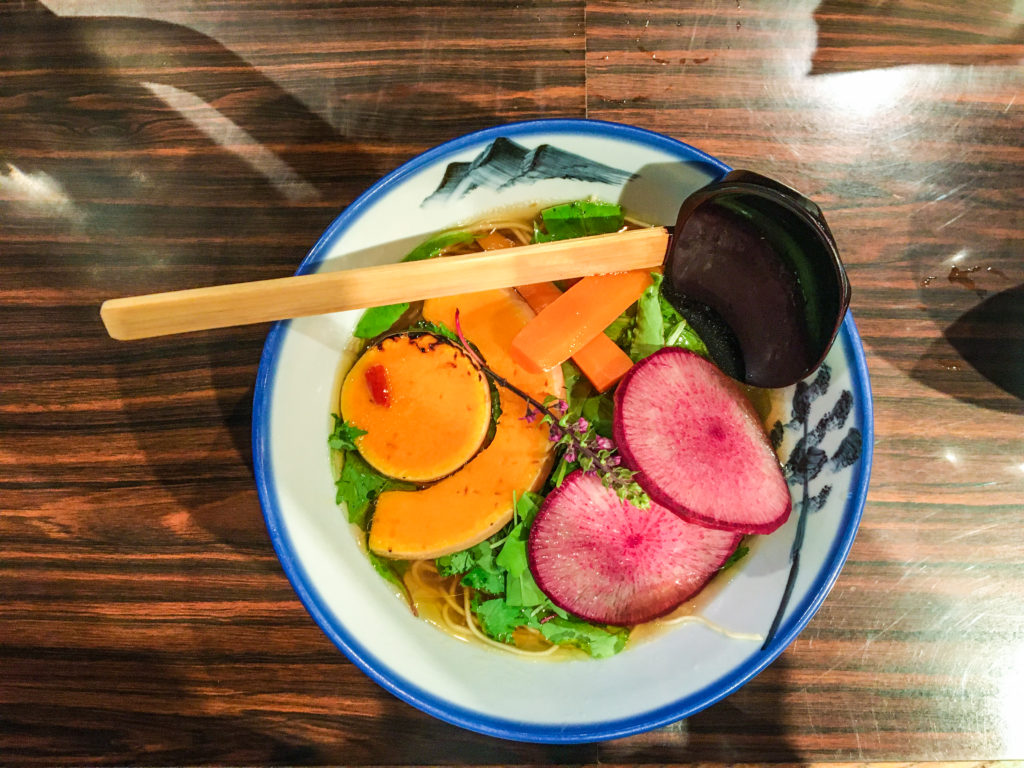 Vegan ramen has had something of a wave. What that was once fairly unheard of is now popping up all over the city with some of the big chains offering vegan options. Here are a few great options to get you started.
Afuri – Blanketed in a rainbow of vegetables, this immensely popular Japanese chain serves its signature vegan ramen at all of its Tokyo branches making this an incredibly convenient option. You can check out their menu on their website.
Arashi Ramen – Arashi offers a fantastic ramen dish made from veggie broth with tofu and vegetables. This is an ideal choice if you're going as a group and want a high-quality ramen experience together. Check out their menu ahead on their website.
T's Tan Tan – Found in Tokyo Station (so perfect if you're just arriving into Tokyo or off on a trip), this cute and English-friendly ramen shop offers a selection of options from soy-based to tomato and spicy broths. Check out their menu and other locations on their website.
Shimokitazawa Chabuzen – A cosy ramen house in Shimokitazawa, they specialise in vegan and vegetarian medicinal dishes and even offer gluten-free noodles. The dragon ramen is creamy and similar to tonkotsu but it's only one of their many vegan ramen options. They even offer side dishes include vegan gyoza and soy karaage (Japanese fried chicken). You can visit their website for more details.
Vegan Restaurants in Tokyo
The number of specialist vegan restaurants is growing in Tokyo. If you just want to visit somewhere that caters to vegans, where you have a whole menu to choose from rather than simply making do, then pick one of these excellent restaurants below.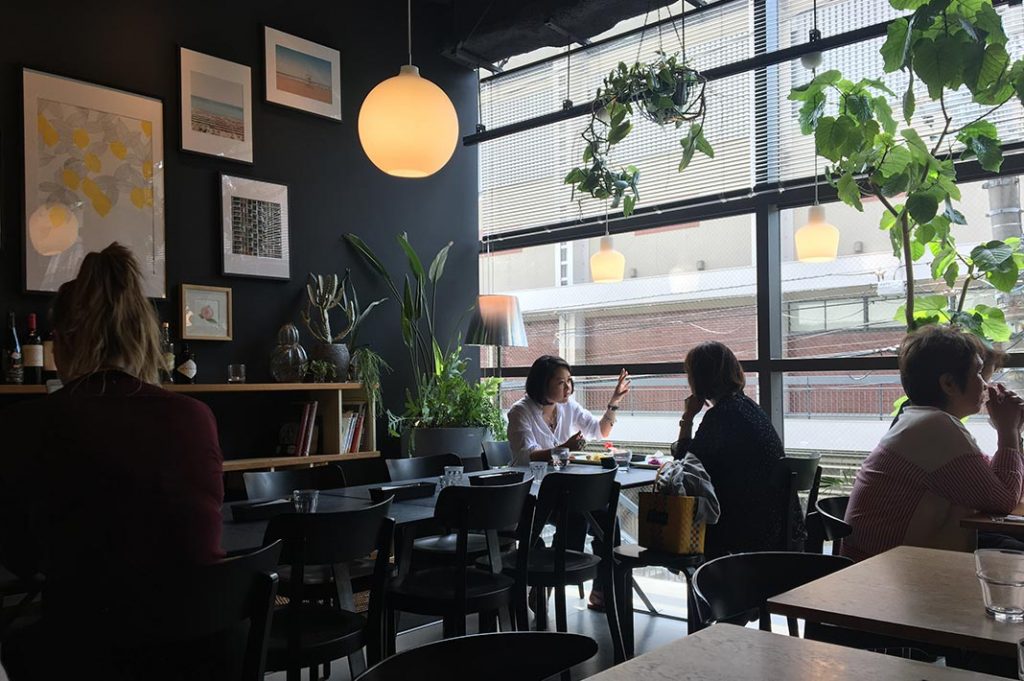 Mr Farmer – A firm favourite in Tokyo, this vegetarian restaurant offers organic farm fresh vegetable dishes and also offer a vegan and gluten-free menu. The interiors of their six locations are stunning too. You can view their menu online.
Kuumba du Falafel – Described as Tokyo's favourite falafel shop, this Shibuya haven will satisfy all of your hummus and stuffed pitta needs. They have a menu online. (We think there's also stiff competition over at Nakameguro's Ballon!)
Rainbow Raw Food – A vegan restaurant and cafe which preserves the healthy enzymes in the food by serving ingredients that are either completely raw or prepared at temperatures under 48 degrees. They also serve great bagels if you just want a quick snack. Their menu is available online and they also deliver on Ubereats.
Nagi Shokudo – Found in the heart of Shibuya, this vegan restaurant serves a mixed menu of Chinese, Japanese, Indian, and Thai-inspired food and focuses on high-quality healthy meals. They also serve fantastic lunch sets. Read more about it here.
AIN SOPH. Ripple – Beloved by vegans and non-vegans alike, this famous chain of vegan restaurants in Tokyo serve some of the best burgers in the city and they're all vegan. Other favourites include burritos and sides like mac and cheese and cheese fries. Take a peek at their menu online.
Veganic To Go – A vegan restaurant and more, here they combine vegan, organic, macrobiotic foods for the ultimate health-conscious meal. And their food is delicious with their specialities being their veganic burgers, pizzas, and brown rice don bowls. Find out more about their menu online.
Restaurant 8ablish – Healthy vegan dining in a relaxed setting in Omotesando. Their lunch menus are great value and offer a full dining experience from starter to dessert. You can view the whole dining experience here.
They also vegan cakes and coffee at their Gakugeidaigaku sister-store, Muffins and Coffee 8ablish.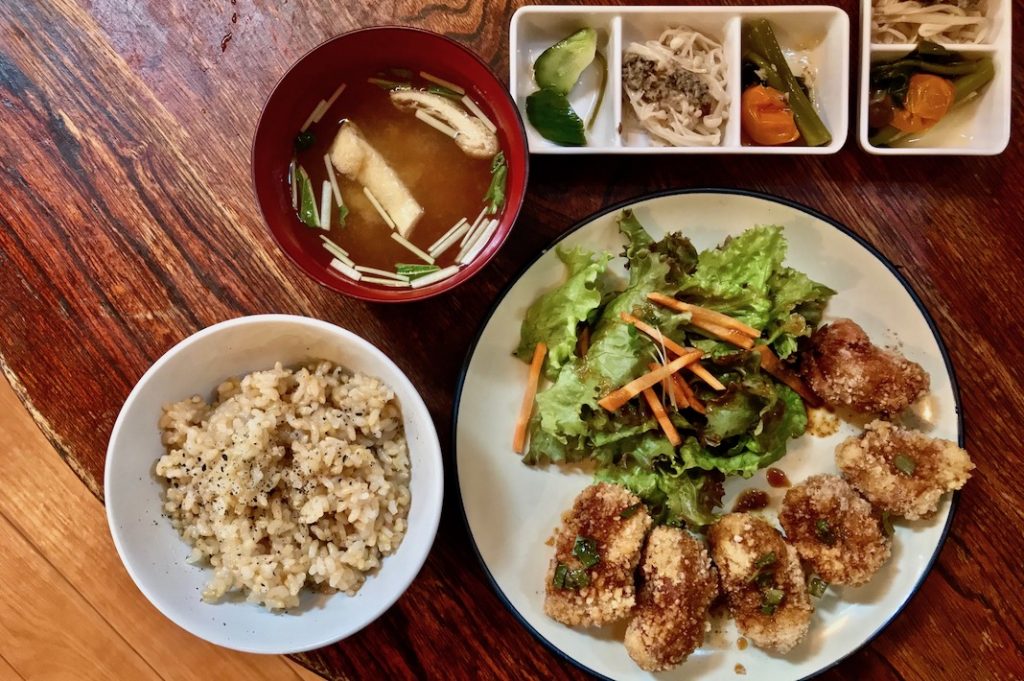 Vegan- Friendly Cafes and Bakeries
Outside of the major chains like Starbucks, it can sometimes be difficult to receive plant milk alternative to dairy. Here are some vegan-friendly cafes and more.
Bondi Café – This beach themed cafe is next to Yoyogi Park, making it convenient if you're in Shibuya or Harajuku. They serve coffees, teas, and green tea lattes with a range of plant milk available. They also serve some light meals; you can build your own salads, choosing the ingredients and dressing so you won't have any surprises.
Ko-So Cafe – Come here for the fantastic vegan pancakes made with buckwheat! This cafe avoids refined sugars and serves a wide range of enzyme-rich vegan and vegetarian foods and drinks. Check their menu online.
Good Town Doughnuts – While they don't only serve vegan doughnuts, there are at least four types that are vegan and are perfect for those sweet cravings. They also offer almond milk for their coffee and teas. The affiliated "The Little Bakery" next door serves delicious vegan cinnamon rolls and more.
Onibus Coffee – Vegan desserts and diverse milk options are available at one of Tokyo's famous coffee roasters. You can trust the coffee is good—they ship it internationally.
Sol's Coffee – Like Onibus Coffee, Sol's roast and sell a range of coffee beans and serve fantastic coffee in great surroundings. They also offer varied milk options.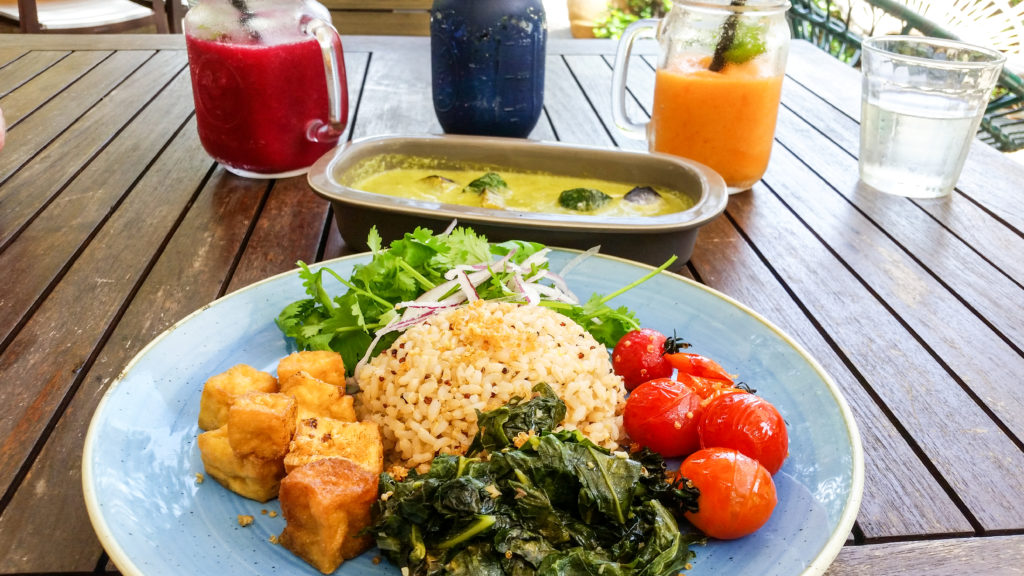 Key Kanji to Look Out For
Meat (niku): 肉 or ニク
Dried anchovy (niboshi): 煮干し or ニボシ
Shrimp (ebi): 海老 or えび or エビ
Fish (sakana): 魚 or さかな
Seafood (gyokairui): 魚介類 or 魚貝類 or シーフード
Gelatin (zerachin): ゼラチン
Egg (tamago): 卵 or たまご
Cow's milk (gyunyu): 牛乳
Beef (gyuniku): 牛肉 or ビーフ
Pork (butaniku): 豚肉 or ポーク
Chicken (toriniku): 鶏肉 or とり肉 or チキン
Bonito (katsuo): 鰹 or かつお
Useful Phrases
I am vegan – 私はビーガンです (Watashi wa bigan desu.)
I don't eat meat, seafood, eggs, or dairy products – 私は肉とシーフードと卵と乳製品を食べません (Watashi wa oniku to shīfūdo to tamago to nyūseihin wo tabemasen.)
For More Information: Download the Happy Cow app and join some Facebook groups for vegans in Japan (like Tokyo Vegan/ Vegetarian Friends Club) for some amazing tips and recommendations. You can also consider trying a vegan foodie tour.
Post by Japan Journeys.