Living in Japan, I can't help but look around at all the cute things and think 'Man, I would have loved that when I was younger…'. Obviously, tastes change over time (otherwise I'd still be sitting on inflatable furniture and listening to Spice Girls) but glittery and rainbow things still soothe my soul. These days, instead of spending all my pocket money on every sparkly thing that catches my eye, I just watch Ru Paul's Drag Race like a responsible adult. Still, every now and again, I love to let my inner teen out to play. And that's precisely what a friend and I did recently, by visiting some of the cutest places in Tokyo. 
Choosing the cutest places in Tokyo
We decided to be JK for a day—a Japanese slang term for female high school students (joshi kōsei or 女子高生)—quite funny considering we're double the age of high school girls and one of us teaches them all day long. But here in Japan, it's totally possible to love cute things or dress up at Disneyland without being age shamed. 
Our plan was half-formed. We simply wanted to do some of the things teenagers would do; shopping, movies, bowling, purikura or karaoke. So, we started in the one place we were sure to find teens: Shibuya. 
Moreru Mignon for photo booth fun
I'd heard about a super cute purikura (sticker machine) venue in the basement of Shibuya 109 called Moreru Mignon. The Google Maps images were unbelievable; pink everything, bathtubs and giant ice cream sundaes to pose with.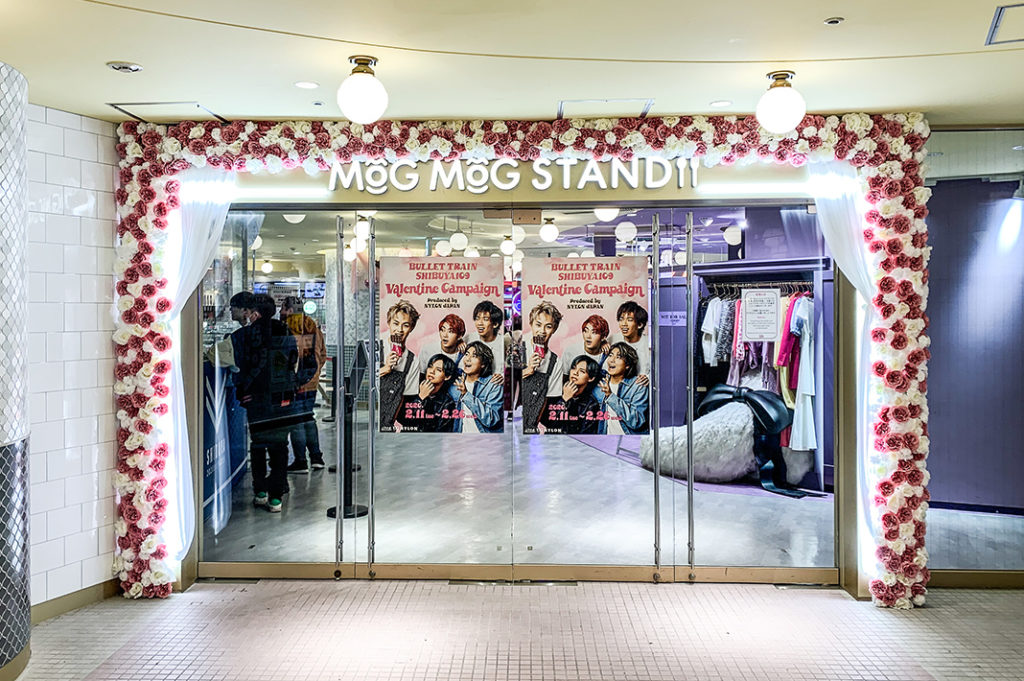 Though when we arrived, we discovered it had been recently remodelled. (Guess we're not 'as on the pulse' as we'd like to think!) These days, the pink theme is purple, and aside from the giant cat tail and couch area at the entrance, it's simply a space for purikura machines*.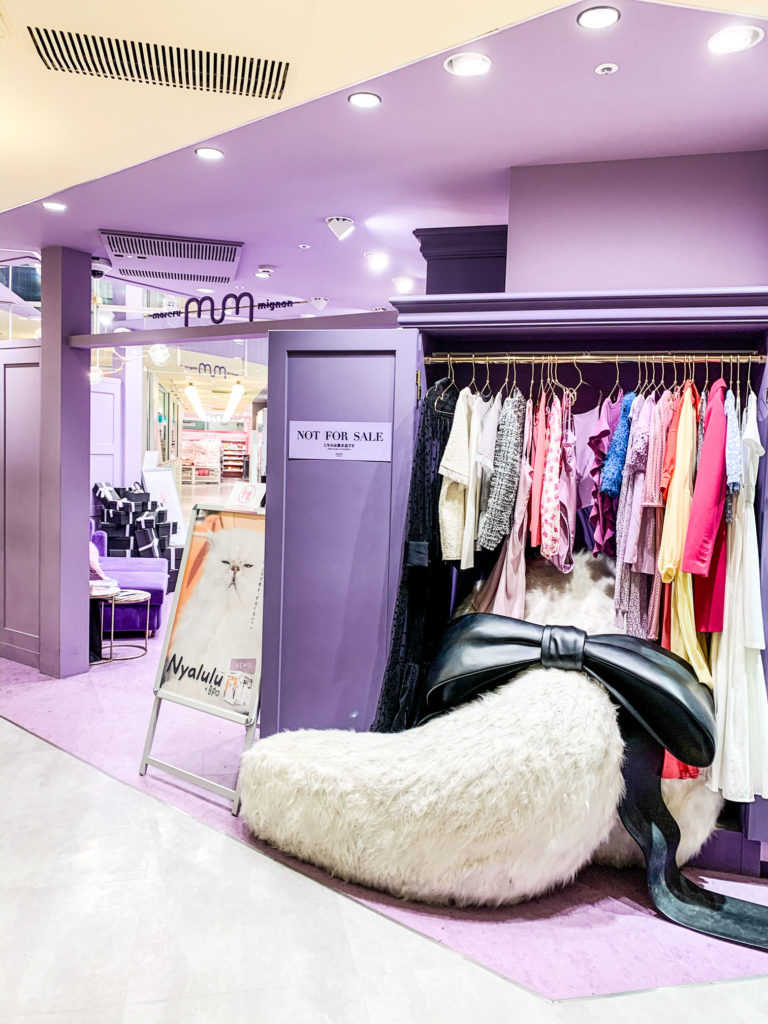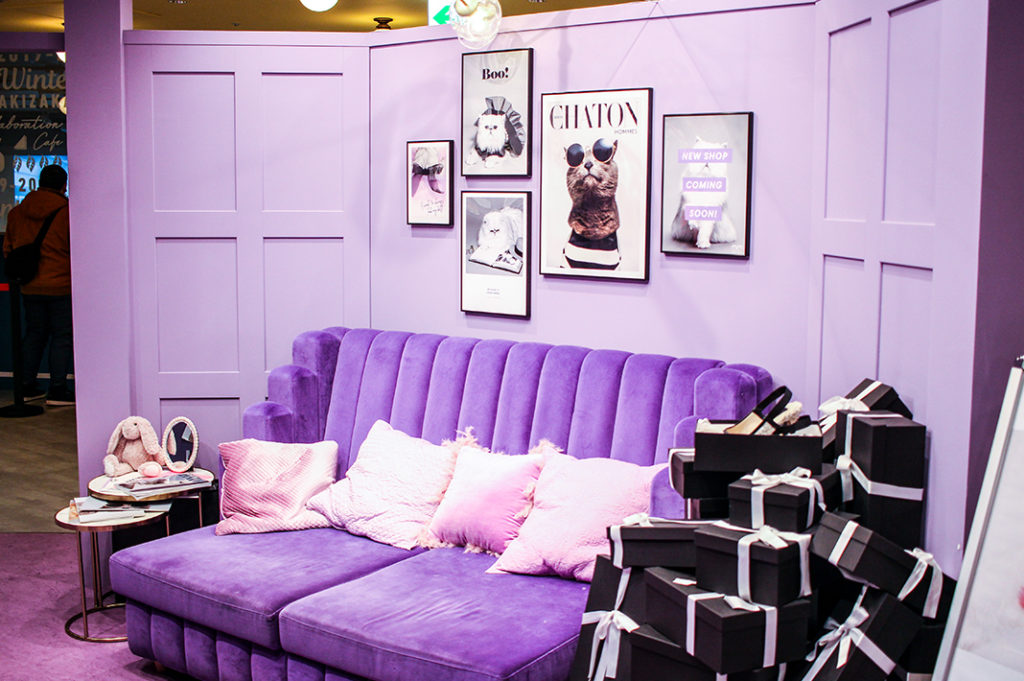 However, the place does have an overarching cat theme. This satisfied the kawaii requirement. Inexplicably, all the purikura machines have cat models on them and there are framed cat pictures on the walls.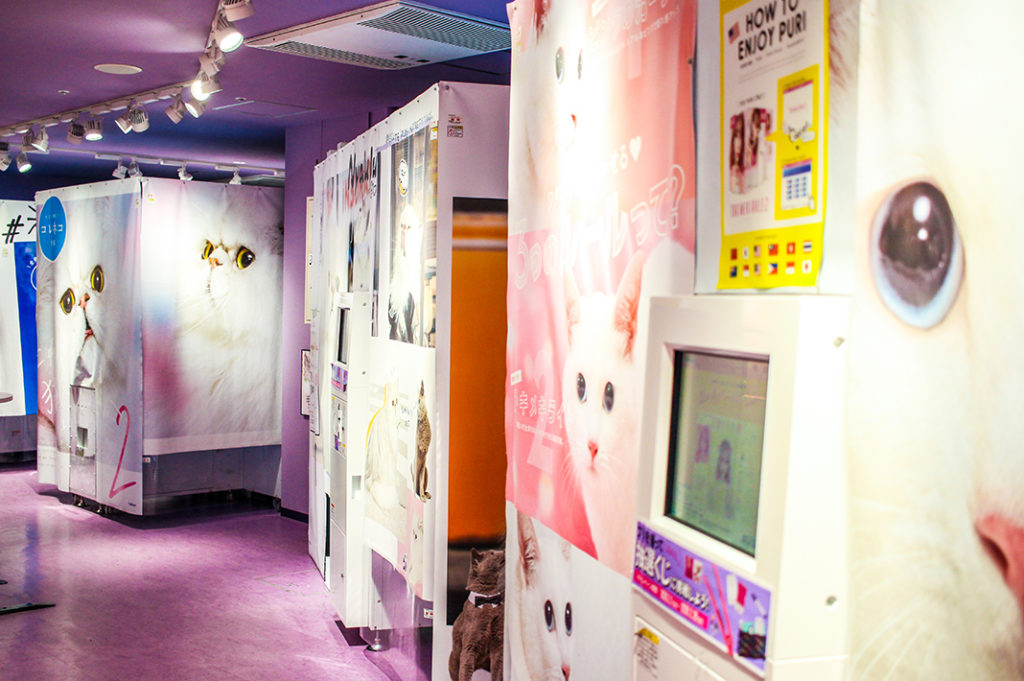 Undeterred, we did a few rounds of photos, getting one with an adjustable camera that lets you pick your angles! One machine even advertised that it was for girls in their twenties. We chose to ignore that one.
*I don't want to send you on a wild goose chase, but the Moreru Mignon located near Tokyo Disneyland appears to be the pink bubblegum land we were expecting. 
Moreru Mignon takes up a corner of the basement level; the rest is what feels like a food court, featuring cafes and cutesy shops. Total teen magnet. Of course, this was 10:30 a.m. on a Tuesday morning so the teens were rightfully in school. While the kids are away, the adults can play…isn't that how the saying goes?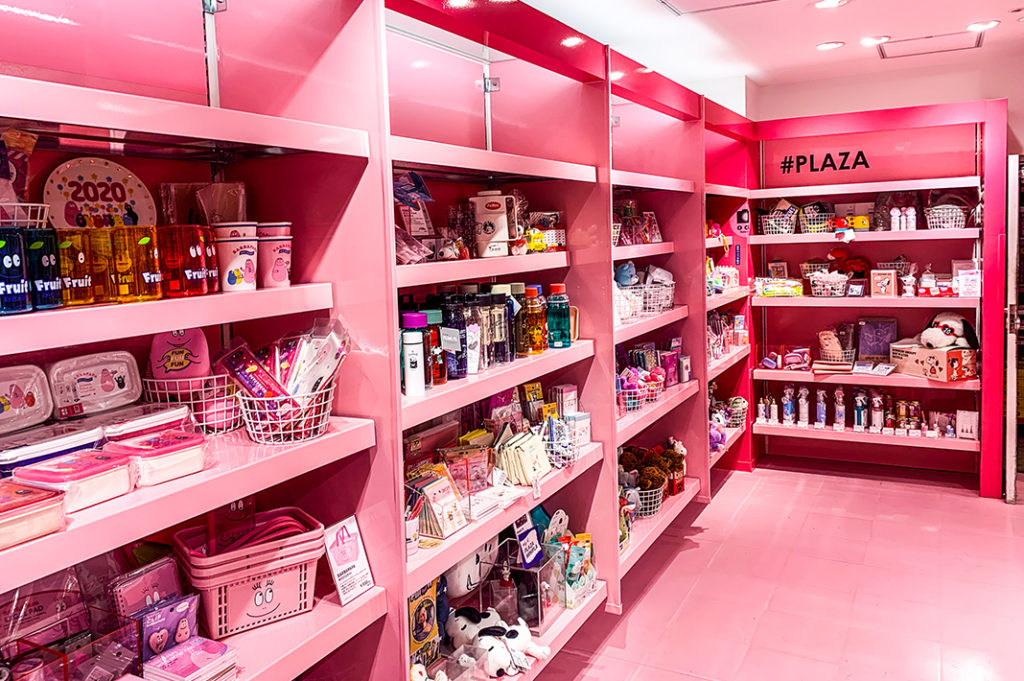 Instaworthy lunch at Flamingo 
Next up, we made our way to one of the most photographable cafes around: Flamingo. Tucked away in a quiet, hilly backstreet not far from the action, we stood outside waiting for it to open. First in line—very dedicated, very JK. However, we were chatting when they turned the closed sign around and were beaten inside by some girls who materialised out of nowhere! We'd been out-JK'd.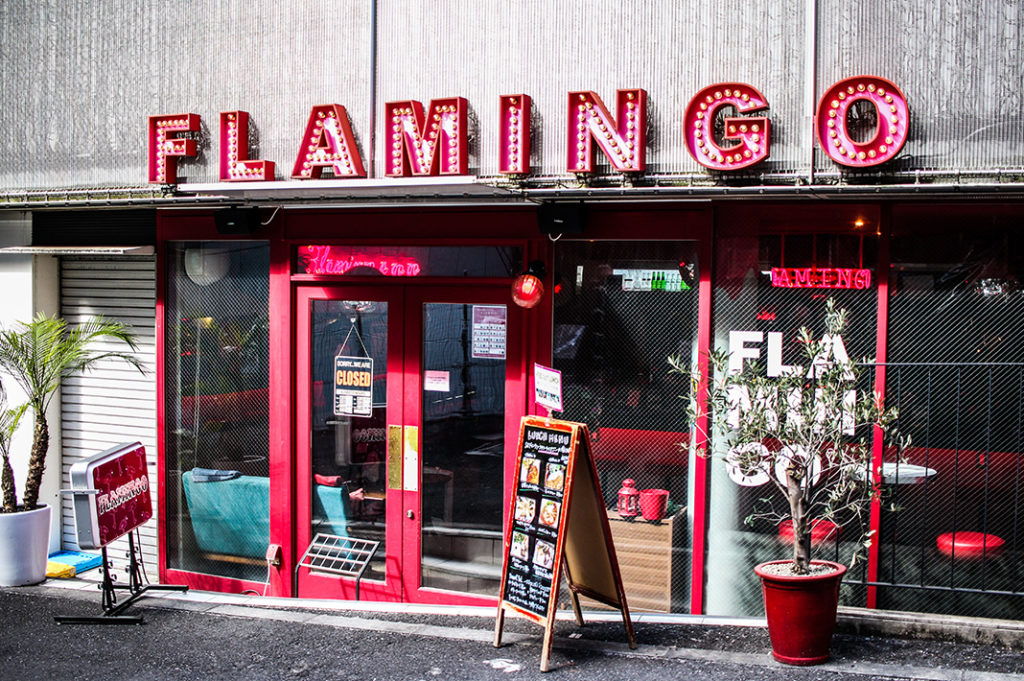 The interior is part-diner, part-disco with neon and glittering disco balls. Flamingo motifs and wall murals add a splash of fun, too.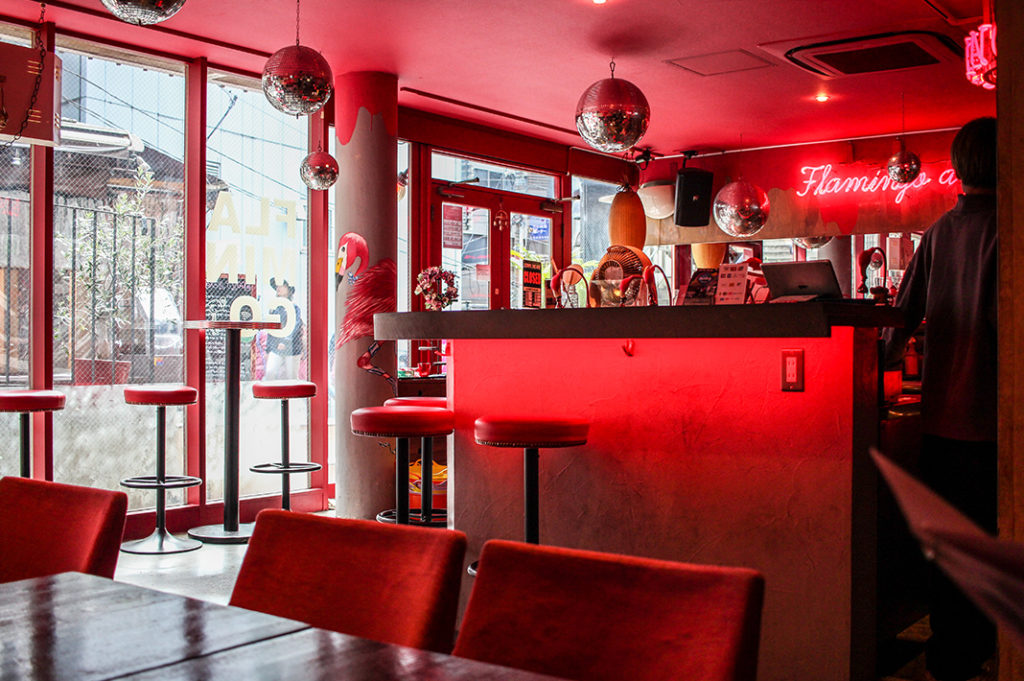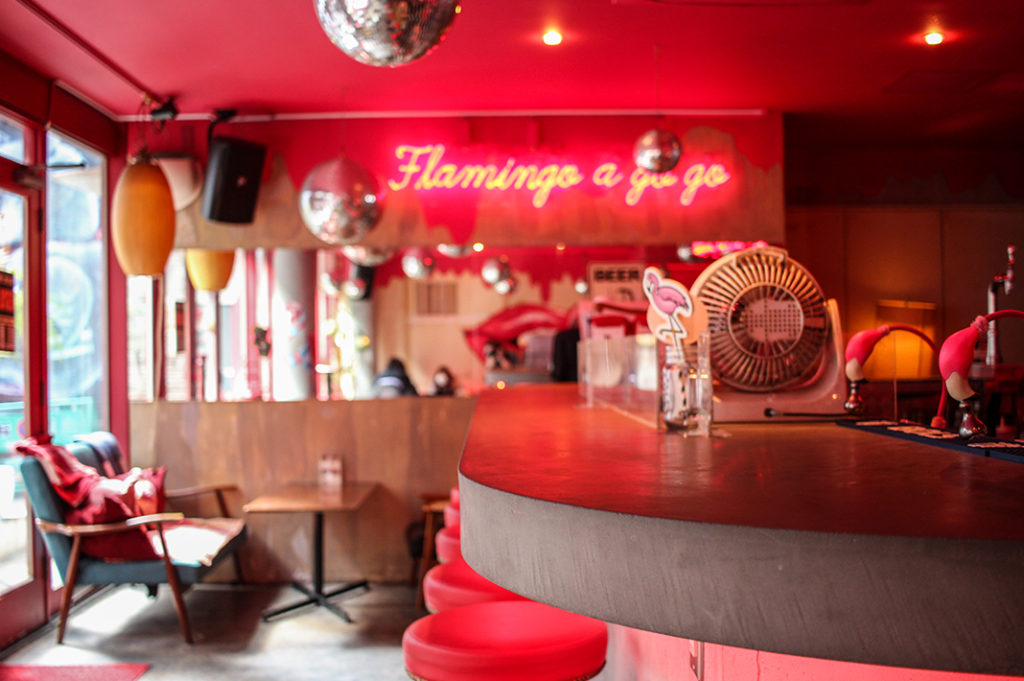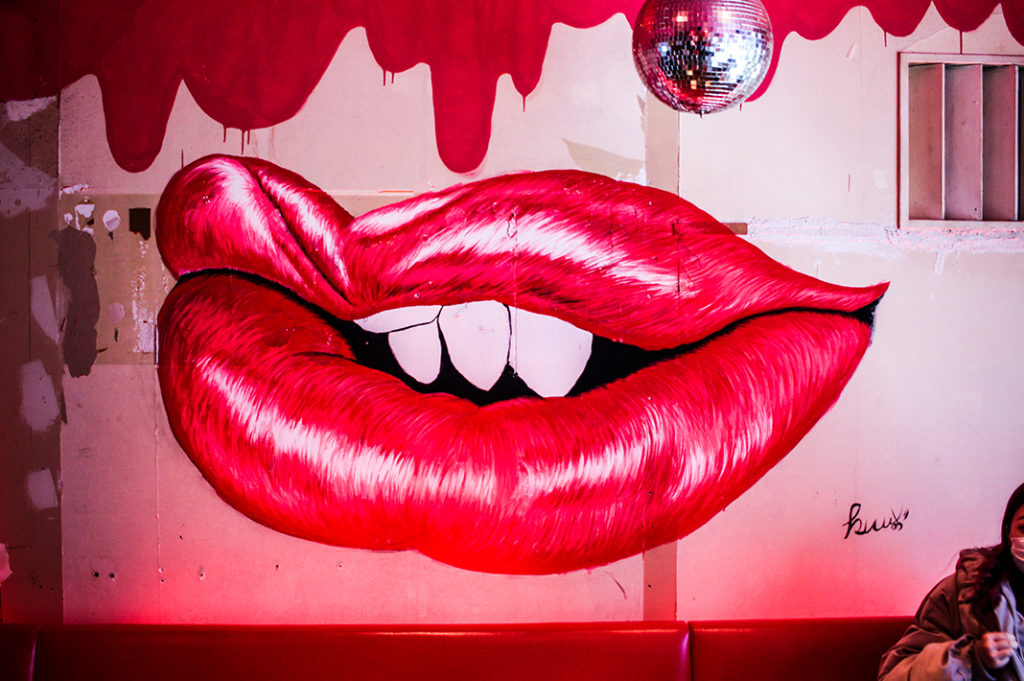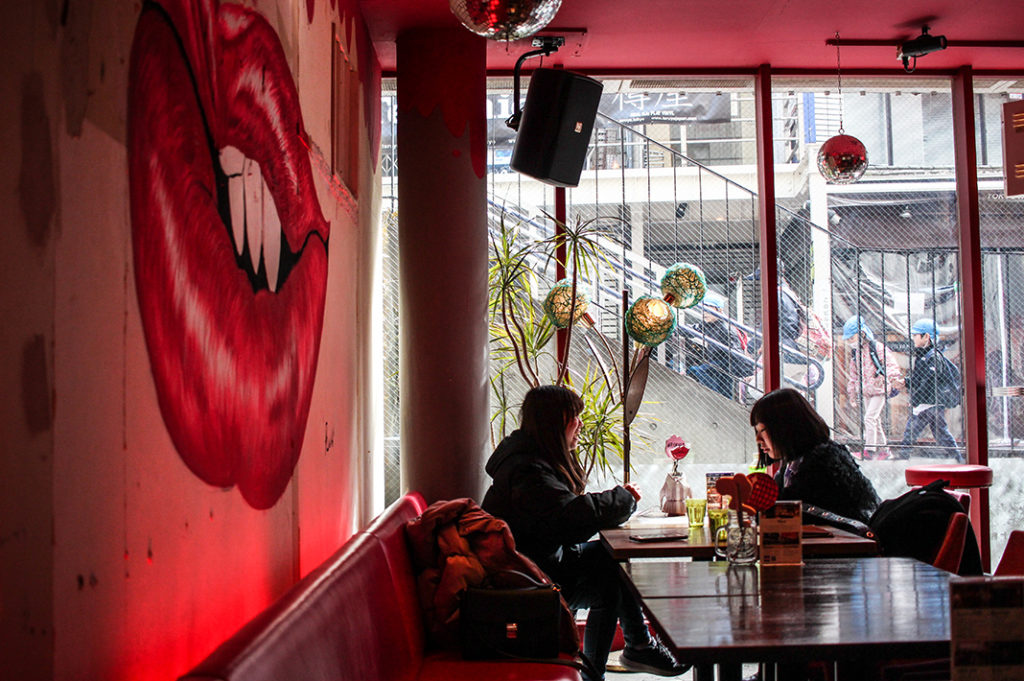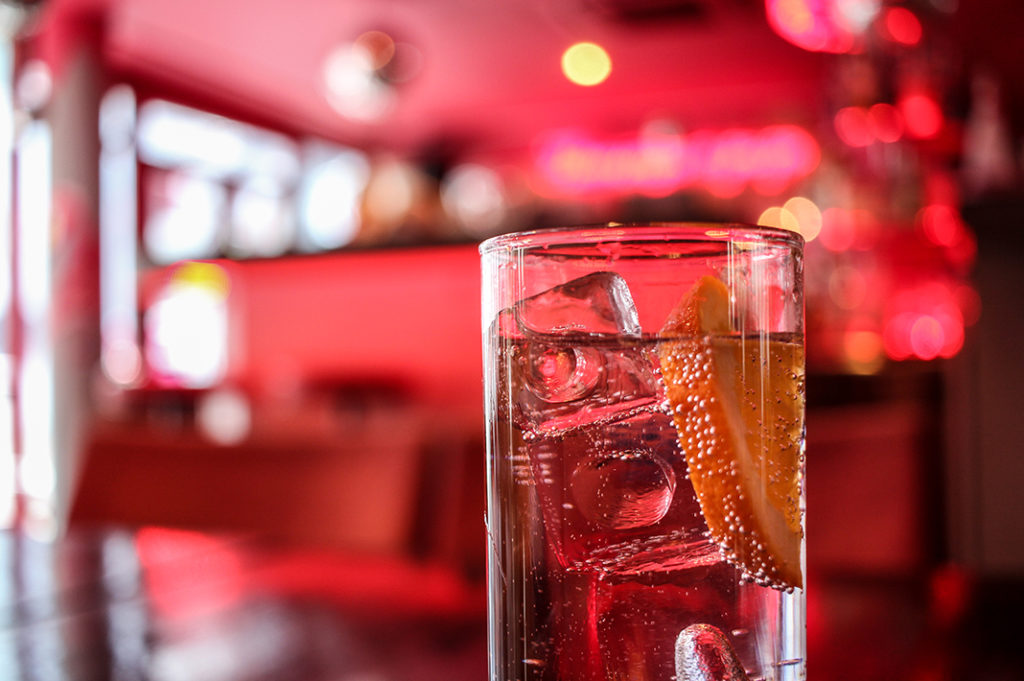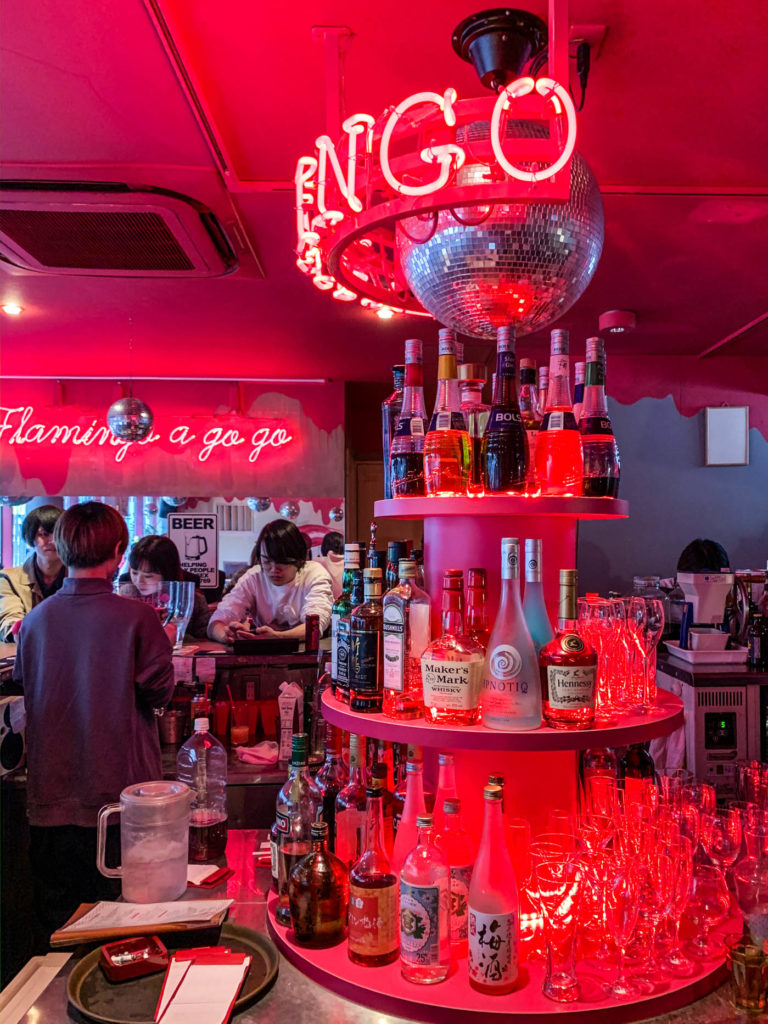 We had a snack and a drink, dished some dirt and were on our way. But not before the place filled up with all kinds—including businessmen. Guess no-one's immune to the charms of pink neon and a disco ball!    
LUSH Harajuku
Next, we wanted to do a bit of shopping but decided to walk over to the equally teen-friendly Harajuku instead. In particular, we were heading for the LUSH store. This global bath & body chain is super popular here, and we were keen to check out the Harajuku location which specialises in bath bombs.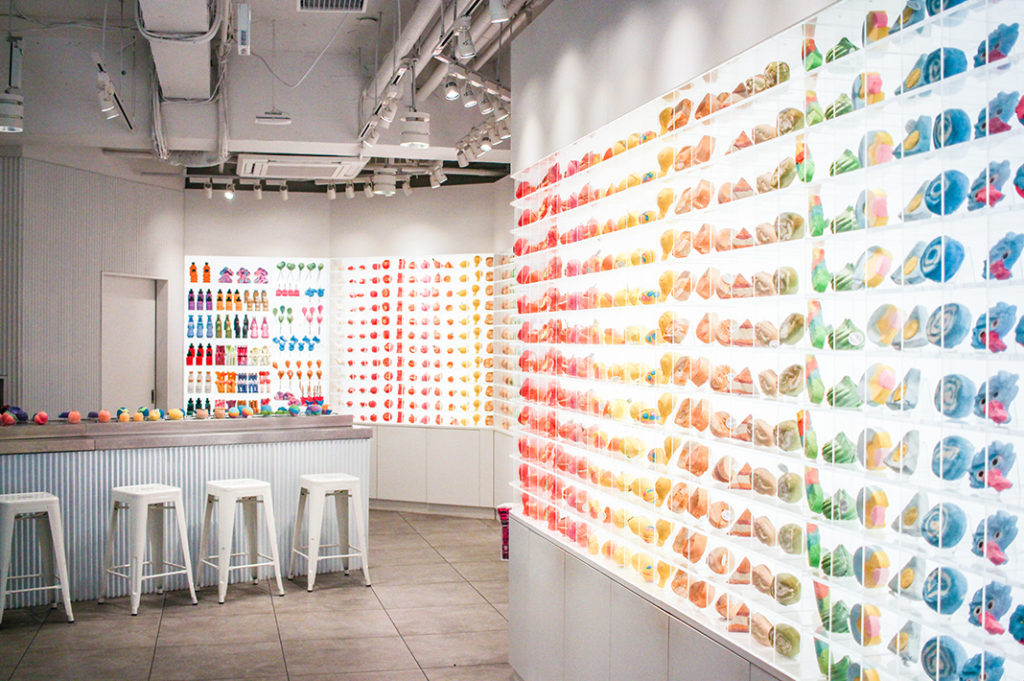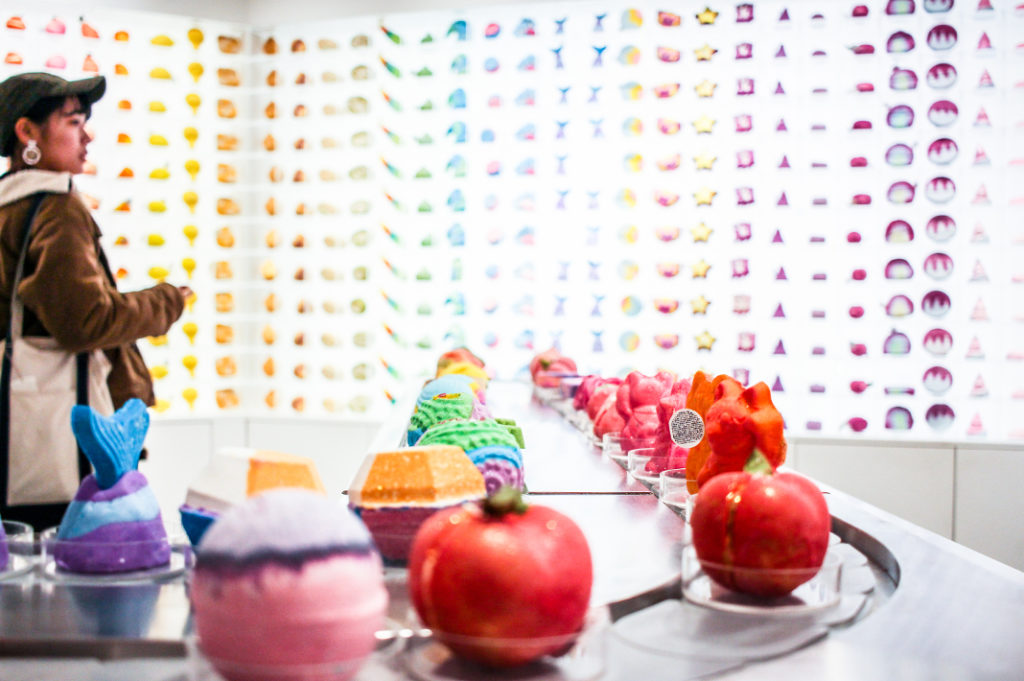 Inside, the walls are lined with hundreds of colourful bath bombs, shower bombs and bubble bars, many of which are exclusive to Japan or to the store. Both floors also contain a conveyor belt sushi train to display the products in a fun way. My teenage self would have lost her mind, but probably couldn't have afforded much! So I picked up a cute exclusive maneki neko lucky cat bath bomb for her to enjoy later.
Early 2000's Karaoke sesh
After spending her teen years in Canada, it turns out my Japanese friend has the same nostalgic mixtape from her formative years as I do—a fact we discovered three tracks into an epic car karaoke session. We were long overdue for a 90's and early 2000's singalong, so made our way to the nearest Karaoke joint. 
Usually, I find myself at Karaoke after dinner and drinks, full of liquid courage, so daytime one-on-one Karaoke would take some getting used to. The great thing, though, is that day rates are way cheaper! We spent hours there and only paid around ¥1,000 each. If you haven't been shocked by the bill at the end of a late-night session with a large group, you haven't done it right!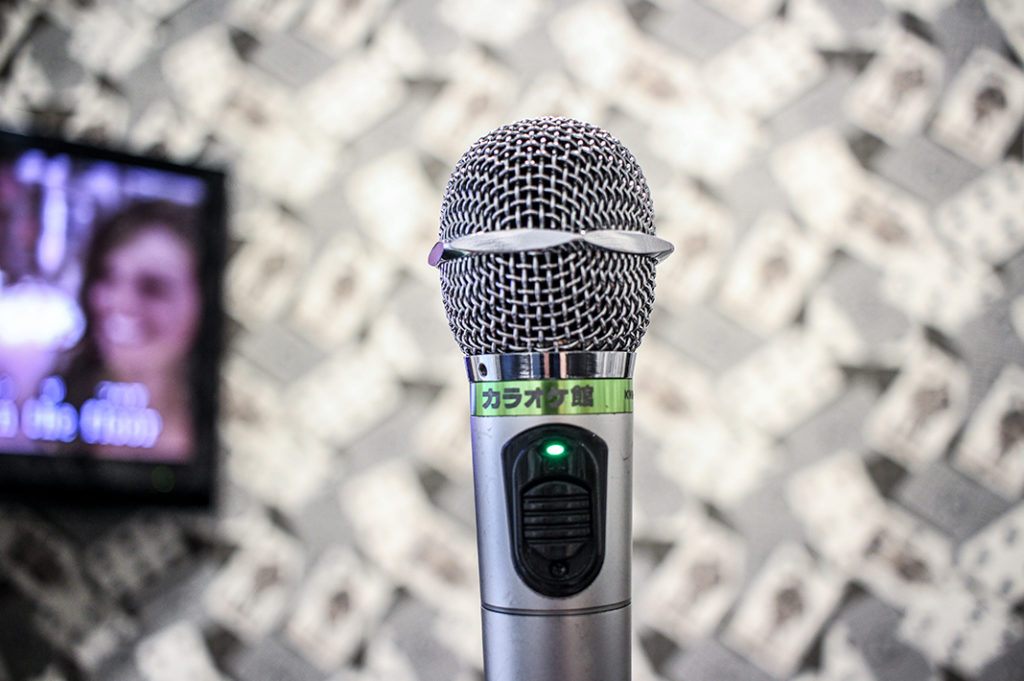 We heartily sang along to the tracks of our youth—strictly sticking to Disney, pop groups and TV and movie soundtracks. It never ceases to amaze me how I can absolutely nail a song when I can't even recall the title or artist. 30 seconds in and my memory fires up.
In conclusion
After a long day of letting our inner teens call the shots, we realised the big difference now was that we no longer had the stamina. Our teen spirit was willing but our bodies were calling for honey and lemon tea on the couch with Netflix. (Self-care is important!). So we went our separate ways, still humming our favourite tunes, until the next time we need some good ol' fashioned fun.
If you find you have more energy than us, check out Takeshita street, the Kawaii Monster Cafe or the dessert sushi train at Cafe Ron Ron. The list of cute places in Tokyo goes on and on, but Harajuku and Shibuya are always safe bets.
Post by Japan Journeys.