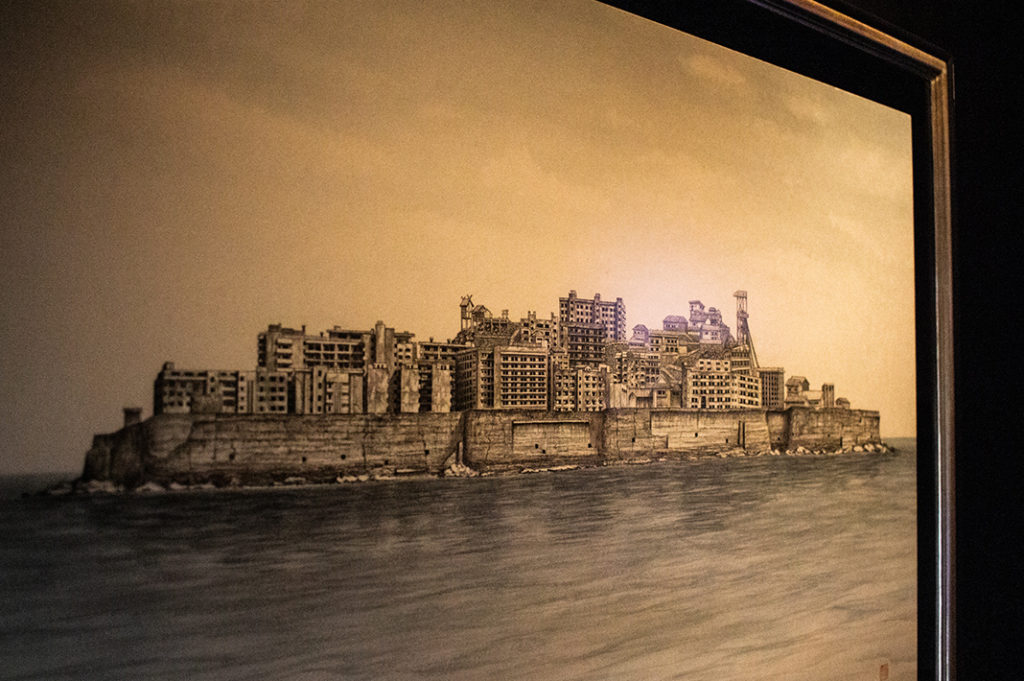 Life on Hashima is of great fascination to me. In the 1950s, this tiny coal mining island, just 160m wide and 480m long, was the most densely populated place on earth. Over 5,000 people lived, worked and went to school in concrete buildings that reached skyward and a mine that bore deep under the sea. These days, the island's population sits at a nice, round zero—unless you count the birds, that is. While it's possible to go ashore on one of the cruises operating out of Nagasaki, you can't exactly explore freely. Forty-seven years of abandonment have seen the buildings decay into unrecognisable versions of their former selves; so much so that guides are required to safely shepherd you through the three designated viewing areas. It's a surreal experience and it's hard to imagine people there. Luckily, you can see evidence of life at the Gunkanjima Digital Museum. 
Life on Hashima
I paid a visit to the museum as part of my Gunkanjima Concierge cruise, a combination ticket which affords half-priced entry. In addition to exploring the abandonment, I wanted to see the 'before', to understand what a day looked like on the 'island without green.' Located between Oura Church and the cruise terminal, the museum features three floors of exhibits dedicated to showcasing this very thing. 
After signing in, I ascend a staircase into darkness and can't help but feel the design is meant to mirror the dark environments on the mining island. Rounding the corner, the first thing I see is 'Gunkanjima Symphony', a 30-meter wide screen projecting images of life on the island. I join a few others on the stools as a guide offers context in Japanese. Larger than life images float by; children clutching dolls and playing catch, soaking wet miners working hard and what looks like a march through town. Grainy faces of yesteryear are reflected on the inky black floor as I stand up to look around some more.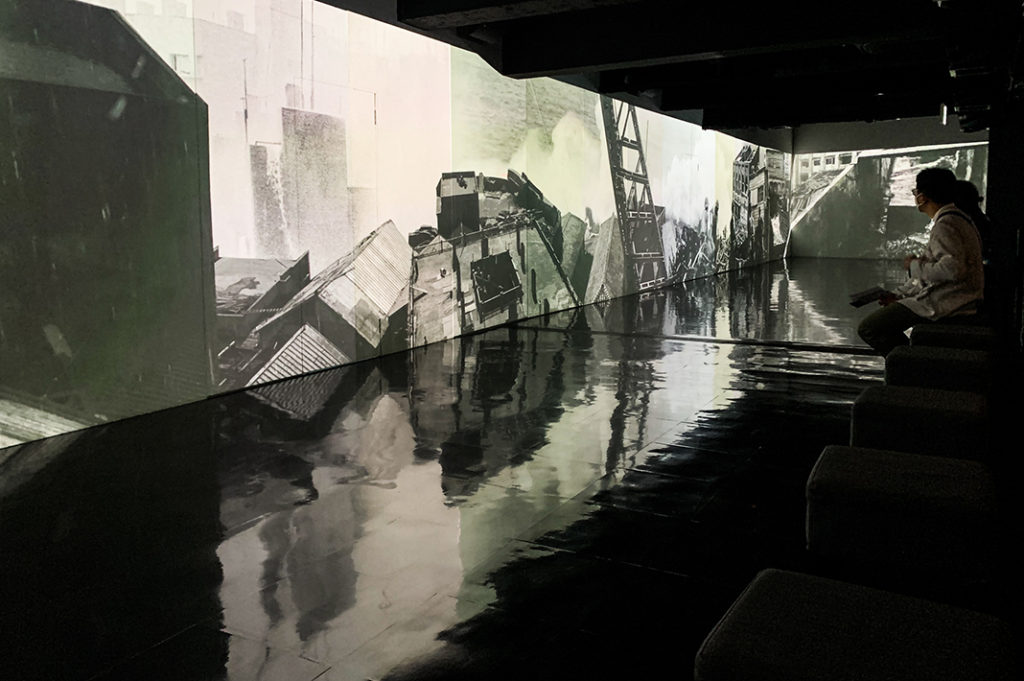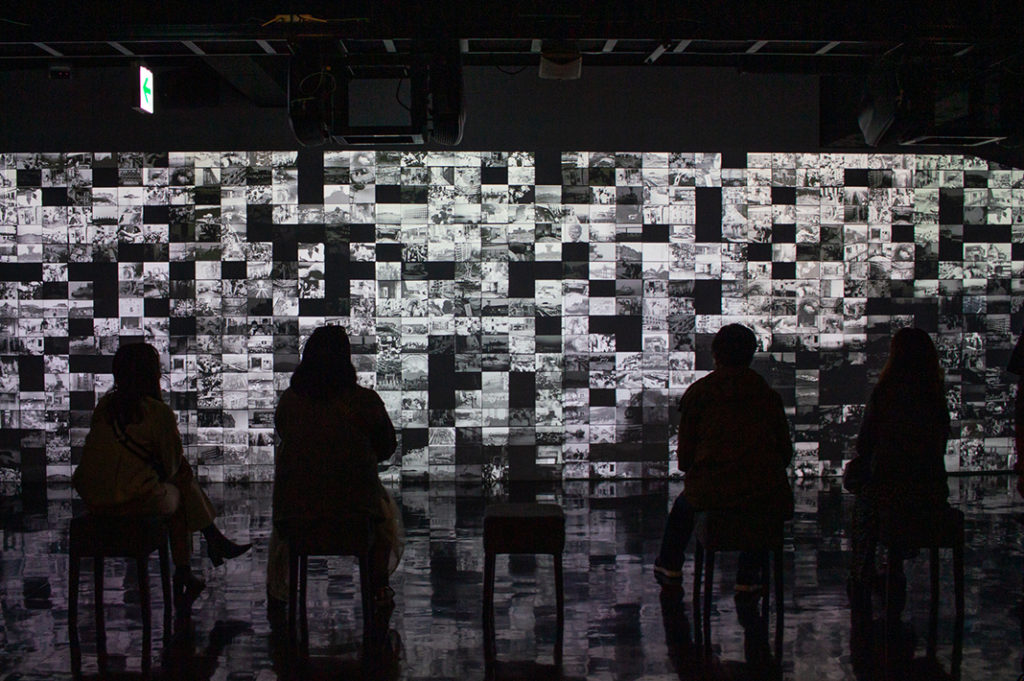 Island life for me
I'm soon captivated by the geometric 'resident memory' display. The angular panels show images of mid-century life on Hashima interspersed with quotes from former residents. I see bands playing to packed crowds, a stein of beer clutched by a man in a diner booth and one memorable quote: "fighting started when the alcohol ran out." With so many people in such a small area, I can only imagine the concentrated chaos that the sole Police Box had to deal with.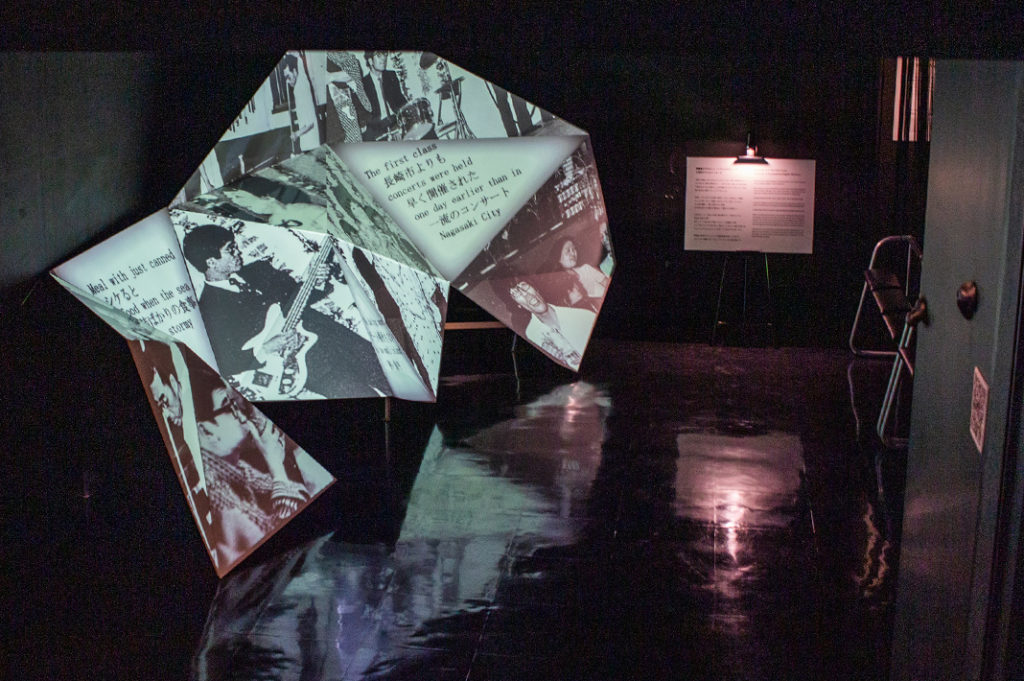 In the next room, I watch the 'Rhythm of the island' display. A 1/150 diorama of Hashima sits before a screen, together simulating three days on the island complete with sunrises, visuals of everyday life, sunsets and the twinkling night lights. Seeing it like this, the nickname 'Battleship Island' makes sense; it bears great resemblance to a battleship sailing the seas.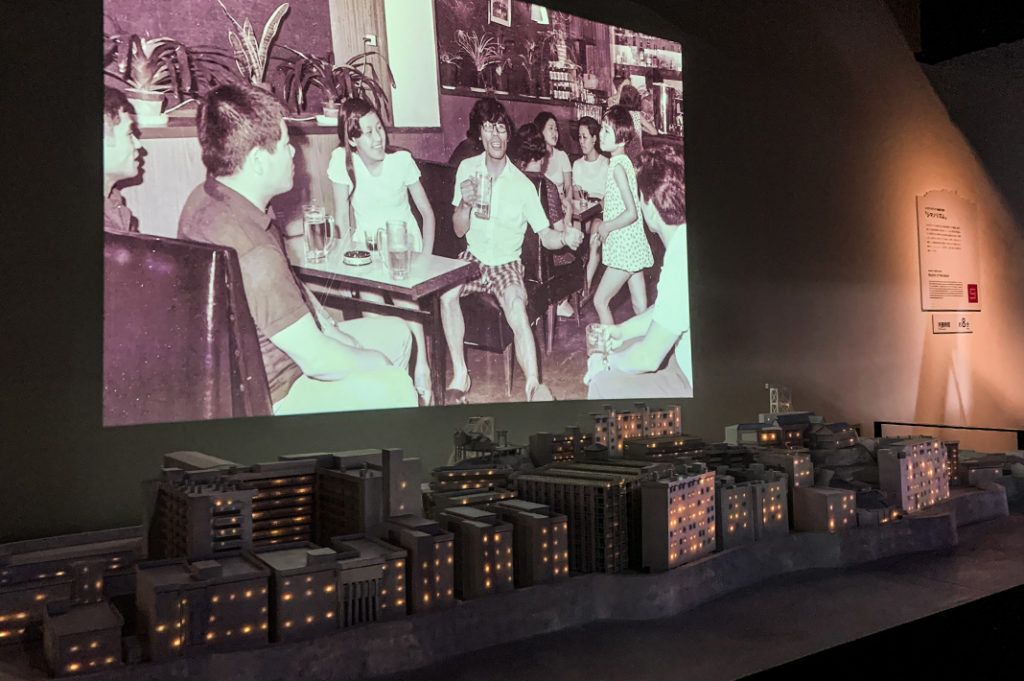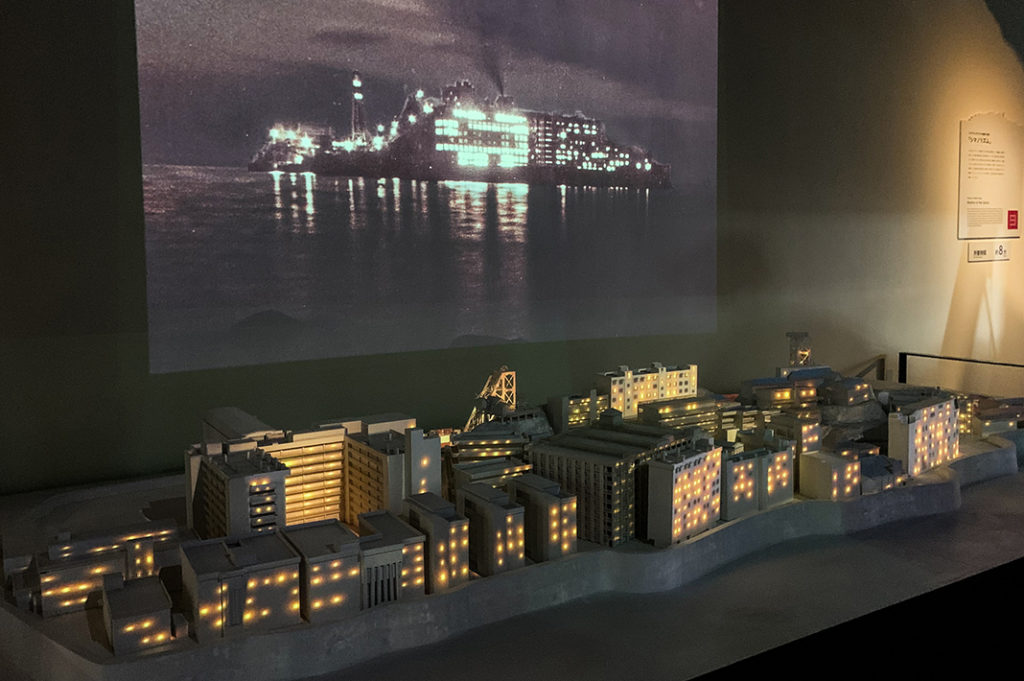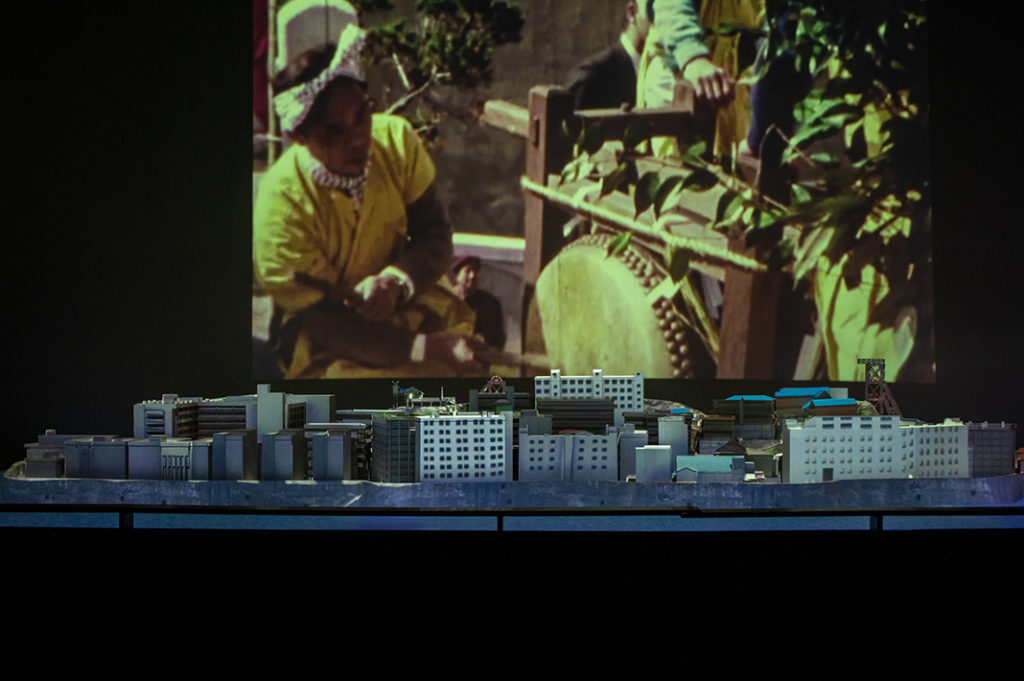 As its other nickname, 'the island without green', would suggest, I don't see any plant life on the model. I did read, though, that at one time, rice paddies were set up on a rooftop to teach children about agriculture. Unfortunately, the building wasn't properly waterproofed and the rice paddy leaked on the residents below. 
Getting closer to the memories
As I wander around the third floor, a staff member approaches me for a chat and suggests I try the 'Susumu Virtual Reality' exhibit. He leads me to an exercise bike, kits me out with a headset and instructs me to cycle. As I pedal, I begin to soar over the island like a drone and as I steer, I'm able to float a little closer to the crumbling buildings. It's a fantastic way to get into the forbidden areas of the tour and I highly recommend you try this when visiting the Gunkanjima Digital Museum.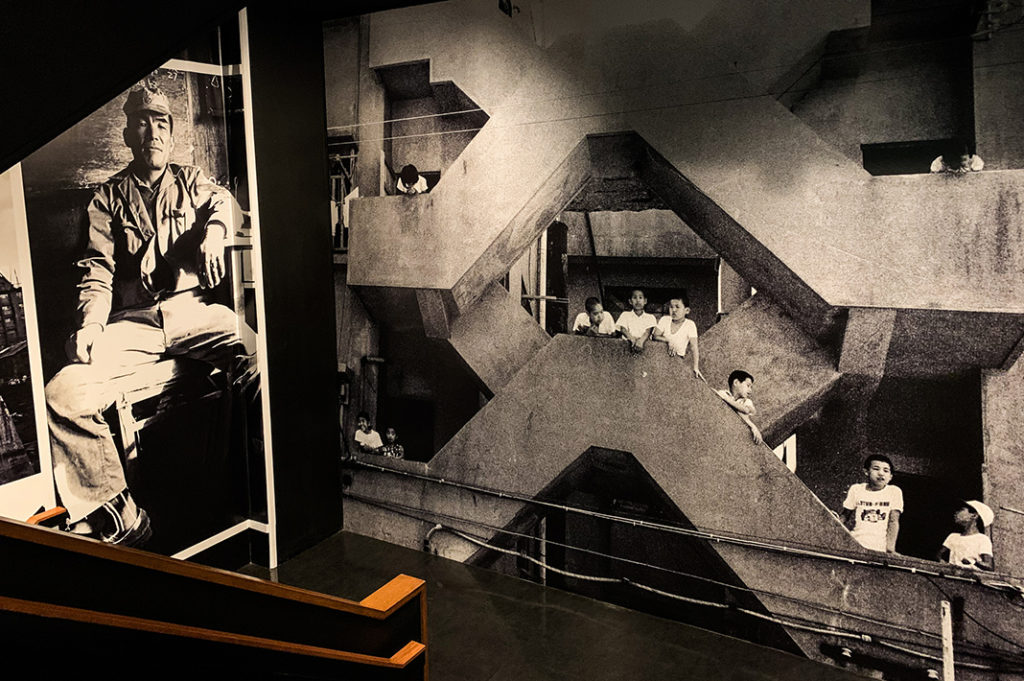 The top level of the museum features recreations of a typical apartment as well as the island's tiny shrine. These both help to set the scene and are a nice complement to the VR experience. One other highlight from my visit is the series of photographs taken by former resident Masatsugu Takahashi, his subjects smiling familiarly in the midst of their daily tasks. This intimate, unfiltered view of the island is powerful to witness. I was glad that I was finally able to see and feel the human experience of life on Hashima. The island may be abandoned but the memories are certainly well preserved. 
Accessing Gunkanjima Digital Museum
It's worth noting that English signage is at a moderate level, and there are headsets available. Take tram #5 (green) to Ourakaigan-dori station. From there, it's roughly a 5-minute walk to the Gunkanjima Digital Museum. Read more about Nagasaki trams here, and more on the Gunkanjima cruise in this post.
Name: Gunkanjima Digital Museum
Address: 5-6 Matsugaemachi, Nagasaki, 850-0921 (link)
Open: 9:00 am – 5:00 pm
URL: website
Post by Japan Journeys.