Winter may not be people's first choice of times to visit Japan's capital, but it sure has its perks. Sento, Christmas markets, Fuji views, hot pot restaurants—these are just a few of the cosy things to do in Tokyo during winter! And as the autumn leaves make their colourful departure, the streets and parks are transformed into magical scenes, draped in fairy lights as part of the 'winter illumination' phenomenon. Now, in 2021, a new and very cool winter phenomenon has hit town: the Forest Aurora at Hotel Chinzanso Tokyo.
The Forest Aurora
Ahead of its 70th anniversary, Hotel Chinzanso Tokyo has lined up seven seasons of events. Kind of like a birthday month, but better. Throughout the year, visitors can experience camellia and art installations, sakura spring events, summer fireflies, autumn colours, and now the Forest Aurora—a recreation of the mystical northern lights.
While the Aurora Borealis is a natural phenomenon many of us only dream of seeing, Hotel Chinzanso Tokyo have found a way to bring that dream a little closer to home with the use of light projection technology coupled with their 'Sea of Clouds.'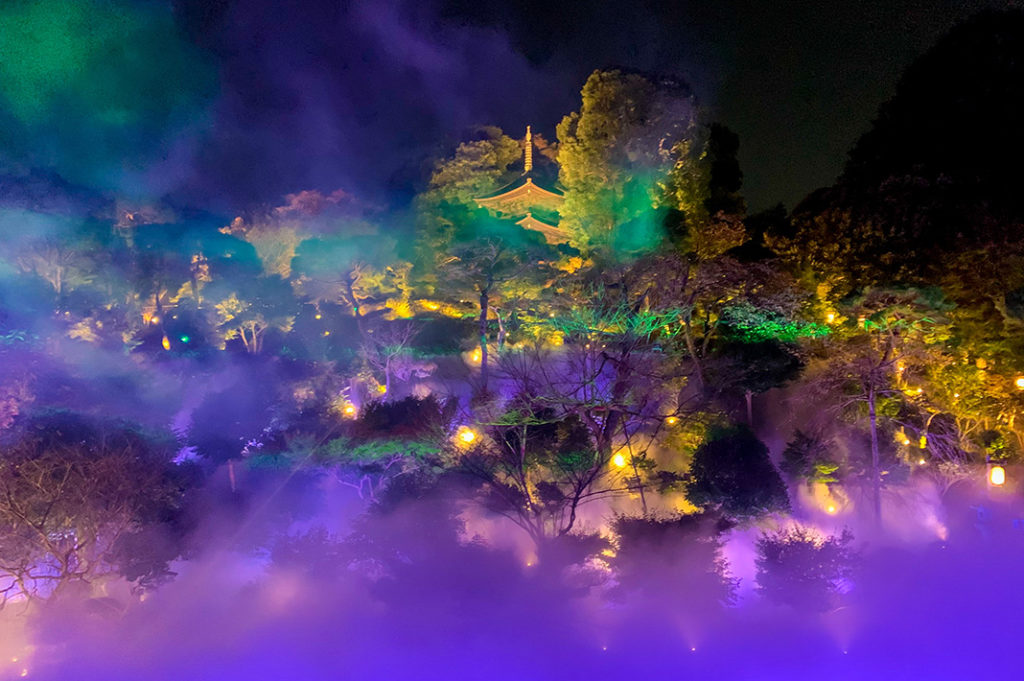 As it stands, the garden oasis at Hotel Chinzanso Tokyo contains many layers of history and wonder, from the original land to the three-tiered pagoda. With the 'Sea of Clouds' drifting across the scene throughout the day and night, it is transformed into something truly magical.
Now, for the winter season, things become even more surreal with the Forest Aurora. With light projected from various angles and a corresponding soundscape, the garden is more ethereal than ever before.
Winter Wonder in Tokyo
Typically seen at the earth's north and south poles, the Aurora Borealis is a wonderful night show courtesy of the cosmos. Here in Tokyo, layered and coloured lights are used to recreate this effect on a small scale, with a unique backdrop of forest and an historic pagoda.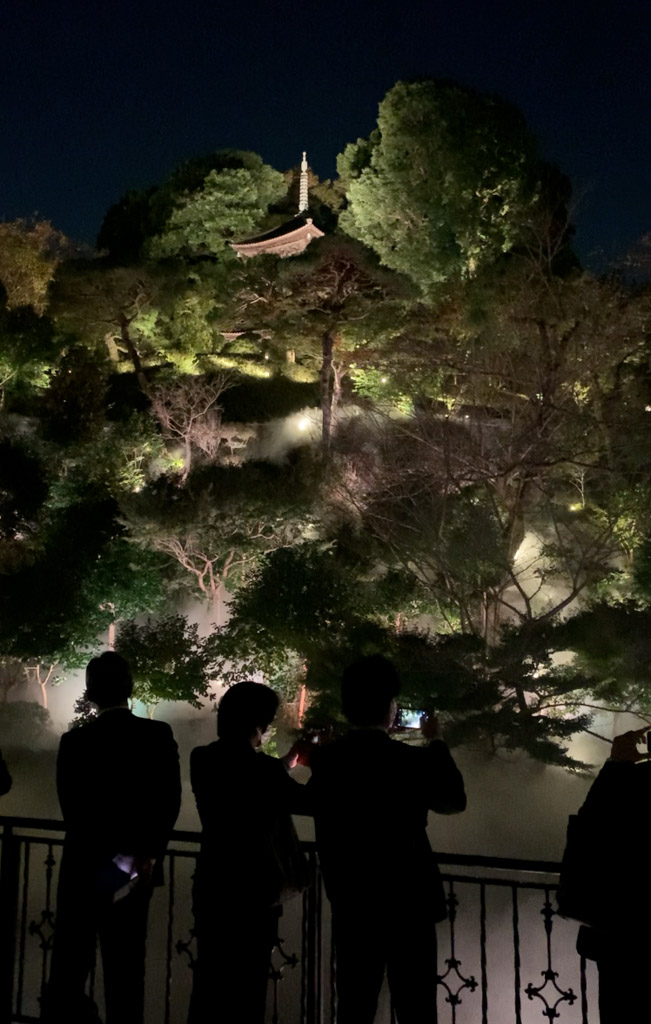 How to see the Forest Aurora
For the 2021/2022 season, the Forest Aurora occurs nightly from mid-November until early February. Running every 30 minutes from 7pm-10pm, the experience lasts for 5 minutes, so be sure to arrive in time to see the entire show.
This experience is exclusively available to guests of Hotel Chinzanso Tokyo and patrons of the hotel's restaurants. If you've been coveting a 'dinner and a show' or a short hotel stay, this would be an excellent choice. For those who enjoy a little exclusivity, the 'Private Aurora Night' accommodation package includes private access to the garden after hours to enjoy the Forest Aurora uninterrupted.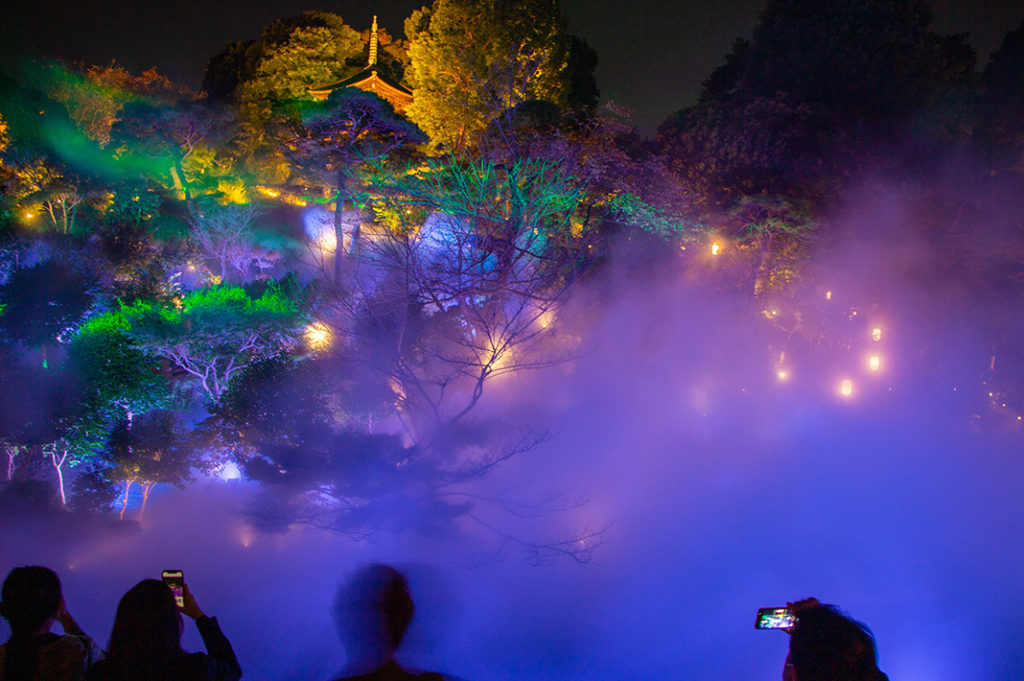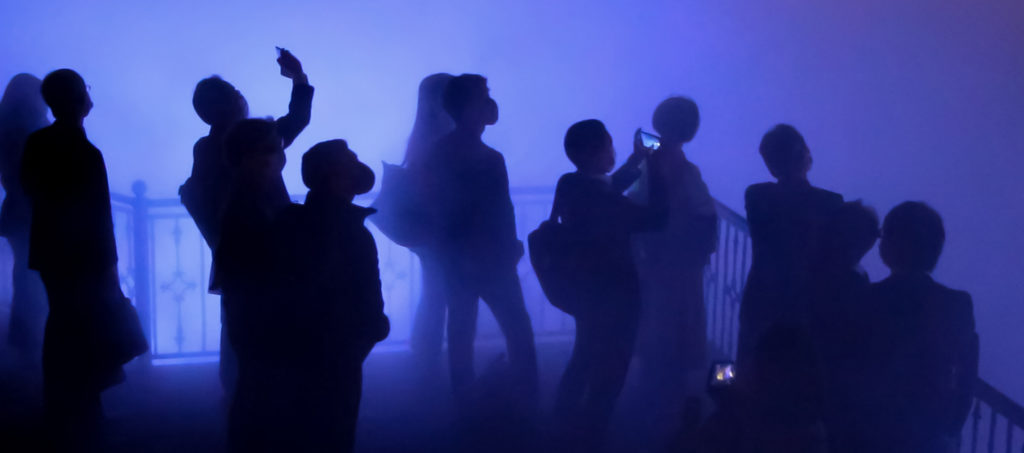 Food pairing
As the garden landscape moves and changes with the seasons, it serves as a constant source of wonder and inspiration. These seasonal events are often accompanied by themed feasts within Hotel Chinzanso Tokyo. Winter visitors can extend their experience by enjoying the 'Aurora Evening High Tea,' inspired by the Forest Aurora.
Served in 'Le Jardin' (the lobby lounge), things kick off with a layered champagne cocktail named the Aurora. Next is a three-tiered hors d'oeuvres stand full of tasty bites. Here's a little hint of the menu, from left to right: shrimp cocktail on French toast, bacon quiche with maple syrup cream and mimolette cheese, marinated king salmon open sandwich, butterfly pea tea Aurora jelly, and finally, a clam chowder croquette in tomato sauce. Each bite better than the last.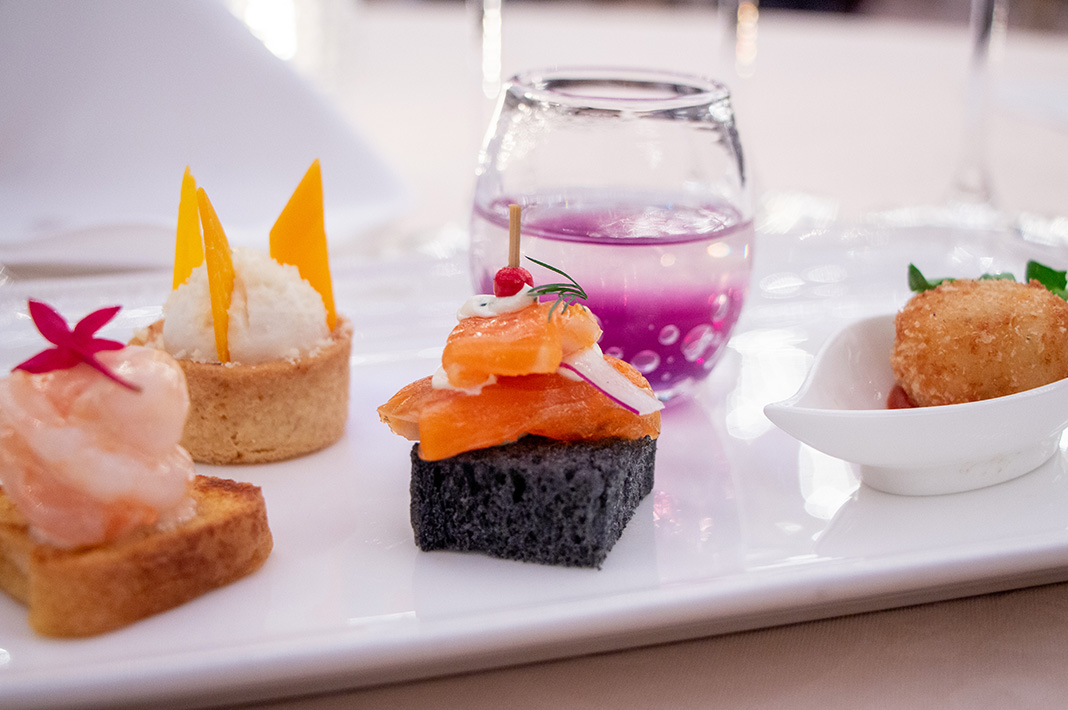 The main is a rather filling, juicy roast beef with vegetables, followed by a gorgeous little Chantilly meringue. Best of all, you can visit the garden to witness the Forest Aurora in all its glory. Reservations are required for the Evening High Tea; read more on their website.
Christmas and year-end festivities
For those who find themselves in Tokyo for Christmas, Hotel Chinzanso Tokyo is a wonderful source of yuletide joy. There are holiday themed afternoon teas, Christmas sweets and a 'year end buffet' running from mid-November to December 28th. After a few Christmas brandies, you might think you've wound up in the north pole!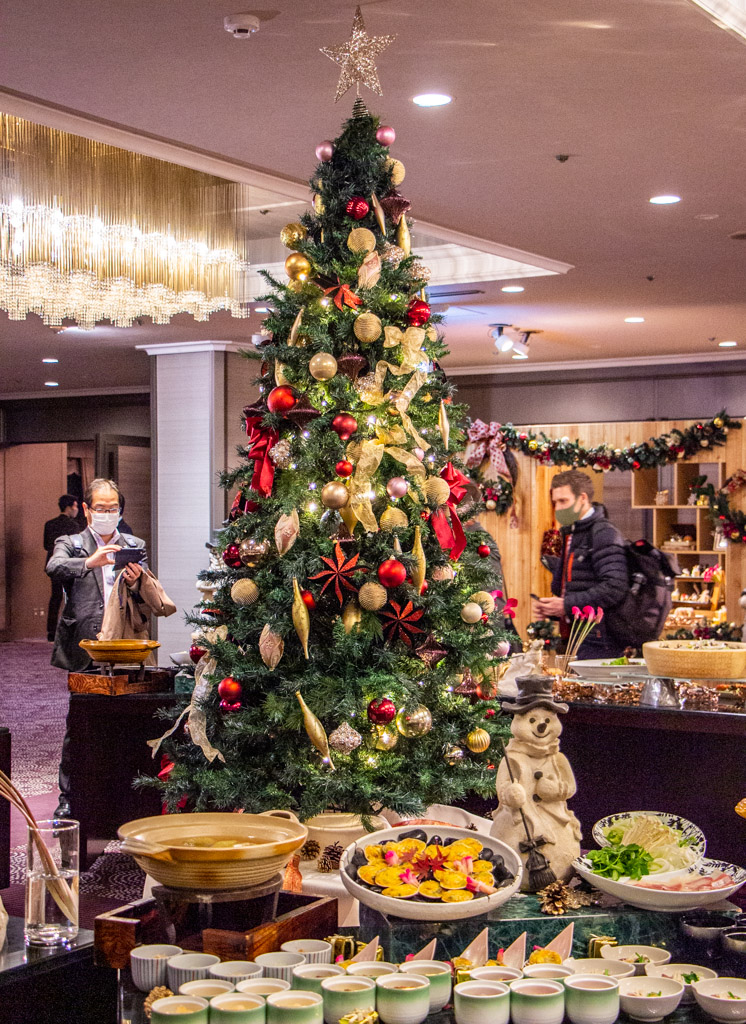 For those traveling to Tokyo in winter, we highly recommend the Forest Aurora experience. Luxury accommodation, delicious food and an exclusive light show in an historic garden…what's not to like? For more information, head to the Hotel Chinzanso Tokyo website.
Post by Japan Journeys.