As I swept aside Shigetsu's entrance curtain an hour ahead of my reservation, stomach rumbling, I was truly hoping it wasn't going to be one of those dainty Michelin meals. But firstly I was hoping they'd let me in early. While there are many tempting Arashiyama restaurant options, I selected Shigetsu for their Bib Gourmand shojin ryori, or Zen Buddhist cuisine. It's a great food to seek out in Kyoto as it's traditionally served in the dining halls of Buddhist Temples, of which Kyoto has many. Shojin ryori cuisine is also vegetarian. Buddhist beliefs forbid the harming of animals for food so it utilises local, seasonal ingredients as well as tofu and yuba (tofu skin). The chefs expertly prepare and present these on various small dishes to form an unforgettable dining experience. 
A welcoming atmosphere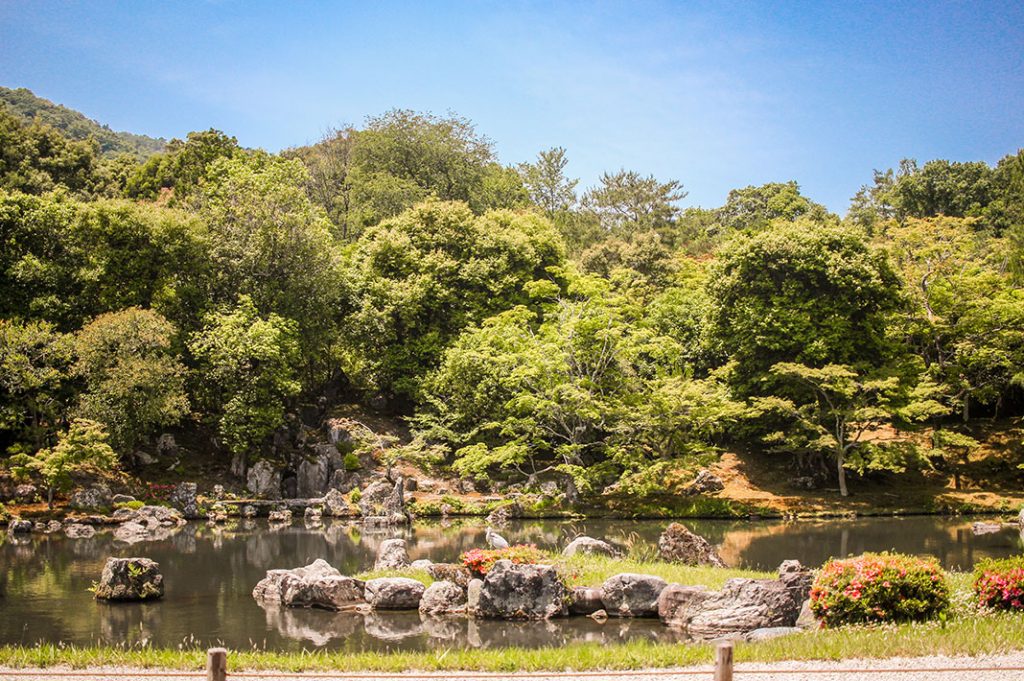 You would be hard pressed to find a nicer location for a restaurant. Shigetsu is tucked away in a leafy corner of the World Heritage Listed Tenryu-ji Temple grounds with a large maple tree gently swaying hello to approaching diners.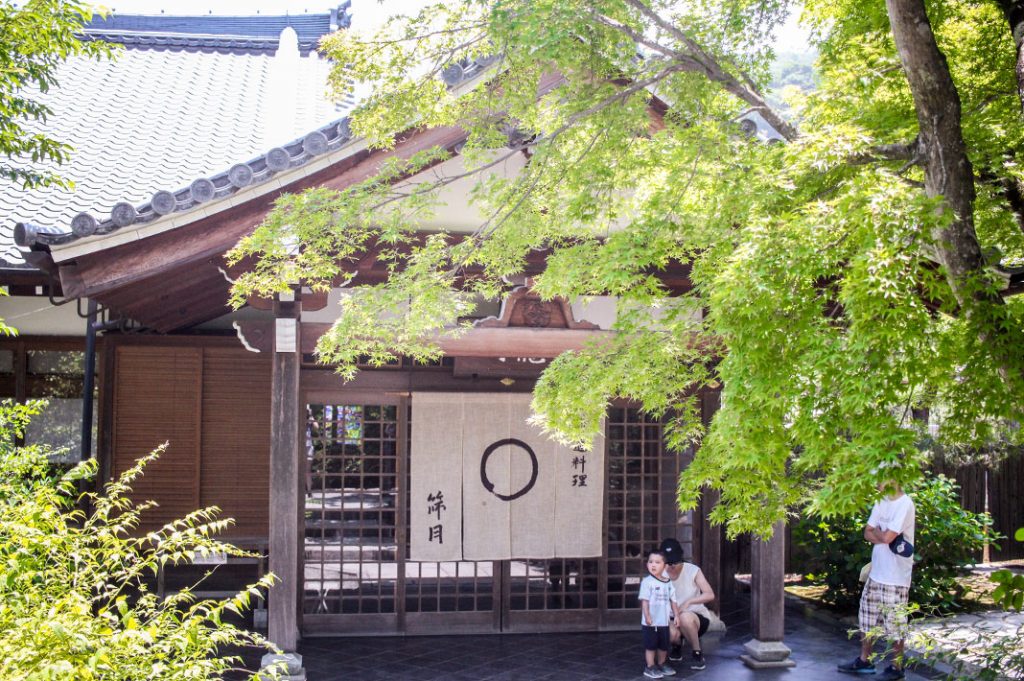 The building itself is a traditional looking wooden structure which showcases the beauty of Zen Buddhist architecture.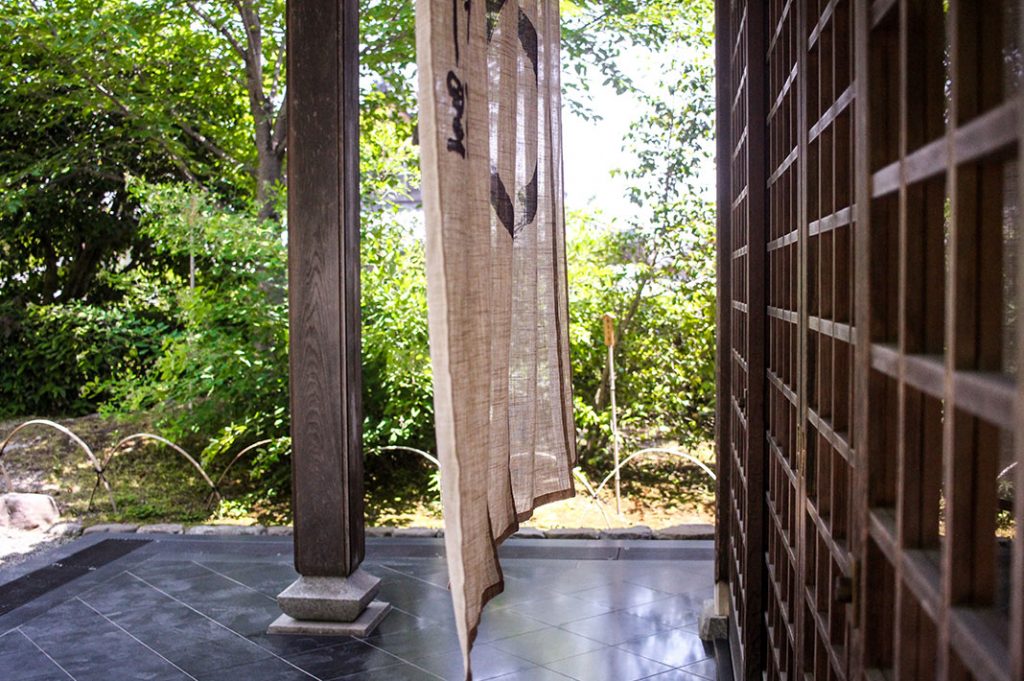 Beyond the noren curtain, you must remove your shoes before stepping up onto the floorboards which no doubt hold provenance. Luckily, nobody was queuing so the motherly staff member was all too happy to seat me early. She lead me down a sunlit timber hallway with garden views, quiet save for the soft padding of our feet and the occasional creaking board. Her footsteps halted as she slid open a door to my right, gesturing me into a large tatami mat dining room.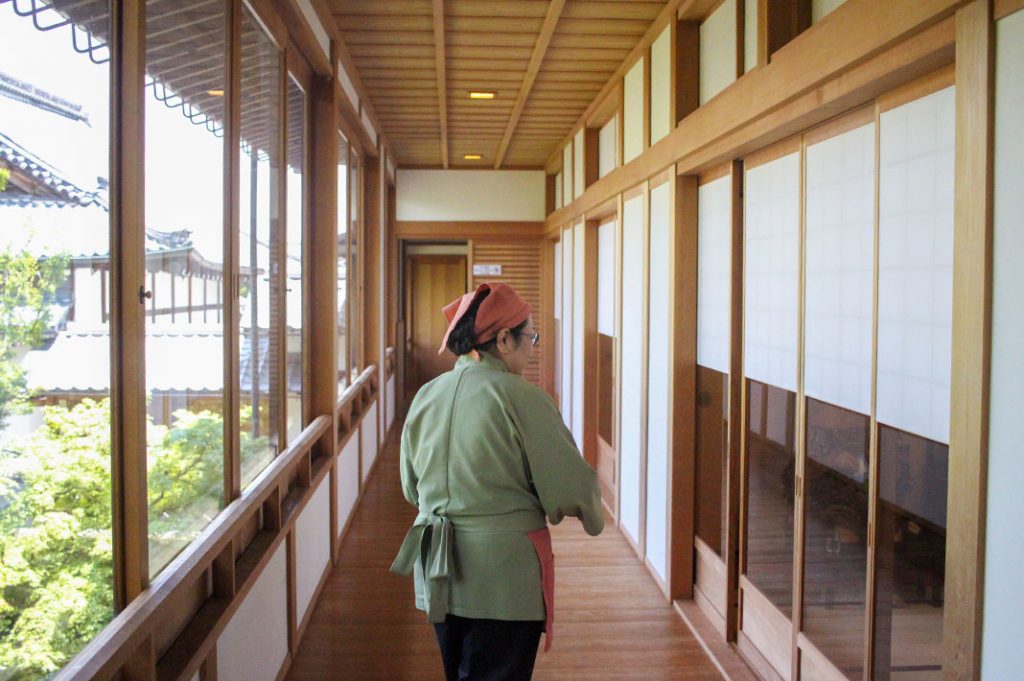 I took in the traditional Japanese aesthetic which set the scene for a wonderful lunch. Rice paper screens, tatami mats and small individual tables lining the walls—great news for those visiting on their own. I eagerly took my place, surrounded by satisfied looking diners and a private tour guide walking her clients through each dish. It appeared that low chairs were available on request if sitting cross-legged or kneeling is not possible.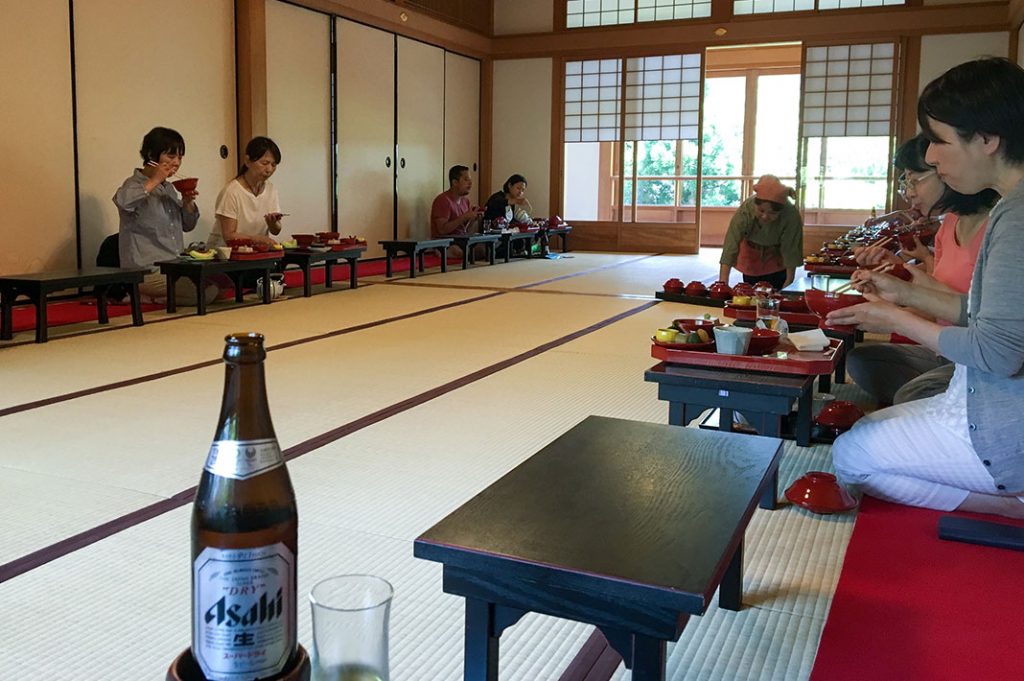 Variety is the spice of life
It wasn't long before a smiling staff member was setting down a red tray of delicacies before me; so many dishes, so many combinations of ingredients, textures and temperatures. This style of dining is one of my favourites and it's always hard to choose the first bite. Just as I'd decided, chopsticks at the ready, two more dishes were added to my collection. At this point I lost myself in a frenzy of taste-testing. Who knows what that first bite turned out to be.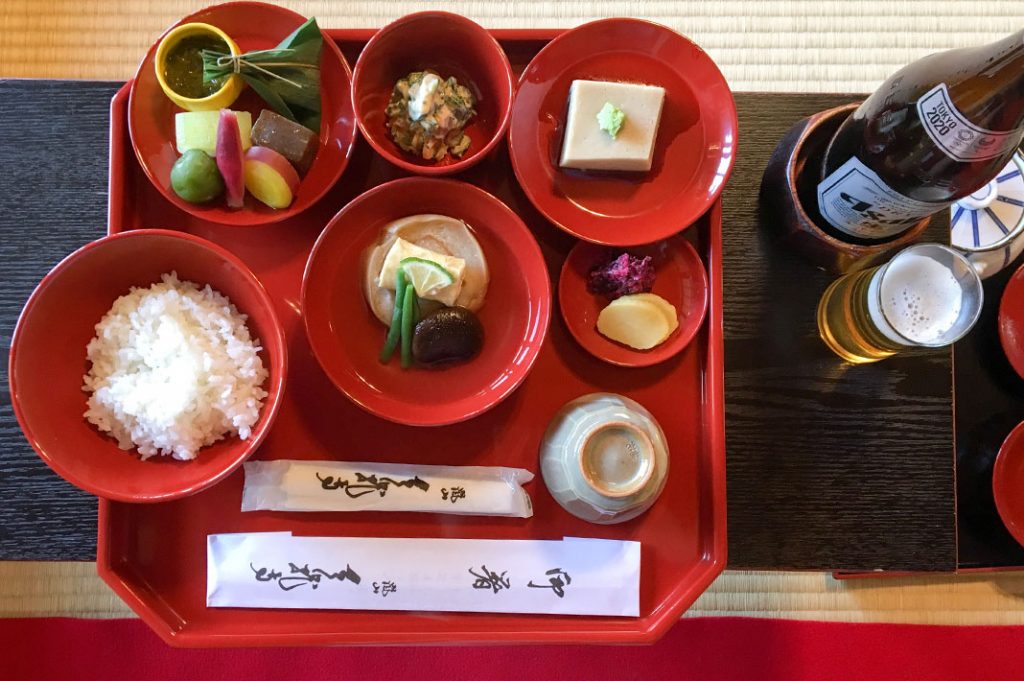 Every mouthful carried a surprisingly different and nicer flavour than anticipated after years of eating similar dishes. A cube of konnyaku, usually impervious to flavour, and a simple slice of sweet potato had both absorbed the savoury broth to their core, elevating them to something else entirely.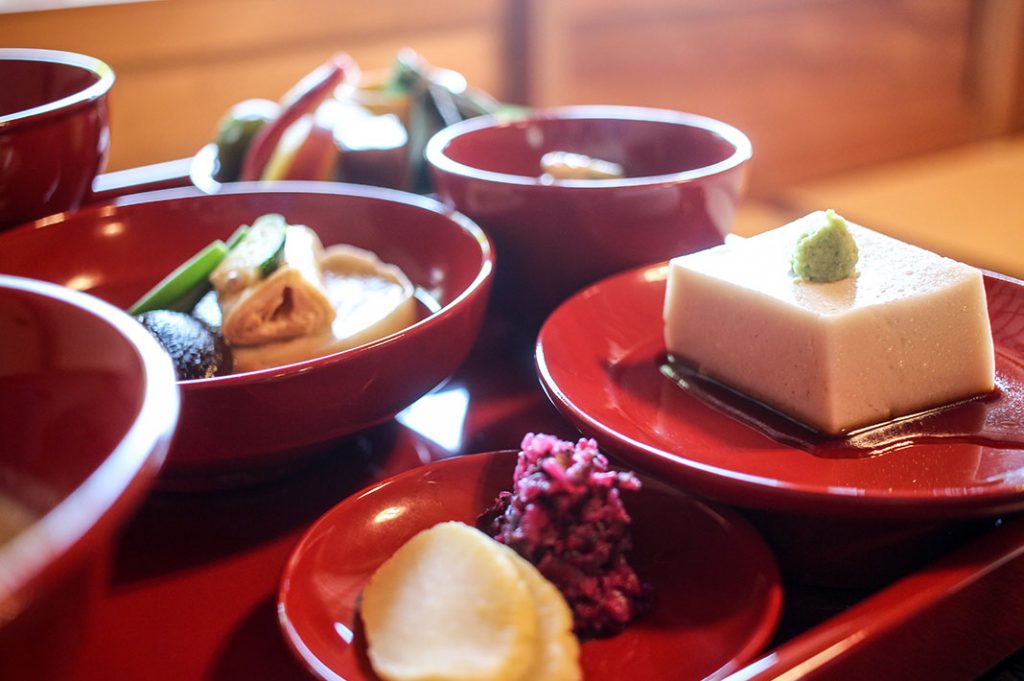 The nasu dengaku, slowly roasted eggplant topped with rich miso sauce, was outstanding. I cut through the unblemished surface with my chopsticks to dig out the eggplant flesh. The combination was a gooey, umami, sweet, caramelised flavour that danced at the back of my throat.
This simmered dish disappeared quickly. The shiitake mushroom and yuba (tofu skin) carried the slightly citrusy broth and were a flavour burst in my mouth. Underneath sat a piece of fu, wheat gluten, which basically tasted like toast that has soaked up a soup broth. In other words, deliciously comforting.
I'm still mystified by the cucumber salad which actually tasted of melon. It was altogether sweet, tangy and bitter, with strips of shiitake mushroom for umami and a tofu sauce to round everything out. While the ingredients (and combination) may seem common, it was fresh and exciting.
Next level dining
The quality of ingredients and attention to detail in terms of flavour, preparation and presentation is so high at Shigetsu. The experience was simply beyond expectation. While I feel that food is generally of a high standard in Japan, this was an awakening to how I should be eating. It's the Bib Gourmand and Michelin difference. Sure, I may go broke, but I'll enjoy my time getting there.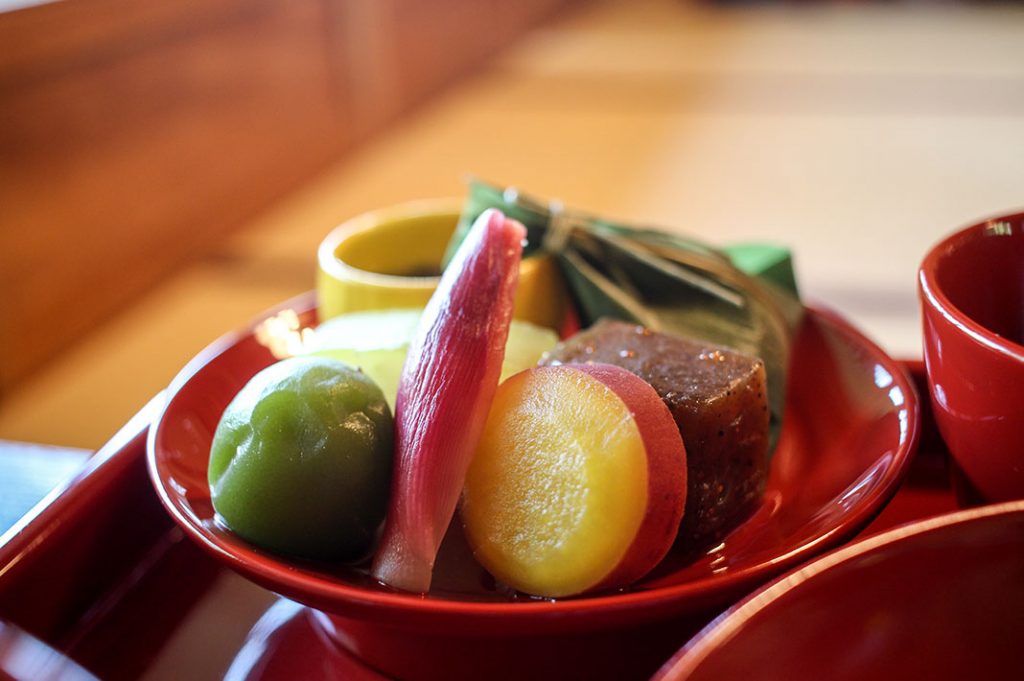 The finer details
I had pre-ordered the yuki (snow) course meal: rice, soup and five side dishes. However, there are the tsuki (moon) and hana (flower) courses which include six and seven sides respectively. Note: the latter two courses require advance reservations for parties over two people. It is possible to book ahead online; as they can seat 250 people, chances are you'll be fine.
Shigetsu is located inside the Tenryuji Temple grounds in Arashiyama, around 30 minutes by train from Kyoto Station on the JR San-in Line. It is a popular town so there are various routes from different locations around Kyoto. You can find more information on their website.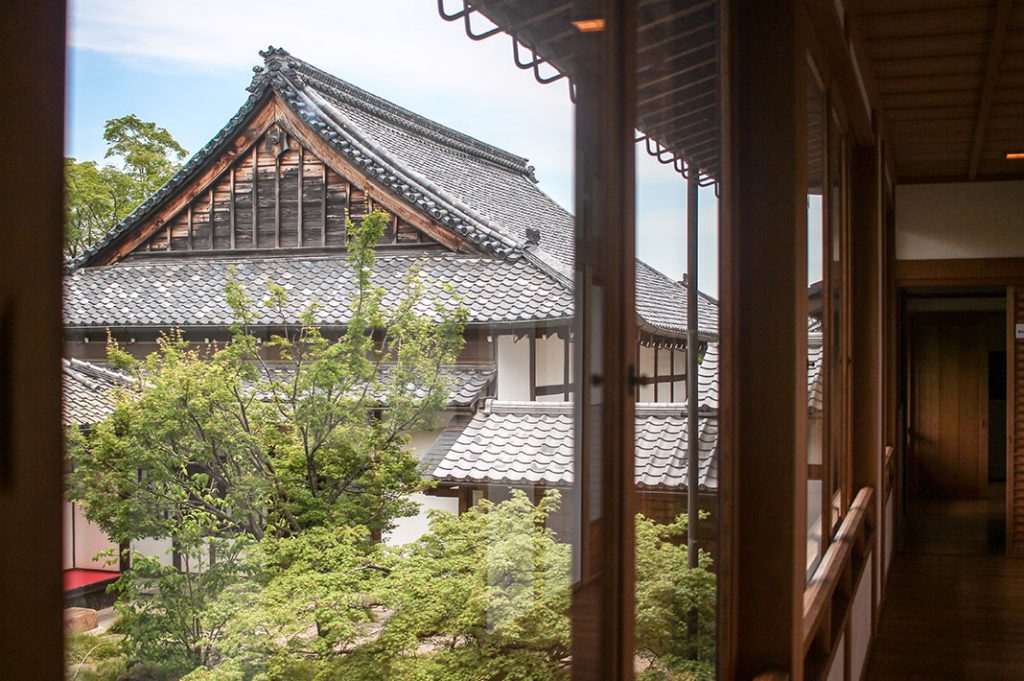 Name: Shigetsu
Address: Inside Tenryuji Temple, Arashiyama (68 Sagatenryuji, Susukino Babacho, Ukyo Ward, Kyoto)
Open: 11:00am—4:00pm daily
Web: tenryuji.com
Post by Japan Journeys.