In Tokyo, you can totally get by eating on a dime. But when there's so much high quality and Michelin food all around, it's tempting to splurge every now and again. Before you freak out, no I didn't pay $500 for a sandwich, but plenty do at Nakameguro's Wagyu Mafia (the Cutlet Sandwich).
Wagyu Mafia (the Cutlet Sandwich)
Nestled between the main road and the Meguro River, just two minutes from Nakameguro Station, Wagyu Mafia is an unassuming little sandwich restaurant. The signage is minimal and there is no hint as to the pricey dishes within.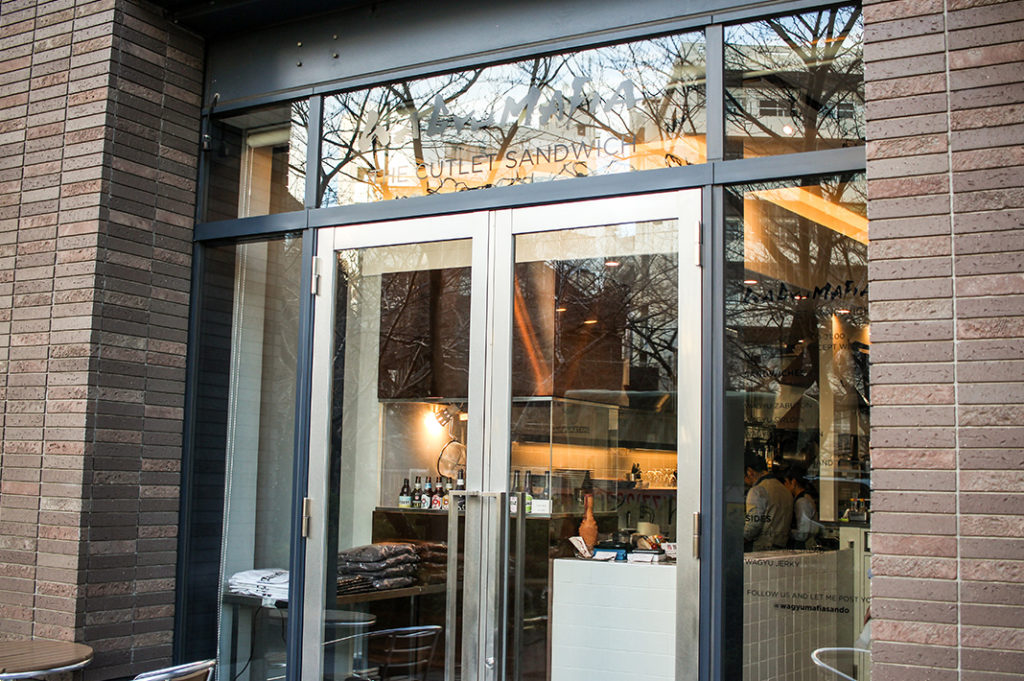 This beef cutlet sandwich shop is the Nakameguro outpost of the larger Wagyu Mafia brand. And the founders really seem to know good beef. According to their website, the self-taught chef/entrepreneurs started in the beef export game before dabbling in meaty popup events. These days, they manage multiple properties internationally. And for beef fans, there's plenty to get excited about—their properties serve everything from kaiseki style cuisine to ramen and of course, the humble cutlet sandwich.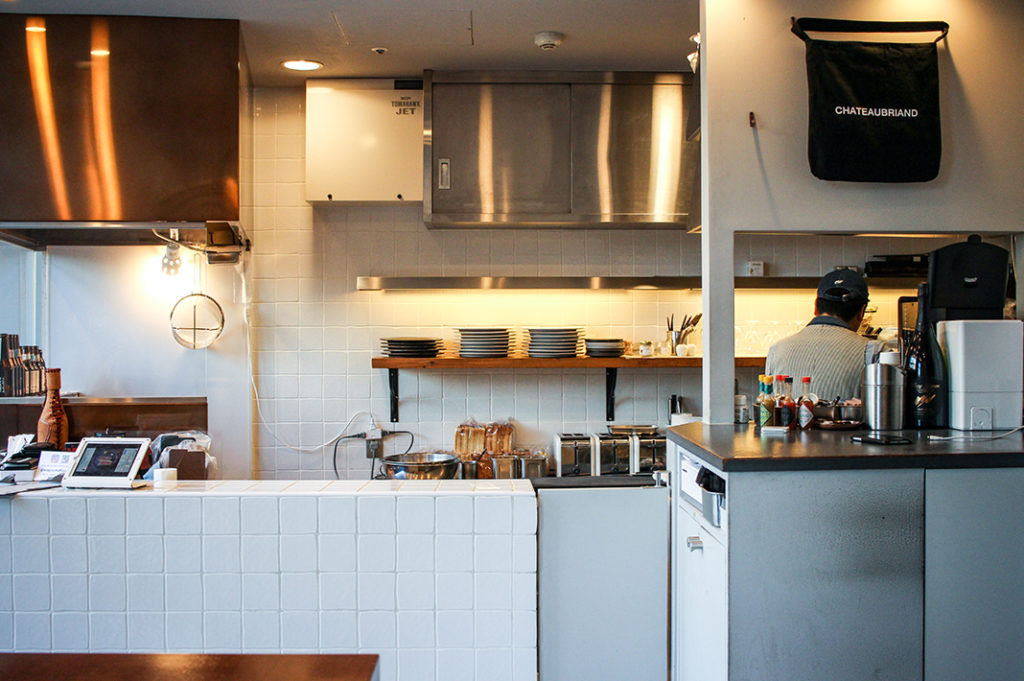 Wait, what's a 'Cutlet Sandwich'?
Cutlet Sandwiches, or katsu sando, are a staple of the quick bite scene. You'll see them at every convenience store and every shinkansen bento shop, cut into four squares and lined up perfectly under a plastic dome container. The concept is simple; you take a nice thick cut of meat (usually pork), crumb it and fry it. Next, put it on a white bread sandwich with a little sauce to taste. Voila. They usually run somewhere around the ¥500 mark (roughly $5). Which is why I was so confused at the pricing on Wagyu Mafia's menu.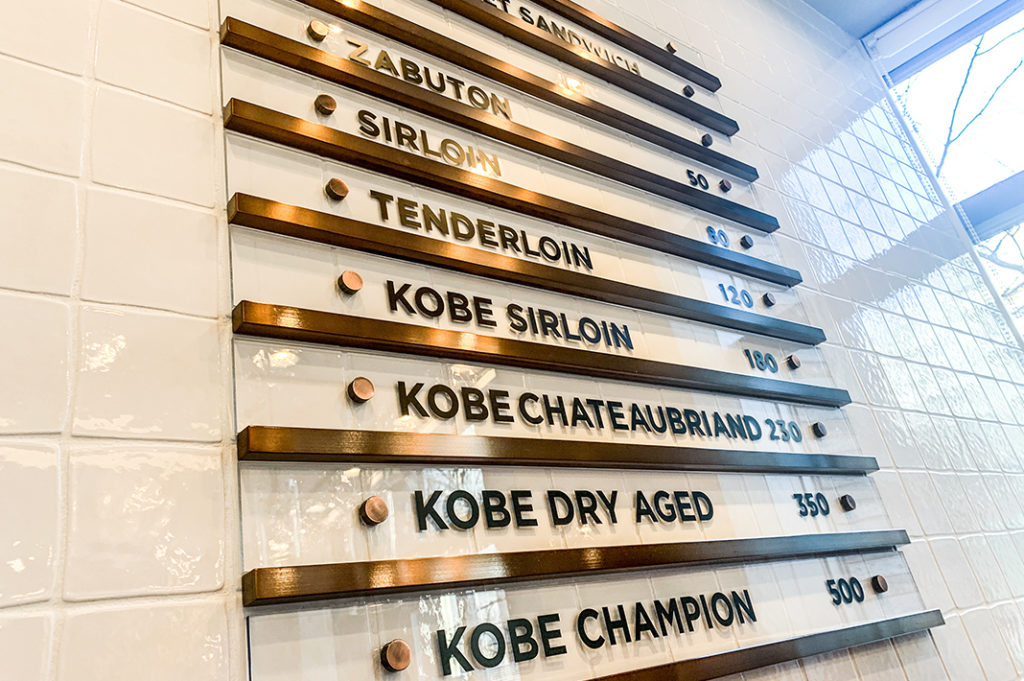 Golden Sandwiches
Admittedly, we'd done no research. We wandered in thinking we'd probably be paying something like $20 for a quick steak sandwich. Inside, we took in our surrounds: white tiles, pendant lamps, a communal table with six stools and some branded merch for sale. A couple were just finishing up their meal and looked quite satisfied.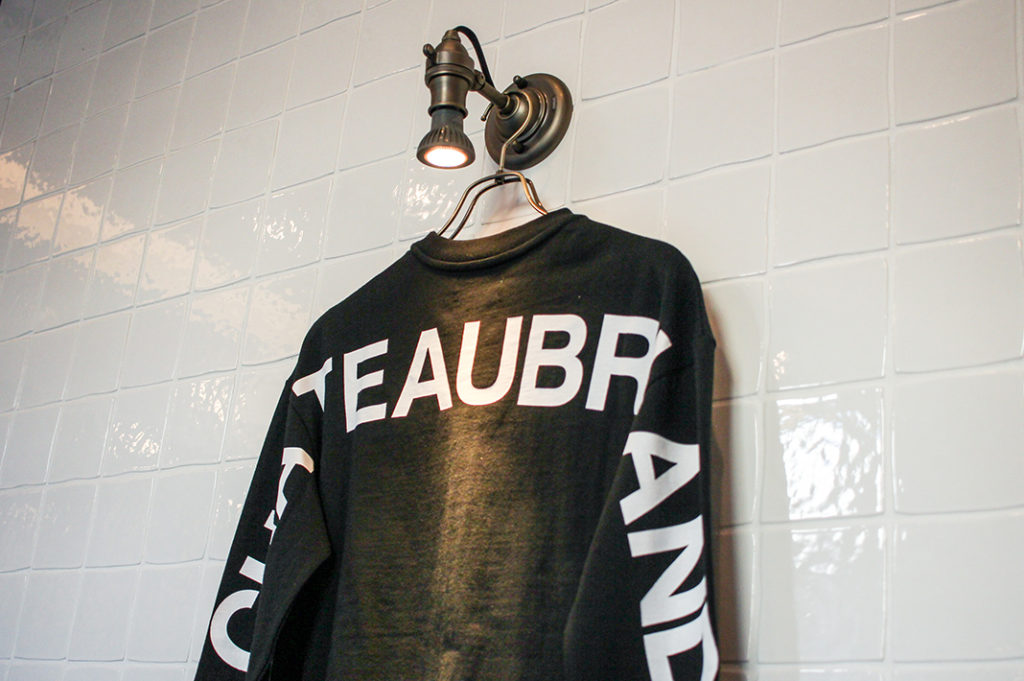 Suddenly, the waiter was running us through the menu, explaining the different cuts and giving his recommendations. I was half listening while puzzling over the pricing. 50 for the basic sandwich? 50 what? He soon explained that we should add two zeros to all the prices, then it all made sense. The basic 'zabuton' sando was ¥5,000 (around $50) and the prices went up with the quality of the cuts, all the way to the 'Kobe Champion'. It was listed as 500—which is what you'd pay in the conbini—but it was really ¥50,000 (or around $500) and comes with a sprinkling of gold leaf flakes.
Ordering like kings…or jesters? 
We were really in the mood for a katsu sando and figured we may as well see what all the fuss was about. So we settled on sharing one of the ¥8,000 wagyu sirloin sandwiches and some truffle fries. The Beastie Boys and Biggie Smalls serenaded us as we waited in eager anticipation. Soon, the truffle fries came; a delightfully thin and crunchy prelude to the main.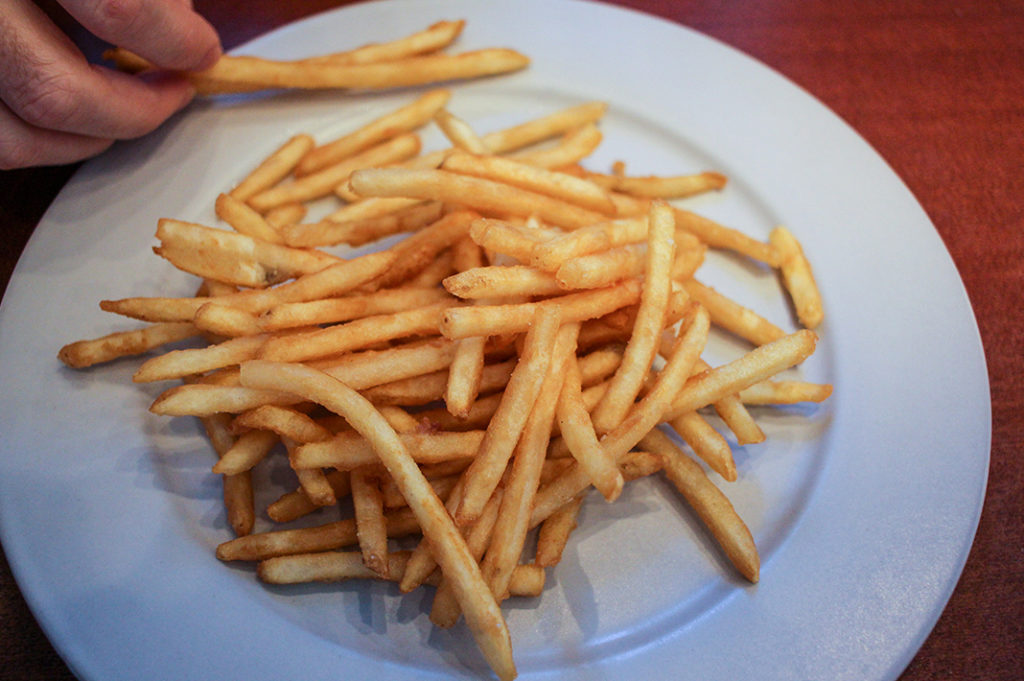 As we were eating them, a family of five from Hong Kong came in; they'd been to the pop-up there and decided to make the pilgrimage to the main store. With designer coats and bags stored safely away, they ordered three Kobe sandos and some fries between them. I couldn't help but count the zeros.
The taste test
Our sandwich came with the signature fanfare. The chef held it out for me so I could take a photo and he presented an array of sauces for garnish.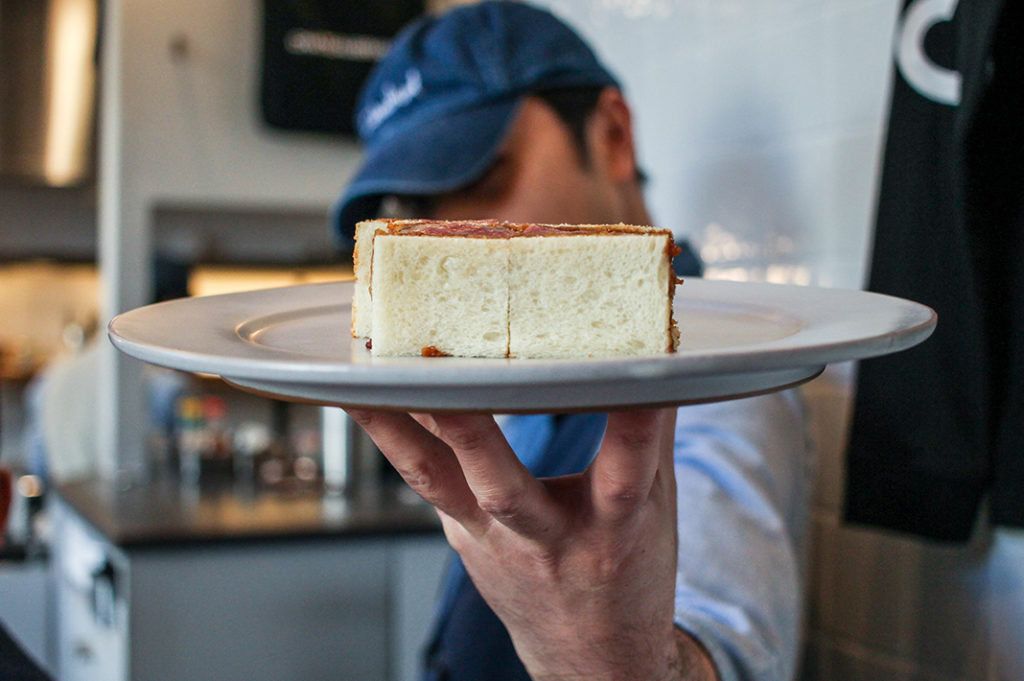 Also on the plate was some salt for sprinkling and a pickle for afterward. Before we tucked in, he asked if he could photograph us for their Instagram story. We posed with our plate and made a mental note to check Insta later.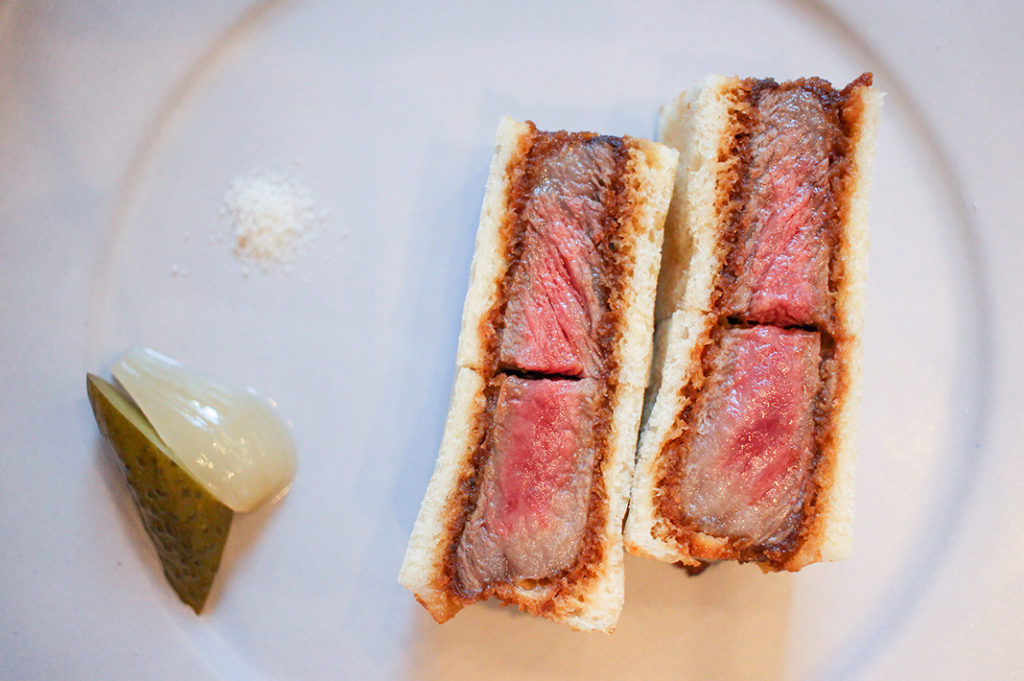 I studied the sandwich. Fluffy bread, meat cooked medium rare, a glistening sauce adhering the cutlet to the bread. I could feel the eyes of the family watching as I bit into my half of the sandwich.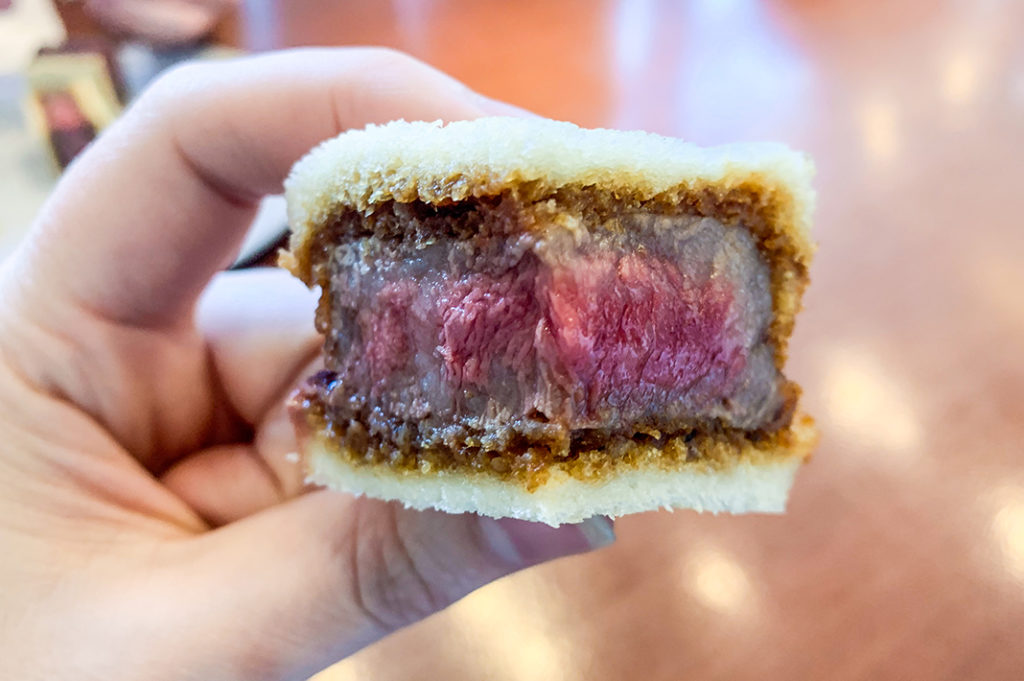 There was a slight crunch, a little pull from the beef. My mouth was flooded with the juicy sirloin and the dark, jammy, chutneyish sauce which danced all around. It was good quality meat, there's no denying it. Then I tried some with salt and a few drops of sauce for good measure: very tasty!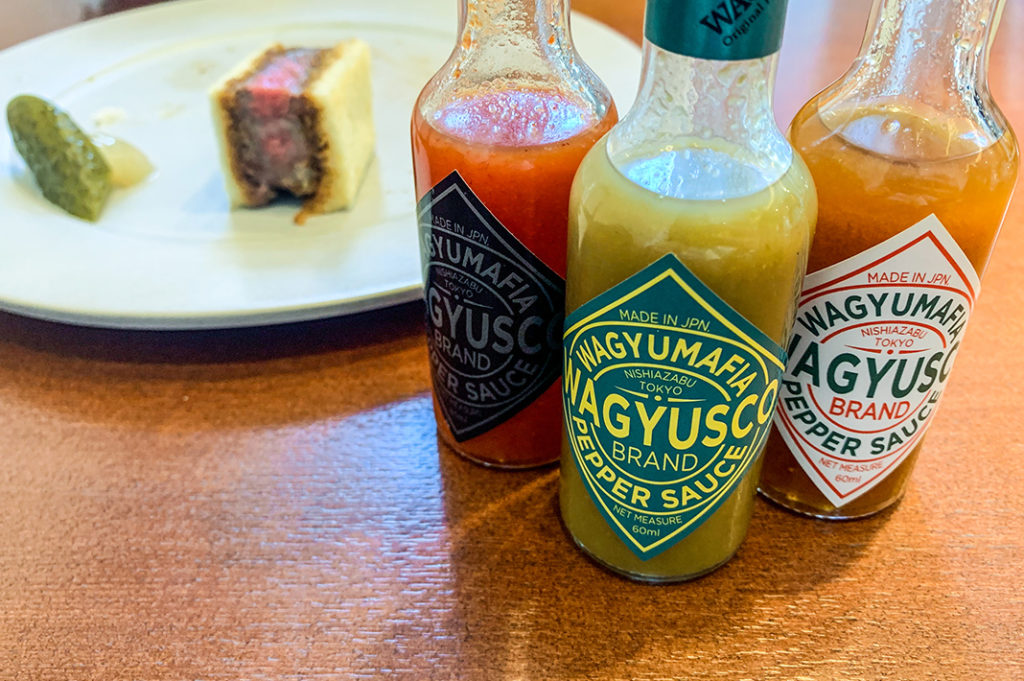 We tried to savour the bites as much as possible, but as we shared one sandwich, it was gone pretty quickly. Once we had finished, we offered our seats to the standing members of the group beside us and were on our way.
Final Thoughts on Wagyu Mafia
The sandwiches are indeed tasty, but we certainly hadn't budgeted enough to be filled up. Shamefully, we had to go in search of more food soon after. Lastly, the digital side dish that comes with the sandwiches is the proof that you ate there. Not long after we left, we found ourselves on their Instagram story, smiling awkwardly with our plate. Not our best work.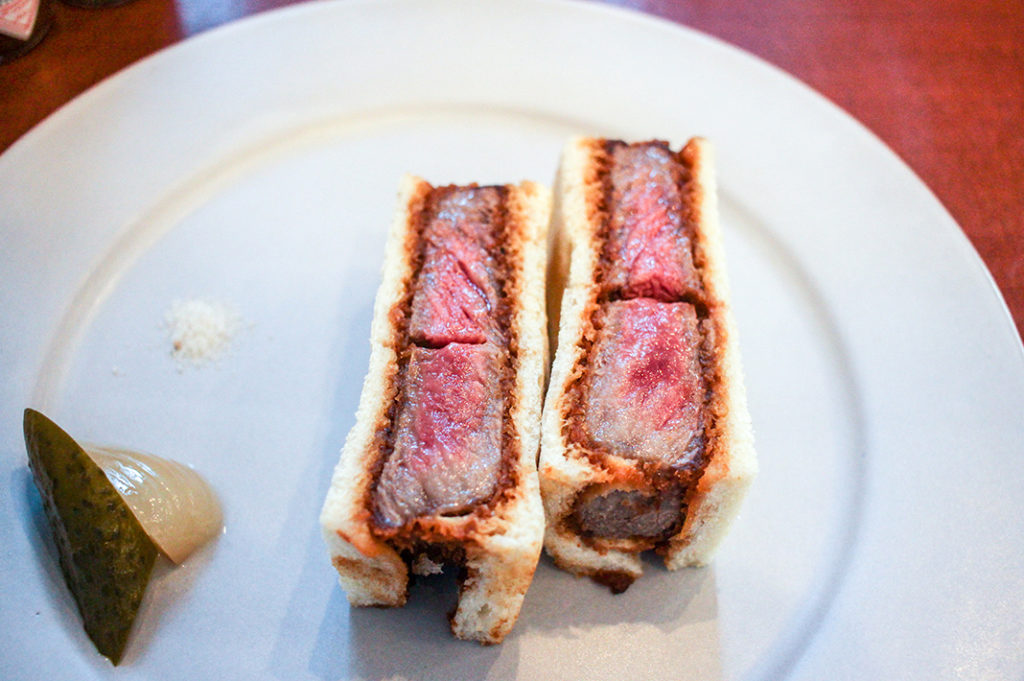 If you've got the funds and want to see what a ¥50,000 sandwich tastes like, by all means go check out Wagyu Mafia (the Cutlet Sandwich). I'm extremely curious myself; if you need someone to eat the other half, let me know!
Wagyu Mafia (the Cutlet Sandwich)  
Address: Ground Floor, Atlas Tower, 〒153-0051 Tokyo, Meguro City, Kamimeguro, 1 Chome−26−1 (Nakameguro)
Open: 11:00am until 9:00pm (closed Wednesdays) 
URL: http://www.wagyumafia.com/ (Instagram @wagyumafiasando) 
Post by Japan Journeys.
See more about Nakameguro here.