Tokyo's duality is one of its many charms; that intersection of ancient history, cutting edge technology and foreign influences. This unique blend creates such a vast and varied range of attractions and experiences, making a visit here so interesting. When it comes to accommodation in the capital, you might envision capsule hotels or glitzy high-rises, but have you ever considered a Tokyo ryokan? Though they're outnumbered by business hotels, urban ryokan do exist and are the perfect yin to Tokyo's neon yang. Stay a night at Asakusa's Cyashitsu Ryokan and you'll feel like you've stepped into a different time and space altogether. 
Tokyo Ryokan meets Tea House
Opened in 2019, Cyashitsu Ryokan is a traditional Japanese inn (ryokan) but with a rather unique tea house (cha-shitsu) aesthetic. Much like a tea house, it has been designed as a quiet sanctuary, a place far away from the rest of the world. i.e. the perfect place to relax after a day of sightseeing. On the street, the modern concrete building fades into its surroundings, disguising the sanctuary within. To enter, you must first pass through a small garden called a roji. These are common in tea house design and are the first step in disconnecting from the outside world.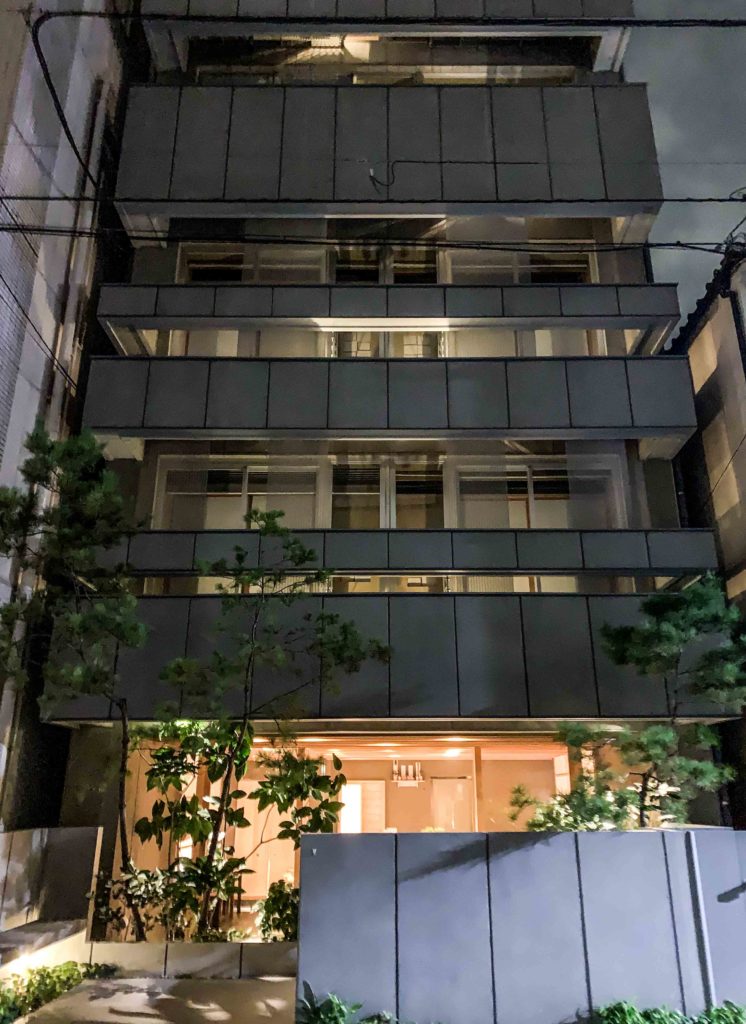 A warm welcome
Beyond the roji, the heavy front door seals off the street noise and you're greeted by the young, English speaking staff. Much like a tea host, they are supremely helpful. Anticipate snacks, a chat and even a dinner reservation at one of their favourite local restaurants. The staff are keen to tell you about the Oku-Asakusa area and will even find restaurants and experiences based on your interests. On their suggestion, we enjoyed scrumptious yakitori and friendly service at a nearby izakaya.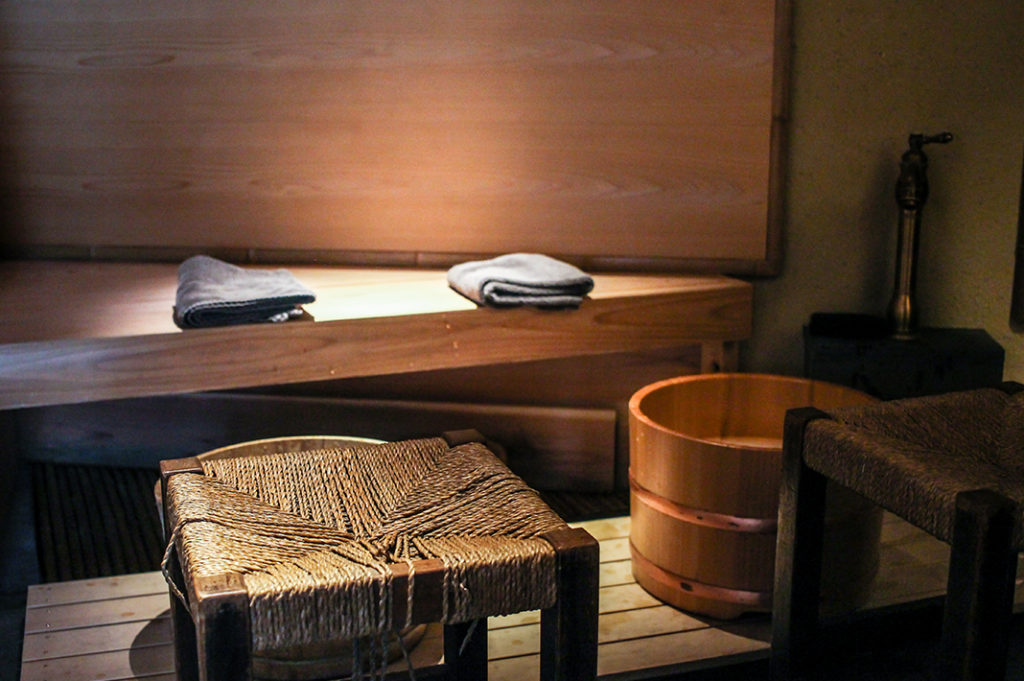 The warm welcome is followed by an even warmer footbath, a tradition dating back to the Edo Period (1603–1868) when it was customary for travellers to wash away the dirt and stress of their journey before settling in for the night. This is yet another step in the process of leaving the outside world behind…or at the bottom of the footbath.   
Modern traditional design
The tea house motif features throughout the whole building. If you've ever experienced a tea ceremony, you'll know that the rooms are small and minimal, so nothing distracts from the hospitality. The same can be said for Cyashitsu Ryokan. There is no wasted space and every inch is considered and beautiful. The choices of textures, materials and lighting bring the expansiveness of nature into these cosy spaces.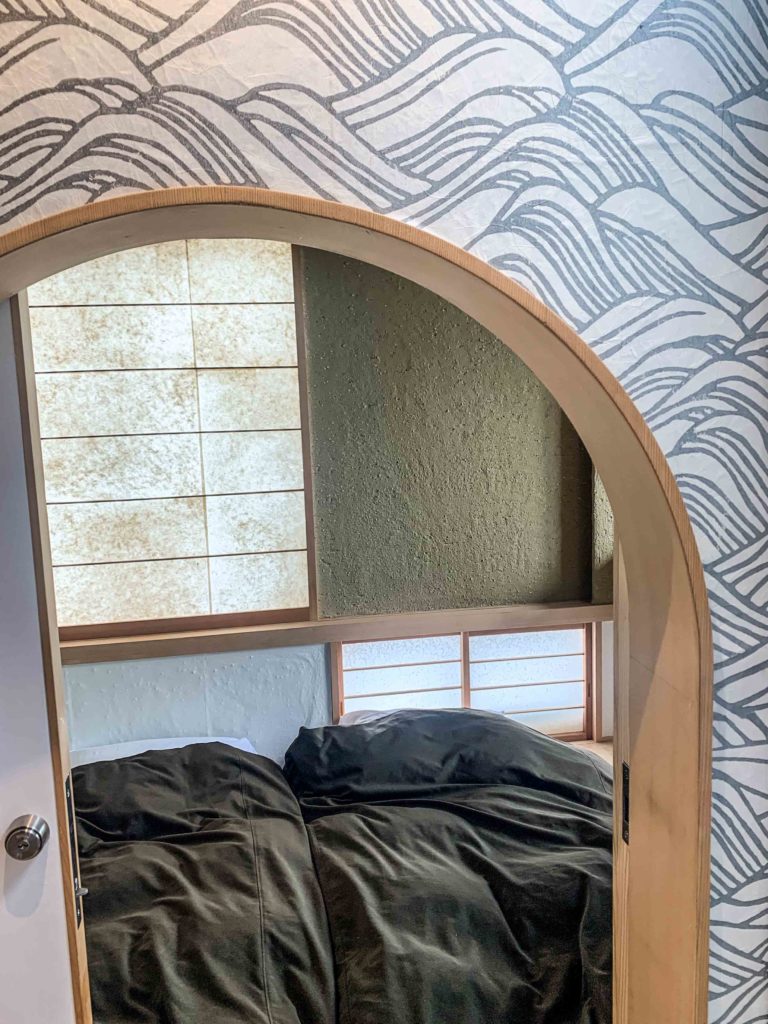 One of my favourite elements are the lovely curved doorways, reaching just 67cm at their highest point. Quite common in tea house design, they're meant to elicit a psychological return to the sanctuary of the womb as you bow and enter.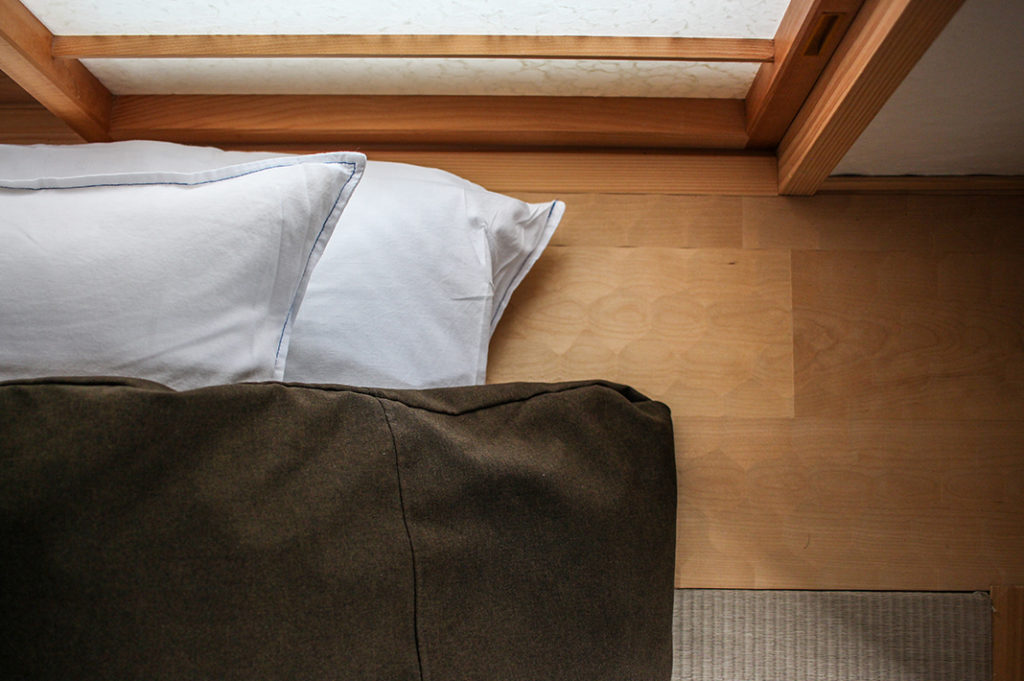 Rooms at the urban ryokan
Cyashitsu Ryokan has four room types and ten rooms all up, each with tatami flooring, futon beds and chic minimalistic design. The most basic room is a cosy 10m2 and, like at a traditional inn, has a shared toilet off the hallway. Given there are only one or two rooms per floor, you shouldn't run into anyone. However, for those who prefer their own bathrooms, there is a slightly larger room for two, or a double-sized version for four, both with their own bathroom facilities. 
The fourth room type, the Ofuro Suite, is located on the 6th floor and features an outdoor bath with Tokyo Skytree views. At 10m2, there is no wasted space; just the essentials: lounging/sleeping and bathing. The toilet is located outside the room, but there is no other guest room on this floor to contend with, just the bathing facilities for all guests.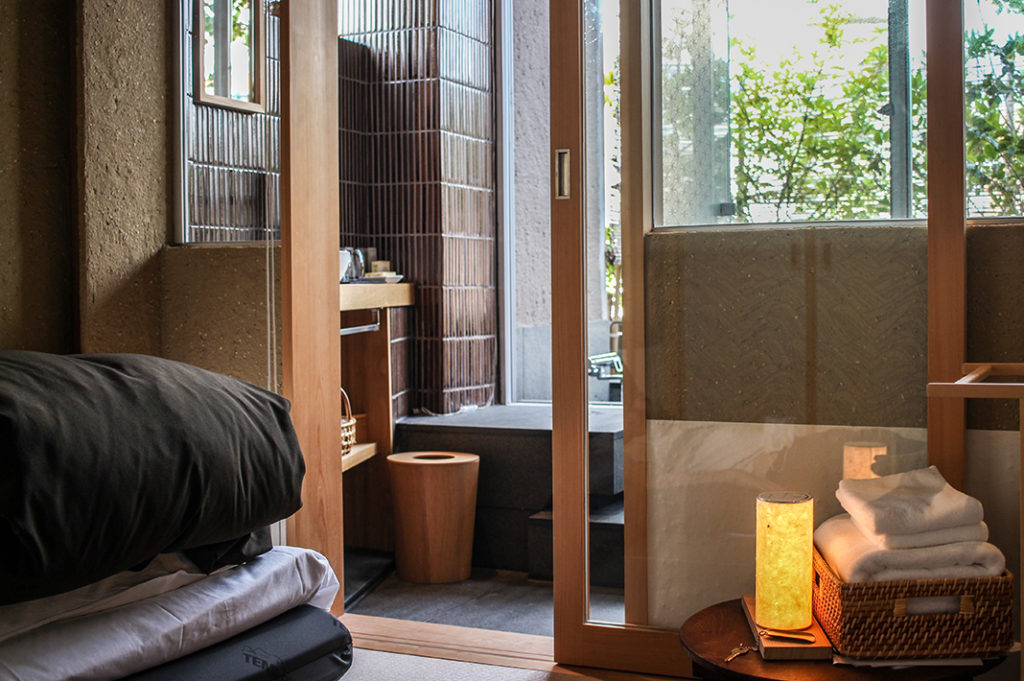 Outside, you can take a lovely sunset bath surrounded by rocks, plants and the romantic glow of the Tokyo Skytree.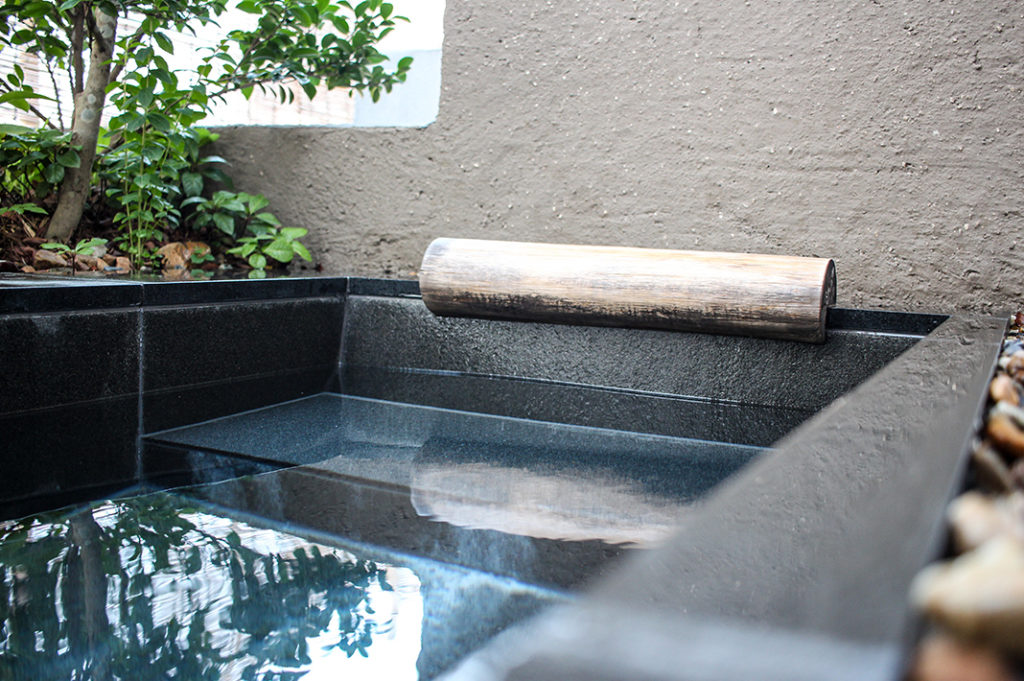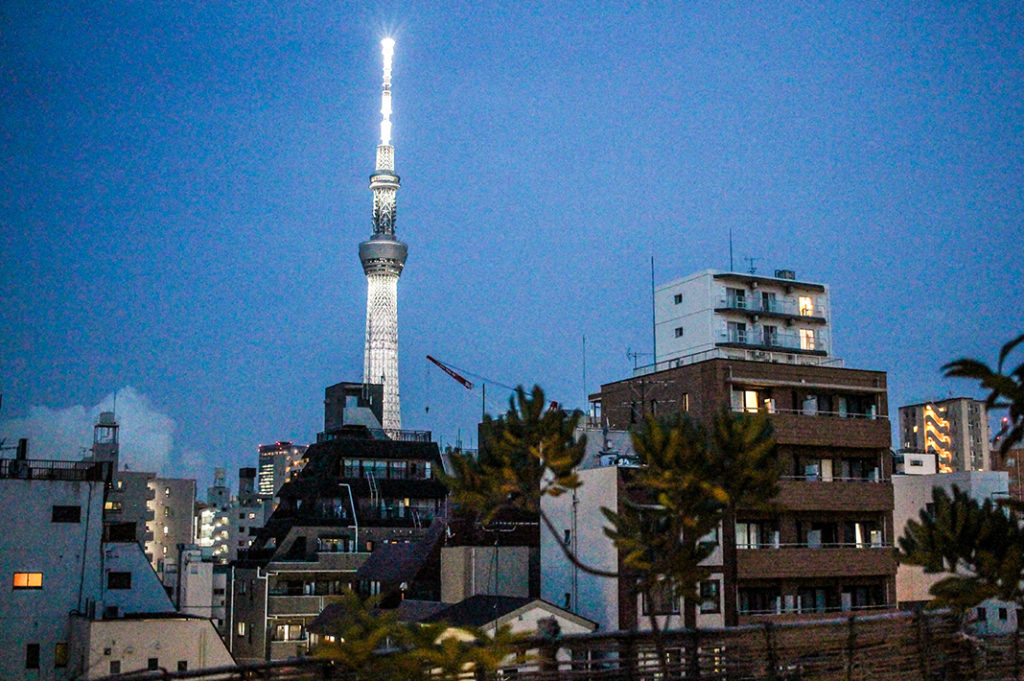 Bathtub with a view
You don't have to book Cyashitsu Ryokan's ofuro suite to enjoy an outdoor bath. The 6th floor is also home to a shared bathroom which can be privately reserved for an hour. This bath is a little larger and fancier than the one in the ofuro suite—we tried both to compare. It has a cypress rim which is wonderfully fragrant, and as you sink into the water, you can gaze up at the Tokyo Skytree.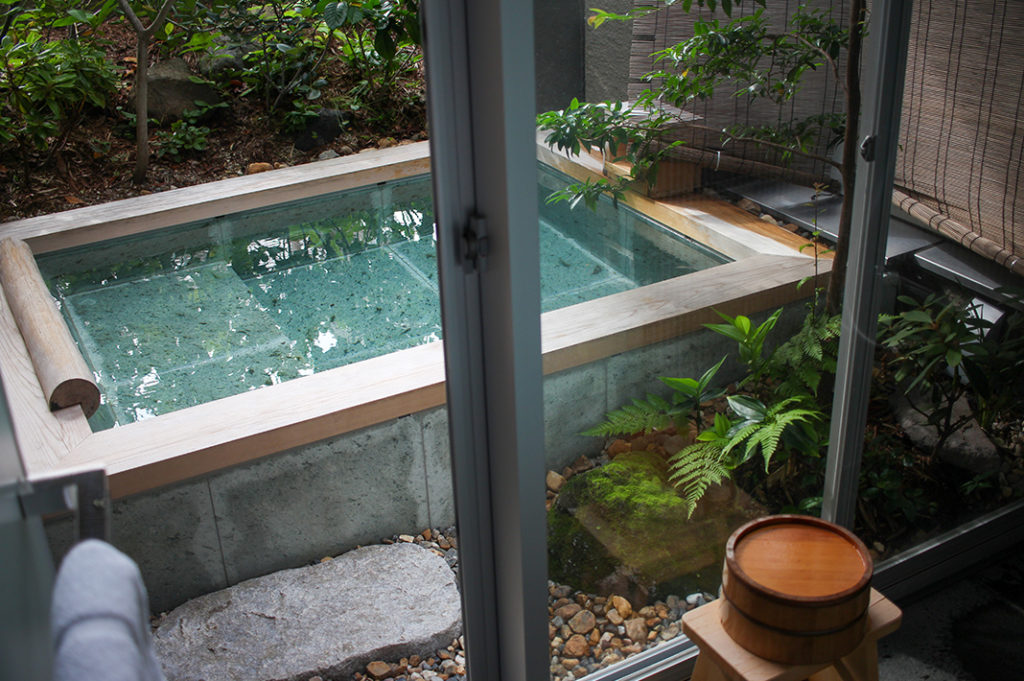 A balcony bathtub with Tokyo city views is exactly the kind of experience you should put on your travel bucket list. 
The most important meal of the day
One of my favourite aspects of a ryokan stay is waking up to a bounty of fresh, healthy, lovingly prepared food. This one was particularly special, as we discovered that the rice was planted and harvested by the ryokan staff themselves. I can't think of a better way to kick off a day of sightseeing around Asakusa.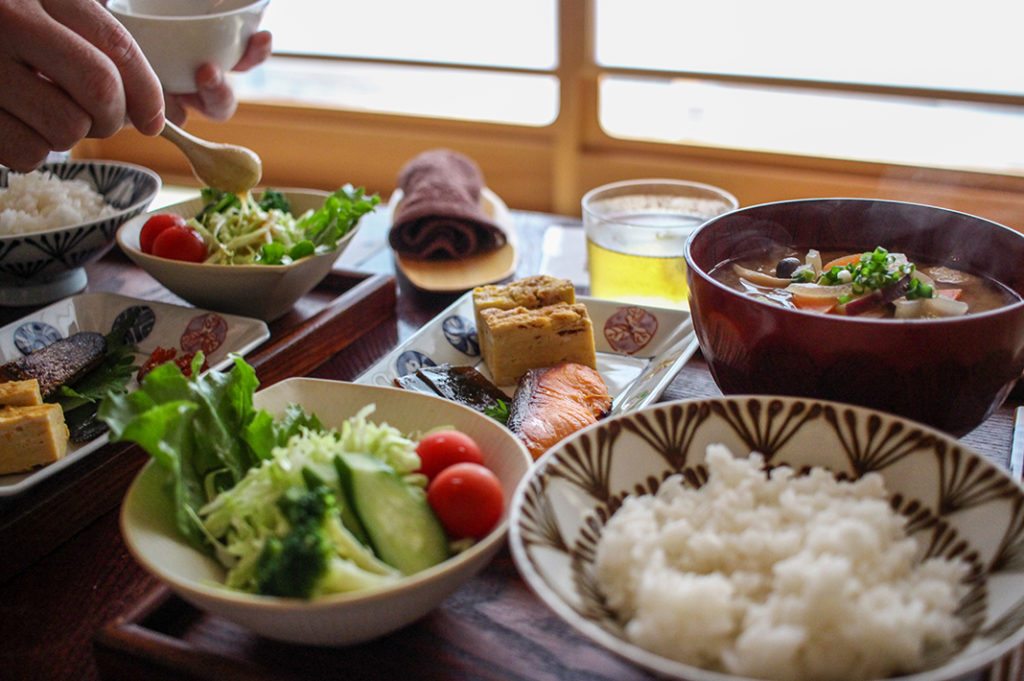 If you're looking for a unique urban sanctuary, this Tokyo ryokan will transport you through time and space to a world of organic food, stylish design and a romantic bath under the city lights.  
Name: Cyashitsu Ryokan
Address: 3 Chome-32-12 Asakusa, Taito City, Tokyo 111-0032 (link)
URL: https://www.cyashitsu.com/
Post by Japan Journeys.