Shibuya may have the reputation of being a teen shopping mecca with a bonkers street crossing, but there is a seedier underbelly to be explored. For those who love a backstreet, a healthy dose of grime and signage that can raise an eyebrow, Love Hotel Hill is for you. Join us on our Dogenzaka Walking Tour and get ready to explore the interesting alleys, delicious food, drink and little extra something that make it so unique. You can follow along with the trek here.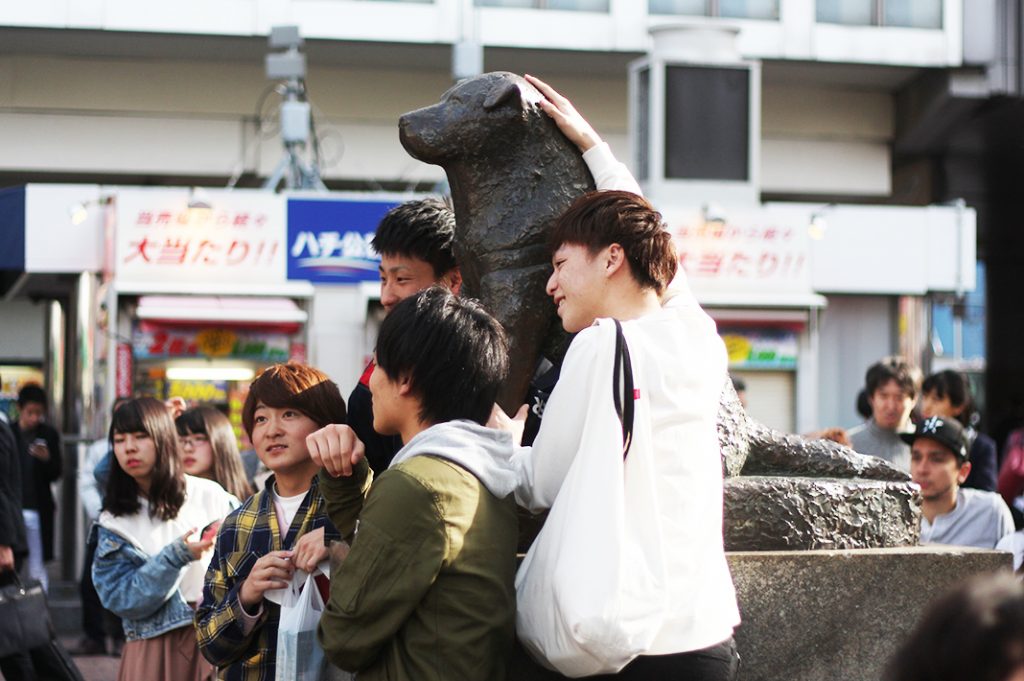 Shed a Tear for Hachiko
As with any Shibuya stroll, let's begin at the Hachiko Memorial Statue. This famously loyal pooch waited at Shibuya Station every day for his master to return from work, even after he sadly passed away. Once you've got your obligatory photo, shift your tear-filled gaze to the left, and cross the street towards Shibuya Mark City. Head to the left of the building, down the first street you'll find a wonderful little pocket of restaurants and bars.
Toritake is a relaxed local favourite for those in the mood for Yakitori; you'll often see a line outside. Upstairs is table seating (but smoking) and downstairs is zashiki style with tatami flooring and low tables. Take your shoes off, pull up a cushion and order away. Next, make your way beneath the Mark City building overpass, and cross the main road (named Dogenzaka) towards Family Mart. Head to the left though and turn right at Mos Burger.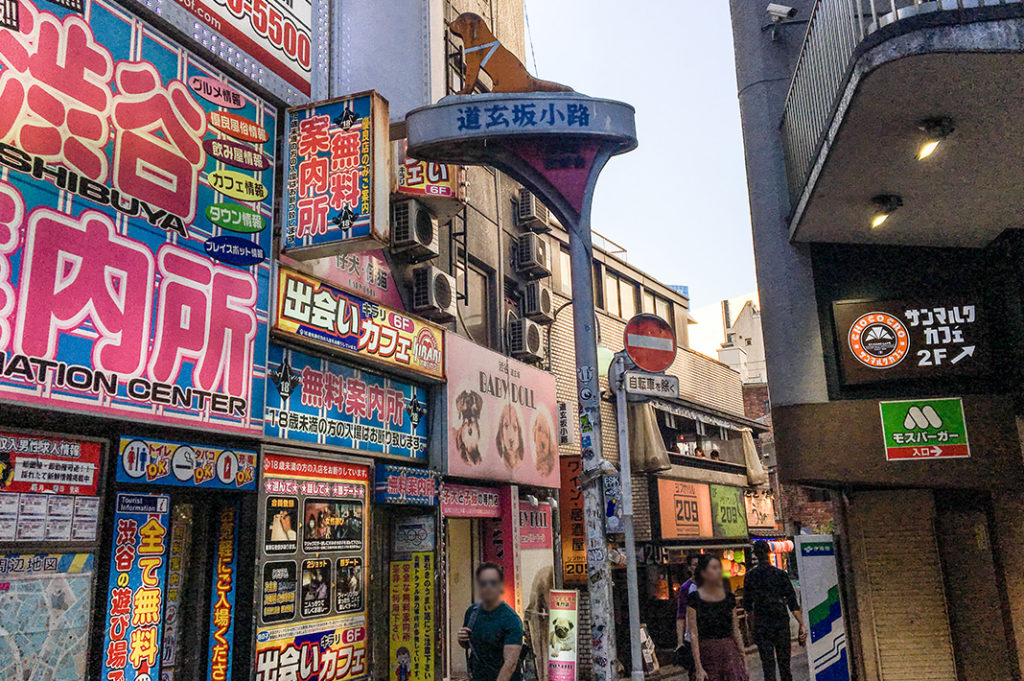 Stepping into Love Hotel Hill
This particular street, Dogenzaka Kouji (alley) is full of bars, restaurants and, of course, a few cheeky adult establishments. Take your time to see what's around, and try to guess what some of the 18+ establishments are offering. If Yakitori wasn't doing it for you earlier, Uobei sushi train is a cheap and cheerful option in this area.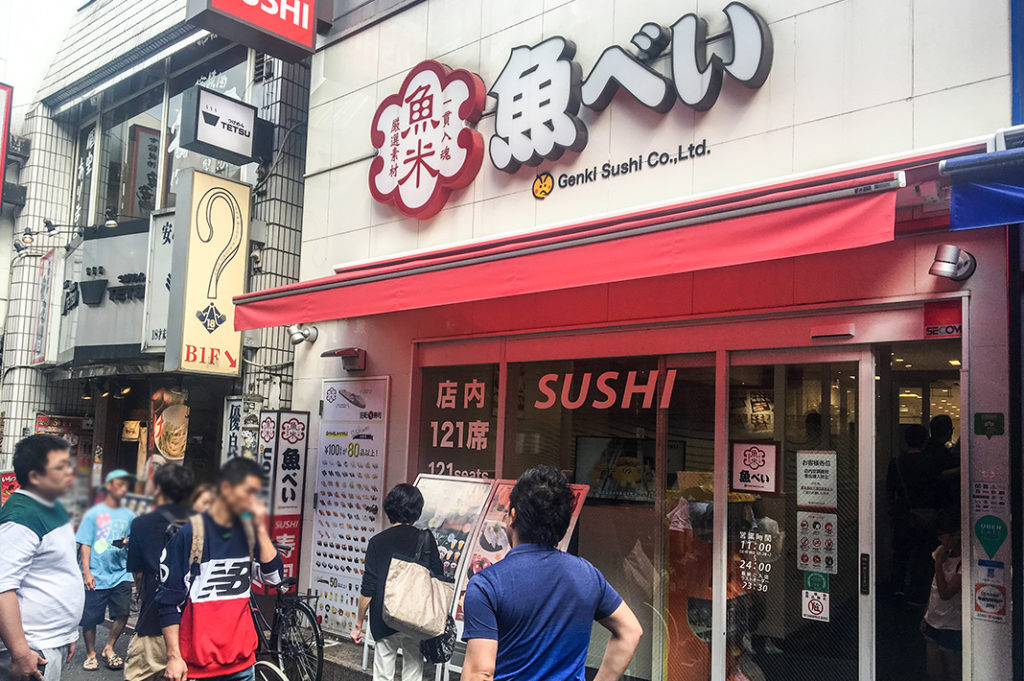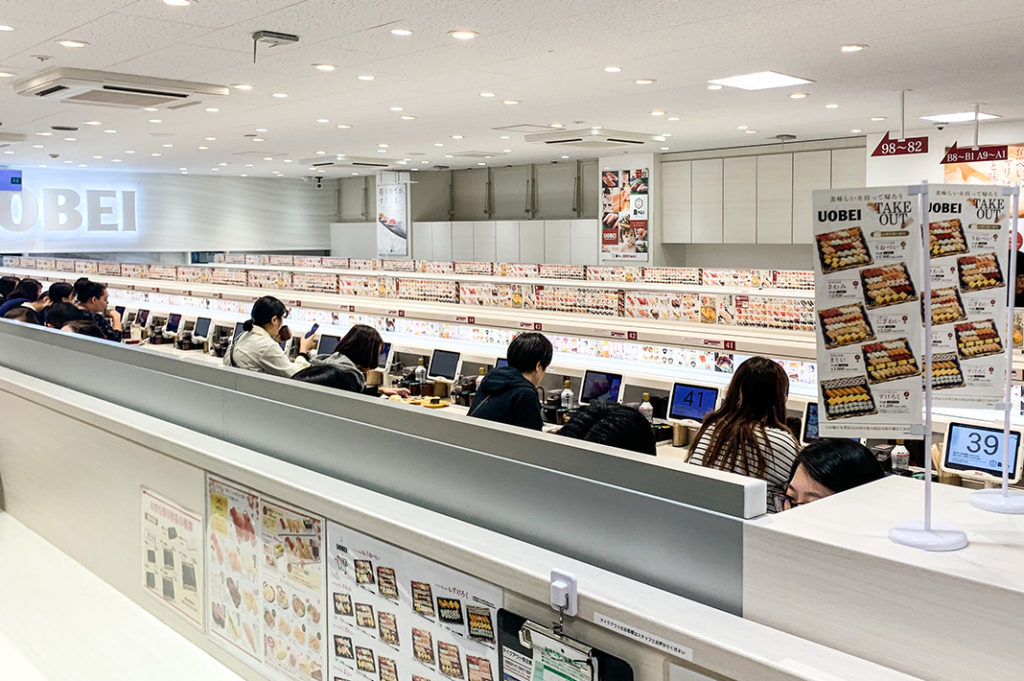 Inside, diners sit in rows on stools, each with their own tablet menu. The breadth of the menu is overwhelming—not only is there an array of sushi, but also things like noodles, fried chicken, desserts and alcohol.
Get your camera ready; it all comes zipping along from the kitchen to stop right in front of you. Sushi plates start from around $1, so you'll no doubt be pleased with the low bill at the end.
A Little About Love Hotels
Next, head up the steps (it's not called Love Hotel Hill for nothing!) to explore the many blocks of love hotels. How do you spot one, you ask? Garish decor aside, the pricing is a dead giveaway—if you see different prices for 'rest' and 'stay', you've found one.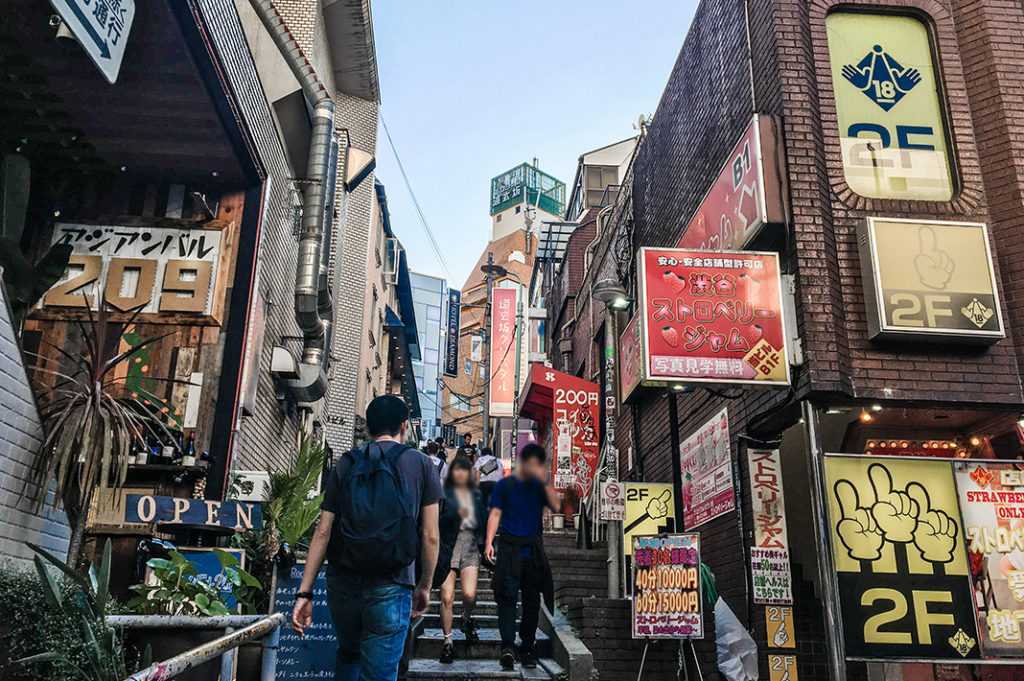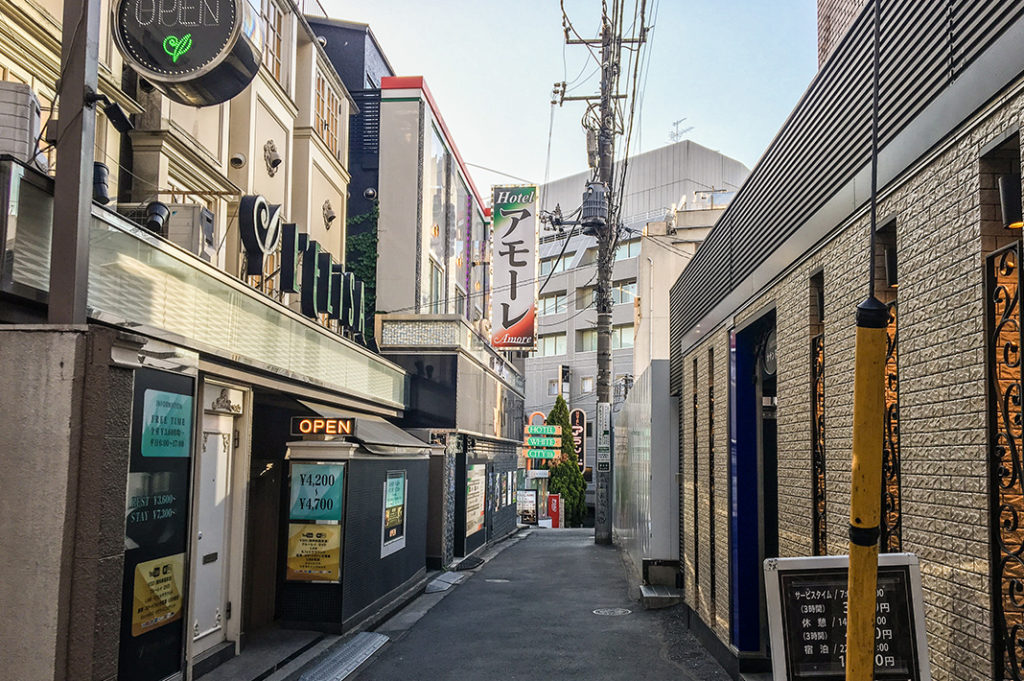 Basically, these hotels exist for people to rent rooms by the hour. And for all different reasons, too. In Japan, it's quite common for many generations to live in the same apartment or house, making privacy an issue. Many couples frequent these kinds of establishments for that very reason. Otherwise, they're great for when a date is going well, a safe place for sex workers to operate or just a clean place to bathe and sleep.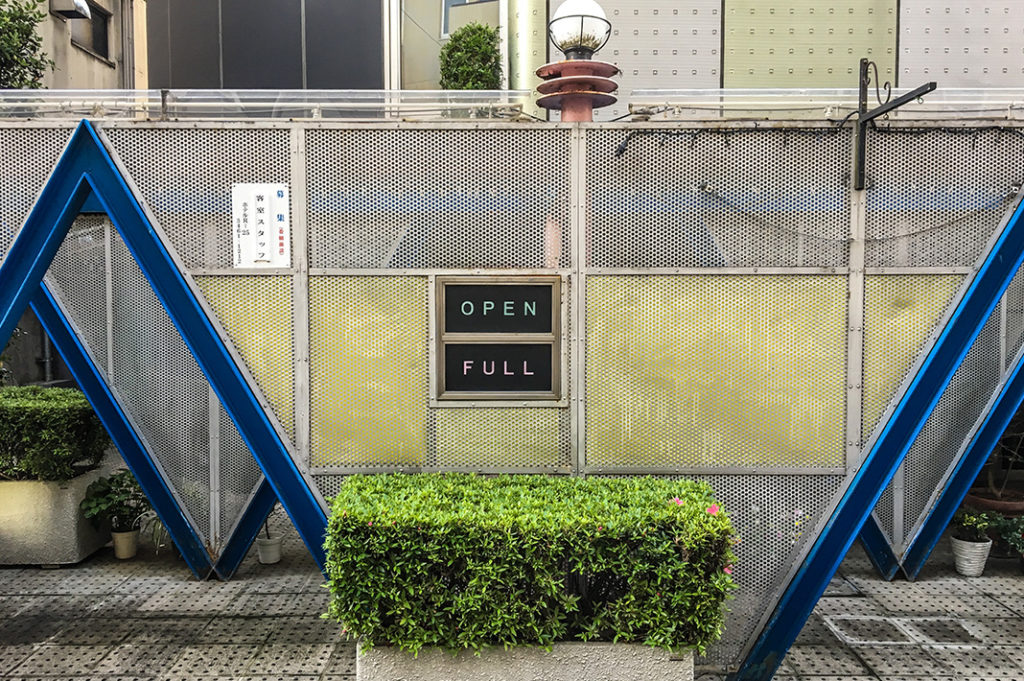 Many of the rooms are fairly standard, but you can still expect features like a jacuzzi bath, TV, karaoke setup and mood lighting. Prices vary from the basic to the downright baller rooms. Think mirrored everything, rotating circular beds and even swimming pools.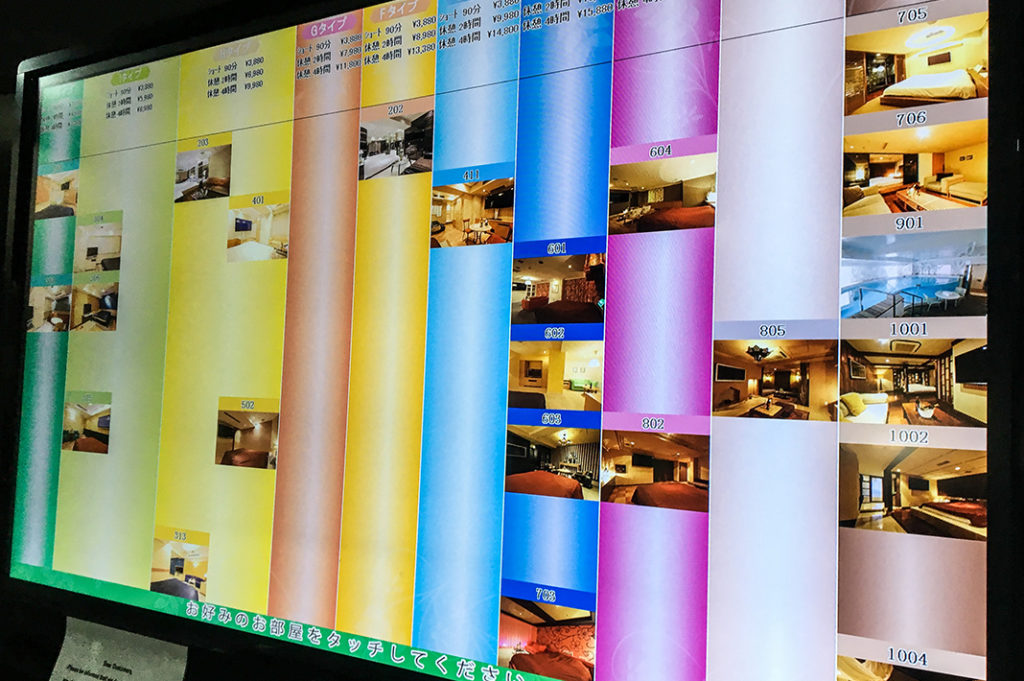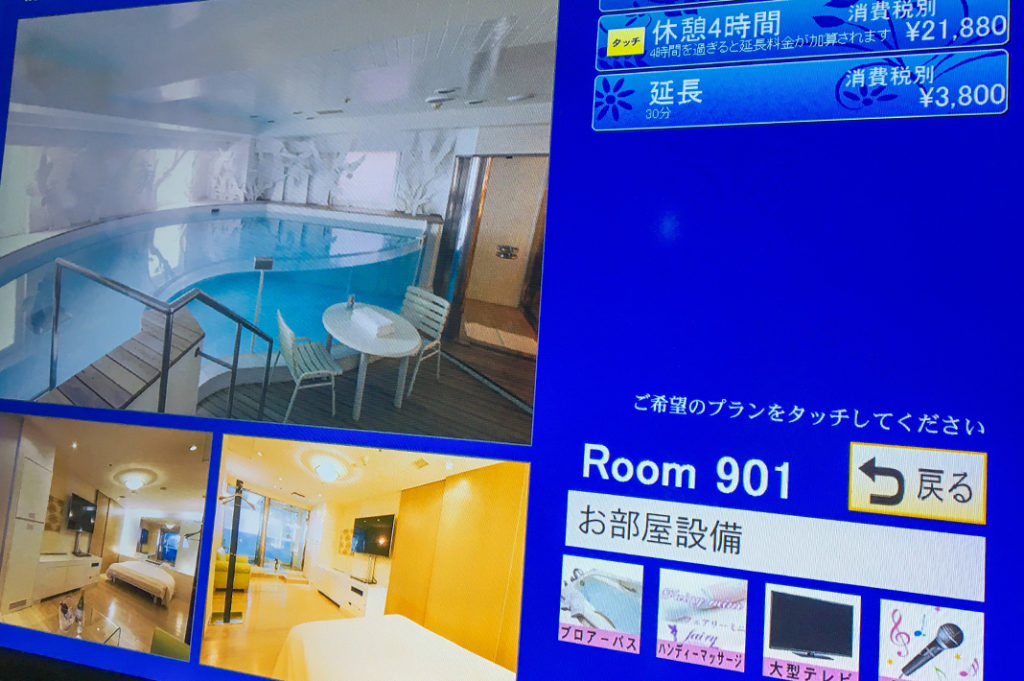 To find a great room, do an online search, check out the Happy Hotel guide, or just go inside one to see what's on offer. Often there is a deserted foyer area with a touch screen for you to browse available rooms discreetly. Once you have your room key, go up and explore the room.
There are usually free amenities as well as in-room purchases like costumes, toys, food and drinks. Lastly, payment is to be handled at the end—sometimes by a machine near your room door, or at the front desk. And often there are multiple exits so you and your boo can leave discreetly.
Time for a Drink
Just after the adult shop with the interesting entrance, you'll arrive at Mikkeller, a fantastic little watering hole in the depths of Dogenzaka.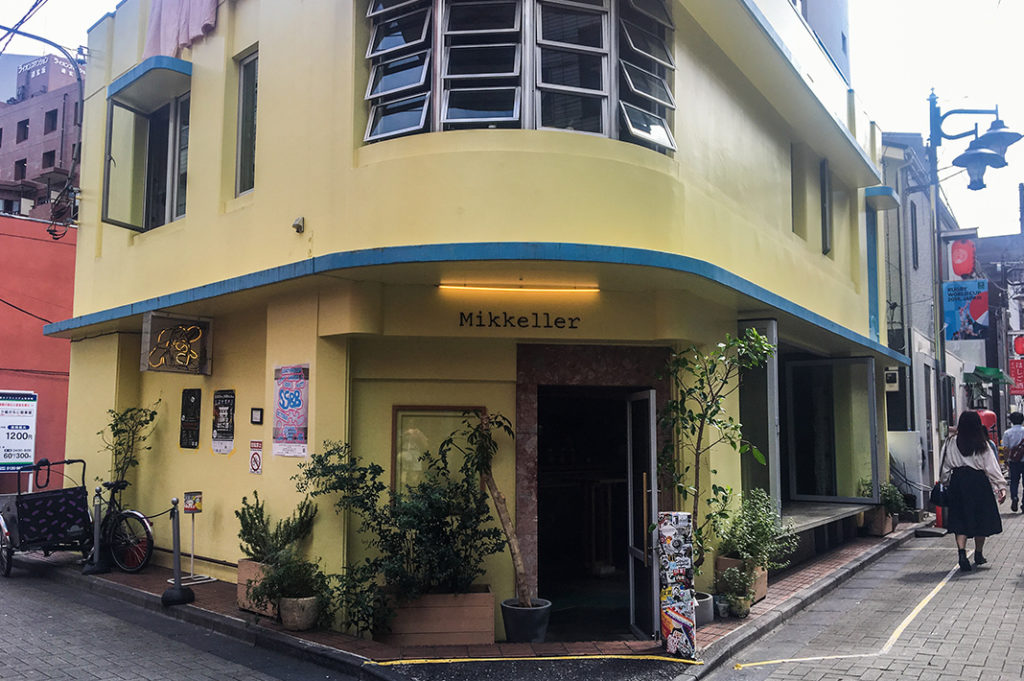 The Tokyo branch of this Danish brewer is a cool and cosy little spot featuring 20 taps from Mikkeller's range, Japan and global brewers. There are other drinks available too, as well as a selection of food. Downstairs is mainly standing tables, and one side of the building opens up onto the street for a relaxed al fresco experience.
Upstairs you'll find tables… and the coveted window seat where you can watch the world go by below. i.e. you can spy on the people coming and going from the love hotel across the street.
Underground Show-era Tonkatsu
Once you've moved on from Mikkeller, follow the map to Torikatsu. You'll need to head up a narrow alley to find it, but it's worth the mystery. This old-fashioned tonkatsu restaurant is located in a windowless basement and feels as though you've stepped back in time 30 years. The stools are arranged around a central kitchen, where grandma and grandpa chef move with a practised hand. The speciality is crumbed, deep-fried goodies like chicken, pork, seafood and vegetables, and they do it well. Surprisingly there is an English menu, so you can order exactly what you'd like.
From here, the next few stops are purely optional; you're free to wander off into the night.
But, if you'd like to see a very colourful Love Hotel, follow the map to Hotel Casa Nova. This is one of the more eye-catching love hotels around, and definitely pleasing to my eye. Here, you'll find yourself in a neat little pocket with plenty more to explore.
And for those looking for another drink on their journey, head over to Good Beer Faucets. There are plenty of taps, English speaking staff and a wide array of food. This will place you back towards Shibuya Station, but still on the fringe of Love Hotel Hill in case you wanted to dip back in.
Though this tour takes you through some great little alleys, I'd encourage you to explore a little more and find your own hidden gems in Dogenzaka. Happy Trekking!
Post by Japan Journeys.