On the outskirts of Shibuya-ku, Yoyogi Uehara has a reputation for being a sleepy town. Upscale and residential but with not much going on at night, especially outside of the izakaya and tonkatsu scene. That may have been the case 10 years ago, but since then a slew of new restaurants and bars have opened. Most of them reflect the tastes of the upmarket international residents of the neighborhood.
I can think of 5 places to get natural wine off the top of my head, and we'll talk about one of the best ones later, but If you're reading between the lines of "upmarket", "international" and "natural wine", you won't be surprised when I tell you this is not a budget itinerary. It's not crazy expensive. It's not "Ginza cocktail bar and 2 Michelin star restaurant" prices… but it's not cheap. So, call up your best girl or guy and make it a special date night. You won't regret it.
Located on the Tokyo Metro Chyoda or Odakyu Odawara lines, Yoyogi Uehara is easily accessible from Shinjuku, Harajuku and the hip foreigner-friendly area of Shimo Kitazawa. It's also an easy 15-minute walk from Yoyogi Park. When you get to the station, take the south exit and make a quick right. following along the side of the tracks, you'll see a Gold's Gym underneath the tracks on your right and about a block down you'll see a neon sign promoting "Coffee and Beer". This is your first stop, this is Good Town Bakehouse.
Good Town Bakehouse
Good Town Bakeshop in Yoyogi Uehara is an American Diner seen through a Tokyo lens. Now, I'm from NYC and spent time all over the Northeast US, the birthplace of the diner. In my expert opinion, I can tell you this is in fact a diner. It's a little more upscale than most and sadly not open 24 hours, but in terms of food, it's all there.
What's especially special about Good Town is the All Day Breakfast menu. You can read all about it in our other review, but that's not what you're after tonight. You're getting the evening started, and Good Town has a great selection of coffee, craft beer, and wine/liquor. Pick your poison. But stick to drinks Yes, I know the pastries and doughnuts look good, and they are, but you're about to have dinner and trust me, you don't want to ruin your appetite.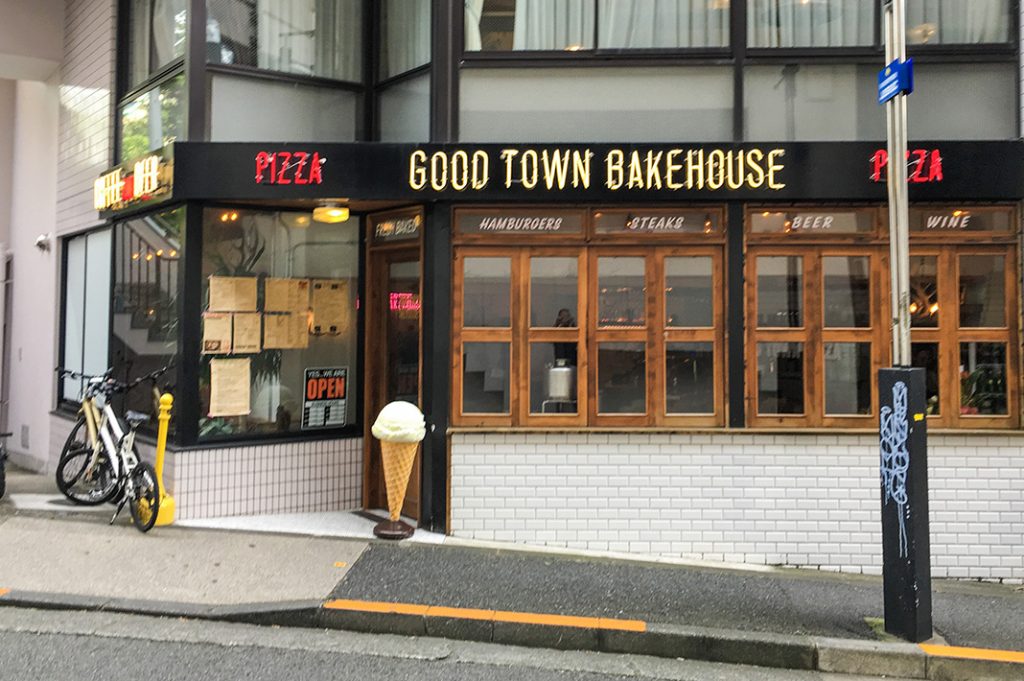 After you've had your starter drink, leave Good Town, and continue down the same road, the same direction, next to the tracks, with the tracks on your right. Not even a block later, you'll get to an intersection and you're gonna make a left (away from the tracks). Note the charming cafe on your left, but for now, make a left. There will be a Kitchen Origin on your left, and follow the road, bearing left (making kinda a "U" shape). A small, short 80 m from Kitchen origin (about 250 feet), on your left, down a staircase, is Concerto, your dinner destination.
Concerto (Yoyogi Uehara)
Concerto (Italian for "concert") is a Michelin Guide "Bib Gourmand" recommendation. What that means is that it's Michelin guide quality food but at a cheaper price point than traditional Michelin starred fine dining restaurants. The generally accepted definition is a starter, a main and a glass of wine (or dessert) can be had for ¥4000 or less. Personally, Concerto is one of my favorite Italian restaurants in the world. I'm originally from NYC and come from an Italian American Family. I've traveled all throughout Italy, and I repeat… Concerto is one of my favorite Italian restaurants in the world.
Iguchi san, the chef, previously cooked at one Michelin starred Tacubo, and much like the style of food there, Iguchi san uses Japanese ingredients and cooks them using traditional Italian techniques.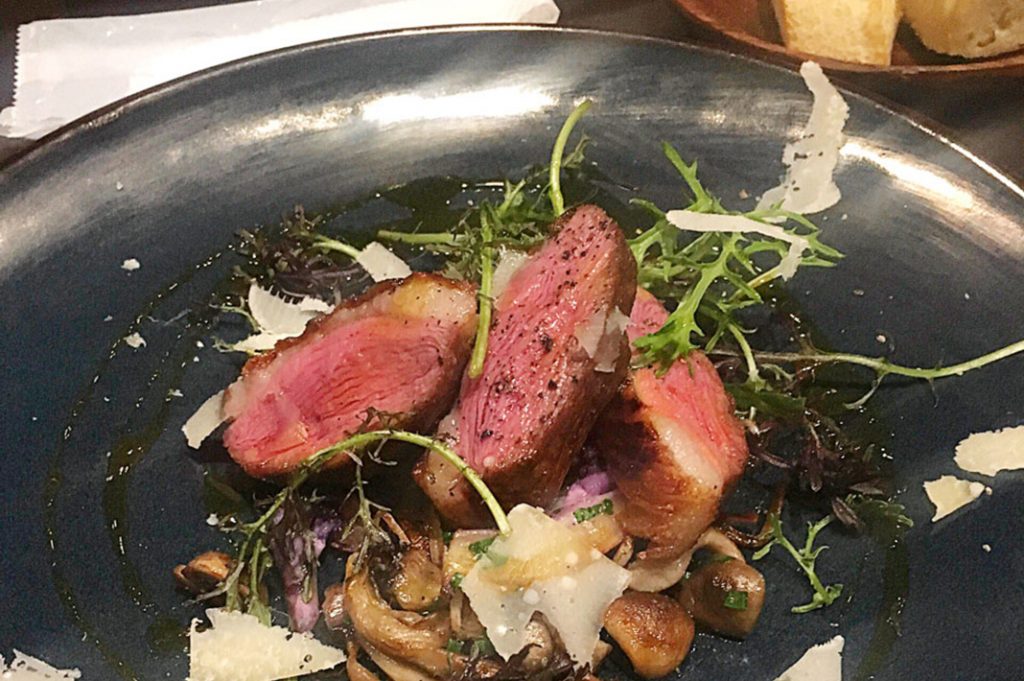 Omakase menu
If it's your first visit I recommend the omakase menu. It's 6 courses for ¥6000. Two appetizers, two pasta dishes, a main and a dessert or cheese plate. Sample dishes include fresh carpaccio and greens, yuzu citrus dusted linguine with clams, chicken two ways, and in-season peach granita It's one of the best deals in Tokyo.
For drinks, they have a decent whiskey selection, and some interesting vermouths and amari (Italian bitter digestive liquors), but the star of the show is the wine. They carry wines from all over the world, including Japan, and most of them are natural wines. Harada san, the only other employee and a certified sommelier, knows her wines. If you give her a price point and style she's happy to suggest something (in English!). Most wines are in the ¥4000-¥8000 range, so, not too expensive for a night out. Please note that reservations are strongly recommended, but can easily be made on their website.
Fireking Cafe
You'll probably be pretty full after dinner, but on your way back to the station, drop by Fireking cafe, the previously mentioned cafe on the corner, for a nite cap. Fireking takes its name from the American mid-century brand of pastel-colored ceramic drinkware and serving ware. Fireking cafe has an extensive collection of Fireking ceramics and proudly displays them behind their retro-cool vintage chrome bar. The cocktails here are standard classics; Moscow Mule, Manhattan, and Martini to name a few. The impeccably dressed tuxedo-shirted and bow-tied bartenders will be happy to mix you up whatever you desire.
Their house speciality is a Mojito and it's made with a whole shrub of mint. With all the vintage touches; the chrome bar, the vintage diner stools and the snazzy bartenders, you'll feel like you've stepped into a James Bond film. Fireking is renowned for their desserts. So, if you still have room, get a piece of their cheesecake or apple crumble pie.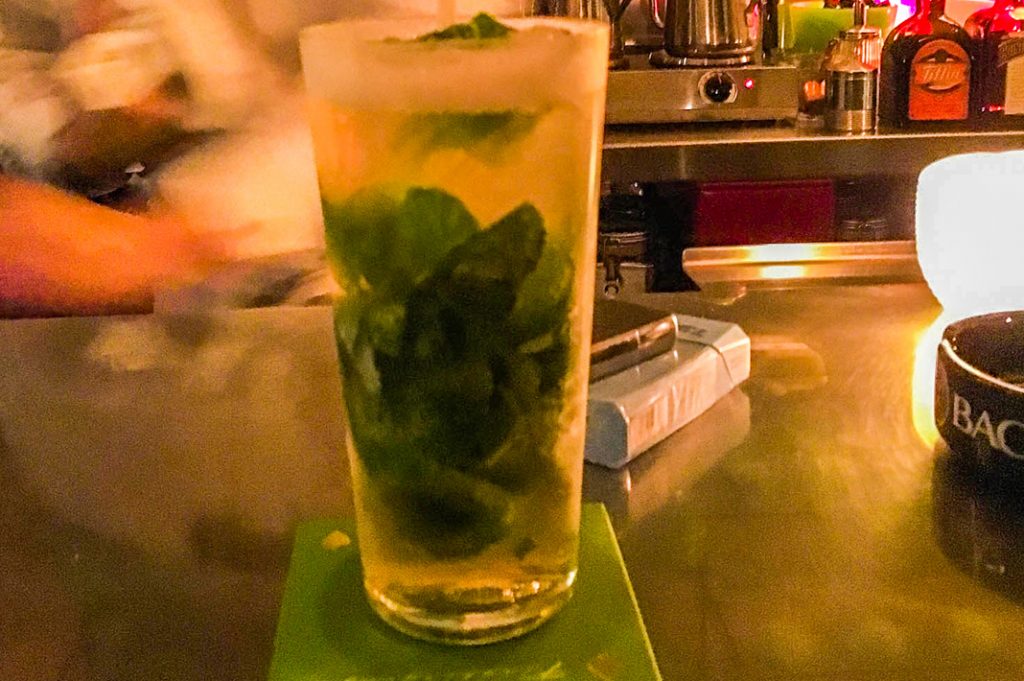 With bellies full and heads a little bit tipsy, head back to the station, making sure you get last train, a little bit more in love with this quaint neighborhood, right near Yoyogi Park in central Tokyo.
Destination: Yoyogi Uehara
Post by Japan Journeys.