One of the first things I tell people who visit Tokyo is that if you don't eat pizza or Italian food in Tokyo you're doing it wrong. I've traveled extensively through Italy and have eaten pizza at some of the most well-regarded pizzerias in Naples. But some of the best pizza and the best Italian food I've ever had is in Tokyo.
When talking about pizza in Tokyo, the conversation is almost exclusively about Neapolitan pizza. There's only a handful of "New York Style" pizza shops, namely Pizza Slice, with locations in Daikanyama, Omotesando and Roppongi.
I'm a native New Yorker and of Italian descent. I like to think that I know my pizza, especially "New York Style" pizza. I'm also a designer, so I notice the little things, the attention to details. And, I'm a sucker for a cool logo and great branding. So when I heard a new "New York Style" pizza shop called The Pizza, had opened in Hiroo, I was excited, to say the least.
Hiroo: An expat haven
Hiroo itself is an interesting area, one I haven't really spent much time in. It's very expat-friendly, with many of them seeming to own golden retrievers. It's a little upscale. A little laid back. If Roppongi is where you go in your 20's, Hiroo is where you go in your 30's and 40's.
The only metro stop servicing Hiroo is the Hibiya line on the Tokyo Metro. The Pizza is a small shop on the Hiroo shotengai, or "shopping street", just a 5-minute walk from the station.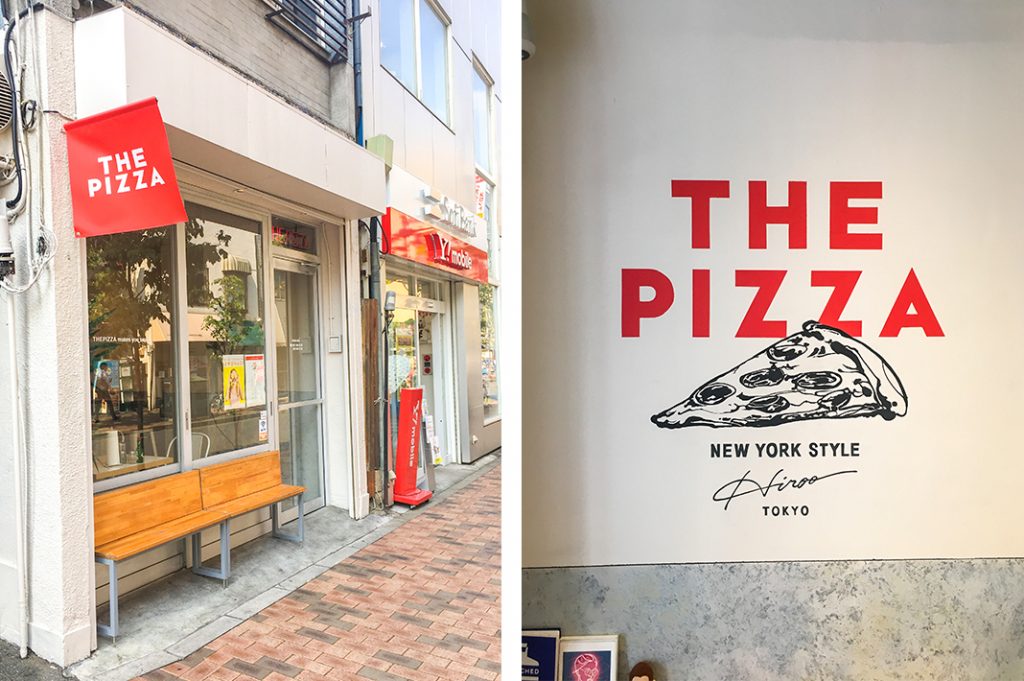 The Design
The shop itself is smartly designed and wouldn't be out of place in Brooklyn. It has white walls, with brushed steel accents. One wall features the logo in bright red lettering, with a graphically illustrated pizza slice. Again, you could very well be in NYC.
There's a large display case in the back showcasing the pies of the day. Each pie is about 16 inches wide (40 cm) which is the standard for New York City. The day I visited, the pizzas offered were; cheese, pepperoni, sausage and peppers, mushroom, and onion and jalapeño. They ranged in price from ¥390-¥600 a slice. Though the combination of sausage and peppers is one of my favorites, I'm a firm believer that you have to judge a pizza shop by their plain slice. So I went with that.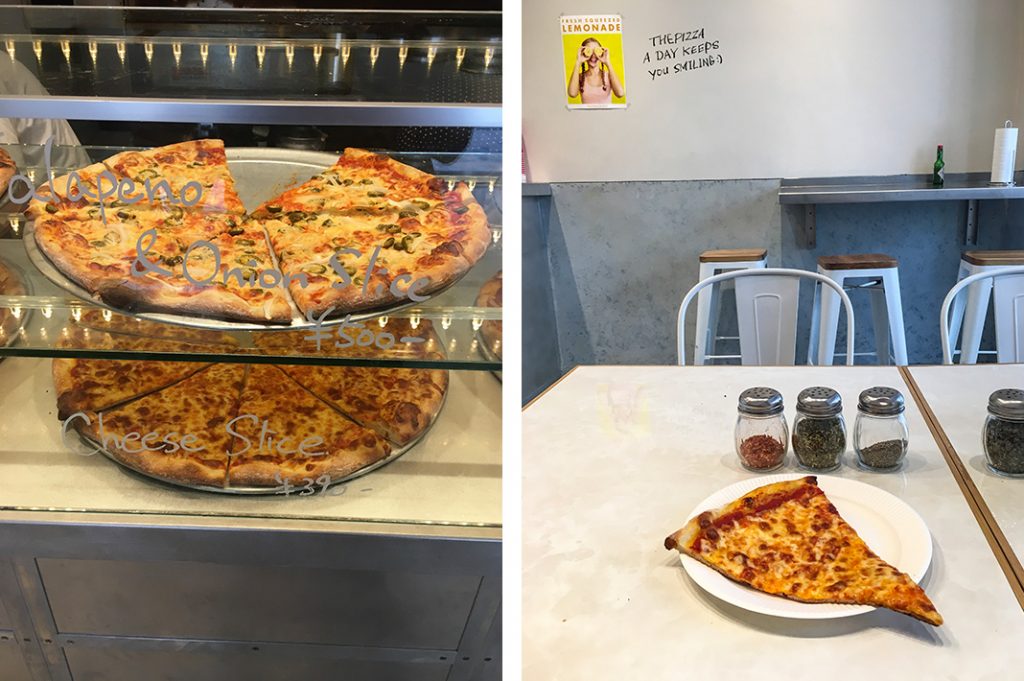 The Pizza
In mere minutes I had a piping hot, reheated slice on a white paper plate in front of me. Just like a New York City slice joint. Most importantly, on every table and the counter were shakers filled with spicy crushed red pepper, oregano or grated Parmesan cheese. Just like a New York City slice joint. And when I bit into the slice a little too early, because I just couldn't wait, the cheese burned the roof of my mouth. Just like a New York City slice joint.
The verdict? It's just like a New York City slice of pizza. Is it the best slice I've ever had? No. But it's better than some I've had in New York City. If you're in Hiroo and you want an authentic New York City slice, you could do a lot worse.
The Pizza, Hiroo, Tokyo
Address: 5-3-16 Hiroo, Shibuya-ku, Tokyo
Hours: 11:00 – 23:00 Mon-Sat, 11:00 – 22:30 Sun
Website: https://www.instagram.com/thepizza_tokyo/
Post by Japan Journeys.