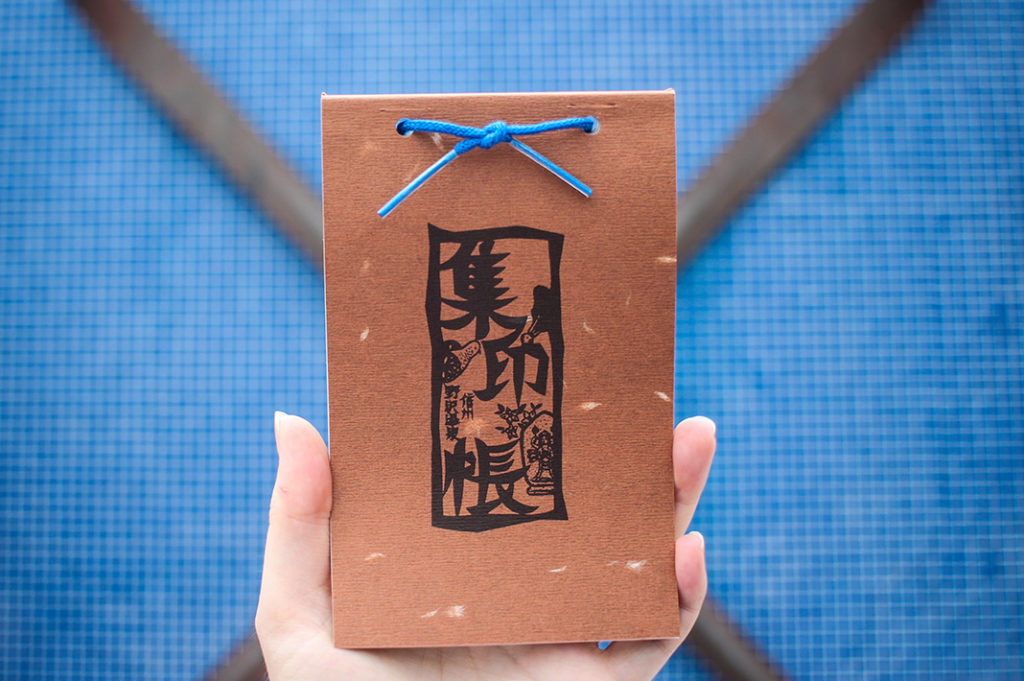 If there's one thing that comes to mind when I think of Japanese tourism, it's stamps. All over the country, there are small tables set up at attractions with an ink-pad and intricately designed stamp for visitors to use. Then there's goshuin, the hobby that involves filling whole books with stamps and calligraphy from temples and shrines. I'll admit, I was sceptical about this style of travelling at first. But in the last few years, I found I enjoyed collecting stamps along the Kumano Kodo pilgrimage trail and also through Nagano City on a quest for good fortune. A recent convert, I decided to dedicate a day of my Nagano trip to completing the Nozawa Onsen stamp trail.    
Though this small mountain village in northern Nagano is perhaps best known for its world-class ski resorts, there's so much more to see and learn. Left to their own devices, visitors might only explore a fraction of the charming town, so the local tourism office created a stamp trail featuring 27 points of interest that paint a picture of Nozawa Onsen's culture and history. By participating, you can truly get the lay of the land, explore areas you may not have otherwise and learn a thing or two about life up here in the mountains. It's also a great activity for when the ski resorts are closed during the warmer seasons.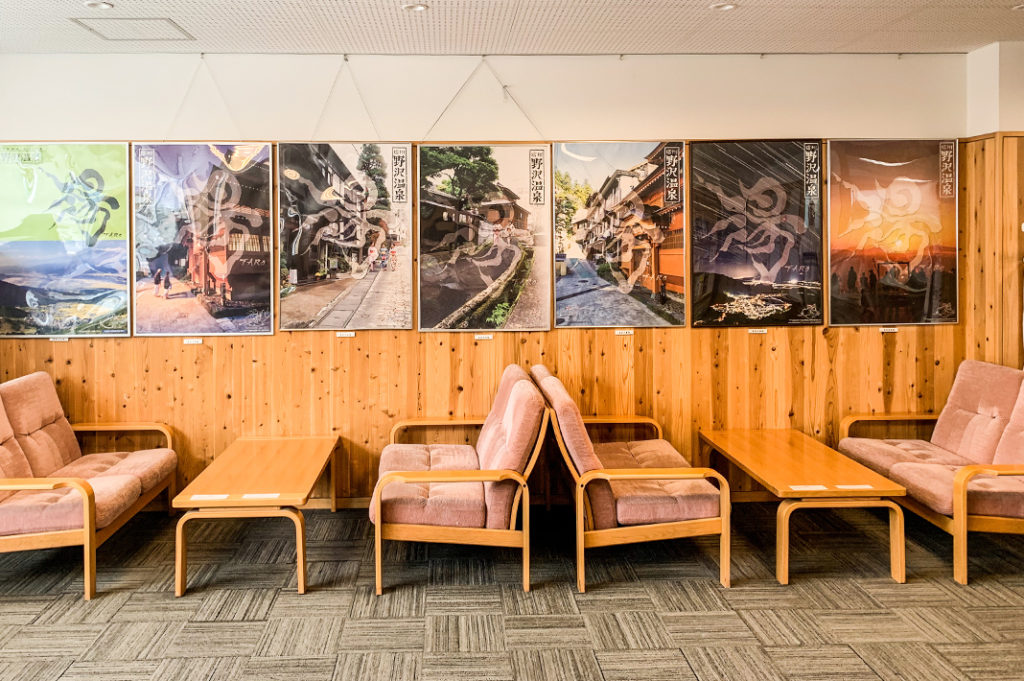 Starting your Nozawa Onsen stamp trail
First thing's first, you'll need to head to the Tourism Association Office—the one a few doors down from the Yokochi hot spring, not the one coming into town. Here, you can pick up one of the stamp books at the counter for a few hundred yen. The staff will explain how it works and show you the prizes available if you collect 10 or 20 stamps out of the 27. Spoiler: they're both onsen towels, but the 20 stamp towel features the name of all 13 soto-yu free public baths. As you're about to do hours of walking, use this time to get maps, ask for restaurant recommendations, use the facilities and help yourself to the free cucumbers out front.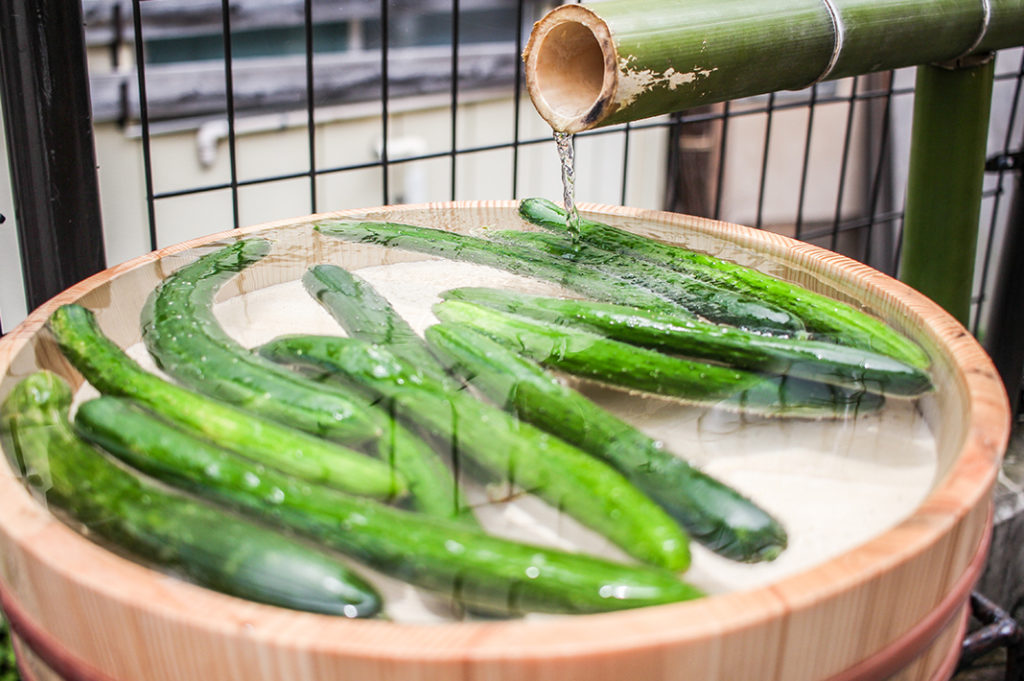 When we did the Nozawa Onsen stamp trail, it was a very hot day with pockets of rain and we didn't want to spend longer than necessary wandering around. After studying the rudimentary Japanese map at the back of the stamp book, we pinned all 27 locations on our own Google map to make navigation easier. As the numbers weren't geographically sequential, this helped us group the stamp locations as well as other attractions we wanted to see along the way. If you're interested in saving time, you can follow along with that map here.
Learning about Nozawa Onsen
Armed with our stamp books, some English literature and our newly created map, we set off into the village. But we didn't have far to go; our first stamp was just next door at Schneider Square. This monument pays tribute to Hannes Schneider, the Austrian who introduced skiing here in 1930. The love of skiing grew so strong, that decades later, Nozawa Onsen would become the sister city of Austria's famous St. Anton.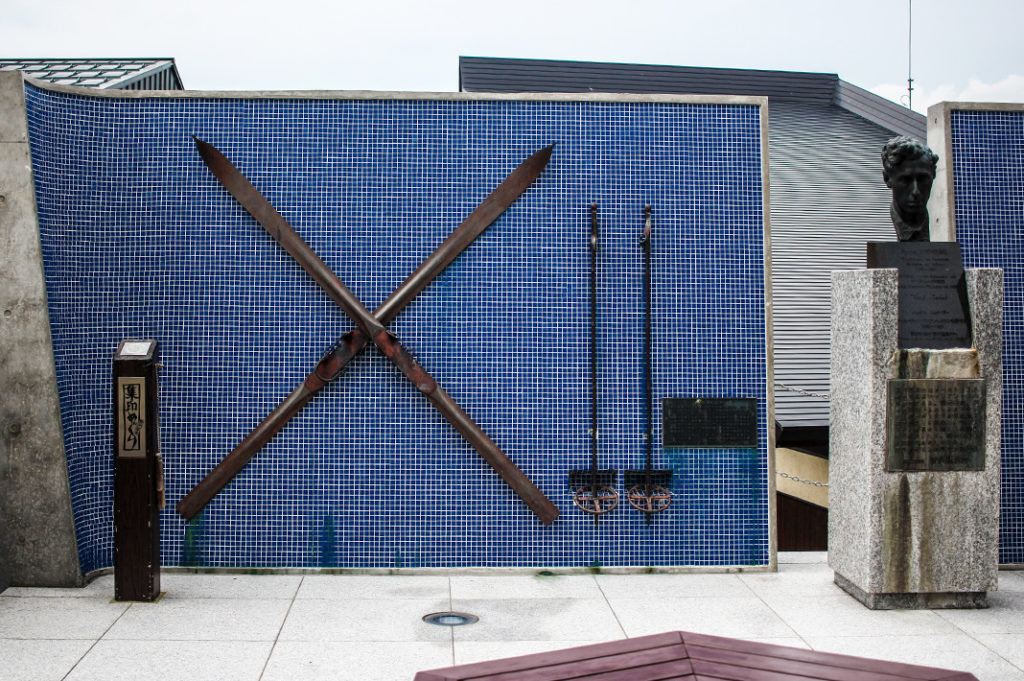 This was the first of many things we'd learn about the town during our stamp journey. But in order to get our prize, we needed to prove that we'd been here. And that meant getting the first stamp.
How to collect stamps
Each of the locations has a stamp post somewhere, usually out front. And rather than a stamp and ink, the post actually features a metal plate with a unique embossed design. The idea is to place the two designated sheets of paper over it, one of which is carbon paper, and use the attached wooden stick to rub over the design. It's a bit of an art to hold the papers in place and sometimes you need to use the back of the stick for better traction. But don't worry—you'll be an expert by the end. Though this system is more economical than ink pads, it's often impossible in winter due to snow.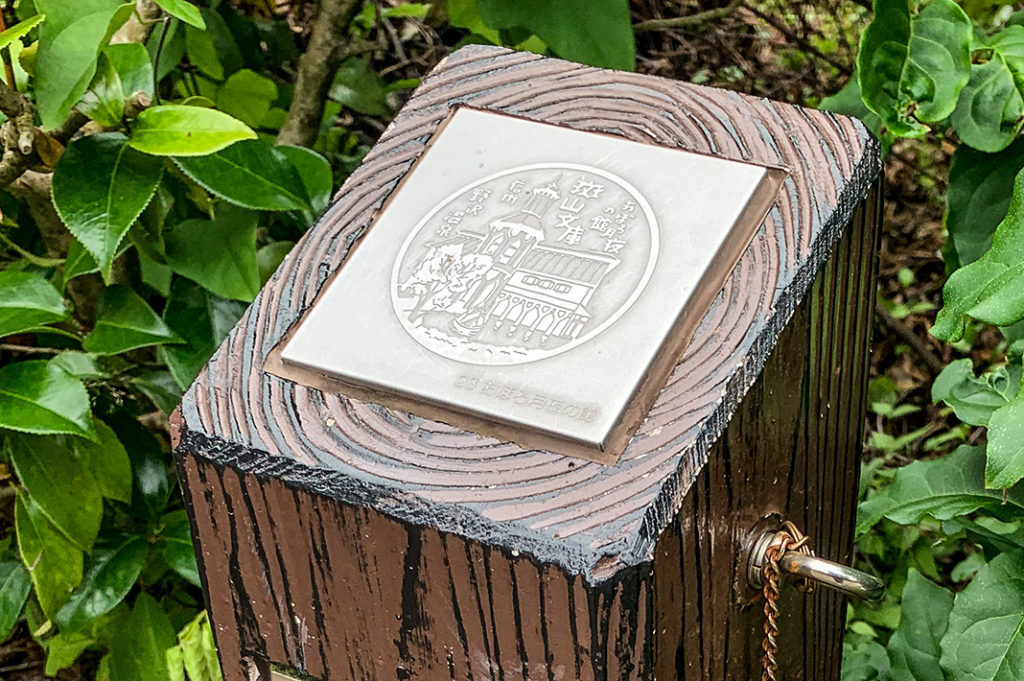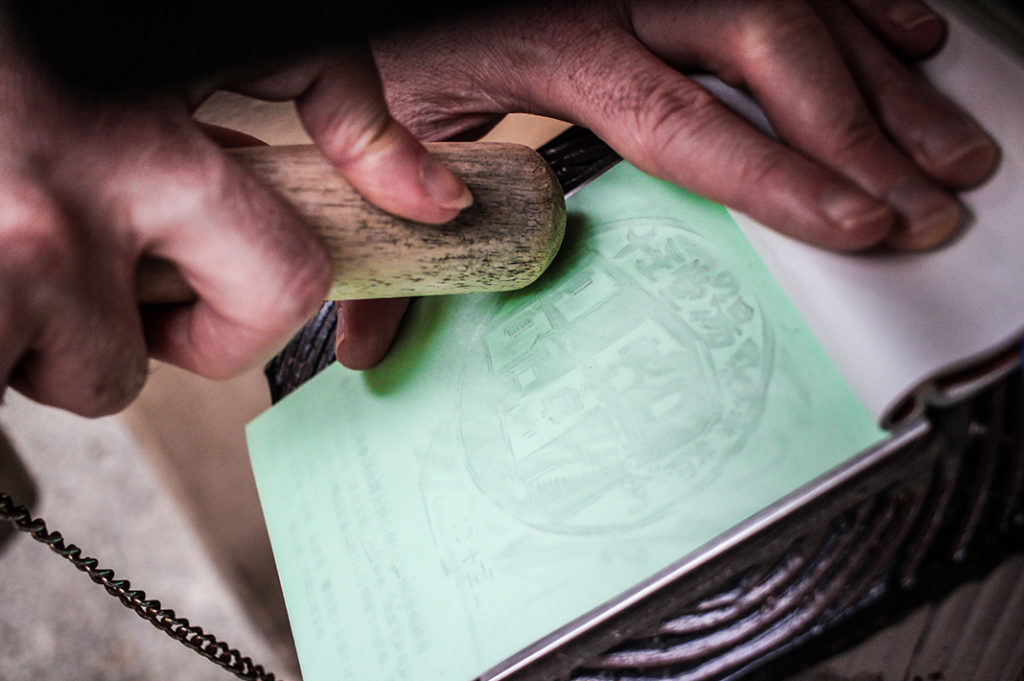 The sights of Nozawa Onsen
The points of interest in the stamp trail are varied; monuments, festival locations, historical sites and shrines. However, the first thirteen locations happen to be the village's famed soto-yu, or free public baths. Pro tip: by checking them all out during the stamp rally, you can decide on which one to return to once you have your prized onsen towel. Read more about the soto-yu here.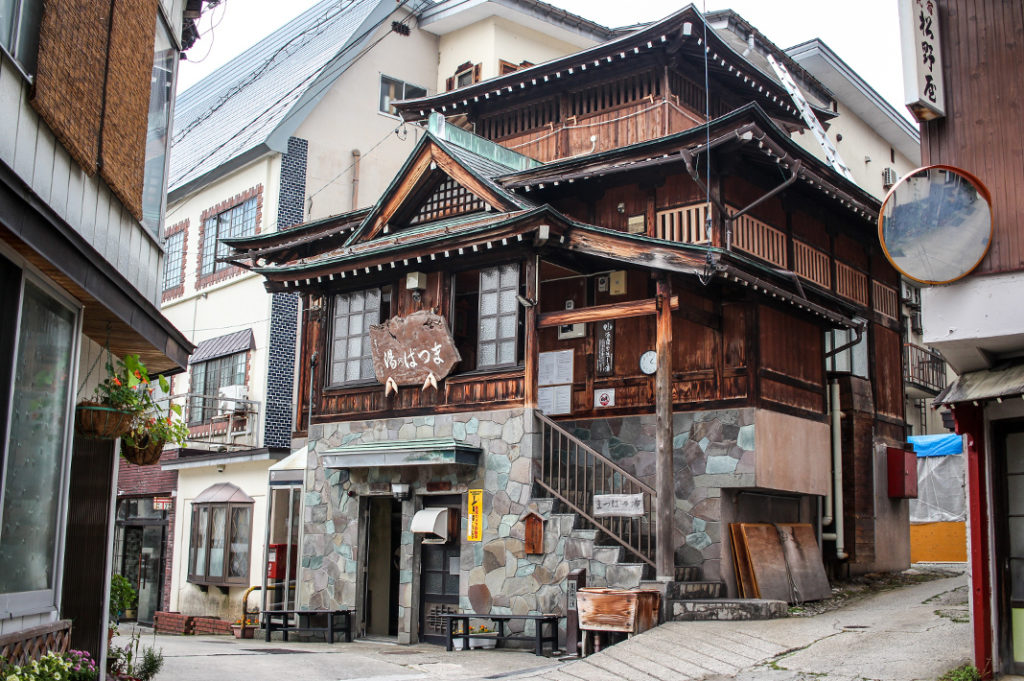 As the 27 points of interest are quite spread apart, you really cover a lot of ground. The quest for stamps takes you through winding backstreets, into forested shrines and onto hillsides overlooking the village. The take-away feeling is that Nozawa Onsen is like a storybook village. Though we were on a summer trip, I was suddenly desperate to see these cobbled streets and Edo era buildings blanketed in snow.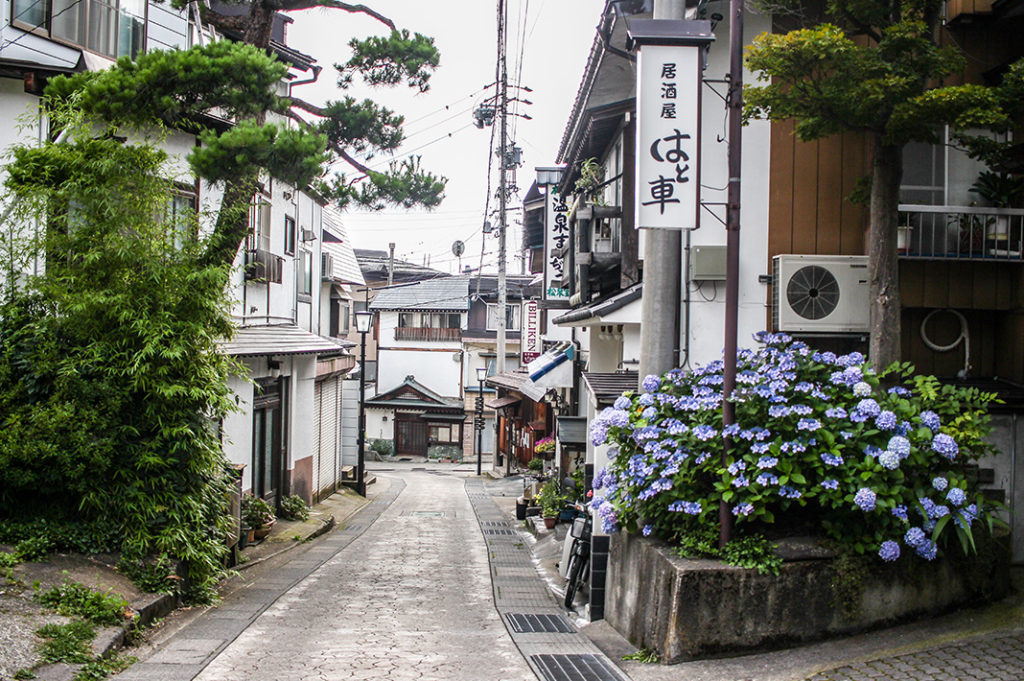 Summer in Nozawa Onsen does have its charm though; locals toiling away on farms, water gushing through canals, breathtaking green fields and explosions of hydrangeas.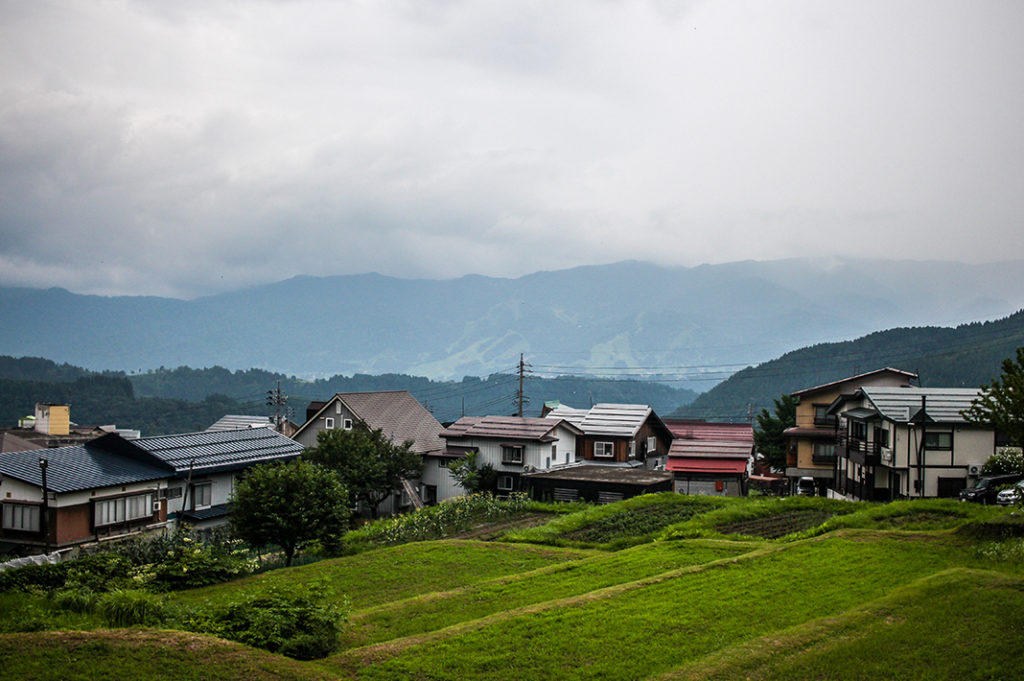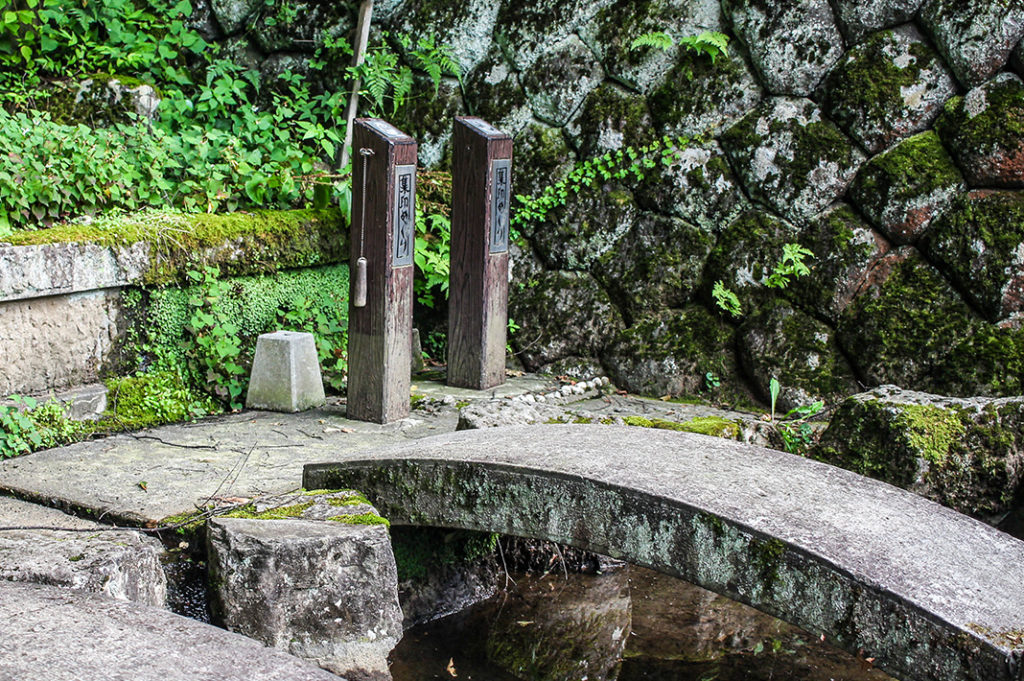 Enjoying the local food
Despite having made a map for efficiency, we were really taking our time to explore and soon got hungry. After an hour or so, we decided to stop for lunch at the place recommended to us by the Tourist Information staff: Sobadokoro Daimon. Located in the centre of the village, this is where to go for some truly delicious soba. The tempura soba was priced higher than I'd expected, but the quality completely justified it. The soba and tempura were both some of the tastiest I've ever had; you can tell there's a killer recipe, fresh ingredients and a practised method here. Also make sure to try the local Nozawana, or pickled leafy greens.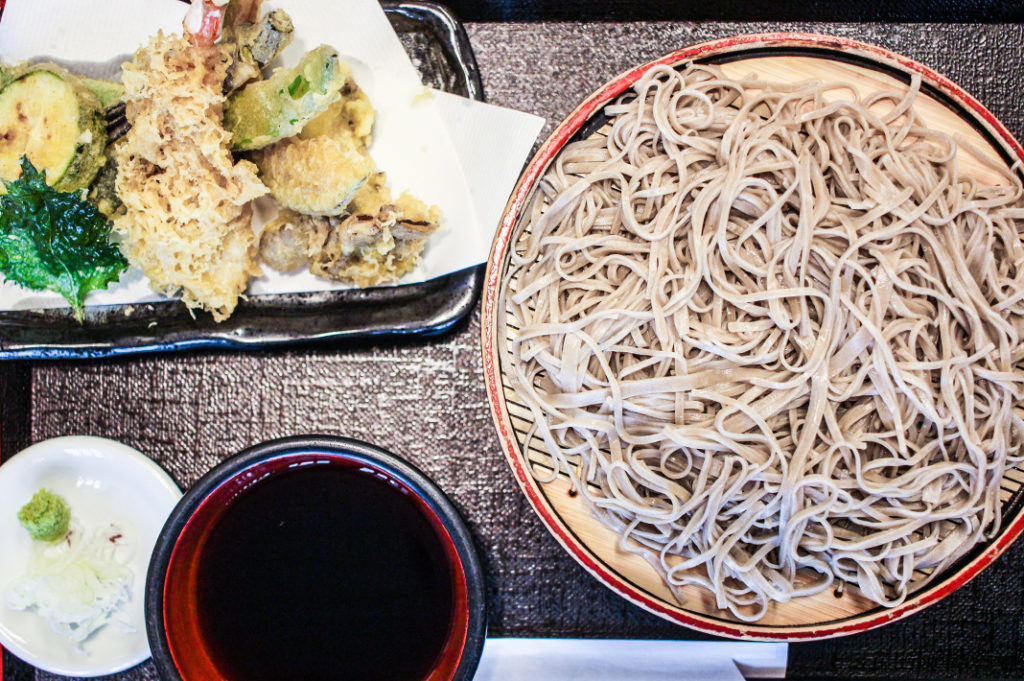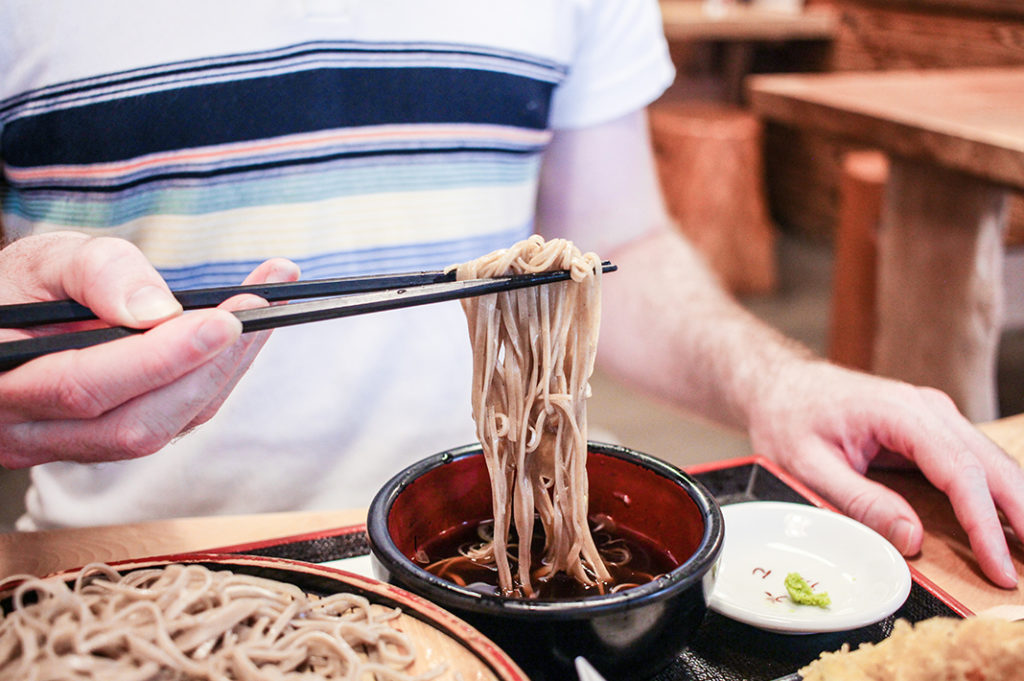 More exploring
After refuelling from lunch, we continued on our journey and were soon fascinated by the curious wooden statues all around the place. These dosojin are guardians of the village and make for a great photo scavenger hunt. Read more about them here.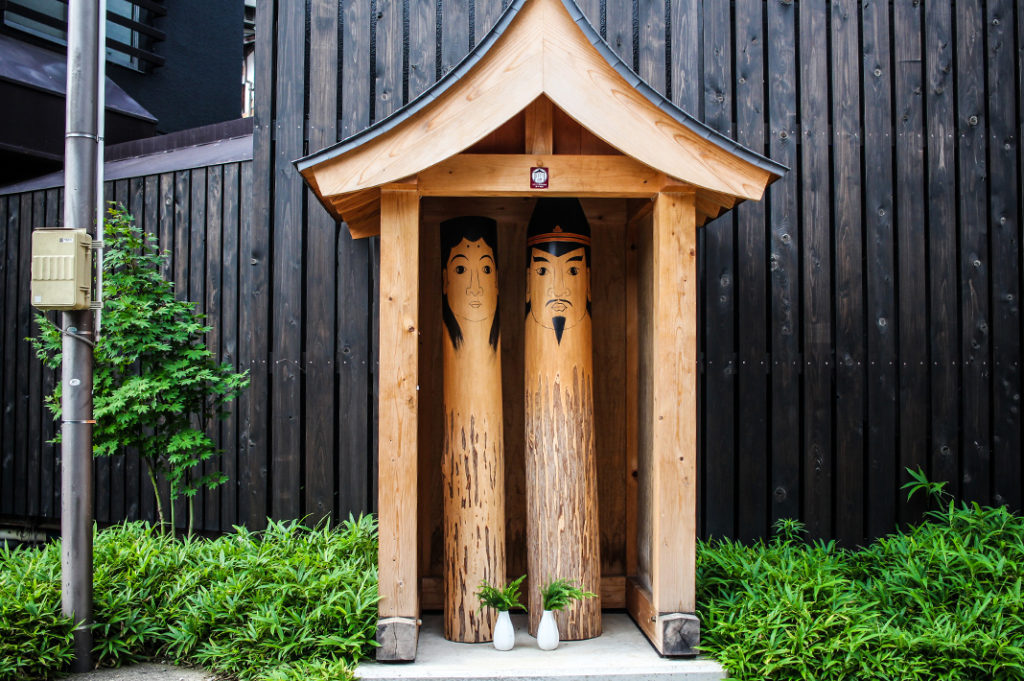 As the summer heat lingered on, we became desperate for a cleansing onsen to cap off our stamp trail. Of course, we could have called it a day after collecting ten or twenty and still claim a prize, but we had a dogged determination to finish the book. And we're glad we did. Without the prompt, we may not have visited Yuzawa Shrine and seen the three-hundred-year-old cedar tree or witnessed the quiet moments of everyday life in the village.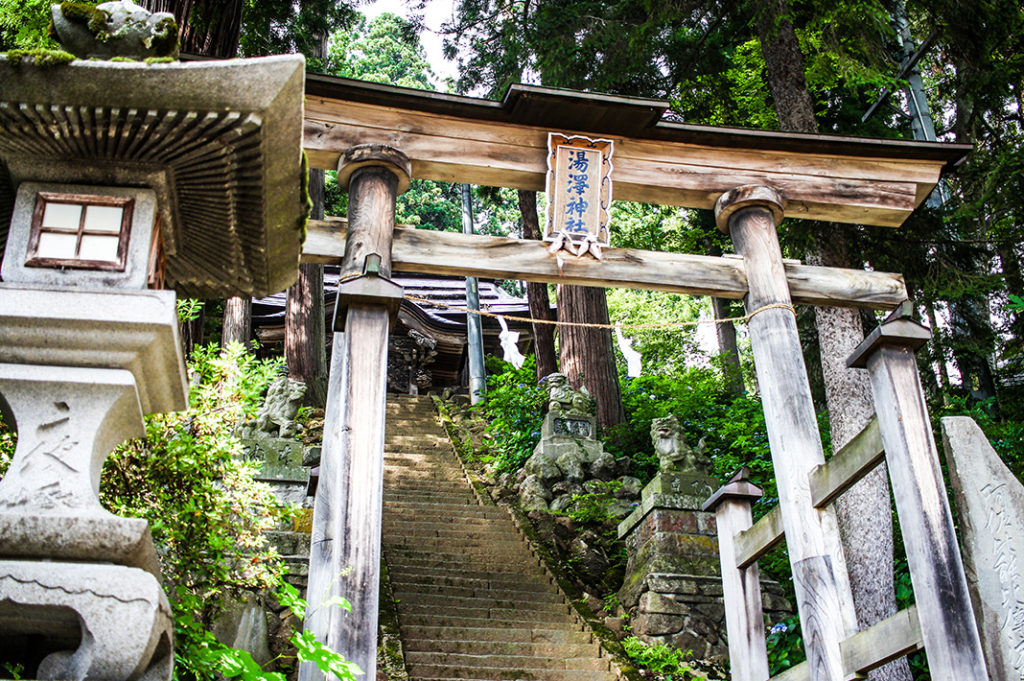 Another highlight was seeing Ogama, Nozawa Onsen's kitchen. The hot spring water here reaches 90ºC (194ºF), so is off-limits to visitors. Locals use the hot pools to wash and cook vegetables and eggs, instead of doing it at home.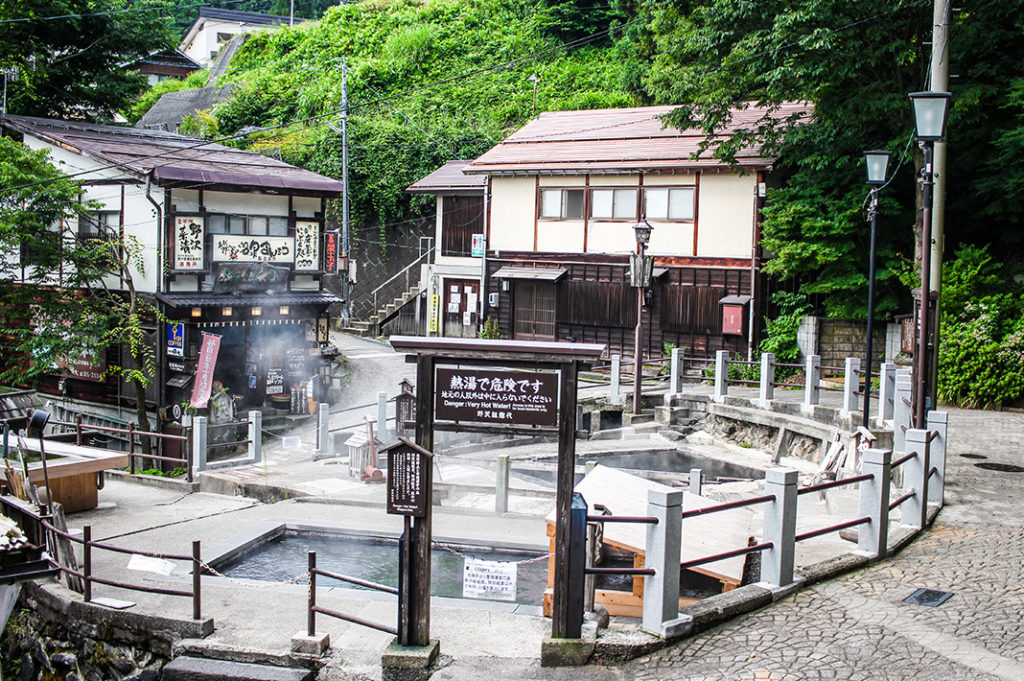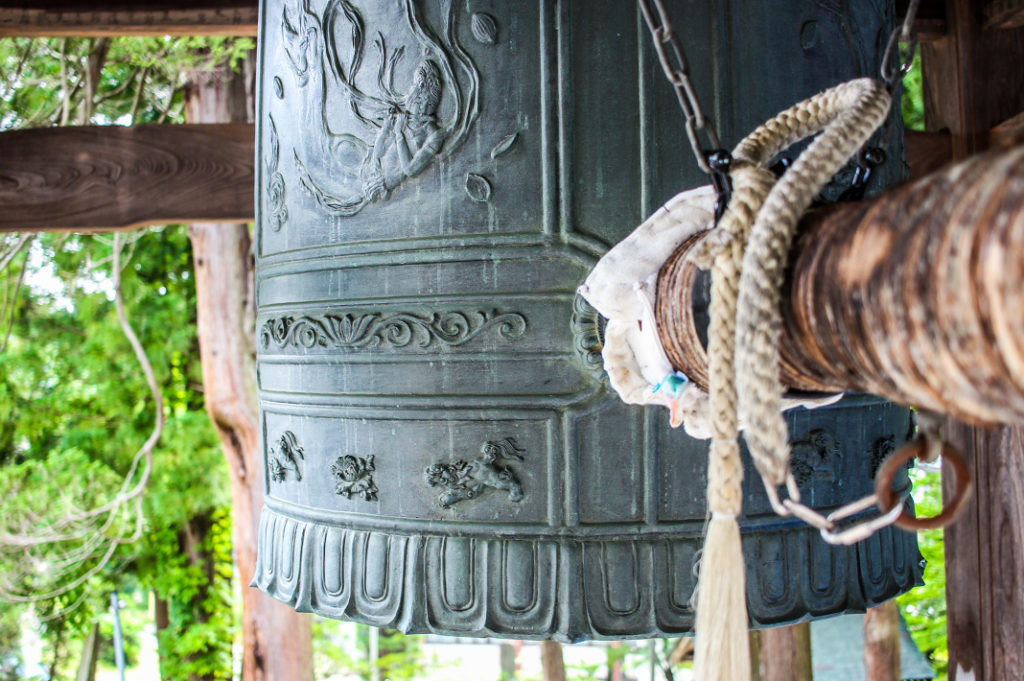 Completing the Nozawa Onsen stamp trail
Once you've collected your target number of stamps, it's time to head back to the Tourist Information Center and collect your prize. Despite having all 27 stamps, I chose the 'basic' onsen towel, while my husband opted for the more elaborate 'soto-yu' design. As we'd scoped out the hot spring we wanted to try earlier, we promptly made our way there with our new towels. After the restorative soak, we indulged in a delicious izakaya dinner. It was the most relaxing end to a long and hot day and gave us a chance to reflect on the Nozawa Onsen experience: the intersection of nature, history and culture in this charming mountain setting.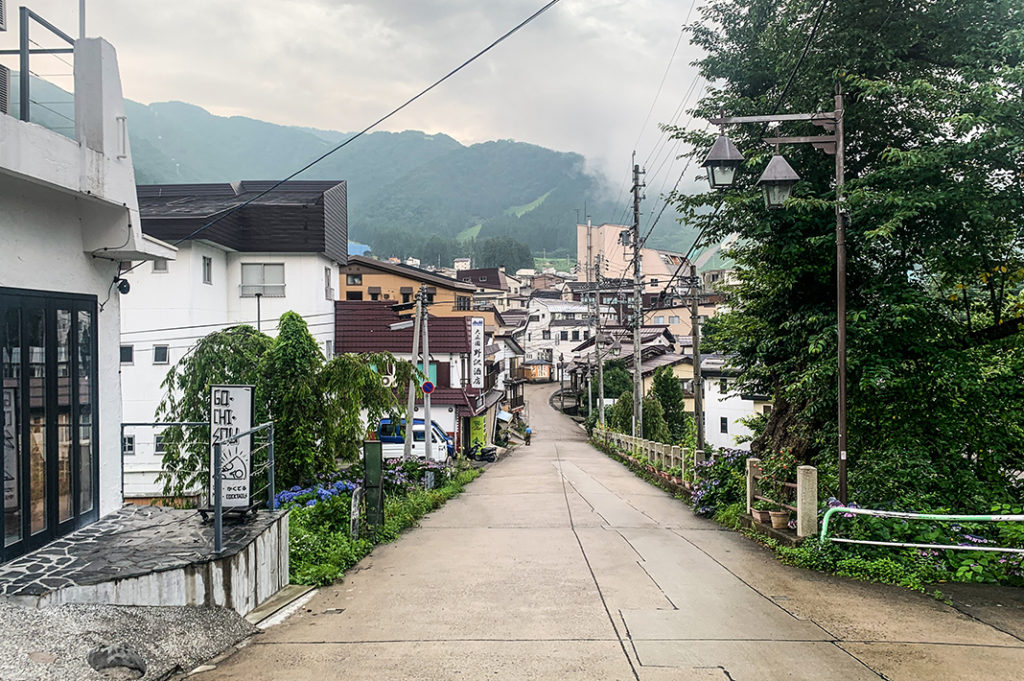 Getting to Nozawa Onsen
Nozawa Onsen is located around 250km from Tokyo. The most direct way is to take the Hokuriku Shinkansen from Tokyo or Ueno Stations, departing at Iiyama Station (approx 1 hour 45 minutes and ~¥9,000 each way for adults). Once at Iiyama Station, it's a 20-minute drive to Nozawa Onsen village. You can take a taxi (approx 5,000yen) or catch the Onsen Liner bus (approx 600 yen). Check the Nozawa Onsen Liner bus timetable here. During winter, there are also shuttle buses running from airports, major cities and other ski resorts to Nozawa Onsen.
Post by Japan Journeys.