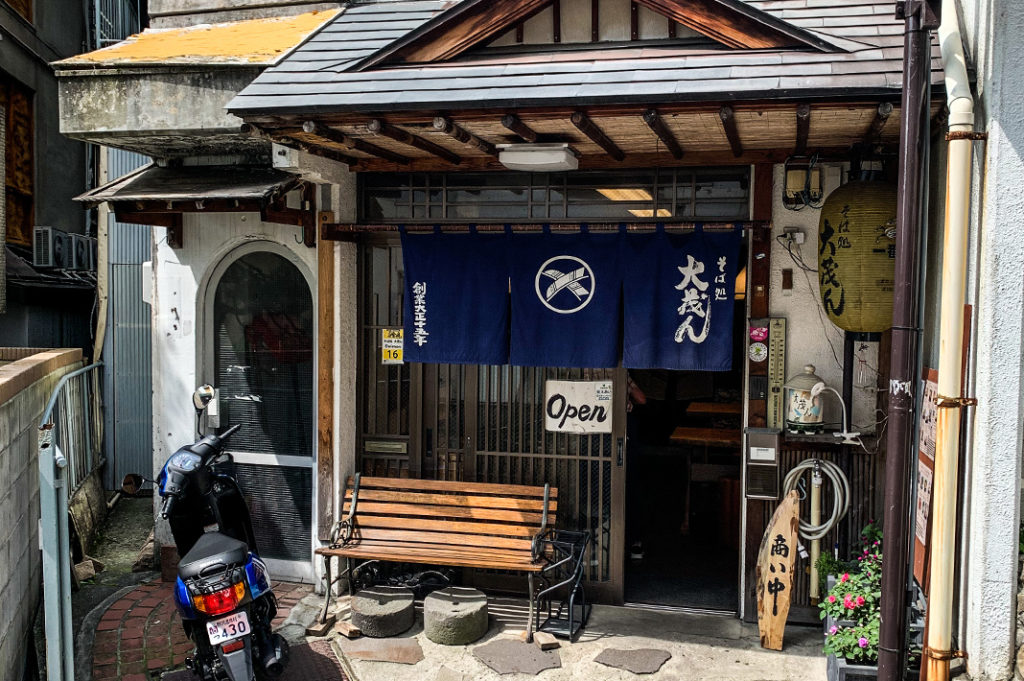 Whether you've come to Nozawa Onsen in search of snow, hot springs or mountain village charm, one thing's for sure: you're going to need to eat. Lucky for you, this remote town is frequented by people from all over the globe, and as such, the thirty-odd dining establishments are able to satisfy any craving from shabu shabu to Mexican. Though, if it's a local specialty you're after, you can't go past soba in Nagano or Nozawana pickles in Nozawa Onsen. So, if there's a place that serves both and comes highly recommended by the local Tourist Information Office—you say arigatou and you go. That's how we came to have our delicious lunch at Sobadokoro Daimon.
Located just off Oyu Street, opposite Haus St Anton, Sobadokoro Daimon is welcoming with a lantern, noren and colourful pot plants by the door. Inside is cosy and unpretentious with just the right amount of clutter to give it personality. There's skiing posters on the walls and timber everywhere—live edge wooden tables, stumps for stools and pretty window screens. We sink into our seats, use the cool hand towels offered to us and turn our attention to the menu.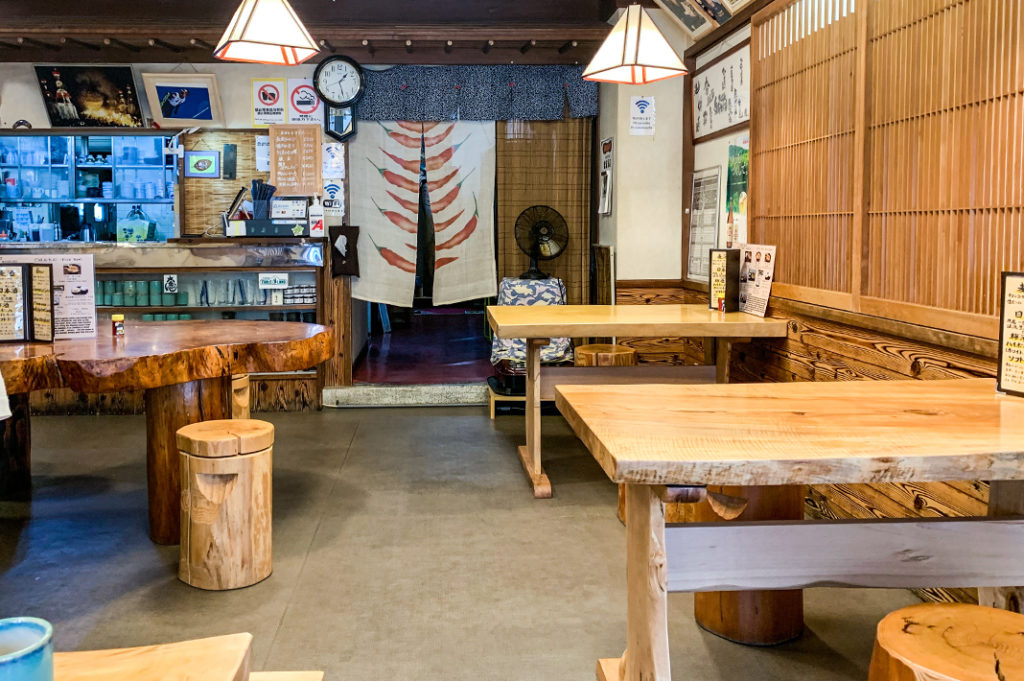 Soba for all seasons
Sobadokoro Daimon's menu has pictures as well as English captions to help you choose the perfect meal. As soba can be eaten hot or cold, it's a great choice for any season, and the menu features variations of both kinds. The skiing crowd can defrost over a steaming bowl of kake soba, and the sweaty summer hikers (hello) can cool down by slurping up some chilled zaru soba noodles. Not only that, but the menu includes instructions on how to eat both kinds of soba. Very handy for those new to Japanese dining customs.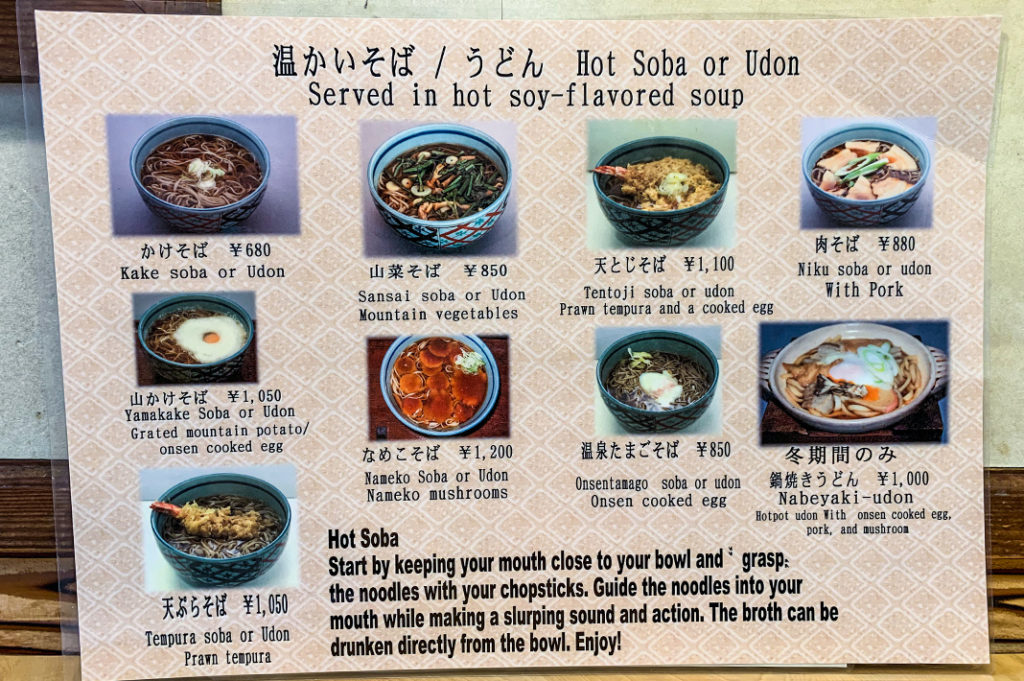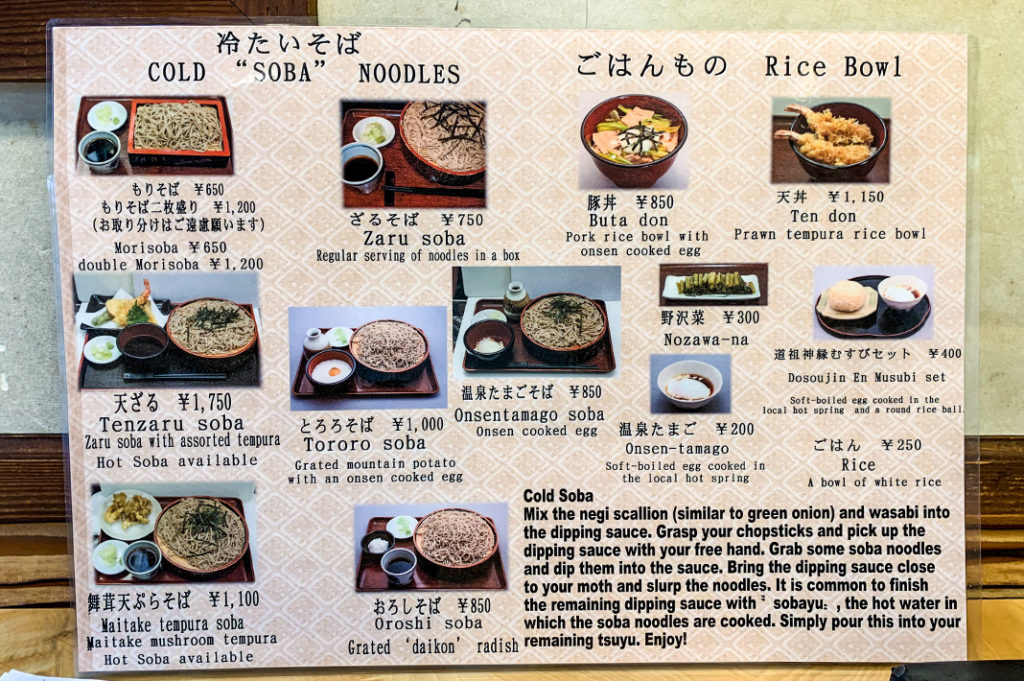 The hot noodles can be served with soba noodles (buckwheat/wholewheat flour) or udon noodles (thicker and made from wheat flour). And for those looking for something a little different, there are a few good looking rice bowls available.
A memorable Tenzaru soba
The weather was pretty steamy when we visited, so we arrived with cold soba on our minds. Feeling a little fancy, we went for the most expensive thing on the menu—and at 1,750, it's still quite reasonable—the ten-zaru soba set. It had the lovely chilled noodles and dipping sauce we craved with the tantalising addition of assorted tempura.
The soba was chewy and full of earthy buckwheat flavour. It's a level of quality that should be the norm, but sadly I've forgotten more bowls of soba than I care to remember. Great news for those on a budget who can't spring for the tempura: the zaru soba is satisfying in its own right.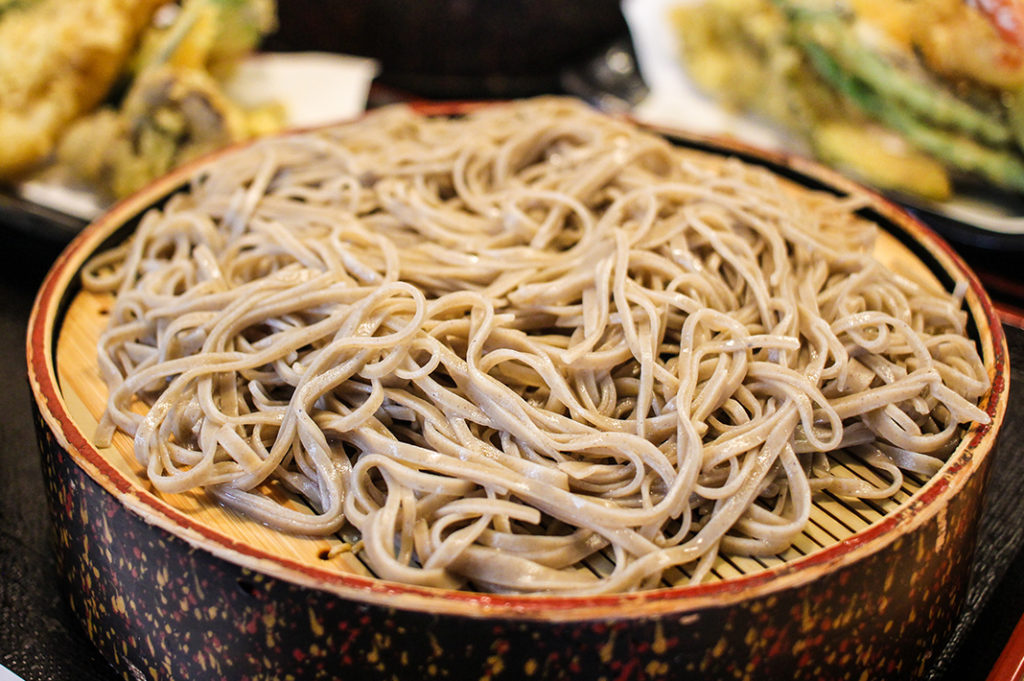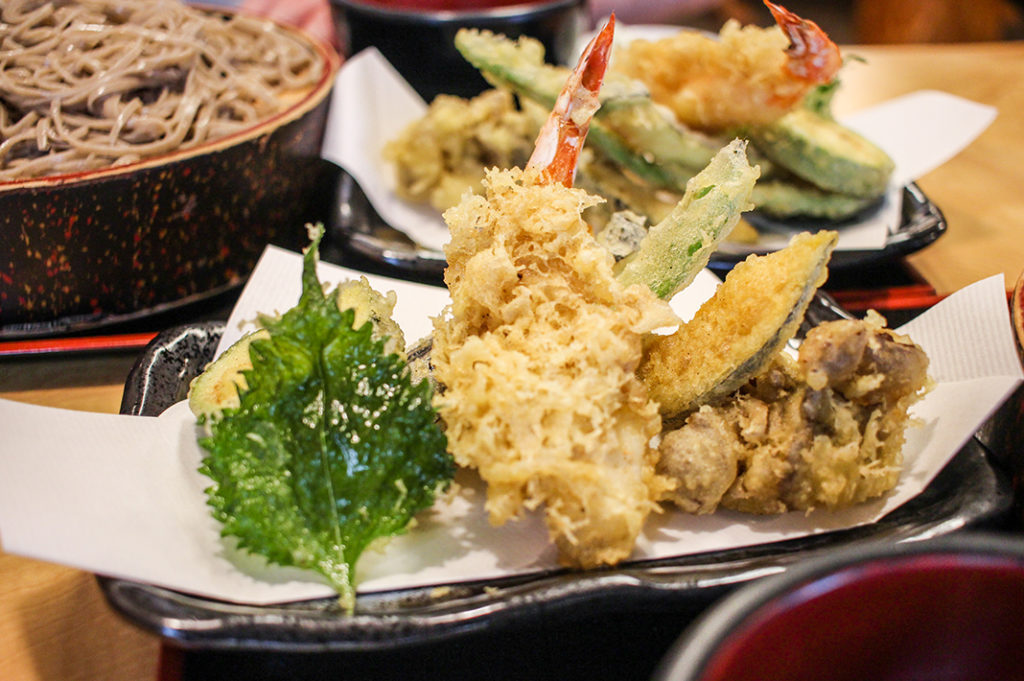 Just as we'd hoped, the tempura was equally memorable. It featured all the hits: zucchini, eggplant, mushroom, pumpkin, a snap pea, a shiso leaf and, of course, a big, juicy prawn. I always enjoy picking my favourite as I make my way through a mixed tempura platter; in this case, I had a three-way tie with some very close runners up. The batter on the tempura was light and crunchy and just as tasty as the ingredients underneath.
Follow the menu's instructions and drink up the soba-yu—the water that the noodles were cooked in. It's like reserving a little of the pasta water for the sauce, but in this case, you drink the broth on its own. If you have any dipping sauce left, you can mix the two for extra flavour.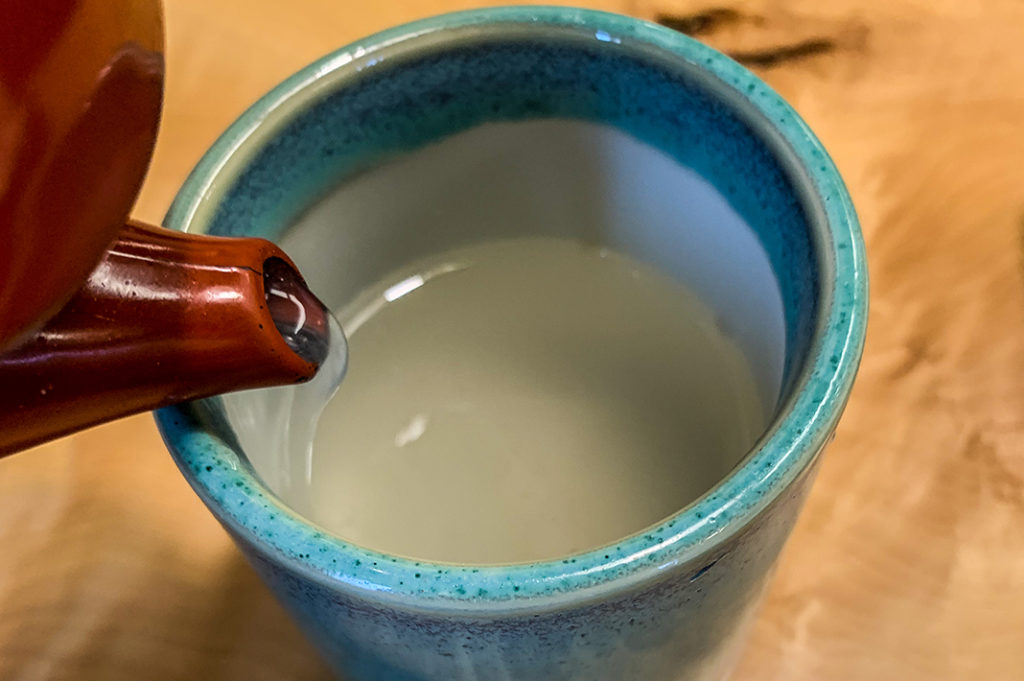 Local specialties
Sobadokoro Daimon's menu, like many around Nozawa Onsen, features a few very local specialties. Firstly, onsen tamago—a soft boiled egg cooked in the 90ºC spring waters of Ogama. It comes as a topping on some of the hot noodle dishes or on its own in a small bowl with a tasty soy-based sauce. The other local specialty is great for those who are having trouble getting their five-a-day in Japan (we hear this a lot): Nozawana.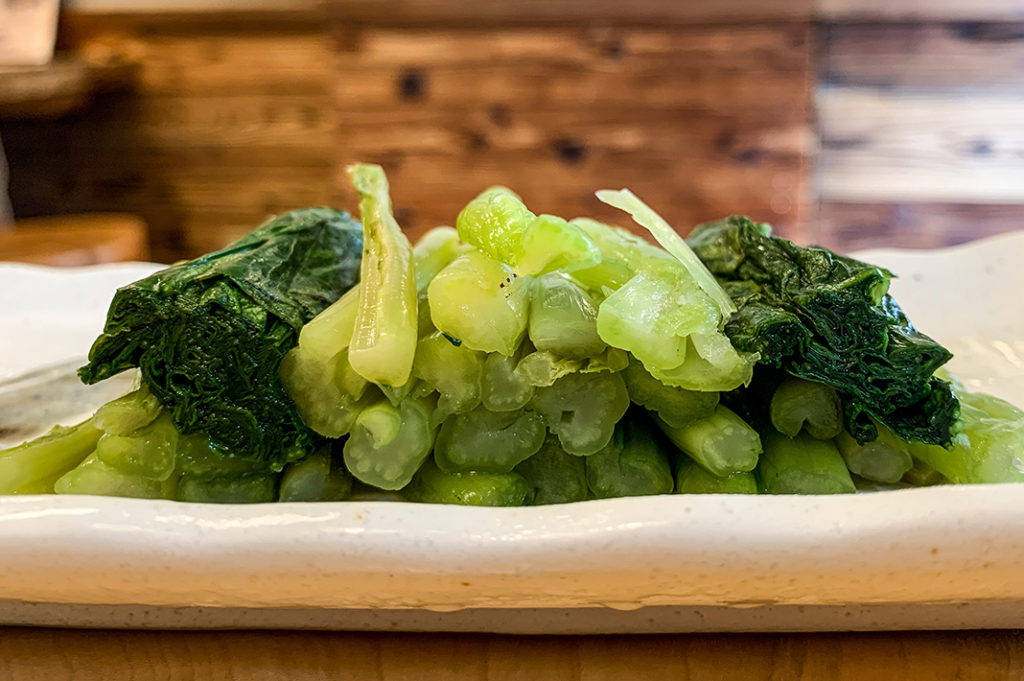 Stay for the Nozawana
This pickled leafy green famously originated in this village three centuries ago, when one of the priests at Kenmeiji Temple brought turnip seeds back from Kyoto. They grew differently in this environment, with longer stems and bigger leaves; so as not to waste anything, locals began pickling the leaves to enjoy during the snowy season.
Nozawana is now a staple food of Nozawa Onsen and firmly part of the lifestyle. Seeds are sown in August and the leaves harvested before the first snow and washed clean in the local hot spring water. Each person has their own unique pickling recipe and method, so you should seek out a few different versions while in town. Aside from restaurants, you can find Nozawana at the farmer's market (right outside Sobadokoro Daimon) and in the souvenir shops to take home.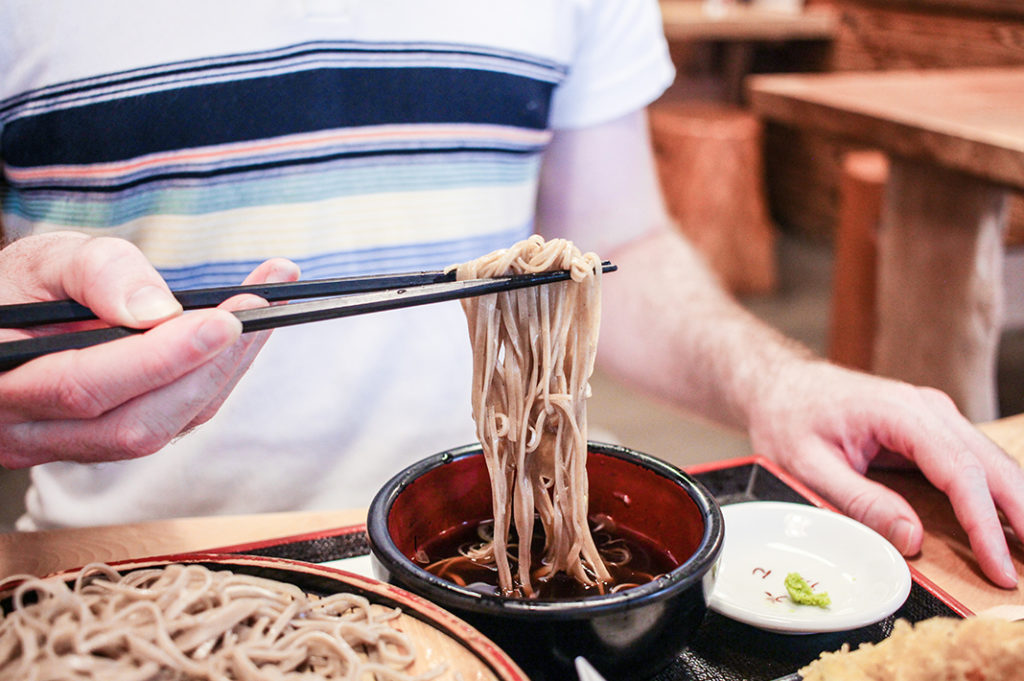 Once you've finished your no doubt satisfying meal, head to one of Nozawa Onsen's many hot spring baths. Lower yourself into the steamy water and soften over time like a bundle of soba noodles….just don't drink your soaking water!
Getting to Nozawa Onsen
Nozawa Onsen is located around 250km from Tokyo. The most direct way is to take the Hokuriku Shinkansen from Tokyo or Ueno Stations to Iiyama Station. (Approx 1 hour 45 minutes and ~¥9,000 each way for adults). Once at Iiyama Station, it's a 20-minute drive to Nozawa Onsen village. You can take a taxi (approx 5,000yen) or catch the Onsen Liner bus (approx 600 yen). Check the Nozawa Onsen Liner bus timetable here. During winter, there are also shuttle buses running from airports, major cities and other ski resorts to Nozawa Onsen.
Name: Sobadokoro Daimon (そば処 大茂ん)
Address: 9509 Toyosato, Nozawa onsen, Nagano (link)
Open: 11:30AM–2:30PM, 5:30–8:30PM
Post by Japan Journeys.