Thinking about mixing things up and travelling this yuletide? Here's an idea: why not spend Christmas in Japan? Despite the prominent religion being Buddhism, Christmas is a big deal here. In the lead-up, you're apt to come across Christmas shopping and gifts, decorations, themed food, a transformed Disneyland, Christmas markets and a whole lot of Mariah Carey's 'All I want for Christmas Is You'. For us though, as new residents of the northern hemisphere, we were most excited about experiencing the snowy aesthetic we'd seen on, well, everything to do with Christmas ever. We decided to save The North Pole for another year and visit somewhere closer to home, which is how we came to spend an unforgettable Christmas in Sapporo.
For five days we wined, dined and explored in the name of research to present to you, dear reader, these tips on how to make your Sapporo Christmas merry.
Explore Sapporo City
Basing yourself in Sapporo will connect you with plenty of attractions and events far and wide. The city has everything you could want; shopping, dining, views, parks, architecture and history. You'll have ample opportunity to explore, morning and night, even if you choose not to spend a whole day in town.
Getting around the city grid on foot is easy, but the trams, trains and underground shopping walkways are an added bonus which get you from point A to point B a little quicker and warmer. Winter in Sapporo can be chilly so there's no harm in heading underground!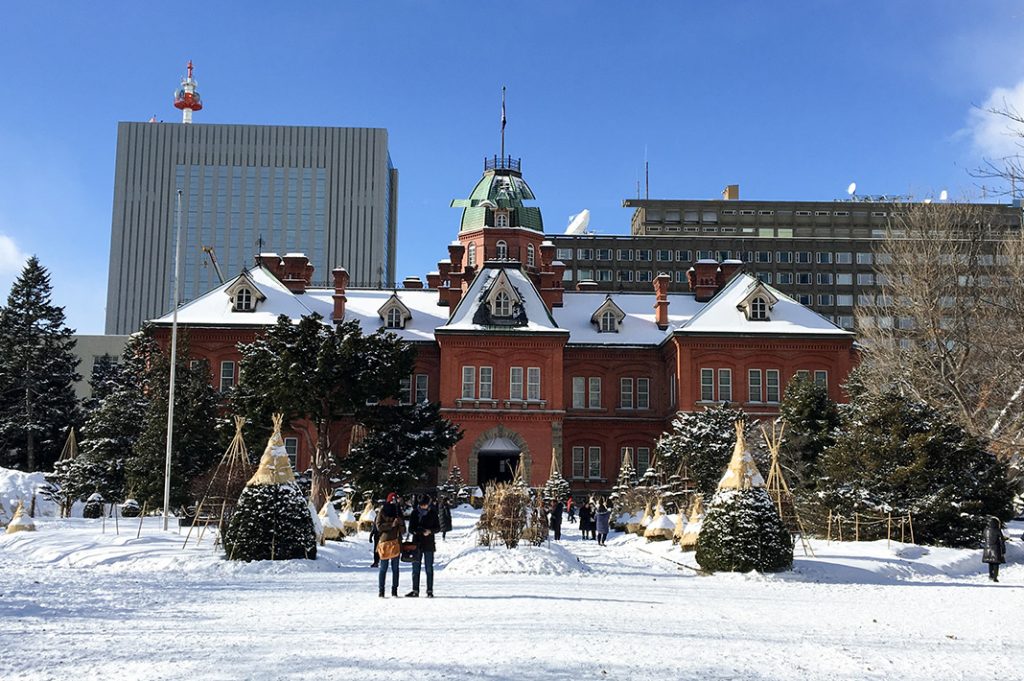 Architecture buffs may notice that Sapporo is a little different from other Japanese cities. In the late 1800's, Sapporo was the administrative hub of Hokkaido and began to seek advice from the West. These influences are evident in buildings such as the Sapporo Clock Tower, the Former Hokkaido Government Office and the Sapporo Beer Museum. When capped in snow, these storybook buildings are like something straight off of a Christmas card.
If walking around has you feeling the cold, we recommend ducking into the Sapporo Beer Museum. The interesting exhibit sheds light on the growth of Japan's beer industry since 1876. Meanwhile, downstairs, you can enjoy all your favourite varieties of Sapporo beer, and even try some Hokkaido-only batches.
See the City By Night
Sunset is a magical time when the cities of Japan transform into a vibrant, romantic version of themselves—full of colour, tantalising aromas and merriment. The neon signage helps you to spot that sixth floor restaurant you were looking for and the well-lit ground level establishments offer a window-shopping opportunity for planning future visits.
We stayed in Susukino, Sapporo's entertainment district which is around twenty minutes walk from Sapporo Station. It is the place to enjoy mutton barbecue, miso ramen, Nikka whiskey or a game of bowling. You'll also notice an abundance of rugged-up sidewalk touts for adult bars, comparable to Tokyo's red light district Kabukicho. A night-walk through this area is bound to raise at least one of your eyebrows.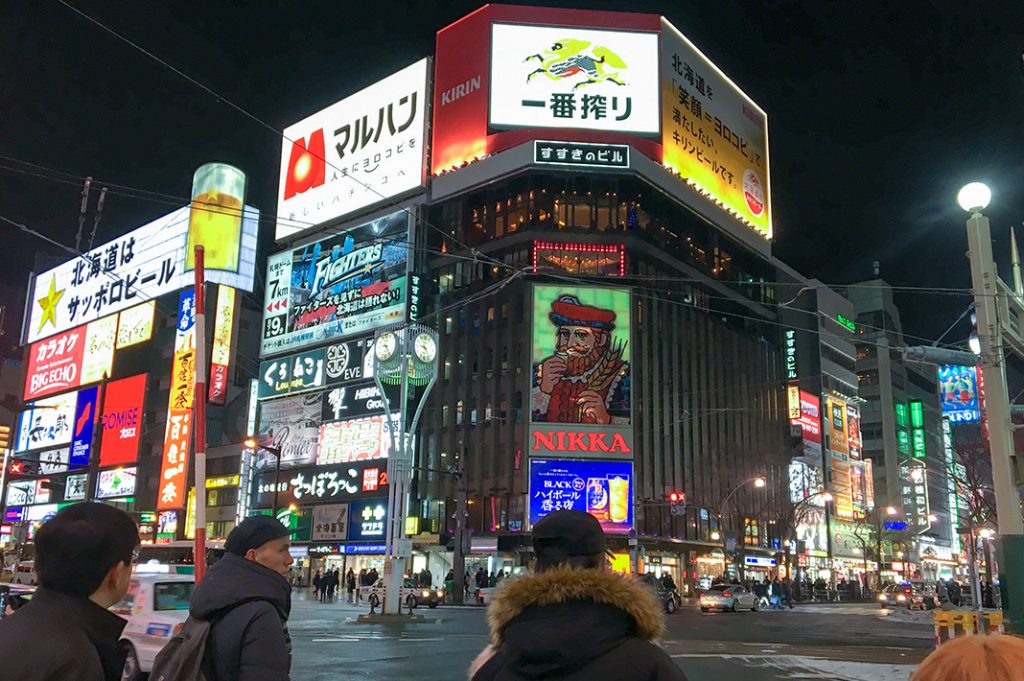 Though Susukino is a hub of activity, taking walks anywhere during a Sapporo winter's night will prove crisp and beautiful.
Take in a Night view at Mt Moiwa
For night activities, you can't go past a city view. From a high vantage point, the blanket of twinkling lights look super festive. While there are many great view points in Sapporo, we chose to visit Mount Moiwa.
A cable car will carry you to the top and, on a clear night, you can get a 360-degree panoramic view of the city. Unfortunately the weather was a little cloudy and blustery on our visit so we stayed just long enough to snap these shots.
See the Winter Illuminations and Christmas Market
Winter illuminations are ubiquitous in Japan. When the trees are bare and the temperatures drop, the colourful lights bring light and warmth into people's hearts. When in Sapporo, you'll want to head to Odori Park to see the display. The twinkling lights cast a spell over young and old alike.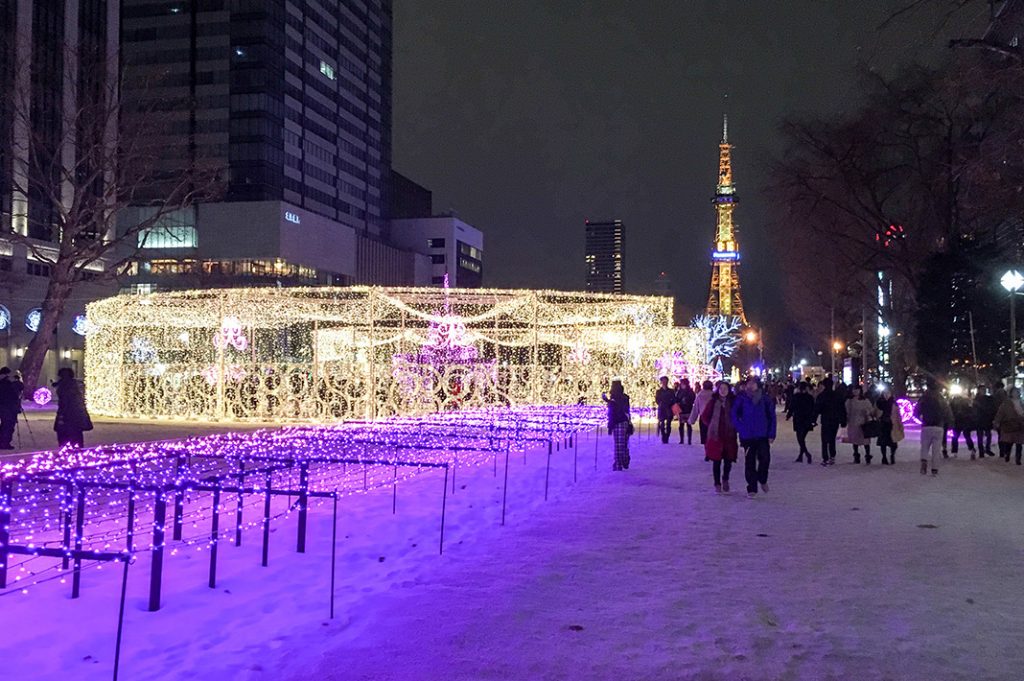 While you're in the festive mood, head next door to the month-long German Christmas Market. Running since 2002, it pays homage to sister city Munich and is a merry affair with shops, food, music and lights. We were like moths to a flame, visiting two nights in a row and warming up over steaming mulled wine and hot Hokkaido potatoes. I was reminded of Hokkaido's close proximity to Russia when I saw these Babushka and T-shirts for sale.
Odori Park is also well known for the Sapporo Snow Festival, which is held in February and draws millions to see the gigantic carved ice sculptures. For another dose of Christmas cheer, you could visit the jumbo Christmas tree at 'Sapporo Factory'—it was on our radar but we unfortunately never made it.
Get outdoors and into the snow
Hokkaido is a nature lover's paradise with scenes straight from Christmas wrapping paper. The temperatures may be low, but there is so much beauty to be found in these snowy landscapes.
For those of us from the southern hemisphere, there is also a lot of fun to be had in making a snowman, snow angel or tracking footprints. Give the childlike wonder free rein and fully enjoy your surroundings.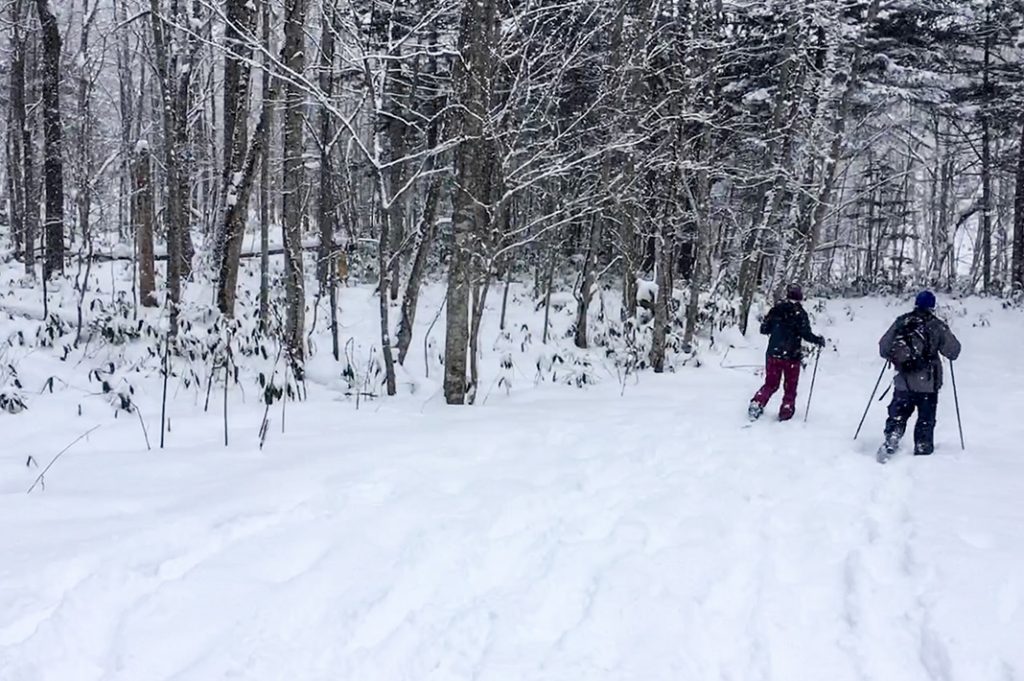 We booked a half-day snow shoeing experience online which was definitely a highlight of our trip. The crunch of the powder underfoot, the stillness and beauty of the forest, not another soul in sight—priceless.
Go Skiing, Snowboarding or…Sledding
While sledding may be Saint Nick's transport of choice, let's be real—in winter, it's really all about the skiing and snowboarding. The powder snow in Hokkaido is coveted across the globe and luckily there are plenty of places to enjoy it. Most notable is Niseko, the destination of choice for many of my Australian brethren. It takes roughly three hours by train to reach Niseko, so it's probably better to stay there to maximise your time on the slopes. If you're a beginner like me, enjoy a quieter place to ski or lack the time or inclination to travel far, there are closer options to town such as Kokusai, Moiwa, Fu's and Teine, the latter of which we visited.

It only took us 40 minutes to reach Teine by train and bus—and we were quite surprised to see others arriving by taxi. Teine has all the basic needs covered; gear rental, lessons, a food court, change rooms, lockers, bathrooms and of course, powder snow. We pegged it as a special and peaceful place to spend our Christmas Day and we weren't wrong.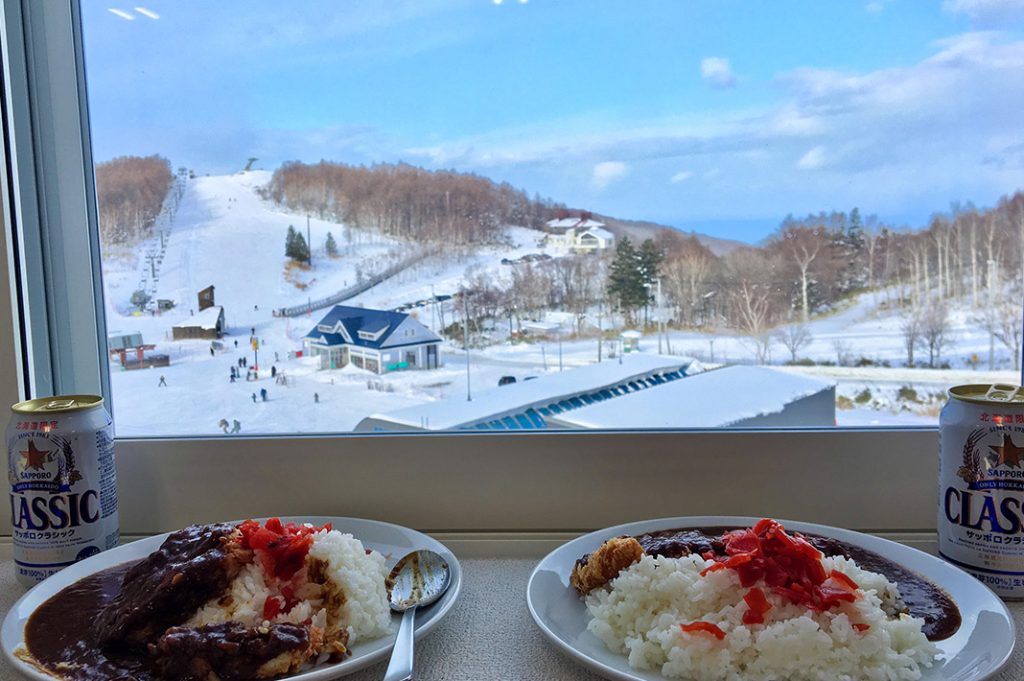 As most of Japan celebrate Christmas on a consumerist/aesthetic level rather than a religious one, the 25th is not a holiday. People attend work and school as usual, leaving you with your pick of activities for the day. So get creative!
Eat, Drink and be Merry
Hokkaido's food scene is strong and boasts many local ingredients such as lamb, potatoes, deer, dairy, seafood like sea urchin (uni) and crab—not to mention Hokkaido style ramen. Basically, you're spoiled for choice.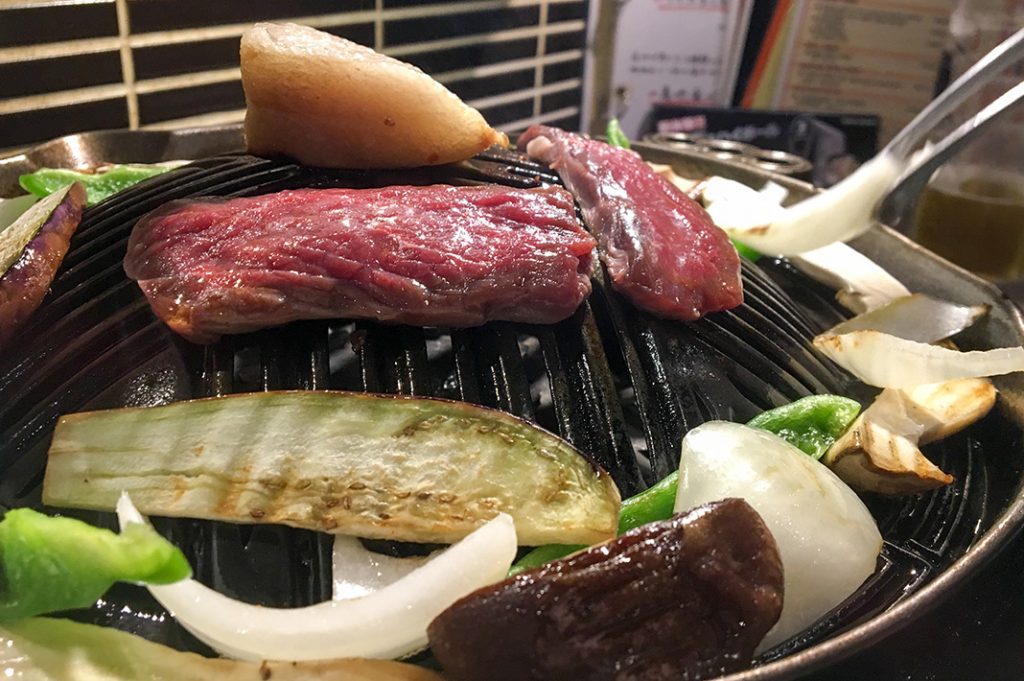 A popular dish to enjoy in Sapporo is the barbecued mutton dish 'Genghis Khan' (pronounced Jingisukan) named after the Mongol Emperor. A convex cast iron grill is used to cook slices of mutton and vegetables for it was believed that Mongolian helmets, when placed over fire, doubled as a portable barbecue. Seeing as you're spending Christmas in Sapporo, why not order deer (venison)? We did so as a morbid nod to Christmas (just like the time I ate rabbit at Easter). There are so many great Jingisukan places around town, but we recommend checking out Daruma in Susukino.
Hokkaido style ramen is another one to seek out and makes for the perfect Sapporo winter dish. In Susukino area, you'll find the Ganso Ramen Yokocho (Original Ramen Alley), where you'll have your pick of seventeen delicious ramen joints. Since 1951, people have flocked here to try the miso style and seafood broth style ramen. This place can get quite crowded, so if you don't fancy waiting, you could try the nearby 'Shin Ramen Yokocho'.
For those in the Sapporo Station area, the 'Sapporo Ramen Republic' on the tenth floor of the ESTA department store is worth a look. It features eight ramen restaurants from around Hokkaido offering up their unique styles.
Eat some Chicken
Of course, it wouldn't be Christmas in Japan without eating some chicken. For decades, KFC have advertised scenes of families enjoying fried chicken for Christmas dinner, thus creating a new tradition. As many homes don't feature a full-sized oven, cooking and eating a whole roast chicken is quite foreign. It's much easier to buy it which is why people place advance orders and queue up all over town. So, wherever you are in Japan during the festive season, do as the locals do and join the queue.
Get out of town on a day trip
While we definitely enjoyed all Sapporo City had to offer, we were looking to venture further on our trip. Fortunately there are plenty of day trip opportunities out of Sapporo. Otaru, just thirty minutes from town, was high on our list for their seafood and picturesque buildings on the canal. The plan was to visit the Nikka Whisky Distillery via Otaru, though when we realised it was closed early for New Year holiday, we decided to change plans and visit Noboribetsu Onsen instead.
This primordial, steaming natural hot spring, often referred to as Hell Valley, is a wonderful place to enjoy the mineral-rich waters in one of the many onsen. It is quite a popular destination, so book your bus or train tickets in advance to avoid getting stranded. Read more about this day-trip here.
Things to know before you go
Dress to combat Sapporo winter conditions
While December's weather is quite tame compared to February, it is still cold (-5 to 2 degrees C). Make sure you rug up with a good jacket, gloves, hat and scarf. Non-slip/waterproof boots will keep you upright on the frosty streets and dry when treading through snow. You can find pocket and back warmer products at convenience stores and pharmacies, as well as UNIQLO heat-tech innerwear to help you stay warm.
It is very important to dress in removable layers too; it may be cold outside but trains, shops and restaurants often overcompensate and reach dizzying temperatures. Cotton, flannel and fleece layers are a good idea for underneath the jacket. If you don't want to mess up the hair with a beanie, earmuffs are a fun alternative.
Bring sunglasses
The sun's reflection on all that white snow is quite blinding and can easily give you a headache. A good pair of sunglasses go a long way in Hokkaido.
Check for closures and book ahead
Even though Christmas Day is not celebrated with a holiday, New Years is. Many businesses across Japan close down for a few days over the New Year period to spend time with their family. Some take more time off than others, so you may get caught out with a couple of places being closed. Check websites and Facebook pages ahead of your visit to avoid disappointment.
Christmas in Sapporo can be a very busy time, so make sure you have a good plan with some backup options!
How to get there
It takes roughly 90 minutes to reach Sapporo's New Chitose Airport from Haneda or Narita Airports. It is accessible from many other Japanese airports as well as many more in Asia and Russia. Longer modes of transport include ferry and train, with options for JR Pass holders.
Post by Japan Journeys.