The Yokohama Cup Noodles Museum is a hotspot for Japanese school excursions, but has plenty to offer adults and/or foreigners, too. With an overarching theme of creativity, it's a celebration of the creative thinking of Momofuku Ando, the mastermind behind instant noodles. Since his groundbreaking invention in 1958, Ando never stopped striving to revolutionise the dried noodle game. By sharing his story, the museum hopes to inspire visitors to be inventive, creative and look at things differently. And at only a few hundred yen entrance fee, it's the cheapest inspiration booster this side of Tokyo.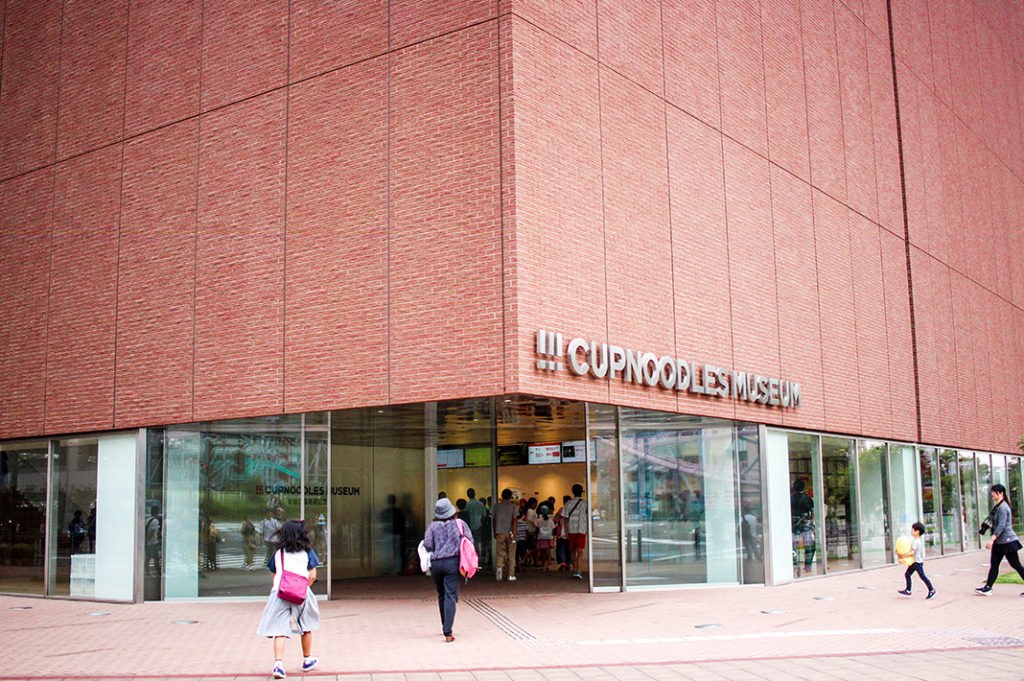 Look a Little Closer
The building's chic, boxy facade belies the whimsical wonder within. Once inside the cavernous foyer, you'll quickly spot a wide, wooden staircase as well as a giant glowing cup noodle sculpture above the entrance. These design-forward touches were the first hint that this was no ordinary, drab museum.
With our English booklet and entry ticket in hand, we ascended the steps to level 2, the exhibition floor.
Oodles of Noodles
Through the ticket gates, you immediately spot the most recognisable exhibit, the History Cube. This room tracks Nissin's product development from the single "Chicken Ramen" packet in 1958, expanding year on year with experimental flavours and product lines.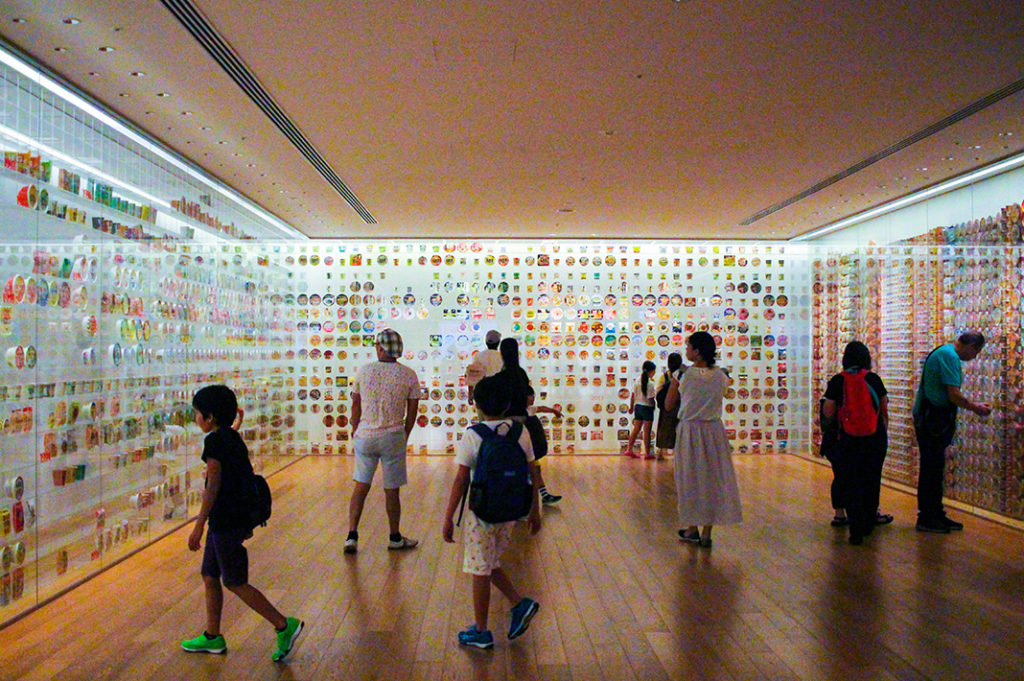 You'll surely notice a change in 1971 with Ando's second invention, the CUP NOODLE. All up, there are over 3,000 packages traversing the colour palettes, fonts and fads of bygone eras. Needless to say, it's a prime photo spot.
This level also houses a theatre and a 58 meter panoramic timeline of Momofuku Ando's life and work. The walls are covered in photographs and (Japanese) text outlining achievements like the invention of Space Ramen in 2005. That's right, small packets of ramen for the astronauts missing the flavours of home.
The six "creative thinking boxes" rooms are designed with children—and no doubt worksheets and discussion questions—in mind. You'll also spot a recreation of the modest work shed in which Ando was able to change the food landscape forever. This shows us that we can create world-changing inventions with simple tools just as long as we have creativity and determination.
Make Your Own Noodles!
Level 3 is where the fun is really at. The "My CUPNOODLES Factory" is the place to make your own unique Cup Noodle to take home. Note: this is a busy attraction. If you want to participate, head to level 3 as soon as you arrive and get a numbered ticket. At 1:45pm we received a 4:30pm time slot. Luckily, having already toured the facility, we were able to leave the building and return when it was time.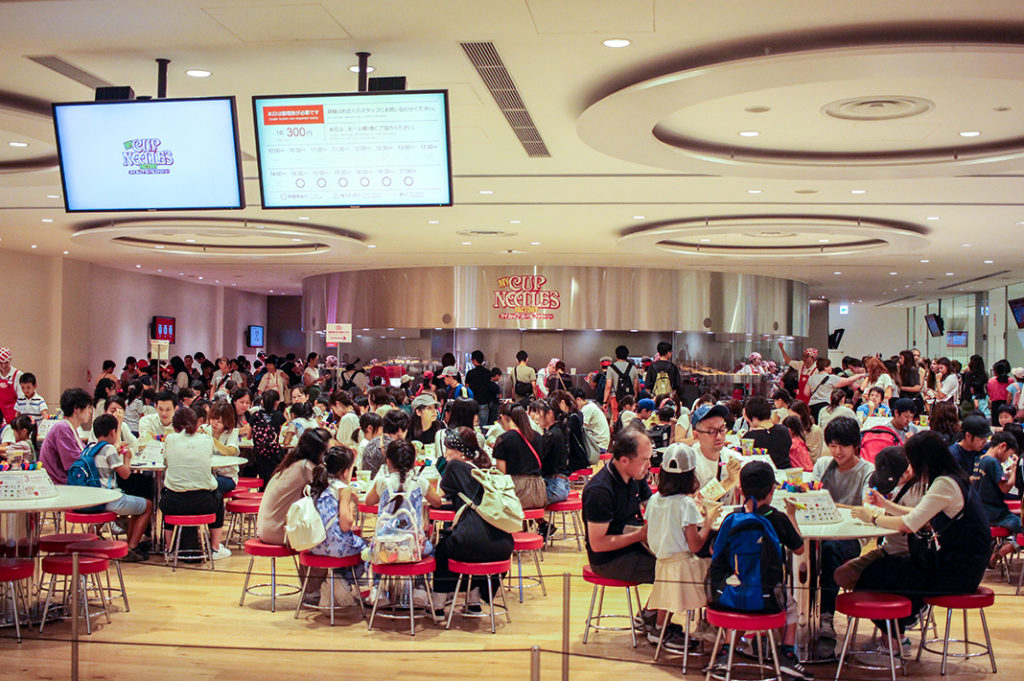 The 'My CUPNOODLES Factory' is a well-oiled machine with staff members guiding you every step of the way. First, buy your empty cup from a vending machine (¥300). Next, sanitise your hands and sit at a low (children's sized) table to decorate your cup.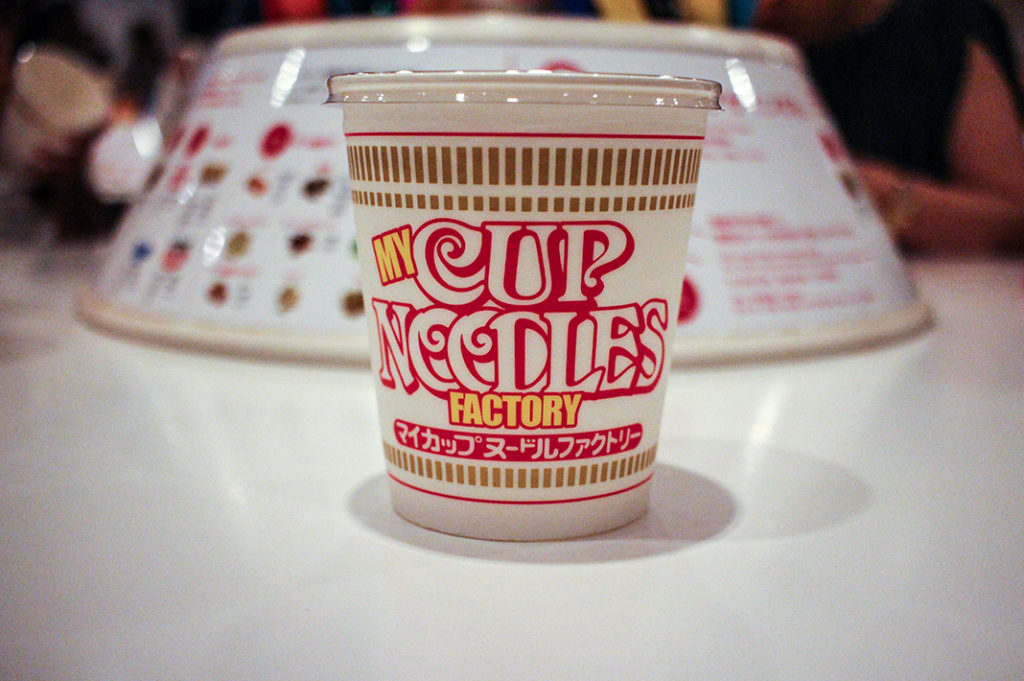 Once you've finished decorating, join another queue to assemble your noodles and toppings. A series of staff members and machines will complete the whole process from placing the noodles in the cup, to adding toppings and shrink wrapping the finished product.
When it comes time, you can choose four toppings and a stock base powder to flavour your noodles. All up there are 5,460 possible flavour combinations; for the indecisive, it could certainly be problematic!
At the end, your cup is placed in an inflatable plastic bubble, which you wear across your body like a bag. It's sole purpose, I think, is to inspire jealousy from all the kids on the street without one.
Other Attractions
The 'Chicken Ramen Factory' (level 3) is where school groups can make their own instant noodles to take home. One floor up is the CUPNOODLES Park, which is like a large interactive children's playground. For an additional fee, kids can learn about the entire manufacturing process from the perspective of the noodle.
Then there is the 'Noodles Bazaar' food court featuring eight noodle varieties from around the world that inspired Momofuku Ando's work. Resembling an Asian night market, it's the perfect place to satisfy your inevitable noodle craving. And, of course, what would a museum be without a gift shop? The Cup Noodle gift shop contains all the toys and stationery you could want, as well as collector items and, well, noodles!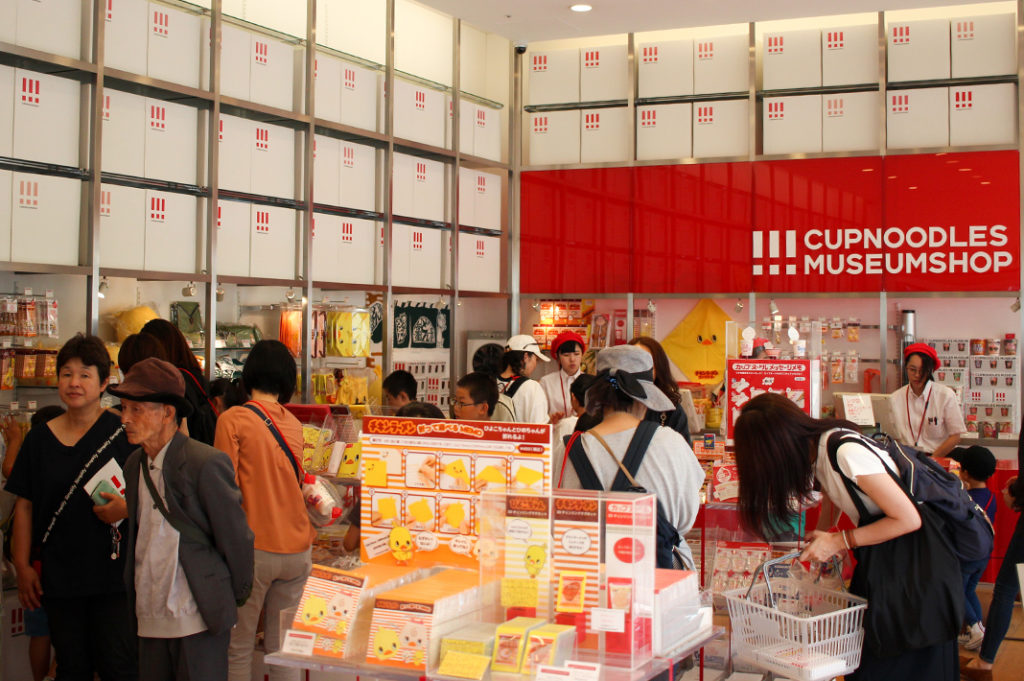 Although the Cup Noodles Museum is designed for kids, I think we can all benefit from looking at things differently and embracing our creativity. Head on over for a dose of inspiration and to create your very own Cup Noodle masterpiece.
Getting to The Cup Noodles Museum
The Cup Noodle Museum is located in Yokohama, so allow up to an hour travel time from Shinjuku. It's an 8 minute walk from both Minatomirai and Bashamichi Stations on the Minatomirai Line. From JR Shieichikatetsu Sakuragicho Station, it's a 12 minute walk. 
Yokohama Cup Noodle Museum
Address: 2 Chome-3-4 Shinko, Naka Ward, Yokohama, Kanagawa 231-0001
Open: 10:00am–6:00pm (closed Wednesdays)
URL: https://www.cupnoodles-museum.jp/en/yokohama/
Post by Japan Journeys.